In this review of Asana, I've gathered all the pros and cons of using Asana and various project management (PM) systems so that you can decide if it's a good fit for you.
When it comes to usability, simplicity, and an agile user interface, Asana performs better than alternative project management tools. It is easy to use and offers a variety of features.
Even though there's a ton of functionality, it is simple to get started and they make the onboarding process a breeze.
Top Project Management Software Comparison
For businesses looking for a straightforward tool without losing functionality or control, Asana is a solid option.
Businesses on a budget can easily afford Asana thanks to its competitive pricing point. In comparison to other solutions, Asana offers great value.
Not ready to sign up for a paid plan? No issue. The free forever plan offered by Asana has an unparalleled set of features.
Asana Options And Pricing
Review Of Asana Pricing
There is a plan for everyone at Asana. As mentioned before, they provide a great free version.
All the plans are quite reasonable.
Team collaboration for a maximum of 15 users is supported under the free Basic plan. You are limited to 1,000 tasks/team, but that should suffice for smaller projects. Additionally, features like unlimited projects, teams, messages, file storage, and activity logs are available to basic users.
Smaller distributed or remote teams can benefit from Asana's Basic plan. However, upgrading to Premium or Business is probably what you should do if you would like to completely take advantage of Asana's features.
In general, Asana's pricing makes the PM software particularly attractive when compared to comparable products available today. The rates per user are in line with the industry standard. And compared to other options, Asana comes with more features.
Another major plus is that Asana can be used for agile methodology. At a low price point, hardly any PM software has those features.
If you're unsure, simply register for the Basic version and try it for free. Then you can upgrade at any time if you feel it to be too restrictive. You can sign up for Asana on a free trial of 30 days before purchasing a plan.
Premium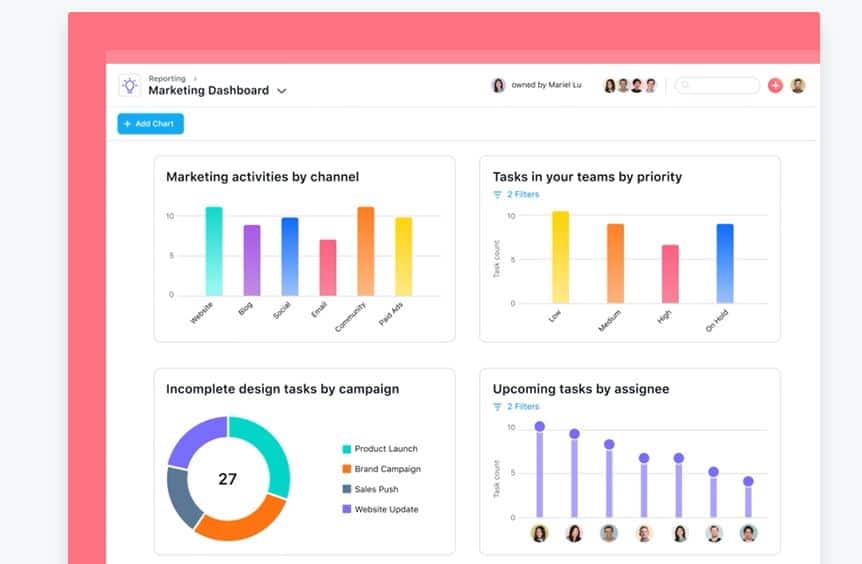 If your team has more than 15 users, you should consider signing up for the Premium plan. Many businesses prefer this plan because of the extra features and functionality, even if they have fewer than 15 team members.
The timeline view is one of Asana Premium's key benefits. This essentially serves as a high-level view to guarantee that deadlines are met and that projects are completed on time.
It is an excellent tool for keeping track of projects and tasks. It allows you to keep track of dependencies and to see the relationships between tasks and due dates. Therefore, it becomes easier for project management professionals to spot issues early on and come up with solutions before a conflict puts the project at risk.
Additionally, you'll gain access to dashboards and reporting tools with Premium. You can get relevant data by examining real-time graphs and other helpful information.
Another useful feature is status reporting. Users don't need to engage in time-consuming status meetings to provide quick updates. These reports may be refreshed in a matter of minutes, and charts may be included to highlight the most important points.
You can also access private projects, milestones, private teams, forms, and an enhanced admin console if you upgrade to Asana Premium.
This feature-packed plan offers amazing value overall. Starting at $10.99/user every month, it's a great deal.
Business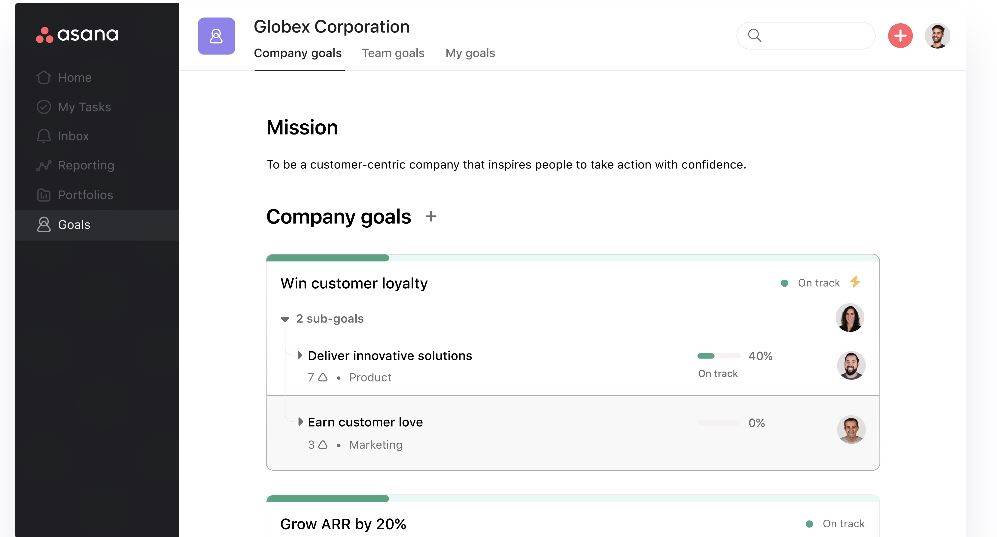 For businesses that need cutting-edge functionality from their PM software, there is Asana Business. For mid-sized teams and businesses managing several projects across various departments, the package is unquestionably the superior choice.
Setting corporate-wide strategic goals are one of my favorite features of the Business plan. Managers can then link goals to particular projects to keep everything on track.
A project management tool for portfolios is also included in the Business plan. Consider this to be your main portal for managing business activities. It allows you to view all your team's projects and goals in one place. The name of the project, status, priority level, due dates, and percentage of completion are all displayed in the portfolio view.
The workload managing tool in Asana Business is yet another outstanding feature. Managers can identify team members who have extra capacity and those who are overworked. This helps with resource planning and increasing the efficiency of the team.
Advanced integrations with Adobe Creative Cloud, Tableau, Power BI, and Salesforce are supported by Asana Business. Therefore, if your company uses any of these products, the Business plan is probably what you need.
Overall, larger teams can afford the $24.99 pricing point. The business plan is worth the additional cost t if you're using the advanced capabilities.
Enterprise

The top-tier solution that Asana offers is the Enterprise plan. It is suitable for scalable projects in larger enterprises.
You can use Asana for more than just project management with an Enterprise subscription. Additionally, you will have full access to work management tools. These include sophisticated admin controls, configurable member settings, greater data control, and SAML authentication.
The solution includes data governance, privacy controls, and enterprise-level security. It adheres to regulations such as the CCPA, PCI DSS, and GDPR.
Priority assistance and customized branding are additional benefits for enterprise users.
In light of everything we've discussed so far, Asana is the superior choice for small to medium-sized teams. For most enterprises, the Enterprise plan may not be necessary. You don't receive any noteworthy PM benefits at this level. It comes down to enterprise-level task management, security, and user provisioning.
If you're interested in the Enterprise plan, get in touch with the Asana sales team for a personalized quote.
Review Of Asana: Pros And Cons
Even though it may seem unfair, everything in life has some negative aspects as well. Asana is no different. But there are enough benefits to balance out the drawbacks, making this a superior project management tool.
Pros
Multi-Project Views
Kanban boards, calendars, lists, portfolios, timelines, and workloads are just a few of the different ways that Asana users can manage tasks and view projects.
Asana gives you all possible options while most project management systems available today only offer 1 or 2 views.
To be as effective as possible, each person in the team could manage tasks using the method that suits them best. Changing between views provides project managers with a broad overview of the status of the project.
Additionally, you have customizable dashboards that can be updated in real-time. To quickly view the necessary details, you can customize them as needed.
Free, Feature-Rich Plan
Most free project management software plans lack quality features. Asana, however, is an exception. It actually has the best free plan out of many project management tools that I have tested.
The free plans of the majority of PM software are so constrained that small businesses cannot use them effectively.
Asana, however, doesn't cut corners; the free plan offers unlimited support for teams, projects, file storage, messaging, different project views, activity logs, and more. You won't ever need to upgrade if you manage simple projects and have fewer than 15 members; you can continue using its free plan indefinitely.
Asana may even be freely integrated with your preferred time-tracking applications. Since most providers don't support time tracking or integrations on the free plan, this is unusual for PM software.
The free plan from Asana is a good deal overall.
Team Collaboration
The majority of the PM solutions I've tried don't provide adequate tools for team collaboration, so I had to find software solutions for this feature.
Asana however is a one-stop shop for team communication, group discussions, and more. This includes file sharing for JPGs, PDFs, Google Docs, and more.
You can centralize everything in one location by assigning tasks to group members, creating task dependencies, setting due dates, adjusting due dates, assigning priority, and chatting with each other – all within one card.
Teams may work around each other's schedules and get informed of any new developments or progress using calendar view instead of having to exchange emails. Asana is also used to handle all to-do item lists and project discussions.
Depending on how your team likes to connect, the tool even integrates with third-party chat platforms and email apps. The ability to collaborate with colleagues on tasks makes this an outstanding tool.
Automating Workflows
Automating workflows, routine activities, and procedures that are shared with your other software tools is quite simple with Asana.
The graphical workflow builder in Asana makes it simpler than ever to set up rules, actions, and triggers. It can be used for setting up simple automation, such as allocating a task to a person in the workflow, changing due dates, checking boxes, or notifying your team via Slack about project completion.
You can even do more complex workflows involving several tasks, tools, and users. Process automation frees up time that can be used for more crucial work while ensuring that things are completed efficiently and in an automated manner.
Effective Integrations
Over 100 well-known third-party applications, including Dropbox, Slack, Google Drive, Tableau, Zapier, Salesforce, and Zoom, can be integrated with Asana. These integrations increase the power of Asana.
For instance, when a project or task in Asana is updated, your team members can be quickly notified through Slack. It's important to keep in mind that not all plans include advanced integrations like Tableau and Salesforce.
Versatility
Asana is a versatile and adaptive project management tool that works with a wide range of management techniques, industries, and company sizes. It's also a convenient option for IT, operations, finance, human resources, and many other departments.
Being a highly adaptable work and project management tool, it is great to utilize across different departments and to promote interdepartmental communication. It's flexible enough to work for just about everyone, whether you are:
an event planner managing several people
the marketing department which handles different campaigns across multiple channels
a sales group monitoring leads coming into the pipeline
Scrum And Agile Project Management
If you're following an agile management system, you'll be happy to know that Asana has the features to support the methodology.
You get everything you need, including sprint planning, product launches, bug tracking, job requests, feedback, roadmaps, and task iteration tracking, so that you have everything needed to support the work culture.
Asana is flexible whether you choose Kanban, Scrum, Agile, or something else. Many PM systems on the market are simply not capable and won't work.
Asana even has a glossary to understand the terminology it uses for Agile, in addition to a comprehensive guide to assist you in setting up Agile projects using the software.
Cons
Tasks Cannot Be Assigned To Different Users
You cannot assign the same task to multiple users in Asana. The idea behind this is to ensure that it is very clear who is in charge of a specific task.
To involve several users, you can use subtasks or a task collaborator. You may also make copies of tasks to be used by others. But ultimately, there will be just one primary assignee for each task.
Mobile App With Limited Functionality
Every Asana plan level comes with a free Android and iOS mobile app. The app can be challenging to use.
Asana typically performs better while using a desktop screen, and it can't be appreciated on a smartphone device's small screen. Using the app to accomplish anything more than just checking the status will be difficult.
Too Many Email Notifications
Many users get overwhelmed by the number of notification emails they receive from Asana. That being said you still can change the notification settings and have full control over them.
However, it can be a little frustrating initially if your inbox is getting cluttered with Asana notifications before you modify the settings. Thankfully, this situation can be fixed easily.
Conclusion
Having analyzed various project management software, one of the best options available today is Asana.
The platform offers powerful automation triggers and is intuitive and simple for employees to learn. These are reasons that are good enough for some people to switch to Asana.
Asana is reasonably priced and can handle a number of use cases, including agile methodologies.