When it comes to AI writing assistants, Writesonic has secured a prominent position. In this Writesonic review, I'll examine the capabilities of this product through a series of test cases.
Writesonic claims the ability to generate exceptional content, including "human-level blog articles, emails, landing pages, digital ads, product descriptions, and more within a matter of seconds. It asserts that its AI is trained to understand what engages audiences and can generate persuasive copy that captivates their attention.
Let's delve deeper into Writesonic features to see how well it lives up to its claims.
What Is Writesonic?
Writesonic's inception stems from the personal experience of its founder, Samanyou Garg. Faced with the pressing challenge of meeting deadlines while struggling with copy creation, Garg found existing solutions lacking. Consequently, he took matters into his own hands and developed Writesonic—an AI writing assistant tailored to his specific needs.
According to Crunchbase, Writesonic's founder secured $125K in pre-seed funding from Y Combinator.
Since its launch in January 2021, the company has grown to include eight dedicated employees. Notably, the platform has garnered numerous glowing reviews from LinkedIn users, an encouraging testament to its effectiveness.
Writesonic Review: Who Can Benefit From Writesonic?
Writesonic asserts that "anyone can be a writer," although some may consider that claim slightly exaggerated. Nevertheless, Writesonic AI empowers individuals to effortlessly craft blog posts, social media content, and marketing copy in 24 languages.
Leveraging the power of OpenAI's Generative Pre-trained Transformer 3 (GPT-3) technology, Writesonic joins the ranks of AI writers armed with an unrivaled prowess in understanding and generating content structured in various languages. Rest assured, your writing is in capable hands, at least until the advent of GPT-4.
As an AI writing tool, Writesonic boasts a bias toward marketing, offering an array of options and advanced features. It shines particularly bright for business-related content, making it an ideal companion for start-ups, eCommerce ventures, and agencies.
When it comes to writing concise marketing content like social media posts and Facebook ads, as well as crafting memorable website copy, Writesonic truly excels.
However, some editing is recommended before publishing the final content. The platform expedites and streamlines your content creation process, saving you valuable time and effort.
Whether you seek to write a short blog post, rework existing articles using the article rewriter, or craft captivating headlines and descriptions, Writesonic AI has got options. Transforming mere ideas into fully-fledged topics, outlines, and captivating blog content, this powerful tool gets the attention of your target audience.
With a number of outstanding features, Writesonic ensures optimal productivity for content creators. If you find yourself grappling with the infamous "writer's block," Writesonic will be helpful. Just a few words fed into one of Writesonic's content generators will unleash a stream of creative options, reigniting your inspiration and setting you on the path to success.
Writesonic Features
Writesonic is a versatile writing tool that boasts an array of features designed to elevate your writing experience. Let's take a closer look at some of its notable capabilities:
Digital Ads Copy: Generate persuasive copy for Facebook, Google, and LinkedIn ads that captivate your target audience.
Website Content: Craft compelling landing pages, Feature to Benefit sections, headers, and SEO meta descriptions effortlessly.
Content Rephraser and Expander: Fine-tune your content by rephrasing and expanding existing text, enhancing its impact.
Articles/Blogs: Gain access to a wealth of article ideas, outlines, intros, and complete articles to engage readers.
Grammar Fixer: Rely on Writesonic's grammar fixer to polish your writing and ensure impeccable language usage.
Article Summaries: Quickly generate concise summaries of articles, saving you valuable time.
eCommerce Copy for Amazon: Generate persuasive and compelling copy for your Amazon product listings.
Press Releases, Bios, and Video Copy: Easily generate professional and engaging press releases, company and personal bios, and YouTube video copy.
Readability Checker: Evaluate the readability of your content, ensuring it resonates with your intended audience.
Copywriting Formulas: Benefit from proven copywriting formulas such as PAS (Pain-Agitate-Solution) and AIDA, streamlining your writing process.
Sales Emails: Craft captivating and effective sales emails that drive conversions and boost engagement.
How To Use Writesonic: Getting Started With Writesonic
Now, it's time to put Writesonic AI to the test and find out if it meets the expectation. Stay tuned as I get into its capabilities and evaluate just how good it really is.
Once you've signed up, you'll be greeted by a well-organized page that showcases all the platform's features.
Generating Ideas And Outlines
As a fitness enthusiast, my curiosity was piqued by the topic of "Best Exercises to lose 10 pounds in 4 weeks." By clicking on "Generate Ideas," I was presented with a list of potential concepts.
After careful consideration, I selected the first option. As I aimed for a professional tone in my article, I was eager to see how the AI would perform.
With a suitable outline in hand, I generated a 1,000-word document within seconds. Although most sentences flowed smoothly and resembled human writing, the information felt somewhat lacking, and the sentences occasionally became repetitive.
To enhance readability, additional editing and text insertion were required. Nonetheless, the generated content provided a solid starting point and saved significant time.
Exploring Article And Blog Writing
For the purpose of this Writesonic review, I decided to delve into the "Article and Blogs" category. Clicking on it opens up a new window, presenting you with more focused choices. I opted for the "AI Article Writer."
Upon selecting the AI Article Writer, a neatly laid out page unfolds, guiding you through the steps:
Pick a topic
Provide additional information
Mention keywords and brand voice
Generate article
Navigating through these initial steps is simple. Before diving in, I wanted to determine just how easy it is to follow the instructions.
To my delight, the information provided was well-written.
Sentence Expander
I further explored Writesonic features and discovered the "Sentence Expander."
Curious to gauge its impact, I tested it by selecting a sentence from the generated content. The results were impressive—the article immediately improved.
Throughout my exploration, I found the software to be both enjoyable and easy to follow. Its range of options allowed for creativity and flexibility in the writing process.
Spelling And Grammar
Writesonic claims to incorporate grammar and spelling checks into its software.
To put this claim to the test, I selected approximately 300 words from the generated content and ran it through Grammarly.
Without making any corrections or implementing suggested changes, the content scored 85— a decent result. However, it was evident that the content still required some fine-tuning.
Accuracy And Truthfulness
Measuring accuracy is no easy task. It heavily relies on the subject matter and the specificity of the "Article Title" you input. To obtain precise outlines, it is crucial to provide specific information; otherwise, the generated content might be overly generalized.
It's important to remember that no AI writer can guarantee complete accuracy or perform fact-checking—yet. (If you're interested, check out the Longshot AI review for a fact-checking AI content generator.)
Although Writesonic AI produces high-quality content, it is always advisable to double-check for accuracy before publishing your work.
Checking For Plagiarism
In addition to its claims of grammar and spelling checks, Writesonic asserts that the generated text is free from plagiarism.
To put this claim to the test, I ran the generated content through Grammarly's plagiarism checker. The results were promising, with only 4% detected—an impressive feat indeed.
However, it is worth noting that as the length of the work increases, the likelihood of encountering plagiarism results also grows. Vigilance is key when it comes to ensuring the originality of your content.
Writesonic AI Review: Is Writesonic Easy To Use?
As a relatively new product, Writesonic has successfully held its ground against fierce competition in the realm of AI content writing generators, apart from Jasper AI (read Jasper AI review).
This solid product proves worthy of consideration as a valuable asset to your overall content marketing strategy. With an active community and proactive customer support, Writesonic has garnered excellent reviews from 98% of users.
The platform's user-friendliness receives a perfect score, allowing for a gentle learning curve and reducing the need for expensive training.
From my personal experience, I found Writesonic to be a helpful tool for swiftly producing content. While evaluating accuracy and truthfulness can be challenging and subjective, the short articles I wrote during testing yielded satisfactory results.
In addition to the long-form editor, I also explored the Copywriting and Product Description tools, both of which proved beneficial and practical.
In summary, the positive reviews of Writesonic hold true—it is an ideal solution for overcoming writer's block and boosting productivity. Don't just take my word for it—try the free version and witness its capabilities firsthand!
Writesonic Pricing – Is Writesonic Completely Free?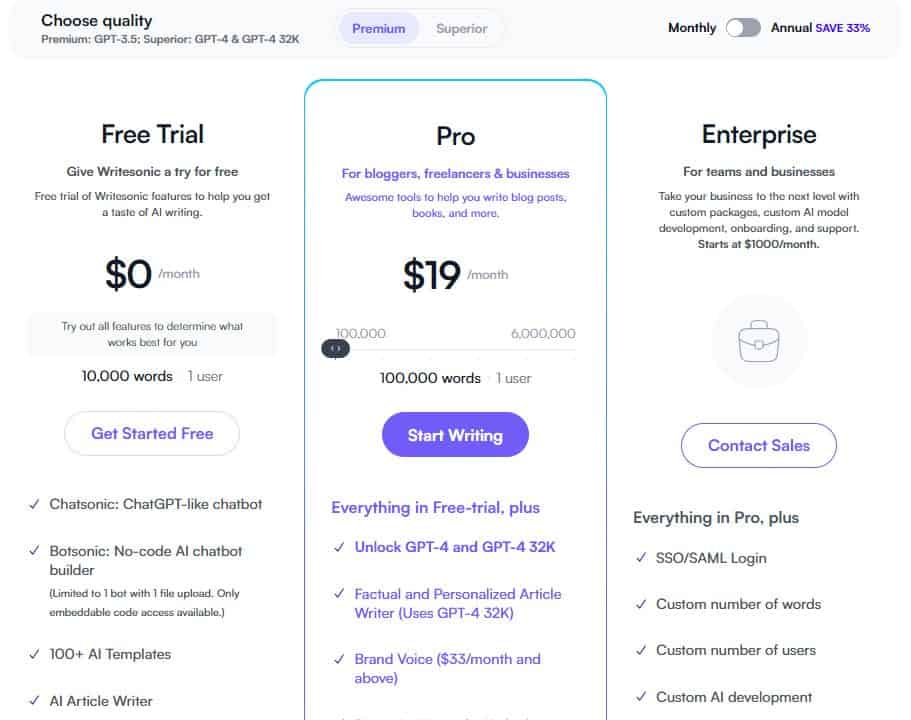 To provide you with a risk-free opportunity to explore its features, Writesonic offers a free trial option.
Writesonic operates on a word-based pricing system. The Free trial offers 10,000 words for 1 user, which sounds enticing.
For higher word count credits, the Pro package is available at $19 per month (for 100,000 words), and Enterprise for teams and businesses (starting at $1000 per month – contact sales).
Opting for the yearly pricing option proves to be more cost-effective, effectively providing you with a 33% discount.
Take the first step toward effortless writing by exploring Writesonic's free trial option.
Writesonic Alternative
If you are looking for other AI writing assistants or seeking fresh blog ideas, take a look at the following list of Writesonic alternatives:
Jasper AI (previously Jarvis)
Jasper stands as one of the leading AI writing tools, surpassing Writesonic in terms of features. It offers a comprehensive array of capabilities.
Not only can it generate diverse content types, but it also analyzes and emulates your writing style.
Additionally, Jasper AI allows you to adopt the style of other writers, enabling the creation of engaging and authentic content. It facilitates the composition of anything from articles to books using the long-form editor.
CopyAI
With over 90 copywriting tools at your disposal, CopyAI has a vast library of features. If you're interested, here is a comprehensive CopyAI review.
Whether you need blog posts, landing pages, sales emails, or digital ad copy, CopyAI can assist you in generating content from scratch or drawing from its extensive collection. It proves to be a valuable alternative for diverse writing needs.
Rytr
Rytr takes a different approach, avoiding overwhelming users with excessive features they may never use.
By simply specifying the desired tone, Rytr swiftly generates engaging content, analyzes your text, and provides personalized AI articles and other marketing materials in real time.
To delve deeper into Rytr, check out the Rytr review that offers more information.
FAQs – Writesonic AI Review
1. Which is better, Jasper or Writesonic?
The choice between Writesonic vs Jasper depends on individual needs and preferences.
Jasper is known for its natural language processing capabilities and is well-suited for generating creative and conversational content.
Writesonic, on the other hand, excels in copywriting and marketing content, providing templates and tools to assist with specific writing needs.
2. What is the best AI writer?
Determining the "best" AI writer depends on various factors, including the specific use case and personal preferences. Several AI writing tools, such as OpenAI's GPT-3, Copy.ai, and Copysmith.ai (reach Copysmith AI review) have gained popularity for their capabilities.
3. What are the cons of AI writer?
While AI writers have their advantages, it's important to consider some of the limitations as well. These include:
Lack of human touch: AI-generated content may lack the personal touch and nuanced understanding that a human writer can provide.
Inconsistency: AI-generated content can sometimes produce inconsistent results in terms of tone, style, or accuracy.
Over-reliance on prompts: AI writers often require specific prompts or instructions to generate content, limiting their ability to generate creative ideas independently.
Final Thoughts – Writesonic Review
If you are a website owner seeking to accelerate your marketing copy and content writing processes, Writesonic deserves serious consideration. Its copywriting features ensure you never run out of fresh blog post ideas.
However, Writesonic extends beyond being a mere AI copywriting tool; its strength lies in its extensive blog post-writing capabilities.
Simply provide a blog post topic description, and Writesonic will present you with a range of blog post titles, a selection of introductions, and outlines.
Once you've chosen an outline, you can effortlessly generate an entire blog post. With its wealth of features, Writesonic is certainly worth further exploration.