In this post, I'll share with you the solutions for the best online banking for businesses, whether you're a startup or a multimillion-dollar company.
What are some distinguishing features of a bank that is good for businesses?
A good bank should have the capabilities for online banking services. There are also online-only banks and physical branches that support online banking.
Although most banks have an online platform these days, all of them are not created equal.
Fraud alerts, digital bill payment, and mobile deposits are some of the online features included with the best business checking accounts for small businesses.
Other banking features that you can use online should also be considered. Company savings plans, small business loans credit cards, and merchant services, are examples of what I'm talking about.
Best Online Banking For Businesses In 2023
Today, there are several different types of online banking for businesses. Here are the top bank accounts that I recommend:
BlueVine — Ideal for new companies to hold and grow cash
Axos Bank — Best online banking for businesses looking to reward their employees
Radius Bank (Lending Club) — Best online bank for business account with high volume of transactions
Novo — The best online bank for small businesses and freelancers
Chase Business Complete Banking — Best online bank for business account with in-person banking
Below, I'll go through the different types of online accounts available, their benefits, rates, and other online banking features for each one.
Online Business Banking Reviews
1. BlueVine – Ideal For New Companies To Hold And Grow Cash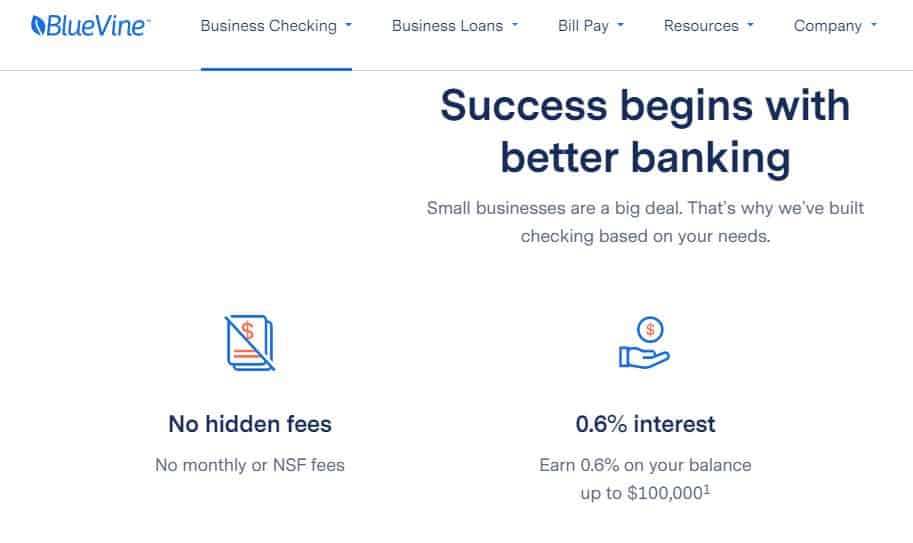 This is an online banking platform designed specifically for small business owners who are just starting out.
BlueVine business checking account is one of the most sought-after accounts out there. It has therefore secured a place on my list of the best online banking for businesses.
It's a solution that's helpful to small businesses looking to save money and stop being overcharged by their banks, with no minimum deposits, monthly fees, and non-sufficient funds (NSF) fees.
They also pay a full 1% annual percentage yield (APY) on balances up to $100,000 for account holders. That is over 20 times higher than the national average! This is a perfect choice if you are a small business owner who wants to protect your money from shrinking by fees and watch it grow as it stays in your account.
They also have a 38,000-strong automated teller machine (ATM) network that you can use. The drawback is that if you don't have access to an ATM inside the network, you'll be charged an ATM fee.
They also offer excellent business loans. There are three forms available:
A credit line
Loan for a set period of time
With interest rates as low as 4.8%, you are able to get approved for a loan in minutes. Your credit score is unaffected by applications. They won't look at your credit score until you've accepted an offer for the loan.
Overall, I would recommend going with BlueVine, if you are a small business seeking a loan or looking to start a checking account. With a 1% APY on account balances of up to $100,000, it's ideal for business owners that are starting out and searching for the best online business checking account.
2. Axos Bank – Best Online Banking For Businesses Looking To Reward Their Employees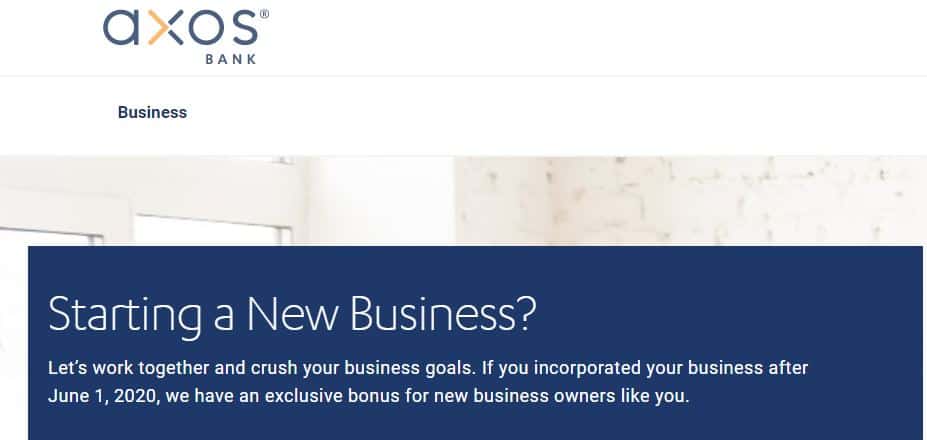 Business checking, business savings, interest checking, CDARs, and CDs are some of the great banking options available at Axos Bank.
Their accounts don't seem to stand out at first glance—until you start looking at their offerings after you've signed up.
One of their unique products is the Workplace Banking service.
You can use this service to offer banking services to all your employees. You'll be able to offer them checking accounts that have no monthly fee, along with other features such as reimbursement of ATM fees. It is also possible to get them low-interest rates on home, car, and personal loans via Axos.
They also give you access to a financial literacy platform for your business, with nearly 200 videos and tutorials to help your employees succeed financially.
It's a great feature to offer your staff who have the means to work for other companies. A benefit like this helps to attract and maintain top talent in your company, whether it's access to a stress-free checking account, better-than-average loan opportunities, or simply resources to help them get better at handling their own finances.
Here are a few main features of their Business Checking account:
There is no requirement for a minimum balance
There is no monthly maintenance fee
50 free checks
Unlimited domestic reimbursement of ATM fee
$100 minimum deposit is required to open an account
Up to 200 free items (debits, credits and deposited items) per month, $0.30 per item thereafter
If you want a solid set of business banking solutions as well as an option to assist your employees with their banking needs, this is a good bank to choose.
3. Radius Bank (Lending Club) – Best Online Bank For Business Account With High Volume Of Transactions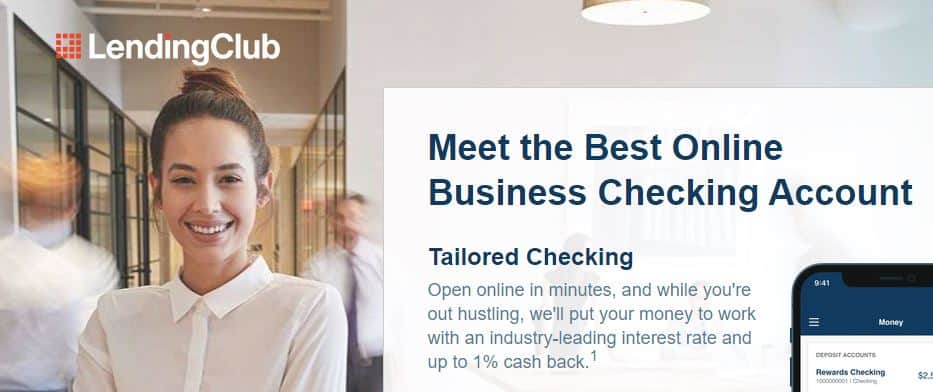 Radius Bank has four different banking options, making them an excellent choice for growing your company.
Having been acquired by the Lending Club, they provide you with even more solutions for your company.
Tailored Checking, Interest Checking, Account Analysis Checking, and Relationship Checking are the four options they offer.
I'll focus on their Tailored Checking account since the others are designed for large-scale businesses. This checking account is ideal for most small businesses with high transactions.
It's important to remember that their major league services are available in the event that your business expands significantly.
Features Of Tailored Checking Accounts
0.75% annual percentage yield (APY) on balances over $5,000
Unlimited transactions.
A worldwide network of free ATMs
There is no requirement for a minimum balance ($100 deposit to open)
Monthly fee of $10 (waived on balances above $5,000)
The fact that this bank allows for unlimited transactions is one of my favorite features. After a certain number of transactions per month, most banks expect you to make a fee payment.
Axos bank, for example, only lets you make 200 transactions a month before having to pay a $0.30 transaction fee. Some banks also charge up to $25 for a single transaction! For several businesses, this can quickly add up.
Radius is not one of them. They won't hold it against you, and you can go through as many transactions as you like. This is ideal for companies that process a large number of transactions per month or that prioritize growth.
On signature-based online credit transactions processed using your debit card, Tailored Checking also offers 1% + cashback.
It's also worth remembering that on balances above $5,000, you'll get 0.75% APY. It may be easy to look at BlueVine and think that their offering of 1% is better. However, it is more profitable for large companies because Radius doesn't have a balance limit for interest. This means that you can deposit $1,000 or $500,000 in the checking account and still collect 0.75% APY.
One drawback is that they charge a monthly fee of $10 in addition to the $100 initial deposit. If there is a balance of $5,000 or more, the monthly service fee is waived.
It is possible to complete an application online in a few minutes, without having to upload any documents. Get started with Radius Bank today if this seems to be a good fit for your business.
4. Novo – The Best Online Bank For Small Businesses And Freelancers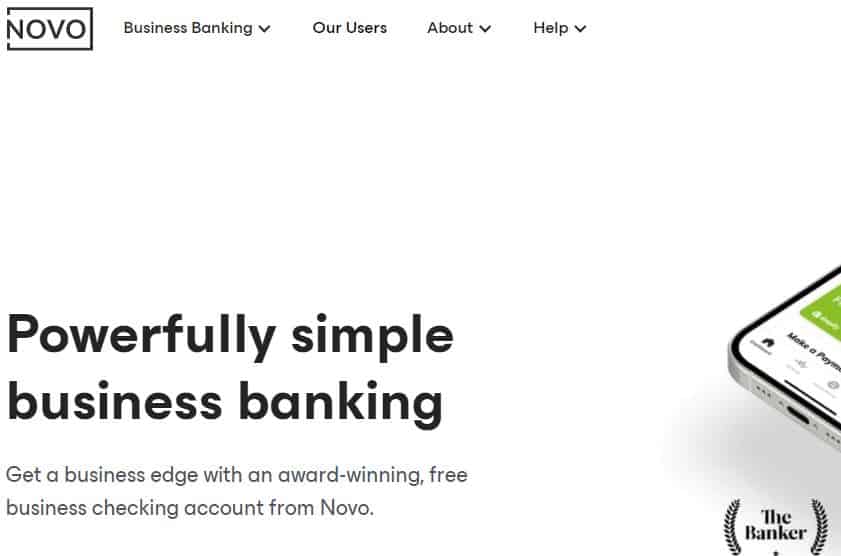 Novo is my top pick for all types of entrepreneurs, small businesses, and freelancers.
This is because they have great online banking services that provide features and resources to assist entrepreneurs in growing and maintaining their businesses.
Here's a rundown of the benefits and features of this online banking service:
All ATMs support refunds
There are no recurring service fees
Free domestic and international wires
Free ACH transfers (both inbound and outbound)
No requirement for minimum balance
Free mailed checks
Novo's broad range of integrations to fit into your business's current infrastructure is why it's suitable for entrepreneurs.
This includes integrations with Xero and Quickbooks for bookkeeping and accounting; Stripe for processing payments; Shopify for eCommerce; Zapier for CRM, email, and marketing, etc.
Discounts are also available for business software like Salesforce, HubSpot, Stripe, Google Cloud, and Zendesk.
Novo also has a fantastic mobile app that allows you to manage all your daily banking needs through your phone.
Applying for a Novo business checking account takes less than a few minutes. The minimum deposit to start an account is $50, which is lower than other banking services.
In general, Novo is a simple, online-only banking service for small business owners who want to keep things simple. However, aside from a checking account, it lacks other banking features.
5. Chase Business Complete Banking – Best Online Bank For Business Account With In-Person Banking
Chase provides some of the best business banking options available today, which are only enhanced by their in-person banking experience.
For those that require both online and in-person banking, a Chase Business Complete Banking account is a great choice. For instance, if your company often deals with cash or foreign currency, Chase could be a good fit since you can speak with a live teller.
Other banks may have an online and physical presence, but none of them compare to Chase's account options.
Features Of Chase Business Complete Banking Account
More options for waiving fees. Retaining a minimum balance or making transactions on the Chase Ink Business credit card are a couple of options for avoiding the monthly service fee
When a Chase Business Complete Checking account is opened, you'll get $300 (qualifying customers)
QuickAccept for same-day deposits. With same-day deposits at no extra charge, you can convert the cash you receive to help with the daily operation
Quick and easy payment processing. With Chase QuickAccept, you can accept payments anywhere, anytime in the United States, and receive transparent pricing
Chase Mobile app and Chase Business online make it easy to manage the account
Activity alerts to keep you up to date with the account
Access 16,000 ATMs and 4,700 branch locations easily
Electronic deposits, Chase Quick Deposit, and ACH are all unlimited
Although there are fees involved, you can avoid them by keeping a minimum balance or doing transactions using the Chase Ink Business credit card.
Chase offers some of the best credit cards for businesses, in addition to checking accounts. If needed, you can also take advantage of online business lending solutions and merchant services.
Overall, it's difficult to find a superior service to Chase with a great online banking experience that's complemented by physical locations.
How To Choose The Best Online Banking For Businesses
Not every bank on the list will be a good fit for your business. You'll have to nail down your options based on some factors.
The key factors to consider when picking an online bank for your company are mentioned below. This is the approach I used to come up with this list, which you can now use for your making your selection.
Interest Rates
Another consideration to make when selecting an online business bank is the annual percentage yield (APY). This is the amount of interest the account would earn on the amount you have in it.
Some banks pay a higher annual percentage yield than others. For example, BlueVine pays an interest of 1% on balances below $100,000. It may not seem to be much, but according to FDIC it is 20 times more than the national average.
This could result in you making hundreds of dollars more per year in a passive manner.
Though interest rates must be considered when looking for online banking for businesses, there is something to keep in mind: don't chase the rates. That is, don't let interest rate be the most important factor in your bank selection.
When banks promote attractive interest rates, it's easy to get caught up in that. However, keep in mind that interest rate is just one component in choosing the best online bank for small businesses.
Requirements Of Minimum Balance And Fees
In the case of business bank accounts, minimum balance requirements and monthly fees are common.
Certain banks offer accounts without fees, while others allow you to avoid paying a monthly fee by keeping a minimum balance.
Business checking accounts, unlike personal accounts, typically have a monthly cap for transactions. If you go over the limit, you have to pay the fee. If you're not careful, the fees may add up quickly—especially after you've passed the promotional pricing period offered by some banks.
Therefore, try to find an online bank for small business that doesn't charge recurring fees or non-sufficient funds (NSF) fees.
For example, if you are looking to save money on your online banking, BlueVine is a great option. There are no fees or minimum deposits needed.
There are also other banks that don't charge a monthly fee like Novo and Axos.
Some banks charge fees if you don't maintain a certain minimum balance in the account. Chase is a fine example of what I'm talking about. They have a monthly fee, but it is waived if you keep a minimum daily balance.
Minimum balances aren't usually a big deal since they're typically quite low. Even then, it's something to think about when searching for a bank, particularly if you're a startup.
Limit On Transactions
For business checking accounts, many banks have limits on transactions. If you go over the limit, you could be charged about $0.50 for a transaction. This is done by banks to ensure that they have enough cash on hand to meet all their customers' needs.
Axos Financial, for example, offers 200 transactions for free every month. Once you go over that limit, you'll be charged around $0.30 for a transaction.
It isn't bad by any means, but you clearly want to save as much money as possible.
And if you run a company that does regular transactions, it could add up during the course of the year.
You'll need a higher transaction limit if you're a bigger company because you'll be making more withdrawals, payments, and deposits. You should be mindful of the fees associated with the usage and keep track of the limits and APYs provided by each banking institution.
Fortunately, some banks, such as BlueVine and Radius Bank, allow you to make an unlimited number of transactions every month at no additional cost.
In-Person Banking Options
This isn't the most important factor. That being said, having a bank that you can physically go to is important for some of the readers.
Although online banking has many upsides, physical locations come with their own set of advantages. Withdrawing and depositing money could be a lot easier in a physical location. You can also speak with a real person about your problems and concerns.
If your company deals with a lot of foreign currency, it would be useful to have an in-person service where you can swap currencies at a reasonable rate.
Because of all the invoices, receipts, and paperwork involved, businesses that provide tax advice may still need to rely on physical locations.
With over 5,000 physical locations around the United States, Chase stands out based on this factor. If this is important to you, just make sure that a branch is present in your city.
It may also be essential to have several ATMs to go to, that do not charge any additional fees. Find out if the bank you're considering has a large ATM network in the area or if they refund ATM fees.
Support And Custom Solutions
The nature of your company and the sector in which it operates would both influence in picking the best bank for you.
Startups, freelancers, and sole proprietors can all benefit from online banking accounts. Some, such as Radius Bank, have products tailored to certain sectors like nonprofits.
Novo caters to all types of freelancers and entrepreneurs with its easy-to-use tech integrations with Stripe and Quickbooks, as well as customized banking services. If your company needs more sophisticated money transfers, Radios provides escrow services.
Square is a useful service if you need store services such as a POS system.
If you're looking for real estate or small business loans, you'll want to look at what these various banks have to offer.
Final Thoughts
Here's a rundown of the best online banking for businesses available today:
BlueVine — Ideal for new companies to hold and grow cash
Axos Bank — Best online banking for businesses looking to reward their employees
Radius Bank (Lending Club) — Best online bank for business account with high volume of transactions
Novo — The best online bank for small businesses and freelancers
Chase Business Complete Banking — Best online bank for business account with in-person banking
In this post, I purposefully included banks that would work for different types of companies. From a small business bank account to services for large corporations, I'm confident you'll find what you need from the list.
Disclaimer: The author's views are his own, not those of any bank, and they have not been checked, accepted, or otherwise endorsed by any of these organizations.