If you're short of cash and have unpaid invoices, you should try factoring invoices.
Unpaid invoices are an inevitable aspect of doing business. For small business owners all over the world, it's a frustrating and unfortunate fact.
When invoices aren't paid, you can find yourself in a situation where you don't have as much cash as you'd like. And the more invoices on which you're already waiting for payment, the worse it gets.
What Is A Factoring Service And How Does A Factoring Company Work?
When your company sells qualifying unpaid invoices to a factor in exchange for cash, this is known as invoice factoring. Usually, you'll earn 70% to 95% of the invoice's value while paying an invoice factoring rate up to when the invoice is paid.
If you can handle the drop in net profits, it's perfect for fast cash flow. It can be a very profitable choice for a small business in the growth phase. Factoring isn't always the best choice, though. It might not be a good fit for you if you don't have big clients or customers in the public sector.
It's important to note that this is not the same as a conventional business loan or credit line.
This guide will help you find the best invoice factoring company for your business if you want to get instant cash for your unpaid receivables.
Best Invoice Factoring Companies
Most small business owners find factoring of invoices to be a complex subject. And, with so many options available, deciding which is the right fit for your company can be difficult.
Fortunately, I've put together this list with the necessary research.
altLINE – For low fees
BlueVine – Low invoice factoring rate and fast funding
Triumph Business Capital – Best factoring company for truckers and freight brokers
TCI Business Capital – For monthly contracts
eCapital – Non recourse factoring company
Riviera Finance – Best choice for credit guarantee
Breakout Capital – Invoice factoring company with the most flexibility
As we progress through this guide, I'll give you an in-depth invoice factoring review for each company. This will assist you in determining the best option for your requirements.
1.altLINE — For Low Fees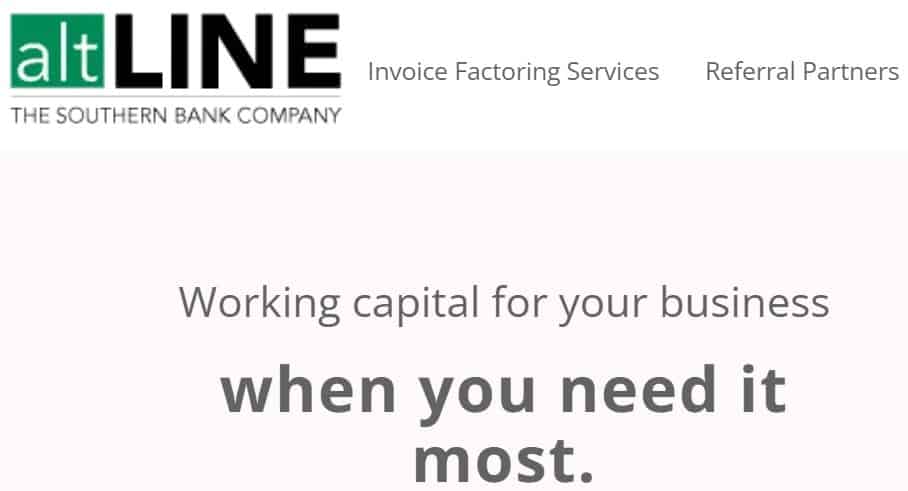 altLINE is a dependable and trustworthy invoice factoring service known for its low fees.
There are somewhat unusual in the sense that they're a direct source of financing rather than a middleman. altLINE does not have to charge extra for borrowing costs like some third-party vendors since it is a subsidiary of the Southern Bank Company. These savings are beneficial for business owners because they would not bog you down with fees.
They don't charge an application fee, so you can save even more by using their account factoring service.
Besides factoring invoices, the company also provides factoring of accounts receivables. In the field of small business financing, the two terms are often used synonymously, but they are not the same.
For business owners, invoice factoring provides a lot of versatility. The credit profile requirements for factoring accounts receivables are more stringent. On the other hand, this type of funding would normally provide companies with preferential financing factoring terms.
Up to 90% of eligible unpaid invoices will be covered by altLINE for factoring.
altLINE, as a federally regulated financial institution, is completely transparent regarding its fees and payment terms. The invoice factoring rate begins at 0.50% and goes up from there. You'll also get quick approval without having to pay an application fee.
Besides factoring accounts receivables and invoices, AltLINE offers asset-based lending for companies. This is another option for borrowing money by using your receivables as collateral.
Service Factoring Sectors
The following are some of the most common sectors for factoring of invoices with altLINE:
Advisory services
Distribution
Cleaning facilities
Food services
Facility-related programs
Consultancy services
Wholesalers
Manufacturing
Clothing and apparel
Staffing
Oil and energy
2. BlueVine — Low Rates And Fast Funding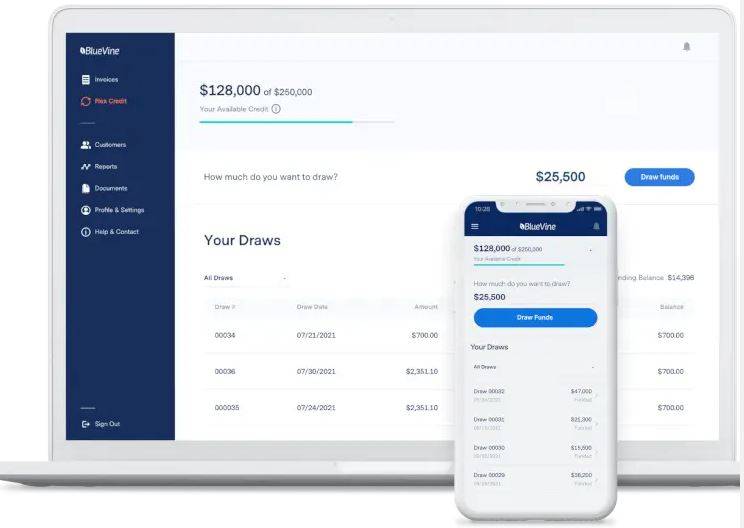 BlueVine is one of the most well-known and reputable invoice factoring companies in the industry. This is due to their low rates, higher factoring lines, and dedication to fast funding.
Factoring lines of up to $5 million are available via BlueVine. Factoring rates begin at 0.25%/week and go up from there.
The approval procedure is quick. You can get accepted in as little as 24 hours if your business needs cash right away.
The funding procedure is flexible and simple. Based on the type of your clients, you'll be able to obtain higher credit limits.
The fees charged by BlueVine are straightforward, so you always know how much the factoring of invoices will end up costing you. They charge a fee on a weekly basis that is due when the invoice is paid, rather than collecting recurring payments.
You'll have complete control over which invoices are sold, and you won't have to sign a long-term contract.
Online invoice factoring application takes less than 10 minutes. After you submit a few basic business details, the approval process for the application will take up to 24 hours.
Once you've been approved, simply sync your accounting software or upload any unpaid invoices to the BlueVine dashboard.
They pay out between 85% and 90% of the money right away. If the invoice is paid, you'll receive the remaining funds, minus the BlueVine fee.
Financing Factoring Requirements
To get started with BlueVine invoice factoring, you must meet the following requirements:
The company brings in $10,000 a month in revenue
The business must have been in operation for at least three months.
A personal FICO score of 530 or higher
You're a B2B business (traditional customer invoices aren't eligible)
You'll also need to send BlueVine some basic information about your invoices, as well as three months' worth of statements from banks.
3. Triumph Business Capital – Best Factoring Company For Truckers And Freight Brokers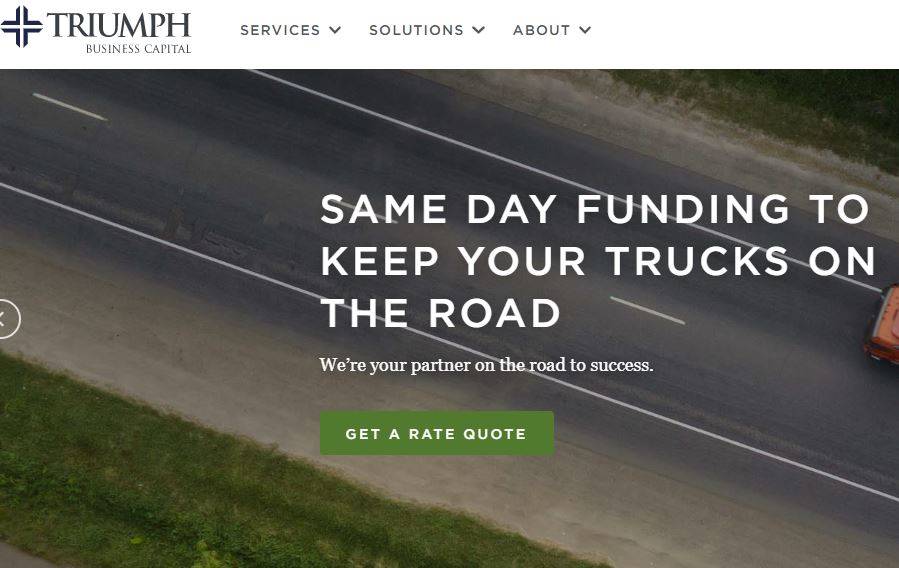 This is the best factoring company for truckers and freight brokers, and it's easy to see why.
Triumph invoice factoring is popular among these companies because they understand the dynamics of a freight broker factoring company, including working power, and how cash flows across their operations.
Triumph was named a Preferred Provider by the Transportation Intermediaries Association due to its superior account factoring service to freight and trucking businesses.
No matter whether you're a one-truck company or have a fleet of several trucks, they'll follow a simple and quick process to get money into your hands.
They also cater to the following services:
Staffing
Transportation
Government contractors
Oil and energy
Another notable feature is their user-friendly web portal. The dashboard and method make managing your funds a breeze. No matter where you are, you can still keep up with your account and records.
You'll also have access to Triumph Business Capital's support staff. Along with factoring of invoices, they have a wide variety of financial services:
Travel banking
Asset administration
Insurance
Asset-based financing
Consider it your one-stop shop for all your financial needs.
4. TCI Business Capital — For Monthly Contracts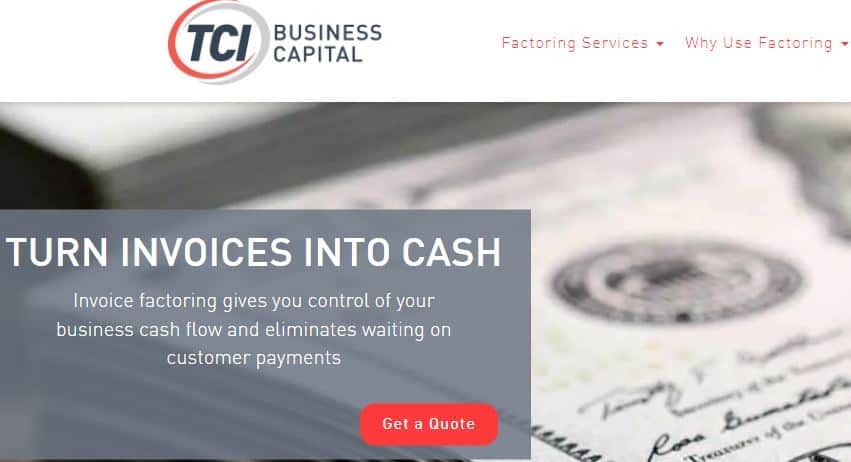 TCI Capital is ideal for companies looking for month-to-month contracts.
The sum they charge you fluctuates from month to month depending on the volume of your invoices. This means that if you have higher sales resulting in more invoices, the factoring fees will be lower.
While other companies do this as well, TCI Capital is different because it does so on a monthly basis, while other companies can only change the rates once every year.
TCI Capital's factoring services have a personal touch. They recommend that you speak with a representative who can assist you in determining the best option for your specific circumstance and requirements. TCI Capital also makes sure that the solution is beneficial for your clients.
TCI Capital's invoice factoring fees are determined by volume like most of the other companies. It's a great choice for those with bigger volumes if you are looking to take advantage of preferred rates and fees.
TCI Capital's website has a useful tool for calculating factoring costs.
Select your preferred advance rate of 70%/80%/90%, and then input your standard monthly sales.
Choose your customer payment terms (net 30/60/90/120 days) and the tool will calculate your factoring costs.
Let's say your monthly revenue is $15,000 and your invoices have a payment rate of net 90. The invoice factoring rate will be $300 if you want 80% of your money in advance.
You'll get quick approvals, smooth onboarding, and monthly contracts with TCI Capital. They provide you with consistent cash flow by providing higher advances and same-day financing factoring.
B2B Service Factoring Categories
TCI Capital's invoice factoring clients are usually B2B companies that fall into one of the categories below:
Telecommunications and wireless
Staffing
Renewable energy
Large-scale construction
Contractors in the pipeline and utility companies
Government contractors
Production of goods
Freight and trucking
Services for oilfields
Programs for the environment
5. eCapital — Non Recourse Factoring Company
eCapital is an invoice factoring company that does non-recourse agreements. This means that you're not entirely responsible for repaying the factoring company if your customers refuse to pay your invoice.
This is the ideal scenario because you can get financed without having to take on the risk of unpaid invoices.
It's an excellent option for entrepreneurs, start-ups, and companies with tax problems. Usually, eCapital engages with a large number of government contractors. Any approvals will be unaffected by your personal credit. Since eCapital takes on the risk, they make decisions based on your clients' credit.
You'll need a minimum of $30,000 in monthly revenue to apply for invoice factoring with eCapital. This is a bit higher than the other choices I have on this list.
Besides factoring invoices, eCapital also provides government contracting companies with working capital and purchase order financing.
6. Riviera Finance – Best Choice For Credit Guarantee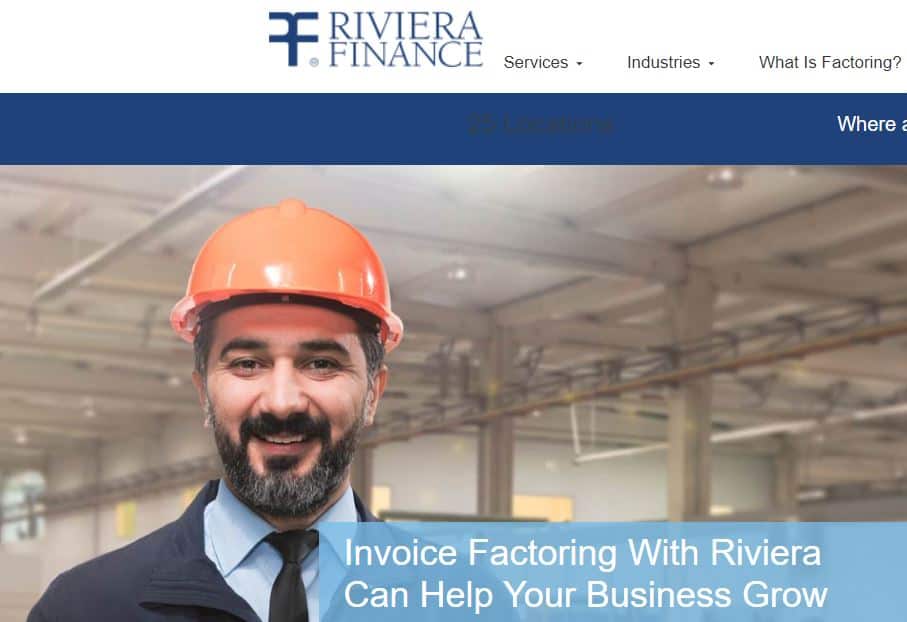 Another recommended provider for non recourse invoice factoring is Riviera Finance. Their credit guarantee is what sets them apart.
They have a credit handling service that ensures credit on all factored invoices. Riviera Finance takes on the role of a credit manager and bears the responsibility if an invoice is not paid.
Riviera Finance is ideal for any company that requires fast cash. They have some of the fastest turnaround times in the industry, with funding assured within 24-hours.
Riviera Finance can fund up to 95% of eligible invoices, depending on your industry type, clients, and market. You'll have the flexibility for financing factoring.
As a result, no liability is generated on your end, and the company safeguards you against factoring of debts on all factored invoices.
Riviera Finance also has a fantastic receivables management structure. They are capable of handling the following tasks:
Invoice uploads that are automated
Keep the clients' processes running smoothly
Invoice payment processing
Customized management reports
Processing and mailing of invoices
Keep track of any overdue invoices
Real-time notifications about disputes, returns, and payment problems
Through an online dashboard, you'll have 24/7 access to all the information for the factoring of accounts receivables.
7. Breakout Capital — Invoice Factoring Company With The Most Flexibility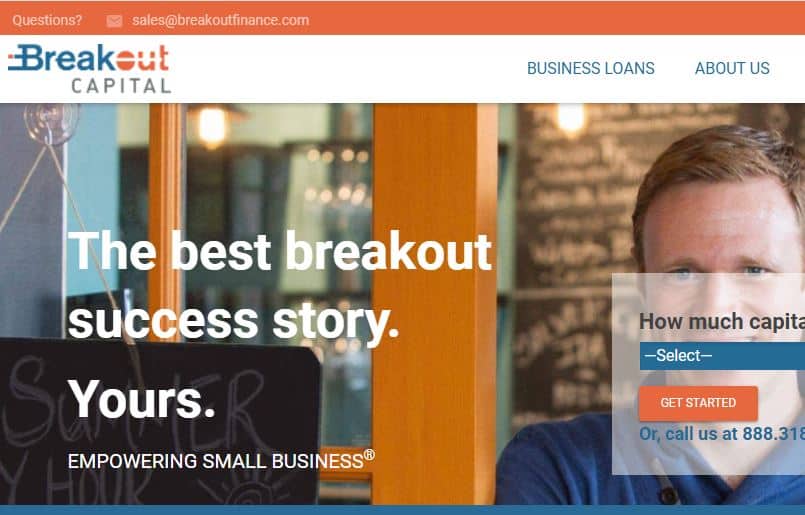 Breakout Capital provides a highly versatile invoice factoring service that is ideal for both small and new businesses.
More importantly, they have a payback plan that provides small businesses with more flexibility in terms of when they must repay Breakout Capital. These are available in monthly, weekly, and daily scheduling options. This is something that only a few invoice factoring companies do.
They also have a service known as "FactorAdvantage." It's a custom option for businesses that do not meet the requirements of other factoring companies or lenders. That's good news for start-ups.
Consider it a cross between invoice factoring and a loan.
Here are a few of the benefits of using this service:
Increase the over-advance limit
Use AI to predict cash flow
Receive money for receivables before invoices are factored
Get rid of any liens or merchant cash advance schemes
Availability of short-term bridge loans
Since the approval process is so quick, Breakout Capital is ideal for startups. There are no minimum requirements such as FICO score, monthly sales, or time in operation.
That being said, the invoice factoring rates of Breakout Capital are higher than those of some companies I've looked at. Factoring for businesses begins at 1.25%/month.
Breakout Capital is a great option for startups looking to borrow up to $500,000 for unpaid invoices. In my opinion, FactorAdvantage is a unique product available on the market.
How To Select The Best Invoice Factoring Company
Factoring invoices can be very beneficial for your business. You'll be able to reinvest your earnings and expand even more if you are able to receive money quickly.
However, finding the right invoice factoring company to suit your business's needs is critical. You need to find one that meets the business's unique goals by not getting charged too much.
When deciding whether or not to use business factoring services, there are a few things to consider. This is the approach I used to narrow down my options.
Factoring For Businesses In Specific Industries
There are invoice factoring firms that specialize in a particular industry. This can be advantageous since they are familiar with the relevant procedures for collecting payment from unpaid invoices.
These factoring companies know your business and industry. As a result, they'll make the factoring process go as smoothly and efficiently as possible.
Triumph Business Capital, for example, assists small to mid-sized companies in the transportation (freight and trucking), energy, and government sectors (e.g. contractors).
Another well-known factoring company TCI Capital specializes in B2B businesses like telecommunications, staffing, utility, and manufacturing.
Look for an invoice factoring company that is familiar with your business. As a result, you'll be able to experience the best possible account factoring service.
Flexibility
When it comes to factoring, it is nice to work with a company that offers enough flexibility when it comes to specifications and methods of invoicing. As a result, you'll want to find a company that won't try to tie you down to a long-term contract while still providing you with the credit you need.
You may just need to factor one or two invoices. Spot factoring is the term for doing this on the fly.
You'll be able to choose which invoices are factored and when they are processed. You'll also have more say about the duration of your contract, which is always a plus.
"Whole ledger factoring" is required by certain invoice factoring companies. You won't have as much leverage in this situation. Spot factoring is, in general, the preferred option for business owners.
You can also look into the different types of credit lines that these factoring companies have.
BlueVine, for example, can extend credit up to $5 million, even if you have a low credit score (minimum 530 FICO) and have only been in operation for three months.
Recourse Invoice Factoring vs Non Recourse Factoring
What if one of the customers fails to pay the factoring company an invoice? You may be liable for factoring of debts, depending on the company you select.
There are two types of invoice factoring:
Non-recourse factoring entails the factoring firm taking on a portion of the risk. Although the fees involved are higher, you are less likely to lose any of your unpaid invoices. This is a safer choice for businesses that cannot afford to deal with a customer refusing to pay.
With recourse factoring, if your client fails to pay their invoice to the factoring company, you are financially responsible for the invoice. The fees are significantly lower as a result of this trade-off.
Whatever the case may be, you need to ensure that the invoice factoring company you select does everything possible to get the customer to make the payment. You don't want them to sit on the invoice, putting little effort to contact your customer, and then charge you when they don't pay.
When you're doing research on the companies, look at their process for collecting payments. Make sure it's both respectful and firm (you don't want to lose out on a customer).
Quick Funding
Effective factoring for businesses requires a service that can easily and quickly return cash to your account. That is why you should look for a company that offers fast approvals and turnaround times.
Some invoice factoring firms, like BlueVine, claim to approve eligible invoices in "as little as 5 minutes."
Other business factoring services, like altLine, take a little longer to complete—about 4 days. For some of you, this might be quite long. Depending on where you are in your business, you may need money sooner to fix immediate issues or take advantage of attractive investment opportunities.
You can also inquire with the factoring company about the time it takes for the funds to become accessible. It should happen within a day of getting approved, but it could take up to 3 days.
Keep in mind that you're factoring because you need money now. Check with each account factoring service to see how long the approval and financing factoring process could take.
Fees For Factoring
Many business owners recognize the short-term advantages of invoice factoring (i.e. cash upfront). However, they ignore the fees that they would incur.
Some invoice factoring firms entice you with low factoring rates, only to levy additional charges such as:
Service charge
Charge for submitting an application
Transferring fee
Renewing fee
Origination fee
Early termination
I'd suggest using an invoice factoring company that is transparent with its pricing. You should only be responsible for the factoring fee and not any extra or hidden costs.
Final Thoughts
Invoice factoring is typically used by B2B companies. Within that group, however, there are many niches and special circumstances. There is something for everyone on this list that I have created and explained.
Here are the best invoice factoring companies:
altLINE – For low fees
BlueVine – Low invoice factoring rate and fast funding
Triumph Business Capital – Best factoring company for truckers and freight brokers
TCI Business Capital – For monthly contracts
eCapital – Non recourse factoring company
Riviera Finance – Best choice for credit guarantee
Breakout Capital – Invoice factoring company with the most flexibility