You need to select the best dropshipping company if you don't want to deal with any of the following issues when starting an eCommerce business:
Having sufficient funds to buy inventory in advance
Resource management
Logistics
Manufacturers ship to your customers directly on your behalf. You receive all of the benefits of eCommerce without having to deal with these issues.

I've compiled a list of the best companies for drop shipping in this guide to assist you in getting started.
9 Best Companies For Drop Shipping (Vendors, Databases, And Resources)
Spocket — Best dropship company directory for Shopify
Worldwide Brands — The most cost-effective database
SaleHoo — An exclusive members-only directory of over 8,000 suppliers
Oberlo — Shopify's best plugin and database
Modalyst — Best dropshipping company integration with Wix
Wholesale2B — A dropshipping hub and versatile supplier
AliExpress Dropified — A well-known Shopify AliExpress app
Importify – Best dropshipping company for WooCommerce
Inventory Source — Best dropship company automation resource
You're ready to connect with a supplier and start selling once you've set up your Wix or Shopify account and store. However, since most dropshipping companies do not want to discuss their products or the suppliers they are using, it can be difficult to enter into the industry. The theory goes that you'll only copy their store and take away the market share.
I'm here to assist you with the list of the best companies for drop shipping, databases, and manufacturers, as well as their benefits and drawbacks.
1. Spocket — Best Dropship Company Directory For Shopify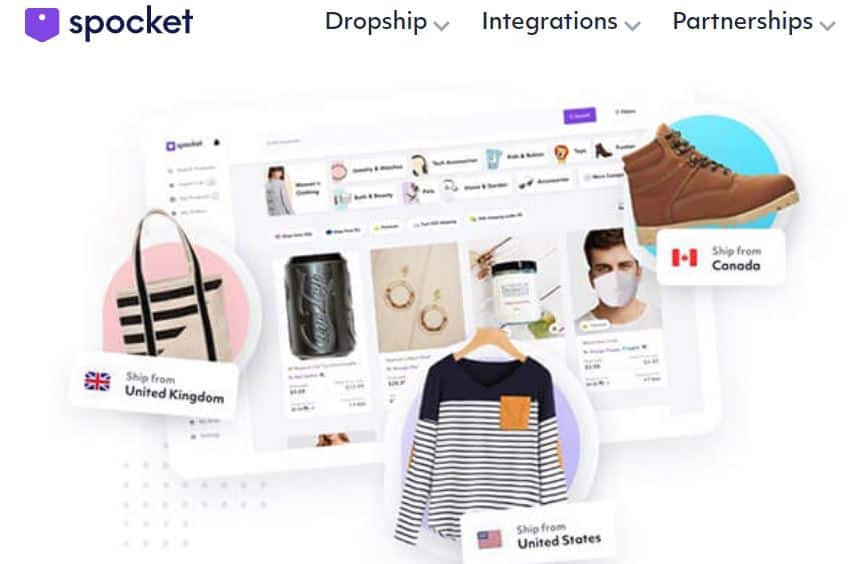 Spocket is a fantastic dropshipping database app. You are able to view items by country and then easily upload them to the Shopify store.
The app makes it simple to find products in the United States and Europe that will ship to your country instead of from China, reducing shipping times.
The Basic package is free (25 products and unlimited orders), and the Pro plan (250 products with branded invoicing) is $49 a month. For $99 a month, the Empire package grants access to an infinite number of products. In the Shopify app store, the app shows a rating of 4.5/5.
2. Worldwide Brands — The Most Cost-Effective Database

Lifetime access to Worldwide Brands' directory of dropshippers and wholesalers is available for $299. It's a great cost-effective option for those selling goods on Etsy, Amazon, and eBay.
Worldwide Brands stands out for its vast high-end wholesale list of accredited dropshippers, as well as its dependable and responsive support staff. It also doesn't hurt to get a lifetime membership. On Trustpilot, Worldwide Brands has a rating of 4.9/5 based on 171 reviews.
3. SaleHoo — An Exclusive Members-Only Directory Of Over 8,000 Suppliers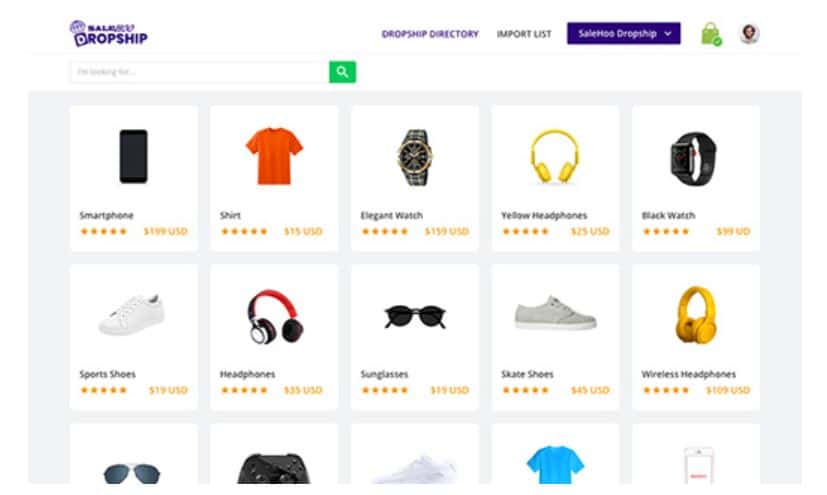 This database of wholesalers and dropshippers is available for a yearly fee of $67. SaleHoo currently has over 8,000 suppliers on the list, all of whom are screened before being included in the database. There's a free trial period of 60 days, and customer support gets high scores on TrustPilot: 9.6/10 with 300 ratings.
You'll be glad you paid the membership fee (which isn't outrageous) because you get access to not only those professionally vetted vendors but also to SaleHoo's Research Lab, where you can get useful data on what people are buying now and what's trending.
You can view how other dropshippers are competing for the commodity, compare profit margin between products, and recognize emerging trends in the Lab, allowing you to take action early (before others catch up with the trend).
Accessing the wholesaler directory is not the complete story with SaleHoo. You'll also have unrivaled agility over other dropshippers.
4. Oberlo — Shopify's Best Plugin And Database
Oberlo is a fantastic plugin service that integrates with the Shopify stores.
The Oberlo product directory has everything you require. The dashboard even displays the number of pageviews, purchases, and star ratings that each seller and item has earned.
Once you've made a sale, you can use Oberlo for ordering the product to be delivered to the customer.
The selection of the product and fulfillment is taken care of for you. This frees up time for you to concentrate on sales and drive traffic to the store.
Oberlo offers a Starter package that is free of charge. However, you'll need to upgrade to the Basic package for $30 a month to get shipment monitoring and order fulfillment tracking (which I suggest doing).
Your limit for sales will also be increased to 500 from 50. If you reach 500 sales, you'll be upgraded to Pro status, which costs $80 a month and supports multiple users.
Oberlo has a rating of 4.2/5 in the Shopify apps store, based on 2,000 reviews.
5. Modalyst — Best Dropshipping Company Integration With Wix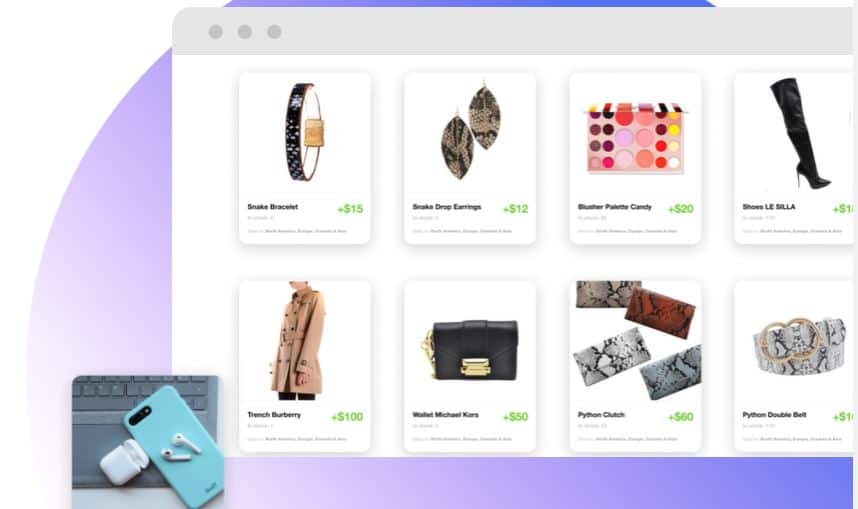 Modalyst automates the dropshipping business in a seamless manner.
They associate you with suppliers so that you can provide your customers with the goods they need. They also have a large selection of clothes, jewelry, shoes, and other products.
The database is also centralized, making it very user-friendly. You'll be able to communicate with suppliers via a single dashboard, and they even have an app.
Modalyst's highly regarded integration with Wix is where they really shine. You can install their software with a single click and start selling to your customers right away.
The basic package, which comes with a limit of 25 products, is free.
6. Wholesale2B — Dropshipping Hub and Versatile Supplier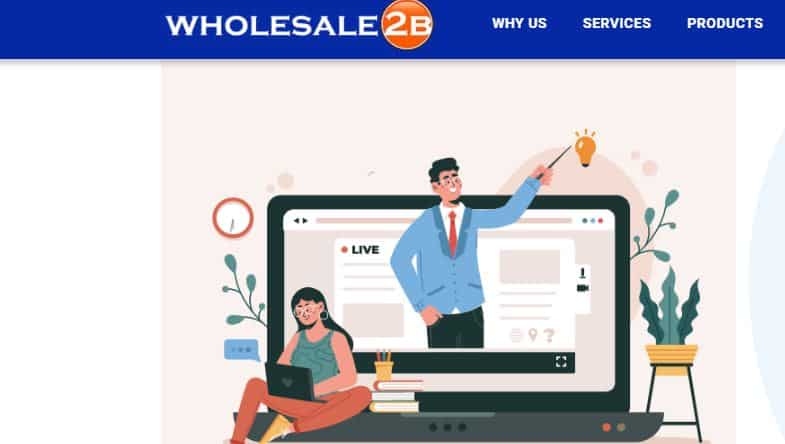 Wholesale2B has over a million items available for dropshipping.
Furthermore, they support selling products on:
Amazon
eBay
Shopify
BigCommerce
WooCommerce
Weebly
Magento
Wholesale2B store
Take care of the orders by yourself after registering as a reseller with the supplier. Alternatively, Wholesale2B could do it for you at a 3% handling fee.
Wholesale2B offers a free account. Their database has 1 million items and comes with customer service.
7. AliExpress Dropified — A Well Known Shopify AliExpress App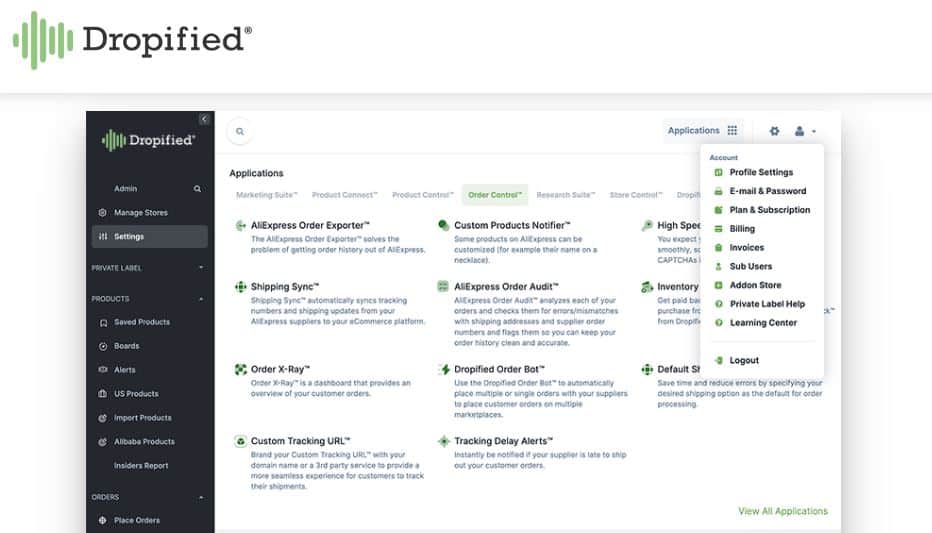 This is yet another app with Shopify for stocking your online store and automating AliExpress orders (including delivery).
However, there is no marketplace from Dropified, just a plugin for the browser that allows you to pull from any website. You can change the price ranges in the store by setting margin parameters and guidelines.
There's a free trial of 14 days; after that, the Builder package is $47 a month, or $39 a month if you sign up on an annual contract. A dashboard showing profits, Zapier integration, and an unlimited high-speed captcha solver come with the Premier package, which is $127 a month or $97 a month with an annual contract.
In the Shopify app store, the app has a rating of 4.4/5 based on 104 reviews.
8. Importify – Best Dropshipping Company For WooCommerce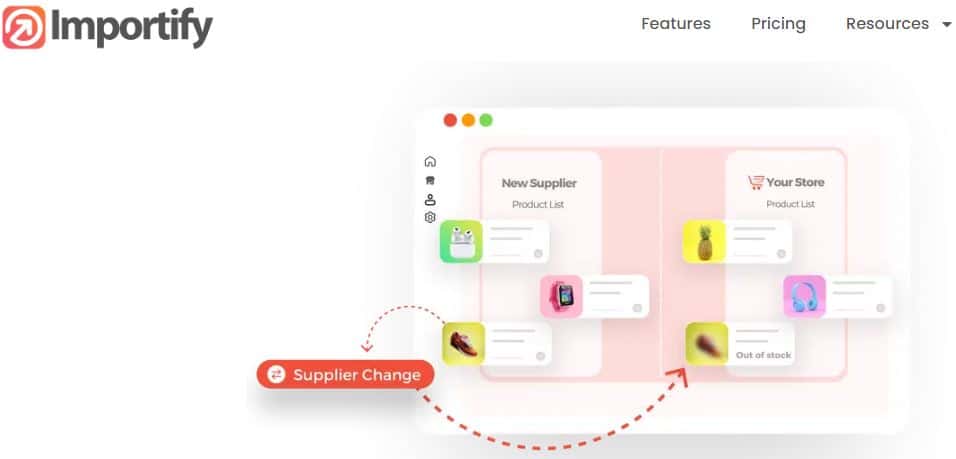 For dropshipping stores using WooCommerce, Wix, Shopify, or Jumpseller, Importify takes care of product automation and importing.

Importify differentiates itself as a multi-purpose platform facilitating your WooCommerce operation, with so many dropshipping resources focusing solely on Shopify stores.
It begins with its sourcing and research tool, which allows you to search for products from well-known dropshipping wholesalers like:
Walmart
Costco
DHGate
Etsy
Com
Kohls
Flipcart
Geekbuying
Bonanza
Find what products you are interested in selling and import them with a single click into your WooCommerce store.

If one supplier runs out of stock or you find a better bargain from another, Importify makes it simple to switch vendors on a product. You may also specify pricing criteria before importing to speed up the process of sourcing to selling.

An editor for product listings, an extension on Chrome for quick product import, and 24/7 customer support are also included.
Importify's Basic package, which costs $14.95 a month, includes everything stated above.

Upgrade to their Premium plan for $27.95 a month if you want to import products from Ali Express and Amazon.

Importify's Gold package, which costs $37.95 a month, is ideal for dropshippers with high traffic. This activates the platform's order fulfillment automation. You can have addresses of customers filled up on vendor forms and product alternatives selected automatically, allowing you to ship and sell at a higher volume than ever before.

Start a free Importify trial today to improve your WooCommerce-powered dropshipping website.
9. Inventory Source — Best Dropship Company Automation Resource
Inventory Source is a dropshipping automation resource that lets you either coordinate the products of your suppliers with your store (inventory automation) or sync the whole customer purchasing process so that the orders are placed with the vendor automatically (full automation).
This significantly reduces the amount of time spent on tedious work. You select a new item, and Inventory Source uploads the weights, quantities, titles, colors, and other information for you. This data is always updated because it comes directly from the vendor's feed.

Inventory automation costs $99 a month, while full automation costs $199. Having a database account, which lets you view product feeds and see all dropship suppliers, is, however, completely free. Is there anything better than that?
Dropship Business Model
Dropshipping solves a number of issues, including the need for upfront cash and the accumulation of boxes in your storeroom, locker, or, let's be frank, spare bedroom.
You'll never have to handle the goods or be liable for packaging or delivery. There will be no more visits to the Post Office as a result of this. All of this is taken care of by your dropshipping partner.
Uber, the world's largest taxi company, does not own a single cab today. Airbnb, the world's largest lodging business, does not own a single hotel. Similarly, many eCommerce businesses don't have any inventory and merely function as a marketplace.
Dropshipping has both advantages and disadvantages. You won't be doing any delivery, so you won't be able to monitor the shipping pace or packaging.
Orders are canceled when shipping times are too long.
Weird packaging equals negative feedback.
You'll also need money upfront to create your website, invest in the sweat equity required to get your business off the ground, and complete all of the other measures necessary to get your business off the ground.
Before you get too deep in any business relationship, you can do your homework on who you're dealing with, how much it'll cost you, and what you hope to get out of it. This due diligence will assist you in selecting dropshipping companies that will work for your company, regardless of its niche.
How To Start A Dropship Business
1. Master The Fundamentals
You should spend money on a suitable domain name. It's an important aspect of any online business.
Domain.com is a good place to find one.
After that, you can start building your store.
You'll be up and running in minutes if you use Shopify. Many dropshippers go with the Brooklyn theme, which has a nice font selection. Other eCommerce alternatives are available. If you're interested in learning more, check out my analysis of the best eCommerce platforms.
With 99Designs, you can find a professional logo that fits your website for a fair price (and without any design experience).
Make sure your dropshipping store has email addresses that are professional. It's a good idea to start with the name of your domain (support@, help@). G Suite is a great option for $5 per user/month. It doesn't come across as trustworthy when a customer support email address uses gmail.com or yahoo.com.
Following are other important factors to consider when preparing and setting up your dropshipping store:
Set Standards For Delivery Times
Most dropshipped products will take a long time to arrive at the customer, and when companies like Amazon have set the bar at 2 days with Prime, dropshipping delivery after 30 days feels incredibly slow. Customers would be very disappointed if you do not educate them.
You need to use a really clear copy, such as: All of our products are shipped from our warehouse in China. Orders will be processed the same day and the products are estimated to arrive within 25 to 30 days.
Try To Build Trust With Your Customers
High-quality images and unique product descriptions, a genuine and comprehensive About Us section, and thoughtful use of items like pop-ups and reduced pricing will help you achieve this.
Consider this: Would you use the store to buy a product? Is it something you'd recommend to a friend or family member? At the very least, you'll need some social proof and FAQs.
Ensure That Your Orders Are Fulfilled
Credit card orders can be bundled to avoid the bank canceling several orders. Inform the bank of the kind of orders you'll be putting and in what amounts, so they don't get tagged as fraudulent. There's nothing more annoying than being forced to reorder items you've already ordered (use a business-type credit card).
Budget For Paying The Taxes
If Shopify is used as your payment processor, Shopify will automate the process of reporting sales to the tax agency once you reach a certain sales threshold. You'll need to budget and have enough to pay any applicable taxes. It is also recommended to hire a lawyer and an accountant (LegalZoom and UpCounsel are good choices), as well as using Quicken.
Expect Cancellations And Returns
How can you handle dissatisfied customers? How would you chargeback consumer payments, and what is your return policy? Can you accept the returned goods, or will they be sent to your supplier? How is that going to work? It's important, as with everything in the company, to set things up from the start as though it'll be a big success.
2. Look For Products To Sell.
Find your product niche first.
There's a lot of talk about finding a niche for dropshipping on the internet, but it's just a buzzword for finding a product that is in demand, i.e whether or not people want to purchase your product.
You will not be able to run a profitable company until you do so.
You'll be successful running a dropshipping store if there's a market for the products. People want to buy them but don't know how to find them. That's where you offer value.
Consider communities or people with a shared interest or desire when looking for your niche (anime fans, dog lovers, sailors, very short people, fishing hobbyists, golfing enthusiasts). There are consumers who are willing to spend extra and purchase products that they are passionate about.
Then check out what's popular on Instagram and Facebook.
Look for videos highlighting products for sale that are gaining attention by doing a search for phrases like "Buy now". This will help you figure out what products are currently piquing people's attention on social media.
Pay attention to the number of views acquired within a short time frame, then look for the item on AliExpress or Oberlo, which are dropshipping vendors. Consider the item's price point as well as the content you can make for it.
Are you able to duplicate or create something better than the latest viral video? If that's the case, you might have found something worth dropshipping.
After you've handled that aspect, I have a few suggestions:
Examine The Seller's Ratings And Place A Trial Order
Has the vendor been in the business for long? What kind of reviews have they gotten so far? Do you get the product as advertised when you place an order? What should be your marketing message so that when your customers order, they will be pleased with the product that they receive?
Consider dropshipping just a portion of your inventory.
You don't have to dropship everything. This process is usually appropriate for big, heavy, high-end niche products.
Assume you have an eCommerce store that sells sailors' equipment. You might want to look into storing and shipping some things yourself, but the anchors could be dropshipped. Customers would be more tolerant of longer delivery times for products like this because it's a larger, more thoughtful purchase.

Similarly, in the case of home goods, you might keep small products in stock but try to dropship the sofas. This is a very simple way to broaden your inventory.
Approach a supplier directly and establish a relationship for dropshipping with them.
It is a brilliant strategy because it ensures that there will be low competition. You're essentially building awareness for a commodity that is under-marketed and isn't reaching an audience that is ready to purchase. If you depend on a directory, every other seller also uses the same source.
Nothing Dangerous Or Patented Should Be Sold
Start with anything that isn't used on a person's body if you're a beginner. Do you have liability coverage if you don't know the source or quality of the ingredients and the product results in side effects?
It might also get you in trouble if the item features a character or a celebrity from a film franchise. Keep an eye out for these scenarios.
3. Optimize Your Listing
Ads may be used to collect data and evaluate strategies. If you'll be purchasing advertising, use the data to see what works. What gets the most traction? Run more of that. What doesn't work? It should be scrapped. This can prompt you to alter your products, ad style, or target audience. Following early conversion means focusing on what is effective and avoiding what isn't.
Also, analyze your sales patterns. What's hot right now? What exactly isn't selling? Is there a common thread running through the items? Model what's working and put an end to what isn't.
4. Set Yourself Apart
A nice way to get noticed is to make the advertising and store listings unique.
Keep in mind that if you are able to set up an order for a particular product quickly, another store would also have the same option. You'll need to establish a competitive advantage: why would anyone buy from your store or go to your store instead of your competitor's?
Make people aware of your store. Social media advertisements, a newsletter, influencer services, viral memes, SEO, and word of mouth, are all options. In order to get sales, you'll need traffic.
Use your own photographs. Write unique descriptions. Create original videos for social media. Consider how to better communicate the product and the reason why someone would need it: What issues does it address? Can the product make the customer happy?
You are able to import user feedback if you're using AliExpress. Nobody likes to be the first person to purchase a product.
Also, consider providing free shipping. Customers may be enticed by this. Is free shipping available on all orders or only if an order threshold is met? What is the best minimum spending or threshold?
It may not be a good idea to say, "Free if you pay for delivery." Many consumers would rather have the price beforehand than go through an order that starts at $0 and ends with a shipping fee of $15.
How To Select The Best Companies For Drop Shipping
Searching for the best dropship company can be cumbersome. It's the equivalent of looking for the top Etsy shop or eBay seller.

Many of the very same qualities that would make an Etsy or eBay seller perfect often apply to dropshippers: They're responsive and deliver quickly. The product is delivered on time. It appears to be identical to the advertised listing, and it arrives without damage in an attractive package.
Similar to those sellers, the best dropshipping company, would be the one that sells what you want to purchase (and resell). They will ship the commodity you want in a timely, reliable, and communicative manner at a cost that makes you a profit — it's all about finding the balance.
The majority of dropshippers work with a Wix or Shopify store, as well as an automation software such as Oberlo or Modalyst.
If you're a beginner at dropshipping, this is the most straightforward way in getting started.
Best Platform For Launching A Drop Shipping Business
This means that you are essentially establishing an eCommerce store. Shopify is the clear winner for online stores.
For quite some time, it has been at the forefront. The app store is quite stable, which is especially essential for dropshipping. Since Shopify is used by the majority of stores, developers who are looking to create a good-quality app would target the Shopify app store.
Therefore, if you haven't done so already, it's time to get a Shopify store up and running. It's simple. A Dropshipping beginner course is available from the Shopify Academy that teaches you how to get started with a dropshipping company using Shopify.
Dropshipping using eBay is not something I recommend.
Setting up a store on a marketplace is appealing because you don't have to launch a website, pay subscription fees, and so on, as you would using Shopify. However, I do not prefer this route. Unlike Shopify, which is supportive of new dropshipping companies, eBay is increasingly opposing them. Here are some of the issues that I think are important:
There's a good chance you're not a unique seller having the product.
The store's credibility is at stake — eBay isn't forgiving, and accounts with complaints of poor delivery will be downgraded.
eBay has been scrutinizing resellers and dropshippers, requiring proof of ownership and freezing accounts before that proof is received. A picture of your identity card including the product may be used as evidence — not a picture of the product from another listing.
Your USP is unclear — why should a customer get the item from you, among other eBay sellers?
If you ever decide to start a dropshipping company on eBay, I recommend spending some time reading the website forums to learn about the basic challenges and risks of doing so.
Terminology Used In Dropshipping
Dropshipping (DS) is a supply chain mechanism in which a vendor does not hold products in stock and instead sends orders to a supplier, wholesaler, or retailer, who then ships the item directly to the customer.
Minimum Advertised Price (MAP)
Some sellers impose a limit on how low you can advertise or show your item for sale. This is not the same as the amount you would get for it if you sell. As a result, the MAP price ignores discounts, coupons, and other gimmicks such as providing rebates, a gift card with an order, or displaying an even lower price in the cart.
Arbitrage
Purchasing and selling to take advantage of a price differential for the same commodity. Let's say a $20 board game is available at a local store, but the lowest price on eBay is $40. Arbitrage is the act of selling a game on eBay after purchasing it from the local store. You profit from a $20 price difference for any sale you make for the item on eBay.
If your arbitrage is an online-to-online transaction with free shipping, the math suggests that you might simply sell on one site, purchase and ship from the other, and pocket the difference. This does not account for any hiccups, such as inaccurate merchandise, refunds, merchandise out of stock, price shifts in either industry, and so on.
Conclusion
Dropshipping can be a lucrative way to conduct eCommerce, but finding the right supplier is critical. The type of goods you want to sell to your audience, how effective their suppliers are, and how well they'll fit with components you already have in place, such as your website, all factor into selecting the best dropshipping company.
Here are the 9 best companies for drop shipping available today:
Spocket — Best dropship company directory for Shopify
Worldwide Brands — The most cost-effective database
SaleHoo — An exclusive members-only directory of over 8,000 suppliers
Oberlo — Shopify's best plugin and database
Modalyst — Best dropshipping company integration with Wix
Wholesale2B — A dropshipping hub and versatile supplier
AliExpress Dropified — A well known Shopify AliExpress app
Importify – Best dropshipping company for WooCommerce
Inventory Source — Best dropship company automation resource
Do you want a wide range of products and suppliers to select from? Then Worldwide Brands, Wholesale2B, or SaleHoo, might be a good choice.
Do you have a store running on Shopify? Dropified, Spocket, and Oberlo are all viable options that will complement your online store.
If you are churning out orders and require a platform that can help you save time by automation, Inventory Source is recommended.
Modalyst would be the ideal dropshipping partner if you're running an eCommerce website on Wix.