Finding the best software for customer service management ensures that your clients are pleased with your services.
And it's your customers who make or break your business.
Happy customers are more likely to return and spend more money, while dissatisfied customers can damage your reputation.
As a result, customer care must be a top priority for any business.
Fortunately, this is possible with the right customer service tools. Fast response times, positive experiences, and satisfied customers are all achievable with customer service solutions.
Best Software For Customer Service Management In 2023
LiveAgent — Best live chat customer support software.
Freshdesk — Best software for customer service to switch from another provider.
Gorgias — Best ecommerce platform integration.
HubSpot — Best free customer support software and product packages.
Zendesk — Best software for service management with support suite options.
Zoho Desk — Best ticketing software for customer service management.
Help Scout — Best software for customer service management for non-profits.
Groove — Best customer service software for small business.
Salesforce Service Cloud — Best customer support tool for field service agents.
Finding good customer service software is difficult. There are several options on the market. However, some of these tools are much superior to others.
I've narrowed down the top 9 customer service options for you to consider after studying and evaluating several of them.
I'll get into an in-depth overview of each one throughout this guide. You'll discover the most important features, pricing, use cases, advantages, and more.
1. LiveAgent — Best Live Chat Customer Support Software
In a single platform, LiveAgent allows you to handle all consumer requests from different channels.
Bring all customer contact and service together in one location, no matter where they are.
LiveAgent saves you time, streamlines the operation, and helps your support team to be more profitable.
The following are examples of the features included in LiveAgent:
Live chat
Ticketing by email
Video and voice calls
Here's a rundown of the plans and pricing structure for LiveAgent's customer support platform:
Free
One ticketing email address
Ticket history for 7 days
One phone number for call center help
A live chat button
Ticket ($15/month per agent)
Unlimited ticketing via email
Unrestricted ticket history
Support for multiple brands
Import information from your CRM
Ticket + Chat ($29/month per agent)
Real-time visitor tracking
Unrestricted live chat
Chat surveys
Chat invites
All-inclusive ($39/month per agent)
Add-on pricing for functionalities like time monitoring, audit logs, social media integration, and more is available for all paid LiveAgent plans.
Overall, it's a straightforward and adaptable tool for dealing with live customers through ticketing and live chat.
2. Freshdesk – Best Software For Customer Service To Switch From Another Provider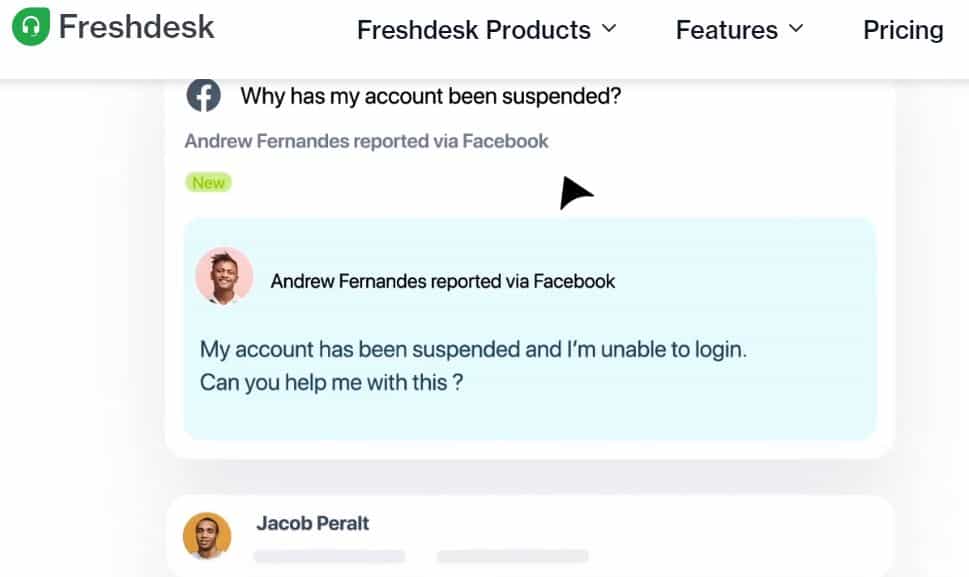 Freshdesk is one of today's most common help desk software solutions.
This is due to the fact that it is convenient and straightforward to use. That's why 150,000+ companies trust it, including Panasonic, HP, and American Express.
They have a variety of features:
Collaboration
Issuing tickets
Automated systems
Field service
Customer self service
Multi-channel management
Analytics and reporting
If you want to consolidate your customer service solutions into a single platform, this is a great option. Overall, Freshdesk simplifies team coordination and automation.
If you're presently using another help desk solution and you are dissatisfied with it, Freshdesk makes switching to its software easy. Their staff will assist you in making the transition as seamless as possible.
You'll be able to train every member of your team to get acquainted with the platform in no time with Freshworks Academy, their in-house training service.
Here's a quick rundown of the plans and prices. The rates are based on a one-year commitment. If you pay month-to-month, the rates are slightly higher.
Sprout (Free)
Ticketing by email
No cap on the number of agents
Knowledge hub
Group collaboration
Social ticketing
Ticket statistics
Blossom ($15/month per agent)
Collision detection
Automated processes
Help desk
Apps for the marketplace
Business hours
Managing SLAs
Garden ($29/month per agent)
Customer satisfaction report
Time monitoring
Knowledge hub with multi-lingual assistance
Performance analytics
Session replay
Estate ($49/month per agent)
Custom roles for agent
Ticket assignment that is automated
SLAs and different time zones
Organization Reporting
Personalized portal
Forest ($109/month per agent)
Create a testing environment that does not impact customers or agents
Skill-based ticket assignment
Whitelisting of IP addresses
API rate cap that can be extended
HIPAA-compliant
For a charge, Freshdesk offers omnichannel add-ons and functionality for field service management. You can give it a shot with a free 21-day trial.
3. Gorgias – The Best Ecommerce Platform Integration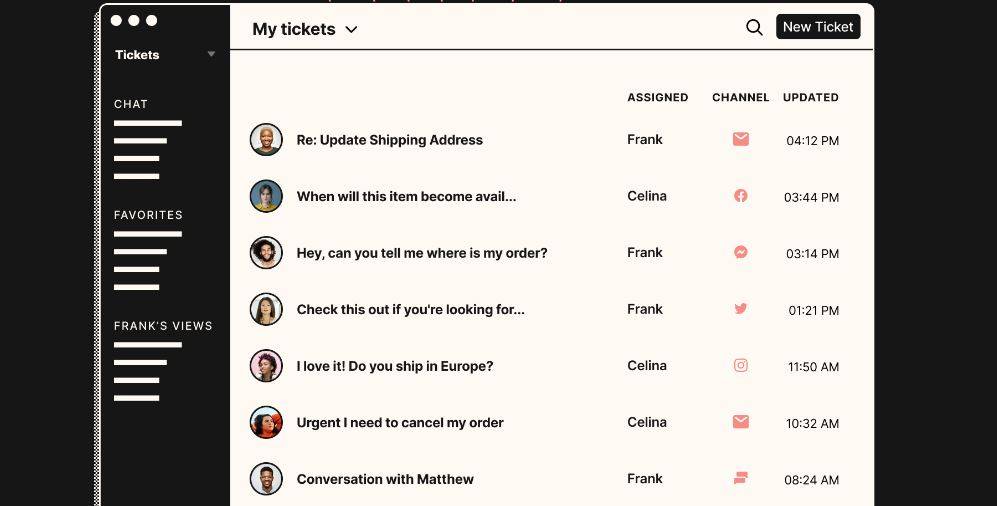 The intersection between customer support and sales in eCommerce provides many opportunities to gain new, loyal customers. Gorgias is a customer service tool with a variety of resources to help you take advantage of those opportunities.
It accomplishes this in part by allowing for easy integration with three of the most common eCommerce platforms: Shopify, BigCommerce, and Magento.
Gorgias pulls customer info, interactions, and order history from the site in all three cases to give you a complete picture of your customer performance. This helps you set routine customer service jobs (like frequently asked questions or requests) on autopilot and reveals new customer feedback through powerful AI.
Gorgias also provides a user-friendly interface for your customer support reps to address, organize, and monitor tickets. Communication is centralized across all channels such as SMS, live chat, email, and social media.
Many resources are included in the platform to help you take advantage of sales opportunities during and after customer service events. Gorgias' omnichannel capability enables your team to connect with consumers before they even visit your website when they interact with your advertisements, social media, and other content. Your customer service staff will be priming the pump for further orders, warming up consumers before they have added something to their cart.
Gorgias' pricing is a little higher than the other options on this list, but each tier allows for unlimited users and includes a lot of features:
Basic ($60/month)
Unlimited users
Maximum of 350 tickets per month ($25 for an extra 100)
Maximum of 150 integrations, including Shopify and social media channels.
Live chat
Pro ($300/month)
All Basic features, plus
Maximum of 2,000 tickets per month ($23 for an extra 100)
Customer satisfaction surveys
Help with onboarding
Chat promotions
Integration with Magento
Configure account permissions
Advanced ($750/month)
All Pro features, plus
Maximum of 6,000 tickets per month ($14 for an extra 100)
Revenue figures
Onboarding is fully handled
View sharing
Tools for team management
Dedicated Customer Success Rep
The monthly rates for any of the above plans can be lowered by signing up for an annual contract. The Basic plan will then cost $50 per month, the Pro plan at $250 per month, and the Advanced package will cost $625 per month.
A custom business tier can also be arranged with Gorgias by consultation.
If your eCommerce company is aware that it is missing out on sales opportunities, give Gorgias a try with a 7-day free trial or request a live demo.
4. HubSpot — Best Free Customer Support Software And Product Packages
HubSpot is a well-known customer relationship management system.
They offer a variety of tools and software solution suites for handling customer relationships.
These services are divided into three categories: distribution, marketing, and customer support.
An exceptional solution for managing customer issues via service tickets is the HubSpot Service Hub.
The best aspect is that they have free CRM solutions, including customer service tools.
Ticketing, team email, chatbots, live chat, and a conversations inbox are all free features. Free email templates, time-to-close reports, and closed ticket reports are also available.
HubSpot is evidence that you don't have to spend a lot of money on tech to improve your customer service. After all, it's not expensive.
Here's a rundown of the paid plans for those who want access to more advanced features and options:
Starter ($40/month)
Canned snippets
2 paid users
Calling
Data on agent effectiveness
Scheduling meetings
Professional ($320/month)
Status, automation, routing, and pipelines for tickets
5 paid users
1:1 video production
Knowledge hub
NPS, support and experience surveys
Custom reports
Enterprise ($1200/month)
Playbooks and objectives
10 paid users
SSO
Hierarchical groups
Slack integration
Admin roles
Rates are dependent on a one-year commitment. For a 20% premium, you can get the HubSpot Service Hub on a month-to-month basis.
HubSpot also provides fantastic product packs that cover all CRM categories in one solution. HubSpot is the best choice for you if you want applications for support, sales, and marketing from a single solution provider. Monthly bundles start at $112.50.
5. Zendesk — Best Software For Service Management With Support Suite Options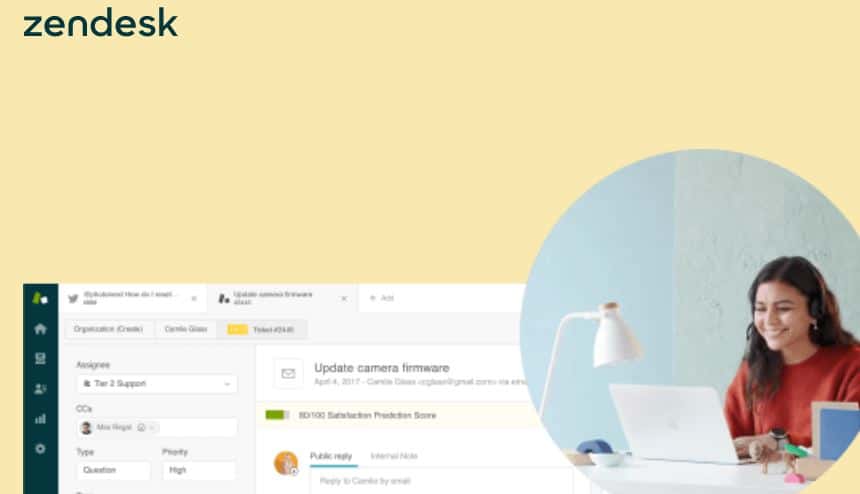 Zendesk is one of the most comprehensive customer support software tools available today. It's used by over 150,000 companies, including Shopify, Slack Uber, and Venmo.
They provide you with all the resources you'll need to handle omnichannel customer support. Customer service can be provided via live chat, email, voice, Twitter, Facebook, WhatsApp, WeChat, and other platforms.
All of your data sources can be connected to a single location using the app. Therefore, when a customer reaches out to you for assistance, the appropriate information will be shown automatically.
Zendesk is versatile, and it can meet the needs of different businesses. You can get a tailored solution that works with your current support infrastructure.
Here's a short rundown of the Zendesk support suite's plans, functionality, and pricing:
Professional Support Suite ($89/month per agent)
Add-on for social messaging
Help across all channels
All-channel monitoring and dashboards
Knowledge hub
Various ticket forms
Talk partner version
Enterprise Support Suite ($149/month per agent)
Support for multiple brands
Professional base routing with roles and permissions
24/7 phone support and live chat
Content suggestions to recognize knowledge gaps
Web SDK and chat widget
Zendesk's full-service support package has it all. However, not every company needs such a comprehensive solution. Zendesk offers more economical choices for small businesses that are looking for something a little more basic.
Essential ($5/month per agent)
Team ($19/month per agent)
Professional ($49/month per agent)
Enterprise ($99/month per agent)
Elite ($199/month per agent)
Any Zendesk product or support suite is available on a free trial. Contact the Zendesk sales team if you require a custom solution.
6. Zoho Desk — Best Ticketing Software For Customer Service Management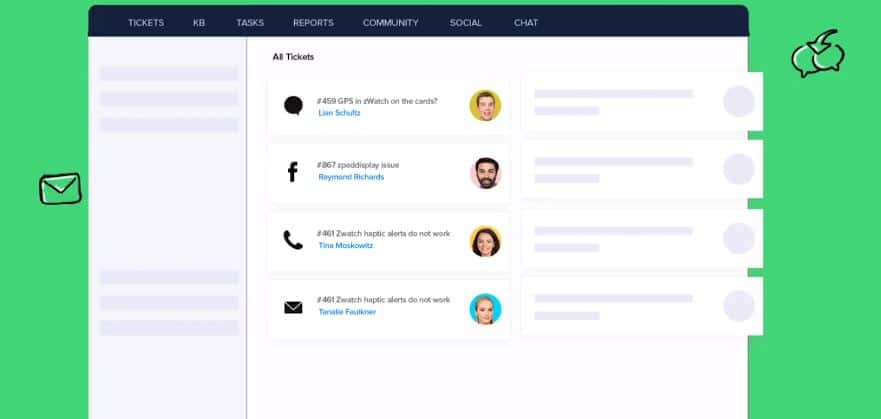 In the field of business expense tracker applications and CRM, Zoho is one of the most well-known brands. Marketing, sales, email, collaboration, accounting, finance, business intelligence, and human resources are among the services they provide.
However, Zoho Desk—IT and support desk software is one of their best offerings.
Customer support officers, managers, and consumers will all benefit from Zoho Desk. It's perhaps the best customer service software for ticket management.
Let's take a closer look at the Zoho Desk plans and pricing:
Free
Ticketing by email
A maximum of 3 agents
Access to private knowledge hub
Help desk
Predefined SLAs
Multilingual support desk
App for mobile devices
Standard ($12/month per agent)
Ticketing based on products
Community and social channels
Public knowledge hub
Rules for workflow and assignments
Escalations
Customer satisfaction ratings
Manage rules
Professional ($20/month per agent)
Group management
Ticketing for multiple departments
Automated time monitoring
Telephony
SDK for mobile
Ticket sharing
Ticketing templates
Enterprise ($35/month per agent)
Artificial Intelligence
Live chat
Advanced process control
Customize support center
Rules for validation
Data sharing based on roles
Scheduled reporting
Zoho Desk has a package for you, no matter how large, complex, or small the company is.
7. Help Scout — Best Software For Customer Service Management For Nonprofits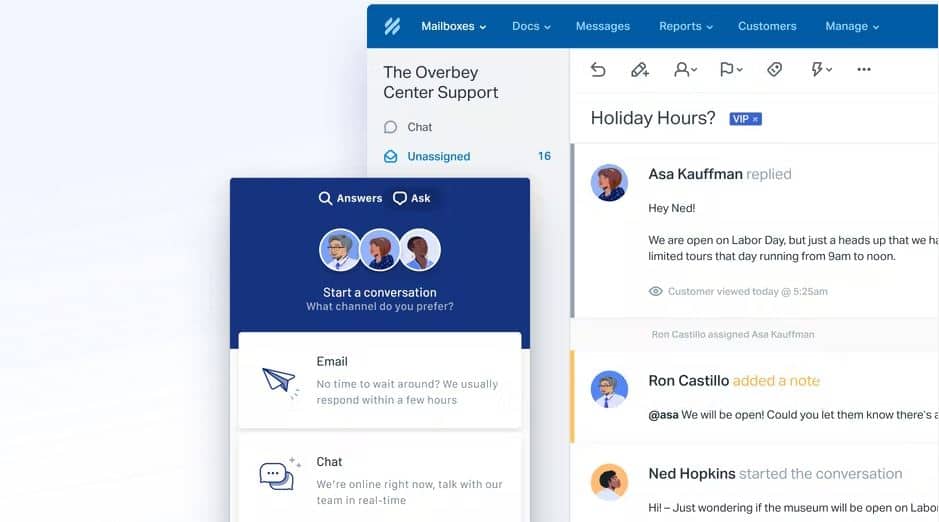 Another uncommon choice on the list is Help Scout. Having said that, it is still a high-quality customer service software. It's used by over 10,000 companies all over the world.
Since Help Scout is a Certified B Corporation, it stands out. They aim to meet the highest standard of social and environmental performance. As a result, they go above and beyond to work with organizations that share their beliefs.
Help Scout will give you a substantial discount on customer service tools if you are a nonprofit that promotes environmental protection, underrepresentation in tech, or human rights.
Some of you can also qualify for discounts of up to 100%. That's right—completely free.
And if you don't fit into one of those groups, Help Scout is still a great customer service solution. Here's a look at the plans and rates in more detail:
Standard ($20/month per user)
Chat beacon
3 mailboxes
Reporting
Messages for a maximum of 10,000 customers
Over 50 integrations
Workflows that are automated
Plus ($35/month per user)
Teams and custom fields
10 mailboxes
SAML/SSO authentication
HIPAA compliance
Integration with Salesforce, Jira, and HubSpot
Company (Custom pricing)
Flexible users
Unlimited mailboxes
Enterprise-level security
Dedicated account rep
Concierge onboarding
The rates mentioned above are for a one-year commitment. For an extra charge, month-to-month plans are available. You can check out Help Scout on a 15-day free trial.
8. Groove – Best Customer Service Software For Small Business
Groove isn't as well-known and popular as some of the other choices on this list.
It would be a top option for you to consider if your company has outgrown email for customer service and is receiving inquiries through various channels.
Their team management tools are where they really shine. Internal private notes can be added to meetings, peers can be easily mentioned to keep them updated, and unique tasks can be assigned to team members.
Groove has fantastic automation to help you streamline your customer service. To automate the work, configure rules, canned responses, tagging, and custom folders according to your preferences.
Groove's ability to customize the knowledge base is another standout feature. This is important for companies who want to provide self-service resources to their customers.
The knowledge base themes are completely customizable, attractive, and mobile-friendly. The following are the plans and pricing structure for Groove customer service software:
Starter ($9/month per user)
Knowledge hub
A single mailbox
Mentions and assignments
Live chat
Plus ($19/month per user)
Complete report history
5 mailboxes
More than 40 integrations
Use of APIs
Rules
Pro ($29/month per user)
Groups
25 mailboxes
Salesforce, Jira, and HubSpot integrations
WhatsApp and text messages
Company (Custom pricing)
Priority assistance
Unlimited mailboxes
Enterprise-grade security
SAML/SSO
Dedicated customer service manager
Groove is a great tool for small teams and entrepreneurs. They also offer a special startup rate for companies with less than 10 workers. A 93% reduction on the Pro plan is available to eligible companies.
9. Salesforce Service Cloud — Best Customer Support Tool For Field Service Agents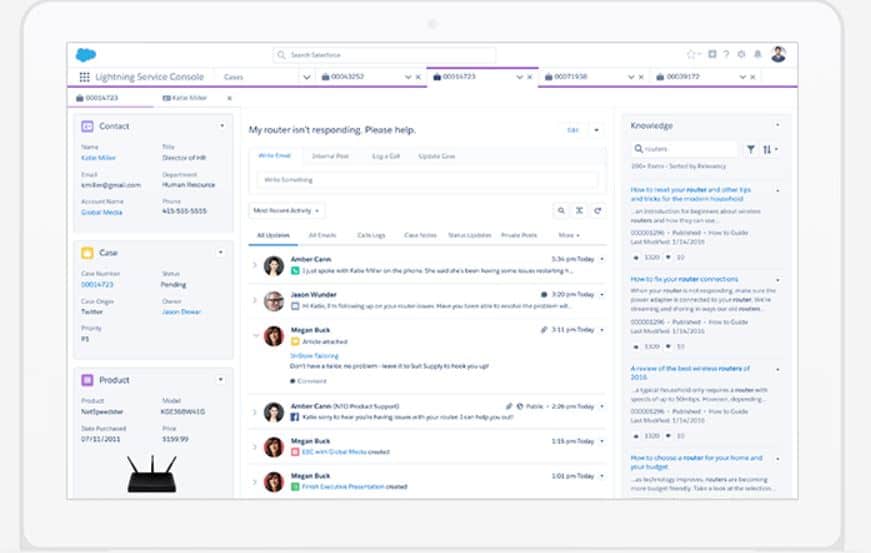 Salesforce is a market leader in providing the best CRM tools. Their offering Salesforce Service Cloud provides tools and resources for customer service.

Salesforce Service Cloud makes it simple for any company to develop client relationships while managing time and increasing client satisfaction. With Salesforce's insights and capabilities, your customer care employees will be able to resolve issues faster.

Every client engagement is visible to others on the platform. Set up self-service portals, so that your clients can get account information, watch tutorials, and read articles from your knowledge base.

Salesforce Service Cloud has features that can help you streamline on-site support. These tools may be used by field service staff, dispatchers, and on-site technicians to fix issues during the first visit.
Salesforce uses artificial intelligence to generate recommendations and provide assistance through a chatbot system.
Here are the Salesforce Service Cloud plans and pricing:
Essentials ($25/month per user)
Apps for the service console
Case supervision
Telephony (CTI)
Knowledge-based tools
Professional ($75/month per user)
All features of the Essential plan
Service agreements
Enterprise ($150/month per user)
All features of the Professional plan
API for web services
Unlimited (300/month per user)
All features of the Enterprise plan
24/7 customer support
Collaboration, personalization, productivity, real-time analytics, upsell and cross-sell resources, app integration, and process automation tools are all included in the plans.
Salesforce has add-ons for field service personnel, location-based intelligence, and digital engagement among other items.
How To Choose The Best Software For Customer Service Management
What is the best software for customer service? When comparing various choices, there are some features and aspects to bear in mind.
Here is the approach that I used for coming up with the list of services.
Feature Packs
Every piece of customer service software on the list does a great job of promoting the best features. However, you should focus on the features that you require the most.
Are you looking for customer service software that specializes in live chat? LiveAgent would be the best choice.
Use Salesforce Service Cloud as a solution for your field service agents. Customer support, distribution, and marketing CRM resources are all included in single product packages.
Determine which features are absolutely essential. Then find a package that includes all the desired features.
Cost
Customer support software costs vary depending on a number of factors. Many solutions have a pricing structure based on how many customer service representatives you have on your team.
The features included in your plan would have a greater effect on the price you pay.
Customer service is not an area where you can cut corners. It is worth spending money on the appropriate tools. But, with that said, not everyone has to go all out. Free customer support software can be used by small companies, nonprofits, and startups with smaller teams without sacrificing quality.
Customer Communication Channel
How do customers contact your customer support team? What do you want them to do in the future?
There is software available for anything. You should find a solution that meets your needs, whether it's live chat, email, help tickets, or chatbots. There are also social media integration tools available, allowing you to access all of your communication, including comments and DMs, from a single dashboard.
Customer Service Staff
What is the size of your customer service team? Companies with 5 customer service representatives would not need the same software as those with 50.
Role-based ticketing and collaboration are important features for larger teams, but they aren't required for a small company.
Final Thoughts
Customer service must be a top priority for every company. Here is a list of the best software for customer service management currently available on the market:
LiveAgent — Best live chat customer support software.
Freshdesk — Best software for customer service to switch from another provider.
Gorgias — Best eCommerce platform integration.
HubSpot — Best free customer support software and product packages.
Zendesk — Best software for service management with support suite options.
Zoho Desk — Best ticketing software for customer service management.
Help Scout — Best software for customer service management for non-profits.
Groove — Best customer service software for small business.
Salesforce Service Cloud — Best customer support tool for field service agents.
This guide will assist you in determining the best solution for your business. I made sure there was something on the list for everybody looking for customer service software.