Software auto dialer as the name suggests is for dialing numbers based on a contact list automatically. When someone picks up the call, the software is able to connect the call to a representative or a pre-recorded message.
The most common use of auto dialing software is for cold calling. However, it can be used for a variety of other purposes, including emergency warnings, debt collection, event reminders, fundraising, political campaigns, weather alerts, and more.
Call center agents can only make so many calls at a time if they don't have access to auto dialing software. They will be forced to dial numbers manually, wait during the ringing process, and waste time on unanswered calls.
Businesses and sales agents can significantly increase the number of calls made during the day by using automatic dialing software. Only people who answer the phone would be connected to agents, which is critical for generating leads.
Overall, auto dialing software will help you boost your outbound sales operation.
Top Auto Dialers Software
PhoneBurner – The best integration with CRM
Five9 – Well-known software auto dialer
contactSPACE – The easiest to use and deploy
CallHub – For political and non-profit organization
RingCentral – The best predictive outbound dialer
ChaseData – The best auto dialer software for small businesses
Nice inContact – Ideal for enterprise clients
Voicent – The best software auto dialer for recorded messages
I've narrowed down the top auto dialers software options for you to consider after researching various software solutions available today. Continue reading to find out more about the features, pricing, benefits, and uses of each solution on the list.
1. PhoneBurner — Best Call Management CRM With Integrated CRM
Over 1,500 companies use PhoneBurner, including well-known brands like Remax and Farmers Insurance. Using VOIP dialing, this cloud-based system can be retrieved from anywhere.
The PhoneBurner automated dialer software boosts efficiency by about 400% and allows companies to hit 60 to 80 leads every hour.
PhoneBurner's integrated CRM for sales is one of its most notable features. Your sales staff would find it much easier to handle contacts and promotions with this method.
If you have a CRM already, PhoneBurner works smoothly with Salesforce, HubSpot, Zapier, and other platforms. Because of the available API, it can be integrated with almost any CRM software.
PhoneBurner also has the following features and benefits:
Lead filtering
Messaging and email
Lead delivery that is automated
Calling campaigns with no limits
Caller IDs for local numbers
Automation of workflow
Activity snapshots and custom reports
It's easy to get set up with PhoneBurner. The pricing structure is quite simple. PhoneBurner costs $149/month per user. For an annual plan, you can save 15%.
You'll also get free training and white-glove service with a dedicated PhoneBurner representative. Get started right away.
2. Five9 – Well Known Software Auto Dialer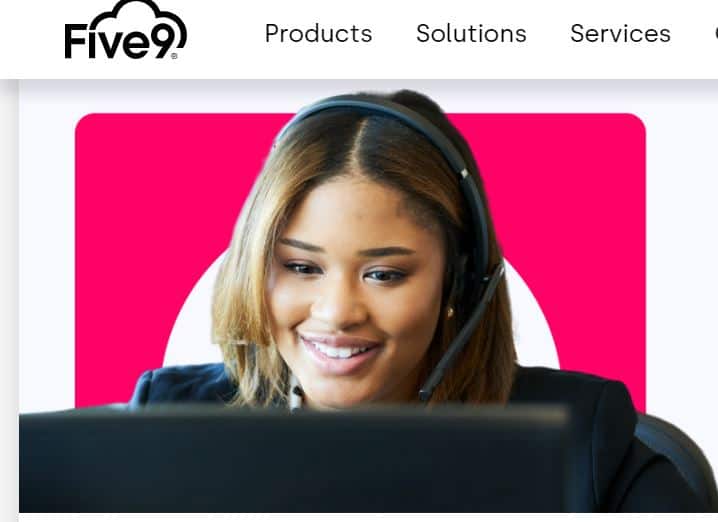 Five9 is a pioneer in the field of cloud-based calling applications around the world. Lululemon, DHL, DoorDash, Anthem Blue Cross Blue Shield, Fitbit, Omaha Steaks, and other well-known brands work with them.
Connect rates increase by 300% for businesses using Five9's automatic dialing software.
The company has been offering call center applications for over 20 years. Five9 is trusted by over 2,000 companies around the world for auto dialers and other services. Five9 supports over 5 billion calling minutes per year.
The software includes a range of dialing modes to meet your organization's needs. It takes into account time zones, list penetration, and helps you to tailor everything to your company's compliance requirements.
The following are some of the top features of the Five9 outbound dialer:
Power dialer — dials contacts depending on the number of agents available for calls
Predictive dialer — predicts agent availability automatically to increase performance
Preview dialer — Agents can see contact information before answering a call
Progress dialer — connects agents to answered calls
These tools enable your group to generate leads at a large scale. Five9 is a one-stop-shop for all your calling needs that includes an auto dialer.
You can't get the pricing online. For a personalized quote based on features and use, contact their sales team.
3. contactSPACE – The Easiest To Use And Deploy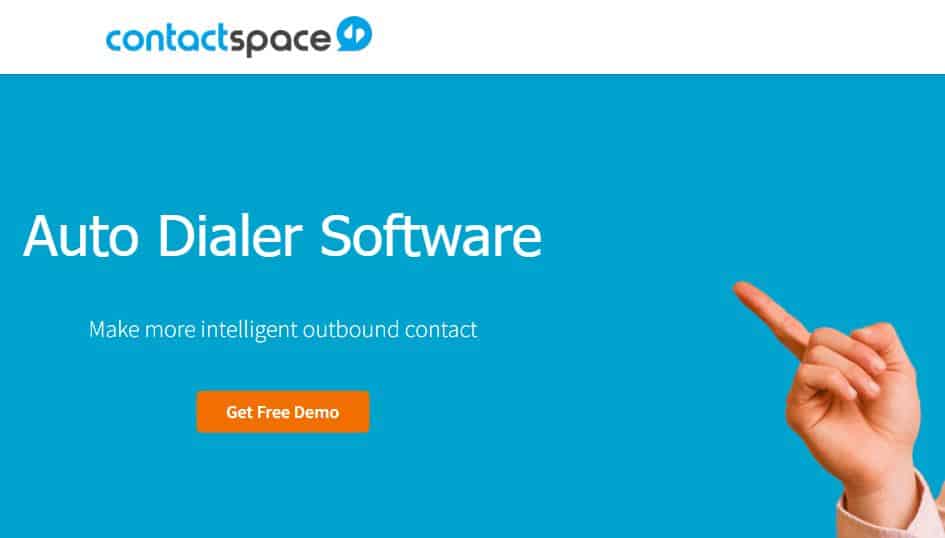 ContactSPACE recognizes that the right solution can transform how the agents and representatives perform their jobs.
Calling contacts, consumers, and prospects on the spur of the moment is not only outdated, but it is also impediments the relationship you want to create with them.
ContactSPACE promotes intelligent outbound calling for this purpose. You are able to supercharge the sales funnel by only contacting the right people at the right times. This way you can avoid potential losses caused by not making contact fast enough and have more certainty that each call will result in positive outcomes.
The contactSPACE dialer is sophisticated and versatile enough to help you make the most of the contacts data you already have. The target filter function allows agents to manage their daily workflow by sorting call recipients. They can also prioritize communications based on when they reached the pipeline, the urgency of a callback, and segmentation.
Furthermore, the platform helps administrators to categorize candidates in order to better match them to the capabilities of their agents.
ContactSPACE Intelligent Outbound receives all of this data. The implementation of this service, however, is where it really stands out.
Other Highlights
ContactSPACE's staff puts in the effort upfront with its customers, defining a performance process that is personalized to your expectations and objectives. They'll then build a robust onboarding, preparation, and deployment process that's painless for admins and has a gradual learning curve for representatives.
It's easy to get contactSPACE's software up and running at your company, thanks to the testing, deployment support, and training they provide. In addition, new caller onboarding will take as little as two hours, enabling you to quickly delegate reps and get them up and running.
You don't even need an in-house IT department to keep an eye on contactSPACE's portal. ContactSPACE's service team will be there for you after setup and implementation to help you continuously refine the platform for your requirements.
contactSPACE has 4 pricing options to choose from, each with a different set of features.
The silver tier costs $105/month per user, with a maximum of 10 campaigns. There are more advanced features with the Gold, Platinum, and Diamond package. Available at 139/month per user, $175/month per user, and $239/month per user, respectively, they allow unlimited campaigns.
Contact contactSPACE today to speak with a representative, set up a demo, and evaluate the ROI.
4. CallHub — For Political And Non-Profit Organization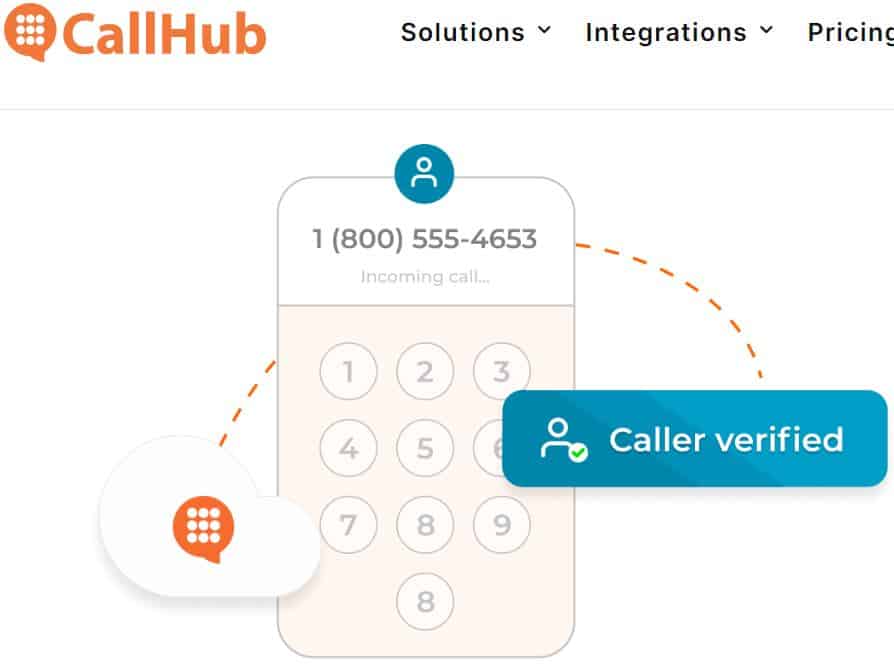 CallHub is a one-stop-shop for call center features, SMS marketing, and voice broadcasting. In more than 200 countries around the world, it's a common option for non-profit organizations and political campaigns.
There are integrations available for specific use-cases, such as Blackbaud Luminate for non-profits and NationBuilder for political campaigns.
Power dialing, predictive dialing, robo dialing, and preview dialing are all features of CallHub's automatic dialer. The robo dialing feature sends out recorded messages. This is a nice way to get your message out without using live agents.
CallHub also has the following features and benefits:
Scheduling follow-up
Caller ID for local calls
Do Not Call (DNC) functionality
Quality control and training through live call monitoring
Verification of phone number
Detecting answering machine
CallHub is used by over 3,000 companies and 20,000 agents. The software is available for a free trial. The Essentials plan is $199/month, and the Scale plan is $499/month.
CallHub has some business-friendly features, such as Zapier and Salesforce integration. However, the software is specifically targeted at political campaigns and non-profit organizations. Users in the business world should look for other options.
5. RingCentral — The Best Predictive Outbound Dialer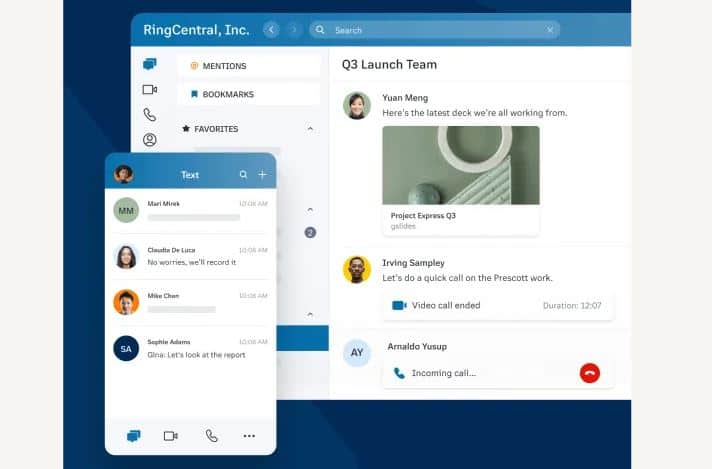 RingCentral is ranked higher on our list of the best conference calling services, so it should come as no surprise that it is also on our list here. To optimize outbound efficiency, RingCentral has everything you need to handle your call center, including auto dialer software.
RingCentral is trusted by over 400,000 companies around the world for a variety of services and products.
One of the best features of RingCentral's outbound calling services is the auto dialing function. It has the best predictive dialing platform in the industry.
Your sales agents will have enough information and easy access to the details with RingCentral. With automatic directed engagement flows, the software is simple to use and streamlines the sales process.
RingCentral's auto dialer also has the following features:
Personalized campaigns
Guaranteed uptime of 99.99 percent
Progressive dialing
TCPA compliance with Safe Dial
Incorporation of data
RingCentral would be an ideal option for your company, regardless of your market, call center requirements, or business size. For a free quote, contact them right now.
6. ChaseData — Best Auto Dialer Software For Small Businesses
ChaseData offers call center applications to companies of all sizes. That being said, it's a fantastic choice for small businesses.
Sales and marketing teams depend on this software for various needs. Small business owners that are not just looking for a cookie-cutter approach should turn to ChaseData for industry-specific solutions.
ChaseData is often used in the following areas for custom software:
Public Utilities
Hospitality and Travel
Insurance
Debt collection
SAAS and B2B
Consumer purchases
Non-profit organization
If your small business fits into one of these categories, ChaseData is a great option to consider.
Let's take a closer look at the software's plans and pricing.
There is a package built especially for low volume calling that is ideal for small businesses. ChaseData will scale with your company as your team expands.
On the small business plan, both preview and progress dialing are available. Unfortunately, to use predictive dialing, you'll need to switch to the second-tier professional package.
7. Nice inContact — Ideal For Enterprise Clients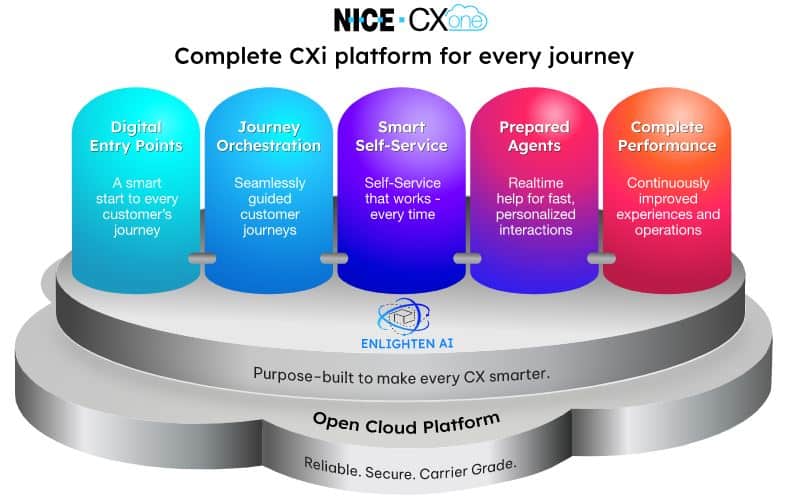 Nice inContact has a cutting-edge approach to modernizing large-scale call centers. The platform includes everything you'll need to run a large-scale operation. It's used by large companies including Honeywell, which has over 4,000 agents.
Nice inContact also has resources for, staff management, performance management, CRM integration, quality management, and more. This is in addition to standard dialing, auto dialer, and call center applications.
You'll also get access to an interactive feature for benchmarking KPIs, so you can view how your company compares to other call centers.
Nice inContact is used by more than 85 companies on the Fortune 100 list. More than 385,000 representatives in over 100 countries are supported by the platform.
The company has been in business for over 15 years and guarantees 99% uptime.
Other noteworthy features include:
Predictive dialer
Call delivery that is automated
Customer satisfaction surveys
Reporting and analytics
Integrations with CRM
Recording of calls
Voice call response
Nice inContact pricing, like most enterprise solutions, is not readily available online. To get a custom quote, contact their team.
8. Voicent – The Best software Auto Dialer For Recorded Messages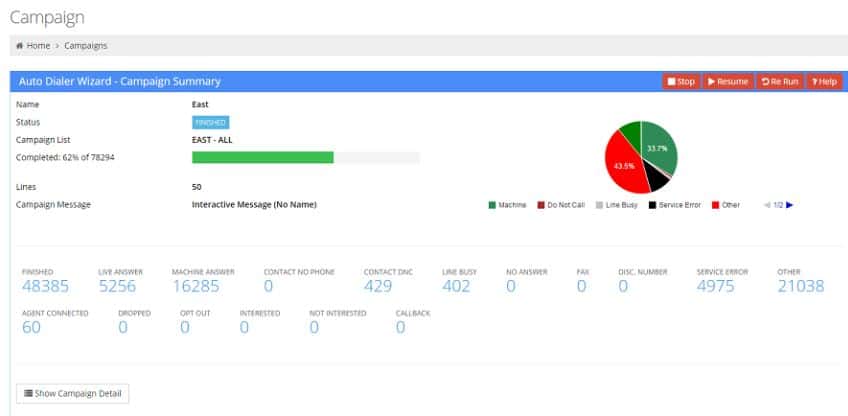 Several corporations, non-profit organizations, and government agencies in more than 50 countries use Voicent. This software is a one-stop-shop for auto dialers, inbound voice, outbound calls, text, email, marketing automation, and more for over a decade.
All the Voicent resources are fully interconnected. As a result, you won't have to worry about any expensive integrations.
Voicent also includes an integrated CRM that keeps track of customers automatically. For monitoring and answering customer requests, the software has great automation features.
The ability to send recorded messages to a large number of contacts is Voicent's best auto dialer feature. The software is able to recognize answering machines and pass on messages in both computer-generated and your own voice.
Recorded messages for Voicent auto dialing are often used for:
Weather warnings
Notice of an upcoming event
Notifications of service delivery and pickup
Collection of bills
Alerts for school emergency
City enforcement
The auto dialer from Voicent is simple to use, completely customizable for different applications, and scalable.
There are also the following features:
Text-to-speech
Calls can be made at the same time
No cap on robocalls
Integration with Excel spreadsheet
The pricing starts at $29/month per user. With an annual contract, Voicent is available for $19/month per user. On top of the base rate, you'll be charged based on call usage.
The starter plan includes most of what you need. The add-ons such as inbound call center features, process automation, caller ID, and so on will be extra. These items cost anywhere between $2 and $99. Voicent is available for a 30-day free trial.
How To Choose The Best Software Auto Dialer
When you're looking for a software autodialer, there are a few things to keep in mind. Assess these factors in light of the company's requirements.
This is the process that was used to come up with the list in this article. I'll go over each one in more depth below.
Features For Automation
Technically, some auto dialers software simply connects the calls to the available agent. But it isn't enough to make a significant difference in your workflow. Calls should also be routed to the appropriate agent or department using the best auto dialer tools.
Preview dialing, automated lead segmentation, and other workflow processes are all features to look for.
Do you use pre-recorded voice messages for your auto dialer software? If you want to leave messages on answering machines, make sure your software can do so automatically.
User-Friendliness
The whole point of using an auto dialer app is to make your current process better. Your team should be able to carry out more calls every hour during the day, resulting in more leads.
However, if the software is difficult to use, it doesn't meet the purpose. You do not want your representatives to waste time switching screens or making calls. That's clearly not the most effective way to operate a call center.
All the auto dialing software on the list is simple to use. However, there are some that are unquestionably easier than the others. Before you commit, it's always a good idea to request a free trial or ask for a demo.
Cost
The cost of automatic dialing software varies quite a bit. Plans as low as $19/month per user as well as high as $149/ month per user are available.
There are several plans that allow you to have unrestricted calling time. Some plans bill by the minute but supports an unlimited number of agents.
To put it another way, there is no such thing as "standard" pricing for auto dialer software. You must pick software that satisfies your requirements at a reasonable cost. Don't get sidetracked by frills and pricey add-ons you'll never use.
Integration Of CRM
CRM software is integrated into many auto dialer software. This is the most efficient way to handle leads, clients, and contacts in a large organization.
If you are using a CRM system already, make sure that the software you're considering is able to integrate with it. Customer data would be difficult to transfer from one software to another if this is not taken into consideration.
The best way to achieve optimum performance and reliability is to have an integrated experience.
Final Thoughts
What is the best auto dialer software available today?
ContactSPACE is an auto dialer software that is simple to set up and easy to onboard your agents.
Another one of my top recommendations is PhoneBurner. They nailed everything I was looking for in this category. However, there are a plethora of other available options.
Looking for a well-known brand in the space? Five9 is a popular software provider with all of the features you'll need.
ChaseData is ideal for small companies. CallHub is the best alternative if you run a non-profit or a political campaign.
For auto dialing with pre-recorded messages, I recommend Voicent. For predictive dialing, use RingCentral, and for corporate call centers, Nice inContact is a great option.
This guide has something for everyone, regardless of the industry, company size, or call center requirements.