If you are looking for the best leasing equipment company, you have come to the right place.
For any company, particularly for startups, the cost of equipment can be prohibitive. Depending on the type of equipment a company requires, it might be necessary to spend millions of dollars over the course of many years.
Worse, purchasing equipment outright will take years, if not decades, to pay off. The equipment is likely to be obsolete and in need of repair or replacement by the time a company has paid off a piece of machinery or an entire office building's worth of printers.
Since few businesses can afford to purchase the equipment outright, many rely on equipment leasing. This is a smart financial decision that will save a company money in the long run.
Best Equipment Leasing Companies
For companies looking to lease equipment, there are many choices. Consider the following six commercial equipment leasing companies.
Wells Fargo
The Gordon Flesch Company
US Business Funding
Crest Capital
The National Business Capital
Smarter Finance USA
How Does Leasing Equipment Work?
Leasing equipment is popular in a variety of industries, from manufacturing to restaurants. The following is a list of some of the equipment that a company could lease:
Machines and printers for the office
Commercial kitchen appliances
Office furniture
Automobiles, trucks, and other vehicles
Medical equipment leasing
Heavy machineries, such as forklifts and backhoes
Leasing rather than buying the equipment is usually more cost-effective. The typical office printer, for example, can cost upwards of $20,000.
Instead of paying the entire purchase price upfront, a company will spread the payments out over a period of months or even years.
Many business equipment leases include servicing and operation, as the major commercial equipment leasing companies usually provide both leasing and in-house maintenance. In other instances, they have agreements with financing companies that enable them to factor maintenance and service costs into the lease agreement.
This eliminates the need for businesses to hire technicians to fix damaged equipment. A busy doctor's office, for example, is unlikely to want to deal with the hassle and cost of having printer repair technicians on board. Instead, if their printer breaks down, they can simply call a service number.
Leases for business equipment may have a variety of terms and conditions. In some cases, they can have the option to buy the equipment at the end of the lease period. Businesses will also be able to extend their lease and upgrade to the most up-to-date equipment.
Reviews Of The Top Equipment Leasing Companies
1. Wells Fargo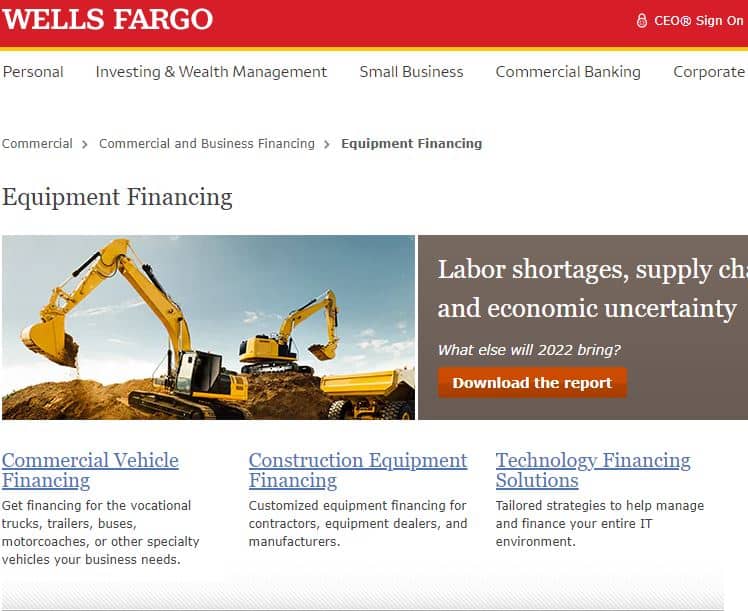 Wells Fargo is well-known and one of the largest financial institutions. Although most people think that Wells Fargo is a bank, the institution also provides large and small businesses with equipment leasing.
For Wells Fargo financing of business equipment loans, interest rates begin at 6.2%. There are no prepayment penalties or fees. Unfortunately, the best rates are only available to borrowers who already have a Wells Fargo business checking account. A lease of at least $35,000 is also required for businesses. The loans vary in duration from 1 to 7 years.
For certain companies, a Wells Fargo equipment lease may not work out. Wells Fargo needs borrowers to show that they have operated for at least 3 years. In comparison to other business leasing equipment companies, Wells Fargo requires a better credit score. Businesses may complete an online application or meet with a bank representative in person at a branch.
They have over 5,000 satellite locations in the country. If having an in-person meeting is important for your company, they're a great choice.
2. Gordon Flesch Company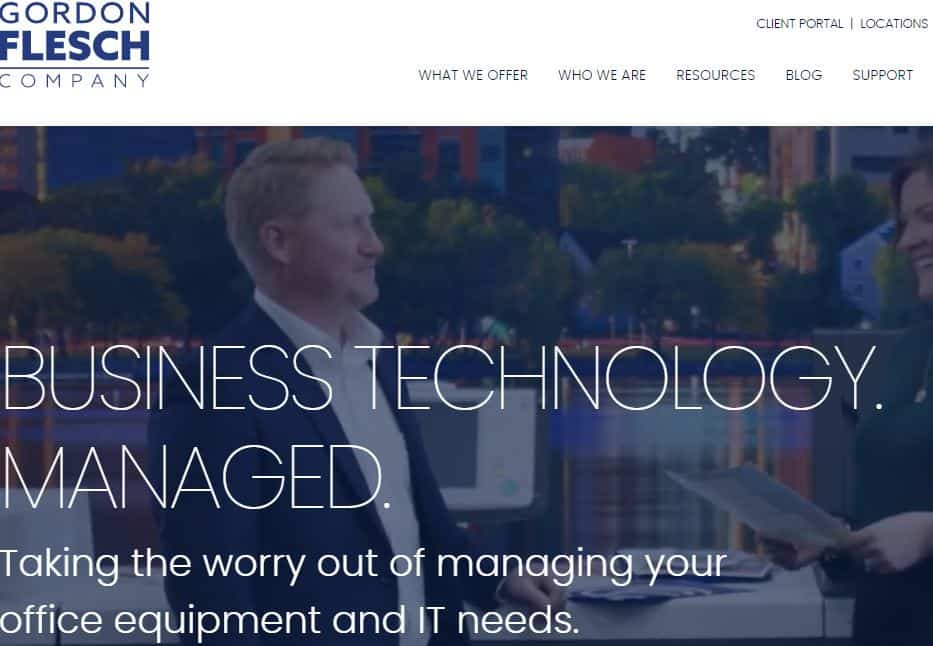 The Gordon Flesch Company was established in 1956. They offer in-house maintenance and financing for a wide range of business leasing equipment. Their business model focuses primarily on the field of information technology.
The company now has over 33,000 customers in the US. Their headquarters is located in Madison, Wisconsin, and they have 16 other office locations. Canon, Lexmark, Kyocera, and Sharp are only a few of the company's partnerships. According to Gordon Flesch, the company has an 88% customer retention rate.
As a measure for COVID-19, they've added temperature screening kiosks. This will keep your employees and guests protected while still allowing you to determine who is not feeling well.
They also have the essentials like copiers and printers, in addition to enterprise-grade hardware for IT infrastructure and data security.
All financing is handled in-house by Gordon Flesch. Leases are available in lengths ranging from 2 to 5 years, with both deferred and step payment options. There are no hidden fees when it comes to term-end buyouts, according to the company's website.
3. US Business Funding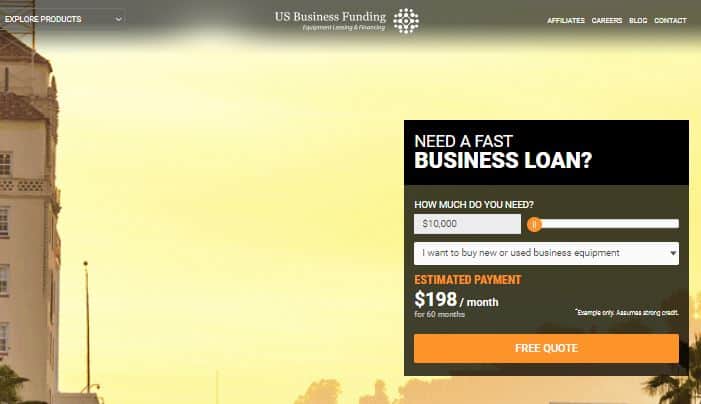 Both used and new equipment is financed by US Business Funding. But what makes them unique is that they'll help you find a solution even if you have trouble getting approved by a leasing company.
They also assist companies who have had issues leasing equipment from another leasing company. Based on the company's website, it approves 95% of the requests and has financed $2 billion in equipment leasing. Within a day of application submission, you can get a verdict.
The company engages with a group of lenders to provide loans with rates ranging between 8% and 20%. Interest rates can exceed 20% based on a company's credit rating and the specific lender. A UCC filing for the asset is required by most lenders. Some of them may also request a personal guarantee from the applicant.
The company is required to have a minimum $10,000 lease amount, but there isn't any limit on the amount a company can borrow. A lease will last anywhere from 2 to 5 years.
4. Crest Capital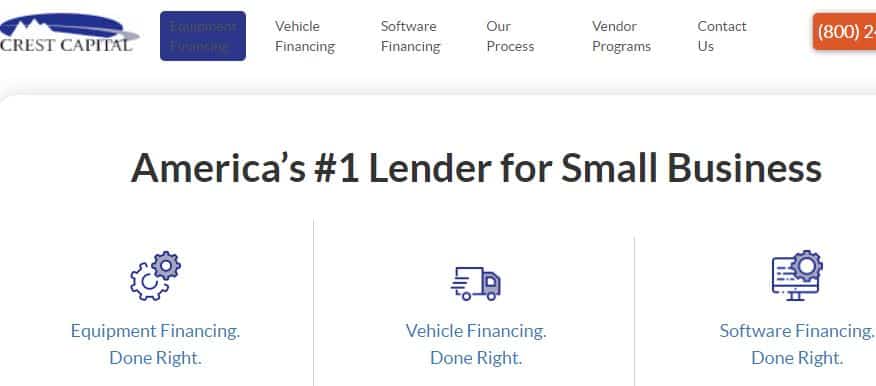 Crest Capital, which was established in 1989, finances both used and new business equipment.
Their rates are also competitive, ranging from 5.5% to 9.5%. Businesses are able to take out loans ranging from $5,000 to $500,000.
It is to be noted that companies leasing more than $250,000 of equipment must have 2 years of financial statements and tax returns. There is also a $275 administration fee for the lease, although no prepayment penalties are assessed. Leases normally range from 2 to 6 years in duration.
The company stands out in terms of flexible leasing terms, which can make it easier for a scaling startup to get the equipment that it requires. Crest, for example, provides a variety of payment options, including a phased payment schedule that begins with smaller amounts and gradually increases to bigger payments as the business expands.
A threshold revenue limit does not appear to be required by the company. Rather, it necessitates the projection of both expected and actual sales. Assuming a company meets the criteria, Crest Capital has an application online as well as a same-day approval in some cases.
5. National Business Capital
Compared to other business leasing equipment firms, National Business Capital connects businesses with a group of over 75 lenders that offer used and new equipment financing.
This means that they'll compare all 75 lenders for you, helping you to pick the right choice according to your budget.
The rates differ by lender, but based on reviews, they usually range from 8% to 20%. Discounts may also be available if a business pays off the lease balance ahead of time.
Fees also differ, with some lenders charging an origination fee. The company also earns 2.99% of the closing charges. Leases can be as low as $10,000 and as high as $1 million. The length of the loan will range from 1 to 5 years.
While most of the lenders in National Business Capital's network do not need collateral, many of them do require a UCC filing. You might know the decision within the next day if you apply online.
6. Smarter Finance USA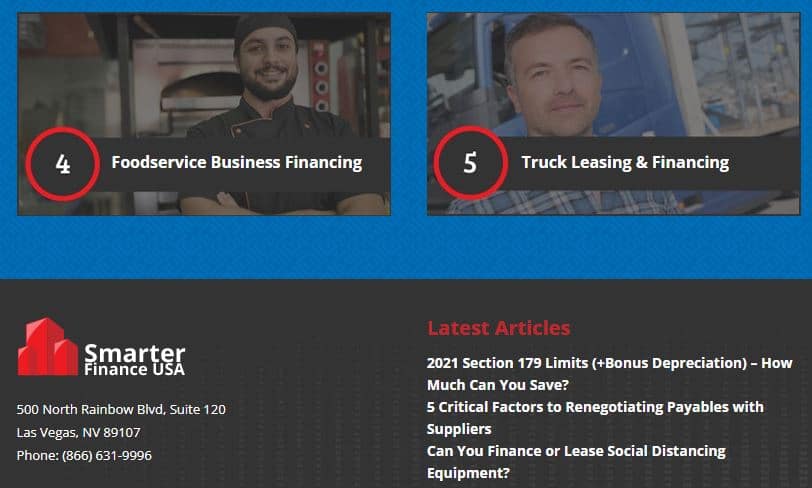 Smarter Finance USA was established in 2016. They are relatively new in the leasing equipment company industry.
They've built a reputation for partnering with entrepreneurs and businesses who have faced obstacles in obtaining funding from a different business leasing equipment company.
This is evident from Smarter Finance USA's Trustpilot ratings. Many customers claim to have struggled to obtain financing for their businesses before being approved by Smarter Finance USA.
Smarter Finance USA charges an administration fee that ranges between $300 and $850, depending on the type of equipment a company wants to lease. Furthermore, the financing rates begin at 6% and could go up to 30%.
Customers will get a loan ranging anywhere from $2,500 to $250,000, with terms ranging from 1 to 7 years.
Since the company frequently works with applicants having bad credit, a UCC filing and a personal guarantee are usually required. Borrowers can submit an application online and obtain a decision within 24 hours, with funds available in certain cases on the same day.
How To Pick The Best Equipment Leasing Company
Here are a variety of factors to consider when selecting an equipment leasing company.
1. Funding Availability
Inquire about how soon you can obtain the funds once you've been accepted. Time is precious in any industry.
You can't afford to wait for long periods of time to be able to access the funds. Some lenders claim that they will provide financing within 24 hours. This can be a major factor if you are looking to have the business equipment quickly.
2. Fees And Interest Rates
The interest rates and associated fees for any loan are important considerations. The rate would be determined by the creditworthiness of the corporation and, in certain cases, annual sales. It's also worth noting that there are lenders that charge administration fees.
All business owners want to get the best possible interest rate. But if you're a startup or have had sales problems before, you will end up paying a higher rate.
To put it another way, don't dismiss lenders who allow leasing equipment for businesses at a premium interest rate. If you wish to extend your lease as your company expands, you will be able to negotiate better terms.
3. Requirements For Underwriting
What requirements would your company have to meet in order to be eligible for a business equipment lease? Does the lender have a credit score requirement? Is the company only willing to deal with applicants that have been in operation for a specific period of time? Before you apply, find out if the company has any clear underwriting conditions to meet so as to avoid wasting time.
4. Application Process
Is it possible to apply for the lease online? Is it possible for you to upload your documents to a secure application portal? While the absence of an online alternative isn't always a deal-breaker, a company that doesn't provide it can lack technical sophistication in other aspects, like customer service.
5. Customer Support
Leasing equipment can consume a significant portion of the business's budget. Considering you spend so much money on the equipment, you want to believe that you'll be able to get help when needed. This is especially the case if the company leasing equipment also handles operation and repairs for your leased equipment.
6. Reputation
Compared to other financial solutions, like consumer banking, business equipment leasing is a smaller niche. As a result, you may not come across a lot of reviews for the companies offering business equipment leasing.
You may, however, be able to find reviews regarding the other services from the lender's operations. Wells Fargo, for example, provides equipment leasing financing as well as consumer finance products such as savings and checking accounts, credit cards, and home loans.
If you are unable to find any equipment leasing reviews, check out some of the other areas to get a sense of what others are saying.
7. Options For Repayment
It's a good idea to ask about the repayment plans while researching equipment leasing companies, particularly if you're a startup or running a small business. Some lenders, for example, allow companies to begin with lower, more manageable amounts and then progress to higher payments as the company expands and generates more income.
Final Thoughts
A variety of reputable business equipment leasing firms provide equipment financing to entrepreneurs. Your creditworthiness and annual sales will decide which lenders are willing to work with you if you're a business owner looking to lease equipment. As with everything in life, it's critical to weigh your choices and partner with a firm that can assist you in achieving your objectives.
Here are the best equipment leasing companies:
Wells Fargo
The Gordon Flesch Company
US Business Funding
Crest Capital
The National Business Capital
Smarter Finance USA