In today's fast-paced world, creating captivating articles that resonate with your readers can be a time-consuming task. But what if I told you there's a tool that can help you effortlessly craft engaging content? Rytr is the latest contender in the AI copywriting arena. This Rytr review will delve into whether it lives up to its promise of delivering high-quality content quickly and cost-effectively.
The market for AI content creators is thriving, and Rytr aims to stand out from the competition by offering a powerful solution for writing original articles, blog entries, and more.
To truly assess Rytr's capabilities, I decided to subject this AI content generator to various tests. My goal was to determine whether its output could rival human-written content. So, let's dive in and explore the results together.
What Is Rytr AI?
Rytr is an AI writing assistant that empowers you to create various types of content effortlessly.
From blog posts to sales pitches, and emails to landing pages, Rytr's got different options. Harnessing the power of GPT-3 technology, Rytr joins the ranks of AI content generators that have revolutionized the way we create content.
Rytr Review: How To Use Rytr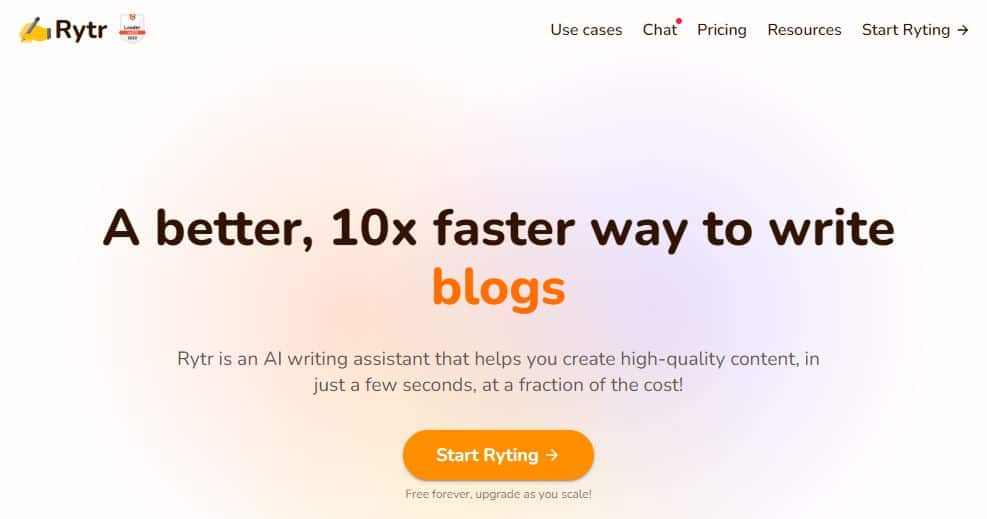 When it comes to content creation, Rytr AI proves to be a versatile tool capable of tackling various types of content. However, its true prowess lies in short-form content, such as catchy product descriptions and compelling social media ads.
If you've ever found yourself stuck in the dreaded writer's block, Rytr can provide the much-needed inspiration to overcome that blank screen syndrome, even though it won't do all the work for you.
Rytr caters to a wide range of individuals, including bloggers, internet marketers, and social media specialists. Let's explore how this AI writing tool can benefit you:
1. Social Media Promotion: Captivating Your Audience
Crafting unique advertisements for platforms like Facebook, LinkedIn, and Google ads becomes easy with Rytr. By leveraging its capabilities, you can create captivating ad copy that grabs attention and drives engagement.
2. Writing Articles And Blogs: Fueling Your Ideas
Rytr can generate titles, outlines, and meta descriptions based on your chosen criteria. It can even go the extra mile and craft entire blog sections for you.
However, it's important to note that while Rytr excels in short-form content creation, it falls short in producing long-form, high-quality content.
3. Copywriting: A Multitude Of Possibilities
Whether you need copy for your organization, brand, or products, Rytr can do that for you. It lets you generate various types of copy, allowing you to effectively communicate your message and capture your target audience's attention.
4. SEO-Focused Content: Boosting Your Rankings
Rytr can help you enhance your website's SEO. It assists you in crafting optimized meta descriptions and article titles that have the potential to elevate your search engine rankings.
5. Email: Sealing The Deal With Eye-Catching Emails
In the world of sales and marketing, the power of a well-crafted email cannot be underestimated. With Rytr, you can effortlessly write compelling emails that leave a lasting impression on your recipients in a matter of seconds.
6. YouTube: Enhancing Your Channel's Appeal
Creating original, SEO-optimized titles and engaging video descriptions for your YouTube channel is simple with Rytr. Maximize your channel's potential by leveraging the power of AI-generated content.
Main Features Of Rytr AI
Rytr boasts an array of features designed to streamline the content creation process. Let's take a closer look at some of its notable characteristics:
1. Versatility In Content Generation: From Short-Form To Outlines
Rytr can tackle a wide range of topics when it comes to content creation. From song lyrics to blog entries, it excels in generating various types of text. Particularly adept at short-form content, Rytr shines in crafting engaging emails and social media posts.
However, it may not perform as strongly with long-form content. While it offers a blog post option, it's important to note that it can only generate introductions, falling short of delivering complete articles.
2. Selection Of Tones: Setting The Right Mood
With 21 tones at your disposal, Rytr enables you to tailor your content to resonate with your target audience. After providing some initial information, simply select your desired tone from the drop-down menu.
Whether you want your writing to be informal, persuasive, humorous, concerned, passionate, or formal, Rytr allows you to gauge the impact of your words on readers.
3. Multilingual Capabilities: Expanding Your Writing Horizons
Unlike many AI writing programs that solely support English, Rytr breaks down language barriers by offering support for over 30 languages.
From Hindi, Korean, and Hebrew to French, German, and Italian, Rytr opens up a world of possibilities for multilingual content creation.
4. Grammar Tool: Polishing Your Prose
Rytr comes equipped with a basic grammar checker that can address glaring spelling and grammar errors.
While it's not designed to proofread entire blog posts or articles, the tool serves its purpose by allowing you to modify sentences. This feature proves invaluable in a range of contexts, including transforming a passive voice into an active voice.
Rytr AI Review: How Good Is Rytr?
Now that we've explored the capabilities of Rytr, it's time to put it to the test. To assess its accuracy and fluency, I utilized Rytr to write a blog post section and a product description.
Rytr Blog Section Writing
For the first test, I requested a blog section on the topic of growth hacking. After providing a title and two keywords, I let Rytr do the work.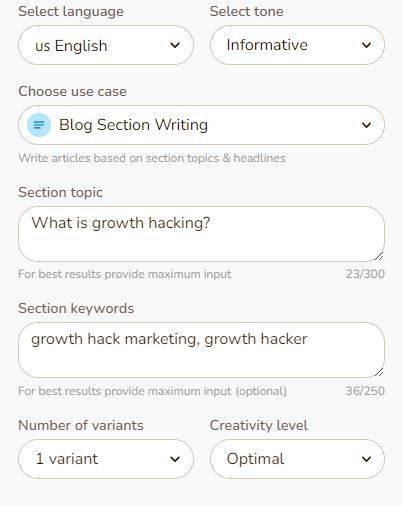 While the generated content is relevant, it tends to be repetitive and surface-level information. It would require some editing to transform it into high-quality content.
Rytr AI Product Description
In the second illustration, I requested a product description for the Lenovo T470 laptop. Providing the product's name and the opening line of its website description, I eagerly awaited the results.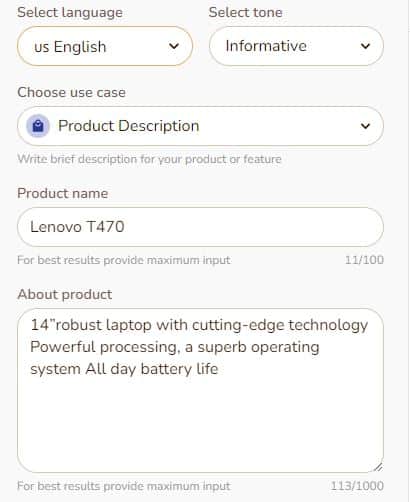 Although the generated descriptions are readable, their accuracy has slightly declined, as Lenovo is not really a laptop for creative professionals or students. This highlights the importance of fact-checking when utilizing AI tools like Rytr.
Content Accuracy: A Mixed Bag
When it comes to content accuracy, Rytr's performance can be hit-or-miss. It shines when used to rewrite or expand existing text, such as product descriptions.
Simply inputting a description can yield satisfactory results, generating an updated and lengthened version. However, if you rely on Rytr to create content from scratch, the outcomes may not be as reliable.
The generated facts can be inaccurate, and the content often contains fabrications. This necessitates spending additional time fact-checking the copy, undermining the purpose of using a content generator.
It's important to note that Rytr lacks the ability to finish incomplete sentences, and the generated content sometimes ends abruptly. These factors should be considered when assessing Rytr's performance.
Integration Of Copyscape: Ensuring Originality
Rytr integrates Copyscape checks into its functionality, ensuring that all generated content is original. Users can quickly verify the originality of specific sentences by highlighting them and selecting "More" from the menu.
It's important to note that the maximum character limit for Copyscape checks is 1,600 characters at a time. If any instances of plagiarism are detected, the results will appear in a pop-up window.
This integration sets Rytr apart from other AI content generators, as it eliminates the need to switch to a separate tool for plagiarism checks.
However, it's worth noting that the characters processed during the check contribute towards your monthly usage. Additionally, the monthly character limit for plagiarism detection is set at 50,000 characters.
Rytr Pricing – Is Rytr Free Or Paid?
Rytr AI offers a range of pricing plans to suit different needs, allowing users to explore its features and capabilities. Let's delve into the available pricing options: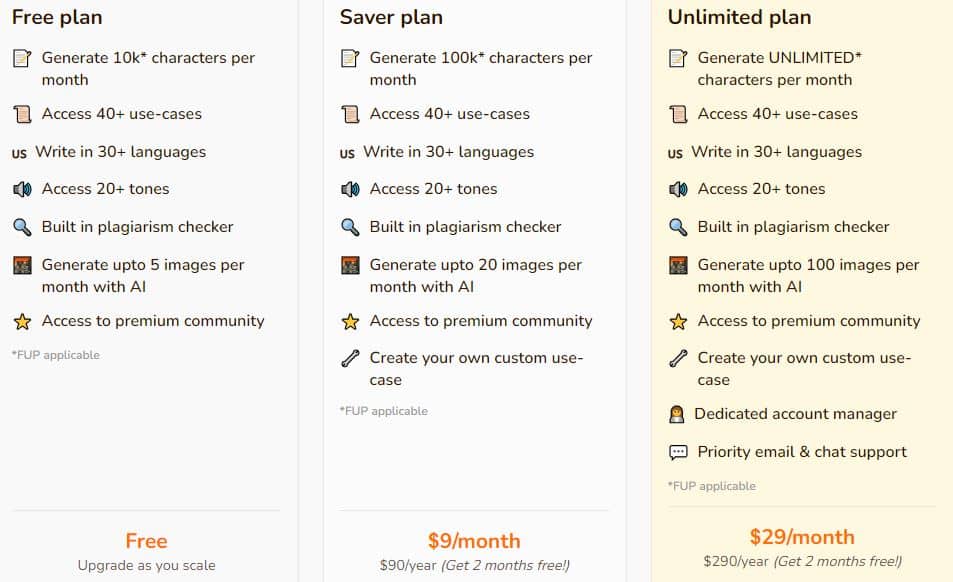 Free Plan: What Is The Free Limit Of Rytr?)
With the free plan, users can get acquainted with Rytr's features. This plan allows you to write up to 10,000 characters per month, providing ample opportunity to experience the tool's capabilities firsthand.
Savings Plan
For $9 per month, the Savings plan provides expanded features. Users can generate up to 100,000 characters per month, gaining access to over 20 tones, 40+ use cases, and the premium community. This plan offers a comprehensive experience at an affordable price.
Unlimited Plan
The Unlimited plan, priced at $29 per month, offers unrestricted character generation. Users can create an unlimited number of characters, enjoying all the features included in the Savings plan. Additionally, this plan provides priority email and chat assistance, along with a personal account manager to address any queries or concerns.
Annual Subscription: Extra Value
Opting for an annual subscription grants users two months of free usage. This cost-effective choice rewards long-term commitment and provides additional value for those who plan to utilize Rytr over an extended period.
Rytr Pros And Cons
Rytr AI offers several benefits and drawbacks worth considering when evaluating its suitability as an AI writing tool. Let's examine its key advantages and disadvantages:
Pros Of Rytr
Original Content: Rytr excels in producing original content that passes plagiarism checks like Copyscape. Users can rely on the tool to generate unique content for various purposes.
User-friendly Interface: Rytr boasts a user-friendly interface, making it easy to navigate and utilize. It stands out for its intuitive design, and comprehensive tutorials are available for those who need additional guidance.
Wide Range of Tones and Use Cases: Rytr offers a vast selection of tones and use cases, enabling users to find the appropriate tone and style for their specific content needs. This versatility enhances the tool's overall usability.
Free Plan: Unlike many other AI content writing tools, Rytr offers a free plan that allows users to write up to 10,000 characters every month. This provides an opportunity to test the tool's capabilities and determine its value before committing to a paid plan.
Cons Of Rytr
Repetitive and Ambiguous Content: Rytr's content generation can sometimes produce repetitive and ambiguous paragraphs. While some sentences may be fluent and engaging, others may repeat the same information in different wording, leading to inconsistency in output quality.
Accuracy Limitations: One notable drawback of Rytr, shared by other AI writing tools, is the potential lack of accuracy in the information it incorporates into generated content. While accuracy can vary depending on the topic, Rytr often introduces fabricated content, requiring users to fact-check and validate the content manually.
Limited Long-Form Content Generation: Rytr is not optimized for producing long-form articles. While it can assist with generating outlines and brief paragraphs, it falls short when it comes to creating extensive, in-depth content.
Rytr Alternatives
Given the rapid growth of the AI sector, there are a number of Rytr alternatives to consider.
Some notable alternatives include Copysmith.ai, Copy.ai (check out Copy AI review), Jasper.ai (find out more in the Jasper AI review), and Crawlq.ai.
These tools share similarities with Rytr in terms of functionality but differ in areas such as pricing and long-form content generation capabilities. Exploring free trials of these alternatives can help determine which one best suits your needs.
FAQs – Rytr Reviews
1. Is Rytr safe?
Rytr is safe to use as an AI writing tool. It employs advanced security measures to protect user data and ensure privacy.
2. Is Jasper or Rytr better?
The choice between Rytr vs Jasper depends on individual preferences and specific needs. Both tools have their unique features and capabilities.
It's recommended to try out demos or free trials to determine which one suits your requirements better. You may also be interested in reading more about Rytr vs Jasper AI.
3. What is the content policy of Rytr?
Rytr has a content policy that focuses on ensuring the ethical use of the tool. It discourages generating content that promotes illegal activities, hate speech, or violates intellectual property rights. Users are encouraged to review and adhere to Rytr's content policy guidelines.
4. How much does Rytr API cost?
The cost of Rytr's API depends on the specific plan and usage requirements. It's recommended to visit Rytr's official website or contact their sales team for detailed pricing information regarding the API.
5. What is the best free AI writing software?
When it comes to free AI writing software, options may vary. Some popular choices include OpenAI's GPT-3 models (such as ChatGPT) and Rytr's free plan.
It's important to explore the features and limitations of each tool to find the best fit for your writing needs. Also, check out the list of the best writing assistant software.
Final Thoughts – Rytr AI Writing Tool Review
Although Rytr is a relatively new player in the AI writing field, it offers capabilities comparable to more expensive tools like Jasper AI. It serves as a user-friendly application that helps in generating original content, particularly for short-form content (also read Scalenut review).
While it has some drawbacks, such as accuracy limitations and occasional repetitive content, Rytr remains a solid tool for content production and overcoming writer's block.
One of Rytr's standout features is its thorough free testing option, allowing users to extensively explore its capabilities. Furthermore, the free plan's inclusion of up to 10,000 characters per month without requiring credit card information makes it even more accessible.
Overall, Rytr proves to be a valuable tool for content creation, providing solid suggestions when given the appropriate context, even though it may not deliver high-quality content without additional editing.