In this article, you'll find out how to choose the best online legal service for your business and personal needs. This will be helpful, regardless of whether you need an attorney now or in the future.
Lawyers can assist you with anything from forming your company to resolving conflicts and updating contracts.
However, not everyone retains a lawyer on a continued basis. Those who do should know that their lawyer does not specialize in the form of legal practice that they need for all of their business and personal needs.
That is why using online legal services is so beneficial. You can find a local attorney for your company, obtain legal advice, and view legal records with just a few clicks.
Best Online Legal Services In 2023
Following is a list of the top online legal services that I can recommend based on my research:
Incfile — The best legal service for startups
Rocket Lawyer — For quick assistance with a legal issue
UpCounsel — For outsourcing the legal staff
LegalMatch — The best online legal service for finding a lawyer for business needs
LegalNature — The best for creating online legal docs on your own
LegalZoom — The best choice for IP security
Avvo — The best legal Q&As online
As we progress through this guide, I'll highlight the most important features, considerations, use cases, and advantages for each one.
Reviews Of The Best Online Legal Services
1. Incfile — The Best Legal Service For Startups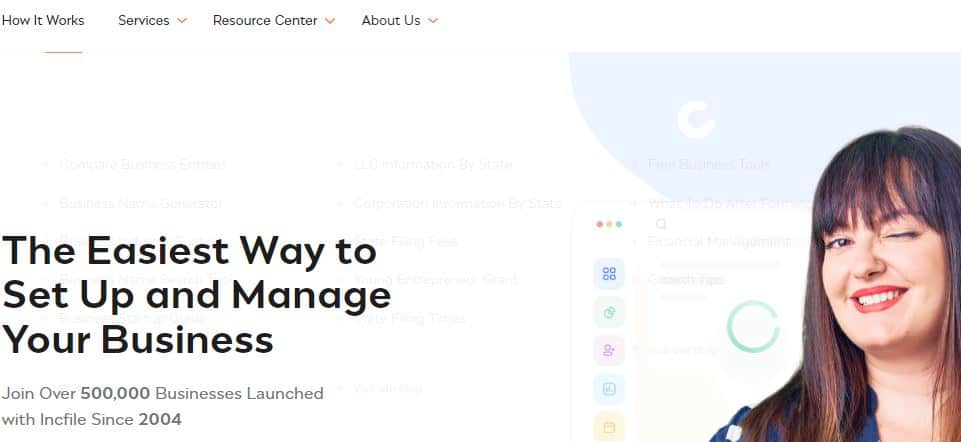 Incfile is an online legal service that focuses on the incorporation of businesses.
You just need to select your organization type (LLC, C-Corp, S-Corp, or Non-profit) and state of incorporation. If you are unsure, they will assist you in selecting the entity type that fits your needs.
There are three packages available for Incfile. The cost of each one differs based on the state.
All packages include the following types of lawyer cases:
Organizing and filing
Verification of the company name's availability
Lifetime business notifications
Registered agent services (free for 1 year)
Free tax consultation for businesses
Online status monitoring
Ongoing assistance
Business processing within the next day
Access to your incorporation documents online
The basic package is free. That's right. All you have to do is pay the registration fee for your state.
However, you'll need to pay for extras like your tax ID/EIN, operating agreements, Form 2553, and other online legal documents. They can also assist you with trademark registration and compliance.
At the very least, I recommend the Gold package. It includes unlimited email and phone support, as well as expedited filing, FedEx delivery, and express shipping.
Simply pick an entity type and your state to determine the exact cost for your business. Incfile will provide you with a quote within a few seconds.
2. Rocket Lawyer – For Quick Assistance With A Legal Issue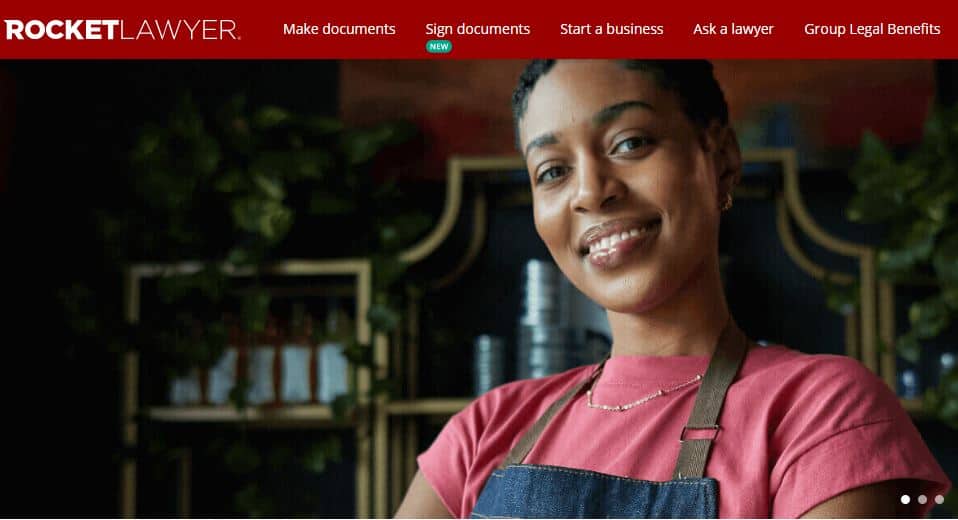 Rocket Lawyer is one of the best legal services for small business owners and individuals that want to obtain legal advice and create online legal documents.
As the name implies, RockeLawyer provides you with a number of options to easily get advice from attorneys, such as by email, phone, or chat. They will put you in touch with lawyers who specialize in a variety of areas. These include company contracts, criminal law, family law, personal injury, and more.
They also offer a fantastic legal advice platform. You are able to type in a question related to legal matters and receive responses within one business day.
If you require further assistance, you will be connected to someone online. This way, you can talk to an online lawyer about your situation. Their lawyer directory helps you pick the legal subject on which you need a professional to consult with. It is also based on your location so that they can match you with a person who is familiar with the local laws. It is pretty straightforward, and you can get it done quickly.
Business owners and other individuals may use this online lawyer service to produce legal documents related to a variety of cases.
Here are some documents that they can assist you in creating and processing:
Business
Operating agreement and services for LLC
Confidentiality agreement
Business agreement
Agreement for independent contractors
Real Estate
Notice of eviction
Leasing contract
Quitclaim deeds
Intent to buy
They can also assist with more specific issues like healthcare directives and estate planning.
Rocket Lawyer accepts payments in 2 ways. You can use discounted documentation and free resources by paying a monthly subscription fee of $39.99. The other option is to pay per usage, depending on your needs.
If you are paying per usage, it will cost you $39.9 for each legal document. For only one of these, the subscription services pay for themselves. The monthly membership is well worth it if you know you'll need several documents at a time or multiple ones created on a regular basis.
Rocket Lawyer has a user-friendly smartphone app. This allows you to quickly access your online legal documents from any location. You can also sign contracts through the app.
Rocket Lawyer is available on a 7-day free trial.
3. UpCounsel — For Outsourcing The Legal Staff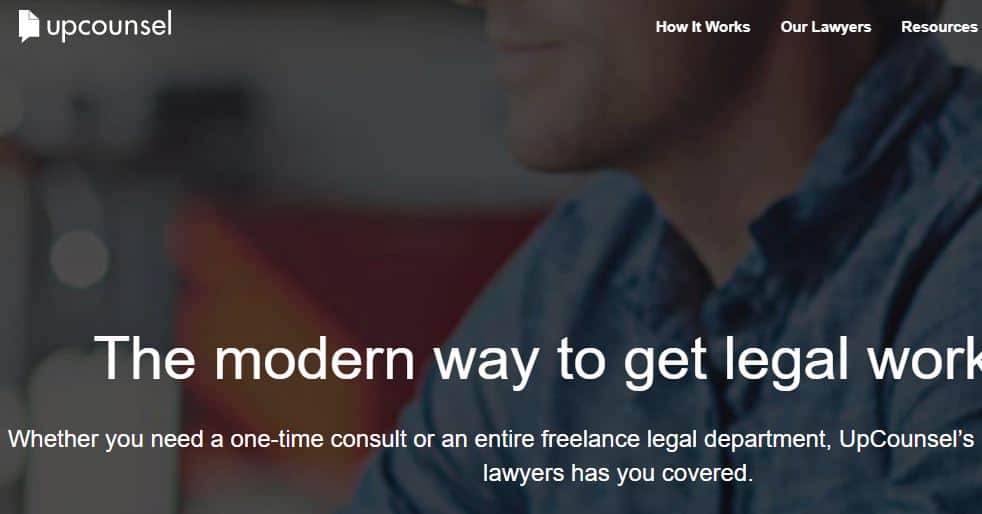 UpCounsel is a fantastic resource for a variety of legal subject matters.
They offer everything from a single personal legal consultation to a full-fledged freelance legal division for your company.
They're also used by high-profile companies like Airbnb, which often deal with complex legal issues. So, you can be assured that you're in safe hands.
UpCounsel's most common types of lawyer options include:
Contracts
Business incorporation
Trademarks
Intellectual property
General counsel
Securities and financial services reviews
Employment and labor
This is how it goes.
You post work that relates to your legal and business needs. The information you disclose on the platform is completely private.
The platform's algorithm will pair you with trained lawyers who can help you with your unique needs. Those attorneys can give you plans, and you can arrange a consultation for free online legal advice without any obligation.
You can hire a lawyer for business when you're ready to move forward. You won't have to think about hidden costs because the pricing is all upfront. They let you collaborate with an attorney directly through their platform.
All of your correspondence can be managed in one location with UpCounsel. The platform allows users to monitor their calls and manage online legal documents.
You can also keep track of your expenses and take advantage of flexible options for payment. If you enjoyed working with an attorney before, UpCounsel enables you to reconnect with them easily.
Get in touch with UpCounsel today if you are looking for dedicated legal assistance that is readily available when needed.
4. LegalMatch — The Best Online Legal Service For Finding A Lawyer For Business Needs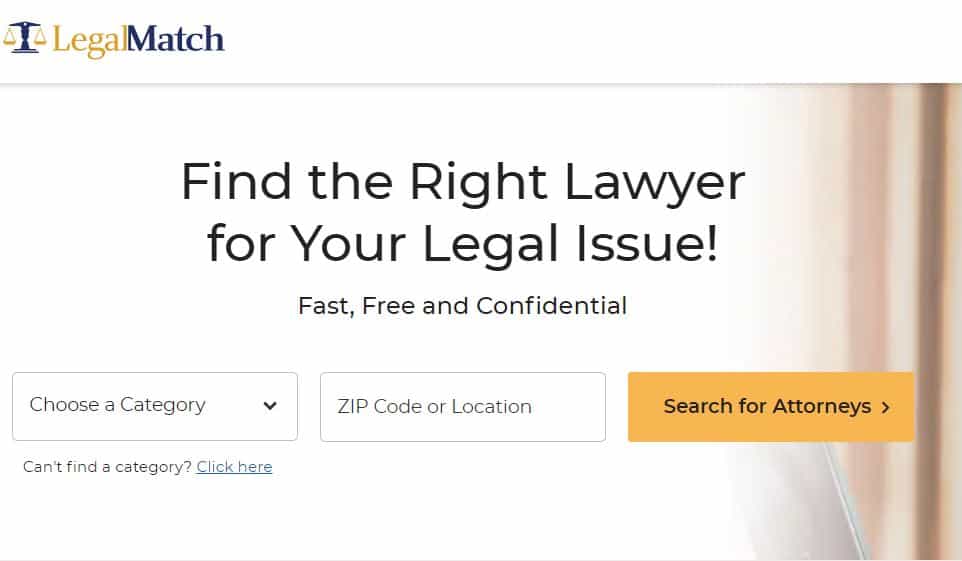 As the name suggests, LegalMatch is a website that matches you with a lawyer. It's the best option if you are looking for legal help in your area.
The procedure is clear, fast, and easy to follow. Simply enter your area and pick one of the types of lawyer options from the list:
Employment
Family
Real estate
Criminal defense
Immigration
Business
LegalMatch will match you with a top-rated licensed lawyer in your location. You are not charged for any part of the referral or connection process.
LegalMatch has been in operation for more than 20 years. Over 4 million cases have been covered through this website.
Within 24 hours of submitting your case, you will receive a response. As a result, it's a great choice for those of you who have time-sensitive issues.
Once you are connected, you'll have complete access to the lawyer's background and profile details. You will be able to view client reviews and ratings, which will help you in making a decision. LegalMatch gives you a detailed breakdown of the lawyer's fees.
This is a convenient method to locate attorneys without feeling rushed. Simply review the options provided by LegalMatch and choose the right lawyer based on your situation.
When you're connected with an attorney via this website, you're under no obligation to hire them or get into a contract. As a result, you can try LegalMatch without any commitments.
5. LegalNature — The Best For Creating Online Legal Docs On Your Own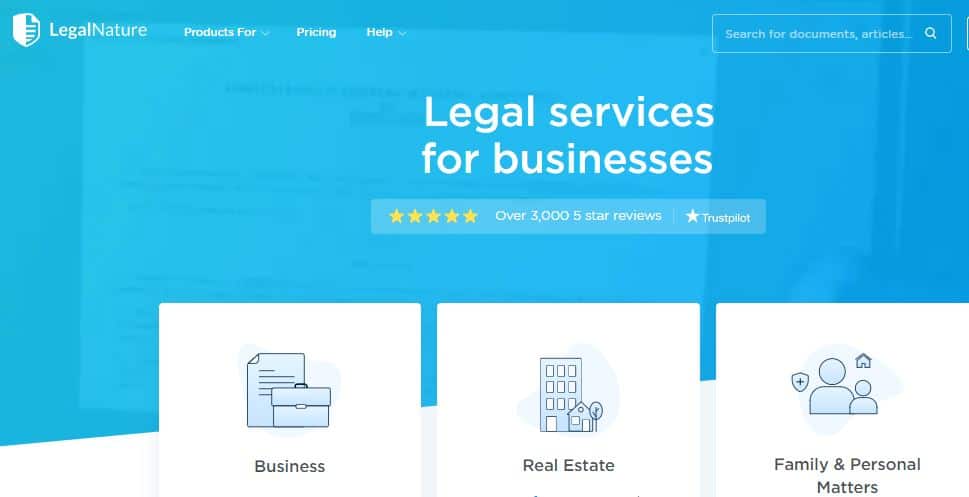 LegalNature has all the legal forms and templates you'll ever need. It's quick, reliable, and simple to use.
The LegalNature website also has a lot of useful tools. Online legal documents are available for companies, tenants, and individuals.
Here's a rundown of LegalNature's most common types of lawyer categories:
Business incorporation
Workplace
Services for wills and estate planning
Commercial real estate
Medical
Tenant and landlord
Marriage/divorce
Property
Personal matters
LegalNature will guide you through the process, once you select the document type you want to create. When you're finished, simply download and save your documents.
Let's take a closer look at the plans and pricing options for LegalNature:
Single Document
Unlimited edits and updates
Subscription is not required
Starts at $34.95/document
Standard Plan
Access every legal document
One version for each document
$38.95/month ($7/month on an annual contract)
Professional Plan
Access every legal document
Unlimited versions for each document
$58.95/month (or $499/year)
LegalNature makes it easy for you, whether you are looking to get legal documents for one-time use or on a continued basis. They provide you with a simple process to draft NDAs, offer letters, and different HR documents that are needed regularly by a growing company.
6. LegalZoom — The Best Choice For IP Security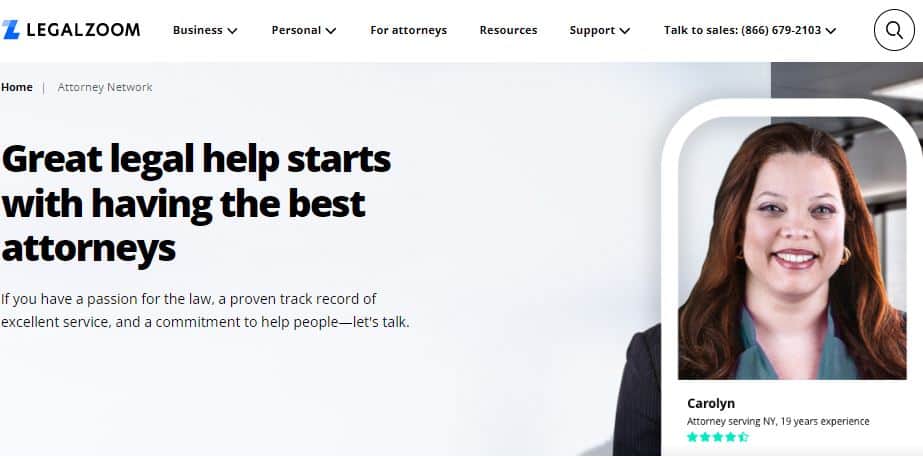 LegalZoom is one of the most comprehensive online legal services available today. This site can meet your business, professional, and personal needs.
LegalZoom's Intellectual Property (IP) service is where they really shine. They provide an extensive services list for copyright, trademarks, prior art, and patents. You are also able to get help with provisional patent submissions, design patents, and filing utility in 3 steps.
There are four key categories of LegalZoom's online services. Below is an overview of some of the most common types of lawyer resources and features in each of those categories.
Business
Corporate filings and modifications
Business incorporation
Company names
Business compliance
Real estate
Copyright, trademarks, and patents
Contracts and legal forms
Licensing, permits, and taxes
Intellectual Property
Registering a trademark
Trademark search
Design patent
Registration of copyright
Provisional patent filing
Utility patent
Family Trusts And Wills
Marriage/divorce
Estate planning
Residential agreement
Power of attorney
Property lease
Attorney Advice
Individual consultation
Business consultation
Terms and conditions for websites
Deals and contracts
LegalZoom provides 6-month and annual packages for companies and individuals. Individual plans begin at $9.99/month with a one-year commitment, while company plans begin at $31.25/month on an annual contract.
Overall, LegalZoom is a great option for both one-time and continued legal services.
Visit LegalZoom.com to find out more.
7. Avvo — The Best Legal Q&As Online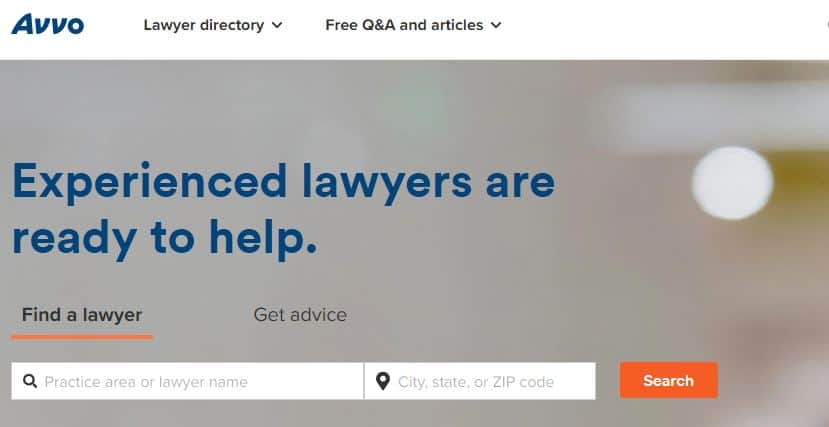 Avvo is a bit unique compared to some of the other online legal services on my list.
A comprehensive lawyer directory is available on the platform to assist you in finding a legal professional in your location. However, it can also be used to get online legal advice for free through the answers.
You may look at other people's questions or ask your own and receive answers from a number of lawyers.
The following are some of the most frequently asked questions and online legal advice through Avvo:
Custody of children
Business
Driving Under the Influence
Criminal defense
Employment
Separation and divorce
Tenant and landlord
Immigration
Personal injuries
Violations of traffic laws
Prenuptial agreements
This is just the tip of the iceberg in terms of possibilities. Avvo covers several legal issues and provides you with assistance.
Besides free Q&A and lawyer directory, Avvo has a lot of legal advice for free in the form of guides, resources, and articles. This is the perfect choice for those who need their legal queries answered online without having to pay for a consultation with an attorney.
How To Pick The Best Online Legal Service
It might be difficult to shortlist your options because there are a number of legal firms to pick from. What is the easiest way to find the best online legal service provider for your needs?
Here at KISS Investments, I've used the following approach. I'll explain each of these aspects in more detail so you can see what's most important as you go through this process.
Size And Stage Of The Business
This may not be applicable to you if you are looking for online legal assistance for a personal legal issue such as divorce or immigration. If that's the case, I'd suggest skipping this section.
Others might be needing services for company matters. If this describes you, the following factors should be kept in mind when you conduct your research:
Size: What is the size of your company? A small boutique store would not need the same resources as a company of 1,000+ employees.
Stage: At what point in the lifecycle is your company? Entrepreneurs that are just getting started, would need resources related to company formation. Established companies, on the other hand, may need contracts or assistance with recruiting employees.
For people who are starting a business, an online lawyer service such as Incfile will help you register your business.
Midsized businesses would need occasional yet reliable services from legal firms. In this situation, a service that connects them with a reliable attorney, such as LegalMatch might suffice. Rocket Lawyer can help those who need specialized advice from their legal counsel.
Field Of Legal Practice
Legal firms differ in terms of what they deliver, with each one concentrating on a different field of law.
That's why it's crucial to find one that caters to your specific requirements. After all, a divorced person would not use the same legal counsel as a contractor getting into an agreement with a potential client.
Examine the areas of expertise of each and every online lawyer service. Corporations and LLCs can be formed with the help of services like IncFile, LegalZoom, and RocketLawyer.
IncFile and LegalZoom, for example, take it even further and assist you with trademark registration.
LegalZoom can also assist you in obtaining copyright to protect original work as well as a patent to secure a product or an invention. They've helped creators for establishing over 650,000 IP applications and the processing of over 90,000 copyright filings.
Platforms like LegalMatch and Avvo, on the other hand, are mainly used to locate a lawyer in person near your area. Consider them to be the Angie's list for legal firms.
Decide if you need legal assistance for your company or personal affairs. Online legal resources are available on several websites for both companies and individuals, but some are experts in just one of them.
Larger organizations that need an outsourced department or a complete legal team, can use a service like UpCounsel. They will connect you with an attorney that can act for your company. Their expertise is in assisting businesses in outsourcing the legal department.
In-Person Legal Service
In certain cases, you may not need to meet a lawyer. But if you want to meet in person with someone (due to a complex problem or security reasons), look for a provider that will put you in touch with a live attorney.
With the growth of the work-from-home culture since the beginning of the pandemic, these services can also link you with a lawyer through Zoom or phone. However, this is dependent on the individual lawyer and the firm's contact infrastructure.
In these situations (and if you're a smaller business that needs to follow strict local and state guidelines), being matched with a lawyer across the country isn't ideal.
As a result, search for a website that helps you to locate a competent lawyer based on your state or ZIP code. My top picks for this type of directory service include LegalZoom, Avvo, and LegalMatch.
Speed Of Service
For legal services, speed is key. After all, during an unexpected circumstance, you might need immediate legal assistance.
A lawyer service like LegalMatch guarantees that a lawyer will respond within 24 hours of posting your request.
Avvo is similar to Quora in that it allows you to ask a question on their website and get answers from lawyers. You may also look at their portal of questions for responses to similar situations that other people have asked.
For those of you who need to talk to a lawyer for business as soon as possible, having your question answered on an online platform isn't going to be useful. If this is the case, go for a platform that is easy to use and helps you to find a lawyer without any commitment.
You can always use a service such as UpCounsel, which will provide you with a dedicated lawyer or team to assist you when problems arise.
Usage Patterns
The frequency at which you plan to seek legal advice should factor heavily into your final decision.
There might be some of them who need legal assistance for a single occasion. I recommend LegalMatch or Avvo to pick a great solicitor for filing papers, drafting contracts, or resolving a dispute.
Others might want to develop a long-term relationship with an attorney. This is particularly true for businesses that are not able to afford full-time legal counsel. Alternatively, you may be in a legal position in which you require the services of a lawyer on a retainer or for an extended time period (e.g. litigation).
You may also want lawyer services on-demand to deal with problems or questions when they arise. If you are part of this group, consider LegalZoom or RocketLawyer, which offer one-time legal plans. They will put you in touch with attorneys who can work around your schedule.
Knowing how much a lawyer service you would need can also help you reduce costs.
The pricing models for various online legal firms differ from one site to the next. Some have membership fees that are recurring, while others are charged on a case-by-case basis. There are also services that offer free online legal advice and matching.
Final Thoughts
Online legal services are becoming increasingly common. These platforms provide legal assistance without requiring you to leave your home or workplace. Furthermore, you will not be limited to lawyers in your immediate area.
These are the best platforms to consider if you are looking for a lawyer, starting a company, or need legal assistance:
Incfile — The best legal service for startups
Rocket Lawyer — For quick assistance with a legal issue
UpCounsel — For outsourcing the legal staff
LegalMatch — The best online legal service for finding a lawyer for business needs
LegalNature — The best for creating online legal docs on your own
LegalZoom — The best choice for IP security
Avvo — The best legal Q&As online
There's an online legal service for everyone on this list, no matter what kind of situation you're in.