In the realm of content marketing, there's been a lot of buzz surrounding a company called Copy AI. Led by its founder, Paul Yacoubian, Copy AI is getting popular with its AI writing capabilities. Naturally, I was intrigued and decided to put this AI content generator to the test with a comprehensive Copy AI review.
My goal? To determine if this AI technology truly lives up to the hype and if it can outperform human creativity.
Copy AI Review
Founded in 2020, Copy.ai boasts a team of 16 employees primarily based in the U.S., as per their LinkedIn profile. Impressive traction for a company that's only been around for a little over a year.
Crunchbase reveals that they've secured a seed fund of $2.9 million from notable investors like Sequoia Capital and Adam Morley.
Upon exploring Copy.ai, my initial impression was positive. I found it to be a helpful tool that can prove valuable for the right person.
If you're struggling to find your creative flow, Copy.ai can provide the motivation you need to finish your content writing. It's especially handy if you're aiming to churn out shorter pieces of content quickly.
However, it's important to exercise caution and verify the accuracy and truthfulness of the generated content, particularly when dealing with topics related to health.
As such, it's best to consider Copy.ai as an AI writing assistant for the content creation process. In this capacity, it can wield considerable power.
What Is Copy.ai?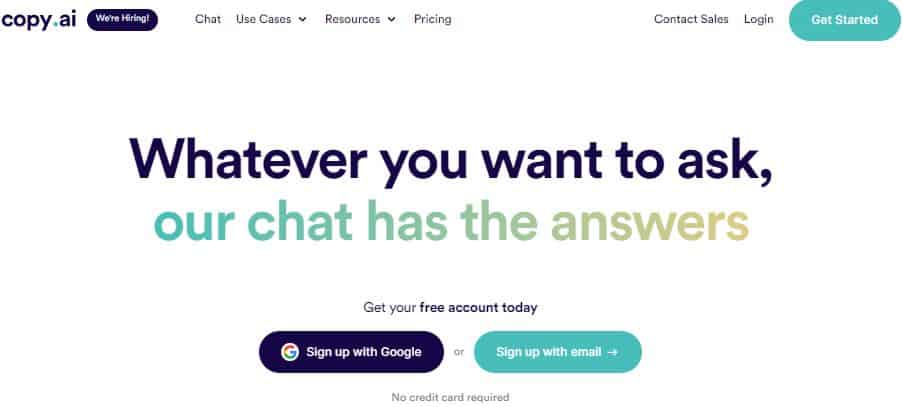 According to their website, it's an AI writing tool designed to save you time and boost conversion rates. Their bold claim? Ending writer's block and generating marketing copy within seconds.
Now, don't expect this tool to conjure up complete blog posts in a matter of seconds, but it does excel at assisting with various content creation tasks. Think blog outlines, titles, paragraph points, introductions, and conclusions.
So, does the AI writer deliver? Can it fool readers into thinking it was crafted by a human?
Before we get into the details, you might be wondering if you should give Copy.ai a try yourself. The good news is that they offer a 7-day free trial. It's the perfect opportunity to test out the tool and see if it aligns with your needs.
Let's discuss what Copy.ai brings to the table.
Copy.ai: The Perfect Tool For Digital Marketers
If you're a digital marketer or an online business owner seeking to streamline your content creation and copywriting processes, look no further than Copy.ai.
This tool is designed to save you time and accelerate your content production. From websites and landing pages to social media, sales letters, and email marketing, Copy.ai has you covered.
Copy.ai specializes in the following key areas, ensuring it meets the unique needs of its users:
Social media ads, Google Ads, and posts: Whether it's Twitter, Facebook, Instagram, or LinkedIn ads, Copy.ai generates captivating copy that grabs attention.
Product descriptions: Ideal for eCommerce, it crafts compelling descriptions that entice customers.
Email content: From subject lines to autoresponders and funnels, Copy.ai helps you craft engaging email content.
Sales copy: Enhance your website and email marketing efforts with persuasive copy that drives conversions.
Website copy: Need inspiration for blog post outlines, ideas, or meta descriptions? Copy.ai has all these options.
It's worth noting that Copy.ai excels in creating digital ad copy and product descriptions. If you're interested, you can also check out the comprehensive list of the best ad copy generator tools.
Copy AI Features
Copy.ai offers several key benefits and features that enhance its functionality:
Multiple Languages: With Copy.ai, you can input content in one language, such as English, and generate content in another language, like Spanish. This multilingual capability broadens the tool's reach.
Chrome Extension: The Chrome extension allows users to generate copy seamlessly within Gmail and Google Docs, making it convenient for on-the-fly content creation.
Tutorials and Resources: Copy.ai offers an extensive collection of resources and tutorials to help users maximize the tool's potential and get the most out of their copywriting experience.
24/7 Support: Regardless of your pricing tier, Copy.ai provides round-the-clock support to address any queries or issues you may encounter.
Facebook Group: Copy.ai maintains an active Facebook group where users can seek advice, find support, and engage in discussions related to AI content, including Facebook ad ideas.
Furthermore, as time progresses, we can anticipate continuous improvement in the AI copywriting features of Copy.ai, with the addition of more functionalities to enhance the overall user experience.
What Is Copy AI Used For?
Getting started with Copy.ai is easy. The platform boasts a clean and user-friendly interface, ensuring a seamless experience.
Additionally, their YouTube channel provides well-created video content that guides you through each type of copy creation.
Let's take a closer look at the platform and some of its features.
1. Generating Blog Ideas
Suppose you're seeking inspiration for a list of blog ideas. Copy.ai makes it effortless. Simply input your brand/product name and describe the item or topic, adjusting it to align with your brand voice. You'll be amazed at how effective it is at generating ideas.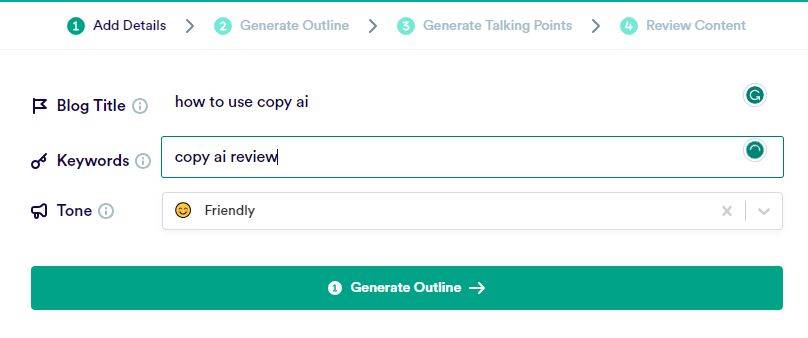 The results? A comprehensive list of potential blog topics to spark your creativity. You can save your favorite suggestions, copy the text, or generate more options based on the ones you like best.
2. Creating Blog Post Outline
Copy.ai helps with creating a blog post outline, perfect for those grappling with writer's block. Enter your writing prompts, and witness that Copy.ai generates a substantial amount of content.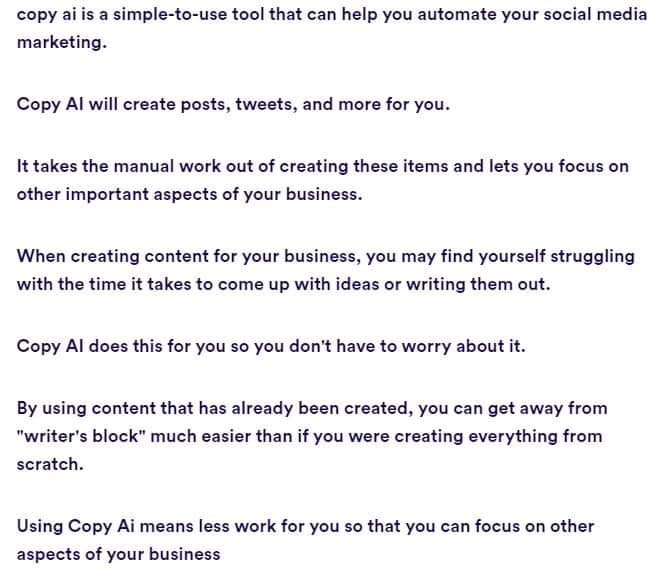 While it may not create a complete blog post, it serves as an invaluable starting point. Once the content is generated, you can refine it to sound more natural and verify its accuracy.
Copy.ai's strength lies in its ability to generate ideas, provide content structure, and produce well-crafted short-form copy. It's a tool that truly enhances the creative process.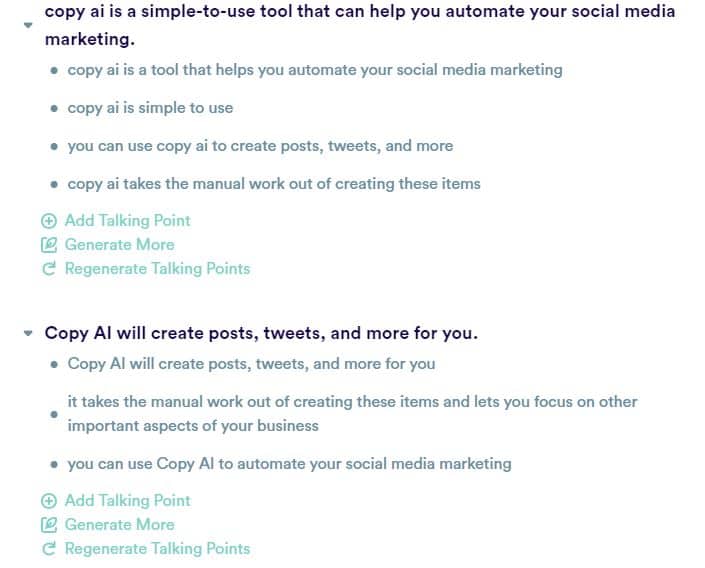 3. Grammar And Spelling: Assessing AI-Generated Copy
Considerable effort has been invested in enhancing machine learning algorithms to generate more natural-looking content. While it is not flawless yet, it has significantly improved in recent years.
When it comes to recognizing grammatical mistakes in your writing and bringing them to your attention, Grammarly is an excellent tool. To assess the quality of the AI-generated copy, I ran the content through Grammarly, and to my surprise, it performed quite well, earning a greater than 90% overall rating.
Here are the writing issues identified in a single paragraph: incorrect determiners, punctuation errors, an engagement issue (which I typically overlook in Grammarly's suggestions), and a minor clarity concern.
While Grammarly itself does not provide an authoritative judgment on content quality, those familiar with the tool understand that such a rating generally indicates acceptable content. It may only require a few adjustments to match your voice or preferred writing style.
4. The Importance Of Accuracy
Accuracy and truthfulness pose significant challenges when it comes to AI-generated text. For instance, if you are writing a blog about golf clubs, but the content returned relates to baseball bats, it is bound to confuse the reader.
I requested the tool to create a blog outline for the title "Is chocolate toxic to squirrels?" The outlines generated exhibit varying conclusions.
In one outline, the takeaway is "Yes, squirrels can eat chocolate," while in another, the conclusion is "Chocolate is toxic to squirrels."
The question then arises: Which statement is true? Which one is accurate? To ascertain the truth, further research using primary sources is necessary.
In the case of squirrels and chocolates, it is likely that squirrels should not consume chocolates, but it would also depend on the amount that is consumed.
For the SEO-related article that I tested, I was satisfied with the output. The content appeared accurate, relevant, and mostly true.
5. Addressing Plagiarism Concerns
Regarding the plagiarism, Grammarly detected a 15% similarity score in the AI-generated copy.
This figure may seem high, particularly if you are accustomed to checking longer blog posts, which typically yield less than 5% similarity rates (often from unrelated content). However, considering that I tested a small sample of copy, the percentage is understandable.
To gather more data, I conducted 3 additional tests on other paragraphs generated by Copy.ai. These tests yielded no plagiarism on all 3 occasions, providing more favorable results.
Copy.ai Pros And Cons
Copy.ai possesses impressive speed when it comes to writing content and copy. However, it's important to utilize it as a long-form assistant, focusing on a paragraph or two at a time.
While the technology hasn't reached the point where it can churn out entire 1,500-word articles in seconds, it can still serve as an AI article writer.
Just bear in mind that fact-checking and human editing are essential (or you can explore the Longshot AI review for a fact-checking AI writer alternative)!
Copy.ai isn't exclusively for content marketers. The platform offers a "fun personal tools" section where you can experiment with AI-generated love letters, birthday cards, and other forms of short content. It's a great way to unleash your creativity.
Through my experience, I discovered that Copy.ai tends to perform better when generating content on general topics compared to specific ones. While it may produce nonsensical results when focused on a particular product, it fares far better when creating content within broader product categories.
However, Copy.ai isn't quite ready to deliver the best long-form content. If you're seeking something to spruce up a social media post or a product description without being overly concerned about quality, then it fits the bill. But if you're after truly exceptional content, it might not meet your expectations just yet.
That said, combining Copy.ai with content optimization tools and proofreading assistance from platforms like Grammarly can significantly enhance its performance.
If you're curious about exploring all the features Copy.ai has to offer, I highly recommend signing up for their 7-day free trial. It's an excellent way to test the waters and experience the tool's capabilities firsthand.
Copy.ai Pricing – Is Copy.ai Free?
Copy.ai's pricing structure consists of two options:
Annual Plan: Users can opt for the annual plan, priced at a flat rate of $36 per month.
Monthly Plan: Alternatively, there is a monthly plan available at $49 per month.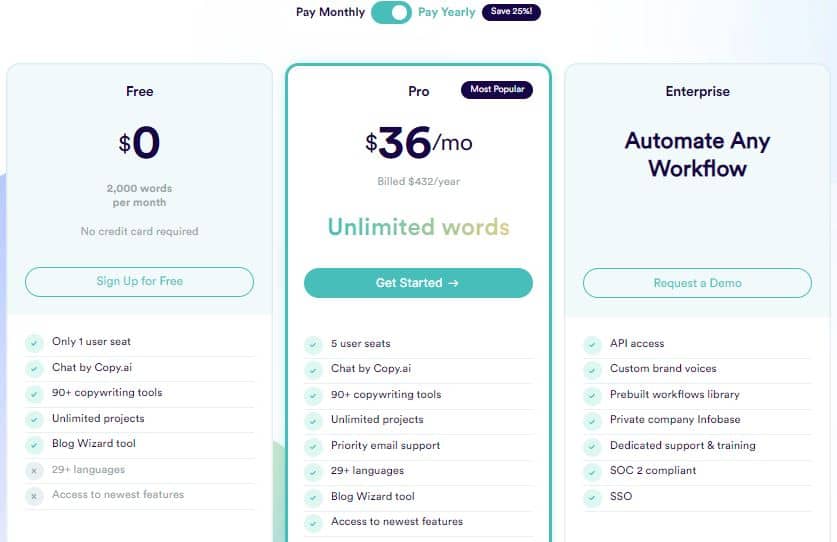 While Copy.ai does not offer a free account, they do provide a 7-day free trial, which doesn't require a credit card for signup. This trial period is valuable in getting a sense of the tool's capabilities.
However, during the trial, there is a limit of 100 runs per day. Nevertheless, this allows users to assess the quality of the AI-generated content and determine its suitability for their business needs. A "run" refers to clicking the Create button once you have begun using the tool.
For example, during the free trial, you can generate up to 100 blog post outlines or other marketing material each day. The templates created during this trial period can keep you engaged and help in content creation for months.
Copy.ai Alternative
For those who find that Copy.ai may not be the ideal fit for their requirements, there are various alternative AI software options available. These alternatives include:
These tools are priced similarly and offer comparable features. Additionally, they also provide free trials, allowing users to test their functionalities before making a commitment.
FAQs – Copy.ai Review
1. Is AI copywriting worth it?
Whether AI copywriting is worth it depends on various factors such as your specific needs, resources, and preferences. AI can assist in generating content quickly and efficiently, but it's important to review and refine the output to ensure quality and maintain a human touch.
2. Is Copy AI better than Jarvis (now Jasper)?
Comparing Copy AI vs Jasper AI depends on specific features and use cases. Both tools have their strengths and weaknesses, so it's advisable to evaluate them based on your requirements to determine which one better suits your needs.
3. Is Copy AI better than ChatGPT?
Comparing Copy AI and ChatGPT also depends on specific use cases. While ChatGPT is designed for general conversational AI, Copy AI is tailored specifically for copywriting tasks. The choice between them depends on the specific requirements of your project.
4. Is Copy.ai safe?
Yes, Copy.ai is safe to use. As an AI-powered platform, Copy.ai prioritizes data privacy and security. They implement measures to protect user information and ensure compliance with relevant data protection regulations.
However, it's always a good practice to review and understand the platform's privacy policy and terms of service to make an informed decision about using any AI tool or platform.
5. How to use Copy.ai for free?
To use Copy AI for free, you can explore the 7-day trial period. Copy AI provides limited access or feature sets for free, but for full and unrestricted usage, a paid subscription is typically required.
Conclusion: Copy AI Review
As we delve deeper into the capabilities of AI content tools like Copy.ai, their potential to generate marketing copy continues to impress. While their ability to write articles may still have room for improvement, it is expected to advance significantly in the near future.
For small businesses, content creators, and e-commerce site operators, familiarizing oneself with AI copywriting tools is a prudent decision. Although they may not instantly triple your blog article output, they provide a head start and valuable assistance as their capabilities evolve over time.
In the interim, AI copywriting can still be leveraged effectively to swiftly generate product descriptions, social posts, and other essential short-form content.
The impact of these tools on blogging and online businesses is uncertain, but content agencies and writers are unlikely to be out of work anytime soon.