Discord has more than 150 million monthly active users. There is a large number of potential buyers and sales! And, if you are here, you must be wondering how to make money on Discord.
This is an ideal platform for streamers, developers trying to sell their products, or content creators looking to monetize their fan following.
In this post, we'll go over some strategies to monetize Discord. Therefore, continue reading if you would like to make money from this growing community of users.
About Discord
Millions of people use the chat application Discord. You can access this user-friendly app from any device. The platform is ideal for streaming, gaming, and just chit-chatting with friends because it also supports audio and video chat.
Discord was first developed for gamers. The app has since gained popularity among a wide range of users, which includes businesses (though there are other Discord alternatives), creators, and more.
How Does Discord Make Money?
Discord generates revenue with partnerships, paid features, and advertising.
Discord Partnership Program
The platform collaborates with a number of companies and brands, including Patreon and Xbox. Through these collaborations, Discord is able to provide users with exclusive features and offers.
Paid Features
Discord has a number of premium features, including:
Server boosting (enables servers to get more emotes, larger file uploads, and custom badges)
Nitro (a monthly membership that grants users access to additional features)
Merchandise
Advertisements
Discord displays advertisements as "sponsored servers". These servers have paid to be advertised to the users on Discord. The company also runs advertisements on its website and through the app.
Discord Monetization Strategies – Can You Make Money On Discord?
You have several different ways to monetize your account on Discord. Below, we'll discuss some widely used methods.
1. Provide Premium Features
With your own Discord server, it is possible to charge your members for access to premium features.
This may involve additional emotes, uploading larger files, or creating unique server badges. For paying customers, you could also provide access to premium content or channels.
You must first decide the features you can charge for before you can offer them. Consider what your users would find most valuable and what they would be ready to pay you for.
2. Selling On Discord
Selling items or services to users is one of the simplest methods to earn income on Discord.
Using a platform like WooCommerce or Shopify, you are also able to set up a store on the Discord server. By doing this, you can promote your services and products to Discord members directly.
Choose What You Want To Sell
You must first pick the item or service you are going to sell before you can start monetizing Discord. The top items for selling on Discord are:
Digital products
Physical items
Software
Courses
Artwork
If you are planning to sell apparel, you should pick a user-friendly platform that allows you to sell a variety of items. The most well-known marketplaces include Redbubble, Zazzle, and TeePublic.
StockX Discord Server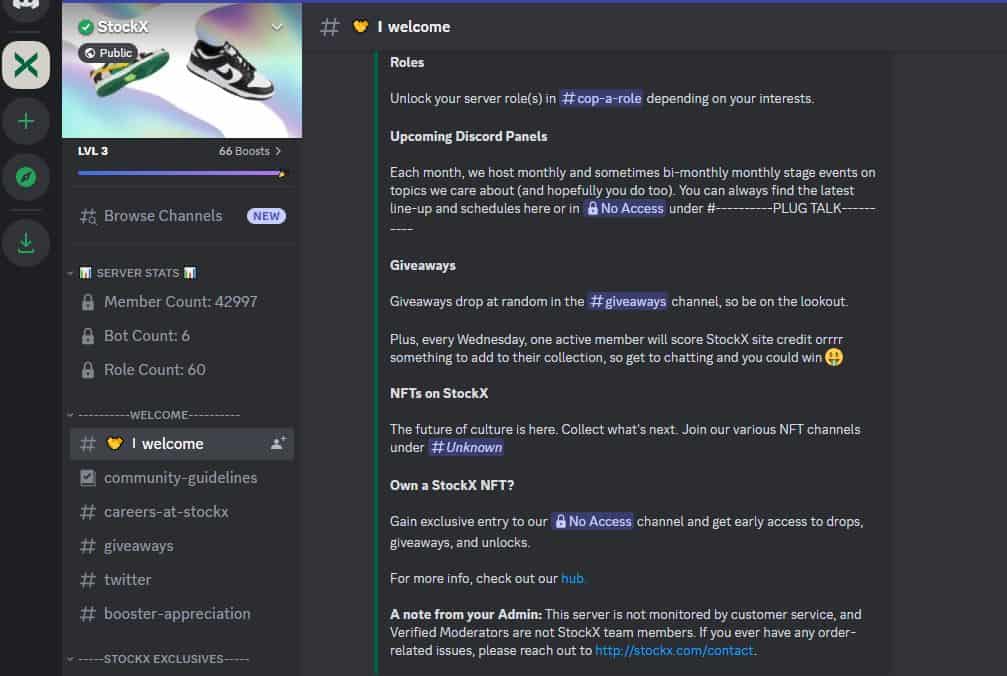 This is a group of people with common interests that get together to talk about various topics such as collectibles, sneakers, and more. What started as a small gathering of friends chatting about their most recent purchases has expanded into a vibrant community with more than 43,000 members.
The server features general discussions in addition to special offers and savings on StockX items. Also, the server offers a bustling marketplace where users may purchase and sell products for quick cash.
StockX charges a small fee when you purchase or sell using the Discord server. There is something on the Discord Server for everyone, whether you are an experienced buyer or a total beginner.
What Are Other Items That People Buy Of This Nature?
Some people pay a decent sum for accessing a Discord server that specializes in software programming. It provides useful information that helps to recognize best practices as well as understand important algorithm implementations.
This knowledge can be used to manage your workload and improve productivity. Also, the community on the server is always sharing winning tactics, which helps you hone your skills continuously.
How To Get Paid From Discord
There are various ways to collect payments for your items or services.
Although PayPal is the most commonly used payment processor, you can also utilize Square, Stripe, or other third-party payment systems.
3. Provide Consulting – Monetizing A Discord Community
If you are a subject matter expert in a certain area, you can provide consulting services to organizations and individuals. This may entail offering guidance on product development, marketing, technical support, or other subjects you are knowledgeable in.
Let's take an example of a coding community on Discord. The different consulting services that can be offered are listed below:
Installs – Administrators assist clients in installing IntelliJ (integrated development platform). A poor installation might lead to a variety of problems later
Setups – After IntelliJ has been installed, it must be correctly configured. This entails picking the right plugins and confirming that all necessary projects and shortcuts are set up
Troubleshooting – IntelliJ problems can still occur with a properly installed and configured system. As a result, clients can set up a time to speak with a specialist when they need more assistance.
Plugins – Plugins can be a great addition to a coding platform. But if they're not configured properly, they could turn out to be a real hassle. To minimize headaches, these services are helpful for properly configuring and managing plugins.
Always keep in mind that mistakes with coding can be quite time-consuming. Thus, it makes sense to spend a little consulting fee to get everything figured out.
4. Promoting Other People's Products
For those with a sizable Discord following, brands and companies may offer sponsorship opportunities.
Sponsorships typically include promoting an item or service through your social media pages or Discord server. Also, you can receive sponsorship to go to events or wear branded clothing.
You get the rare opportunity of making money as a Discord influencer by promoting items and services through your server. Compared to conventional social media sites like Instagram or Twitter, Discord enables you to directly and precisely target your visitors. The best part is that running the ads is all it takes to get paid; you don't even need to have your own products or services.
You can start by simply getting in touch with companies or brands you believe might be a good fit for your server. Once you've made contact, decide on the specifics of the ad, such as the duration of its run, the items or services it will highlight, etc.
Decide on pricing, and then start turning on the ads. It's that easy! Also, you don't need to be bothered about impressions or clicks as you do with other online advertising methods.
5. Earn Commissions By Becoming An Affiliate – Passive Income With Discord
While using Discord, you may come across people advertising their items or services. You can sign up to be an affiliate if you discover a good product or service that you think your Discord members would enjoy. This way, you can make money from each sale you bring in.
To sign up as an affiliate, get in touch with the provider of the service or product and learn more about the affiliate program. Following approval, you'll receive a unique URL to promote to your Discord members. And you will receive a commission when a customer clicks on the link and buys something.
In Discord, there are various affiliate marketing opportunities, such as:
a) Plugins And Themes For WordPress
If you know how to use WordPress, you may sign up as an affiliate for a company that creates WordPress themes or plugins and get paid for each new client you refer.
Good WordPress plugins and themes can be of help to any group, especially to active online communities.
For instance, a WordPress theme that can be integrated with the system is useful for communities that largely rely on Discord for communication.
Members may find it easier to stay informed of events and locate the details they need quickly.
Additionally, a Discord community can get useful features with WordPress plugins. For instance, some plugins support searchable directory listings for members or let users participate in surveys and polls within the application.
At the end of the day, WordPress plugins and themes can contribute to the efficiency and engagement of any type of online community.
b) Domains And Web Hosts
You can work as an affiliate for hosting providers if you have knowledge of domains and web hosting.
The following are some of the best web hosting services:
c) VPN
You can make commissions on each new customer you suggest being an affiliate of a VPN provider.
Some of the best VPNs to promote include:
ExpressVPN
Torguard VPN
CyberGhost
All you need to do is share the unique affiliate URL with the Discord group. You will start making money whenever someone clicks through and subscribes to the service.
d) In-Game Purchases And Game Keys
You can get an affiliate link for buying game keys from a website such as G2A and earn income from each sale. Simply promote the keys with the affiliate link to your Discord members and start making money whenever someone clicks through and completes a transaction.
6. Discord Subscription – Can You Make Money With Discord Servers?
Supporting only members on a paid subscription is a good idea if you want to generate some serious cash using Discord. A Discord server with unique and helpful content may find it quite profitable to do this.
Creating A Paid Server Using LaunchPass
With LaunchPass, setting up a paid server on Discord is simple. Just do the following steps:
Create the Discord server
To start your trial, connect the LaunchPass account and activate it
Set up payment with the bank
Complete the process and share the Discord server
Setting Up Your Server
You must first sign into the Discord account. Next, click the + icon on the left of the dashboard to create the new server.
Assign a catchy name to your server and choose the area where it should be located. Then, select "Create."
The window showing your new server will then be displayed to you. This is the place where you can handle any aspect of the server. You'll be able to add roles and channels here as well as modify the settings of the server.
Click the "Text Channels" or "Voice Channels" link on the left side to add channels. You can then import a pre-existing channel from a different server or start a new one.
Connecting LaunchPass
After configuring your server, you should connect the LaunchPass account. It will let you set up the premium server and begin your free trial.
To get connected, go to LaunchPass and select the "Sign Into Discord" option in the top-right corner. Choose your server using the dropdown menu, and then authorize it to connect it.
Go to "Billing" from the top right of the menu
On the following page, select the plan and start the free trial
You'll be asked to choose a payment method
Accepting Payments – Does Discord Pay Server Owners?
You must set up a method to accept payments so that you can start monetizing your server.
Your options are to either connect your bank or a Stripe account.
To get started, you must first create the Stripe account
After creating the Stripe account, select the "Stripe Account" under the "Settings" tab to connect it to LaunchPass
You must enter the Stripe account credentials and allow LaunchPass to access the account
Alternatively, you can directly link your bank account to LaunchPass, by clicking the "Link your debit card" option
You would need to provide the account number and routing number if you decide to connect the bank account
Ok, all done! You can now begin using LaunchPass to get paid for the subscriptions
Set Up Your Paid Channel Or Group
To start a paid group in LaunchPass, a new offer must be created. Create the offer by navigating to the "Offers" tab in your account. Next, you will be asked to name and describe your offer.
The price must then be determined. It can be configured in a way that members pay a flat amount or are billed on a monthly basis. You must specify the period of the offer after deciding on the pricing. You can set it to 1 day or even to a whole year.
Now you need to state the specifics of the offer. You can select "Paid Channel" or "Paid Group" under "Type." Members of a paid channel get access to a specific channel, whereas those of a paid group can access the whole server. This is the primary distinction between a paid channel and a paid group.
Next, you need to specify the roles of the joined members. You can select any roles available on the server. If you want to assign a specific role, choose it from the dropdown menu.
The last step is to include a message in Discord when a user joins the server. You can use it to inform members about the policies or standards for the server.
You are all set! The paid server should be operational now.
Build A Community
The main goal of Discord is to build user communities. Raving fans congregate in Discord to talk about their favorite subjects, share their expertise, and meet other like-minded individuals. You may gather people from different parts of the world that are passionate about your topic by starting a Discord community.
It is not only possible to build a lively and strong community but can also offer your members benefits they won't get anywhere.
Let's say you are in the gaming space and manage a server dedicated to World of Warcraft. You could make a paid section of the server that provides exclusive gaming information, cheats, and strategies. This can be anything ranging from demos to hidden information that few people are aware of. Once they have signed up, you may eventually upsell them on private coaching sessions or complete e-courses!
There are endless possibilities with Discord servers! Besides gaming, Discord servers are used in many different fields. There are popular communities for:
NFT
Cryptocurrency
Movies
Cars
Pets
Fantasy Football
Anime
Forex/Trading
Coding
7. Use The Nitro Features In Discord
"Nitro" is a premium service that Discord offers. Subscribers to Discord Nitro can access exclusive features like better-quality voice calls, animated avatars, and more at a cost of $5 per month.
The Nitro service in Discord is great since it offers another way to make money from your server. As a result, you may keep providing free content on the server while profiting from the Nitro plan.
To earn money from the Nitro service, you must create a Discord Partner account. You can then support the additional Nitro features on the server. Over here, members can pay the required price to sign up for the Nitro service.
The money earned can be used for covering server expenses, advertising, or anything else you want. Make sure that you set a fair price because nobody will likely pay for an overpriced server.
8. Discord Server Management For Profit – How To Make Money As A Discord Moderator
This involves the activity of managing a discord server to build a well-organized and beneficial community. To offload part of the effort required to keep a Discord server running smoothly, server owners may decide to pay for server administration. Alternatively, they may just want to have good management in place to increase their odds of success with the server.
Moderation is an important aspect of managing a server. This includes:
Taking care of spam
Addressing members breaking rules
Dealing with malicious users
Bot auto-moderating and moderation in real-time are two methods of Discord server moderation.
Another crucial aspect of managing a server is supporting tickets. This enables other users on the Discord server to get in touch with you about any issues they might be experiencing. Also, it's an effective way to get opinions and feedback from the users of the server.
Lastly, it's important to interact every day with the members. This helps the community to stay active and involved. You can do this by having casual, everyday conversations.
Fiverr's Discord server management services cost between $100 to $500 per month. The most expensive packages came with services like content development, community moderation, and growth.
9. Rich Presence Program
Another suggestion is to use the Rich Presence from Discord to set up a server dedicated to a game. With this program, you can provide premium in-game resources like items, power-ups, or currency.
This is a fantastic method to make money off of a server that is set up for a well-known game. Users will pay for access to your server if you provide them with exclusive content. This is because people are constantly looking for ways to advance in their preferred games.
Of course, you're not required to stick to gaming servers. You can make money with any kind of Discord server and there are so many different types that are available. There's a high probability that users will pay to access it if you run a server with useful content.
10. Set Up A Tip Or Donation Jar
This is a commonly used strategy by content producers like streamers, podcasters, and YouTubers. Your audience may provide financial assistance to support your endeavor if you consistently create engaging content.
Setting up a tip or donation jar on the Discord server is one way to achieve this. This can be done using:
Patreon
Upgrade.chat (which has the lowest fees)
Discord's own payment system
People decide to tip content producers for various reasons. Usually, fans that appreciate the content want to help the producer so they can continue creating it.
Hence, people will often donate some money to express their gratitude. Even if they might be small amounts, these contributions can quickly add up. Some content producers make hundreds of dollars every month just from tips.
If you want to provide your fans with a natural way to express their support, setting up a donation or tip jar can be a terrific idea.
11. Discord Money Bot – Make Money With Discord Bot
If you use Discord frequently, you may be familiar with bots that allow you to tip other members in return for products or services. Although it's not a definite way to generate money if you are able to get involved with users that tip frequently, it can be an additional source of income.
A tip bot, as the name implies, enables users to tip others using cryptocurrency. There are various kinds of tip bots, but most of them work in a similar manner. You just need to message a tip bot with the appropriate command.
!tip @username X coin is the format. For example, type !tip @kissinvestments 1 BTC to send the username "kissinvestments" 1 Bitcoin.
The receiver will then be informed of the tip and given a link to click in order to get their tip. A tip bot is a great method to get paid for doing quality work. You'd be surprised at how giving some active users are!
12. Selling The Discord Server
If you have a popular Discord community, you may be able to sell the server for a respectable amount. This is particularly the case if your server has a large number of active members.
There are a couple of methods you can use to sell the Discord server:
Find a buyer on your own
Offer it on the Discord Server Listing platform
Ownership of the server must be transferred after you've identified a prospect and reached an agreement on the price. You can do this by giving the new buyer the user ID of the Discord server or by modifying the ownership settings for the server.
Also, make sure that you back up all the data before selling your Discord server. This consists of any significant channels, user information, and custom integration or bots you may have created.
Conclusion – How To Make Money On Discord
Discord is evolving quickly and becoming the preferred online conversation platform. The company is trying to increase its revenue streams considering its expanding user base. This involves experimenting with new revenue streams like payments and platform integrations. Discord may benefit financially from these partnerships, strengthening its place as a top online chat platform.
Users will probably have more options to make money as the platform continues to grow. It could be huge, so follow the tips outlined in this article and learn how to make money on Discord!