If you're looking for the best telemarketing service for your company, this guide will assist you in finding one that meets your requirements.
Telemarketing, contrary to what many people think, is still a viable marketing tool for companies.
Cold calling a high volume of numbers for selling something isn't the only thing that the top telemarketing firms deliver. They also help with campaign management, lead generation, and other crucial resources to ensure a high return on investment.
Some telemarketing companies provide full-fledged call center services, including answering services, call routing, and more.
Top Telemarketing Services
Flatworld Solutions — Affordable telemarketing services
Go4customer — Offers a wide range of services
DialAmerica — Call centers based in the United States
Strategic Calls — Best telemarketing company for reaching out to executives
Superhuman Prospecting — Agents with a sales background
Quality Contact Solutions —Telemarketing services with a variety of pricing options
Squeeze Media — Small BPO service provider
SAS — Usage-based telemarketing rates
Callbox — Best telemarketing service for generating B2B leads
Worldwide Call Centers — Low-cost telemarketing service with call centers globally
Today, there are several telemarketing companies. If you don't know where to begin, finding the right service can be difficult.
I've narrowed down the top 10 telemarketing companies after conducting extensive research.
Each service is reviewed in detail in this guide. We'll go over the features, advantages, and other things to think about as you begin your search.
Reviews Of The Best Telemarketing Services
1. Flatworld Solutions — Affordable Telemarketing Services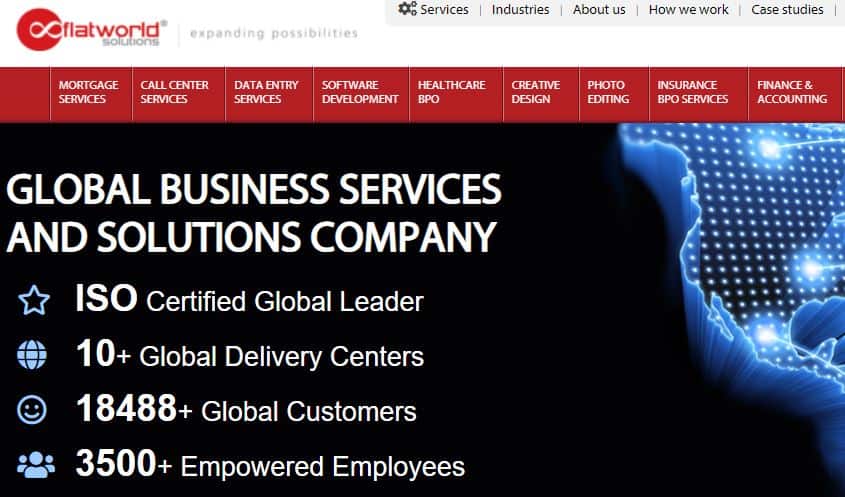 Flatworld Solutions provides call center services as well as a wide variety of outsourcing telemarketing solutions.
This company offers software development, photo editing, data entry, transcription services, design, and more in addition to telemarketing call centres.
They have a global presence with call centers in the United States, the Philippines, and India.
Flatworld Solutions has the infrastructure as well as everything else you'll need for large-scale telemarketing campaigns. Here's a rundown of the services they provide:
Making cold calls
Cold calls in real estate
B2B cold calling services
Cold calls in B2C
Outbound telemarketing services
Inbound telemarketing
Marketing services
Telemarketing advisory services
Flatworld Solutions' offerings are powered by HubSpot, Zendesk, Five9, Salesforce, LiveAgent, and other platforms.
With a toolkit of that caliber, you know that you can depend on them.
Let's take a peek at Flatworld Solutions' pricing for call center services:
Non-technical assistance and telemarketing — beginning at $8/hour
Technical assistance — beginning at $10/hour
Advanced technical assistance — from $15/hour
The rates are determined by a variety of variables, including call numbers, call complexity, and other terms of the contract. However, with telemarketing rates starting at $8/hour, it's a perfect way to maximize your return on investment.
2. Go4consumer — Offers A Wide Range Of Services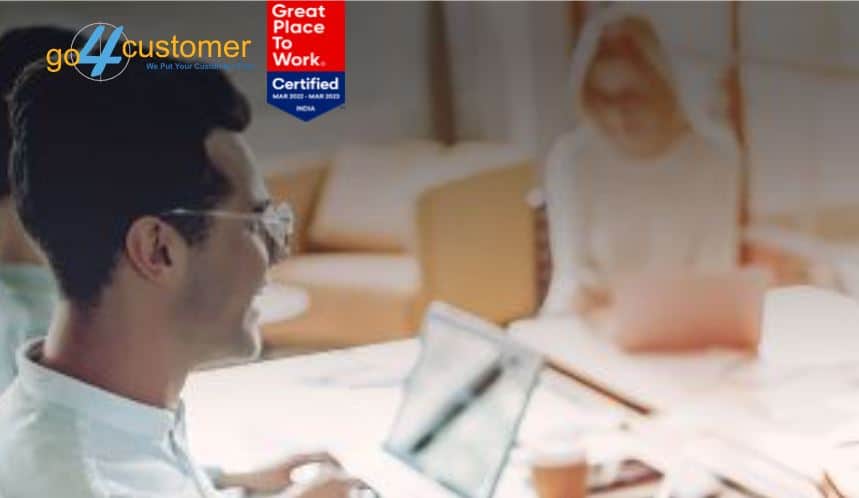 This company has one of the most comprehensive service and product offerings on the list.
That is because they offer data management, strategic consulting, reputation management, debt collection, HR outsourcing, app promotion, and other services, in addition to a fantastic telemarketing service.
These are only a few of the different services handled by Go4customer.
That is why Go4customer is recommended for any company searching for a comprehensive telemarketing solution.
For instance, if you're using Go4customer, you may want to leverage their telemarketing inbound calling services as well.
They also provide customer care services, tech support, help desk solutions, toll-free services, and product information support.
Here's a rundown of the sectors in which Go4customer often collaborates:
Medical
Automotive
Luxury
Traveling
Real estate
eCommerce
Banking and finance
IT
Telecommunications
Energy
Government
Agriculture
If you operate in one of the above sectors and are also looking for services besides telemarketing, Go4customer is a great option.
3. DialAmerica — Call Centers Based In The United States
Working with DialAmerica, you get more value besides telemarketing. It's a sales and consulting firm that offers a wide range of services.
They have been in the business for over 60 years with multiple telemarketing call centres across the country. DialAmerica does 100 million calls per year.
What makes them special? DialAmerica call center agents don't use scripts. Instead, they build rapport with customers by actively listening and applying their skills. These sales abilities allow them to employ a custom approach in using persuasion tactics.
Potential customers are far more interested when these calls have a personal touch than when they are contacted using a script.
DialAmerica's marketing strategies are focused on data collection and reporting. These can be easily customized and are readily available. DialAmerica agents can adapt and refine campaigns on the go thanks to the analytics they use.
The following industries often use DialAmerica's telemarketing services:
Retail
Medical
Education
eCommerce
Communications
B2B cold calling services
Government
Finance and banking
Publishing
Non-profit
DialAmerica offers telemarketing lead generation, customer acquisition, appointment scheduling, customer support, and customer retention services. They also have direct mail services.
4. Strategic Calls — Best Telemarketing Company For Reaching Out To Executives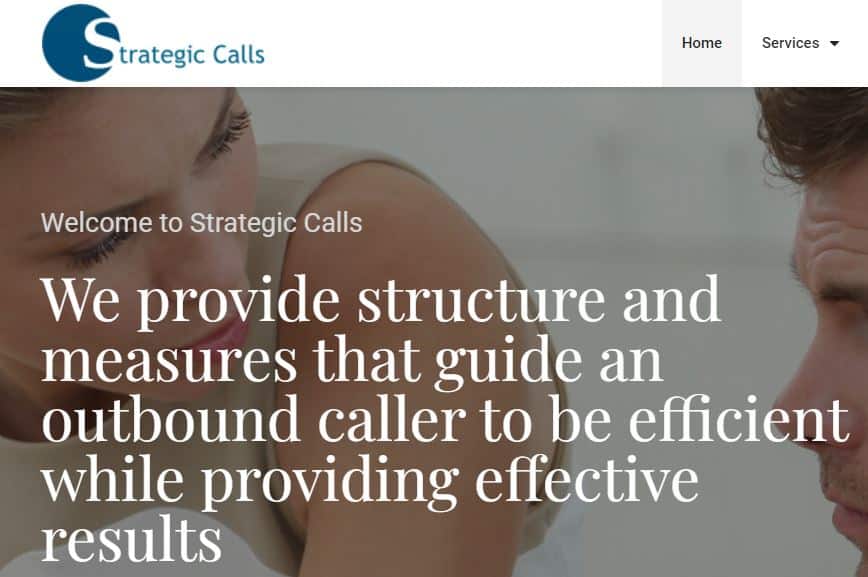 Strategic Calls specializes in telemarketing to executives in leadership and management-level positions. They are the best choice for B2B organizations that want to target CEOs, CFOs, CMOs, CTOs, and other C-level executives.
You may also set up campaigns aimed at mid-level managers or use cold calling to contact customers directly.
Strategic Calls conducts campaigns over a 5-day duration. Here's a short rundown of what goes on during each of these days.
Create a contact list, determine the intent of the call, and create a workflow and script
Outbound calls are made for the first time
Outbound calls are attempted for the second time
This is the third time making outbound calls
Analyze the results and revise plans accordingly
The rates are $1,000 for 3 rounds of calling 50 C-suite prospects (over 5 days). 3 rounds of calling mid-level managers would cost $750.
If you're looking for cold calling individual clients, it costs $250 to do 1 round of calling for 500 contacts.
5. Superhuman Prospecting — Agents With A Sales Background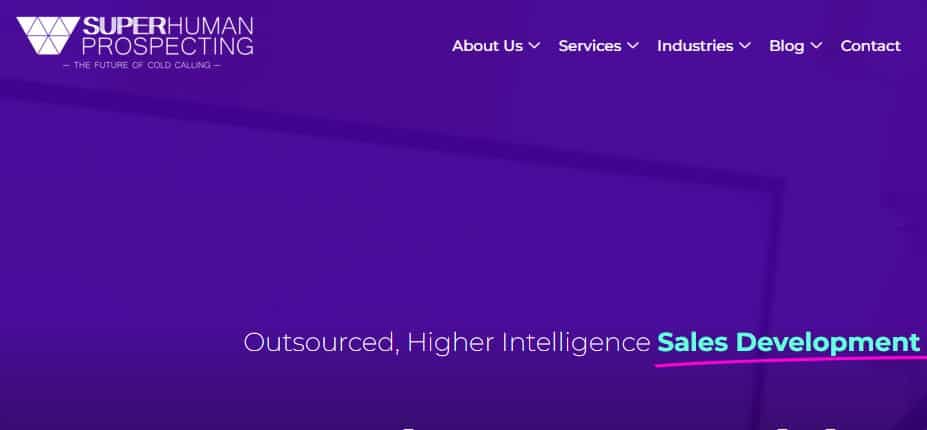 Pereus Marketing has a division for telemarketing called Superhuman Prospecting. This telemarketing outsourced team is based in Pennsylvania.
Their call center agents have previous B2B sales experience. As a result, they're ideal candidates for contacting potential customers.
Superhuman Prospecting tries to learn about your business and your requirements. The agents have been extensively trained in the art of selling in order to result in higher conversions.
The services provided by the company can be divided into three groups:
Making cold calls
Telemarketing leads
Scheduling appointments
Besides the services listed above, they also support telemarketing inbound call center operations.
Small businesses, property management, law firms, manufacturing, real estate, technology, defense, education, food service, automotive, consultancy, and other industries have all worked with Superhuman Prospecting. Get in touch with them today to get a free estimate for telemarketing services.
6. Quality Contact Solutions —Telemarketing Services With A Variety Of Pricing Options
This is a PCI compliant (Level 1) service provider. Businesses managing credit card transactions between $1 and $6 million each year must use a PCI Level 1 call center to stay PCI compliant.
This ensures the security of confidential information such as credit card details obtained through the phone.
Outbound B2B marketing and outsourced telemarketing services for B2C are provided by Quality Contact Solutions. They also offer consultancy and quality assurance for telesales services.
The customers will benefit from their telemarketing services for B2C:
Upselling to current customers
Cross-selling to current customers
Informational campaign for new and current clients
The B2B telemarketing solutions include:
Generating and qualifying telemarketing leads
Scheduling appointments
Cross-selling and upselling to existing customers
Telemarketing inbound customer support
Technical assistance center
The three pricing options for the telemarketing services are:
Hourly
Performance-based
Hourly plus performance
The fees for these options can range from $2,500 to $10,000. Feel free to reach out to get an estimate based on your company's requirements.
7. Squeeze Media — Small BPO Service Provider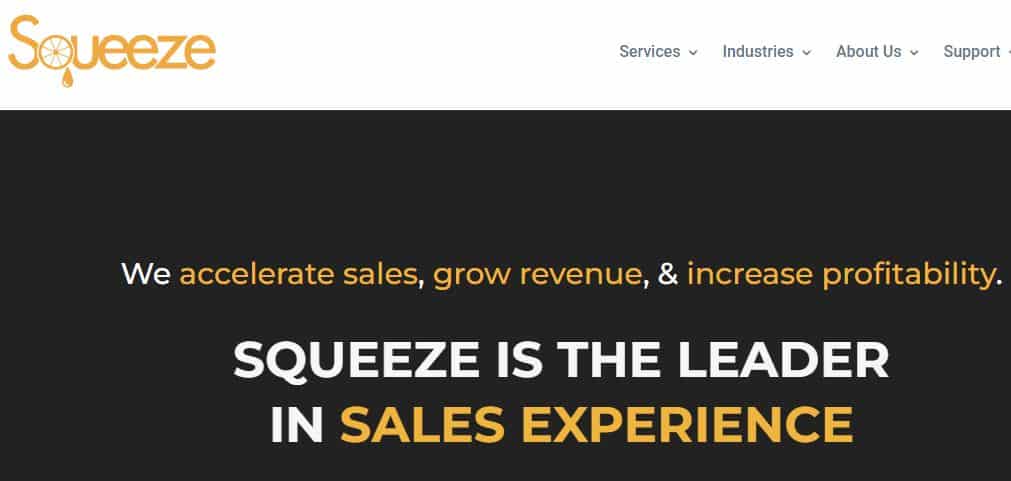 Squeeze Media is a Utah-based BPO (business process outsourcing) company.
They started in 2009 and are not as old as some of the other companies on the list. But you can build a more personal connection with the team, which is fantastic.
Squeeze Media offers a variety of specialty programs, including B2C telemarketing. Squeeze Media agents can market your goods and services using a combination of inbound and outbound telemarketing services.
They also have services like:
Telemarketing lead generation
Lead nurturing
Real-time transfers
Building a B2B pipeline
Telemarketing inbound customer support
Sales consultation
Customer retention
Automation
Squeeze Media is a great choice if you are looking to partner with a small-scale telemarketing company based in the United States. Being a full-fledged BP) company, they are equipped with the tools and expertise needed for your success.
8. SAS — Usage-Based Telemarketing Rates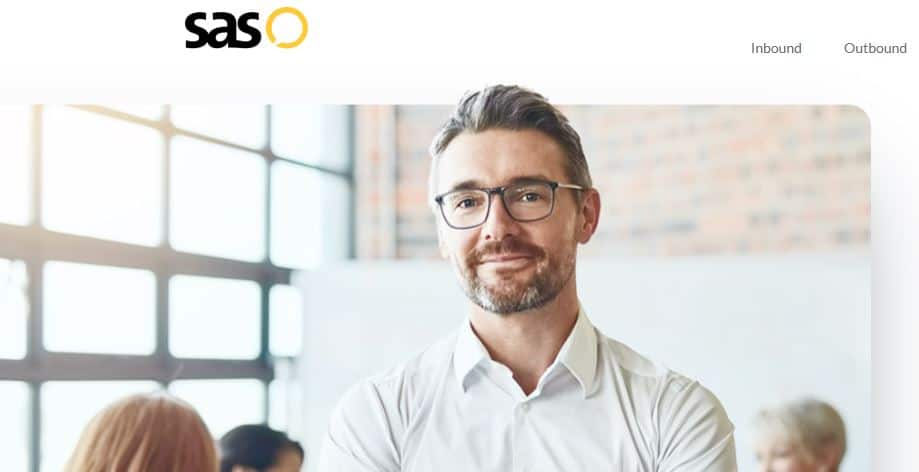 SAS is a provider that focuses on answering services. They also offer excellent telesales services.
SAS is entirely based in the United States. The agents are native speakers of English, and they work and live in the US. SAS prioritizes quality assurance, with QA members qualifying over 2,000 calls each month.
SAS's services are mainly used for telemarketing lead generation.
Besides conventional outbound telemarketing services, SAS has some special categories for:
Lead generation
Appointment booking
Janitorial appointment setting
Telemarketing for insurance
SAS charges you based on the usage per minute. Low-volume telemarketing can be done for as little as $31/month + $1.19/minute. These rates can go up to $7,749/month for 10,000 minutes.
Therefore, they should have a plan that fits your needs. A 14-day free trial is available to try out their services.
9. Callbox — Best Telemarketing Service For Generating B2B Leads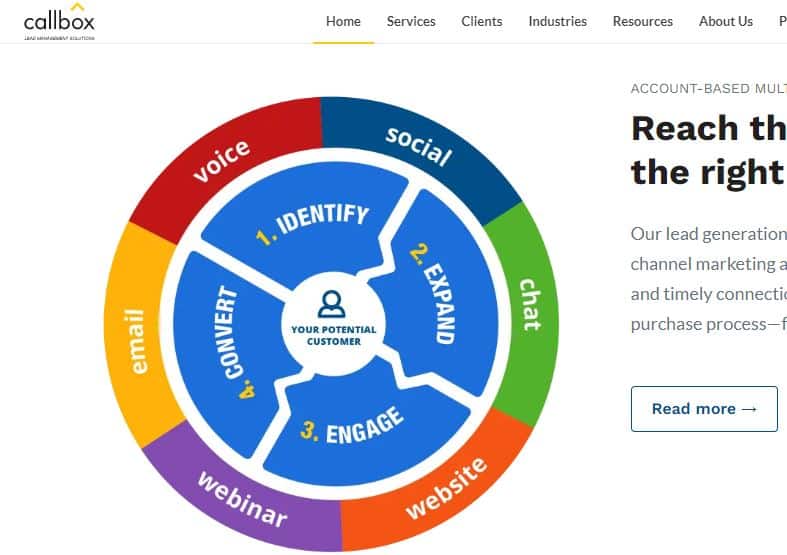 For B2B companies, Callbox specializes in telemarketing lead generation and setting appointments.
This distinguishes them from some of the other companies on my list. This is the option for you if your goal is to increase the revenue by going after high-end prospects.
They don't actually complete the sales process. Instead, they qualify the telemarketing leads and schedule the appointments for your team. Your sales staff will still have to close the deal. But Callbox will make the process simpler by providing eligible leads with appointment confirmations.
Callbox is trusted by big firms like Forbes, HP, ADT, DHL, and Motorola for their B2B outreach campaigns.
The company also offers event marketing, customer profiling, and account-based marketing services.
Callbox has been used by over 7,000 businesses to generate B2B leads. They have scheduled over 500,000 appointments for their customers.
10. Worldwide Call Center — Low-Cost Telemarketing Service With Call Centers Globally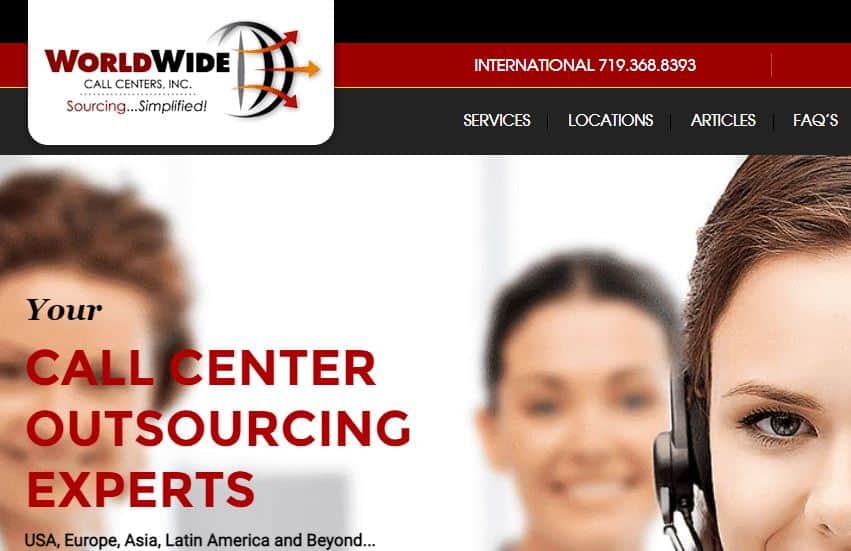 As the name suggests, the company operates call centers all over the world. This provider has the most global footprint on our list, with centers in the US, Canada, Latin America, Europe, Asia Pacific, Africa, India, Pakistan, and the Philippines.
The value of working with a telemarketing call centre in one of these locations is in the cost savings. You will get better rates from using telemarketing services outside the United States and Canada.
If you're fine with using a conventional scripted method of telemarketing for saving money, Worldwide Call Centers is ideal for:
Technical support
Conducting market analysis
Telemarketing lead generation
Scheduling appointments
Surveys
Sales
Back-office payments processing
Direct response
Customer service
Help desk
This company has been in business for over 20 years and is a market leader in outsourced telemarketing services. For a personalized quote, reach out to them today. You can pick your call center and receive a quote based on the number of calls made each month.
How To Pick The Best Telemarketing Service
Not all telemarketers will be a good fit for your needs. When weighing your options, there are a few things to keep in mind.
The following is the approach that I used to come up with the list. I'll provide you a with a quick rundown of each factor:
Industry And Business Type
Some telemarketing companies specialize in specific sectors, such as law firms, banking, financial services, retail, and so on. One company might excel at sales, whereas another one could be at scheduling appointments.
Your target group would also influence your choice of service. For example, some telemarketers are suitable for reaching out to general consumers in large volumes, while others are better for targeting managers and C-level executives.
Location Of The Call Center
The telemarketing call centre location is crucial for a variety of reasons.
To begin with, it has a huge effect on the cost of the services. If you go for outsourced telemarketing services in countries such as the Philippines or India, you'll save a lot of money compared to using a call center in the United States.
However, some businesses would rather spend more on telemarketing call centres staffed with native speakers of English. If you have a lower budget, however, outsourcing telemarketing to an overseas call center is a better option.
Reputation
Telemarketing is a challenging business. It's gotten a bad rap over the years, which is somewhat unfair. However, this is mainly due to companies compromising on quality.
Before you sign a deal, spend some time doing your homework. There are companies on my list that have been in business for more than 60 years. Engaging with established businesses having a solid reputation is always a good idea.
Other Services
Telemarketing isn't always the only service provided by the company you're considering. Most of the choices on my list also offer a variety of other services.
You will benefit from plans that go beyond the phone, from inbound calling to full-fledged BPO services. Take a look at all the other services. Instead of outsourcing telemarketing to different companies, it's more efficient to get it done through a single provider.
Final Thoughts
What is the best telemarketing service for your business? Here's a quick rundown of the top 10 telemarketing services we looked at in this guide:
Flatworld Solutions — Affordable telemarketing services
Go4customer — Offers a wide range of services
DialAmerica — Call centers based in the United States
Strategic Calls — Best telemarketing company for reaching out to executives
Superhuman Prospecting — Agents with a sales background
Quality Contact Solutions —Telemarketing services with a variety of pricing options
Squeeze Media — Small BPO service provider
SAS — Usage-based telemarketing rates
Callbox — Best telemarketing service for generating B2B leads
Worldwide Call Centers — Low-cost telemarketing service with call centers globally
There's a telemarketing service that could work for most of you on this list, whether you're a small business targeting general consumers or a B2B company targeting C-level management. Use this guide to assist you in making a decision based on your budget and telemarketing call centre requirements.