So, you are in need of web hosting, but you are on a tight budget. Free web hosting can seem to be a good idea…However, there is a catch: even the best free web hosting sites are only useful for a small number of websites.

I suggest paying for hosting if you want to run a business or create an online presence that you want to expand. Some of the best web hosting sites have plans starting at $4 a month.
You'll get more functionality, reliability, and customer service for the same price. For almost every website, I believe it is a worthwhile investment. Some of the cheap hosting plans are superior to many of the sites for free web hosting.
Best Free Web Hosting Sites Comparison
Awardspace — A one-gigabyte storage plan, a WordPress installer, and a drag-and-drop website builder are included in the free hosting plan.
Atspace — Similar to Awardspace, but with unrestricted bandwidth and customer service available 24/7
Agilityhoster – A close second. There isn't a drag-and-drop website builder, and bandwidth and storage are restricted.
Wix — A free website builder with a beautiful (and simple) interface.
Freehostia — Quick speeds and customer support within an hour, but storage limits are quite low (disk space of 250 MB, database storage of 10MB).
Byethost — Promises limitless storage, websites, and bandwidth as well as five email accounts, but the website looks unprofessional.
Nonprofits and educators are often eligible for free (or heavily discounted) hosting from some of the best providers.
Let's take a look at the top six sites for free web hosting.
6 Best Free Web Hosting Sites in 2023
1 website with 1 GB of storage and 5 GB of bandwidth
No advertisements.
Registration of Domain
Limited customer service, live chat, and online documentation
Awardspace is quite known in the space for its free web hosting services. They've been providing hosting services for over a decade.
They stand out because they have a full gigabyte of storage (more than some of the others). I spoke with a representative from Awardspace, who mentioned that they also have up-to-date versions of MySQL and PHP.
Awardspace also has a drag-and-drop site builder, as well as a simple Joomla and WordPress installer.
Note: If your website receives no traffic for a period of 12 months, it will be marked as inactive. It will be removed after two more weeks of notifications.
Other specifications include PHP 7.2, no SSL, MySQL 5.7, 1 email account, and 30MB DB storage.
1 website, 1 GB of storage, and unrestricted bandwidth
No advertisements.
Registration of Domain
Limited customer service, ticketing, live chat, and online documentation
Awardspace and Atspace have similar stats. What's the difference? Atspace claims to have 24/7 customer service and unrestricted bandwidth (compared to 5GB in Awardspace).
When you dig a little deeper, you'll find that Atspace lists the support as "limited 24/7," so that needs to be taken into consideration.
Atspace also has a drag-and-drop site builder, as well as a Joomla and WordPress installer.

Other specifications include PHP 7.2, no SSL, MySQL 5.7, 1 email account, and 30MB DB storage.
1 website with 1000MB of storage and 5GB of bandwidth
No advertisements.
Registering of domain
Limited ticketing, online documentation, and live chat (customer support is available 24/7 for system issues only).
The free tier from Agilityhoster is lower than that of Atspace and Awardsapce, with just one 20MB MySQL database and 1000MB of storage. It also doesn't have any kind of website builder, which is a good feature to have but is not a deal-breaker.
It does, however, come with an easy Joomla and WordPress installer that will get you up and running in no time. If you need to put something up quickly and on the cheap, this is a good choice.
According to a sales rep, it runs up-to-date MySQL and PHP.
Other specifications include PHP 7.2, database storage of 20MB, MySQL 5.7, no SSL, and one email address.
#4. Wix Review
1 site with 500MB of storage and 500MB of bandwidth
Wix advertisements
Wix domain is assigned
Website builder with drag-and-drop functionality
Wix is one of the most popular website builders. They also provide free web hosting along with the builder.
As a result, it's my favorite. I actually recommend it to someone who is just getting started with a blog or an eCommerce shop. Their user-friendly interface makes it simple for everyone to build a beautiful website that meets their needs.
They also have customer service that is available 24/7. When it comes to hosting a website, this is absolutely necessary.
However, when it comes to their free plan, their options are limited. Expect half the bandwidth and storage of some of the other services on this list. You wouldn't receive a custom domain, and your website will have Wix advertising on it.
Google Analytics and online payments are not included.
Overall, if you are searching for free website hosting, it's a great option.
#5 Freehostia Review
5 websites with 250MB of storage and 6MB of bandwidth
No advertisements.
Registering of domain
Customer service is available 24 /7, with 1-hour ticket responses and online documentation
Freehostia's Chocolate plan includes free cloud hosting. As a result, it should be quicker than the majority of the other choices on the list.
The Chocolate plan is quite limited, with just 10MB of database capacity and 250MB of disk space. This makes it difficult to be hosting a lot of media on your website.
However, it does come with a free self-signed SSL certificate, a website builder comprising free templates, and the guarantee of a 1-hour response time for support tickets, which is quite rare.
If you have a small enough website, Freehostia's promise of great customer service is enough to entice you to sign up.
Other specifications include 3 email accounts, PHP 4/5/7, 10MB database backup, MySQL 5, self-signed SSL
#6 Byethost Review
Unlimited websites, bandwidth, and storage
No advertisements.
Registering of domain
Customer service is available 24/7 and documentation
With unlimited websites, bandwidth, and storage, as well as five email accounts, Byethost is one of the most generous providers of free web hosting. It also has a free website builder comprising templates, as well as an SSL on the domains.
Byethost is one of the least professional-looking web hosts I've seen, with a poorly written site and enough ambiguity that I'm not sure how unrestricted its unlimited offerings are. I suggest using a different free web host unless you think you'll need a lot of database capacity.
Other specifications include PHP 5.4/ 5.5/ 5.6/7.0; unrestricted database storage; a signed SSL certificate, and five email addresses.
Free Ecommerce Website Hosting
It's difficult to sell products on websites with a free hosting plan. If you're serious about starting a company online, you need to use Shopify. It's the market leader in the space, and the cost for web hosting is totally worth it.
eCommerce isn't supported on most free websites, and when it is, the experience is limited.
4 customizable templates and a drag-and-drop builder
Allows the use of your own domain name
Transactional fee: 2.9 percent + $0.30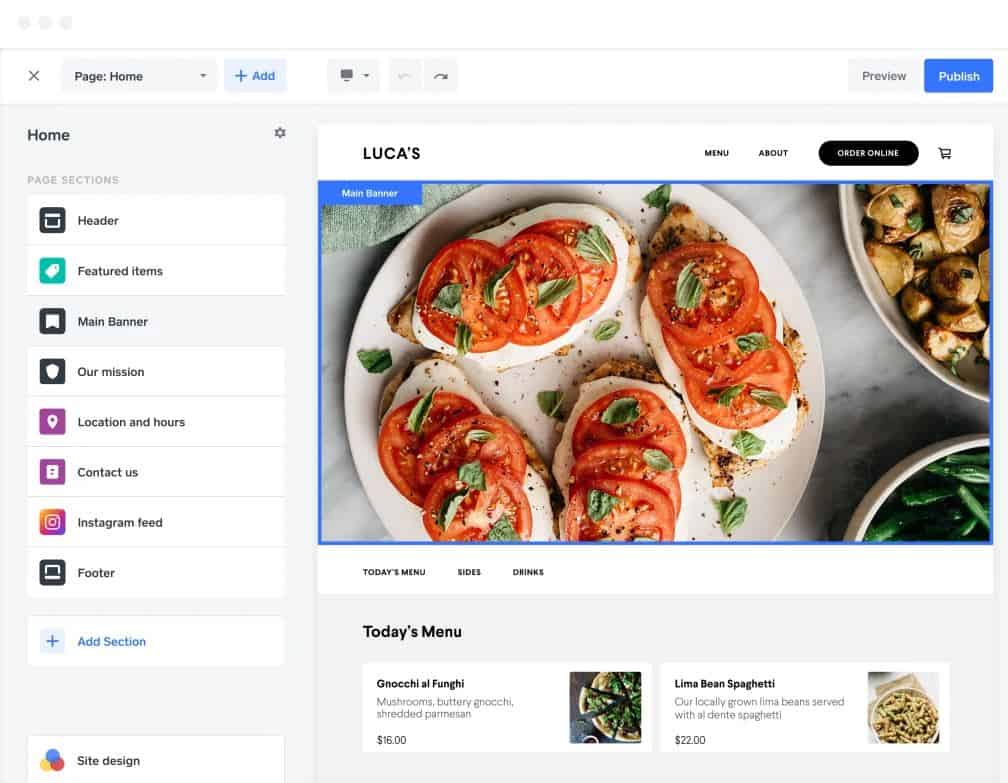 Square is best known for its POS credit card swipers, which can be found at various outlets. Its free online store has a fair amount of features and can host an infinite number of items.
Square's free online stores come with 4 customizable themes.
Ability to sell one product on the free option
Strikingly pricing: a custom domain that costs an extra $24.95 per year.
I was pleasantly surprised to discover Strikingly, a site builder with built-in eCommerce on the free plan.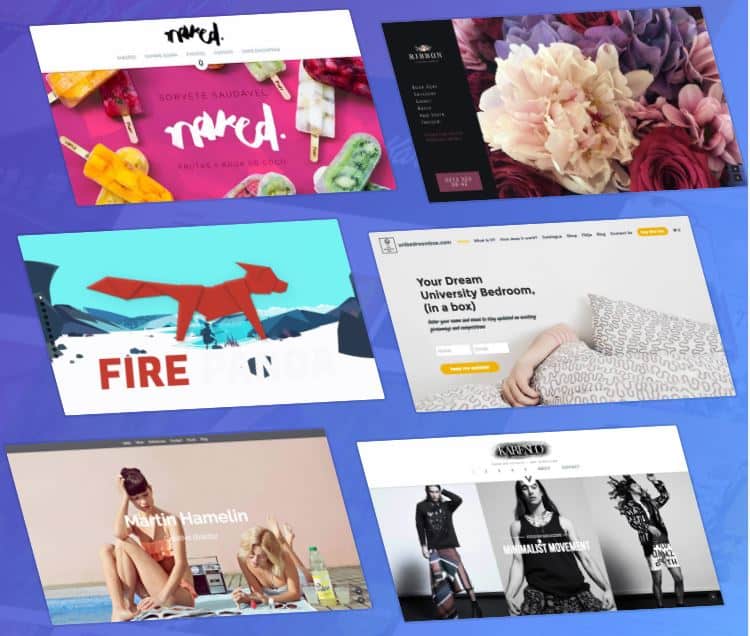 The catch is that you'll only be able to sell one product and will have to use a Strikingly.com subdomain. It's eCommerce, but it's not the best place to start an eCommerce shop.
I verified with the Strikingly rep that you'll have to pay for a subscription if you need a custom domain.
Though the ability to sell only 1 product on the subdomain is quite limited, a free alternative that allows you to sell something is hard to find. This is why I included it in the first place.
But my feelings on subdomains are that they instantly break people's confidence if they have not already decided to buy from you.
You might be able to find free online shops. What's the difference? Without all the functionalities of a complete website, online retailers are just stores. That means there will be no blog or additional content besides the products that they offer.
Ten products
Custom domain names are supported by the Starter Site plan
Transactional fee: This is determined by the payment processor (40 gateways are supported)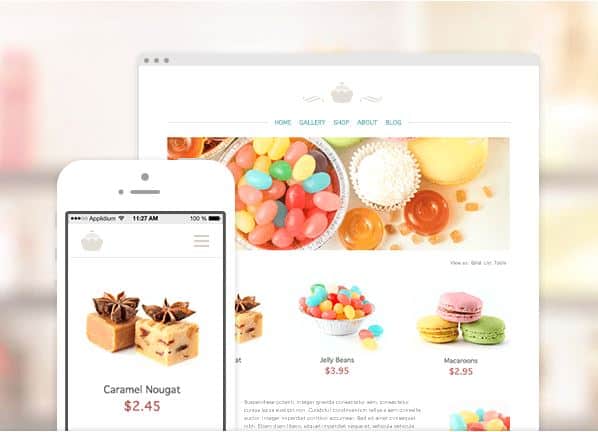 Ecwid is an interesting choice. It provides a free online store, similar to Square (which Ecwid refers to as a "Starter Site"). It also comes with a free online store widget with code that you can embed into pretty much every platform that your site is on, from Wix to Tumblr or WordPress. This is just like having the ability to embed a YouTube video. This widget also allows you to sell on several websites at the same time.

Ecwid is a free online store that can be added to any site.
Free Website Builder With Free Hosting
Here are 2 free website builders with free hosting:
Google Sites — For something basic like a wiki, Google Sites is a free website builder that can host a custom domain
Ucraft — If you only need one page, Ucraft's one-page website builder can get you up and running for free, along with a custom domain
Using a site builder, in which you can drag-and-drop content and tinker with templates that are customizable, is by far the simplest way for most people to get a website up and running. Most site builders are only free if it is on their subdomain (for example, kissinvestments.wix.com on a Wix subdomain), which can be a deal-breaker for someone trying to run a professional-looking website. It does not appeal to me in the least.
What exactly is a custom domain?
Your URL will change from www.MyCompany.WebHost.com to www.MyCompany.com if you choose a custom domain. If you are serious about your website, you'll need a custom domain — free subdomains scream, "I did not pay for this," which is the equivalent of putting up a sign-up that says "BUYERS BE CAREFUL."
But I have some good news for you. There are two free website builders that can link to a custom domain. I suggest only very basic websites that have minimal features to be hosted for free. Google Sites and Ucraft are the two services that meet these requirements.
If all you need is a simple page — which is the only type of website that can work on a free host anyway — I suggest using a free websites builder like Google Sites or Ucraft.
The biggest disadvantage of using a free website builder is the lack of design flexibility. If the Google Sites and Ucraft website builder templates are not quite what you're looking for, the next best free website hosting choice is to search for a free template you enjoy and combine it with a free web host.
I know I'm trying to drive home the point, but the best web hosting sites are not all that pricy. For the basic plans, we're talking around $4 a month. In terms of customer service, speed, and security, I believe the price for web hosting is well worth it.
Google Sites Review
Drag-and-drop website builder with minimal theme customization
Unrestricted storage
Allows you to use a custom domain
In the footer, there's a Google Sites ad
Gmail Integration
There are no upgrades available — this is it
Google Sites is another choice for a quick and easy free website. I mean it when I say "quick and easy". There are only six different variations of the same design to choose from, and only a few layouts to work with. It's really simple. Many Google Sites are used for simple websites such as internal wikis.
Google Sites allows you to build as many pages as you want for free. It can link to your personal domain. It works with all of Google's services, including Docs, Slides, and Forms. It's also very easy to use, particularly if you are used to Google products. It's a no-brainer if you already use a Google account or have been paying for GSuite email hosting (which I highly recommend).
Drag-and-drop website builder, as well as customizable themes (though fonts aren't editable)
One-page
Allows you to use a custom domain
A Ucraft advertisement is seen in the bottom-right area
At $6/month, you can get unlimited pages, no advertising, and more customization
eCommerce capability is available starting at $14 a month
Ucraft offers a free plan for a one-page website designed with what it refers to as "elements." A title, a video, a picture, an image gallery, a text block, or a button are all examples of elements. Ucraft's free plan allows for up to 50 elements, allowing for a reasonable amount of content — but nothing too flashy.
21 free Ucraft website builder templates are available including a blank page for a fully customized website.
The free Ucraft websites have a "Powered by UCRAFT" ad in the bottom right area.
Free Web Hosting With Subdomain Sites
If you don't mind using a subdomain instead of a custom domain, you have more free hosting options. This is because many great website builders deliver freemium versions of their services when you use a subdomain — for example, kissinvestments.wordpress.com or kissinvestments.wix.com.
A subdomain obviously doesn't have the professionalism seen in a custom domain, and free versions of any platform or site builder product are usually very restricted. On the other hand, they provide a low-barrier-to-entry solution for getting content out quickly.
Most can be up and running in a matter of minutes. If you plan to build a more serious web presence in the future, starting for free on the service you eventually plan to use means you'll already have it installed. All you have to do now is upgrade.
The 3 options below are very similar at the free stage. They all have a variety of free themes or templates, limited storage, an easy-to-use editor, and advertisements for their service in the bottom corner or the footer of the page.
WordPress
Choose from a variety of free templates
3 GB of storage space
Unrestricted bandwidth
Subdomain (yourCompany.wordpress.com)
Shows WordPress advertisements
Starting at $4/month for a custom domain and no advertisements
I like using WordPress, but I prefer WordPress.org, which is the self-hosted version. There is a free plan with themes in the fully hosted version, but it will be with a subdomain and show WordPress advertising. It will cost $4 a month to remove those components, which is comparable to the cost of some of the best web hosting sites. I believe it is preferable to go with a self-hosted version.
Templates and a drag-and-drop website builder
500MB of storage
Subdomain (yourCompany.weebly.com)
Shows Weebly ads
Starting at $8/month for a custom domain, eCommerce features, and no ads
Weebly's free edition comes with advertisements as well as a Weebly subdomain. You will have 500MB of space and access to the complete drag-and-drop website builder along with the templates. Though Weebly's advertisements are fairly obvious, you can get started with the free plan and upgrade later.
Wix Free Website Hosting
Templates and a drag-and-drop website builder
500MB of storage
The bandwidth of 500 MB
Subdomain (username.wixsite.com/websiteAddress)
Shows Wix advertisements
Starting at $11/month for a custom domain, eCommerce features, and no advertising
Wix's free plan is similar to Weebly's: 500MB storage and a drag-and-drop website builder along with the templates are included. However, advertisements and one of the most convoluted subdomains, username.wixsite.com/websiteAddress, can mask your free plan. You can look at starting for free and upgrading later.
The Best Free Web Hosting For Nonprofits And Educators
Educators and nonprofits have access to very comprehensive free website hosting options. These are usually not watered-down versions, but full-fledged shared hosting plans with custom domains, attentive customer service, and full technical features that are available for free.
Best Free Web Hosting For Educators
University administrators and teachers will get free or heavily discounted web hosting from the following web hosts:
Six websites
Storage and bandwidth are unlimited
Educators can use InMotion Hosting's mid-tier Power plan for free, which is my choice for the best web hosting sites for beginners and it stands out among other shared hosting providers.
For more information on InMotion Hosting, see my review of InMotion Hosting.
Single website
10GB of storage and unrestricted bandwidth
Subdomain (YourWebsite.sgedu.sit)
SiteGround, one of our top picks for the best web hosting sites, has some of the most advanced shared hosting technology on the market — and arguably the best credibility in an industry of hundreds of competitors. With a SiteGround subdomain, teachers get all the features of SiteGround's StartUp Plan for free (24/7 customer support via phone, chat, and ticket). For students, SiteGround offers a discount on hosting.
Weebly For Educators
Templates and a drag-and-drop editor
Unlimited storage and bandwidth
Comes with forty student accounts
Weebly has a section of its website builder business dedicated to educators. It's similar to Weebly for any personal website or small business, but it's specifically designed for educators. Weebly's .edu version allows you to publish content on a custom domain rather than a Weebly subdomain. It also removes all Weebly advertisements.
Check out WordPress's edition of Weebly, and Edublogs, if you like the idea of Weebly and a site builder. It is also advertisement-free with student and class management features, an Edublog subdomain, and .edu-focused plugins.
Best Free Web Hosting For Nonprofits
For 501(c)(3) organizations, DreamHost provides a free Unlimited shared hosting package (including email hosting) as well as 35 percent off on its upgraded DreamPress-controlled WordPress hosting. Both of these offers are fantastic.
DreamHost is a well-known web hosting company. It's one of our top choices for the best web hosts for small businesses, as well as one of three WordPress-recommended hosts. The majority of other sites for free web hosting for nonprofits don't have nearly as good a reputation or provide nearly as comprehensive free plans. This package includes unrestricted bandwidth, storage, and the ability to host an unlimited number of websites.
The Cons Of Free Web Hosting
I'm not going to ignore the fact that sites for free web hosting have drawbacks. I used the following six criteria to make my suggestions for the best free host, which is certainly relative to the niche.
Bandwidth And Storage
Bandwidth and storage limitations on sites for free web hosting are common. Your site can be suspended if you exceed your quota, or you may be upgraded automatically to a paid plan. Even though providers such as Byethost claim to have unlimited storage and bandwidth, it isn't infinite. Unlimited bandwidth and storage only last till you start adversely affecting the other websites on your server— and most hosts are ambiguous about how much traffic or storage is considered too much. If you start to cause negative effects, your site can be suspended or updated automatically.
Email Hosting
Since one of the most noticeable shortcomings of a free website builder is the lack of free email hosting and a custom email address, my suggestions include these items. (Ucraft website builder does not have email hosting, and Google Sites only provides a custom email address if you subscribe to GSuite for $5 per month.)
For correspondence, an email address linked to your domain name and website is ideal (plus it looks professional on a business card).
However, be aware that your legitimate emails can be marked as spam. What is the reason for this? Sites for free web hosting are an easy medium for spamming activities, and your site could end up on a bad actor's server. To put it another way, the spam filter has been turned on.
If you're planning to use your email often or for something substantial, such as for sending newsletters or marketing promotions, I suggest upgrading to email hosting via a service like GSuite or a domain registrar such as Namecheap, which offers email hosting for as little as $10 per year.
SSL
SSL encryption verifies that a website is safe to send confidential information like credit card information and passwords. They are required for any kind of eCommerce, but Google factors this when determining where a site, eCommerce or not, would appear in search results.
The majority of the sites for free web hosts do not have free SSL certificates; those that do usually have a "self-signed" SSL.
Servers issue self-signed SSLs and not certificate authorities (Let's Encrypt, Comodo, DigiCert, etc.). They have the same degree of encryption as the standard version, but web browsers can still flag your website and issue visitors with a security alert.
MySQL And PHP
One of the most widely used programming languages is PHP. It's the foundation for applications like WordPress, Drupal, and Joomla, as well as a large number of websites. MySQL databases are used by these apps to store data. Your web host must be able to support the most recent versions of both.
The issue is that most hosts do not reveal which version of PHP or MySQL they use. Even if these apps do work, there's a good chance they'll load slowly on any free host because a PHP app takes a lot more horsepower from an already burdened server. If you're concerned about page speed (which you should be; Google takes this into account), I suggest sticking to a basic static HTML/CSS website on a free host.
Another consideration is database limitations. Any piece of software you wish to use on your website necessitates the use of a database to store information. WordPress requires the use of a database. If you are running another application, it might require its own database. The number of databases your website can access, as well as the storage available in each database, are usually lower in sites for free web hosting.
Customer Service
Customer service will be limited, not very helpful, and slow to respond with any free host. That's the way things operate.
A word of caution on domain privacy and custom domain names: While you can host a website with a custom domain for free, you would still need to buy the domain name from a domain registrar. Many hosting companies have a domain registration division, but you can buy a domain from anywhere and link it to your free web host. Whatever you choose, I suggest investing in domain privacy, which prevents your personal details (such as your physical address and phone number) from being exposed in the public WHOIS database. If you don't opt out, you'll get a lot of spam — at least for the time being. (Since the European Union's GDPR took effect in May 2018, Domain registrars have been "refraining from sending out this information" to prevent liability.) Others are retracting data to prevent being accused of selling personal details to spammers.)
Advertisements
Some sites for free web hosting make money by selling advertising space. I prefer to avoid those hosting providers because no one likes random advertising in between their content, so I went with hosts who fund their free plans through paid hosting plan sales.
FAQs – Best Free Web Hosting Sites
1. Is free web hosting good?
Free web hosting can be a suitable option for specific scenarios such as personal projects or low-traffic websites. However, it typically has limitations in terms of features, storage, and bandwidth.
Free hosting services often display ads on your website, which may be unprofessional. For businesses or ambitious websites, investing in a paid hosting plan is generally recommended for better performance and support.
2. How do I make my own free web host?
Creating your own free web host requires advanced technical expertise, infrastructure, and resources. It involves setting up servers, configuring software, ensuring security, and ongoing maintenance. Due to the complexity and costs involved, it is not a practical option for most individuals or small businesses. Opting for established hosting providers that offer affordable plans is a more feasible approach.
3. Is GoDaddy free to use?
GoDaddy is a well-known domain registrar and web hosting company. While they offer various hosting plans, including shared hosting, VPS hosting, and dedicated servers, these services are not available for free.
GoDaddy's hosting plans have different pricing options based on the features provided. It is essential to review their website to determine the most suitable option and associated costs for your needs.
4. Is Wix 100 percent free?
Wix offers a website builder with a free plan that allows users to create websites using their platform. However, the free plan has limitations such as displaying Wix ads, using a Wix subdomain, limited storage and bandwidth, and fewer advanced features.
Upgrading to one of Wix's premium paid plans provides access to additional features and removes limitations. The free plan is suitable for individuals or small projects, but a paid plan is recommended for more professional and comprehensive websites.
You might also be interested in checking out the article on how to develop an eCommerce website with Wix.
The Best Free Web Hosting Sites In A Nutshell
If you're looking at sites for free web hosting, you might prefer the flexibility and convenience of a free site builder. Both Google Sites and Ucraft are quite impressive with their drag-and-drop themes and support for custom domains. Yes, your design options will be minimal, and there will be a "Powered by" ad in the corner on both. If these are deal-breakers, you'll almost certainly need to be using paid web hosting service.
Any free host would have the same limitations: restricted bandwidth and storage, limited customer service, and the possibility of spam-flagged emails.
You can choose Freehostia for a small website (below 250MB), Awardspace for more capacity (1GB), or Atspace for 24/7 support.
You get a lot more and better opportunities whether you are a nonprofit or an educator. Two of my favorite web hosts, SiteGround and InMotion Hosting, provide great free plans for educators. The same is the case with the site builder Weebly. Another one of my favorites, Dreamhost, offers a free Unlimited shared hosting service to nonprofits.