Like most people, you probably like finding a good deal. Also, getting amazing offers has never been easier thanks to the digital world that we live in. Is Poshmark legit or is it a scam?
In this Poshmark review, you will get to learn about this social commerce marketplace that has designer items at a substantial discount.
Poshmark Marketplace Overview – What Is Poshmark?
It might be challenging to distinguish trustworthy websites from fraudulent ones when there are so many online platforms and shopping options available. Let's look at Poshmark more closely, is it a recommended website for thrifty shoppers?
Users can purchase and sell new and used fashion products on Poshmark. Founded in 2011, the business has grown to become one of the most preferred options for fashion enthusiasts looking for deals.
Poshmark is popular among frugal shoppers because, in comparison to other secondhand marketplaces, it offers a large selection of high-end items, designer labels, and mass-market clothing.
It offers accessories, shoes, jewelry, electronics, beauty products, and pet supplies in addition to clothing.
The company has transformed the way people shop for fashion and grown to be one of the most well-liked online shopping places due to its user-friendly layout and quick shipping policies.
Poshmark is the spot to begin your search, whether you're seeking a discount on your preferred designer brand or hoping to find that ideal vintage item.
Where Is Poshmark Located?
The corporation has its headquarters in Redwood City, California, and has been in operation for more than ten years. The company has become more and more popular in recent years, particularly among millennials looking for inexpensive fashion options.
Poshmark Buyer Protection Policy – Is Poshmark Reliable?
Poshmark has a number of safety features to guarantee the safety and reliability of every transaction.
The website offers buyers a money-back guarantee. Also, Poshmark requests its users to report any listings that they believe to be fraudulent or in violation of the site's policies. Poshmark is an overall secure and convenient method to find great deals on apparel and accessories.
Every time a listing is reported by a member of the community, Poshmark encourages them to verify it by writing a listing review. This makes Poshmark reputable thanks to users' participation and comments.
Is Poshmark Legitimate?
Poshmark is a real business with a platform that is secure to use, despite some users being skeptical about the site's legitimacy.
There is buyer protection through a money-back guarantee, and all payments on Poshmark are handled through a secure third-party system.
Poshmark also has a buyer protection policy against scams and fraud. The platform is regarded as a reliable and secure marketplace for buying and selling fashion items because of these security measures.
Poshmark Review
Users have the option of setting up their own online "closet" or storefront, that they can stock with products from their own personal collection.
If needed, users can also buy directly from other users' closets. Additionally, Poshmark offers a platform for users to organize online "Posh Parties" where community members may get together to browse and purchase products.
How Does Poshmark Work For Buyers?
On Poshmark, you have the option of paying for something right away or making the seller an offer. Poshmark will receive a portion of the selling price if the seller accepts your Postmark offer and sends you the item.
Money Back Guarantee – Can You Get Scammed On Poshmark As A Buyer?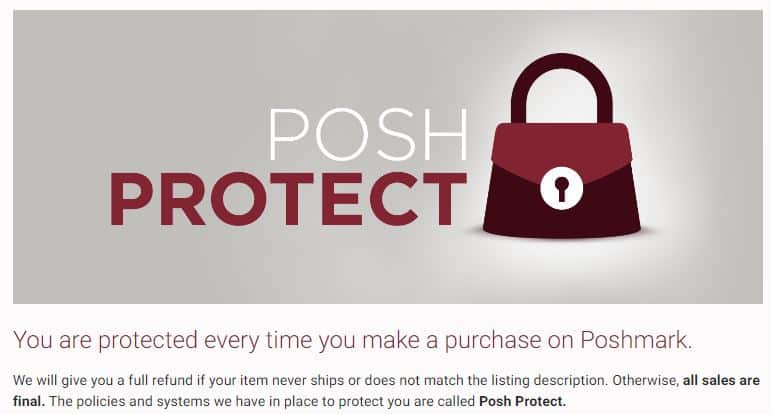 Poshmark will issue a full refund if your item never ships or does not match the listing description. Poshmark has your back at all times, and each purchase comes with buyer protection.
Is Poshmark Genuine?
Poshmark is somewhat of a different business. On one hand, it's a marketplace for new and pre-owned clothing. At the same time, it functions like a social media network by letting users:
Comment on each other's listings
Follow their favorite "poshers"
Access various social commerce features
So, what's the final word? Is Poshmark genuine?
Despite being a bit of an oddball, Poshmark does have some charm. Consumers like the ability to purchase pre-owned designer clothing for a fraction of the retail cost. Even people who are not very active on social media sites like to look through the closets of other users to see what they're promoting.
Overall, Poshmark is a fairly decent company that is genuine despite its quirkiness.
Is Poshmark Safe To Use Credit Card?
Yes, Poshmark is safe to use a credit card.
Poshmark won't pay the seller unless the customer confirms the item and that it is what was ordered and described. If the item received was not as originally advertised, customers have three days after delivery to file a complaint on Poshmark's website with images as supporting documentation.
Poshmark will send you a label to return the order to the seller and provide a refund if your claim is accepted.
The item must be returned back within 5 days of approval to be qualified for a refund.
Poshmark Reviews As A Buyer
If you're thinking about using Poshmark to buy clothing, you probably want to know what other customers think of the service. The reviews are generally not favorable. The Trustpilot customer rating for Poshmark is 1.3, which is not good! This internet marketplace receives a pitiful one-star rating from 83% of reviews.
Poshmark has not replied to any of the unfavorable Trustpilot reviews, which is a bad sign.
The things not being as represented and Poshmark leaning towards the seller seem to be the most frequently voiced complaints. Several buyers expressed their concern at receiving overpriced, inferior products from Poshmark and at having their complaints ignored, preventing them from obtaining a refund.
Another customer notes that since the listing never expires, it's possible to purchase something from an inactive vendor and then have to wait several days for the money to be returned.
Poshmark Pricing
Poshmark is, in principle, a nice way to shop and save money on expensive clothing. By purchasing used clothing, you help the fashion industry become more sustainable and have a smaller negative impact on the environment by keeping apparel out of landfills.
But is it actually as cost-effective as it appears?
It depends on how you look at it.
You can find some great bargains on Poshmark, but you can also find expensive products there.
It varies greatly from product to product, therefore it's necessary to do some research before buying something. Since sellers determine the price, you might find some items that are more expensive than they should be.
Poshmark is an ideal platform to discover deals on designer clothing in general. You may probably find some interesting offers if you search well. Just keep in mind that secondhand shopping doesn't always mean lower prices, so don't expect every listing to be a steal.
Poshmark: Is It Legit For Sellers?
You can take a picture of your products, describe them, and set a price using the Poshmark app. You ship the item to the buyer once they make a purchase, and Poshmark takes a commission from the sale.
Is Poshmark Ethical?
When it comes to the principles of Poshmark, there is no simple answer.
As a matter of fact, buying used items is a nice way to shop sustainably and reduce your impact on the environment. Yet, some customers have had negative experiences with overpriced or inferior goods.
I recommend doing your homework to ensure you're getting a fair price for your products if you're thinking about getting on Poshmark as a seller.
You may also be interested in checking out the Poshmark name generator.
Poshmark Seller Fees Explained – How Much Is Poshmark Fee?
Every item you sell on Poshmark costs a flat $2.95 fee if it is under $15. Poshmark levies a 20% commission on purchases that are $15 or more. This means that Poshmark will deduct $10 off the sale price of an item if you want to sell it for $50.
Even though a pre-paid shipping label for vendors to print and send their items via USPS is included in the fees, don't forget to account for the cost of packaging the product for shipping.
How Is The Price Determined On Poshmark?
The seller determines the price.
Poshmark does allow customers to make an offer, but it does not mediate pricing negotiations between buyers and sellers.
Poshmark Seller Reviews
Poshmark's Trustpilot rating is quite low, as we've already seen. So, what are the opinions of sellers on Poshmark?

Benefits
Flexibility in terms of schedule
Nice way to make extra income
User-friendly platform
Drawbacks
Poshmark takes a sizable portion of the sale
Buyers try to haggle and bring prices down
Selling can take a lot of time
In general, Poshmark seems to be a decent option to earn some extra income, but it is not without its flaws. The most frequent criticisms appear to be about the platform's fees and time requirements for selling.
Getting Paid On Poshmark – Can You Really Make Money On Poshmark?
Poshmark is a platform that lets you keep the money you make after your customer receives their purchase from you. You can use it to make in-app purchases or take cash withdrawals whenever you want. You can find more information in this article: How To Sell On Poshmark Fast.
Sites Like Poshmark
There are many different platforms available if you're not sure Poshmark is the best choice for you.
1. Mercari
Poshmark and Mercari are comparable online marketplaces, yet there are some key differences. Poshmark charges a 20% fee for each sale while Mercari charges 10%. But Mercari also charges a fee for processing payments, and you are responsible for your own shipping costs.
In addition to fashion, Mercari features a wide range of categories, such as home products and electronics
Check out the detailed review: Is Mercari A Legitimate Site?
2. Grailed
Grailed is an online clothing store that focuses on luxury and designer labels. Compared to Mercari or Poshmark, the selection is smaller, and the prices are typically higher. For every sale, Grailed takes a 9% commission.
3. Depop
Another preferred choice, especially among young people, is Depop. It emphasizes more on fashion and streetwear and is a little more hipster than Mercari or Poshmark. Also, Depop deducts 10% from each sale. Depop may be the website for you if you're "too cool for school" and want to buy some stylish clothing.
Conclusion – Is Poshmark Legit?
So, what's the verdict? Is Poshmark legit? Yes, Poshmark is a legitimate marketplace for purchasing and selling used clothing. That being said, there are some flaws. The costs and effort involved in selling and shipping products can be high for sellers.
As a buyer, you may see some vendors overcharging, and bargaining over prices can be challenging.
Poshmark might be worth it if you're trying to earn some additional income by organizing your closet. Before you decide, do some research and look into other platforms that are similar. There are numerous options available, so take your time and select the best one!