Whether you're starting a new business or running an existing one, you need customers to thrive. The right lead generation company will provide you with the results you need to grow your business.
You're squandering precious resources by attempting to cold approach without qualified leads.
Lead generation in marketing can be an indispensable factor for every business.
Today, there are several different types of lead generation services and companies. However, many of them don't provide high-quality leads.
I'm sure you know that 1,000 qualified leads are much more useful than 10,000 random email addresses.
Best Lead Generation Companies And Services
With numerous lead generation companies available out there, it can be difficult to narrow down your options. Fortunately, I've done the work for you.
I've done the research to come up with the top lead generation companies. Here are 7 of them that I recommend for strategic lead generation:
Upcall
LeadGeneration.com
CIENCE
CandorWorks
Callbox
Overdrive Interactive
DiscoverOrg
I'll go over each of these lead generation companies in greater detail. These reviews will be helpful in determining which lead generation company is the best fit for your needs.
Reviews Of The Best Lead Generation Companies
1. Upcall
Upcall generates leads by combining high-quality salespeople with powerful technology.
Airbnb, LG, Farmers Insurance, and QuickBooks are among the companies that have worked with them.
Upcall assigns a professional calling team to your business. They'll call the leads and speak with them on your behalf. With Upcalls' user-friendly software, you can see and track their progress online.
It's an efficient hands-free lead gen firm. They provide you with everything that is needed to communicate with a lead without requiring you to perform those calls yourself.
Upcall is one of my favorite companies because they don't waste any time in contacting leads. They contact each new lead within seconds of receiving it.
Seasoned professionals are making the calls. The experts at Upcall have made over 1 million calls.
Their services are divided into 4 categories:
Generating Leads
Candidate selection
Making cold calls
Outsourcing sales
Scheduling appointments
Qualification Of The Lead
Scheduling and confirming appointments
Facebook for lead generation
Upselling and cross-selling
Nurturing the lead
Checking stocks
Surveys over the phone
Fundraising
Data gathering
Mystery shopping
Customer Interaction
Client reviews
Customer satisfaction surveys
Payment reminder
Events follow-up
As you can see, Upcall is applicable for any point of the customer journey. This service has everything you need, from generating leads to receiving feedback from customers.
2. LeadGeneration.com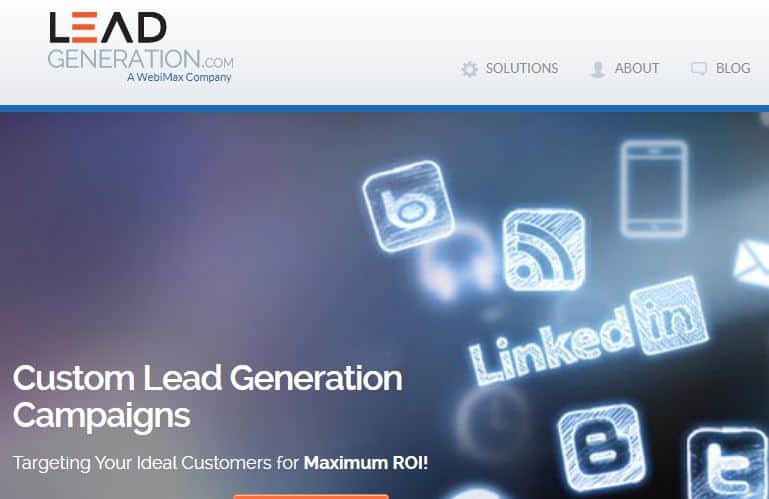 This is a great solution to generate leads for your business.
They work with well-known companies such as Toshiba and J.G. Wentworth. So, you can't go wrong in choosing them.
They offer you a dedicated team for work. The team creates a lead generation approach that is specific to your organization.
As a result, you won't end up with low-quality leads.
Leads are generated and sent to you as they come by. They are delivered to you via text, email, or straight to your CRM system. LeadGeneration.com works with CRM systems such as:
Salesforce
Zoho
Highrise
Sugar CRM
Pipedrive
Infusionsoft
If your organization works with a different platform, get in touch with a LeadGeneration.com representative. You will learn more about their custom integration for lead distribution.
LeadGeneration.com's project management group will assist you in creating personalized lead generation campaigns. They use cross-channel strategies for lead generation and specialize in campaigns involving:
Social media such as Facebook for lead generation
Whitepapers
Pay-per-click
Delivery of content
Public relations and brand recognition
Using email marketing
Website design
Following up with leads
Nurturing the leads
Scheduling appointments
Designing a landing page
They don't advertise their pricing online like other lead generation companies for small businesses. You must request a personalized quote for your requirements. Fortunately, by responding to a few simple questions, you can receive a free consultation.
Simply enter your business name, email address, phone number, monthly budget, and customers (both B2B and B2C). The budget option ranges from below $1,000 to over $10,000.
3. CIENCE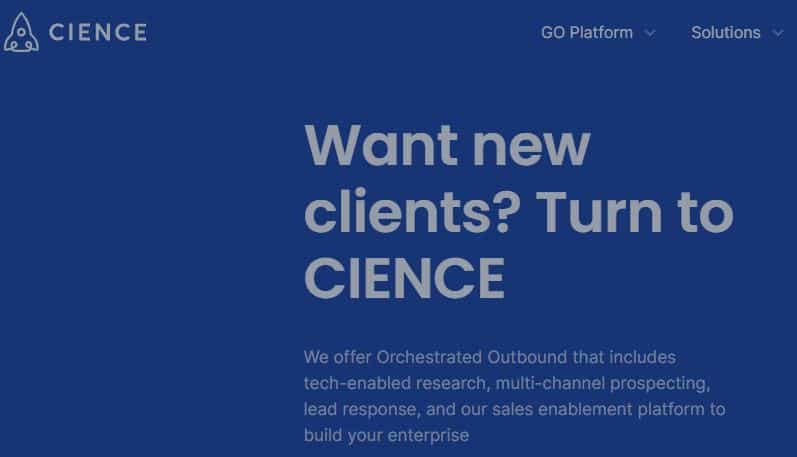 CIENCE does lead generation for B2B companies by combining human intelligence and machine learning.
They have 4 PAAS (People As A Service) models available:
SDR Team
Three-month pilot project
Two dedicated members (SDR and researcher)
Each business is limited to 25 teams
About thousand new leads each month
Guaranteed forty hours a week per person
Inbound SDR Team
Monthly service charge
One dedicated member (assistant for inbound sales)
Each business is limited to 15 inbound SDRs
Guaranteed forty hours a week
Research
Monthly service charge
One dedicated member (researcher)
Each business is limited to 10 researchers
750 to 1,250 leads a month on average
Guaranteed forty hours a week
CIENCE Now
Contract-based pricing
Unlimited members
Contract-specific output
Deliverability of lead lists on a monthly, weekly, and project-by-project basis
You can tailor your plans for outsourced lead generation to your company's specific requirements. You can select one or more of the teams mentioned above.
CIENCE provides services for marketing managers, sales teams, and business owners. Working with CIENCE, you will be able to keep the sales team busy throughout the day.
The outsourced team at CIENCE will handle your lead prospecting and engagement. This will free up time for you and the organization to concentrate on more critical aspects of your business.
4. CandorWorks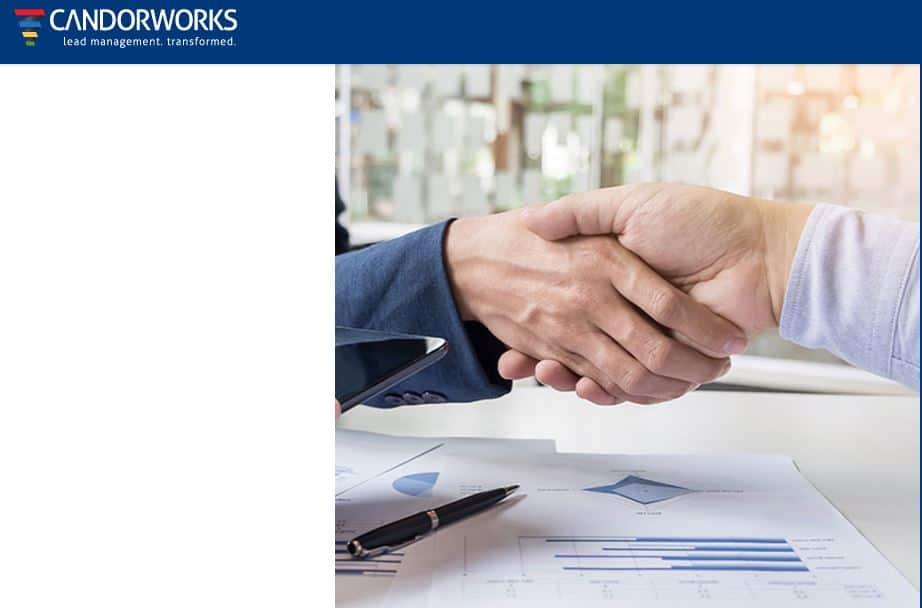 CandorWorks helps you to concentrate on your business while the lead generation aspect is handled by them.
Integrated demand creation is the company's specialty. This enables them to provide a steady supply of quality leads for your business.
CandorWorks claims that its lead data is 100% accurate. They will replace any incorrect leads you find. You will only be charged for the leads that are qualified. They'll also help you with the strategies for lead generation, preparation, execution, and engagement for your campaigns.
CandorWorks appeals to me because they offer a variety of pricing options to fit the preferences and requirements of different organizations:
One-time payment
Based on a retainer
Performance-based
Per project basis
CandorWorks also offers MarTech management, key account marketing, and marketing data services, besides lead generation.
CandorWorks offers a lot of flexibility in terms of engagement. You can quickly scale up or down depending on your requirements. There isn't any upfront cost associated with signing up.
5. CallBox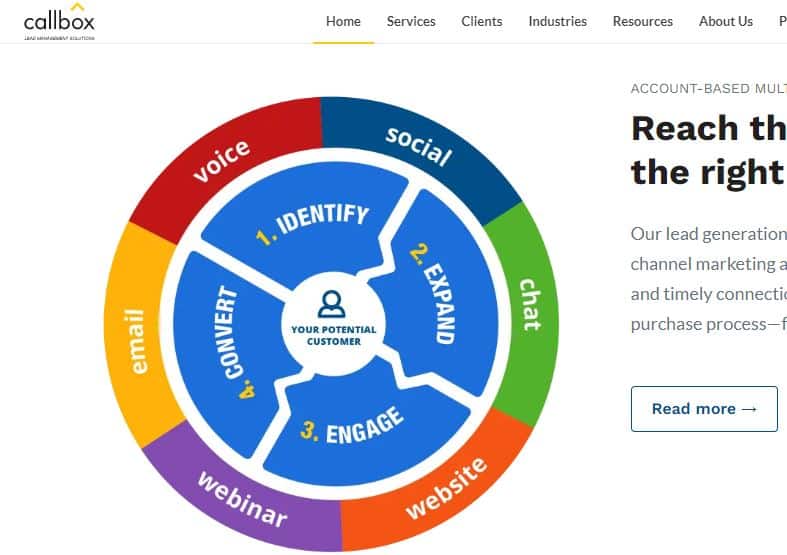 They are one of the best B2B lead generation companies. You should consider CallBox if you run a small or mid-sized company.
HP, eBay, Forbes, ADT, Motorola, and DHL are only a few of the big names that have used Callbox to generate business leads.
This company appeals to me because it offers lead generation for specific niches. Callbox generates B2B leads for the following sectors:
Advisory services
Information Technology and Software
Advertising
Finance
Healthcare
Callbox will develop a list of businesses that fit your target profile when you first start working with them. They take things a step further by identifying the main prospects and stakeholders in these organizations.
Callbox will communicate with those contacts through various communication channels.
The final step in their process is to set meetings and confirm those appointments with the qualified leads.
A lead would have already been through multiple rounds with Callbox by the time you talk to them. These leads have been primed and are ready for being approached.
Callbox also offers event marketing solutions, database services, and key account marketing besides lead generation. They do the legwork for you when it comes to generating B2B leads.
6. Overdrive Interactive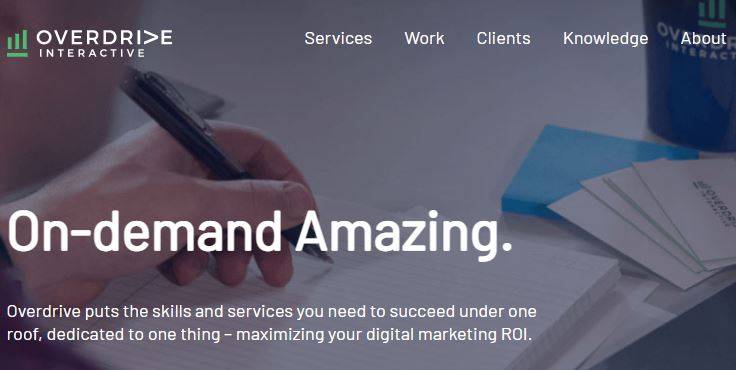 This company specializes in enterprise-level demand and lead generation in marketing from start to finish. The service helps in the maintenance and optimization of your most effective lead generation networks.
Each step of the customer acquisition process will have strategies for lead generation. Overdrive Interactive will be there in every stage of the process, from a prospect's first touch to the engagement at the end that converts.
They will build a lead generation mechanism that works in tandem with your company's sales mechanism.
Here are examples of their cross-channel approach to producing leads and creating demand:
Pay-per-click
Key account marketing
Using retargeting
SEO
Ads on social media
The use of inbound marketing
Sponsoring newsletter
Creating and testing landing pages
Marketing automation
Digital PR and native ads
Mobile marketing
Overdrive Interactive is trusted by global giants in the banking, healthcare, technology, and consumer sectors for strategic lead generation. GE, Dell, Samsonite, John Hancock, IBM, Harley Davidson, and AIG are among their most well-known customers.
7. DiscoverOrg
DiscoverOrg is well known for being a business contact directory. They'll put you in touch with leads directly and give you sales intelligence and company data so you can sell to a prospect with confidence.
They claim to maintain an accuracy of 95% for their data. They use a method that incorporates research, technology, and people.
DiscoverOrg's specialties and fields of specialization include:
Increasing sales
Sales management
Recruitment
Promotion and sales activities
Demand generation and marketing
It's a cloud-based system that's easy to use and understand. The database would provide you with a competitive advantage against your B2B counterparts.
DiscoverOrg offers a free trial. Within the lead generation industry, you don't see that very often. So, if you're not sure, you can try it out without making a commitment.
The following will be included in the free trial:
Email addresses that have been verified
The organizational map at the departmental level
Intent data and buying signals
Phone numbers with direct line
Job duties and responsibilities
Information about the firm and its technology
As you can see, the free trial is a great way to get started. You can get a clear picture of what the real database would offer you but on a limited level.
How To Choose The Best Lead Generation Company
Choosing the best lead generation company for your needs can appear to be a difficult task. However, there are a few things you can consider for helping you make your decision.
This is how I went about narrowing down my options:
Process Of Generating Leads
Not all lead generation methods work the same way. Every company has its own approach to generating leads. You need to choose a company based on the way you like your leads to be delivered.
Some companies will simply give you a list of prospects with their contact details. Other companies go above and above by calling those prospects and scheduling appointments on your behalf.
People As A Service (PAAS) is a term used by lead generation companies to describe outsourcing a dedicated lead generation team.
Do you simply want leads sent to you? Do you need lead scoring information as well as help with lead nurturing? When assessing a company's lead generation system, you should ask yourself these kinds of questions.
Leads Specific To A Particular Industry
I will avoid any lead generator that claims to be for "all." This isn't the best way to receive the most reliable and qualified leads. Certain services are better for B2C organizations and small businesses, while the others work well with lead generation for B2B sectors.
Pick a lead generation company that has worked in your niche before. Search for a provider in your industry, whether it's retail, healthcare, or technology.
Reputation
Any lead generation company could do a good job of promoting itself through its website. However, before making a final decision, you must do your own research.
Look up some case studies, consumer feedback, or testimonials to see if the company has assisted businesses in generating leads and prospects. If you are unable to find the details you need online, consider using a different service.
Price
Many lead generation companies do not publish their pricing online. This is because they provide a custom quote depending on specific requirements.
As a result, you may want to get quotes from a few of them that you have shortlisted. The cost must fit your budget and be reasonable. If not, the lead generation contract could have a negative effect on your ROI.
Some services have pricing flexibility. It's possible that you'll just pay for eligible leads. Others can charge you per campaign on a month-month or performance basis.
Final Thoughts
A lead generation company will help you boost the sales process significantly. You'll get vetted leads, and the sales staff will have more time to sell.
With so many lead generation companies on the market today, I can only recommend a select few for strategic lead generation:
Upcall
LeadGeneration.com
CIENCE
CandorWorks
Callbox
Overdrive Interactive
DiscoverOrg
I'm confident you'll find what you're looking for on this list, regardless of your market or industry.