This guide will point you to the best software for document management for your business, whether your company is going green or simply wants to better coordinate document sharing and storage.
With the advent of document management software systems (DMS), physical file cabinets have become obsolete. The need for having to look for documents in actual file cabinets is over.
The software improves flexibility and security. It will also allow your employees to access and work together on files from any place.
If you start searching, you might find that there are several document management software systems available today. Cloud storage services like Dropbox and Google Drive are theoretically included in this group. However, for the purposes of this guide, I've picked more sophisticated options. There are seven solutions that I recommend for businesses.
Best Software For Document Management
Here are my 7 best software for document management:
M-Files
eFileCabinet
Hightail
Templafy
DocuWare
MasterControl
PaperTracer
Each tool's features, advantages, costs, and any possible disadvantages are detailed in the reviews below.
Document Management Software System Reviews
1. M-Files
M-Files is the document management software system of the future. The program uses artificial intelligence (AI) to automate the organizing process.
When the content is uploaded to M-Files, the platform organizes it automatically based on the type of content rather than just where you would like to store it.
Secure your data by linking your existing network to M-Files' AI safely and automatically.
M-Files also have solutions specific to the industry, which is a huge plus. The variety of industries include the following:
Engineering and construction
Banking and financial services
Real estate
Oil and gas
Consultancy services
Manufacturing
M-Files is ideal for larger groups that need access to documents at various times. When a member of your team requires a file that was saved and uploaded by another member, they won't have to dig through several folders to find it.
What you need to know with AI technology is what kind of document you're searching for. The content can then be organized using criteria such as project title, expiration date, customer, or author.
Duplicate material will be detected automatically by M-Files. It will update the most recent document to a single file, rather than having several copies of the same or slightly different documents on your storage system. This ensures that you're either working with or viewing the most recent edition.
M-Files allows you to store a variety of document forms, including emails. You may also engage with external users who don't have M-Files using the software. The files can be shared using a secured link.
M-Files also provides on-premise storage, cloud storage, and hybrid storage options.
M-Files is available for a 30-day free trial, although there is no pricing information on their site. For a custom solution, you must contact their sales team.
2. eFileCabinet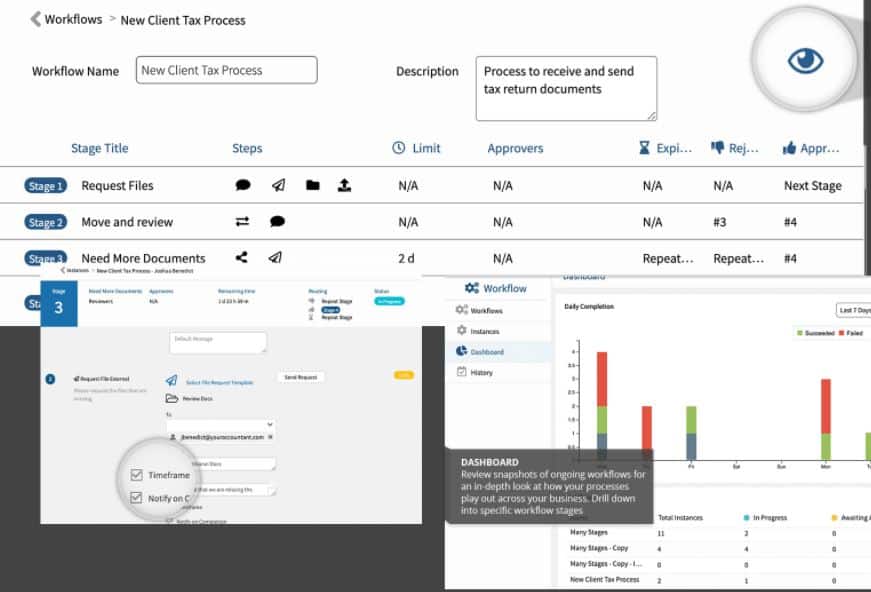 One of the best software for document management available today is eFileCabinet. They assist individuals, small business owners, and large corporations in organizing data and files on the internet.
No matter how many papers and files you have, their solution will help you stay organized.
You may use pre-defined file names or folder templates to search for and manage documents. For easy access, eFileCabinet retains a portfolio of your most frequently used documents.
The eFileCabinet system takes care of all the hard work. Simply add a document into the software, and it will be filed. The workflow helps you save time in the office by automating time-consuming activities.
You can view all of your documents from anywhere through a web browser or a smartphone app. Files can be uploaded directly from your tablet or mobile device. You may also sign contracts with eFileCabinet.
The collaboration features are one of the most notable aspects of this solution. You may set up various levels of protection in the system so that only certain people have access to data.
Encrypted file sharing and requests, role-based permissions, and two-factor authentication are all available in eFileCabinet. You can also set authentication based on location or IP.
Known third-party services such as Microsoft Office, Salesforce, and DocuSign are all integrated into the platform.
Plans And Pricing
Starter — start at $15/month (25 GB storage)
Advantage — start at $55/month (1 TB storage)
Business — start at $99/month (5 TB storage)
Unlimited — start at $199/month (Unlimited storage)
All fees are specified per user and are billed annually. You'll need to account for a minimum of three users when you switch from the Starter to the Advantage plan.
The Starter plan is effective only for individual users. The Advantage plan would probably suffice for sole proprietors and very small businesses, but the Business package would most definitely be the best option for most of you.
You can choose whether you want your storage on-site or in the cloud with eFileCabinet. Cloud storage is my personal preference, although on-premises have their own set of benefits.
3. Hightail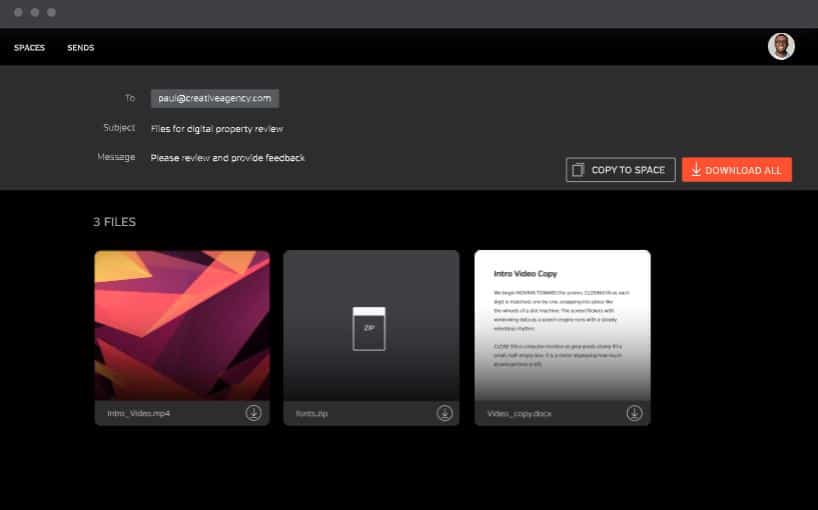 Hightail is a document management systems software with a particular goal in mind: communication and sharing.
Other document management software systems come with file sharing features as well but Hightail goes a step further.
This is the service to use if you want to send big files securely.
It's easy to share. Simply drag or import a file into your Hightail account from your device or cloud storage system. Fill in the details about whom you would like to share it with, and an email notification will be sent to the recipient automatically.
You can monitor the distribution and downloads of the files you shared with Hightail. This way you know who accessed it and when it was opened.
Hightail allows you to submit files up to 500 GB in size. Files can be password-protected, and expiration dates can be set.
Here's a quick rundown of Hightail's plans and price structure:
Lite (Free)
The file has 7-day expiry
Sending limit of 100 MB
Sync with third-party services
Feedback comments
Pro ($12/month per user)
File expiration can be customized
Sending limit of 25 GB
Send notifications for delivery and tracking
File previews are available
Live chat and phone support
Password protected
Teams ($24/month per user)
Custom branding
Sending limit of 50 GB
Version control with side-to-side display
Tools for archiving and organization
Management of members
Real-time collaboration
Business ($36 per user)
Enterprise-level security
Sending limit of 500 GB
Admin reports
Organizational level controls
Dedicated customer service
As seen above, the price is mainly determined by the number of files that can be sent. Moreover, the features improve greatly with each plan.
If you don't need to send large files, the free option works well. Even the Pro plan is ideal for a lot of people.
Hightail offers a 14-day free trial for the paid plans.
4. Templafy
Templafy is a comparatively new document management systems software on the market. They've been offering all-in-one document management software systems for businesses all around the world since their launch in 2014.
It's intended for big companies, and it helps to streamline processes and save time for storing and retrieving files.
Templafy is used for company document management by over 300 businesses in over 80 countries. This equates to over a million users.
Using artificial intelligence, Templafy would automatically display the most appropriate content to every employee based on their position and usage.
For example, the marketing team doesn't have to see accounting-related documents.
By allowing users to create and edit new content directly inside the framework, Templafy removes the need to create documents on a different platform.
On your dashboard, you can handle all uploaded and new content in a single, easy-to-understand feed.
The cloud storage system from Templafy allows you to retrieve documents from any device, including tablets and smartphones.
Templafy can be integrated with G-Suite, Office 365, and other platforms that you use regularly to run your company. It can also be integrated with CRM software such as Microsoft Dynamics or Salesforce.
Templafy is trusted by big brands like IKEA and Pandora to handle their documents with enterprise-level systems.
Along with company document management, Templafy offers solutions for increasing employee efficiency and establishing an evergreen IT framework.
Another major value of using Templafy is security. Your team members can securely store and retrieve content from anywhere, on any device regardless of being online.
Templafy, like most enterprise software for document management, offers custom solutions for every company. As a result, they don't publish any rates online. By contacting their sales team, you can test Templafy on a free trial before committing to a term.
5. DocuWare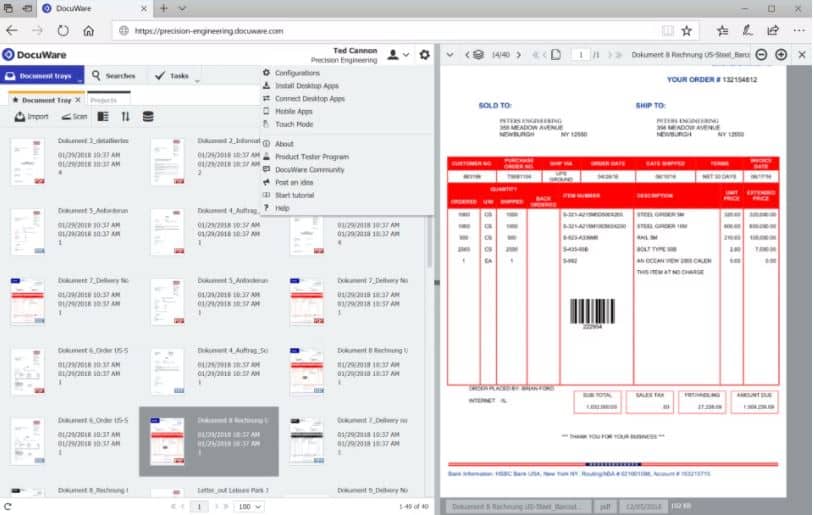 DocuWare is unique because it offers tailored solutions for specific tasks in the business process:
Document control
Advertising and promotion
Sales
Employee management
They have everything you'll need to automate your business and go paperless with a cloud platform.
As a result, I strongly recommend them for large, enterprise-level companies.
Your team members can edit and annotate documents right on the system with DocuWare. This feature is not available in every document management software system on the list.
DocuWare appeals to me because it includes tools for connecting remote workers and deskless employees. Using any device, people can easily access files at home or on the go.
DocuWare is trusted by over 12,000 users in more than 90 countries for company document management. With such a stellar track record, you can be certain that the business is legitimate.
Contract plans, financial procedures, and HR activities are all examples of some of their unique use cases.
The pricing for DocuWare is similar to the other software on this list. They come with a free trial, but for a custom quote, you must contact their sales team directly.
6. MasterControl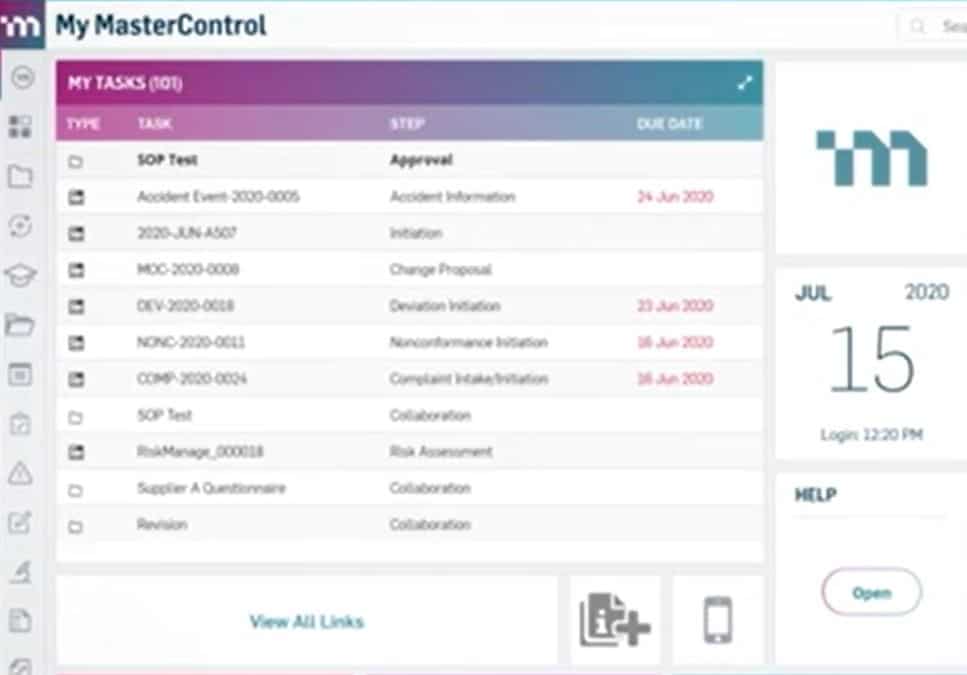 MasterControl is a great document management systems software designed for businesses that place a high emphasis on security. Certain sectors have stringent regulations that businesses must follow.
MasterControl is aware of these issues and has developed a document management software system that satisfies all security requirements.
The system allows you to keep track of revisions and changes. This is particularly useful if a file must be reviewed by a specific individual. You can also schedule a time and set reminders.
The document management software system can be used to restrict access. You have full control over who has access to a document and makes revisions to it.
To keep track of copies of your files, you can add location tracking, sequential numbering, and custom watermarks.
MasterControl is compliant with 21 CFR Part 11. This ensures that records have an audit trail with time-stamps as well as federally compliant e-sign features.
Learning center is another special feature. You'll be able to access a wealth of free documents, videos, and other tools to help you learn more about the system and overall security compliance.
MasterControl would be a top choice for you to consider if you need enterprise-level security for company document management in an industry that is strictly regulated. For a custom quote, reach out to their sales team.
7. PaperTracer
PaperTracer offers services for small, mid-size, and large enterprises. It's straightforward software for document management.
You'll be able to have your contracts automated and all your records digitized in a central database with PaperTracer. They have systems that are HIPPA-compliant as well as features for monitoring and reporting.
It is also beneficial to have a cloud-based solution with an end-to-end workflow. This will assist you with company document management, regardless of which part of the process you are in.
PaperTracer also has the ability to accept electronic signatures. That is why they are so common in healthcare and legal firms.
Here's a quick rundown of the available plans that has custom pricing:
Small
Electronic signatures
A maximum of 10 users
Upload and scanning to PDF
Searchable database
Input forms
Advanced dashboards and reports
Mid Size
Contract authorization
A maximum of 100 users
Custom workflows
Implementation
Custom fields
Enterprise
Unlimited input forms
Unlimited users
SSO
All three plans have free trials and demos. For small and mid-sized enterprises, I would recommend PaperTracer. Although they do offer an enterprise-level solution, I think there are better alternatives on the list.
How To Choose The Best Software For Document Management
If you don't know what to look for, selecting a document management software system can be difficult. When evaluating a potential software, there are a few features and benefits to keep in mind.
I'll go over the criteria used to come up with the options in this list. The same methodology can be used to help you narrow down your search.
Collaboration And File Sharing
What would you do with your content after the files have been stored and uploaded? Although file organization is obviously necessary, for certain businesses, it is pointless if content cannot be shared with team members or external users.
Look for document management systems software that can handle your internal file editing and collaboration needs. In-platform editing features and automatic version updates are critical aspects in this case.
The file size will also be determined by the chosen solution for your company. Hightail is the best option if you want to share big files.
Storage Location
Document management software systems are either hosted in the cloud or on-premises. Some systems only offer one type, while others allow you to pick and choose.
eFileCabinet, for example, provides both cloud-based and on-premises storage options. M-Files offers these options, as well as a hybrid option. Other services, such as DocuWare, are entirely hosted on the cloud.
I like cloud technologies because they allow you to access information from anywhere. However, some businesses prefer to keep files within their network for security purposes.
Integration
You should look for document management systems software that integrates with the services you already use. Certain systems provide a diverse set of integrations. For example, this could be a customer relationship management software like HubSpot or document editing and development tools like Office 365.
Other niche-specific solutions are a little more constrained. As a result, make sure you're using tools that can really help your workflow.
Cost
The cost of a document management systems software is normally determined by the amount of storage and the number of users. You should expect the plan to include more features and capabilities at each price point.
Custom plans and pricing are available for most of the systems on this list. But you'll need to speak with the sales team to know how much the company document management system would cost.
eFileCabinet would be a top document management software for you to consider if you're looking for an affordable solution with instant sign-ups.
Security
The majority of business-related documents and files are classified as confidential. As a result, having a document management software system that can safely store documents is critical.
Some solutions enable users to gain access based on their location or respective clearance levels.
Other systems focus on compliance for specific sectors, such as government, legal, or healthcare.
Final Thoughts
Document management software systems come with a wide range of options. Each approach has its own set of advantages for companies, depending on their scale, sector, and a variety of other factors.
Here are the 7 best document management software:
M-Files
eFileCabinet
Hightail
Templafy
DocuWare
MasterControl
PaperTracer