If you are looking for a comprehensive Jasper AI review (previously called Jarvis AI), you've come to the right place.
It's a top artificial intelligence tool for copywriting that enables you to create blog posts (and pretty much anything else) for a small fraction of the normal price or time.
Its homepage describes the tool as "the generative AI platform for business that helps your team create content tailored for your brand 10x faster, wherever you work online." It is mainly used for copywriting, which includes blog entries.
Content accuracy and fact-checking are essential for any AI content creator. Yet, Jasper AI's natural language processing (NLP) allows it to produce copy that is surprisingly effective.
In this Jasper AI review, I discovered that the output is quite good when taken down paragraph-wise, especially in comparison to various AI copywriting solutions.
Hence, I made the decision to test it and do a thorough Jasper review.
We'll test the efficacy of this AI technology for copywriting. Is the content still worthwhile in a world where ChatGPT is trending? Can AI produce content for blogs that is similar to what a human author would produce? Let's investigate.
Overview
With the aid of Jasper AI (Jarvis AI), writers may work more quickly and produce content with high quality for a variety of scenarios. Although manual editing is still necessary, this is an excellent tool to employ to increase your output.
Benefits
Cures writer's block
Premium AI writer
Boss mode
Simple to use
Quickly produces content of human quality for various uses
Integration with Surfer SEO
Drawbacks
Works best in conjunction with a human editor
Must utilize a plagiarism checker to make sure that the content is unique
What Is Jasper AI?
Based on various sources, Jasper.ai was established in 2020. The team consists of 8 employees, the majority of whom are based in Texas (Austin).
In terms of growth, the company is doing fairly well for a young startup. The Jasper team has secured venture funding for their AI platform from a select group of investors, including Hack VC and Foundation Capital.
The software was initially known as Jarvis, but the business changed the name under threat of legal action from Disney. This was for the similarity of the name with the artificial intelligence created by Tony Stark in the film Iron Man.
Who Is Japer AI (Jarvis AI) Suitable For?
The best users for Jasper.ai are those who regularly produce long-form blog articles, ad copy, social media content, and various other types of marketing materials.
One of my favorite Jasper.ai features is the ability to create unique recipes and templates.
They have generic templates you may utilize if you are looking to produce content quickly. Alternatively, you can design your own "recipe" and use it repeatedly to generate AI content.
In fact, a long-form post or blog article may be generated almost entirely with AI using Jasper's templates and recipes.
Is Jasper AI Good?
The Jasper AI tool is largely focused on the following services:
2–5 times faster first draft completion: Improve your content production by having Jasper write 80% of it while humans edit the remaining 20%
Create articles to rank in the search engines: Produce educational blog posts and keyword-rich meta descriptions that are keyword-rich and original
Overcome writer's block: You might be stuck and looking at a blank screen while trying to create content. Use inspiration from this tool. Sit back and let Jasper do the creative work for you
Social media content: Write posts for social media, Facebook groups, comments, and other types of content quickly
Increase sales and boost conversion: It is simple to create and test different Google or Facebook Ad copy
Jasper is growing and gaining more traction compared to the different software available today. A number of new features are being added to speed up content creation.
There is enough going on, and the team at Jasper is genuinely committed to expanding the services.
AI can be used to write long-form or short-form content including descriptions for YouTube videos, and Google or Facebook ad copy.
Moreover, they provide an AI image creator – Jasper Art.
This broadens the scope even more and the tool's applications are limited by your own creativity.
Is Jasper AI Free? How Much Does Jasper AI Cost?
There are various pricing tiers for Jasper AI. By paying yearly, the Starting plan costs $24 per month instead of $29 per month. And the Pro plan costs only $109 per month (very cost-effective in terms of hiring writers to generate content).
The Jasper AI's boss mode package is the one that gets the most attention. Boss Mode boosts your content production, and generates results with good quality.
And the entry-level Jasper AI package costs $29 per month. You should choose the Jasper Boss Mode plan, which costs $119/month if you wish to write long-form content like complete blog articles.
Jasper AI Examples – How Does Jasper AI Work?
There isn't a steep learning curve compared to some of the other AI tools, and it is really simple to get started.
Jasper AI has unlimited project folders and can scale well with businesses. Also, their starter plan is reasonable at $24 per month if paid annually (or $29 for monthly billing).
Also, they have a number of great tutorials at the Jasper Bootcamp that will walk you through making each form of copy you'll need. You can reach out to the support team at Japer AI with any questions that you might have when using the software.
Following is the Jasper AI tool's dashboard and options to use some of its features.
Their "Content Rewriter" option was the first template I tried.
It was my intention to take a fairly complex text and improve the structure and make it more engaging. I wanted the tone to be conversational, informative, and humorous.
The material for "Coronavirus Prevention" was taken from WebMD. The initial context was information and boring to read.
Results Of Jarvis AI Review
The result from the generator was more engaging. Still a bit boring, but a huge improvement.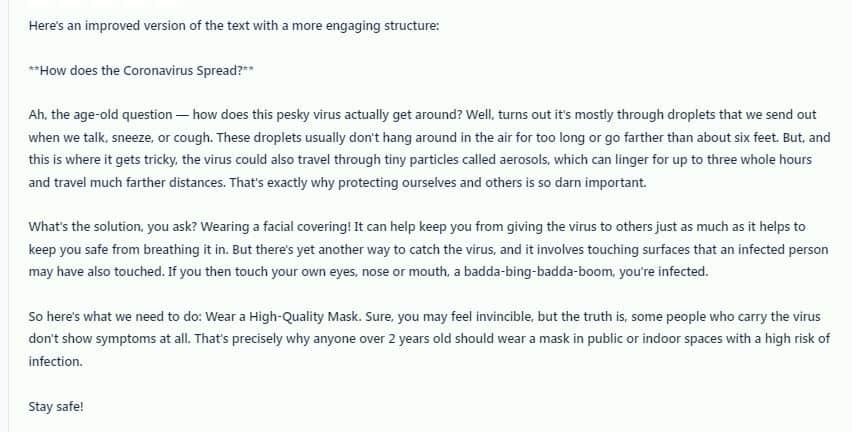 The main limitation is that you can only enter 2500 characters into the rewriter. This way you are not able to write more than a few paragraphs at a time.
Next, I wanted to create a complete blog post.
I decided to try out the 'Blog Post Outline' template.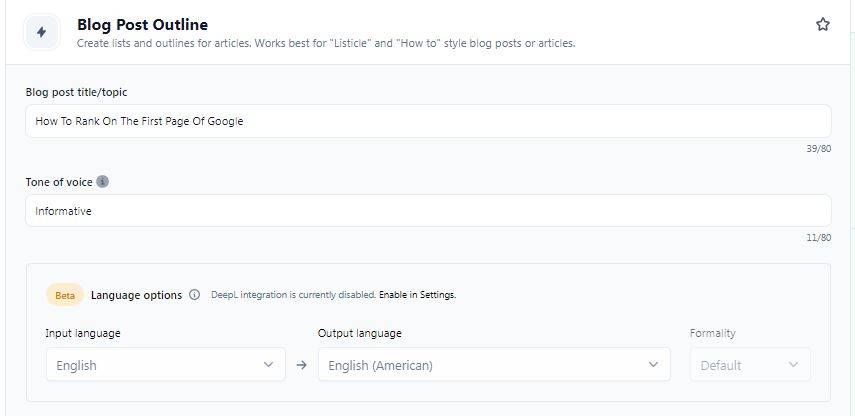 I entered the blog post title/topic as "How To Rank On the First Page Of Google". The Tone of voice I was looking for was Informative.
Here's the generated result:

I copied the output and selected the 'One-Shot Blog Post' template.
The output from the previous result was pasted into the Blog Topic Section. The tone of voice was set as casual, and the intended audience was Bloggers.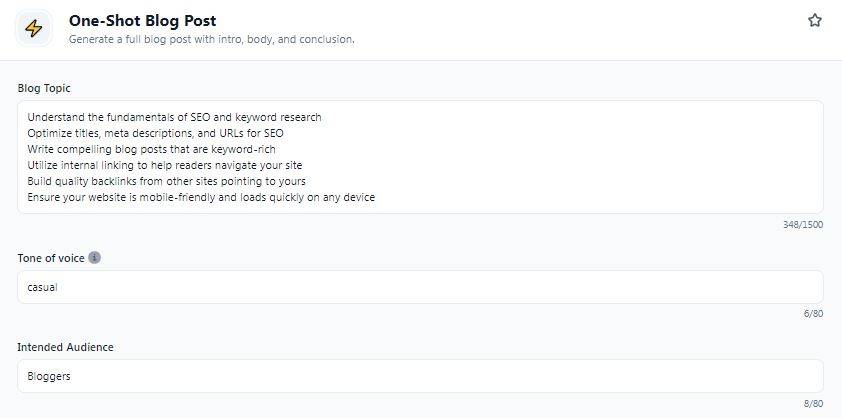 The titles and introduction paragraphs generated were quite impressive.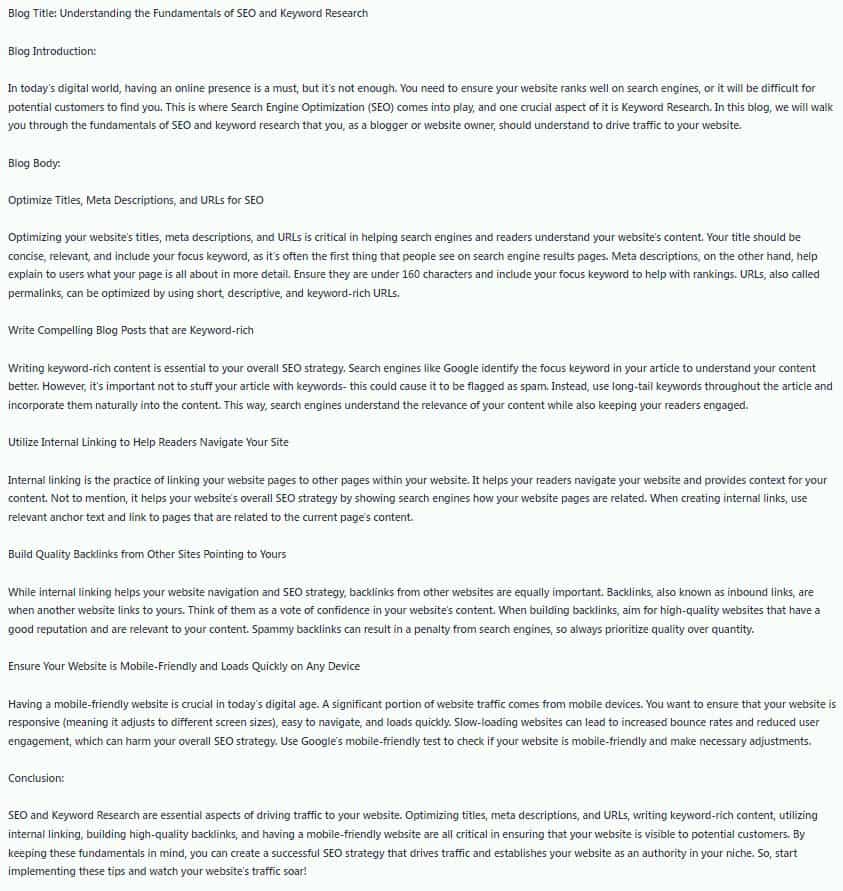 In terms of the blog post, the template used for creating the topic outline would produce different results if it is performed on 'Boss Mode'. It would provide better AI-generated content and copywriting content. But like any AI writer, it requires some effort.
Jasper could significantly speed up your content creation efforts if you were to spend some time getting familiar with the commands. Jasper only needs your input to fulfill your request. Even using Boss Mode is not a one-click fix. But, compared to hiring a bunch of writers, Boss Mode is undoubtedly faster and less expensive.
Plagiarism
Working with these tools typically requires running plagiarism checkers to make sure that the content is unique.
Grammarly detected 18% plagiarism in the AI-generated copy produced using Jasper AI.
If you've checked longer blog articles for plagiarism before, this looks a little high. Based on my experience, they often have a 1–2% plagiarism rate (which is normally from completely unrelated content).
Accuracy And Truthfulness
Accuracy and veracity can be major problems with AI-generated content.
The reader would undoubtedly be confused, for instance, if you write a blog post about golf shoes but the content is actually about basketball footwear. One of the most common complaints about AI-generated text is certainly its lack of content correctness.
Let's go over an example:
Should humans eat food with mold? I posed this question to see how accurate Jasper is.

Based on the USDA, "some molds cause allergic reactions and respiratory problems. And a few molds, in the right conditions, produce "mycotoxins," poisonous substances that can make you sick".
Also, based on common sense, this is a bad idea.
Jasper claims that eating moldy food is not a big problem (I suppose for a robot, it doesn't matter?).
Main Features
In addition, Jasper.ai offers the following capabilities to assist you in producing unique content:
Grammarly integration for fixing spelling and grammar
With Surfer SEO's integration, they may publish blog entries that are SEO-optimized for relevant keywords to rank in the search engines
Obtain product descriptions, meta descriptions, blog post article ideas, email subject lines, and other useful text in seconds
26 languages are supported by this tool for writing and translating content
Write Reviews or Quora responses
Content improver: Rewrite existing text using different copy variations so that it is more creative and captivating
Produce top-notch content for a variety of platforms, such as social media, scripts, video titles, and emails for sales, among others
Jarvis/Japer AI Review Spelling And Grammar
To generate content that looks more natural, a lot of research has been done to optimize AI algorithms. Although they are still far from perfect, technologies for machine learning analytics tools and copywriting have significantly improved over recent years.
Another tool Grammarly is useful for identifying specific grammar errors in your content and highlighting them for additional review.
I prepared roughly 500 words to run through Grammarly in order to maintain consistency with some of my other AI reviews. When compared to our other tests, the content was average which scored 85.
Although Grammarly is not the best indicator of the quality of content, if you have used the tool before, this typically indicates that the text is acceptable. You may only need to make a few adjustments to reflect your tone or conform to your expected writing style.
Jasper AI Art Review
You should consider experimenting with this advanced tool called AI art.
Site owners are no longer limited to using stock photographs or taking their own shots for their websites. Instead, AI allows them to produce entirely original images.
It's really simple to use Jasper AI.
This is a great, more recent addition to the tool that enhances the value of an already impressive tool.
Jasper Art comes at an extra cost of $20 a month, but it is optional.
You may test it out on a free trial to find out if it's the right fit for you.
Jasper (Jarvis.ai) Review – Is Jasper AI Worth It?
Overall, based on my experience using Jasper.ai, I think that the right person can benefit greatly from using it.
As I've already indicated, the technology is simple to use and can scale for larger businesses as well.
For a full-time long-form content creator, this tool would be very helpful for getting work done efficiently. The lack of perfection in terms of accuracy, though, means that you would still need to do some research when it comes to writing a blog post.
It will be necessary to verify the accuracy and truthfulness of some topics, particularly those that concern the health and safety of people. On the whole, the results are pretty good.
Overall, I like where Jasper is going with this technology. It's not fully automated, but it has the ability to significantly speed up the daily responsibilities of content writers.
I wouldn't rule it out if used in conjunction with content optimization tools and products like Grammarly. You can test out the Starter plan on a free trial.
Check out the Facebook group for Jasper AI where you can find plenty of great tips shared by the users.
Jasper AI Competitors
There are several AI copywriting software options available today if Jasper AI is not what you are looking for.
Check out these additional AI copywriting and advertising tools that can produce great content:
Copysmith
Copy.ai
Rytr
Crawlq
Copy Shark
Writesonic
ShortlyAI
Although they may not have an advanced feature like Jasper Art, most of these AI writing programs are reasonably priced and have comparable features. Many also offer free trials.
Conclusion – Jasper AI review
These AI-related technologies are now coming into their own, and I anticipate significant improvement in the immediate future. I hope this Jasper AI review covered a lot of ground and was useful.
Who knows where blogging and digital businesses will go as a result? That being said, even using Boss Mode, AI may not be able to produce content that will eliminate the need for writers and agencies any time soon.