When it comes to picking the top sites for blogging, there are a number of factors to consider.
The first step is to create a website where you can host the blog. The traditional method of starting a blog is to create a website and blog on it. You can do this in one of two ways:
Use a simple website builder such as Wix.
Use Bluehost for web hosting and WordPress as your content management system.
Squarespace can also be used to build a blog website. If you have a Squarespace web store already, this could be the better choice.
Using any of these choices will require more work, but you will have full ownership and control over your platform.
A popular blogging site like LinkedIn or Medium can be used as an alternative. These platforms allow you to reach out to several people with your writing.
It's not just that, but both of them can be set up in under 15 minutes.
On the negative side, you'll be bound by their algorithms and rules. As a result, if you're new to blogging, it's a good idea to use Wix. It's easy and adaptable, and you are able to control your content.
There are several advantages to both options. I'll show you how to get your blog set up and help you decide which blog software, site, or platform is right for you in this guide.
Let's get started.
5 Top Sites For Blogging in 2023
My detailed reviews of the recommended blog platforms can be found below.
1. Wix — Best blogging website builder for beginners
2. Squarespace — Best blogging site for increasing e-commerce sales
3. WordPress on Bluehost — The most flexible blogging software
4. LinkedIn — The best blogging website for B2B clients
5. Medium —The best blogging site for building a following
1. Wix Review — Best Blogging Website Builder For Beginners
For beginners, Wix is the perfect blog-building platform.
They make it simple to start a blog in a matter of minutes. In reality, if you need it, they'll give you a step-by-step walkthrough of the complete process.
For any kind of blog, Wix provides several attractive templates. Using its drag-and-drop editing option, you can easily customize any web page. That means you don't need to know how to code.
They even have an ADI (Artificial Design Intelligence) builder if you need even more assistance. By simply answering a few questions, this application uses artificial intelligence for helping you to create the exact website you want.

All the SEO functionalities you'll need are right at your fingertips, from image alt tags to SEO descriptions and titles (that aren't the same as the title of your post), internal links, and tags that are nofollow for external linking.
Their automated email subscription is a feature that stands out. This allows you to gather leads easily on your website. They also have social media icons under each post that allows you to share them on social media sites like Twitter and Facebook. To create a blog using Wix, simply login to your account to choose a template.
Blog Posts
There's a category for blog templates, that is a good starting point. Once you've chosen your design, I recommend changing the logo, colors, and font to personalize it and make it stand out.
It's as easy as selecting the create option, adding your copy, and adding pictures to create a post. The drafts can be saved, and other writers can be given access to your site's contributors. This can be all done just as easily on a mobile phone/tablet as it is on a computer, without the need for an app.
Make sure the SEO settings are up to date for each post. This is what appears in the search engine results and is crucial for organic search ranking.
The resulting post will include a reading time count to help readers know how long it will take them to read your article, which I think is a great feature.
In the Wix app, I really like the capability of using live chat for connecting with readers. It's a cool feature if you want to create a community on the blog or if you're willing to respond to reader queries in real-time about a course that is offered or a webinar you're hosting.
The Benefits And Drawbacks Of Using Wix For Blogging
If you are looking for an easy but efficient blogging site, Wix is a great option. It's a simple choice if you choose to start the blog on your own website instead of a blogging network such as Medium or some type of social networking platform, thanks to its drag-and-drop website builder.
The disadvantage is that you'll have to pay a monthly fee and will be restricted to Wix's themes and software. As a result, you'll forego some ease of use in exchange for greater versatility. I believe that this compromise is worthwhile for the majority of users.
#2 Squarespace — Best Blogging Site For Increasing E-commerce Sales
If you're not blogging simply to have a personal platform on the internet, you're probably hoping to make some money from it. If you have your own product, you can use your blog as a supplement to your e-commerce website.
So, Squarespace is what you're looking for.
You can get a complete site builder, which is especially useful if you're simultaneously launching an e-commerce store and a blog. With Squarespace's easy-to-use e-commerce website builder, creating product pages is a breeze, and you can embed products in blog posts.
As a result, you can create engaging content that piques visitors' attention while also making it simple to purchase a product or service linked to your blog post.
Do you already have an operational e-commerce website? Shopify, for instance, makes it simple to connect your products to a Squarespace blog. Platforms such as BigCommerce, WooCommerce, and 3Dcart have indirect integrations (via Automate.io or Zapier).
Though using Squarespace along with another e-commerce system might be unnecessary, you can simply use the free option of Squarespace to host the blog and use the integrations to promote your products.
The simplicity of creating a visually appealing, captivating blog using Squarespace's visual editor alone can make it worth it.
The Benefits And Drawbacks Of Using Squarespace For Blogging
Squarespace provides a single solution for creating an e-commerce store and a blog that functions well together. The only disadvantage is that maximizing Squarespace's e-commerce resources will cost a little more.
The paid options aren't prohibitively expensive:
Personal: $12 per month – includes SSL, free custom domain, and infinite storage
Business: $18 per month – includes fully integrated e-commerce as well as infinite products
Basic Commerce: $26 per month – includes analytics, secure checkout, and without transaction fees
Advanced Commerce: $40 per month –advanced shipping, subscriptions, and discounts are included.
The prices are based on yearly payments. If you want to pay on a monthly basis, the price for each plan increases slightly.
Try Squarespace today and find out how you can use a blog in order to sell more of your products.
#3. WordPress On Bluehost — The Most Flexible Blogging Software
WordPress is a widely used website builder.
This is due to its flexibility and functionalities. WordPress enables you to create any type of blog you like.
That is also not an overstatement. Here are a few examples of real WordPress-powered blogs:
Do you want to start a travel blog that focuses on colorful travel photos?
Would you like to sell informational products while writing about personal development and finance?
Do you have a hugely successful social media site that attracts several business professionals worldwide and is interested in providing them with great blog articles?
WordPress is capable of doing all the above.
They provide you with the plugins and tools you'll need to tailor the site to your unique requirements.
It's also very easy. To create your own website, you'll need to have a domain name, web host, and a WordPress account set up.
Web Hosting For WordPress
More details about choosing a hosting provider can be found in my post about the best web hosting.
The short answer is to use Bluehost.
Bluehost is not only a well-known web host but it's also optimized for WordPress. It also suggests using Bluehost for hosting.
You can get a WordPress website set up and operational within a few minutes.
Therefore, if you're going to create a WordPress site, Bluehost is the way to go.
A WordPress site takes longer to build compared to a Wix site. The trade-off is that your site is way more flexible (and powerful).
On the backend, you are able to install any plugins and customize any of the available themes for your website to make it look and feel just the way you like.
One feature worth mentioning is WordPress's easy integration with sales funnel tools like Hubspot or Salesforce. It will work in conjunction with this software to generate leads and convert them into paid customers.
The Benefits And Drawbacks Of Using WordPress For Blogging
The most compelling factor in using WordPress is its ability to scale. WordPress can manage any website, no matter how large or complex it becomes.
For any functionality, they have widgets and plugins. You can also start modifying the code by yourself if you really want to. Since WordPress is an open-source platform, you are free to do anything you want. You can customize WordPress however you like if you are familiar with PHP or are willing to hire a programmer.
WordPress is also quite common. That means that if you end up having any questions, you will probably find a variety of solutions and tips online.
However, the learning curve of the platform is a trade-off for all the features.
You'll need to learn the different aspects of WordPress, as well as which plugins are suitable for your website, where to get a beautiful theme, and ways to write good content.
When you're designing your first website, there are many things to consider. If you simply want to get your site up and running so you can get started with blogging, WordPress isn't the easiest choice. Even if you're initially not comfortable with the learning curve, it's a popular blogging site if you're willing to put in some work and develop the skills for administering your WordPress website.
#4 – LinkedIn — The Best Blogging Website For B2B Clients
LinkedIn is a social networking site for professionals.
They have over 590M users, with 154M in the United States, 44% reporting that they use the site on a monthly basis.
LinkedIn started off as an online platform for posting resumes. Consider it a dating app for job seekers: you'd use it for recruiting or to be hired, but nothing more. That has drastically changed in the past few years.
If you're starting a blog for your business, you can find a highly targeted audience on LinkedIn. A blogger might be looking to build a community and set of standards on their website, but the platform already has them.
LinkedIn is for social networking. Your authority grows proportionally with the scale of your network. You'll get more followers and connection requests if you publish more frequently.
Article Editor
They have an article editor that is similar to WordPress. This site offers more opportunities for well-created, professional B2B content compared to other platforms.
It's a perfect way to connect with B2B prospects and get instant input from colleagues on expertise because it's a social network for business professionals. It makes it easy for the audience to become friends and customers.
It's important to note that a LinkedIn article and a post are not the same things.
A post is a brief update that you are able to communicate with your connections. Consider including a pro tip or a short anecdote. They have a character limit of 1300 characters or around 5 lines.
Of course, articles are more in-depth and longer. They're content that the LinkedIn community as a whole would enjoy reading.
An individual who views your article is able to follow your work, which will notify them when the next article is published. Articles that are written will show up in your LinkedIn profile's Articles section.
Do you want to get better? Check out LinkedIn's own course, for more information on how to improve your blogging skills on the site. Useful content that users like to read and connect with improves the overall website experience.
The Benefits And Drawbacks Of Blogging On LinkedIn
I recommend building your blog on LinkedIn if you're publishing business-related content or something relevant, such as management. There's already a community sharing those interests that are eager to consume your content. You can get business followers, but that is not the same as a "connection."
I suggest going where your target is instead of trying to bring them over to your active space if you're trying to create thought leadership, brand awareness, or culture rather than making money. Create content for your audience where they hang out already (eg: LinkedIn), and they'll thank you for it.
You are able to expand your connections and business relationships, but the downsides, as with all blog sites, are that you're subject to the platform's algorithm and don't own the website or its traffic.
#5. Medium — The Best Blogging Site For Building A Following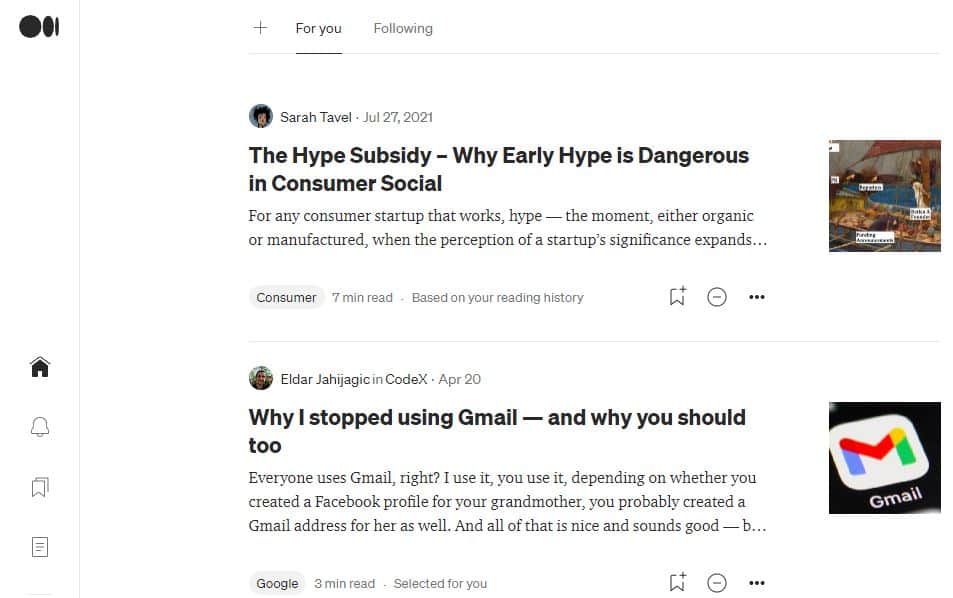 More than 60 million people use Medium. These writers and content designers specialize in creating niche content that readers can relax and enjoy.
It's also where you'll see some controversial and thought-provoking material on the internet. As a result, the content on the platform has a greater chance of going viral, and you are able to tap into a large number of loyal readers.
As a result, it's an excellent forum for finding and cultivating a fan base for your writing.
I know from my own experience that when I consume content on Medium, I do so with a sense of curiosity and purpose. I'm prepared to devote some time to read what's available.
It is also helpful that they have an estimation of the time required to read each article, including a built-in commenting mechanism so that you can interact with the author and other readers right away.
Articles And Publication
Medium also makes posting an article a breeze. There's an easy-to-use editor that's clean and functional. Basically, while writing, you can preview and find out what a post would look like after it's published.
However, don't stop here. I suggest producing a Medium Publication instead of having only a profile. You may also invite other authors and editors to contribute to your content. It provides more power over what is basically your blog's homepage.
A continuous stream of posts is what you get using a Medium profile.
A Medium Publication would have a more magazine-format layout.
The profile is a straightforward chronological feed, while the publication is a well-designed page with multiple choices. You have the feature to submit a newsletter to your followers when you create a publication.
Medium, however, has certain disadvantages:
For starters, you won't have the ability to create your own unique URL. From a branding standpoint, this could be a significant disadvantage.
However, you can work around this by directing your custom domain to a Medium web page.
In the early stages of developing an audience, you'll also have to depend on its algorithm a lot more. For many of you, the less control you have on your page can be a dealbreaker.
However, if you have an established audience already, Medium's community could complement it.
The Benefits and Drawbacks Of A Medium Blog
Medium is overall one of the most conventional and top sites for blogging. It's where the vast majority of people who want to read traditional blog posts spend their time right now.
If you are an avid writer—and would like your content to be read daily or on a weekly basis — this is the platform for you.
The disadvantage of choosing to develop a blog on a third-party platform is that you won't have ownership of the traffic or the ability to monetize and sell ad placements.
It's not an either-or situation when it comes to choosing between WordPress and Medium for your blog. You can use your own website to create content and use Medium to republish some of your posts, leveraging the ability to syndicate content.
You should careful with this approach and there are a few technical details to be aware of.
To avoid being penalized by Google or just outranked by the Medium page of the post, you'll need to properly import your posts to Medium and set the canonical tag.
Overall, I like to think of each platform as its own entity, with its own set of content to produce and publish.
How To Pick The Best Blog Platform
The best blogging website for your company would eventually be tailored to your brand's requirements.
But there are some factors that I believe are universally applicable when searching for the best blogging site.
The four factors I used to pick and rate my blogging platform choices in this article are listed below. Use them to assist you in your research and selection of the best option for you.
Customization For A Specific Niche
The subject you'll write about is probably the most important consideration for your blog. This will decide the size of your audience, as well as your overall performance.
Whatever you choose, make sure your blog lets you customize the look and feel that will suit your niche. This helps to develop the identity of your blog and the brand, as well as build a closer relationship with the audience.
As can be seen from the list above, the platforms we looked at don't all provide the same degree of customization. Websites like WordPress and Wix give you a lot more control over everything, from the colors and templates of your articles to the fonts and domain names being used.
Both WordPress and Wix have several themes to choose from if you want your blog to have a specific look and feel. If you are interested in creating a more conventional blog and have more control, they're probably the best choice.
Medium and LinkedIn, for example, have minimal customization choices, allowing you to only change the logo and the photos in the blog posts. As a trade-off, they have easier ways to grow the audience.
Learning Curve
If you're new to blogging, you may not want to begin with a site that's too complicated. You may be ambitious and interested in learning how to build a large site, but I strongly advise against it for a couple of reasons:
1. You're going to feel burned out quickly. In the beginning, it's better to take small steps. When this happens, you'll probably get overwhelmed with your new blogging project. As a result, you might decide to drop it entirely.
2. There are easier (and better) options. While all the blogging platforms on the list are simple to use, some are more so than others.
So, look for a blogging site that will allow you to launch quickly, affordably, and easily.
LinkedIn and Medium are great choices considering this factor. The learning curve is quite low—you simply create your account and begin publishing right away.
With these options, you won't have to think about aspects like web hosting, domain names, or even customization of the page. Much of this is taken care of by the platforms.
Wix is a fantastic option if you don't mind getting your hands dirty. They have the best combination of website strength and simplicity.
Potential For Profit
Let's face it: you want to monetize your blog. That's perfectly understandable. Indeed, I strongly advise you to do so.
But the blogging platform you select will have a significant effect on the amount of money you will make and the way you are able to make it.
For instance, your profit potential with LinkedIn will be the most restricted. This is because you won't be able to use traditional blog monetization tactics like on-page ads.
Medium has a Partner Program that lets writers get paid for their posts based on content engagement. This means that if other users comment, read and enjoy your post, Medium will pay you. However, you are not able to benefit from advertisements.
But you are able to make money from these top blogging sites by using affiliate marketing or offering freelance services and coaching. However, you'll be totally reliant on their traffic algorithm. That means a single change in the algorithm could be the difference between making money and shutting down the company entirely.
That is also not an overstatement. Algorithm improvements are infamous for throttling the traffic of previously popular blogs, effectively shutting them down.
If you are concerned about making money, I suggest creating a blog with WordPress or Wix and controlling your own website. You won't need to be worried about changes in algorithm affecting your site's traffic, and you can use multiple or a few profit-generating strategies as you wish.
Tools For Increasing Readership
The best blog sites provide you with a variety of resources to help you grow the audience. This can be with the help of SEO tools (to rank your posts higher in search results) or they can use their own platform for acquiring new readers.
For example, if you would like to quickly reach a large, established audience to go viral, Medium is a great blogging platform. The algorithm can get interested readers to find your articles on their main feed or through their newsletter. Medium pages also have a commenting system, which allows you to increase interaction.
WordPress and Wix also offer a range of marketing resources, such as Google Analytics integrations and SEO consoles, to help with traffic growth. This is ideal if you would like to take a practical and hands-on approach to your growth plan.
Conclusion
Let's recap the top sites for blogging in 2023:
Wix is the best blogging website builder for beginners.
This platform is the way to go if you would like to have complete control over your website while keeping things simple. Its drag-and-drop editing option will help you get started easily, and you'll be designing your blogging site on your own platform rather than on someone else's.
Squarespace is the best blogging site for increasing e-commerce sales.
Look no further than Squarespace if you would like to have an attractive blog that also allows you to sell stuff. You can use the product block functionality to highlight products or services and let blog readers buy them right away.
WordPress using Bluehost Hosting is the most flexible blogging software.
Anybody serious about customizing their site and needing full control should take this path.
LinkedIn is the best blogging website for B2B clients.
Do you want to start a company blog or become an authority in a specific industry? You may use Medium, but LinkedIn could have a more engaged and valuable audience that you can tap into. LinkedIn readers are quite active and searching for content, despite the fact that it does not appear to be a blogging site.
Medium is the best blogging site for building a following.
I like Medium if you're not building your own website and your blog is a traditional blog with long-form articles about a subject that's important to you. It has a community of people that enjoys reading and a user-friendly interface.

Related: You might be interested in checking out the article about the best text editors for blogging.