I'll include the best text editors for blogging in this article, along with some blog editors for developers.
It can be difficult to find the best text editor for blogging. A blog editor must be simple to use, distraction-free, and compatible with the CMS that you are working with.
Also, a good text editor should be mobile-friendly and allow you to keep everything organized in one location.
Let's get started.
9 Best Text Editors For Blogging That Are Web Based
Here are some great blog editors if you'd rather use one online rather than install an application or program on your device.
1. Grammarly – Best Text Editor For Writing
Are you looking for an online text editor to improve your writing?
One of the best spelling and grammar checkers out there is Grammarly. Its AI-powered technology shows you how to improve your writing in addition to correcting errors.
It is web-based and now includes a desktop application for Mac and Windows as well as browser add-ons.
Features such as spelling, grammar, plagiarism, punctuation, word counts, writing assistance, reading time, etc. are included.
Bloggers who wish to keep all of their work in one location and benefit from helpful editing features will find Grammarly to be the ideal solution.
Grammarly's basic writing features are available in its free version, which might be adequate for some people. Before upgrading to the pro version, you can also try out the free version.
You can find a comprehensive overview of the tool in the detailed Grammarly review.
2. WordPress Editor – Blog Post Editor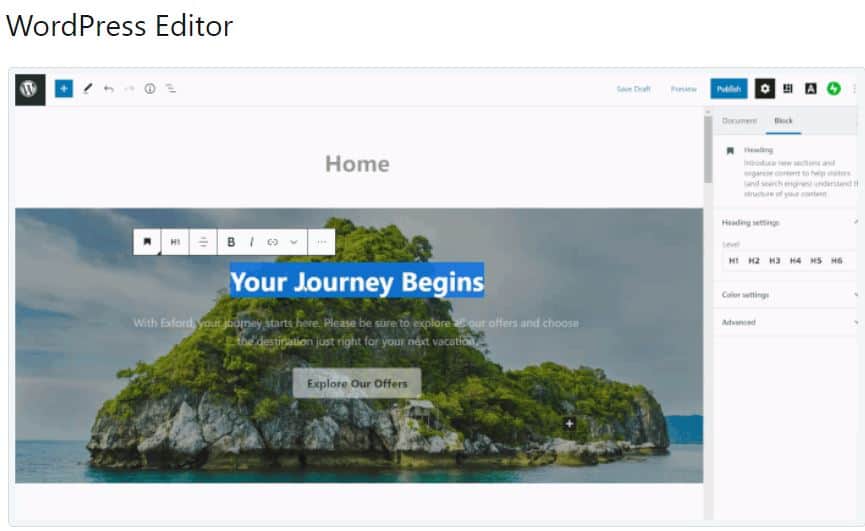 This may be the easiest option if you don't mind using the WordPress editor.
Since its initial release, the Gutenberg blog editor has evolved significantly, even though there is a little bit of a learning curve.
If it is not convenient, you can still use the previous editor. Just install the plugin for the classic editor.
The simple Gutenberg editor has features that make you more productive. You can create and modify articles more quickly by learning some keyboard shortcuts.
You won't have to copy over your work each time you publish a new blog article if you use WordPress.
Just be sure to create backups of your writing in the event that something goes wrong unexpectedly.
3. Google Docs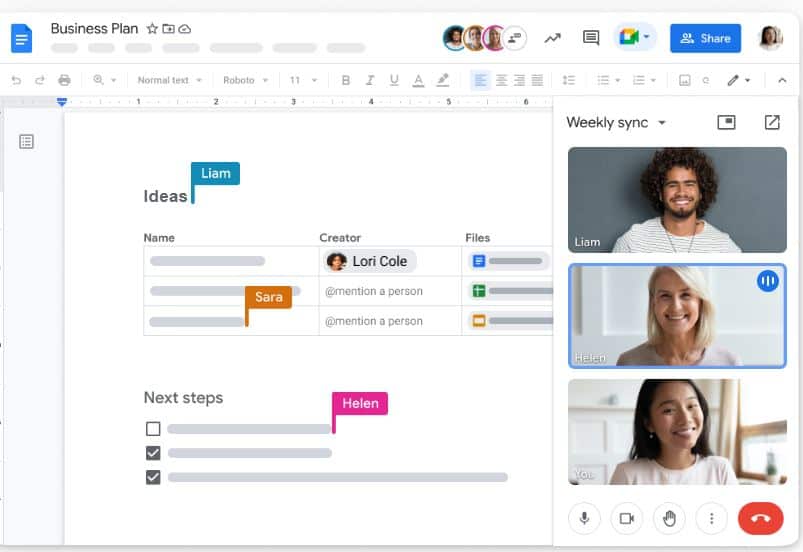 One of the best text editors for blogging that is free and simple to use is Google Docs.
It includes a number of formatting capabilities found in most word processors, and you can collaborate with other people and share your work.
Moreover, you can use the free browser extension Flowapps.co along with it. It's supported in Firefox and Chrome and removes the clutter to improve your writing experience.
Your work is automatically saved when you use Google Docs, and you may organize the files in various folders and store them in Google Drive.
The main drawback of using Google Docs is that if you don't import your work to WordPress correctly, there will be formatting issues and strange characters.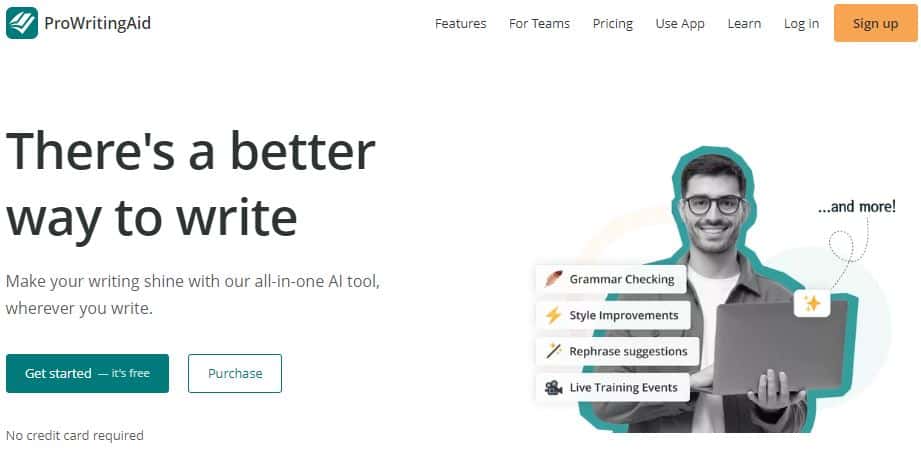 Another online blog editor like Grammarly is ProWritingAid.
It has a number of sophisticated features that can help you write better and improve your grammar, punctuation, and spelling.
The web-based interface allows you to save all your documents. The AI tool detects in real-time while you write, providing tips for where to improve and make changes.
If you work with other editors and would like to have their capabilities, there are several integrations available.
They are supported by browser extensions for Firefox, Chrome, Safari, and programs like OpenOffice, Google Docs, Microsoft Outlook, and Microsoft Word.
There is also good writing assistance and a WordPress plugin so that you can do all the work directly in WordPress.

For more information, check out the ProWritingAid review.
5. Dropbox Paper – Rich Text Editor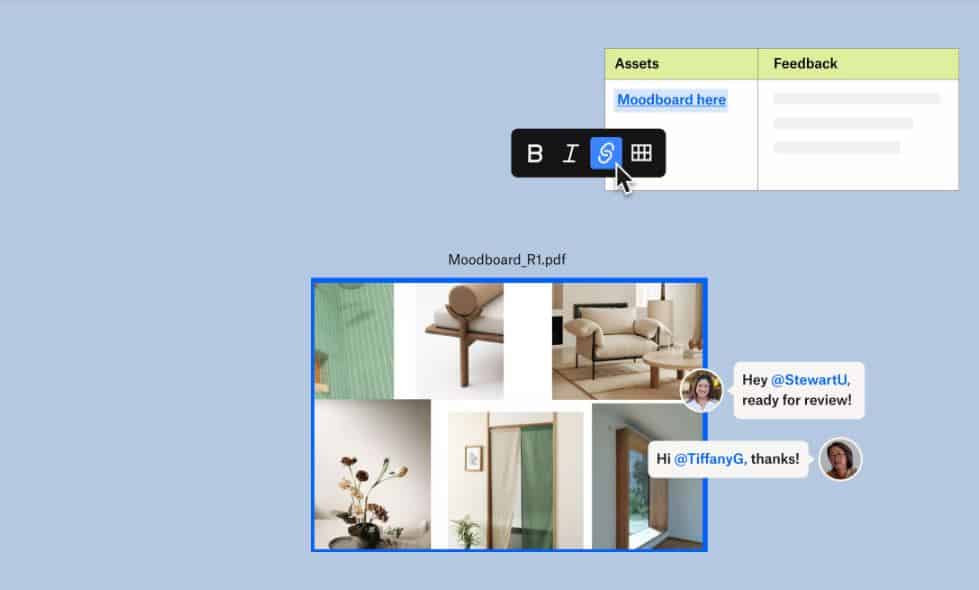 For creative and collaborative teams who are looking for something like Google Docs but require powerful multimedia integrations, Dropbox Paper is the recommended editor.
It's a fantastic choice for anyone who wants an alternate option for Google Drive or already uses Dropbox to store big files.
Its helpful features include embedding content from tools like Dropbox, Trello, Airtable, Spotify, and YouTube right into your work.
This is really useful if you need these integrations for your documents.
The syntax highlighting and integrations with GitHub and Gist are suitable for programmers.
This blog post editor is ideal for teams because it includes collaboration options. Every line of text can be commented on, and each collaborator's writing is specified by name.
Dropbox Paper is a good option for bloggers looking for a place to save information separate from their blogging platform because it is very simple and free of distractions.
6. Notion – Blog Editor App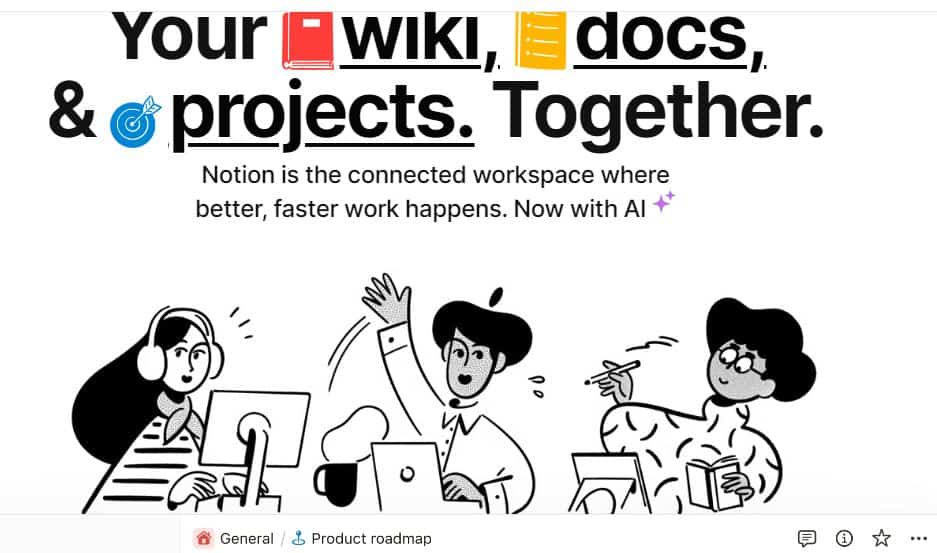 Notion offers a comprehensive toolkit to assist bloggers, content managers, and authors to organize articles, updating web page content, and managing several projects.
All the standard formatting options are available in documents, along with advanced folder management capabilities and the ability to link your work together.
With a number of additional features, it's a simple and clean text editor tool.
This web-based editor is supported on apps for iOS, PC, and Android.
Also, it is totally free for individual use and has a reasonable monthly fee for business users.
7. Word Counter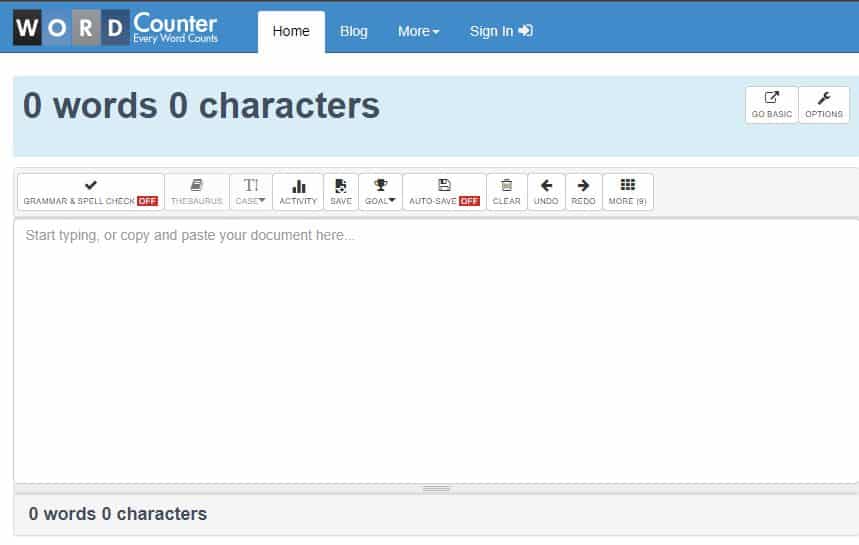 This free web-based text editor shows how many characters and words you have written.
It is a straightforward tool that shows information about your work; there aren't any formatting options.
The right-hand box, for instance, offers a number of options such as:
Average word length
Average Sentence (words)
Characters
Longest sentence
Handwriting time
Paragraphs
Reading time
Reading level
Unique Words
After creating a free account, you can start a writing task and keep track of your work over a period of time.
You can decide what you want to use, and it lets you toggle and set each option. Also, you can use the basic mode to hide all the options and just do your writing.
8. Calmly Writer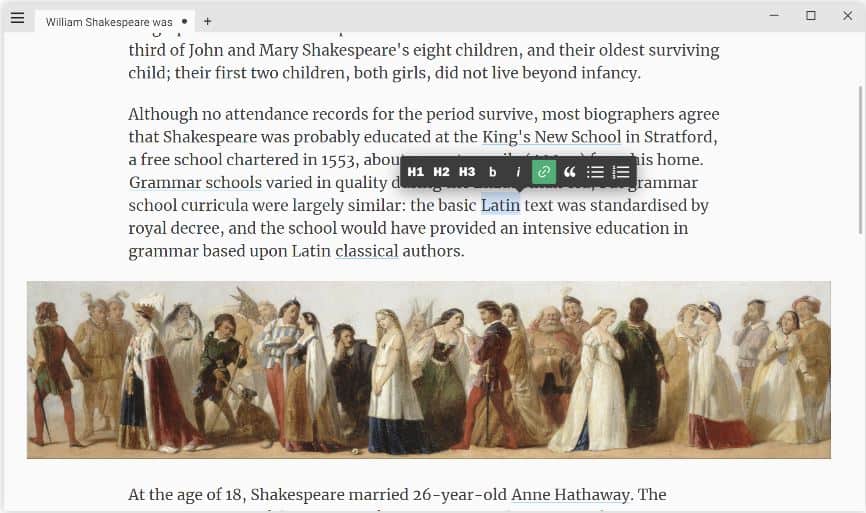 The most basic online writing tool on this list is probably Calmly Writer. It has a blank page on which you can write.
By pressing F11, you can see the page in a full-screen setting, which just displays the text.
You can format your content with a markdown or highlight the text and pick the desired options.
Next, select "Save" from the menu that appears by clicking the icon in the top left corner.
Writing is saved in the browser, but you may also save it to a Google Drive folder or download it in .docx, .htm, or .txt formats.
You can download Calmly Writer on devices that are running Mac, Windows, Chromebook, or Linux giving you additional control over your files and the possibility to open multiple tabs for the documents.
9. Zen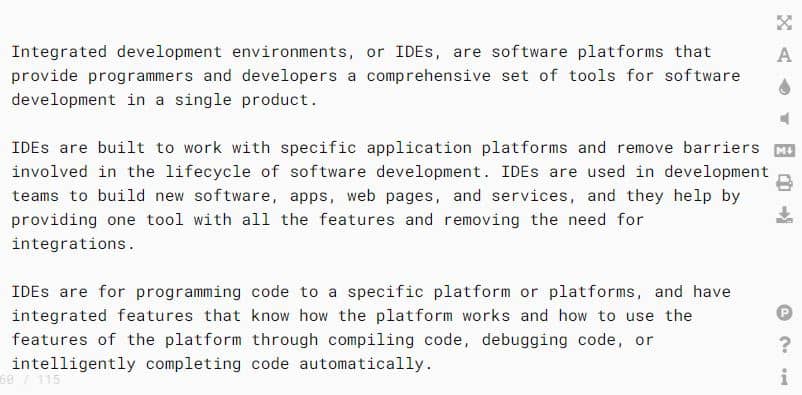 This is one of the easiest and most basic text editors available for web browsers.
You type on a blank page with a few configuration icons to the right of the page, which disappear once you begin writing.
In the lower left, it also displays your character and word count.
With the configuration options, you can choose from:
4 color schemes
3 distinct font styles
Turn on/off full-screen
Enable sounds while typing
You can download the file in a.txt format and print your completed work.
The downside is that the website only allows you to write; it does not store or back up the work.
Although it provides a good writing experience, it might not be practical for writers who need to access all of their work in one location.
3 Best Text Editors For Developers And Bloggers
What are the best text editors for programming?
You should look at using one of the following tools if you're a developer. As an added feature, these text editors provide syntax highlighting, which is necessary for HTML and different programming languages.
1. Atom – Best Text Editor For Programming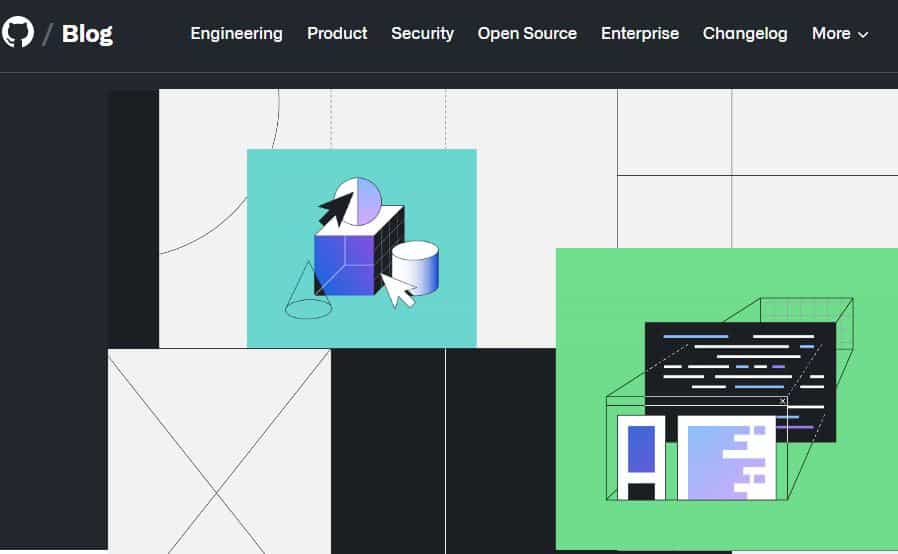 According to Atom's creators, it is a text editor that is modern, yet hackable. Coders, bloggers, and writers can use this open-source and free desktop application.
This well-liked text editor's key features include:
Works on Mac, Linux, and Windows
Autocomplete feature
Find and replace
Multiple panes
Themes
Packages – Select from several packages to add more features and capabilities
2. Sublime Text
This is a well-liked text editor for developers. Bloggers and writers can use it as well.
The main features are:
Python plugin API
Regex Find and Replace to easily access files and navigate through lines of text
Works on Mac, Linux, and Windows
Advanced customizations
Spell check feature that corrects and updates when you type
Keyboard shortcuts that are customizable
An auto-save feature so that users don't lose their work
3. Notepad++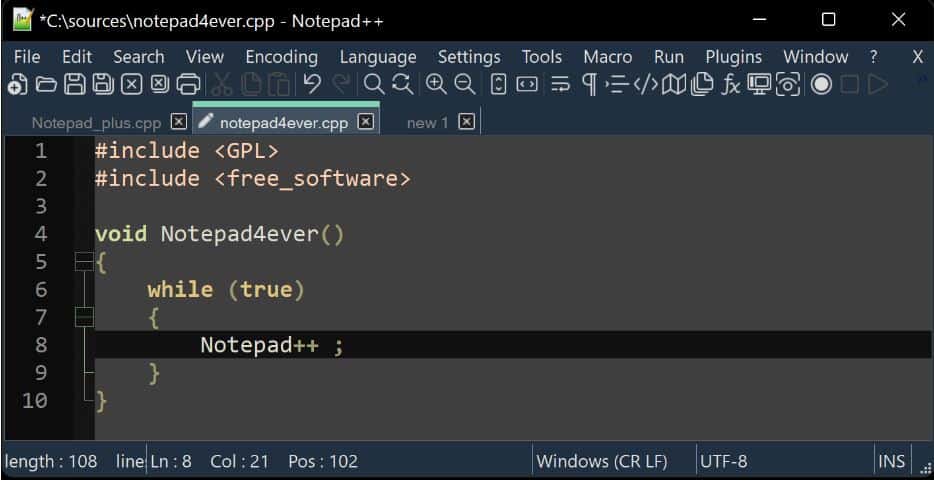 This is almost like an advanced version of the default Windows notepad.
It offers several cool features, like auto-indentation, syntax highlighting, and autosave.
Similar to the other programming-based editors on this list, it's best suited for experienced bloggers or developers.
5 Best Text Editors For Writers That Are Windows And IOS Based
For Microsoft Windows and Mac, you can download the text editors, programs, and apps listed below.
1. Hemingway Editor – Best Text Editor In Mac
Hemingway Editor is more than simply a text editor; it helps you improve your writing skills. It comes in two versions:
Free web-based version
Premium desktop version for Windows and Mac
The tool functions by emphasizing certain words, phrases, and sentences, such as:
Passive voice
Adverbs
When a phrase is difficult or very hard to read
If there is a better alternative for a phrase
It provides a visual cue for when to edit your text. In addition, there are statistics on sentence and word counts as well as a readability score.
It's a fantastic tool for writers that are starting out, but it lacks some of ProWritingAid's and Grammarly's more sophisticated grammar, spell-checking, and punctuation features.
2. Obsidian
Obsidian has features that go beyond a text editor. The company calls it "a second brain".
Basically, you use this markdown editor to take notes and link them together to create a smart knowledge database.
This is fantastic for bloggers since it makes it easier to build internal links before publishing them on your site.
Obsidian applies markdown, a simple character-based text formatting language that enables you to use dashes for bullet points and hashtags for headings.
All working documents are kept on your device, but for a small annual fee, you may sync and back up your work in the cloud.
If you have many ideas for blog posts, Obsidian's open graph view can make it really simple to see how they can all be linked together.
Obsidian is open source and free to use with Mac, Windows, and mobile devices.
3. iA Writer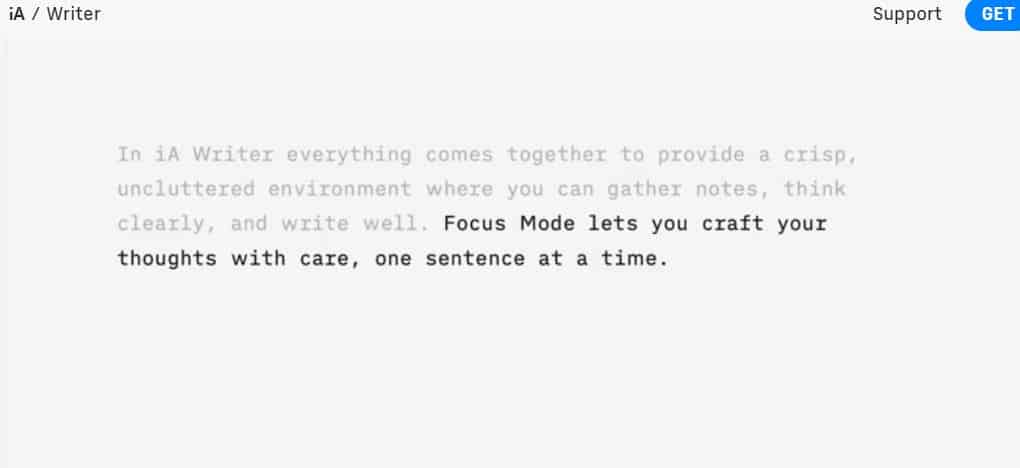 Another free Markdown tool for mobile and desktop is iA Writer. The interface was developed in Tokyo with the goal of reducing clutter so that you can work on your writing.
Features include:
Focus mode lets you focus on the sentence you're writing
Flexible Blocks for moving sections around, adding images, etc.
Syntax highlighters to highlight words that need improvement
Style checkers for editing on the device
iA Writer is supported in iOS, Mac, Android, and Windows. There is a free trial and the tool requires a small one-time payment.
4. Ulysses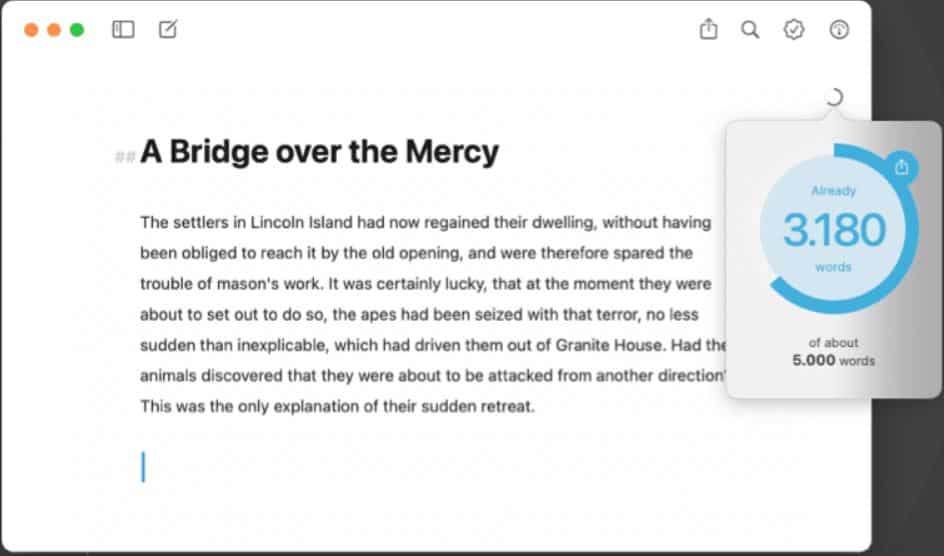 One of the top text editors for blogging on an iOS device is Ulysses. It is a robust markdown text editor and a paid tool.
This editor is ideal for those who enjoy writing and are looking to better organize their projects.
A built-in editing assistant and proofreader are available. It helps you stay focussed with its clutter-free interface.
Ulysses can convert your project into eBooks, PDFs, Word documents, and even blog articles, which is useful for bloggers.
5. OmmWriter
OmmWriter is a premium Windows and Mac application that enhances your writing experience with relaxing backgrounds and sounds.
This tool was created to increase mental clarity, much like a meditation exercise, so you can focus more on your work.
You can select from a variety of backgrounds, including a starlit sky or snowy field, soothing background sounds, and elegant font styles.
It is a minimal text editor without a lot of features.
FAQs – Best Text Editor For Blogging
1. What text editor should a beginner use?
For beginners, user-friendly text editors like Atom, or Sublime Text are recommended. These editors provide a simple interface and features like syntax highlighting and auto-completion.
2. Which software is used for blog writing?
When it comes to blog writing, WordPress is a popular choice. It's a content management system (CMS) that simplifies content creation and management. While not a traditional text editor, WordPress offers a built-in editor for writing and publishing blog posts.
3. What text editor do most programmers use?
Many programmers prefer using integrated development environments (IDEs) over text editors. IDEs like Visual Studio, Eclipse, and IntelliJ IDEA offer advanced features for coding tasks, project management, and debugging.
4. Which is better IDE or text editor?
The choice between an IDE and a text editor depends on the programmer's needs. IDEs are feature-rich and suitable for complex projects, while text editors offer simplicity and flexibility.
5. Can you use Visual Studio as a text editor?
Visual Studio can be used as an IDE but also has a lightweight version, Visual Studio Code, which serves as a text editor with extensive customization and language support.
Final Thoughts – Best Text Editors For Blogging
I hope you find this list of the top text editors for bloggers useful.
It can take some trial and error to find the editor that is the best fit for your needs
iA Writer or Obsidian are great options if you are looking for a downloadable tool that you can use on various devices.
Zen or Calmly are minimal or basic editors, while Grammarly is a terrific choice if you require a complete writing assistant.

Related: You might be interested in checking out the top sites for blogging.