In order to fully leverage the power of email marketing, you must first understand the psychology behind it and know how to design an email newsletter.
Email marketing is powerful. It works. It's something you should do if you want to drive more sales.
According to research, email marketing is invaluable in taking your business to the next level. However, many businesses find it challenging to make their email marketing campaign successful.
It is not effective sending the newsletter of a company only to fulfill the weekly or monthly requirement.
Your newsletter is an important marketing tool, and you should take this into consideration in your email newsletter design.
Knowing the tricks of the trade is essential for creating an effective email marketing campaign.
It's difficult to get people to open your emails, read them, click on the links, and take action.
How To Create An Effective Email Newsletter
1. Have a compelling reason for people to sign up
You'll need an active list of email subscribers to get conversions in the first place.
Giving them a compelling reason to join is the best way to go about it. Simply saying "subscribe to our email" isn't enough.
What are your options for dealing with this? Offer something of value. People are always thinking about what's in it for them. Give them a reason to register. Take a look at the following example from Fossil's website:
Customers who subscribe to their newsletter will get a $25 discount on their purchase. Opting in is a no-brainer for consumers.
But the value provided doesn't end there. Their newsletter subscribers get access to exclusive deals as well. This means that they will receive more discounts in the future.
Consider other ways your business can offer value to potential newsletter subscribers besides monetary discounts.
It all depends on your industry and market but try to think outside the box. Customers who sign up for an airline's newsletter, for example, could be given priority boarding.
Anyone who signs up for your company's newsletter could receive free e-book downloads or online seminars. If your company conducts events, you can offer subscribers free admission or parking passes.
Get creative here. The more people who sign up for your company's newsletter, the higher your conversion rate would be.
2. Stay focused on your objective
What do you want to achieve with your newsletter?
Before you start to create email newsletters, this should be the first thing to ask yourself. How would your subscribers know what to do if you don't know the answer to this question?
The following are some common objectives for email newsletters:
increase revenue
boost your social media presence
get a free e-book
direct visitors to a landing page
raise awareness of a new product or service
There are a number of other objectives that your company might pursue. However, if you're having trouble, use these as a starting point.
Choose one and stick with it. Trying to cram all of these objectives into a single message is difficult and will confuse the visitors.
Sendinblue has a perfect example of a newsletter with a straightforward goal: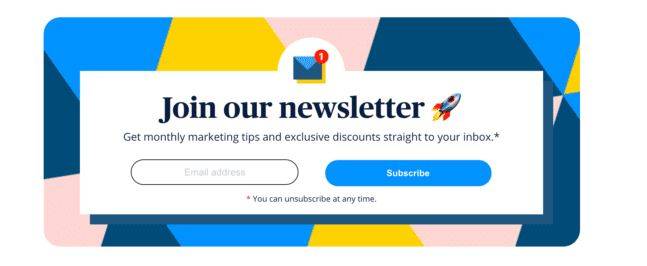 The aim of this newsletter is to increase clicks in order to boost engagement rates. Instead of tackling multiple objectives, they provide their visitors with a simple option to subscribe to their blog.
Depending on whether the CTA button is pressed, they'll receive marketing tips and free content.
Even if you don't want to be as overt, you can use a similar approach for your company's newsletter.
Start with the headline or introductory statements. Then, by referencing it once or twice in the message, go through it in greater detail. Finally, as in the example above, end with a clear call to action.
It should be emphasized. Don't leave any room for ambiguity. After reading your newsletter, the consumer should have a good idea of what to do next.
3. Increasing open rates of the emails
Having prospects to open your emails is half the work.
According to Mailchimp statistics, government-related emails have the highest open rate of 28.77%, while hobbies came in second at 27.74%.
Look for your industry in the list and compare your open rates.
These figures aren't surprising.
Keeping the emails as personal and interesting as possible has helped me increase my open rate.
For example, for your 'from address', I prefer using my first name.
Why is this the case?
This is seen in my results. What compels you the most to open a permission-based email?
The sender is what would entice me to open an email.
Is this someone that I trust? Would I feel comfortable if they contact me? Do I enjoy what they write? Is it going to be beneficial to me in some way?
Personally, looking at who sent the email is the easiest way for me to figure it out.
Take a look at the figures from Litmus. When it comes to open rates, the sender has a bigger impact compared to the subject line.
Most people are so inundated with emails and won't open something from an unknown source. Many of them, on the other hand, would open an email from someone that they know who is reaching out to them individually.
If you've signed up to receive emails from me, you're expecting the sender to be "Robin Mathew" or "KISS Investments".
I put together the email, so might as well make it clear.
Furthermore, it gives you, the subscriber, the impression that you're hearing from me, not some no-name email marketing app.
4. Add a compelling subject line
If no one opens your company's newsletter, you won't get any conversions. Your marketing campaign's effectiveness is dependent on the subject line you use.
You'll have a higher chance of getting better conversions from your newsletters once you understand how to improve open rates using different subject lines.
Have a look at the data on how recipients perceive the message subject lines.
As can be seen, the subject line can influence whether a message is opened or marked as spam.
What would you do to get people to read your company's newsletter? Make sure the subject lines aren't dull, to begin with. Subject lines like "January Newsletter" don't entice recipients to open their emails.
Personalize The Email
Personalized subject lines can increase open rates by 50%. Furthermore, personalized messages have the highest click-through rates.
Using the recipient's name is one of the most prevalent ways to personalize a subject line.
A time-sensitive subject line is another appealing way to get people to open the newsletter of a company. Think of a way to instill a sense of urgency in your audience.
Your newsletter contains important information that should be read immediately. Your subscribers will want to know about breaking news right away.
I've discovered that addressing a common problem or concern is also an effective strategy.
You may, for instance, assure that the contents of your email will help solve a problem, provide useful information to better readers' lives, or make them happy.
You'll want your subject line to pique readers' interest to the point that they can't wait to open your email.
You'll want to get your readers intrigued by leaving a void that can only be filled by clicking the email.
For example, a B2B business could use a subject line like "How To Reduce Costs With This Simple Step."
An email I sent asking for people's opinions had one of the highest open rates of all my emails. I was genuinely looking for feedback from my subscribers.
I created a void between my request and the point of my request when I asked for readers' opinions. People wondered why I needed an opinion. As a result, the open rate increased.
I've seen other successful marketers do the same. For example, the following format of the subject line works well: "I would really appreciate your help with…"
Buffer understands that their audience is interested in social media advice. That's why they come up with subject lines like this: "Here're 7 Eye-Catching Content Tips to Try".
Power Words
Incorporating power words that inspire readers and cater to their emotions can also have a significant effect.
When writing your newsletter's subject line, keep these words in mind.
Here are some examples of power words you can use:
fantastic
incredible
mind-blowing
wonderful
According to Kajabi, the following greed power words have the greatest effect on content marketing:
save money
bargain
free
earn more
Do you catch my drift? For more inspiration, I suggest checking out Sumo's list of 401+ power words.
There is another thing I do to save time and effort in improving the success of my email campaigns. I reuse or modify the titles of my blog articles for email subject lines.
I know that this isn't possible for every industry or email outreach campaign. However, it works for me. My email marketing activities are intended to help people by providing them with useful information. Of course, the subscribers are redirected to the content on the blog. As a result, I would rather use the title of my article as the subject line (check out the Newsletter Title Generator).
5. Come up with a great opening line
Now that you've gotten people to open your email, you need to pique their interest with a killer first line.
This is even more crucial than most people think.
Why am I saying this?
The subject line isn't always the first thing people see when they open an email.
That's right.
You've always heard that the subject line is the most important part of an email. However, as I previously said, the sender seems to have a greater effect on whether the email is opened or not.

But is that all there is to it? The sender and the subject line?
Not quite. The first line is also an important aspect of a well-designed email newsletter.
In fact, in most email systems today, a portion of the message is displayed directly in the email templates. To read the introduction of an email, you don't have to open it.
The body of the email has enough visibility depending on the length of the subject line (and the size of the window).
This isn't limited to desktop email applications. Mobile devices should not be overlooked.
The opening line is shown in most mobile email applications.
What To Put In The First line
I like using the first name of each reader. This comes across as personal and genuine, which is essential in persuading them to continue reading.
I like to avoid the standard "Hello, my name is…" introduction.
Instead, I tend to use openers like "I saw that you…" or "I noticed that we both…"
This method allows the reader to connect with me more easily and quickly. I get their attention by mentioning a shared experience.
Be sure to get to the point of your email right away. People who are trying to figure out what the email is about will be turned off by unnecessary details.
Simply get to the point so that you can establish an immediate connection.
Your readers will appreciate it if you write like this. You are considerate of their time. You provide them with what they need. They can then go about with their business.
6. Make a connection within the body of the message
Now is the time to make a genuine connection with your reader. It's your chance to show how your product or service can add real value to their businesses and improve their lives.
I recommend keeping it short and clear, and not overwhelming your reader with too much information.
Keep in mind that the goal is to get their attention and establish some early rapport. You're just trying to get them to warm up so you can move them down the sales funnel.
You're not really going for the kill right away.
Make sure the text is broken up into short, easily comprehensible paragraphs.
When speaking to readers, I also recommend using the second person and referring to them as 'you'.
Ask personal questions in your email to make it feel more personal as if you were speaking face-to-face.
HubSpot provides some nice examples of this:
Is X a priority for you right now?
What do you think about [industry event]?
What would it mean to you if your business was able to achieve [benefit]?
If you've ever read Miles Beckler's emails, you'll know how well he does this. The paragraphs are just a sentence long. The vibe is unique and personal. And the email's entire message is spot-on: it's chock-full of useful, actionable material.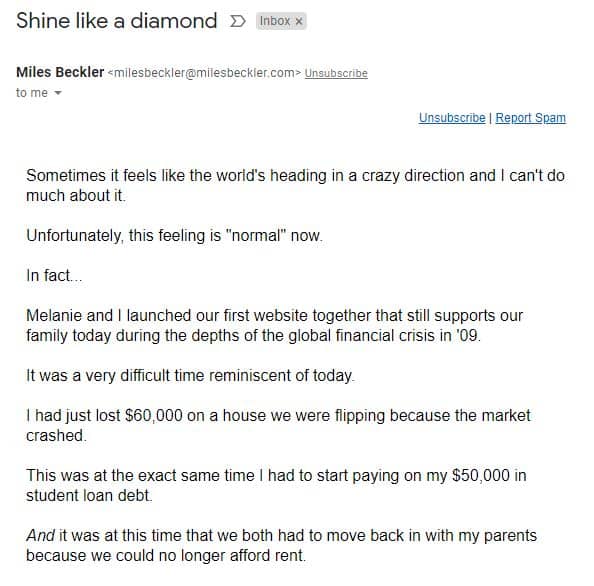 7. Maintain consistency without annoying your readers
People who sign up for your company's newsletter anticipate hearing from you on a regular basis. Make sure that the newsletter is sent to your subscribers as expected.
If they subscribed for a weekly newsletter, you should send them something once a week. For those who signed up for a monthly newsletter, sending them an email a couple of times during the year is not meeting the expectation.
Your brand's integrity will be suspected if you fall behind on your consistency. If you lose your reputation, your subscribers won't convert.
On the contrary, people wouldn't be happy if they expect a monthly newsletter but end up receiving emails three times a week. This is aggressive and can lead to them unsubscribing or reporting you as a spammer.
Look at the most common reasons why people unsubscribe from an email newsletter.
Receiving too many emails is one of the top ones on the list.
This is something I see happen to businesses all the time. You can't misuse the permission that someone has given you in sending emails.
8. The content should be relevant
As seen before, people often unsubscribe from emails if they believe that the content is irrelevant. It's imperative that you remain on topic and within the scope of the brand.
As an example, suppose you own a business that sells household items such as couches, coffee tables, and lamps. You should avoid discussing the weather, politics, or recent sporting events in your newsletter.
It has nothing to do with your brand and isn't something your subscribers want to read about.
In general, staying away from controversial subjects in your newsletter is a smart idea. Unless, of course, your company is in one of those niches – politics, religion, race, etc.
Based on the relevance of their email content, people have a different perception of industries.
The retail sector seems to be doing well on this front. If your company is in the non-profit, media, travel, or entertainment industries, you might want to reconsider your ideas for newsletter topics.
Allowing your subscribers to select what they want to receive is one way to ensure you offer the most relevant information. They may also choose how often they would like to hear from you.
Customized Options
It would be great if the subscribers are allowed to configure these options when they first sign up for the newsletter of a company. Here's an example from TechCrunch to illustrate the point:
Emails are sent to new subscribers by default. They can, however, uncheck the Startups Weekly option if they don't want to hear from the company on a weekly basis.
These subscribers may also choose the type of content they would like to receive. People who want to receive Max Q (newsletter about space) may not be interested in learning about Actuator (robotics news).
You won't have to worry about your subscribers feeling that your content is irrelevant if you use this technique.
You may have to write several newsletters per week and month, which will add to your workload. But it'll be worth it because the conversion rates for each campaign will be much higher.
9. Use visuals to help the content stand out
If you've been following my blogs for a while, you'll know how much I enjoy explaining concepts with images.
You can use the same approach even though your newsletter isn't a blog. You must realize that not everyone will read your entire text.
The average time spent by a subscriber on a newsletter after opening it is 51 seconds. Furthermore, people only read about 19% of the page's content.
Include visuals if you want your message to be remembered by your audience. People would be able to browse through your content more easily if you use images and infographics.
Additionally, strive to incorporate videos into your email design. Emails with videos boost click-through rate by 65% and open rate by 19%.
Even if they don't read every line, they can get a general idea of what you're saying. This relates to the reason for maintaining a consistent objective in your newsletter.
Visuals can influence a reader and content with relevant images get 94% more views. This is evident in social media campaigns.
The majority of people are visual learners. Videos and images help with the processing and retention of information. Don't be hesitant to include these elements when you design an email newsletter.
Furthermore, visuals will make the newsletter of a company look more organized. Nobody enjoys reading large blocks of text.
10. Monitor your progress
Taking the time to measure your progress is the best way to find out whether or not your newsletter is converting.
These analytics tools should be available in whatever email marketing service you're using. Take advantage of them to assess your results.
Consider the following:
Open rate
Bounce rate
Click-through rate
Unsubscribes
Determine which newsletters had the most conversions. Continue to use the same approach.
If the conversion rate on any of your newsletters is low, you need to figure out what went wrong. Didn't you have a clear objective in mind? Was the content unappealing?
It will be easier to make the required changes once you find out why your newsletters aren't working as expected.
However, you can only do this if you are actively keeping track of the progress of each campaign.
11. Storytelling
As mentioned earlier, people do not devote a lot of time to reading the newsletter of a company and reviewing the content. You'll need to think about new ways to keep your audience interested.
Stories are engaging.
If you've piqued the interest of your subscribers with a compelling story, they'll want to keep reading to find out what happens next. What story can you use?
Put some effort into it.
You can tell a personal story or one about your business. Make sure it's appropriate. Don't be monotonous.
Telling a story will help increase conversions.
It's also a powerful B2B marketing technique.
It's not necessary to include stories in every newsletter, but it's a good idea to do it every now and then.
12. Create a sense of urgency
Here's something I've discovered.
Many people have the habit of putting things off. Maybe they're preoccupied with something else, or they're simply not in the mood to do what you want right now.
This is disadvantageous because the chances of them returning to an email after they've closed it are slim to zero.
That's why it's important to instill a sense of urgency in them, so they are motivated to act right away.
Most marketers find that the most difficult part of email marketing is getting people to perform the call to action (by clicking on a link or whatever the goal of the email is).
Setting a strict deadline has proven to be effective in this situation.
You could say things like "grab it before it's gone," "just 5 spots remaining," or "offer expires tonight."
This is necessary in order to get a quick response.
13. Finish with a bang
The closing of an email, aside from the subject line, is arguably one of the most important parts of the email.
It's at this stage that a reader will determine whether or not to take action on your offer and continue further.
The idea is to conclude and then transition into a well-thought-out call to action (CTA).
What are you expecting them to do next?
It might be to look at a landing page, download an e-book, register for a course, or purchase a product/service.
Whatever it is, your call to action must be absolutely clear.
Tell them explicitly what they need to do next, and it should be apparent so that they don't have to guess.
Some people have the notion that they need to sneak in the CTA or conceal it in the email in some way so that it isn't so direct. Make sure you don't make the same mistake.
The reason you're sending the email in the first place is because of the CTA. Make it bold, compelling, and crystal clear.
Final Thoughts
At the end of the day, email is still relevant and can be just as powerful as many of the latest marketing strategies.
It's easy to get sidetracked by working on a disruptive Twitter plan, forming a Facebook community, or starting a vlog on YouTube.
Those are all fantastic ideas, and I don't see why you shouldn't try to implement them.
That being said, email still matters.
To really get results, you must follow the right tactics to design an email newsletter and know the pulse of your audience.
Your email newsletters are a great way to stay in touch with your subscribers and market to them. You'll see better conversion rates if you write them correctly.
However, you must first get people to sign up for your newsletter. Give them a compelling reason to join.
Make sure you have a specific objective in mind before you begin writing. Finish with a clear call to action that reflects your objective.
Spend some time creating the subject line. To increase your conversion rates, use personalized words and phrases and create a sense of urgency (you may also be interested in checking out the email name generator for business).
Maintain consistency and produce content that is relevant to your audience. Allow your subscribers to choose how often they'd like to hear from you and what subjects they'd be interested in reading about.
Connect with your readers by using visuals and storytelling techniques.
Make sure you monitor the performance of the newsletter to see if the campaign is successful.
You'll notice a significant difference in the conversion rate if you follow these tips to design an email newsletter.