Do you have a large number of followers on social media? Would you like to know how to make money with social media using your followers?
People are currently making money with social media without having their own products.
We've all seen the profiles of virtually ordinary people with a large following on social media.
They seem to be traveling all the time or having a good time. But how are they able to afford to live this fancy lifestyle?
They have large social clout.
According to experts, the influencer marketing industry is expected to be a $15 billion dollar business and will continue to grow.
In 2021, 42% more advertisers used influencer marketing strategies.
61% of consumers trust recommendations from influencers over brands.
If you want to make a living as an influencer on social media, all of this is good news. This article will cover how you can get more attention from advertisers and brands, even if you don't have many followers right now.
Businesses work with micro-influencers to boost the product's reputation.
This informative guide will provide tips for influencers to increase their earnings.
There's enough money to be made in this area if you position yourself correctly. This is why influencer marketing is on my list of top marketing trends to watch.
Making Money With Social Media
The following are the best ways for making money with social media without owning any products.
1. Decide On A Platform
The first step is to determine which platform will receive the most attention.
Eventually, you'll need to have accounts on a number of social media platforms. But your main focus should be on one.
Instagram is used by almost all media influencers.
Instagram was named the most popular social media site by over 89% of social media influencers. YouTube received a little more than 70% of the vote, while Facebook received about 45%.
That's probably because, as opposed to other social media sites, influencers believe Instagram provides the best resources.
Taking these figures into consideration, I strongly suggest you make Instagram your primary channel.
There is no need to reinvent the wheel in this case. You can follow in the footsteps of other Instagram influencers if they're having so much success.
The other social media profiles can be used to boost your personal brand's reputation and, as a result, extend your reach.
You should try to increase your Instagram followers by using Facebook and Twitter.
2. Increase The Engagement Rate
Social influencers have high engagement rates, and this is one of the reasons why brands choose to partner with them.
As a matter of fact, brands consider engagement rate as the main metric for evaluating the effectiveness of influencer marketing strategies.
You can show companies the level of engagement with your followers if you want to make yourself more appealing.
Begin by learning the skill of writing captions that engage your audience.
You need your followers to engage with your content by liking, commenting, tagging, viewing, and sharing it.
Respond to the people who follow you.
I understand how difficult it can be, particularly for those with several thousand followers. The trick is to develop the habit of setting aside time to answer.
If you can't respond, at the bare minimum, like their comments.
Keep in mind that you have to treat this like a real job. If you want to learn how to make money with social media, you must devote some time every day to improve yourself as an influencer.
Everyone would do it if it is easy.
Interacting with your followers will make them feel connected at a personal level with you. They are more chances of them taking action when you recommend a brand, resulting in your promotional campaigns being more effective.
3. Discover Your Area Of Expertise
It's enticing for new social influencers to accept work from any company that pays well. However, you must take into consideration how these types of posts could affect your image.
You don't have to work for a company that compromises your morals and beliefs.
You should also evaluate how the content will impact your followers and how other brands would perceive you in the future.
Let me give you an example to explain what I'm talking about. Casey Fleyshman's Instagram bio is as follows:

Casey has a little more than 750k followers, which is fairly large for an influencer.
While her biography does not directly endorse anything, unlike the previous case, it does include more information about her life and who she is.
She's a certified CPT and CNC who enjoys working out.
Simply stating that you are into fitness and wellness is not the same as actually living that lifestyle. Let's take a peek at some of her photos and check if they match the description: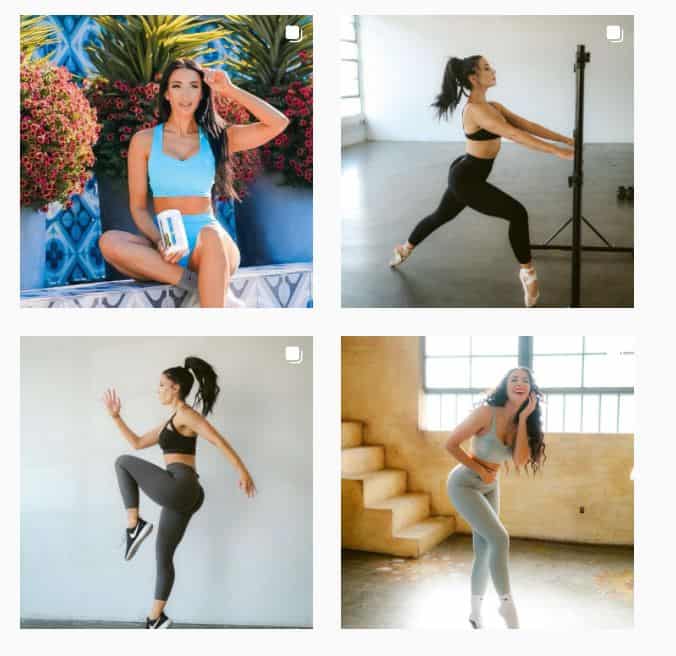 As can be seen, the content is a good fit for the bio.
Casey posts content about her fitness journey and promote items that fall into that category.
If you enter a group that links influencers and brands, make sure the content is relevant to your area of expertise.
Don't claim to be a fashionista in the bio and then never post fashion-related content or collaborate with designer brands. It's illogical, and it's not going to help you make money.
4. Be Part Of An Influencer Network
Another option for making money with social media is to join influencer networks.
These networks help to connect brands with influencers based on the number of followers they have and their areas of expertise.
Brandwatch is a good place to get started.
Let's presume you have a lot of holistic wellness and yoga content on your social accounts.
Obviously, your followers are looking for this type of content, because of which they've chosen to follow you.
It would be easier for advertisers to find you If you are part of one of these networks. They may have a service or product relevant to your content.
If a company wishes to partner with an influencer to promote their latest yoga apparel, these networks are able to connect them with you.
You can also use these tools to manage all your conversation with the brand.
Rather than using direct messages on social media, this will help you remain organized. It's difficult to keep track of all the communication in your account once you have a large number of followers.
5. Giveaways
Everyone likes to get free stuff.
Running a giveaway is one of the easiest methods to increase interaction with your followers.
You should suggest a giveaway once you've started the discussions with brands and determined the type of content to share.
Finally, it is up to them to make a decision. They'll be responsible for footing the bill for the sponsored content.
You don't have to agree with something you don't want to do. If you believe the content they are requesting you to share isn't valuable to your followers, politely decline the offer.
Moreover, you don't want to risk your reputation by sharing anything that someone gives you.
If not, you could experience a decrease in follower interaction.
Here's an Instagram post from Jen Selter:

Jen has over 12.5 million Instagram followers.
How can you entertain 12 million followers? Don't bombard them with spam.
Yes, this Instagram post is clearly supporting a business. But she's presenting it in a manner that benefits her followers by providing them with the opportunity to get something for free.
This post contains all of the necessary components for a successful giveaway.
Even if you aren't getting paid by any brands yet, giving freebies might be the most effective way to expand your following.
It could be worthwhile to spend $100 to buy a gift card as a giveaway for your followers.
You'll be able to show advertisers how well your engagement rates were for the giveaway, as you progress in your influencer business.
You can't be afraid to use hashtags if you're trying to master how to make money with social media.
Don't limit yourself to only one hashtag per post.
Studies show that multiple hashtags increase engagement rates.
5-10 seems to be the optimal number of hashtags to use on Instagram.
However, this does not imply that you should go above and beyond. It may look spammy if you use a lot of hashtags in a single post.
Make use of a wide range of hashtags.
Pick some that are wide in scope and can attract the largest possible audience. For example, #instagood, or #picoftheday are common hashtags to target a broader group.
As a result, the post could be seen by a large number of people.
That being said, you shouldn't spread yourself too thin.
Make some hashtags that are exclusive and more relevant to each campaign. Take a look at Jen's giveaway again. You'll notice that she used the hashtag #JenSelterGIVEAWAY in each post to make it unique.
7. Use High-Resolution Images
Take a look at all of the examples that we've gone over so far. What is it that they all have in common?
Pictures of exceptional quality.
If you would like to become an influencer, make sure you only share high-quality images.
If necessary, invest in a professional camera. Or, at the very least, invest in a new phone with a nice camera.
Make an investment in yourself.
Taking high-quality images will lead to bigger opportunities, as you have seen in the example of collaborating with a mobile app.
Have a look at Vince Sant's Instagram: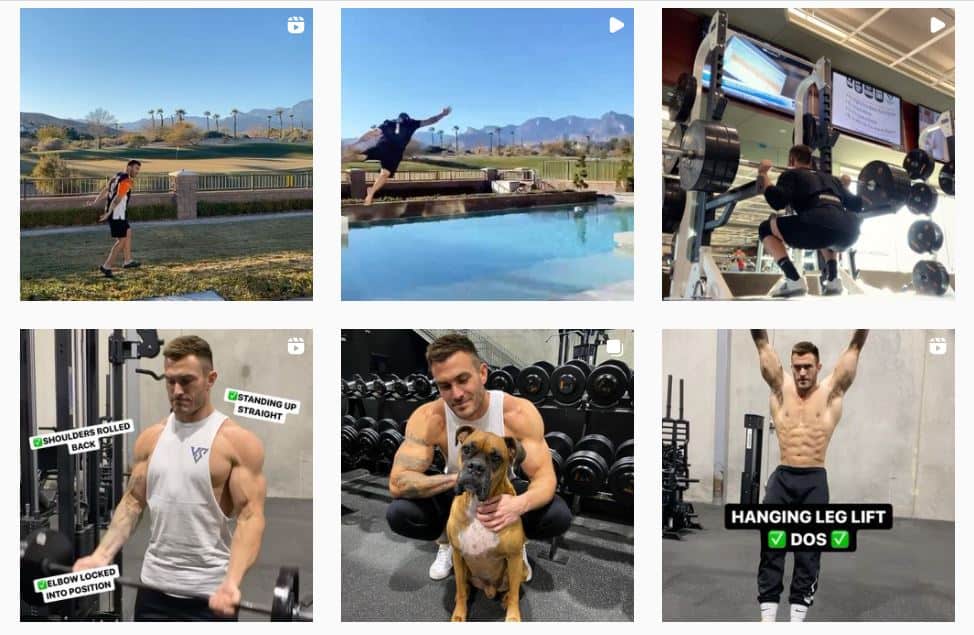 These photos are simple yet stunning.
Vince has over 650k Instagram followers who have subscribed to his posts, which makes it a big selling point for brands.
If you have great images, another possibility for making money with social media is as a freelance photographer. This is the case whether or not you are trying to sell something.
Post photos that will catch people's attention and give you more credibility.
You can capture and edit images without the help of a professional.
8. Collaborate With Mobile Apps
Far too often, the same types of companies can be seen partnering with social influencers. Clothing, fitness wear, shoes, and food are all being promoted.
Although there isn't anything wrong with this approach, it might not be viable in the long term.
Once those brands believe they've gotten the best out of you, they'll turn to other influencers. This may also be the case if they feel that your rate per post is too high.
To expand your horizons, consider partnering with exclusive brands, like mobile apps.
Eric Rubens uses this strategy as a social influencer.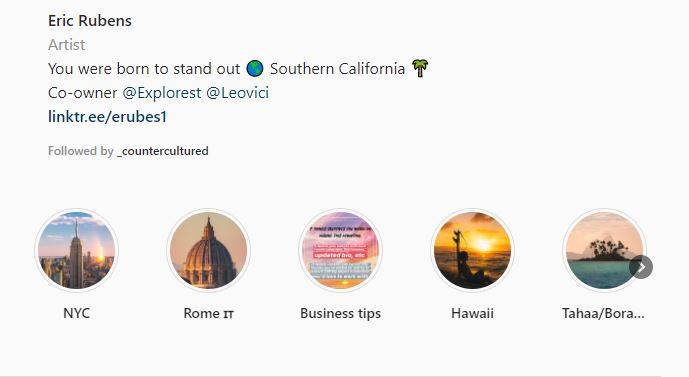 Eric has over 450k Instagram followers.
If you read his bio, you'll notice that he collaborates with a number of different businesses that resonate with his personal brand.
But what is interesting here is his collaboration with Explorest, a mobile app.
This app's concept is quite unique.
It provides users with directions to locations where they can capture nice photographs.
Eric's personal brand is also related to this idea. If you browse through his profile, you'll notice that he takes incredible photos of locations all around the world. As a result, his followers are clearly into this type of content.
That's why it makes sense to partner with an app like Explorest.
9. Recognize Your Value
Sponsored content is the main source of income for the majority of influencers.
Affiliate income and revenue from advertisements are lower than this.
There are many influencers that don't sign a sponsorship contract. You must ensure that you are protected and compensated for your efforts.
Don't just create content for companies that give you free stuff. If you're planning to pick up how to make money with social media, that's not enough.
71% of brands plan to boost their marketing spend for influencers.
Only a small percentage of advertisers intend to cut their marketing budgets.
There's money to be made. You just have to go and get it. Don't stop hustling and settle for less.
What is the value of a post? The figures can vary depending on the size of your following and engagement rates.
Micro influencers (10,000 – 50,000 followers) make $100 to $500 per post.

Mid-tier influencers (50,000 – 500,000 followers) earn between $500 and $5k per post.
There are mega influencers (1M+ followers) that make around $10k per post.
Unless you're a celebrity, you're unlikely to earn over 10k for a single post. But, with that in mind, aiming for the $500-$1k range isn't unrealistic.
Assume you share 2 endorsed posts from 2 separate brands in a week. The first pay you $800 while the second pays you $400.
You'll make more than $60,000 a year if you are able to get paid like that consistently.
10. Make Your Services Known
Maybe you want to know how to make money with social media without having to sell anything. However, you can also promote your services.
I previously discussed how you can collaborate with other companies by capturing high-quality images and then monetizing your content.
That's just one option; there are more ways to go about it.
Have a look at Simeon Panda's Instagram profile.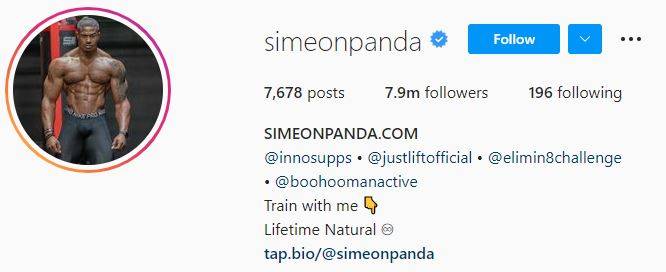 In his bio, Simeon promotes his supplements.
He's obviously a trainer. But he does a lot more than just saying "train with me" while promoting his services.
Instead, he promotes his products with catchy phrases like "clean energy, without the crash" and "athlete".
As can be seen from his posts, his content is relevant to his niche, which is crucial.
So, if you are looking at making money with social media, consider promoting your services through your distribution networks.
11. Be Completely Transparent About Your Brand Affiliations
Being an influencer makes you responsible for thoroughly disclosing any brand relationships you may have.
First and foremost, you don't want to confuse or mislead your followers. That's not ethical.
But, what's all the more important is that the FTC requires it.
According to the FTC, these disclosures must be obvious and clear. They don't want you to use vague terms like #collab or #thanks because that might be misunderstood.
You can't depend on a disclosure which people will only see if they "click more" or access the content on a different landing page.
Look at this post by Gary Vee to see how to better disclose your relationships:

Gary is an influencer in the self-help industry.
He specifically tagged @uno in the caption to reveal his relationship with the company.
There is absolutely no ambiguity in that disclosure. He is abiding by the FTC rules.
Final Thoughts
Right now, there are a lot of possibilities with social media.
People make money without having their own products.
Many of you with a sizable social following can take advantage of your profiles to earn money from brands.
Currently, even if you don't have a large number of followers, you can develop your engagement metrics and following to cater to more potential clients.
You can transform your social media account and make it a source of income if you follow the tips and suggestions I've laid out in this guide.