Which is the best human resource outsourcing company for your business? In the following sections, you can find out the different types of HR solutions that would be a good fit for your organization.
Human resources (HR) is a crucial department for every company.
HR divisions have traditionally been the domain of larger corporations. In a small company, HR duties used to be handled by a bookkeeper.
Today, Human Resources Outsourcing (HRO) is used by firms of all shapes and sizes to execute these critical tasks. In large companies, HR outsourcing can help to save money on operations. Outsourcing these duties and positions is much less expensive than hiring staff in-house.
Top HR Outsourcing Companies
The benefits of Human Resource outsourcing are enjoyed by many businesses today. Some of the best professional employer organizations (PEO) also handle HR responsibilities.
I've narrowed down the companies with best HR services for you to consider after reviewing many of them.
Insperity — HR outsourcing for small businesses
ADP — HR outsourcing solution for benefits management
Engage PEO — The best outsourcing HR company for compliance
Tandem HR — The best HR outsourcing service for lowering risk liability
Paychex — Best human resource outsourcing company for payroll
Zenefits — Software for HR management
TriNet — The most flexible HR outsourcing service
G&A Partners — The best HR outsourcing firm for employee onboarding
Below, I'll go over each of these providers in greater detail, including their features, advantages, and other considerations.
Reviews Of The Best HR Outsourcing Services
1. Insperity — HR Outsourcing For Small Businesses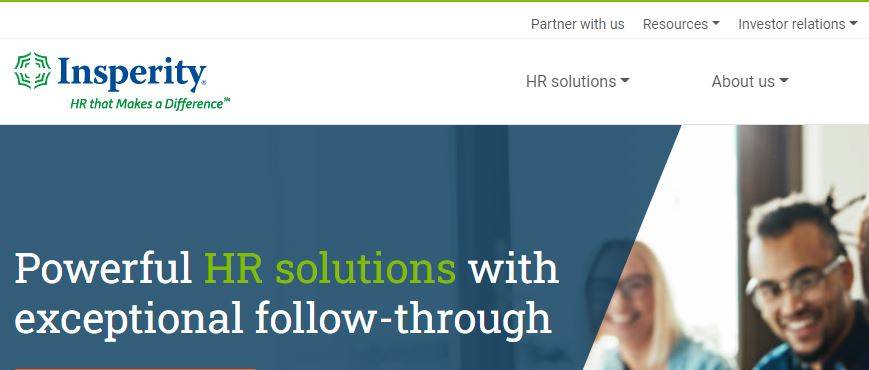 They completely customize HR packages based on your organization's needs, from management software to benefits.
Your workers would have access to Fortune 500-level benefits thanks to Insperity. Dental, vision and medical coverage are also included.
Insperity can handle payroll processing, employment verification, W-2s, and W-4s.
They will also assist you with workers' compensation, liability insurance, and other aspects of risk control. This company assists in HR compliance matters such as government reporting and unemployment claims.
Every company wants to keep the best employees. Insperity will assist you in developing recognition programs, creating a staff manual, and improving the employee training procedure.
Insperity is recommended for mid-sized businesses. They do provide solutions for companies with 5 to 149 staff members. However, their primary focus and experience are with companies having more than 150 employees.
Besides full-fledged HR packages, Insperity can be used for separate solutions such as:
Human Resources consultation
Recruitment
Insurance
Retirement
Bookkeeping and accounting
Insperity provides all of its services with modern and cutting-edge technology like the majority of the companies with best HR solutions.
Insperity has been in business for over 30 years. It is a sought-after option in HR outsourcing with 70+ locations in the country.
2. ADP —HR Outsourcing Company For Benefits Management

ADP provides both software and services in the field of human resources. Small businesses, as well as mid-sized companies, may benefit from their services.
ADP human resources outsourcing is also quite versatile. You can outsource the entire HR management team or only a portion of it.
ADP human resource outsourcing services include the following:
Attendance and timekeeping
Payroll services
Insurance
Plans for retirement
This company provides both corporate insurance, as well as group health insurance for the employees. Since ADP is such a big enterprise, it has the clout and negotiating power with all the major health insurance companies.
As a result, even small companies will get access to outstanding employment benefits that they wouldn't be able to get anywhere else.
ADP has a knowledgeable HR support team that can be contacted by email, phone, or live chat. They will create and distribute all the required policies, job descriptions, and forms for your company. You are also able to create your own employee handbook that complies with local and federal regulations.
They even give the advice to help you get the most out of your HR experience.
ADP has it all, from compliance to benefit plans and configuring employee self-service software.
The cost of HR outsourcing is not shown on the website, but you can request a free quote.
3. Engage PEO — The Best Outsourcing HR company For Compliance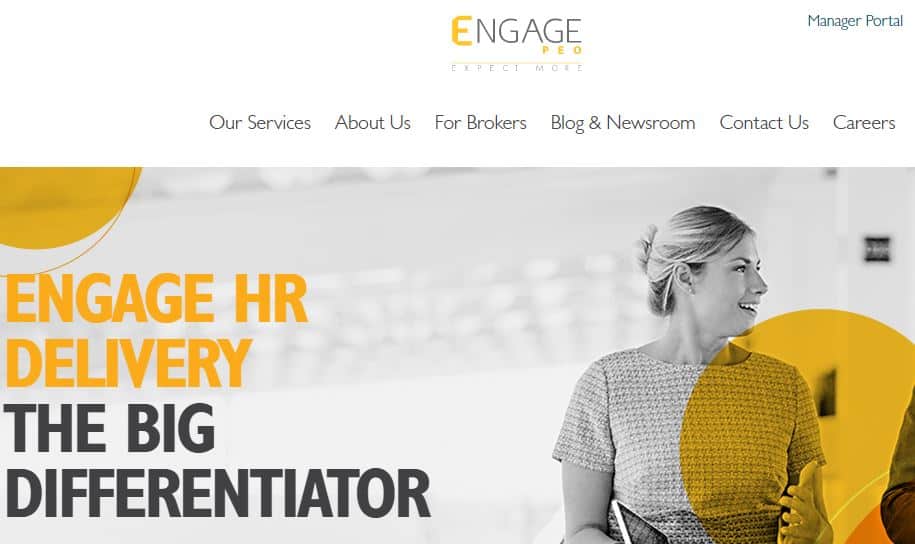 This is a full-fledged professional employer organization. Through their creative business model, they offer PEO services that always strive to meet the client's needs first.
What distinguishes Engage PEO as an HR services company? It's all about the team.
Every single person in their HR advisory group is a legal professional. Their attorneys have a great deal of experience in employment and labor law.
Engage PEO would be a top option for those of you with diverse HR needs in industries that follow strict compliance. Here's a rundown of their most common outsourced HR services:
Staff handbook
Workplace practices
US Department of Labor, Occupational Safety and Health Administration compliance
Processing of unemployment benefits
Equal Employment Opportunity, Americans with Disabilities Act, and Family and Medical Leave Act compliance
Help with recruitment and hiring
Drug screening and background check
Worker training
Liability insurance for employment practices
In addition to tax and payroll administration, Engage PEO also provides risk management, workers' compensation, advanced technology solutions, and employee benefits.
4. Tandem HR — The Best HR Outsourcing Service For Lowering Risk Liability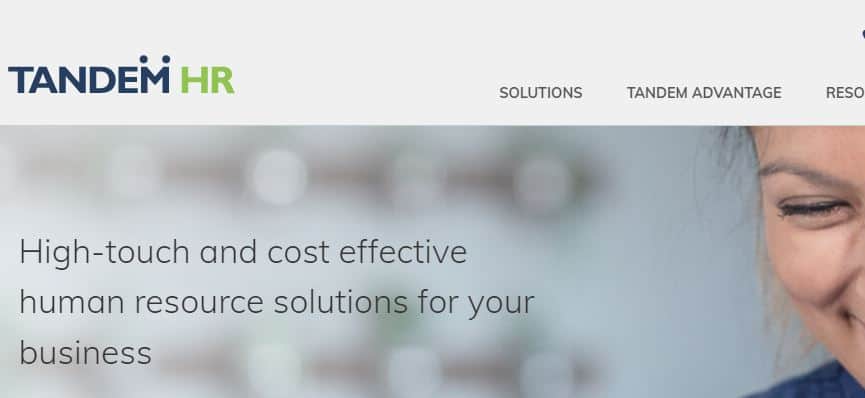 Tandem HR provides small businesses with a variety of human resource options. They have the resources and capabilities to assist small businesses during their growth.
Tandem HR would be a top option for you to consider if your company is rapidly growing and you need an outsourced HR firm to scale with you.
Tandem HR appeals to me because they do not believe in one-size-fits-all solutions. Every company receives a completely tailored plan based on its requirements. Tandem HR, being a full-fledged PEO service, has solutions and tools for:
Human resources services
Payroll services
Technology
Contingency planning
Benefits
The majority of small businesses lack adequate HR infrastructure. Tandem HR will assist you in establishing this and managing the entire department. Tandem HR will evolve along with your company as it expands.
These customized HR solutions can save you time, and money, increase employee efficiency, attract talent, and stay in compliance with federal and state regulations.
5. Paychex —Best Human Resource Outsourcing Company For Payroll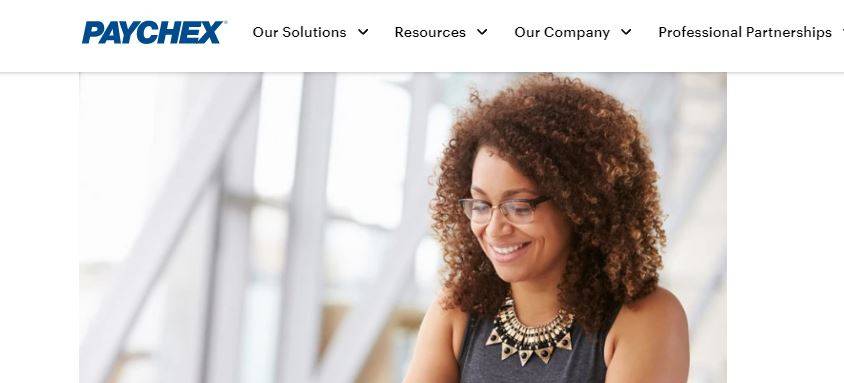 Paychex is one of the most popular online payroll services available today.
They also have excellent HR outsourcing services.
Examples of Paychex HR outsourcing features include:
HR professional services
Insurance-related programs
Retirement-related programs
Programs for ensuring compliance
Management of benefits
Although Paychex offers HR services for companies with up to 90 employees, it is one of the best options for companies with 50 or fewer employees. As a result, it's a great option for small companies.
Paychex offers a fantastic mobile app for tracking items like recruiting, labor rates, and employee turnover.
Employee self-service tools and training are also available via the app.
Paychex is used by over 650,000 businesses. As a result, this is unquestionably an organization you can entrust with your most important business requirements.
For those of you who already have an HR department, Paychex HR outsourcing will serve as an addition to this department by giving you a dedicated manager. This person can help you with the recruiting, onboarding, and retention of top-tier employees.
The HR manager can also handle workforce analytics, corporate culture policy, benchmarking, basic staff training, and benefits management.
It's basically everything you'd look for in HR management without having to recruit a full-time employee locally.
6. Zenefits — Software For HR Management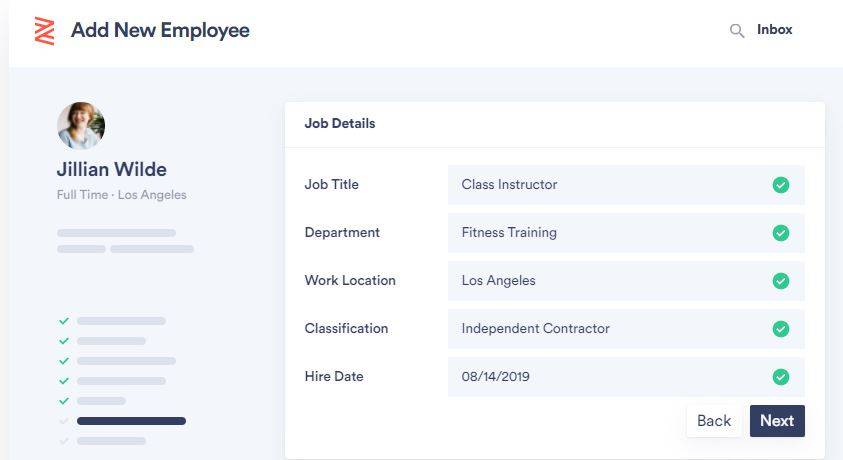 In comparison to the other choices on my list, Zenefits is a little different. Zenefits isn't technically an outsourcing service; it's software for HR management.
However, in terms of convenience and cost savings, it meets the same needs as an outsourced operation. As a result, Zenefits would be a less expensive option than a full-fledged outsourcing company.
Their human resources platform is designed specifically for small companies. It includes everything you'll need to simplify HR administration and tasks.
Zenefits offers a variety of HR features, including:
Creating and sending new hire compensation packages
New employee self-onboarding
PTO rules and time off management
Tools for managing employees
Mobile access (for employees and administration)
Employee intelligence reports
Zenefits comes with a slew of integrations. Payroll, time monitoring, employee scheduling, and employee benefits are all available via the platform.
The majority of HR outsourcing providers require obtaining a custom quote based on your needs. Zenefits, on the other hand, has a simple pricing structure that can be found on its website. Here's a rundown of Zenefits' plans and the cost of HR outsourcing:
Essentials — $8/month per employee
Growth — $14/month per employee
All features of the Essentials
Tools for managing compensation and performance
Zen — $21/month per employee
All features of Growth
People Hub and resources tailored for your needs
Engagement surveys
Track and assess employee satisfaction
Many of these prices are based on a 1-year commitment. Month-to-month rates are available from Zenefits for around 30% more per month. You can upgrade your Zenefits subscription to include the following features in addition to the base plans:
Payroll — $6/month per employee
Advisory services — $8/month per employee
Third-party employee benefits management — $5/month
Zenefits is the ideal option for your company if you want to change how you perform HR management but don't have the funds to fully outsource the operation.
7. TriNet — The Most Flexible HR Outsourcing Service
Another comprehensive HR outsourcing option is TriNet. They offer services and plans to fit the needs of companies of different sizes.
They work with businesses from a variety of industries, including:
Banking and financial services
The retail industry
Manufacturing
Design and construction
Public relations and marketing
Non-Profit Organizations
Advisory services
Technology
Their sector-specific strategies will assist you in attracting and retaining top talent.
HR consulting, payroll management, benefit options, and risk reduction are among the HR outsourcing services. TriNet's comprehensive HR platform is also impressive. Employee self-service and mobile accessibility are supported by the platform.
There is a learning curve. But once you are familiar with their system, the service they provide is very beneficial.
TriNet partners with some of the most reputable insurance companies in the industry. They provide medical, dental, life, vision, retirement, and disability insurance to the employees.
MetLife, Transamerica, Kaiser Permanente, Aetna, UnitedHealth Group, MassMutual, and Aflac are among TriNet's top carriers.
8. G&A Partners — The Best HR Outsourcing Firm For Employee Onboarding
G&A Partners has provided professional services to companies for over 20 years. Payroll, compliance, insurance, performance management, occupational safety, and recruiting are all areas where they provide full-fledged HR outsourcing.
There are two ways for a business to collaborate with G&A Partners.
With a PEO (Professional Employer Organization) model, you can give them the authority to serve as the employer of record. Alternatively, you can use their ASO (Administrative Services Organization) options to select and choose the services you need.
Consider it this way: Full-service is the first choice, and á la carte is the second.
The ASO model would definitely be a better fit for those of you who already have an in-house HR department and infrastructure in place. If not, I would suggest using a PEO.
G&A Partners provides payroll processing, benefits programs, and HR technology besides human resources.
This service provider isn't suitable for everybody. G&A Partners often works with the following industries:
Medical treatment
Non-Profit organizations
Franchising
Consultancy services
Manufacturing
G&A Partners' employee development program is a standout feature. Candidate sourcing, job postings, work descriptions, resume processing, and pre-employment screening tests are all part of this HR feature.
This outsourced company will also handle onboarding, performance management, and benefits enrollment once an employee is hired.
How To Select The Best HR Outsourcing Service
Every company has its own set of requirements. That is why it is critical to select the best HR outsourcing service for your company. How do you know which option to go for when there are so many?
The following is the approach I used for compiling this list at KISS Investments. You can also use it to help you shortlist your options.
HR Systems
Outsourcing companies are usually familiar with different types of businesses. It all comes down to whether or not you already have an HR structure in place, and if so, how long you've had it.
If you're a small business without any HR infrastructure, for example, you'll want to go with a provider that has experience starting from scratch with smaller businesses.
Large corporations do not need such assistance. Instead, a larger company may only require the outsourcing of a single division or role.
Decide if you want to merely supplement your current HR infrastructure or completely outsource it. For example, you might be a small business that wants to fill a few holes, such as onboarding. Or you may be a big corporation looking to outsource routine tasks like payroll.
Providers Of ASO vs PEO
For the most part, Human Resource outsourcing firms provide similar services. They may differ slightly from one company to the next.
PEO providers are among the companies present on my list. Their programs include large HR services such as payroll, workers' compensation, and benefits such as 401k and insurance.
PEO providers are often considered "co-employers" by the employees. That means you and your PEO provider are also responsible if there is a legal problem with your workers. You determine ahead of time how much liability each of you will take on.
Also, there are ASO programs that help with payroll and benefits administration. They are not, however, co-employers of the employees.
In terms of price, they're usually the same. What it boils down to is the degree of responsibility you want to take on for your employee's benefits. Since PEOs are co-employers, they will be more involved with any problems that occur with your employees.
Expertise
Is there anything unique that your company requires?
For example, suppose you run a business in a field where labor laws are strictly enforced. In this case, an outsourced HR provider like Engage PEO will be beneficial. They have employment law specialists on staff.
Perhaps you need HR assistance to help you enhance your payroll management. If you are part of this group, Paychex is your best bet.
Whatever special circumstances apply to your business, there is almost always an HR outsourcing provider that can help.
Routine Tasks Streamlining
Look for a service with the tools and technologies to help you streamline your HR outsourcing process. Mobile applications and employee self-service tools should be standard.
Tasks like calculating work times, clocking in and out, and future fieldwork can all be done automatically this way. Time off requests and benefits selection can also be automated.
You should also look at using HR software platforms like Zenefits. This platform offers tools to improve your HR tasks if you don't have the funds to employ an outsourced HR service.
Final Thoughts
So which is the best human resources outsourcing service? Here's a quick rundown of the options discussed in this guide:
Insperity — HR outsourcing for small businesses
ADP — HR outsourcing solution for benefits management
Engage PEO — The best outsourcing HR company for compliance
Tandem HR — The best HR outsourcing service for lowering risk liability
Paychex — Best Human Resource outsourcing company for payroll
Zenefits — Software for HR management
TriNet — The most flexible HR outsourcing service
G&A Partners — The best HR outsourcing firm for employee onboarding
On this list, there's something for every type of company, from payroll assistance to HR apps and benefits management.