You'll need a good website builder for eCommerce if you are planning to sell products online.
There are website builders that are available specifically to assist you in creating an online shop. It's different from the average eCommerce platform or website builder out there.
If you're starting from scratch, the best choice would be to use an eCommerce website builder. It's a lot less work than creating the whole website from the ground up.
Here are 9 of the best website builder sites for eCommerce. Use this list to help you choose the one that works for you.
9 Best Website Builder Sites For Ecommerce In 2023
Shopify — Website builder for eCommerce with the most customization options.
Wix — For setting up an ecommerce store quickly.
Squarespace — Best website eCommerce builder with high-quality templates.
Zyro — The most user-friendly website builder for ecommerce.
Weebly — Best website builder for small business owners.
Square Online — Best website eCommerce builder for retail store integration.
BigCommerce — Best website builder for multichannel sales.
Big Cartel — Best website builder with eCommerce features for artists and makers.
Shift4Shop — The most affordable enterprise-level ecommerce builder.
Below, I'll go over the platforms' top features, advantages, costs, and unique use-cases. I'll also mention any possible disadvantages or drawbacks.
Best Website Builder Sites Reviews
1. Shopify – Website Builder For Ecommerce With The Most Customization Options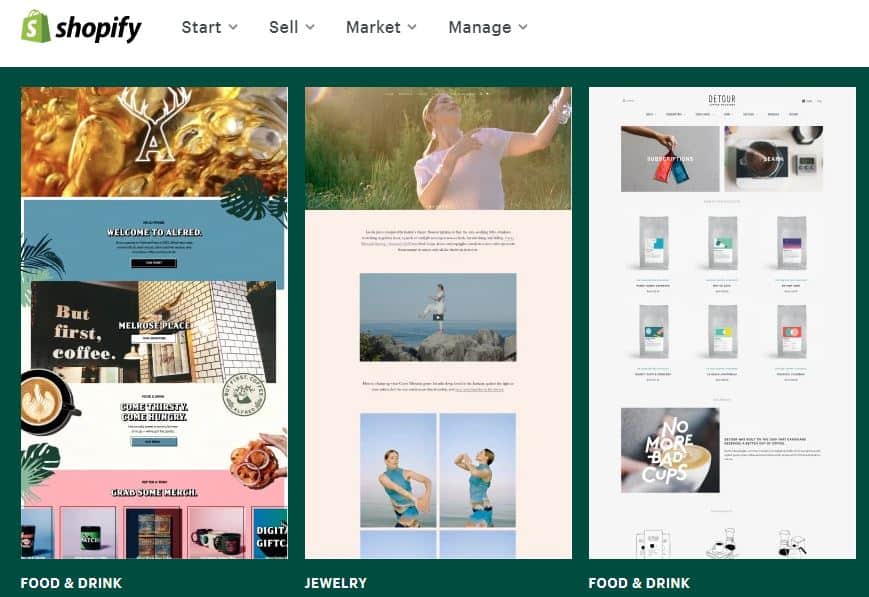 Shopify is a sought-after eCommerce platform. It powers more than one million online stores. They, too, are still expanding—and for good reason.
This web-based content management system (CMS) includes everything you'll need to set up and maintain your online store.
Choose one of Shopify's 70+ free and paid themes to get started.
Each theme has options that allow you to tailor it to your preferences. Download software from the Shopify App Store to add features and functionality to your store.
One of the most appealing aspects of Shopify is that all payments are processed via the website. You won't need to bind any third-party processors to accept payments since your plan includes the Shopify Payments gateway. As a result, you can begin selling right away.
That said, you can always use one of the over hundred payment processors that Shopify integrates with to use a different payment gateway.
For optimum results, all plans include web hosting, unlimited bandwidth, unlimited email forwarding, and a content delivery network. Marketing and SEO software, analytics, and mobile optimization are all available to you.
Shopify provides customer service 24/7 via live chat, phone, and email.
You can use Shopify to set up customer accounts, dropshipping, abandoned cart tracking, POS, and shipping rates management. There's an extensive Shopify App platform from where you can add any feature you want.
Here's a quick rundown of Shopify's plans and pricing:
Basic: $29/ month
Shopify: $79/ month.
Advanced: $299/month
If you're developing an eCommerce store doing a high volume of sales and need enterprise-level support, talk to a Shopify sales expert. Shopify is available for a 14-day free trial.
2. Wix – For Setting Up An Ecommerce Store Quickly
Wix is a widely used website builder. That's most likely because of the ease of use in building a website.
The simplicity of Wix will make your life much simpler if you're building a new eCommerce site from scratch. Its flexible platform is made for someone who has never worked with a web development platform before.
It's jam-packed with features to help with the generation of leads and the growth of your website.
Wix's drag-and-drop builder is designed to make your website SEO-friendly and completely customizable.
Wix's plans cater to eCommerce websites. All the eCommerce solutions come with unlimited bandwidth, $300 in advertisement credits, a one-year free domain, and visitor analytics.
It's also worth noting that all online purchases made through your Wix store are commission-free. This is a great advantage.
The majority of eCommerce builders out there take a cut of your total profits. It's like an additional tax on your whole business. From this perspective, using Wix will save you hundreds (if not thousands) of dollars each year.
Features
Wix's eCommerce plans also include the following features:
Search engine optimized software
More than 500 templates
Wix chat
A variety of payment options
Mobile-friendly design
Deals and coupons
International shipping
You can keep track of orders, inventory, and product pages with the Wix store manager. You'll also be able to create your own logo and add a blog without the need for any third-party integrations.
The SEO resources are also noteworthy. They help you optimize your site for mobile by automatically building a mobile-optimized version as you configure it. They can also list your website on Google in under 60 seconds.
Wix's AppMarket is a nice bonus. It integrates a number of great apps from providers such as HubSpot, Quickbooks, and MailChimp into your site. As a result, you'll be able to benefit from their services in order to expand your business.
Pricing
The eCommerce solutions are available at the following prices:
Basic: $23 a month
Unlimited: $27 a month
VIP: $49 a month
Wix has cheaper options, but they're just for portfolio or personal websites. However, if you are planning to take online payments for your store, the Business Basic is the most affordable plan.
You can always get started with an entry-level Wix plan that does not allow you to do online payments to save money. For as little as $14 a month, you can create a personal site with Wix and then move to an eCommerce package once you're ready to sell products.
Wix offers a 14-day free trial. If you are dissatisfied with Wix, you can cancel within the trial period and receive a complete refund.
3. Squarespace – Best Website Ecommerce Builder With High-Quality Templates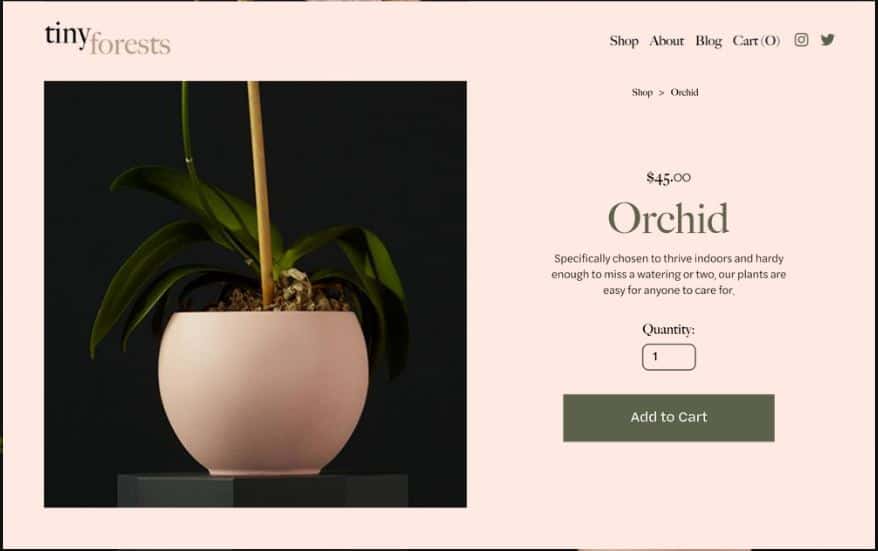 Squarespace is one of the most popular eCommerce website builders.
There's a compelling explanation for this. They provide eCommerce features in all of their plans, which is uncommon among conventional website builders.
However, the reason that most people like them is probably because of their stunning, award-winning template designs.
It doesn't matter if you're a seasoned pro who enjoys diving right in and customizing a website to your exact design specifications or if you're a total novice who just needs a great-looking website right away.
Squarespace allows everyone to create a sleek and aesthetically appealing eCommerce shop.
The highly responsive and intuitive drag-and-drop builder allows you to easily customize every aspect of your pages.
Squarespace has a range of award-winning template models that are tailored to online stores. Squarespace has a solution for you, whether you're selling products, subscriptions, services, or digital goods.
You can manage and update your website on the go with the Squarespace mobile app. If you have physical locations, you can also use it as a point-of-sale system.
Squarespace includes SEO, blogging, analytics, and everything else you'll need to make your online store successful.
Squarespace comes with hundreds of pre-installed applications. However, there is no one-click installation app store or marketplace. You'll need to have a code injection if you want to run a third-party program that isn't already installed into Squarespace.
Pricing
Squarespace offers four separate plans, 3 of which provide complete eCommerce integration:
Personal: $12/month
Business: $18/month
Basic Commerce: $26/month
Advanced Commerce: $40/month
The business plan is where eCommerce features begin. Although, for the most part, I'd suggest the Basic Commerce plan as the starting point.
This plan offers 0% transaction fees, as well as POS, customer accounts, eCommerce analytics, and other functionalities that you'll need once you begin selling online. The extra $8 a month is well worth it.
You can always switch to the Advanced Commerce plan as your company grows and you need more advanced functionalities. If you're starting a new store from the ground up, however, you may not need that right away.
Both plans provide customer service that is available 24/7. A free 14-day trial of Squarespace is available to test the platform.
4. Zyro – The Most User-Friendly Website Builder For Ecommerce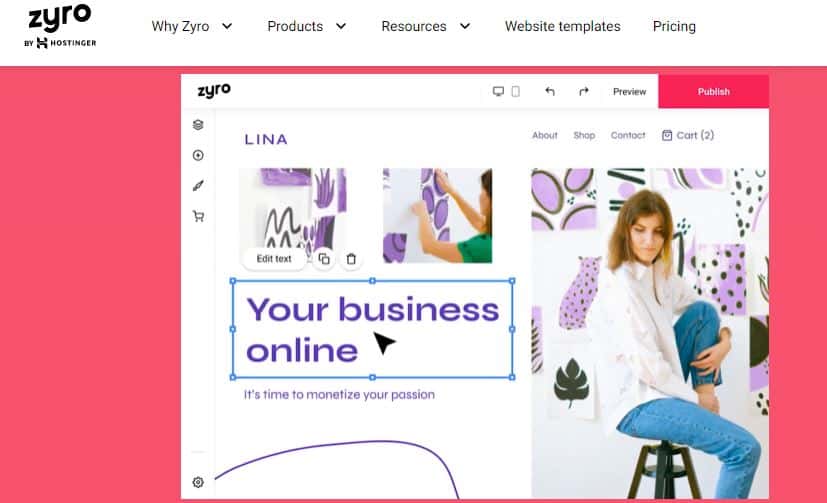 Zyro is a great place to start if you're new to eCommerce. The interface is not only well-suited to new users but the plans are also priced reasonably.
You are able to build out your website exactly as you want it to look and view it changing in real-time using drag-and-drop software. And, your website will be up and operational in no time.
You can sell and promote the products on Amazon, Facebook, and Instagram, among other platforms.
They also provide a variety of themes across 9 categories that are customizable, allowing you to find the perfect fit for your company.
Zyro's strong AI business tools, on the other hand, help set them apart from the competition. These tools apply machine learning and artificial intelligence to assist you in developing your branding by using:
Company name generator
Logo creator
Heatmap produced by AI
Content creator powered by AI
Slogan generator
Your website's content will be SEO-friendly thanks to the AI content generator. That's ideal for people who are getting started with writing web copy or who are concerned about their choice of words.
The following are their current rates and plans:
Basic: $1.30/month
Unleashed: $1.79/month
Ecommerce: $8.99/month
Ecommerce+: $13.99/month
As can be seen above, the highest tier is still very affordable.
However, if you are really looking to maximize your Zyro eCommerce experience, I strongly advise you to select at least the eCommerce plan. You'll get an unrestricted amount of bandwidth and storage, as well as the ability to accept online payments, a free domain, and their eCommerce features.
5. Weebly – Best Website Builder For Small Business Owners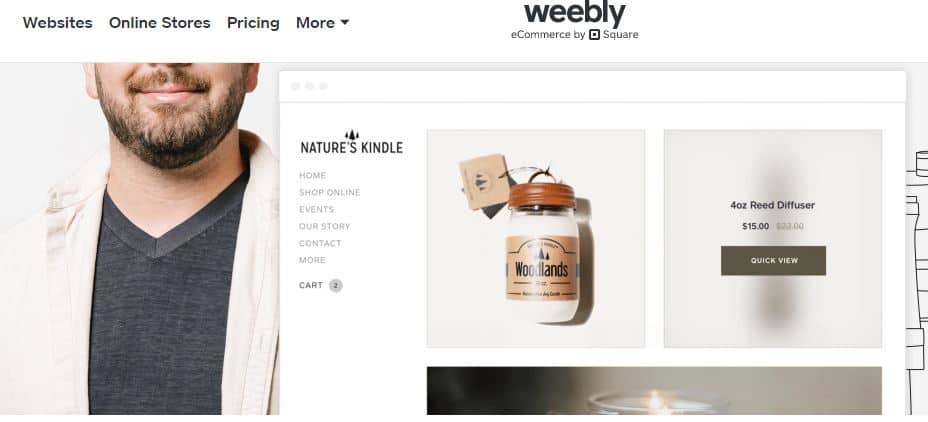 Another popular website builder with a free plan is Weebly. Weebly is also on my list of the best free web hosting sites.
Unfortunately, there are no eCommerce features in the free tier. However, you can use it to get a feel for the Weebly builder before upgrading to a paid plan.
Their website builder plans for eCommerce are also among the most affordable ones on the market. As a result, Weebly is one of the most cost-effective solutions available out there.
Common payment gateways such as Square, Stripe, and PayPal may be used to accept payments.
For business owners, Weebly simplifies the process of creating an eCommerce store and improving their online presence. So, if you own a local or small business already, I'd suggest Weebly for your eCommerce needs.
Since Square facilitates Weebly, integrating your online store with the Square POS is quite easy. You'll have the ability to keep track of both your inventory and products in one location.
You can launch your online store without any coding skills using the drag and drop site builder.
You'll get email, site statistics, SEO, delivery, inventory, and other resources. Add Weebly's feature for product search to your store and help your customers find what they are looking for. When products go on sale or when supply becomes limited, add badges to them.
Pricing
Weebly's plans and pricing are as follows:
Pro: $12/month
Business: $25/month
Business Plus: $38/month
The Pro is a simple plan, but it's inexpensive if you don't need any advanced eCommerce features. It's basically a shopping cart having payment processing capabilities.
You'll need a business plan at the very least if you would like to maximize the benefits of using the platform.
Before you open your eCommerce store, try out Weebly's free plan to see if this works for you.
6. Square Online – Best Website Ecommerce Builder For Retail Store Integration
The company Square is well known for its point-of-sale applications.
They do, however, have a fantastic site builder that is loaded with features.
It's even better if you're already using Square as your retail store POS solution. The site can easily integrate with the Square POS system. You'll have the ability to work with the majority of credit cards, integrate with your current Square POS system, and simplify inventory management as well.
That's why we recommend both of their services to retail businesses looking for an eCommerce website that works in tandem with their existing POS solution.
You can easily sync your inventory using the Square POS system and the website builder, so you can monitor your stock in real-time. This prevents overselling, thereby keeping customers happy.
You'll also be building a centralized sales database. Since it's all in one system, you won't have to enter your sales manually for the day/week/month into a different database. You'll be able to dig deeper into the metrics that drive your sales with their reporting and analytics tools and work on them.
Square also allows you to communicate with customers in a variety of ways, including via Instagram, your site, or local delivery and pickup.
It's also easy to set up the site. You don't even need to employ a developer or know a lot about coding. You just need a computer or a mobile device to get started.
The platform also provides SEO software to assist you in reaching out to many more potential consumers.
Pricing
Prices start at 2.9 percent + 30 cents/transaction and go up from there. The following is the complete pricing:
Free: 2.9 percent + 30 cents/transaction
Professional: $12/month, 2.9 percent+ 30 cents/transaction
Performance: $26/month, 2.9 percent + 30 cents/transaction
Premium: $72/month, 2.6 percent + 30 cents/transaction
You can sign up for a free trial to see if this is a good fit for you.
7. BigCommerce – Best Website Builder For Multichannel Sales
BigCommerce is one of the most well-known and reliable eCommerce platforms.
It's also quite versatile. Bulk pricing rates, customer groups, quote management, and personalized price lists are among the B2B-specific features.
BigCommerce specializes in selling through multiple channels. Every plan includes the feature to sell on social media platforms such as Instagram, Facebook, eBay, Google Shopping, Amazon, Pinterest, and POS.
BigCommerce is a great choice if you want to take advantage of omnichannel sales.
The site builder is very user-friendly and provides a drag-and-drop feature that makes it simple to create a website.
BigCommerce comes with a slew of useful features. In comparison to the other software on this list, it has the most comprehensive feature set.
Beginners, on the other hand, should be prudent since the extra features appear to make it more complicated.
This service is intended for the rapid scaling of large eCommerce sites. As a result, if you're just getting started, you'll almost certainly be overpaying for features you won't use.
BigCommerce, however, is ideal if you are looking to access a wide range of website and eCommerce customization features without having to pay extra for applications or extensions.
The platform offers enterprise-level protection and reliable uptime rates to all of its stores. You'll also have access to customer service 24/7 via live chat, email, and phone.
Here's a breakdown of BigCommerce's price points:
Standard: $29.95/month
Plus: $79.95/month
Pro: $249.95/month
These prices are similar to those offered by Shopify. Although Shopify is quite user-friendly, BigCommerce is more feature-rich. So, if you're choosing between the two, you'll need to figure out what features are of importance to you.
Before you get into a contract, you can use BigCommerce on a 15-day free trial.
8. Big Cartel – Best Website Builder With Ecommerce Features For Artists And Makers
Big Cartel is an excellent eCommerce platform for artists. As a matter of fact, they've created a website builder specifically for developers and makers of all kinds.
So, if you're looking to start your first streetwear line or sell your art prints, Big Cartel has a great website builder for you that was created by artists.
Take a look at some of the unique and imaginative websites that their customers have created.
They're particularly useful for creators who only have a few products to sell. Their free plan only allows you to view 5 products. That's not a lot (obviously), but if you just have a few prints or shirts to sell, it can be a very economical choice.
For an extra $10 a month, you can sell up to 50 items. Even the most expensive plan is comparable to the entry-level plans offered by other platforms on the list.
Even the basic Big Cartel plan includes features such as:
Stats updated in real time
Themes available for free
Recording of shipments
Bulk edit
Inventory management
Promotions and discounts
Tax assessments done automatically
However, all plans are restricted to a maximum of five images per package. Overall, the best word to characterize Big Cartel would be "limited."
This is recommended only if you sell a few items and don't need advanced eCommerce features. Big Cartel is a good option if you want to sell 15 different shirts for as little as possible.
Get started with Big Cartel today, and you can ditch the Etsy store to start your eCommerce business.
9. Shift4Shop – The Most Affordable Enterprise-level Ecommerce Builder
Shift4Shop (formerly 3DCart) isn't a mainstream eCommerce site builder, but it shouldn't be overlooked.
As a matter of fact, they have an enterprise-level plan for free.
You might think that if it's free, they have to compromise on the features.
This is not the case.
They come with all of the tools and resources you'd expect to see from an enterprise-grade eCommerce site builder, such as unlimited bandwidth, products, and users, as well as SEO tools and over 100 different themes to select from.
The only caveat is that you should be using the Shift4 payment network (hence the name). In addition, to use their eCommerce plan, you must be located in the United States.
Shift4's transaction fees are currently 2.9 percent + 30 cents/transaction. For online stores, this is considered the industry norm, which makes it a great deal.
This may be particularly advantageous for seasonal businesses. You won't have to pay a website fee on a monthly basis during slow periods because you'll only be charged for payment processing when a transaction is made.
Shift4Shop also has the following benefits and features:
Themes that are mobile-friendly
API access
Web hosting services
Infinite bandwidth
Unlimited products
Integrated blog
No additional fees
The free eCommerce features at the expense of using the Shift4 payment platform is obviously the big draw in terms of the price. However, if you prefer a particular payment processor or aren't sure about using Shift4 for collecting payments, Shift4Shop also has traditional pricing plans involving monthly fees.
Basic Store: $29/month
Plus Store: $79/month
Pro Store: $229/month
You'll get a powerful eCommerce platform and website builder in either case. You can start using Shift4Shop on a free trial.
How To Choose The Right Ecommerce Website Builder
I put all the eCommerce builders on the list to the test using strict parameters, allowing me to learn about their strengths and limitations, as well as aspects that make them special.
You can apply the same approach to your own selection process. But, in the end, this will be unique for each type of business. After all, a small online shop selling cottage products would need different features than a 6-figure dropshipping business.
That being said, the following are the most significant factors to be considered when choosing a platform:
Customization Features
Although most of them are easy-to-use eCommerce website builders, anyone who is interested in customizing their website further should have the ability to do so.
The eCommerce platforms on the list offer a variety of resources and tools to help you customize your website. Shopify, for example, has a plethora of integrations and plugins to help you create the perfect platform for your company, including Facebook and Google integrations, chatbots, email marketing systems, and more.
If you want to have an omnichannel presence, those integrations with social media will be particularly useful.
If that's something you're interested in, platforms like BigCommerce and Shopify are great places to start. For example, each of BigCommerce's plans includes the capability to sell on Instagram, Facebook, Pinterest, eBay, Google Shopping, Amazon, and other networks.
Look for simple integrations with your shipping/logistics and warehouse management systems if you have a warehouse with inventory. BigCommerce is yet another good choice in this regard.
SEO tools would be another area where these platforms provide customization. Some services, such as Weebly, Shopify, and Wix help you in creating Google-friendly articles and web pages while you customize your website.

These services are often in the form of dashboard functions or plugins. Overall, if you choose to use SEO as a means of your marketing strategy, it can be quite beneficial.
The templates from these websites also allow for various degrees of customization. You'll have to ensure that they have options that resonate with your brand.
Template Options
All the platforms on the list include a number of templates that you can use to quickly and easily design an effective site for your online store.
Two areas were looked at for evaluating the templates for the platforms on the list:
Variety
Even though the templates should be good, there must be a variety of options to select from. This ensures that the platform is a good match for your brand and style, rather than looking similar to others.
Visual Appeal
The templates need to be attractive and easy to navigate. The platforms offering a dozen beautiful templates are better than those offering a hundred average ones.
Each platform's templates may vary from one another, sometimes significantly.
Squarespace, for example, places a strong focus on visuals—bright and colorful images, beautiful art, and stunning design, to name a few examples. Squarespace is a no-brainer if your online store has many items that need to be supported by great images (for example, art businesses and photography).
I highly recommend Wix if you're looking to build a store that also needs a blog for promoting content. They have over 500 templates, with the majority of them having an eCommerce and a blog component. They also have the most template choices compared to others on the list.
It's worth noting that Weebly is a versatile platform that allows you to do a variety of things for your website.
Shopify, BigCommerce, Square, and Zyro are platforms that I highly suggest if you just want to run an eCommerce site without any bells or whistles. Their templates enable you to maximize sales and build the best website for your unique offering.
Simple To Use
You probably have little or no experience designing websites if this is your first eCommerce site. However, if you don't know how to code or design a website, it can be a stressful and frustrating experience.
That's why you need to pick a builder that makes it simple to create an attractive and effective website.
Not only will you be able to launch sooner, but you will also save time and money by not having to do it on your own or hiring a web developer (which can cost upwards of $10K).
Even if there are more complex requirements, such as large product inventories or various digital storefronts, you would want an easy-to-use website builder with a short learning curve.
In a number of ways, good eCommerce platforms make the job easy for you. Wix, for example, makes use of cutting-edge AI to assist you in building a website from scratch after answering a few simple questions. If you want the most straightforward solution, Wix is the way to go.
Most of the options on this list, including Zyro and Squarespace, use drag-and-drop features to make it easy to customize your website. This provides more control over the appearance of your website without requiring you to have any coding experience.
Try a platform like BigCommerce if there are more specific requirements (but still would like to make use of a simple to follow, no coding required builder). It has a lot of features that can help larger eCommerce companies to expand rapidly, including customer groups and bulk pricing.
Another choice is 3DCart, with features like API access that give more experienced online store builders more leverage over their platform.
Other Factors To Consider
Other factors to be considered, but not deal-breakers when it comes to making a final decision include:
Reporting And Analytics
This allows you to monitor the traffic and interaction on your website and gives you the insight you need to improve them.
Customer Service
You would need to ensure that the platform you select has customer service that can quickly answer any questions that you may have. In fact, if your website goes down while you are doing a product launch, you'd need it to be fixed as soon as possible.
Pricing
Don't get me wrong: it's important. But it shouldn't be a deal-breaker since everything on the list adheres to what can be considered the highest grade in the industry.
An eCommerce builder like Shopify can be on the pricier side, but it's nothing out of the ordinary when you consider their features and extensive offerings.
The plans for each platform on this list have a price tier that is comparable to the others, and they all have a free tier with limited functionality or even a free trial.
Email Integration
You would need to get an email address using your online store's domain if you are serious about branding and intend to scale up your company. Some platforms, such as Wix, let you create a custom email address or buy one of their sites.
Conclusion
Look no further than the options in this article, if you're searching for an all-inclusive solution for creating an eCommerce platform.
They are the best options for starting a new eCommerce store.
I've tried to include options for different types of stores. Here's a rundown of my top choices for the best website builder sites for eCommerce so you can figure out which one best suits your needs.
Shopify — Website builder for eCommerce with the most customization options.
Wix — For setting up an ecommerce store quickly.
Squarespace — Best website eCommerce builder with high-quality templates
Zyro — The most user-friendly website builder for ecommerce.
Weebly — Best website builder for small business owners.
Square Online — Best website eCommerce builder for retail store integration.
BigCommerce — Best website builder for multichannel sales.
Big Cartel — Best website builder with eCommerce features for artists and makers.
Shift4Shop — The most affordable enterprise-level ecommerce builder.