If you are a company or business owner looking to get more ideas for IG stories, you have come to the right place.
Instagram Stories, also known as Insta Stories or IG Stories, is a feature that was released in the summer of 2016.
The story is a post that remains normally for 24 hours and then disappears. This is quite similar to how Snapchat works. Users with active stories get a red ring around their profile picture.
Stories are a great addition to your regular Instagram feed to provide loyal followers with additional information and bonuses.
It is also an opportunity for you to get discovered by new people and gain more followers.
How Instagram Stories Work
How do you then use the story function in a good and efficient manner for your business?
To make an Instagram Story, you do not have to be too hard on yourself and try to post the most aesthetic picture. It's perfectly fine to be more spontaneous.
For example, if you posted something interesting in your main feed, you could go into more detail about the image or video in your story.
Images are displayed for approximately 7s while a video is displayed for up to 15s.
So, in order for your images and texts to be displayed for as long as possible, think about the type of post you will be going for.
Ideas For IG Stories
Here are 6 tips and ideas for IG stories:
Behind The Scenes
Special Offers And Discounts
User-Generated Content
Latest News
Blog Promotion
Create Highlights
Let's take a closer look at each of these ideas for IG stories.
1. Behind The Scenes
Posting what happens behind the scenes at the company is one way to go about it. It can be as simple as showing what happens:
during the coffee break
when you work at the computer
while packaging goods
You could even take a selfie and capture testing the products or reveal upcoming releases. This is a great way to show a part of the company that customers do not normally see in their regular feed and on the website.
2. Special Offers And Discounts
If you have a store and run deals, do not forget to post on your Instagram Story. It is effective if you are running limited-time offers and you are giving your followers a "sneak peek" at what's going on.
If you have linked your WooCommerce store to Instagram, you can also tag products in the post. Then your followers can easily click on it to get to the product page.
3. User-Generated Content
User-generated content (UGC) or customer-generated content is a great addition to your story.
In other words, this is content created by someone who is not part of the company. It could be pictures of products, videos, or reviews.
If a customer shares photos of your product or of a service that you have provided, it is perhaps the best form of advertising you can get.
Of course, I'm referring to testimonials that are positive and show your company in a good light.
Surveys show that when it comes to purchasing products, friends and family are still the most trusted sources of recommendations. Therefore, share relevant posts from other users.
4. Latest News
Post a story when something new happens in the company. For example, new products, introducing new staff, and other exciting developments make for a trendy Instagram story.
Share a teaser of something new that is going on. This is a good complement to the regular news page.
If you use the live feature on Instagram, promote your next live event in your story to increase the number of views. This could be done in combination with the regular posts.
If you have a store and want to share local news, use the sticker function and tag the place in the story.
Previously, Instagram had a feature to search for stories by location. Unfortunately, that feature has now been removed, but I still recommend tagging the place.
Finally, share the content of your latest story as a "new post" in your regular Instagram feed for more engagement.
5. Blog Promotion
Share the latest and most valuable posts from your blog. This is a great way to recycle the most popular blog posts.
First, pick 3-4 highlights from the blog post that you think will capture the viewers' interest. Then create relevant images with short excerpts of text and add them to the story. 
I recommend using Canva which makes the job easy. From Canva, select the image format for Instagram Story and add the appropriate text. Download it and it's ready for use!
Do not forget to tell your viewers where they can find your blog post and read more about it. You could use bit.ly or other URL shorteners to add the link to your blog post.
6. Create Highlights
Stop your stories from disappearing completely after 24 hours by saving them to the archive. You can turn on the archive function under Archive -> Settings -> Save story to archive.
Then you can save the highlights with your most popular stories. These highlights can be seen by your followers on the main page of your profile.
Here are some ideas for story highlights:
fun offers
reviews from customers
series of stories with your company's hashtag
The following is an example from Apple's Instagram page: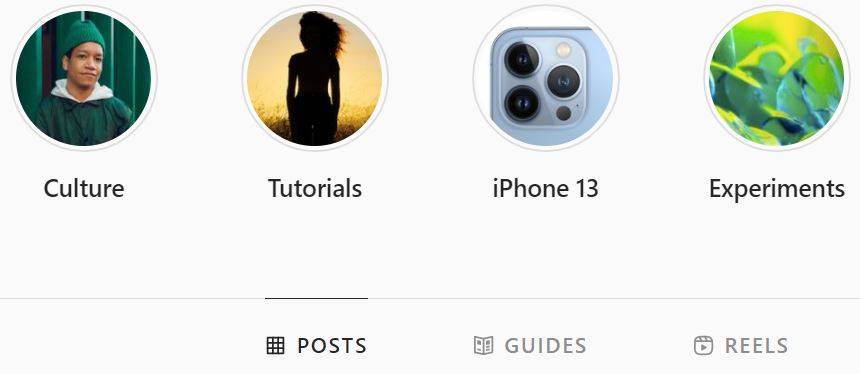 Conclusion
Instagram Story is an effective way to gain additional traffic and reach more customers.
Keep your social media strategy in mind when creating stories. If you are an influencer, then you can look at implementing the tips outlined in this article to be more successful. Be creative and experiment to find out what gives the best results.
If you have a company page on Facebook, you can also share the same stories from Instagram on Facebook Story to reach your Facebook followers.
So how do you use these Instagram Story ideas for your business? Feel free to share your best tips in the comments below.
Good luck & stay focused!