If you're not using the best tools for YouTube to assist you in creating better content, you might have trouble growing your YouTube channel.
The first platforms that people think of when they talk about social media are Instagram, Facebook, and Twitter.

Although YouTube is not something that is talked about, it should be one of your top priorities in the future.
A YouTube channel can help you drive traffic and increase sales with content, whether you're a company, an Internet celebrity, or a social influencer.
YouTube is now the 2nd largest search engine, behind only Google. Every month, over 1 billion people access the site.
YouTube has an incredible amount of video content.
Every minute, over a hundred hours of video content is shared on YouTube.
This channel receives more content in sixty days compared to the 3 big US networks have in sixty years.
You must get on YouTube if you would like to learn to run a good video blog.
The number of views, traffic, and subscribers for your videos determines the success of your YouTube channel. It doesn't matter if you create the most amazing video content if no one watches it.
YouTube is one of my favorite platforms for repurposing content.
I share content from the YouTube channel on the website, social media sites, and blog posts after it has been uploaded.
Although the YouTube network is useful in and of itself, there are various resources that can be used to improve the content and help you manage your page easier.
I'll walk you through the top tools for YouTube to expand and grow your audience. Let's get started.
Best Tools For YouTube In 2023
vidIQ – Best App For Monitoring
TubeBuddy – Best Overall YouTube App
Hootsuite – Best For Social Media Integration
Social Blade – Best For YouTube Channel Analytics
Camtasia – Best YouTube Editing App
YouTube Studio – Official YouTube App
Bitly – Best For Shortening Links
Woobox – Best For Cross-Platform Promotion
Pixlr – Best Thumbnail Editing Software
Keyword Tool – Best For YouTube Keywords
Tubular Insights – Best For Marketing Trends
Creator Academy – Best App For Resources
Reviews Of The Best Tools For YouTube
1. vidIQ – Best App For Monitoring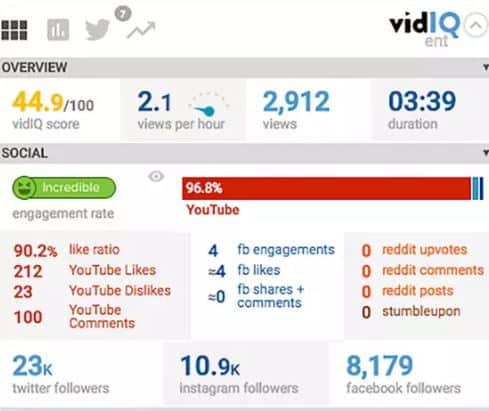 vidIQ appeals to me because it provides a means to track and monitor your YouTube channel analytics.
Figure out who is viewing the content. Then you are able to make videos for that target audience. Promote and market to their specific needs.
You are able to get comprehensive reports from vidIQ to help you enhance the YouTube channel.
SEO tools are also available on the platform.
Additionally, you can track down influencers, moderate comments, and compare your channel to others.
Make use of the vidIQ Chrome extension, which is available for download. You may use the extension to check the most common tags and YouTube keywords used by various channels.
From a single location, monitor views, search metrics, and scores of YouTube keywords.
With the vidIQ tool, you can monitor your engagement on both Facebook and YouTube.
2. TubeBuddy – Best Overall YouTube App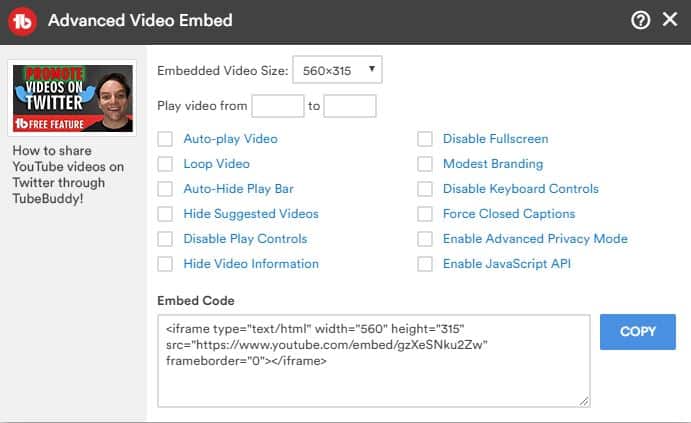 This tool appeals to me because it is a browser extension that is free, rather than software that must be downloaded and launched every time you choose to use it.
TubeBuddy connects to YouTube automatically and helps you manage your page.
It helps with running tests on your content to see how well it performs.
You may put the following to the test:
Titles
Tagging
Descriptions
Thumbnails
The tool assists you in determining which ones are most effective for your channel's visibility and growth.
TubeBuddy's scheduling tool is another great feature. You have the option of deciding when your submitted videos will be published on the channel.
The scheduling tool can also be used to delete a video on the YoutTube channel from specific playlists at a given time and date instead of doing it manually.
TubeBuddy keeps track of your YouTube rankings. It compares the YouTube channel analytics with your competitors.
This tool allows you to batch update videos. If there are several videos and you want to change all of the descriptions at once, this is a great choice.
Consider using this tool if you plan to promote a video in the description section of some of the other videos.
TubeBuddy can also help you develop your thumbnail for the videos.
It also includes options for different kinds of YouTube users:
Creators
Brands
Agencies
Networks
TubeBuddy has you covered if you fall under any of the groups.
This extension allows you to connect with YouTube subscribers through other social media platforms as well. It's a true all-in-one solution.
3. Hootsuite – Best For Social Media Integration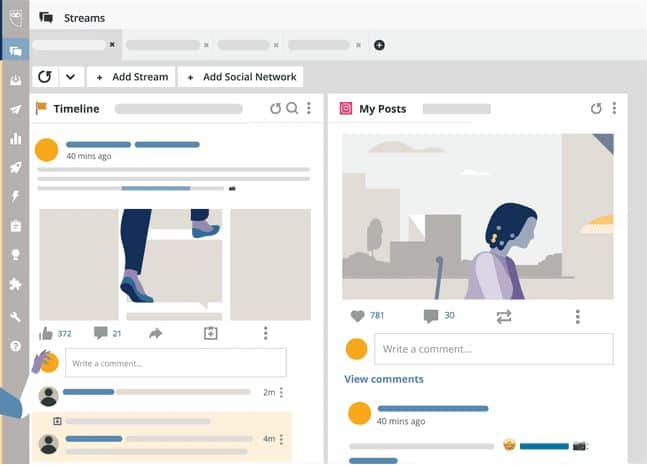 Then, there's Hootsuite.
You may know Hootsuite, which provides a variety of resources to help with the management of your marketing campaign on social media.
It even made it onto my list of favorite time-saving marketing resources for social media.
Hootsuite has a feature that allows you to manage the YouTube channel. Directly from the tool, video uploads can be scheduled from YouTube to other social media accounts.
It also allows you to collaborate with your team on enhancing YouTube content.
Assign responsibilities to your staff. You won't have to share your YouTube account details or passwords with others. On the Hootsuite website, you are able to have multiple logins.
Hootsuite can monitor your engagement metrics, much like the other apps on the list.
It produces reports that assist you in determining what needs to be improved and what should be continued.
You can use the mobile app to access all of the features from a mobile or tablet. It's just a different way to keep track of the YouTube channel when on the go.
4. Social Blade – Best For YouTube Channel Analytics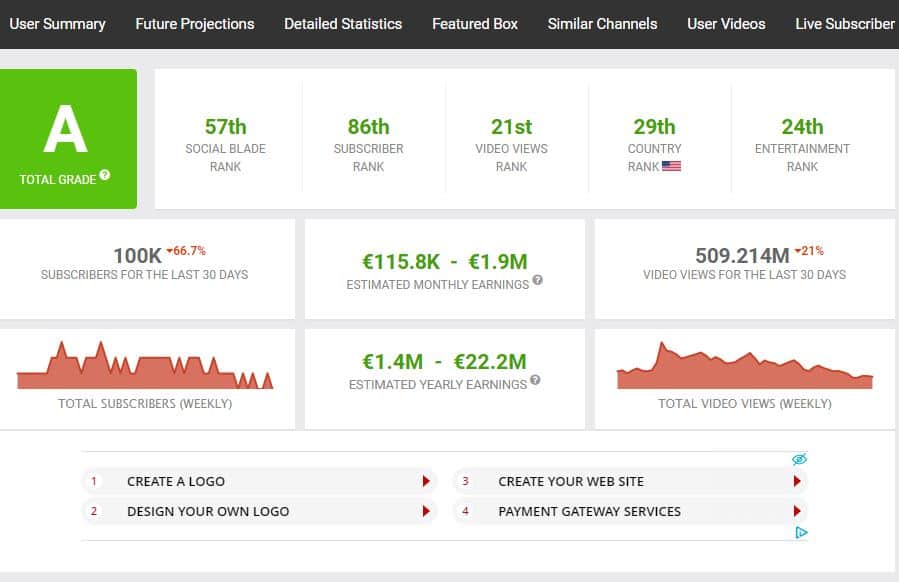 Another great tool to consider is Social Blade. It appeals to me because it keeps track of YouTube channel analytics, and various statistics on Instagram, Twitter, and Twitch.
It will help you improve the effectiveness of the social media strategy.
Keep track of your own numbers or find information on your competition.
It displays video views, subscribers, and projected earnings based on date.
That is just a small portion of what the tool is capable of doing.
Up to 3 channels can be compared at the same time. This will show you how your channel compares to the competition.
In addition, Social Blade has a function that decides if YouTube creators are managed by agencies or belong to multi-channel platforms.
You can use the YouTube channel analytics to see if others are making money from their accounts.
This website includes tutorials relevant to both new and experienced YouTube creators. Also, you are able to use the tool's consulting services for helping you grow your channel.
5. Camtasia – Best YouTube Editing App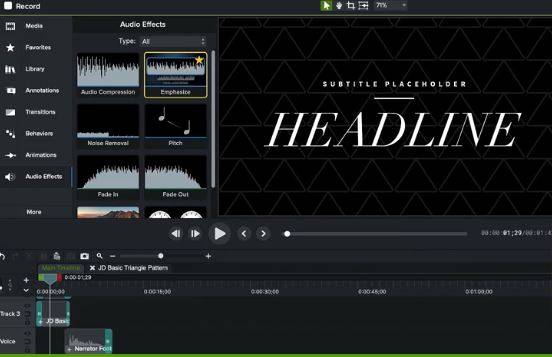 Camtasia is a video editor and screen recording software. It is the best YouTube editing app.
Screen captures and recordings are an excellent way to improve your content.
You will be describing how something is done using your computer.
However, you don't want to use a smartphone or camera to capture your screen. It is inefficient and unprofessional. There might be a glare seen on the capture as well.
Also, if you just tell people how to go about things without showing them, they would have a hard time following your directions.
Camtasia is one of my preferred screen recording software.
You can do video markup, add effects and edit it after you've recorded your screen. Since you are able to record mouse movements and display keystrokes, it's perfect for anyone making video tutorials.
For people who are viewing your videos without the sound, include notes and annotations like arrows, highlights, and captions.
You can record yourself talking after or during the screen recording using the voice narration function. Other audio enhancements are available in Camtasia, as well as the ability to include music.
It's ideal for showcasing slideshows and presentations through YouTube.
There's also the green screen feature, interactivity functions like quizzes, and animations in this tool. In general, it's the software you need to have in your YouTube toolbox.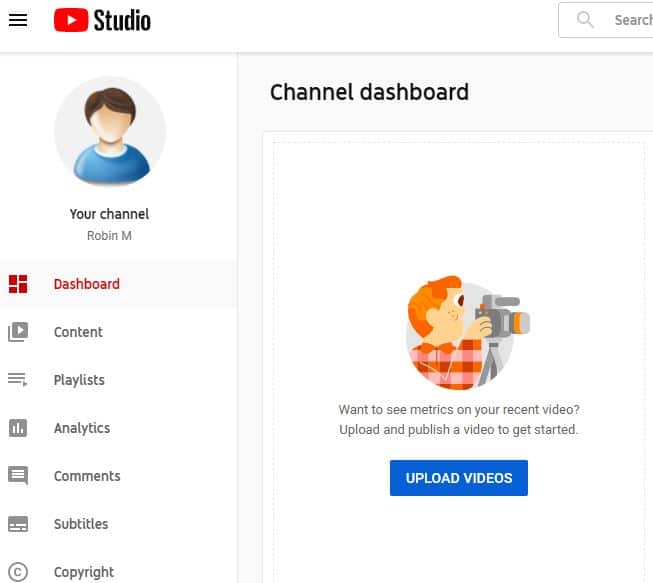 The official app from YouTube for creators is YouTube Studio.
It's a necessary tool for controlling your channel using mobile devices, and it's a must-have for anyone who is serious about growing their channel.
You shouldn't have to look for a computer any time you need to work on something on the page, particularly if it's time-sensitive.
The app gives you real-time YouTube channel analytics to track the performance of the channel. You are able to filter comments and respond to them.
Receive alerts for important events through push notifications sent directly to mobile devices.
Directly from the app, you can manage your scheduling, thumbnails, monetization settings, and other information. You can use this app to update the YouTube channel from wherever you like.
7. Bitly – Best For Shortening Links
You may want to market your content across as many platforms as possible.
You would have to post links to the YouTube channel and videos to do this effectively. However, these links could be messy, long, and unappealing.
That's why I suggest shortening your links with Bitly:
This will be useful in keeping your descriptions clear and precise.
Bitly is perfect because it isn't just for YouTube videos. This tool can be used for shortening any links you're promoting.
If you're monitoring your leads with UTM parameters, I recommend using it for your long links.
8. Woobox – Best For Cross-Platform Promotion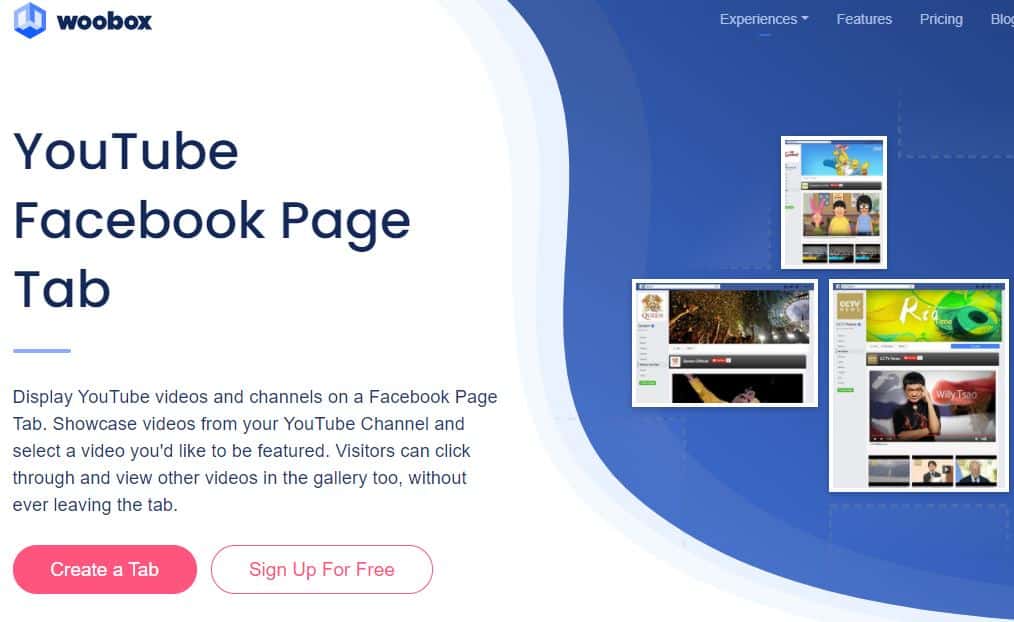 Woobox is the ultimate tool for promoting YouTube content on various platforms, which is highly beneficial.
As previously mentioned, social media is an excellent platform for repurposing video content. It's a technique I use myself.
Woobox allows you to set up a Facebook tab with all the YouTube videos.
Your Facebook fans and friends can now swipe through your content on YouTube and watch it directly through Facebook. They are able to do this without getting directed to another page.
When your viewer comes to this tab, make a featured video the first thing that they see.
Woobox is useful for increasing your subscriber count. You can eventually transform your fans from social media into paying customers.
It's possible that people aren't visiting your channel on a regular basis. However, there's a fair chance they're on Facebook.
You can now share your content with a larger audience without relying on them to view your videos by visiting YouTube.
9. Pixlr – Best Thumbnail Editing Software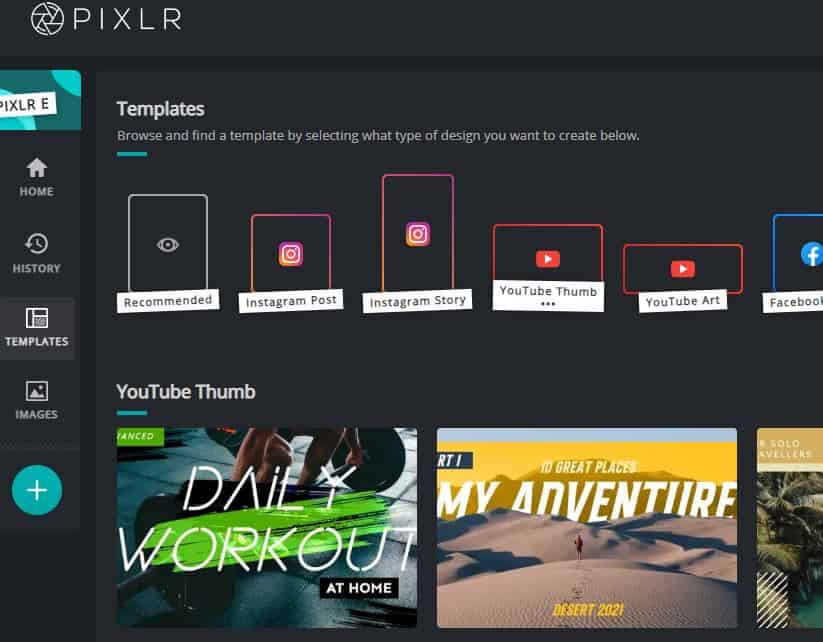 Thumbnails on YouTube help in drawing users' interest.
The best thumbnail will help your content receive more clicks. Pixlr makes creating high-converting thumbnails a breeze.
This software is also useful for incorporating images into videos.
Any picture can be enhanced with layers and additional effects in Pixlr.
This app comes with a plethora of image-editing tools. It will also assist you with other visual content changes you may need besides YouTube.
They also have a web and smartphone app. Regardless of the device being used, editing and uploading content is easy.
10. Keyword Tool – Best For YouTube Keywords
Keyword Tool provides keyword suggestions for YouTube.
These YouTube keywords can be used in your tags, titles, and descriptions.
A great feature about the Keyword Tool is that it also suggests long-tail YouTube keywords.
You must optimize your YouTube channel for the search engine in the same way that you optimize your website for search engines.
Besides YouTube, the Keyword Tool is able to help you research appropriate keywords for Bing, Amazon, Google, and other search engine providers. A better ranking and higher traffic to all of your channels would be helpful in your marketing efforts.
To expand your reach, choose the country you want to target.
As I previously said, making a fantastic video isn't enough. You must have people view your content in order for it to be valuable.
You would need to ensure that organic searches will find your videos. It is for this reason that you should use the Keyword Tool.
11. Tubular Insights – Best For Marketing Trends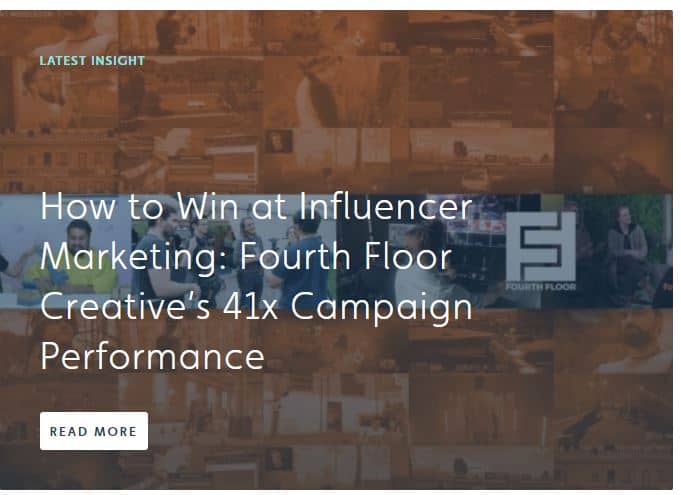 Tubular Insights (formerly ReelSEO), keeps you updated on the new video marketing trends, analyses, and tips.
On this network, experts provide tips and guides for helping marketers create video content.
This tool keeps track of video content from different platforms and devices. Then it categorizes these videos according to trends.
Use this knowledge to build videos that are timely and important to your target audience.
Here you'll find good blog posts on a variety of YouTube-related topics. There are also guides that are simple to understand and follow.
You are able to look up successful YouTube creators and follow their stories and experiences.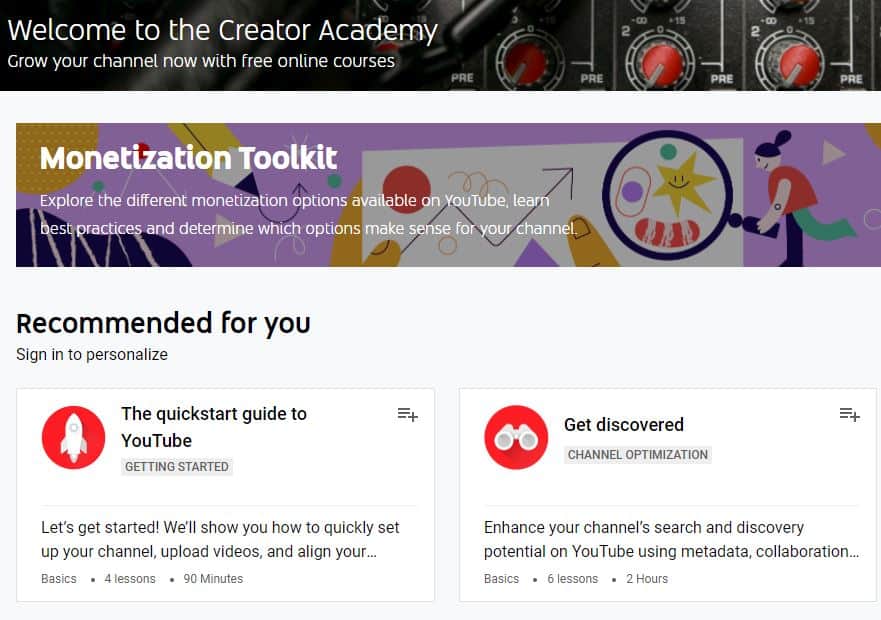 YouTube's Creator Academy education is a useful resource.
On YouTube, you'll find tutorials and videos that will teach you different skills you need for using YouTube effectively.
You are able to filter the courses by category and I recommend it to anybody who is new to YouTube channel management.
This is an opportunity for learning the fundamentals, such as how to edit, upload and shoot video. To make your life simpler, learn the best tips and techniques.
In addition, Creator Academy discusses how to make money from the YouTube channel.
Conclusion
Your channel will not be effective if you simply upload videos on YouTube without any marketing strategy.
If you are ready to supercharge your YouTube video marketing campaign and grow your channel, you should make use of resources and tools for YouTube to achieve your objectives.
Here are the best tools for YouTube In 2023:
vidIQ – Best App For Monitoring
TubeBuddy – Best Overall YouTube App
Hootsuite – Best For Social Media Integration
Social Blade – Best For YouTube Channel Analytics
Camtasia – Best YouTube Editing App
YouTube Studio – Official YouTube App
Bitly – Best For Shortening Links
Woobox – Best For Cross-Platform Promotion
Pixlr – Best Thumbnail Editing Software
Keyword Tool – Best For YouTube Keywords
Tubular Insights – Best For Marketing Trends
Creator Academy – Best App For Resources
Everyone will find something useful in the tools listed above. It doesn't matter whether you're a marketer, an influencer, an Internet celebrity, or a part of an agency.
These tools and resources will help you improve your content.
Additionally, they will be helpful in managing the way your video content is distributed.
Use social media to share the videos. Ensure that the tags, titles, and descriptions are search engine friendly (check out the YouTube clickbait titles generator to create the titles and if you are creating short form video, use the YouTube shorts title generator).
You don't have to use all of these resources right away, but I suggest using them in your YouTube video growth strategy over time.