I've narrowed down the best payment systems for a smooth and safe checkout process. These methods of online payment are for those of you who are ready to take their eCommerce platform to the next level.
You need to be able to accept payments from your customers in order to run a fully functioning eCommerce website.
There is no getting around it. Getting paid is the lifeblood of your business.
Isn't that why you started selling online in the first place? Financial gain is definitely a part of it.
Today, there are several options for accepting payments online. If you're using an established eCommerce platform or creating one from scratch, your payment gateway is a top priority.
You need to have solutions that would work for all of your customers.
This is because everyone has different preferences. As a result, you should think about including different eCommerce payment processors.
Not all these solutions are created equal considering the cost to incorporate them to your platform. However, in comparison to the revenue generated from the sales, the small percentage won't make much of a difference in the long run.
When your conversion rates start to skyrocket, you won't be too concerned about the cost associated with the gateway providers.
Best Payment Systems For Ecommerce
Payoneer – The best payment gateway for international transactions
Square – Secure payment method for businesses with retail locations
Stripe – Developer friendly eCommerce payment method for accepting online payment
Helcim – The best payment solution for $25,000+ per month in transactions
PayCafe – Best payment processor for small businesses to detect fraud
2Checkout – Payment system for eCommerce growth
Paypal – Best payment method online for beginners
Payment Depot – Method of online payment for $50,000+ per month in transactions
Google Pay – Best payment processor online from Google
ProMerchant – Online payment option for a wide range of merchants
Continue reading for a detailed review of the top 10 list of payment gateways.
Reviews Of The Best Payment Systems For Ecommerce
1. Payoneer – The Best Payment Gateway For International Transactions
Even the most well-established eCommerce sites recognize that there are still opportunities for growth when it comes to selling globally. Tapping into new markets, retaining some of the funds you earn on foreign sales or looking for new ways to collaborate with suppliers are all possibilities.
The payment method Payoneer can help you make all these changes, and they have the tools to back it up.
For starters, they are aware of the high costs of currency conversion and wire transfers. Payoneer takes care of that by making it simple to have localized receiving accounts, allowing you to receive payments as USD, CAD, or a variety of other currencies.
It's a simple 3 step process. You can configure accounts, send instructions to customers regarding the payment method, and collect those payments automatically through your Payoneer account.
Global companies depend heavily on their group of vendors and suppliers. The payment method Payoneer simplifies the process of making payments to them when needed. Payments are sent immediately and for free when the payment is made directly from the balance on your Payoneer account. You may also do it in batches of up to 20, which makes it quite convenient.
If you're having trouble breaking into any international markets, Payoneer's group of partners can help. You can take advantage of them by linking up with the vendors located in the markets you're trying to reach. These could be from procurement and shipping services to legal advice, advertisement, and translation.
Payoneer charges an annual fee of $29.95 per year and there is a low-cost fee on some transactions.
2. Square – Secure Payment Method For Businesses With Retail Locations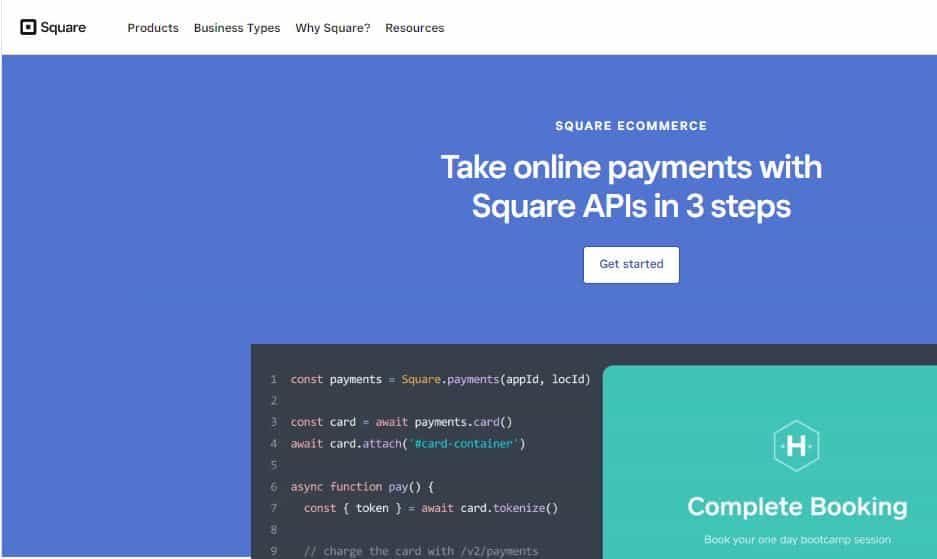 Square is best known for its point-of-sale (POS) solutions for in-person purchases. However, it also includes eCommerce features for your website.
This is a fantastic option for businesses that already have a physical location and want to sell online. Their POS system integrates well with online payment solutions. Therefore, it's also a good choice if you plan to open more physical locations in the future, besides your eCommerce store.
In comparison to the other methods of online payment, Square is reasonably priced.
Integrating the Square payment gateway into your site does not cost you a monthly fee. Like PayPal and Stripe, they charge 2.9% + $0.30/transaction.
It's simple to integrate Square with your eCommerce website. They partner with the following platforms:
WooCommerce
Wix
Ecwid
GoCentral Online Store
OpenCart
3DCart
Miva
Magento
X-Cart
Drupal Commerce
ShipStation
Zen Cart
Unbound Commerce
Mercato
nopCommerce
WordPress
Sociavore
WP EasyCart
If you already have an eCommerce store on any of these systems, adding Square would be straightforward.
3. Stripe – Developer Friendly Ecommerce Payment Method For Accepting Online Payment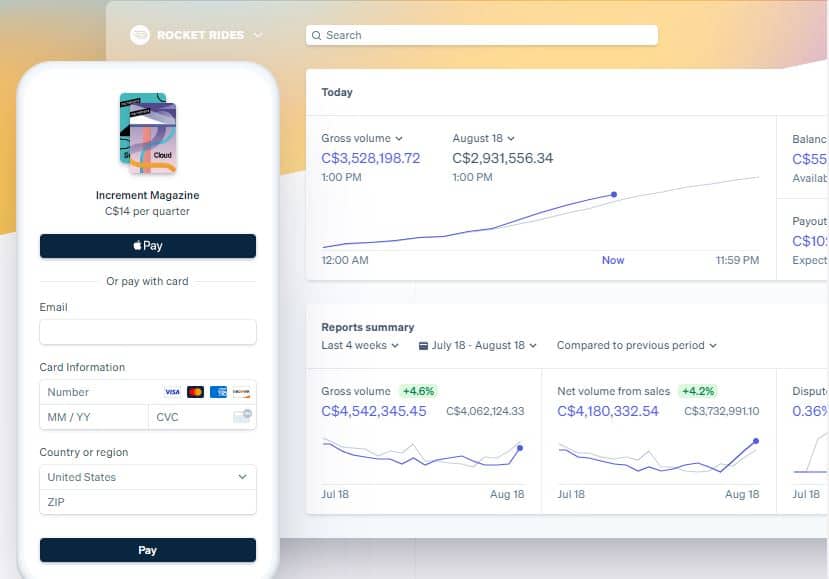 Stripe is quite versatile and is one of the most common methods for online payment available today.
It's ideal for online stores, subscription services, and on-demand service marketplaces. So, if you run a company with a lot of different processes and resources, this is something you should think about.
Stripe also allows you to collect repeat payments from your clients, which is a great feature.
It accepts payments both online and at a physical location. Therefore, if you already have a retail store, you can integrate the Stripe point-of-sale system, besides having the payment gateway in your eCommerce platform. You'll be able to maintain consistency in both marketplaces this way.
Brands that use Stripe have seen a 6.7% increase in sales after introducing the payment processor. Compared to the competitors, Stripe has 81% fewer unplanned outages and a 24% lower cost of operating the online payments platform.
The Stripe UI toolkit gives you the ability to customize the checkout process, and this is another reason that I like Stripe.
They accept the major debit and credit cards from around the world, including the following:
Mastercard
Visa
Discover
American Express
UnionPay (China)
JCB (Japan)
Alternate Methods For Online Payment
You are also able to use the Stripe payment processor to integrate some alternative methods for online payment. As we progress through this article, we'll go over some of these in greater depth.
American Express Checkout
ACH transfers
Visa Checkout
Microsoft Pay
Google Pay
Apple Pay
Masterpass
It's ideal for businesses that rely on their eCommerce platforms to drive sales through mobile.
Stripe's regular pricing is straightforward. Any card will cost you 2.9% + $0.30 as a merchant. For foreign cards, there would be an extra 1% fee.
The cost of ACH transfers is 0.8% per transaction and a maximum charge of $5.
Stripe also provides custom pricing options for people that have a unique business format or a high volume of payments. If you're targeting a global market, you'll get special rates for multiple products and volumes, along with some country-specific discounts.
Stripe's customer service and tech support are exceptional. Representatives are available 24/7 by email, live chat, or phone. Overall, it is one of the best payment systems to integrate into your eCommerce platform.
4. Helcim – The Best Payment Solution For $25,000+ Per Month In Transactions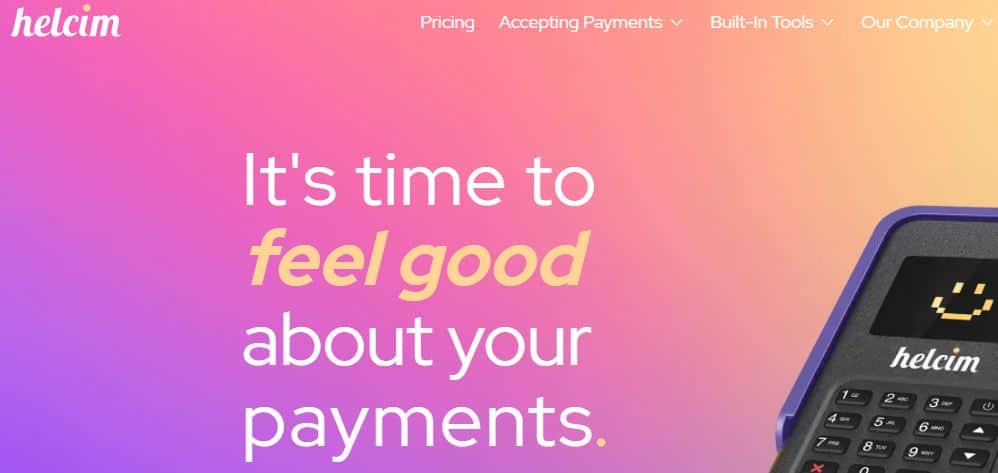 Helcim is an all-in-one solution to deal with your payment requirements. They have everything you need to start selling, from fantastic point-of-sale systems to eCommerce payment support.
Helcim also provides a platform for you to create an eCommerce store. It's on their website which includes their payment processor. It can also be customized easily and comes with some visually appealing pre-installed themes.
If you're a restaurant looking for a simple way to handle pickups and deliveries, they let you create a food ordering store easily.
They will help you if you already run an online store. Their payment pages are fully-hosted and let you add payment features to your website without having to do any coding. Magento, Drupal, and QuickBooks are only a few examples of third-party integrations that can be used with their solution.
You can get a custom quote based on your monthly sales volume and average transaction price.
5. PayCafe – Best Payment Processor For Small Businesses To Detect Fraud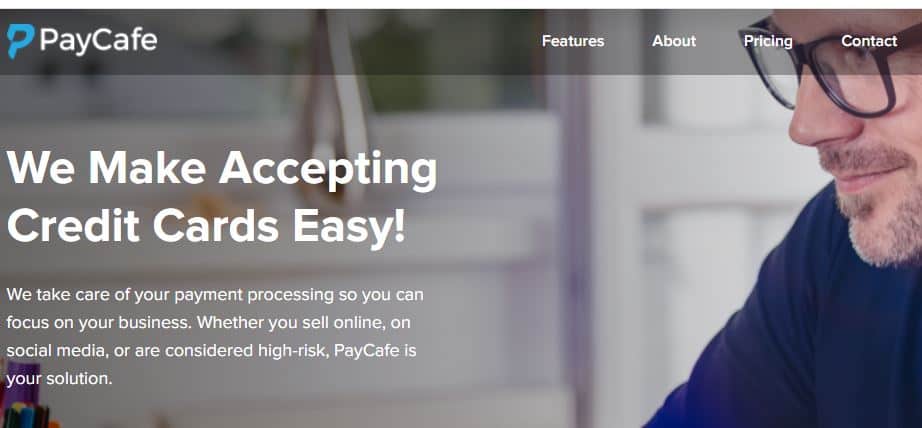 PayCafe is considered the preferred payment gateway for small business owners.
They provide consumers with a reliable payment processing infrastructure. The following are some of their benefits and features:
International currency and card: They let you take payments in 135+ currencies from all major credit cards in various countries.
Recurring billing: PayCafe bills your customers on a regular, weekly, monthly, or annual basis, depending on your preferences.
Extensive reporting: Dive into the company's detailed analytics. This way, you'll be able to improve your performance over time.
Flexible payment options: Accept direct deposits, PayPal, or even cryptocurrencies as online shopping payment options.
Furthermore, they provide you with 24/7 customer service. When it comes to dealing with eCommerce payments, this is a must-have. You don't want to be in a situation where something goes wrong, and you can't fix it right away.
6. 2Checkout – Payment System For Ecommerce Growth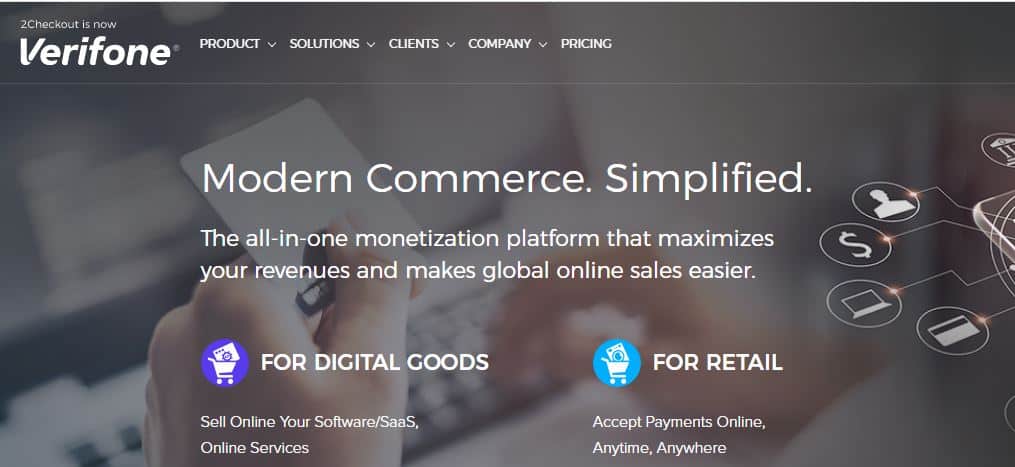 You don't want to be worried about the security of your payment processing as your company grows. When you're trying to compete in new segments or tap into international markets, the payment aspect of your business needs to be handled right away.
2Checkout excels in this area. It's a modular payment solution that's quite scalable and requires little effort on your part.
You can manage global payments, taxes, subscription billing, and all other payment requirements using this software. Start with the basics and pick what is needed. And when you're ready to advance, 2Checkout should have a feature for it.
More importantly, this software would be a great addition to selling globally.
You can quickly start to sell in more than 200 countries using any of 2Checkout's modules. You can also use their 2Monetize platform. They'll take care of the heavy lifting, such as VAT and other regulations for compliance.
The good part is that you can get started for free with any of 2Checkout's solutions. You will only be required to pay when you begin selling.
That's a big plus for those who would like to test out the software before getting into a commitment.
When you begin selling, you will be charged a percentage of the sale plus an additional fee. On 2Checkout's most basic package, 2Sell, each transaction costs 3.5% + $0.35.
Start using 2Checkout for free right now.
7. PayPal – Best Payment Method Online For Beginners
I'm sure many of you have already heard about PayPal and used it before. When it is about security, reliability, and being user-friendly, the company's reputation speaks for itself.
This is why you should think about integrating PayPal into your platform.
There are more than 400 million active PayPal users worldwide. Simply put, there are a lot of people using it, and the number is growing.
The PayPal CTA will help to increase the trust with the customers if you don't have a well-known brand yet. They know PayPal is credible when it comes to security.
Furthermore, rather than charging a debit or credit card, people may have a balance on their PayPal account that they can choose to spend.
PayPal is one of the most widely used electronic wallets globally. That's something else to think about.
Websites that accept PayPal convert at an 82% higher rate than those that do not.
You are able to accept the following types of payments for eCommerce with PayPal:
Debit cards
Credit cards
PayPal
PayPal Credit
Venmo
In the United States, any eCommerce payment would end up costing 2.9% + $0.30 a transaction. International transactions are a little higher, with a processing fee of 4.4% + a fixed sum based on the country of purchase.
8. Payment Depot – Method Of Online Payment For $50,000+ Per Month In Transactions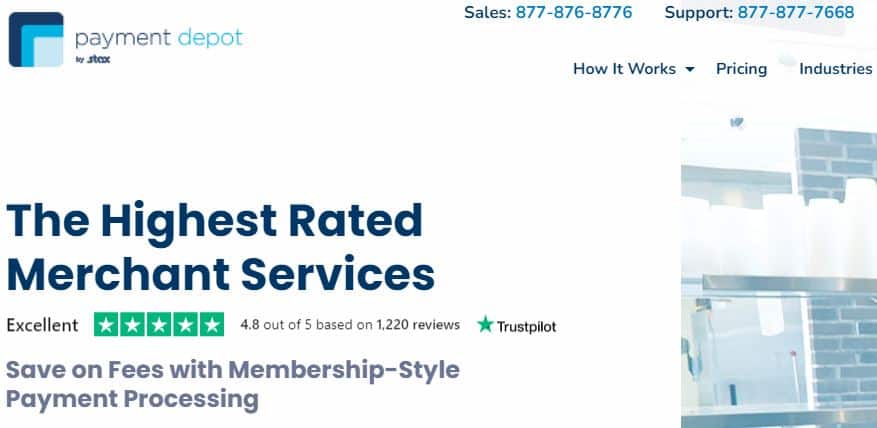 Payment Depot can be considered as the Costco for credit card processing. This is because of their membership-based pricing structure and lower processing fees. How low do they go? The processing fee can be as little as $0.05 per month for a lifetime membership.
The monthly subscription fee is $199. Although this may seem to be expensive, you'll actually be saving money on processing fees, which can add up quickly. And the processing fees that they do have aren't based on a percentage. Instead, it's a flat fee of $0.05 to $0.15 a transaction. If you're a larger company that does a lot of sales per month, this makes Payment Depot a very lucrative choice. You'll save a lot of money than if you used a standard percentage + fees model.
If you run a smaller business, however, you may end up paying a higher monthly subscription fee. This is why I don't recommend this solution to businesses that make lower than $50,000 per month.
Payment Depot provides a money-back guarantee for 90 days if you purchase an annual membership. That means you can cancel within 3 months of receiving your equipment and return it to get a full refund.
9. Google Pay – Best Payment Processor Online From Google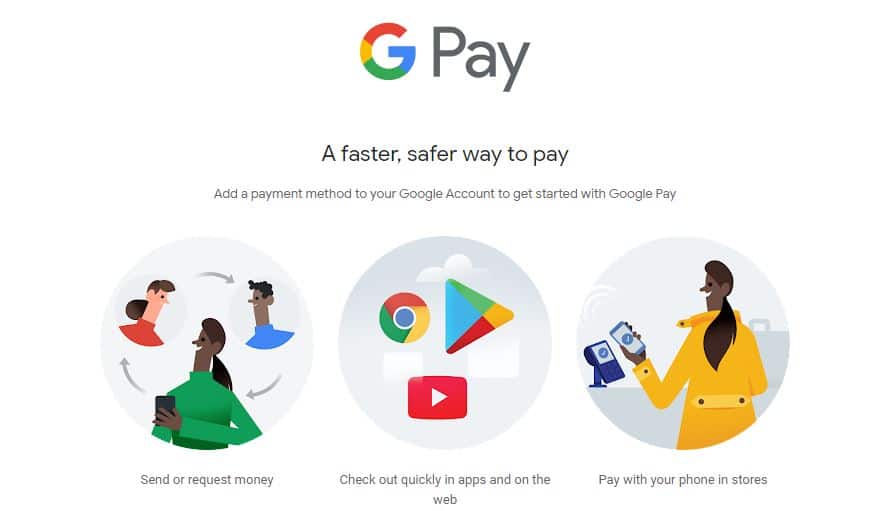 This is a digital wallet from Google, one of the most well-known companies in the world.
Google Pay is designed for online stores, in-person transactions, and smartphone applications.
Google Pay has now been integrated into the checkout processes of industry leaders including StubHub and Airbnb. StubHub saw a 600% increase in unique visitors purchasing with Google Pay after incorporating the updated Google Pay API into their platform.
Customers are slowly but steadily becoming more acquainted with it.
Google Pay is simple to incorporate into your online store. Simply gain access to the API and integrate it into your site. You'll be ready to go after running some tests.
It's also worth noting that Google Pay can be used in conjunction with other online payment processes on your platform. This includes Shopify, as well as some of the others we've already discussed, such as Stripe and Square.
10. ProMerchant – Online Payment Option For A Wide Range Of Merchants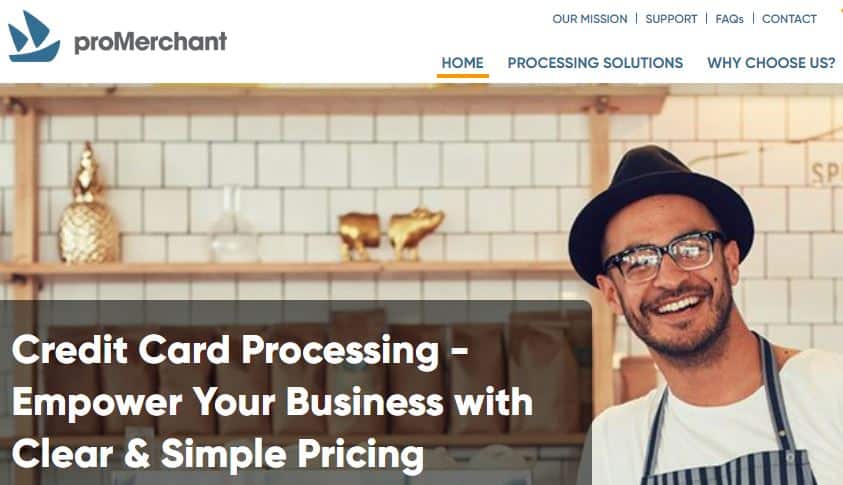 ProMerchant is based in Boston and provides a variety of merchant processing options, including a virtual terminal with no upfront fees. That means you won't have to pay anything upfront if you accept credit card payments over the phone, text, email, or via your website's "buy now" button.
ProMerchant uses Authorize.net as the payment portal for eCommerce sites. This enables you to accept payments from a wide range of online payment processes and credit cards:
Mastercard
Visa
American Express
Discover
PayPal
JCB
Visa Checkout
E-check
Apple Pay
The virtual terminal from ProMerchant also allows you to accept payments via email, phone, and even text messages. This provides the customers with even more options to complete payment.
ProMerchant provides two pricing options: Interchange Plus Fixed Rate and Zero Cost Processing (with a monthly fee)
Since you can cancel at any time, the month-to-month plan is a good deal. Plus, unlike the fixed-rate plan, you won't be charged a percentage fee per transaction.
Final Thoughts
If you can't get paid, your eCommerce platform is worthless. It's about time for you to acknowledge that not all of your customers have the same preferences when it comes to online shopping payment options.
To maximize your conversion rates, offer them as many options as possible.
Digital wallets are becoming increasingly common. Customers will find it easier to use these alternative eCommerce payment gateways rather than manually entering their payment details. You will increase revenue and lower shopping cart abandonment rates by reducing friction in your checkout process.
As a result, you should think about using these eCommerce payment gateways.
Payoneer – The best payment gateway for international transactions
Square – Secure payment method for businesses with retail locations
Stripe – Developer friendly eCommerce payment method for accepting online payment
Helcim – The best payment solution for $25,000+ per month in transactions
PayCafe – Best payment processor for small businesses to detect fraud
2Checkout – Payment system for eCommerce growth
Paypal – Best payment method online for beginners
Payment Depot – Method of online payment for $50,000+ per month in transactions
Google Pay – Best payment processor online from Google
ProMerchant – Online payment option for a wide range of merchants
It would be safer for you in the long run if you have more choices.