Adding a directory to your website is easy by using directory plugins for WordPress. All you have to do is install and activate a plugin.
There are a lot of directories on the Internet.
It's possible that your website is already part of some local business directory listings.
Consumers can use directories like Yelp to find a restaurant or service in their city. While services like Skilledhub links people with contractors for plumbing, landscaping, and electrical work.
Both the portals are directories, but they are very different.
There's a fair chance you'll be able to incorporate a directory into your website. Website directories are used by law firms to list their attorneys and employees. Real estate firms maintain directories for both their listings and their agents. A retail chain's store locations are almost certainly listed in an online database.
Important Features Of WordPress Directories Plugin
It can be difficult to find the right WordPress directories plugin for your site because the term "directory" is so broad and has so many different meanings. So, before getting into my list of the best directory plugins for WordPress, I'd like to go over the features to consider in a directory plugin.
Searches based on location with integrated maps
Payment integration (for paid local business directory listings)
Simple process for adding and modifying directory listings
Customizable fields on the form
Tools for the backend
Reviews and ratings
Support for media
Shortcodes for adding a directory to your website easily
Submission features on the front end
You won't need all of the features on this list. It all depends on your company, the intent of your website, and the type of directory you want to make. As we progress through this guide, you'll notice that the directory plugins for WordPress I've mentioned give these and many more features. As a result, use this list as a guide to finding the best WordPress plugin for your website.
6 Best Directory Plugins for WordPress
GeoDirectory – WordPress directories plugin for building a scalable global directory
Business Directory Plugin – The best WordPress Plugin for paid site directories
Directories Pro – Developer friendly plugin for building a directory for website
Advanced Classifieds & Directory Pro – The best WordPress plugin for payment processing
LDD Directory Lite – Lightweight WordPress directories plugin
Toolset Directory – The best WordPress plugin for custom options
Let's go over each plugin in greater detail below:
Best Directories Plugin Reviews
1. GeoDirectory – WordPress Directories Plugin For Building A Scalable Global Directory
One of the most sought-after search interfaces come with GeoDirectory, which allows you to create a scalable global directory on your site.
This is also a fantastic choice for those searching for a free WordPress directory plugin.
They make it simple for website visitors to find what they're searching for while maintaining the aesthetics of your site.
This plugin provides a front-end form for other companies and businesses to submit listings, allowing you to scale your directory to any size.
When a user searches for a company on your site, the results are sorted by proximity, so the nearest and most relevant local business directory listings are shown first.
Google Maps is integrated with the plugin. Every listing in the directory has a large, clickable map next to it. By using the tracker, users can get directions to the place without leaving your website.
Although the majority of the features are free, you can purchase add-ons.
Add-On Features
Reviews
Paid advertisements
Advanced search
Support for multiple locations
Claim listings option for businesses
Events
GeoDirectory is appealing because it is multi-site friendly. As a result, it is recommended for web developers who want to integrate it into their clients' websites or for those who are looking to build a directory network.
If you're starting from scratch with your directory website, GeoDirectory's directory themes would be a worthwhile investment. However, since this plugin works for any theme, you are not obliged to use these themes.
Google Analytics data will be available to merchants that have listings in your directory. This feature helps to show how beneficial your website is to their company in gaining traffic. If you intend to charge for local business directory listings, you can use this to justify your pricing.
Overall, GeoDirectory is a great choice for anyone looking to create a large, scalable business directory.
2. Business Directory Plugin – The Best WordPress Plugin For Paid Site Directories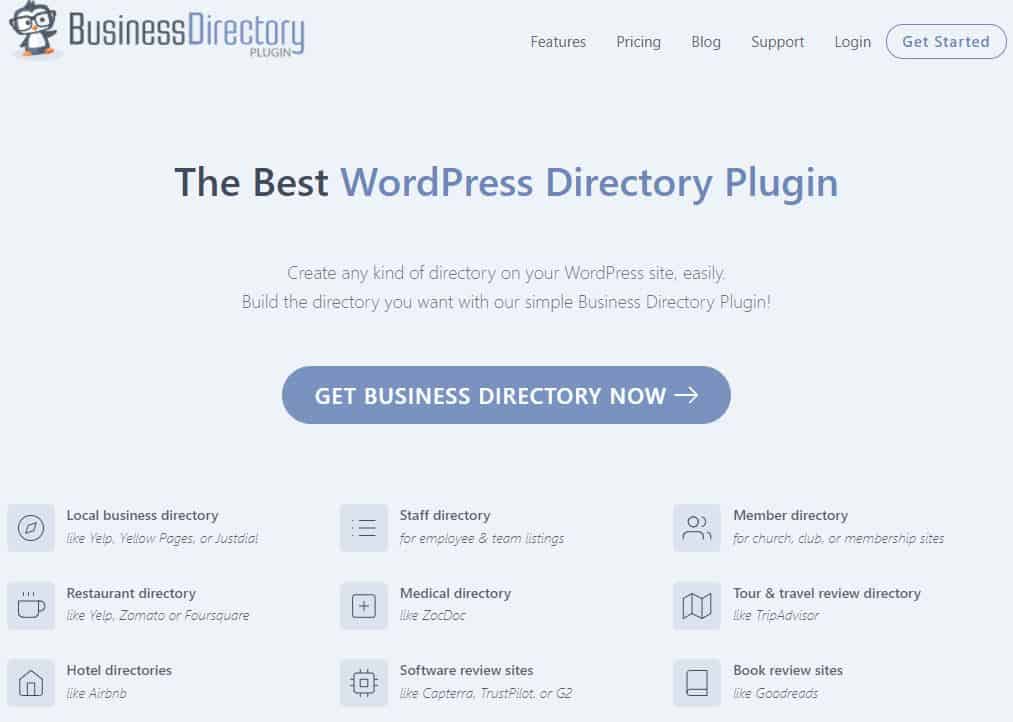 Some of the main features that I look for in a directory plugin are included in the Business Directory Plugin for WordPress:
Processing of payments
Form fields that can be customized
Support for media
With the Business Directory Plugin for WordPress, you can also buy add-ons to expand your directory. I suggest purchasing the package if you intend to use these add-ons.
For a single website, the combo pack costs $199.99, and for multiple websites, it costs $399.99. It might seem expensive at first, but when you know that each add-on costs $69.99 and $139.98 (for a single website and multiple websites, respectively), it's really a good deal.
Premium Add-On Features
Checkout gateway
Discount codes
Integration with Google Maps
Claim listings
PayPal payment processor
File attachments
Integration with Stripe
Ratings
Although paid add-ons are available, you can install and use this plugin right away for free. The plugin also includes a reCAPTCHA feature to help you stop spam listings in your directories.
A featured-levels module is also included in the Business Directory Plugin for WordPress. This is ideal for those who are using the directory to incorporate subscriptions and create recurring sales.
You can set up your platform so that paid listings have special features. A company that pays to be listed, for example, may get unlimited character counts, maps, and pictures, while a free listing does not. The Business Directory Plugin also allows you to set up payment tiers depending on the features that are offered.
This plugin provides you with all of the resources you'll need to compete with the industry's biggest names. Everyone may not be aspiring to be the next TripAdvisor or Yelp, but if that's your objective, you should give the Business Directory Plugin for WordPress a try. I think it would be brilliant to start a directory in a very specific niche that isn't well-represented or easily searchable in established directories.
3. Directories Pro – Developer Friendly Plugin For Building A Directory For Website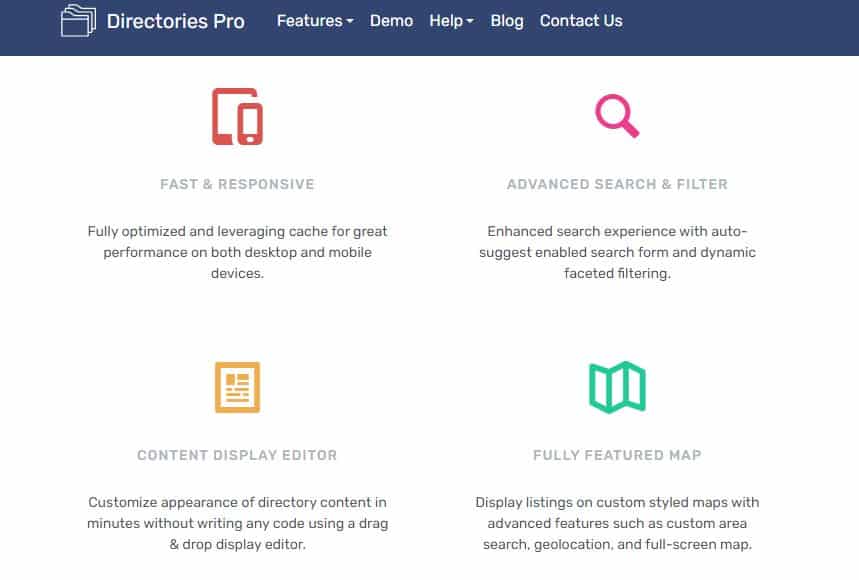 Directories Pro plugin is quite responsive and makes use of caching to improve the efficiency of the directories on both desktop and mobile devices.
Your visitors can use the plugin's advanced search and filter features. In the search fields, you can also switch on auto-suggest.
The forms can be customized to your liking. Tags, places, ratings, and categories can all be included in a listing.
The display editor is my favorite feature of the plugin. You can easily configure the directory without having to use any code by using the drag and drop editing options. Other noteworthy features include:
Advertised listings
Integration of maps
Customized notifications for emails
Import and export of CSV files
Claim listings
Directories Pro lets customers review and rate listings on your directory without having to log in, register, or set up an account. As a result, you'll probably get more ratings, which will help you promote your directory.
You'll also be able to easily create multiple directories. You can clone or move your directories from one site to another as well. All these features combined make Directories Pro one of the best WordPress directories plugin for both developers and regular users.
4. Advanced Classified & Directory Pro – The Best WordPress Plugin For Payment Processing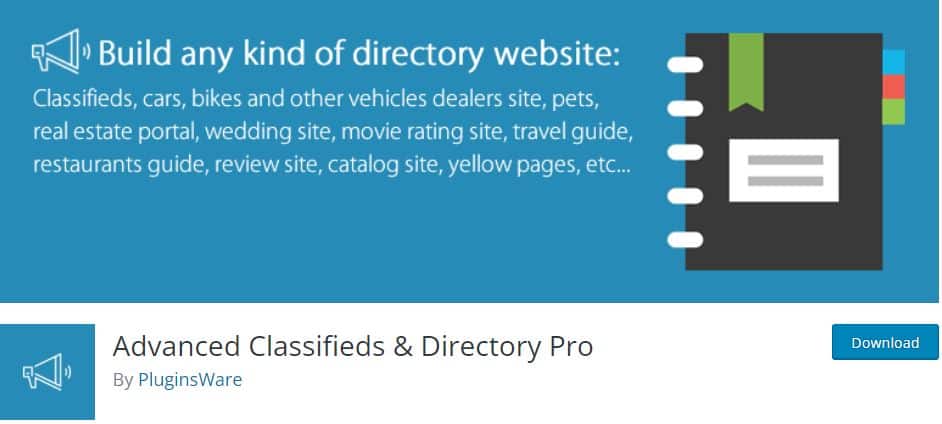 There are many possibilities with the Advanced Classifieds & Directory Pro plugin.
It can be used for creating Craigslist-style classified ads or for something like a movie reviews directory.
Perhaps you'd like to have a restaurant directory, travel guide list, real estate portal, or wedding directory on your site. The Advanced Classifieds & Directory Pro plugin for WordPress allows you to do all of these things.
Installing this plugin is free. There are premium add-on features available for purchase.
The listings slider/carousel is a great add-on. It makes it simple to display photos of your listing in a visually appealing slider format.
Businesses can handle their listings on your site using the plugin's simple user interface. They can also view their payment history and renew their subscription directly from the website.
For payment processing, this plugin integrates with PayPal, WooCommerce, and Stripe.
It also supports offline payments, so you can accept checks from businesses that do not want to make payments online. By eliminating a payment processing add-on, you might be able to save some money.
When a merchant's listing expires, they will receive an email notification. When payments are made, they will also get a confirmation message.
You should take advantage of the fact that the plugin allows you to arrange listings by category. Advanced Classifieds and Directory Pro also have an enhanced search widget that lets users narrow their choices by keywords, location, category, and more. With all these customizable features, this is one of the best directory plugins for WordPress available today.
5. LDD Directory Lite – Lightweight WordPress Directories Plugin

In just a few minutes, LDD Directory Lite can have your directory for website up and running.
There are also add-on features available for purchase with this free WordPress directories plugin. These premium upgrades are relatively inexpensive as compared to some of the other plugins available, ranging from $10 to $20.
You can include a directory to any page or post on your WordPress website using the LDD Directory Lite shortcode. The directory for website is automatically created after the shortcode is inserted. As a result of this approach, it is one of the most lightweight directory plugins for WordPress available today (hence the name).
You have several customization possibilities once the plugin is installed. It allows you to have full control over the look and feel of the directory on your website. Integrations with Google Maps and social media are among the most common add-ons.
You will be able to take advantage of the modern interface if you use this plugin. It's perfect for WordPress users who are not too technical and don't want to fiddle with complex features but still want a professional-looking website.
Front-end submissions are supported by LDD Directory Lite. Visitors to your website can easily browse your listings and navigate without difficulty.
You can set up email alerts for specific listings. Companies that are part of the directory can also configure and edit their listings from the front end.
This plugin is recommended for anyone looking for a simple business directory plugin for WordPress that is both efficient and lightweight.
6. Toolset Directory – The Best WordPress Plugin For Custom Options
Toolset Directory offers all the main features required for advanced site directories, without having to do any complex coding.
This plugin is designed for both seasoned programmers and those who are new to coding. Developers are able to easily incorporate features like front-end forms without having to spend additional time on coding. Besides, beginners can build complex site directories that they previously thought were beyond their capabilities.
Among the many useful features are:
Advanced search with a variety of filters
Custom fields, post types, and taxonomies
Front-end forms
Distance filters on maps
WooCommerce integration for payment processing
Email alerts
Advertised listings
These features can also be easily customized. The search results can be displayed in a table, grid, or map; you have control over how they are displayed.
If you're creating a multilingual directory site, you'll be happy to learn that the Toolset Directory was developed by the same people who created WPML. Therefore, they're totally compatible.
Other common plugins like Yoast SEO, WooCommerce, and Elementor are also integrated with Toolset Directory. It also works with the major WordPress themes.
The total cost of the Toolset Directory kit, which includes three websites, is $149. However, because of its versatility, it can also be used to create other forms of websites, such as brochures, membership, and eCommerce websites. As a result, if you intend to create multiple websites, you won't need to download multiple plugins.
Final Thoughts
There are several methods for adding a directory to your site.
Some of you may be attempting to create massive business directories to compete with the major players in the industry. Others might be creating niche-specific local directories. Perhaps you just need a directory for something basic, like for your workers.
In any case, installing a plugin can enable you to easily add a directory for website. As a result, this guide can be used to find the best directory plugins for WordPress. Look for an option that has the unique features you need. Make sure you have a reliable web host if you intend to build a large directory.
Here are the best directory plugins for WordPress mentioned in this guide:
GeoDirectory – WordPress directories plugin for building a scalable global directory
Business Directory Plugin – The best WordPress Plugin for paid site directories
Directories Pro – Developer friendly plugin for building a directory for website
Advanced Classifieds & Directory Pro – The best WordPress plugin for payment processing
LDD Directory Lite – Lightweight WordPress directories plugin
Toolset Directory – The best WordPress plugin for custom options