Planning a vacation is like embarking on a thrilling adventure, but before you dive headfirst into the excitement, it's crucial to do your research. One question that often crops up when exploring travel options: Is Snaptravel legit?
Well, let's dig deeper into the details and help you make an informed decision.
What Is Snaptravel (SuperTravel)?
Snaptravel, an online travel booking platform originating from Canada, has been making waves since its launch in 2016. Renowned publications such as Business Insider, TechCrunch, and Forbes, have featured this platform, which is a good sign. With a solid track record, Snaptravel is definitely a platform worth considering.
What sets Snaptravel apart from the competition is its groundbreaking technology called Snapcommerce. This innovative platform revolves around message-driven commerce and taps into the power of artificial intelligence (AI) to connect savvy travelers with unbeatable deals.
By utilizing popular messaging apps like WhatsApp, Messenger, and SMS, Snaptravel keeps users in the loop regarding special promotions and discounts for their preferred travel services.
Is SuperTravel Legit?
If you're still skeptical about SuperTravel, allow me to put your mind at ease—it's absolutely legit. The company's credibility has been solidified by its recognition in business magazines and reputable websites. So, when it comes to scoring fantastic deals on your travel escapades, you can trust SuperTravel to complete your booking.
And while we're on the subject, don't forget to check out the article on SuperTravel's competitor: Is Hopper Legit?
Making The Most Of Snaptravel
If you're ready to get started with Snaptravel, here's a step-by-step guide on how to maximize the platform and unlock remarkable savings:
1. Fill In Your Travel Details
Head over to the Snaptravel website, and in the search bar, enter your travel dates, desired location, and the number of guests. Once you've provided this information, hit that search button.
2. Stay Connected
To gain access to Snaptravel's extensive database of deals, you'll be prompted to link your Messenger, WhatsApp, or text message account. By doing so, you'll receive personalized deals directly to your phone, tailored to your specific search preferences.
3. Fine-Tune Your Results
Refine your search results based on price, property types, amenities, and more. You can even sort accommodations based on their proximity to popular landmarks—a nifty feature to have in your travel toolkit.
4. Snatch An Irresistible Deal
Spot a deal that catches your eye? Simply click on the "Reserve" button and follow the straightforward instructions to book your dream vacation.
5. Revel In Your Savings
Congratulations! You've successfully secured an incredible deal through Snaptravel. Now, all that's left to do is book your stay, pack your bags, and embark on an unforgettable adventure.
With Snaptravel by your side, unlocking incredible deals on travel products and services becomes a breeze. Thanks to their user-friendly platform, booking your dream vacation is just a few clicks away.
Why Is Snaptravel So Cheap?
Snaptravel uses a sophisticated AI-powered message-driven commerce platform. This intelligent system excels at pairing budget-conscious travelers with irresistible promotions. Thanks to this cutting-edge technology, Snaptravel can secure great discounts ranging from 30% to 50% on hotels and various other travel-related services.
Pros Of Snaptravel
Let's dive right in and explore the key benefits that make Snaptravel a top choice for savvy travelers like yourself.
Hassle-Free Booking Made Easy
Their booking process is designed to be seamless and stress-free, ensuring that you can secure your reservations quickly and effortlessly.
Save Big With Great Deals
By leveraging their messaging service, Snaptravel delivers great hotel deals that can help you save up to a staggering 50%! Snaptravel makes it possible to have the vacation of your dreams while keeping your budget intact.
Trustworthy And Reliable Partner
With Snaptravel, you can book confidently knowing that you're dealing with a reliable company that has built a strong reputation. Their track record speaks volumes, and their commitment to customer satisfaction shines through in every interaction.
Snaptravel Reviews
While Snaptravel (SuperTravel) may be a relatively new player in the online travel agency arena, it has already made a lasting impression on customers. With an impressive consumer rating of 4.1 on Trustpilot, it's clear that Snaptravel knows how to keep its users happy.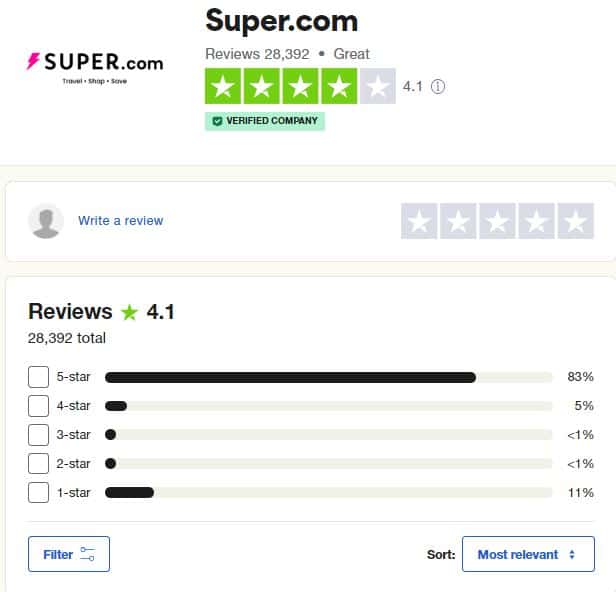 88% of reviews have awarded Snaptravel a stellar 4- or 5-star rating, classifying it as "Great" on Trustpilot. These scores place Snaptravel miles ahead of many other online travel agents, making it the go-to choice for savvy travelers.
Snaptravel Customer Service: Addressing Snaptravel Complaints
While it's important to acknowledge that no company is immune to occasional complaints, Snaptravel has received overwhelmingly positive feedback.
It's worth noting that only 10% of reviews on Trustpilot have given Snaptravel a one-star rating, indicating that the majority of customers are satisfied with their experience.
The most common complaint revolves around customers being charged for services they didn't utilize or weren't aware they had signed up for. In most cases, it appears that individuals may not have thoroughly reviewed the terms and conditions of their booked accommodations before committing.
It's reassuring to know that Snaptravel takes customer service seriously and actively responds to negative reviews on Trustpilot. They make every effort to address any issues that arise, striving to ensure customer satisfaction at all times. Overall, it's clear that people genuinely appreciate Snaptravel and the incredible deals it offers.
Uninstalling Snaptravel
In the unlikely event that you wish to uninstall Snaptravel, the process is simple. Just type "Stop" or "Unsubscribe" into your Snaptravel conversation thread, and you'll opt out of receiving future messages.
It's important to note that even after unsubscribing, you'll still have the freedom to search for hotels and make new reservations if the need arises. To unsubscribe from Snaptravel emails, just click on the "Unsubscribe" option within the email itself.
If you prefer to remove the Snaptravel app from your device, visit the official Android or Apple website for the most up-to-date instructions on how to uninstall an app.
Exploring Alternatives To Snaptravel (SuperTravel)
If you're still weighing your options and not quite sure if Snaptravel is the right fit for your travel needs, don't worry! There are several other reputable companies out there (check out: Is Traveluro Legit?) that also offer incredible deals on travel products and services.
Let's dive into some of these alternatives that are worth considering.
Trip.com
Feeling overwhelmed by the daunting task of planning your next trip? Look no further than Trip.com. This comprehensive travel site serves as the ultimate travel companion, offering everything from flights and hotels to rental cars and tours.
Whether you're dreaming of a tropical escape or an exciting city adventure, Trip.com has got various options. Read the informative article (Is Trip.com Legit?) which provides all the essential information you need.
Booking.com
When it comes to finding an alternative to Snaptravel, Booking.com is a top-notch option that you should definitely explore. This well-known online travel agency specializes in providing amazing deals on hotels, rental cars, and flights.
Just like Snaptravel, Booking.com offers a user-friendly interface that makes finding your perfect vacation package a breeze. So, if you're on the hunt for unbeatable travel deals, be sure to check out what Booking.com has in store.
If you're curious to learn more about the legitimacy of Booking.com, check out the in-depth article: Is Booking.com Legit?
Agoda
Agoda understands that planning a trip can sometimes feel overwhelming. With so many choices and details to consider, it's easy to get lost in the process. Their user-friendly and informative website empowers you to search for flights, hotels, rental cars, and tours all in one convenient place. With just a few clicks, you can simplify your travel experience and embark on unforgettable journeys.
Discover whether Agoda is the right travel booking platform for you by delving into the comprehensive article: Is Agoda Legit? Get all the insights you need to make an informed decision about your travel plans.
FAQs – Is SuperTravel Legit?
SnapTravel does not have any hidden fees. The price you see during the booking process is the final price you will pay.
2. Can I get my money back from SnapTravel?
SnapTravel has a refund policy in place, but it may vary depending on the specific booking and the terms and conditions associated with it. It's recommended to reach out to their customer support for assistance with refunds.
3. Is SnapTravel Super?
Yes, SnapTravel was rebranded as SuperTravel in October 2022.
4. Who is the owner of SnapTravel?
SnapTravel was co-founded by Hussein Fazal and Henry Shi.
5. How does SnapTravel make money?
SnapTravel generates revenue through commission-based partnerships with hotels. When a customer books a hotel through SnapTravel, they earn a commission from the hotel for the referral.
Conclusion: Is Snaptravel Legit?
Rest assured, Snaptravel (SuperTravel) is a legitimate company that offers outstanding deals on travel products and services. With great customer service and glowing reviews, travelers can confidently book through Snaptravel knowing they'll receive exceptional value.
Despite being a relatively new player in the industry, having been founded in 2016, Snaptravel has quickly risen to prominence and surpassed many established firms in terms of positive feedback.
So, if you're in search of a reliable and affordable way to travel, Snaptravel might just be the perfect solution for you. Explore their unbeatable offers and embark on memorable adventures with peace of mind.