Online shoppers always ask themselves this question – Is Etsy legit? This article is here to assist you in identifying reputable Etsy sellers and to advise you on how to be safe while making purchases on the website.
Etsy is a terrific website for online shopping because it has everything from handcrafted goods to vintage items. How can you tell if Etsy is trustworthy when looking to buy those original, innovative handcrafted goods?
Etsy Buyer Protection – Is Buying On Etsy Safe?
For giving vendors and consumers on the platform a sense of security, Etsy has developed a protection program. In the unfortunate event that you fall prey to an Etsy scam, the website's buyer protection program is available to assist you.
In the event that orders go awry, Etsy's buyer protection policy was established to help give customers peace of mind.
Via this program, orders that meet the requirements will receive refunds of up to $250 if the item doesn't arrive, gets damaged, or isn't what was advertised.
This initiative promotes secure online shopping for Etsy users.
Is Etsy A Reputable Site Or Is Etsy A Scam?
Etsy is a very secure online marketplace! It's a sizable, publicly traded business that was founded in 2005. This business has a solid reputation for reliable transactions, making it a very popular platform for online customers and business owners alike.
But, despite all of this knowledge, it is still easy to be duped by a lone Etsy merchant.
The vast majority of grievances filed on Etsy are against the site's sellers. There is occasionally a chance that you will be defrauded on Etsy because purchasers must pay for the item in full before the seller would send it.
Some adverse situations an Etsy customer can experience include:
Getting a defective item
Purchasing a product but not receiving it
A shipment went missing while being sent to you
Getting a package after the shipping window has passed
Receiving a product that is either much inferior in quality than what was initially described or does not match the listing description
It's crucial to be aware of a few basic practices in order to stay safe on Etsy and make secure purchases.
When making a purchase, be sure to understand their refund policy
Thoroughly examine the Etsy seller's shop, including the listing images, shop guidelines, customer feedback, and other items
Never start or finish a purchase outside of the Etsy platform
Never provide a vendor with your credit card details
Etsy Payment Security – Is Etsy Secure?
There are numerous payment methods accessible to purchasers if using a credit card to make an Etsy purchase still gives you the willies. These payment choices consist of:
Debit cards
Credit cards
PayPal
Gift cards for Etsy
Financing through Klarna (in the US)
Google Pay
Apple Pay
Visit the Etsy Help Center to find out more about the payment options available to you based on where you are.
Is Using A Credit Card On Etsy Safe?
Yes! The use of credit cards on Etsy is secure.
Etsy sellers must process payments from their customers using either Etsy Payments or PayPal. This is fantastic news for both vendors and buyers because it frees merchants from handling payment information and gives customers peace of mind knowing their financial data is safe.
Your mailing address will be provided to Etsy sellers, but they will never see your credit card details. This is fantastic since it guarantees that no Etsy vendors will ever obtain your credit card information.
Never provide an Etsy vendor with your credit card number.
You shouldn't ever provide your credit card information to Etsy merchants because they don't require it and the site never displays it to them. It serves no purpose to them.
The Process Of Getting Started As An Etsy Seller
Etsy doesn't have a drawn-out, difficult, or rigorous application process for sellers. For artists who want to start selling online, this is quite convenient.
However, it also makes it simple for scammers to register an account.
Establishing an Etsy store is a relatively simple procedure. It only requires creating an account, setting up your store, uploading a profile image and bio, adding listings, and setting up payment details. Etsy takes each vendor via a simple, step-by-step process.
Who Uses Etsy To Sell Products?
Anybody can sell on Etsy, from woodworkers to potters. Etsy is one of the top options for internet sellers when looking for somewhere to sell their products.
Most vendors are sincere business owners hoping to expand their businesses. You can better comprehend the working of the platform by getting to know the people behind the Etsy stores.
A business license is not necessary for sellers to sell on Etsy.
Some examples of seller personas on Etsy include:
Expert craftspeople who practice their skill full-time
Stay-at-home parents seeking a lucrative side business to help them support their family
Regular folks who want to use their hobbies to earn a little extra income
Business owners attempting to diversify their sources of income
Crochet enthusiasts who are retired
College students seeking more income
Is Etsy Trustworthy? How To Determine If An Etsy Seller Is Legit
How can you distinguish between trustworthy and dishonest sellers? There are a few methods to tell if someone is an Etsy star seller, from examining their profile to reading their reviews.
Here are my guidelines for determining whether an Etsy vendor is legitimate:
Examine the vendor profile
Scan the quality of the photos in the listing
Look at the reviews on Etsy
Check out their customer support
1. Examine The Seller Profile
The first step in determining the genuineness of Etsy sellers is to carefully review their profiles. If you're considering launching an Etsy affiliate program, it's crucial to fully comprehend each seller.
When examining their profile, you should search for the following things:
Length of time for which they have been an Etsy seller
If they are a top seller
The volume of their sales
Details regarding the owner
Key store policies, such as their return policy
Any store announcements
Do They Have A Star Seller Badge?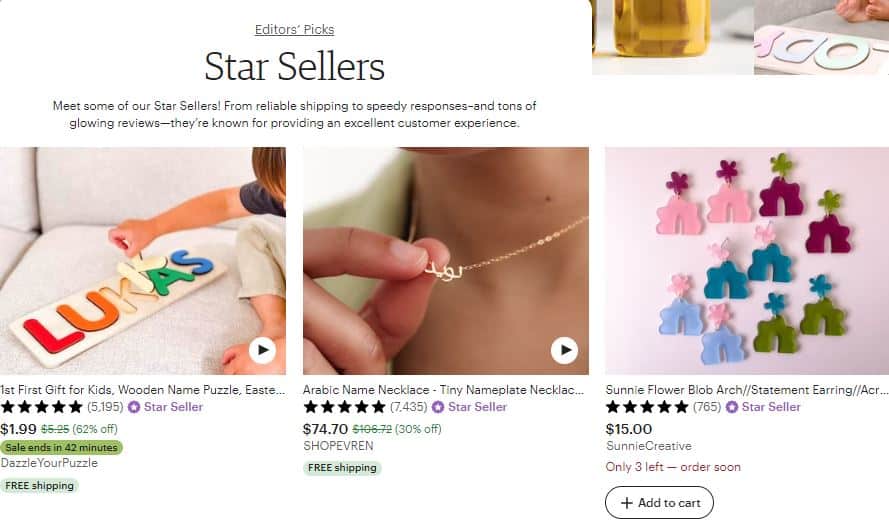 A store displaying a purple star icon shows an exceptional seller (star seller). The badge indicates they have mastered the process of learning how to make money on Etsy. They frequently receive five-star reviews, offer excellent customer service, ship things on schedule, and respond to messages quickly.
One way for vendors to gain the trust of their customers is by using this significant badge. Also, customers feel safe at the store they are buying from. As a result of the numerous reviews and purchases, the customer service claims they are making can be believed.
Have They Been Selling On Etsy For A Long Time?
The duration of the Etsy seller's operation is a crucial factor to take into account. It's more probable that they will be a trustworthy vendor if they have been selling on Etsy for a while.
Being a new seller isn't essentially a bad thing, but it's only one factor to take into account when figuring out whether the seller is trustworthy.
Sales Volume
You can tell if an Etsy seller has a solid reputation in the marketplace based on how many sales they have made. If they've been in business for more than a year and have only made 10 sales, it may indicate that their items' quality did not encourage repeat business.
On the other hand, if the vendor has more than 100 sales and positive ratings, they are probably a very reliable store.
But keep in mind that a store can potentially be new to the platform and have little sales as a result. It ultimately comes down to weighing this knowledge against the other things we've covered.
Store Announcements

It's critical to read shop announcements on Etsy because this is where sellers may provide updates about their companies.
The following are examples of shop announcements that are frequently made:
More details about the shop and its offerings
Updates on product availability and brief store closures
Information about current promotions or discounts
Etsy shop announcements also provide you, the customer, a chance to assess how active the seller is and how seriously they treat their online business.
The expectation for a great experience is set right away if they have a professionally curated shop announcement.
Policy For Returns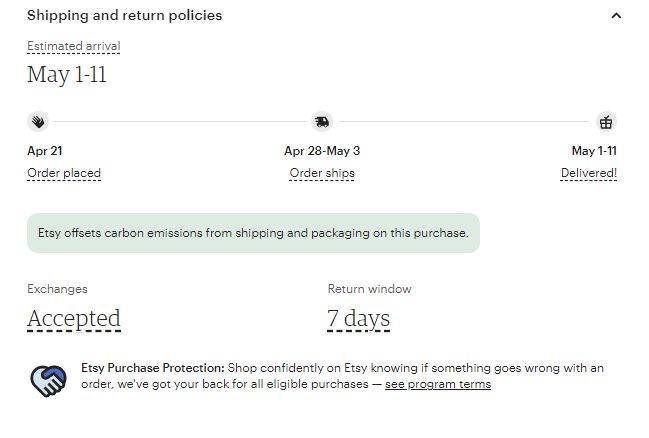 Being safe on Etsy requires that you are aware of the return procedure before making a purchase.
The knowledge that the item is returnable before you buy it might also contribute to your sense of security. You'll be a more confident buyer if you know you can return the products.
That being said, the absence of a return policy does not imply that the seller is a fraud or that Etsy is unreliable. For instance, vendors often won't accept returns on items that have been customized for your needs.
Perhaps, this is one more criterion to think about while purchasing from the seller.
Owner Information
Even though not all stores will provide this, knowing more about the shop's owner can help you feel more at ease when making a purchase. If they have a headshot and a brief bio listed on their seller profile, this further establishes their credibility and transparency.
2. Assess The Listing Photos And Their Quality
Examining the quality of the listing images can also be used to help you decide whether the store is genuine.
It's possible that they don't actually have the things for sale that they claim to if the images are poor quality, hazy, or appear false. They may be utilizing images that they have simply downloaded from another website.
On the other hand, some Etsy sellers might have lower quality images since they don't have a good camera or have little photography skills. Making a selection on what to sell on Etsy can be challenging, and this seller could lack experience in taking product photos.
To evaluate the listing images of Etsy sellers, consider the following questions:
How many images are included in each listing?
Are the images poor quality or blurry?
Do the images displayed in the listing match the product description?
Do the images look like stock photos taken from other online sources, or is it their own images?
Although the validity of an Etsy seller isn't necessarily determined by the quality of the listing images, it is an important factor to consider.
3. Verify The Etsy Reviews And Ratings (Etsy Customer Reviews)
Is Etsy Legit? Reading the reviews for the seller is one way to assess the trustworthiness of an Etsy account.
Customers on Etsy and online consumers in general have a reputation for being brutally honest in their reviews. This implies that you may assess the credibility of the seller before you make a purchase based on the reviews Etsy customers post after their order.
Based on the average of a shop's sales over the previous year, Etsy's review system calculates a shop's overall rating.
When a customer goes to write a review for a recent transaction, they will be prompted with a series of questions. In order to ensure that their experience is fresh in their minds, buyers must also finish their review within a certain time frame after receiving the product.
The reviews include:
A grade based on whether the product's quality matches what was advertised, if it came on schedule, and whether the customer would do business with this vendor again
A written description of the experience by the buyer
Images provided by the buyer
Reviews of Etsy stores are particularly useful because they frequently include images. You can therefore see how well-made the things are from the Etsy shop.
It's crucial to read both positive and critical customer reviews. You should look through multiple reviews before making a judgment about the seller because one strategy used by Etsy sellers to increase the exposure of their business is to gather positive customer reviews. You can use your critical thinking abilities to identify which reviews are real at this point.
Etsy Seller Reviews
The seller's perspective is the other side of the Etsy review system.
On Etsy, some consumers fall prey to scammers, but some sellers also receive harsh reviews. The Etsy website acknowledges this, which is why it offers sellers the option to report unfair reviews.
Sellers can do the following:
Ask for the removal of negative reviews and photos that are in violation of Etsy's regulations
Respond to reviews with three stars or fewer to publicly address the issue
Hide images that incorrectly represent their items
Privately message the customer to address the issue and attempt a resolution
If an Etsy review does any of the following, it violates the platform's policies:
Contains obscenities, spam, or racist remarks
Intimidates the seller
Is regarding the Etsy system as a whole rather than a specific seller
Contains an advertisement
Invades the privacy of either the seller or the buyer
In fact, a great option for buyers to see how the seller interacts with and manages their customer service is to allow sellers to publicly respond to reviews with 3 stars or less. It demonstrates that a seller takes their Etsy business seriously if they respond to an angry customer in a cool, collected, and professional manner.
You can observe the seller's resolution process firsthand.
This gives you an indication of how they might address any problems you might encounter when making a purchase from their store.
Giving shoppers a thorough grasp of the Etsy review system involves being aware of the options sellers have for responding to unfavorable reviews. This implies that you can look through both positive and critical reviews along with the seller's answers while exercising your best judgment.
4. Put Their Customer Service To The Test
The best approach to find out if the Etsy store is legit is to test their customer service, even though you don't want to waste their time or ask pointless questions.
For instance, you could get in touch and write them a message if you have a specific question about the product that isn't addressed in the description or a query regarding product availability.
By contacting customer support, you can find out if there is someone running the Etsy shop who is actively taking care of the account.
Also, this will show you how quickly they'll actually dispatch your item. They are probably not actively maintaining their Etsy seller account if they don't respond to your message within a couple of business days, and they won't likely send your order right away either.
The real question you should be asking yourself is if they would respond to messages sent by prospective customers.
A Seller Account On Etsy May Be Closed At What Point?
Even while anyone can register to sell on Etsy, that doesn't imply they will always be able to do so. When a seller account is found to be fraudulent, Etsy will delete it from the marketplace.
An Etsy seller account will be terminated if it:
Gets way too many bad reviews
Disregards Etsy rules
Regularly dispatches too many orders after the deadline
Receives too many fraudulent transaction complaints from customers
Receives allegations of trademark or copyright infringement
Holds on the account due to unpaid Etsy seller fee
Their profile contains false personal information, such as their location
Conclusion – Is Etsy Legit?
If you shop online, you may be wondering if Etsy is trustworthy. Etsy is legitimate and completely secure, therefore the answer is yes. You may help safeguard yourself from potential scammers and have a great buying experience by using the safety recommendations I've covered in this article.