If you're anything like me, hunting for a sweet travel deal is a never-ending quest. And when it comes to unearthing those hidden gems, Booking.com always catches my eye. But let's pause for a moment: is Booking.com legit? Can we trust this online travel agent to hook us up with a smashing deal for our next escapade?
It's a valid concern and one that deserves a closer look. After all, the last thing we want is to book a room and discover later that we've been bamboozled! So, join me on this journey as we delve deeper into the realm of Booking.com and unravel the truth about its trustworthiness.
What Is Booking.com?
This popular third-party site offers a number of travel services, ranging from luxurious hotels to flights, rental cars, and more. It's not just a run-of-the-mill platform, mind you. This travel fare aggregator and meta-search engine support a staggering 42 languages. With access to 91,000 locations across 224 countries and territories, it's no surprise that Booking.com reigns supreme among the internet's options for accommodation and hotel websites.
Where Is Booking.com Located?
Established in 1996 by Geert-Jan Bruinsma, the website soon caught the eye of travel giant Priceline, which acquired the company in 2005. These days, Booking.com continues to thrive under the umbrella of Booking.com B.V., a Netherlands-based entity that is based in Amsterdam.
Is Booking.com Legitimate?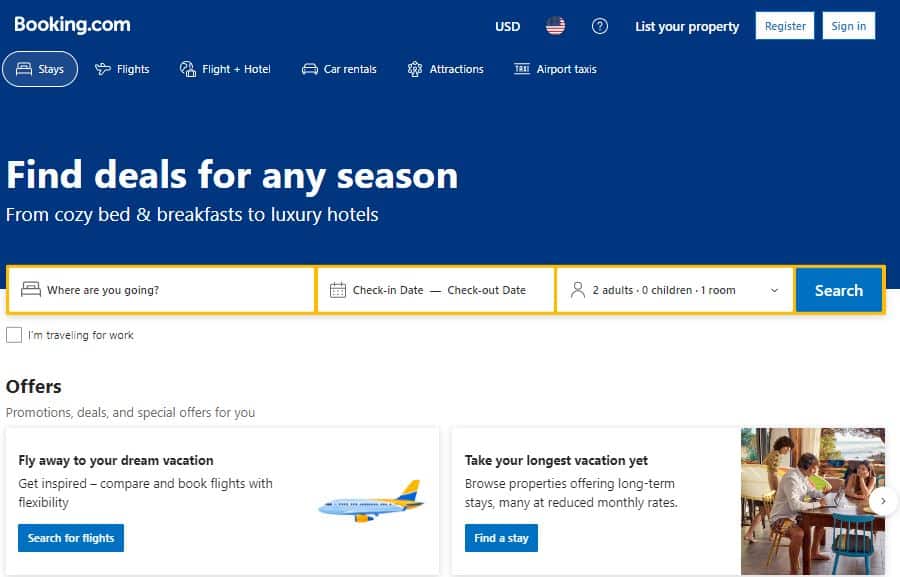 So, is Booking.com legit? Can we put our trust in this platform with our hard-earned cash and dreamy vacation plans?
In short, yes, Booking.com is a legitimate booking platform. Owned and operated by a bona fide company, it has been serving travel enthusiasts for over two decades. So, rest assured, you can navigate its digital halls with confidence.
The Booking.com Experience
Now that we have a better grasp of what makes Booking.com tick, let's dive into the inner workings of this virtual wonderland.
At its core, Booking.com acts as a matchmaking maestro, connecting travelers like you and me with a vast array of airlines, hotels, and other travel-related businesses.
When you search on Booking.com for a hotel, the website's sophisticated algorithms will scour its immense database of over 1.5 million hotels, sifting through the options to get the best deals.
Once you've found the hotel you like, you can seamlessly book it on the Booking.com website. The same goes for flights, rental cars, and all your other travel needs. Simply input your travel dates and destination, and Booking.com uses its vast network of providers to unearth the best possible deals.
One of the notable aspects of Booking.com is its versatility. It's like a one-stop shop for all your travel needs. Whether you're in search of a hip city center hotel, a cozy countryside accommodation, a cheap flight, or a trusted rental car service to embark on your road trip, Booking.com has got you covered.
Booking.com Reliability: Is Booking.com Safe For Hotels?
Booking.com isn't just a player in the online hotel reservation game—it's a titan. With a vast selection of accommodations ranging from budget-friendly hostels to lavish suites, this platform offers an easy and intuitive way to compare prices and snag the most enticing deals.
Booking.com doesn't own any hotels. It acts as the middleman, forging connections between hotels and guests. While this means you may face some challenges in rectifying issues with your reservation directly through Booking.com, there's always a way to work things out.
Secondly, Booking.com depends heavily on user-generated content. Guest reviews and ratings are its lifeblood, providing us with valuable insights into the quality of accommodations.
But not all reviews are created equal. While they offer a glimpse into the overall experience, it's crucial to exercise caution and remember that some reviews may be biased, inaccurate, or even downright deceptive. Keep your eyes peeled and take everything with a grain of salt.
So, while Booking.com can be a trusty companion on your quest for the perfect accommodations, it's essential to exercise due diligence. Conduct your research, read reviews, and arm yourself with knowledge before embarking on your travel escapades.
Getting Started With Booking.com
Now that we've unraveled the secrets behind Booking.com's pricing, here are some tips on how to make the most of this platform.
Enter The Details
Input your check-in date, the number of nights, and the desired number of guests and rooms.
Use the handy filters in the drop-down menu to narrow down the options and discover the perfect property tailored to your needs. With filters ranging from price and location to amenities and property type, you have the power to curate your ideal experience.
Sort the results by lowest price, popularity, review score, or proximity to a specific location or landmark. Whether you're a luxury seeker or a budget-conscious explorer, Booking.com has what you are looking for.
Booking.com Review
With over 90 million verified reviews, Booking.com gives you a good idea of the selected provider.
Want to know if those beds are as cozy as they claim or if the breakfast buffet is worth setting your alarm for? The reviews have it all, offering a glimpse into the real experiences of other travelers. Take advantage of this wealth of information before making your final decision.
Cancellation Considerations
Before sealing the deal, always double-check the cancellation policy. Different properties have different policies, and it's crucial to know the terms and conditions to avoid any surprises.
Loyalty Program
If you're a seasoned jetsetter, don't miss out on the perks of the Genius loyalty program. Sign up and unlock the door to future booking discounts and other delightful surprises. Your loyalty will be rewarded!
Mobile App
Need to book on the go? Look no further than the Booking.com app. With its user-friendly interface, searching for accommodations becomes a breeze. Plus, you'll have all your booking information conveniently at your fingertips. No more digging through email threads or scribbling confirmation numbers on random scraps of paper.
Does Booking.com Price Match?
Here's a little cherry on top: Booking.com offers the Best Price Guarantee. Should you stumble upon the exact same accommodation or room at a lower price elsewhere for the same booking dates, reach out to them. They'll match that price and even throw in a little extra to sweeten the deal.
So, armed with these invaluable tips, you're ready to get started with the Booking.com experience.
Why Is Booking.com Cheaper Than Other Sites?
How do they manage to slay the competition and present us with such attractive offers? Is there a hidden catch?
Booking.com Business Model
The secret sauce behind Booking.com's success — they've got a seriously streamlined business model. Unlike traditional companies, they don't burden themselves with the weight of owning hotels. They've found a more efficient way to operate.
Booking.com act as the middleman, facilitating the connection between you and your dream accommodation. Hotels happily pay them a commission for each booking, and guess what? Some of that commission trickles down to you in the form of lower prices. It's a win-win situation that keeps your travel budget intact.
Booking.com's Pricing Model
Now, here's another reason why Booking.com can offer you low pricing: it's all in the pricing model. Booking.com has mastered the art of dynamic pricing, and it's a game-changer.
Instead of slapping a fixed rate on their accommodations, Booking.com utilizes a nifty little system called RateIntelligence. This dynamic pricing system provides accommodation providers with valuable insights into demand and competitor pricing. It's like having a crystal ball that guides them in setting the most attractive prices for their offerings.
So, what factors come into play when determining those irresistible numbers? Well, it's a delicate balance between demand, availability, the flexibility of cancellation options, and even your loyalty as a customer through their discount program. They've got all the bases covered to ensure you're getting the best bang for your buck.
Booking.com Problems With Hotel
When it comes to booking a hotel room, it's natural to rely on guest reviews to help you make an informed decision. Booking.com, a popular platform for finding hotel rooms, heavily relies on these reviews. However, it's important to question the reliability of these reviews and be aware of the possibility of fake ones.
Booking.com is known for its commitment to honest guest reviews. Only guests who have booked and stayed at a property through Booking.com can leave a review. However, this doesn't guarantee that all reviews are genuine.
There have been suggestions on online forums that property owners may manipulate reviews by making reservations through the "pay at the property" bookings function to write reviews for their own accommodations. There are services that get paid to write reviews.
Booking.com Fake Reservations
While it is possible that there are fake reviews, it's difficult to identify them with certainty. It's advisable to approach all hotel reviews with caution and exercise your best judgment. Reading multiple reviews from different people can help you form a more accurate picture.
If all the reviews for a particular accommodation provider are overwhelmingly positive without any negative reviews, there may be a chance they are fake. On the other hand, mixed reviews are more likely to be genuine.
One way to spot a potentially fake review is to look for ones that lack specific details about the stay. If a review appears suspicious, you can try searching the reviewer's name on Google to see if they have left reviews for other hotels. If those reviews are also brief and vague, it's likely that they are fake.
Cross-referencing with other travel industry review sites like TripAdvisor, as well as checking Google and Facebook reviews, can provide additional insights.
Ultimately, the decision to make a reservation based on reviews rests with you. Regardless of whether you choose to trust the reviews or not, it's crucial to conduct thorough research and carefully read the fine print before making any final booking decisions.
Booking.com's Free Cancellation Policy: The Perks And Considerations
Booking.com offers a generous free cancellation policy on most rooms. However, it's essential to understand the details to avoid any surprises. Let's delve into the ins and outs of Booking.com's free cancellation policy.
In a nutshell, you can cancel your booking without incurring a cancellation fee as long as you meet the specified deadline. The deadline varies depending on the property, but in some cases, you can cancel as late as 24 hours before your scheduled arrival. This flexibility is undoubtedly a valuable perk for travelers.
It's important to note that not all rooms have the same cancellation policy. Some may be non-refundable, meaning you won't be able to get your money back regardless of when you cancel. Therefore, exercise caution during the booking process and carefully review the cancellation terms before finalizing your reservation.
Overall, Booking.com's free cancellation policy is straightforward and beneficial, providing peace of mind for travelers. Just remember to double-check that you haven't booked a non-refundable room and ensure you cancel before the specified deadline to avoid any fees.
Customer Feedback: Trustpilot Reviews And Concerns
Now, let's address a rather glaring issue: Booking.com's Trustpilot rating. Unfortunately, the platform has received a low rating of just 1.2 stars from over 43,000 reviews, with a staggering 69% of reviews giving them a one-star rating. It's evident that many customers have had negative experiences, with some even wishing they could rate them lower.
To make matters worse, Booking.com has not responded to any of these negative Trustpilot reviews, which raises concerns about their customer service and responsiveness. It's disappointing to see a lack of effort in addressing customer issues and improving the overall experience.
The most common complaints revolve around poor customer service, additional costs, hidden fees, and reservation problems.
Some customers have reported being charged for cancellations even when they followed the specified deadline. Others have expressed dissatisfaction with the suitability of the accommodations, claiming discrepancies between what was advertised and what was provided upon arrival.
These reviews indicate potential communication issues between Booking.com and the property owners. Additionally, customers have encountered difficulties in making changes to their bookings, exacerbating frustrations.
Is Booking.com Legitimate? Research And Considerations
Given the concerns expressed in Trustpilot reviews, it's essential to approach Booking.com with caution and conduct thorough research before making a booking. Taking the following steps can help you make an informed decision:
Read reviews: Don't shy away from reading both positive and negative reviews, including those on Trustpilot. This will give you a comprehensive understanding of others' experiences and potential issues to watch out for.
Contact customer service: Before making a reservation, consider reaching out to Booking.com's customer service to assess their responsiveness and the level of assistance they provide. This can give you a sense of their support capabilities.
Pay attention to the fine print: Take the time to carefully review the terms and conditions, cancellation policies, and any additional fees associated with your chosen accommodation. Being aware of the specifics can prevent unexpected surprises down the road.
While Booking.com can still be a useful tool for finding and booking accommodations, it's crucial to proceed with caution and be proactive in managing your reservations. By conducting thorough research and being vigilant, you can mitigate potential risks and enjoy a more seamless experience.
Booking.com Alternatives: Exploring Other Options
If Booking.com doesn't meet your needs or you're looking for alternatives, there are other online travel agents and booking sites available. Two notable alternatives worth considering are Expedia and Airbnb.
Expedia
Expedia is a comprehensive online travel agency that not only offers hotel bookings but also covers flights, car rentals, airport taxis, and vacation packages. Using Expedia can be convenient when you want to book multiple aspects of your trip in one place, potentially saving time and money.
Airbnb
Airbnb offers a different approach to accommodation by connecting travelers with hosts who offer their homes as short-term rentals. There are people who do it as a full-time gig or as a side hustle.
With millions of listings worldwide, Airbnb provides a wide range of options, often at lower prices compared to hotels. From apartments to treehouses and even castles, Airbnb offers unique and diverse accommodation choices.
FAQs – Is Booking.com Legit?
1. What are the disadvantages of Booking.com?
Yes, there can be downsides to using Booking.com. These may include limited customer support, potential discrepancies between the actual property and its online description, and the possibility of higher prices compared to booking directly with the property.
2. How do I know if a booking is real?
To determine if a booking is real, it's essential to verify the authenticity of the website or platform where you made the reservation. Check for secure payment gateways, read reviews and ratings from trusted sources, and confirm the booking details directly with the accommodation provider.
3. Are Booking.com reviews fake?
While Booking.com reviews are generally reliable, there have been instances of fake reviews on the platform. It's advisable to read multiple reviews, consider the overall ratings, and look for detailed feedback from verified guests to form an accurate assessment.
4. Is Booking.com reliable and safe?
Booking.com is generally considered reliable and safe. It is a reputable platform with extensive listings and a wide range of accommodations worldwide. However, it's always recommended to research and verify the property, read reviews, and exercise caution when sharing personal or payment information.
Booking.com does not have hidden fees by default. However, it's important to thoroughly review the booking details, including the cancellation policy and any additional charges (such as taxes or resort fees), to ensure transparency and avoid unexpected costs.
Conclusion: Is Booking.com Legit?
In summary, Booking.com is a legitimate platform that offers numerous benefits to travelers. Personal experiences with the site have been positive for many individuals. However, it's important to note that customer service may not always meet expectations, with potential delays in response times.
Booking.com can still be a valuable resource for finding accommodations, but it's essential to approach it with awareness and make informed decisions. It's recommended to check out other reliable sources such as Hopper for additional reviews and comparisons (find out if Snaptravel is legit).
By staying vigilant and doing thorough research, you can navigate the booking process effectively and find the best options for your travel needs.