Are you on the hunt for an amazing airfare deal? Chances are you've stumbled upon Hopper. But here's the big question: Is Hopper legit? Can you trust it to book your next adventure? Absolutely, Hopper is a legitimate platform that's worth your attention.
In this article, we'll dive deep into the world of Hopper. We'll explore its features, weigh its pros and cons, and ultimately help you decide if it lives up to the hype. So, get ready for a closer look at Hopper's travel experience!
What Is Hopper?
You might think of Hopper as a fresh-faced newcomer, but believe it or not, it's been around since 2007. Two passionate travel enthusiasts Frederic Lalonde and Joost Ouwerkerk founded the company with the initial goal of developing software to simplify flight and hotel bookings. Little did they know the tremendous potential that lay ahead – making travel more affordable and hassle-free.
Through their ingenious app, Hopper taps into the power of artificial intelligence to predict price fluctuations for flights and hotels. This predictive prowess empowers users to snag the best deals by booking at the opportune moment. Plus, Hopper goes the extra mile by offering flexible booking options, allowing you to adapt your plans when life throws you a curveball.
Prestigious publications like CNN, The New York Times, and Forbes have featured Hopper. With over 30 million app downloads under its belt, Hopper has risen through the ranks to become a leading global player in the travel booking game. It's all thanks to the visionary founders and their unwavering commitment to transforming travel affordability.
If you're itching to save some serious dough on your next vacation, Hopper is definitely worth exploring. It's time to dig deeper!
Is Hopper Reliable?
With a sea of online booking platforms out there, it's only natural to wonder if they're all on the up and up. But where is Hopper located? Hopper is a reputable company with locations in both Boston and Montreal.
Highly regarded within the travel industry, Hopper has earned its stripes with commendations from renowned publications such as The Huffington Post, Time, and Forbes. Its accreditation as a legitimate travel agency and its prominent media presence is solid proof that Hopper is the real deal and not some shady scam.
When it comes to unearthing the best flight deals, hotel steals, and rental car bargains, Hopper is an irresistible choice that demands your attention. Let's see how it all works.
Does Hopper Save You Money On Flights?
Hopper provides users with a user-friendly interface that simplifies price comparisons and unveils jaw-dropping deals. It's a game-changing app designed to save you money on flights and hotel bookings.
Unlike other run-of-the-mill travel apps, Hopper employs artificial intelligence to predict future flight prices with a staggering 95% accuracy rate. Yes, you read that right! This means you can actually anticipate whether prices are bound to drop, giving you the upper hand in booking your flights at the most opportune moment. With Hopper by your side, you can be sure you've secured the best possible deal for your flights and hotel accommodations.
But how does Hopper pull this off? Well, the app keeps an eye on flight prices worldwide, harnessing the power of historical data to forecast future prices. When you search for a flight on Hopper, you'll be introduced to a nifty "Price Prediction" feature that tells you when prices are likely to rise or fall.
Armed with this valuable information, you can hit the book button at the perfect moment, potentially saving more than if you had booked directly. And the cherry on top? Hopper's seamless booking process for flights, hotel deals, and rental cars ensures that you spend less time chasing deals and more time planning your dream getaway.
Whether you're after the most wallet-friendly flights or the freedom to adapt your plans on the fly, Hopper is undoubtedly a contender that deserves your consideration.
Hopper App Pros And Cons – Is Hopper App Free?
The Hopper app is the most popular travel app in North America, boasting a whopping 30 million downloads and counting. Available for both Android and iOS devices, you can easily get your hands on it by heading to the Google Play Store or Apple App Store – and the best part? It won't cost you a dime!
But is the Hopper app legit? Well, according to users, it's not just legit, it's trustworthy and downright convenient.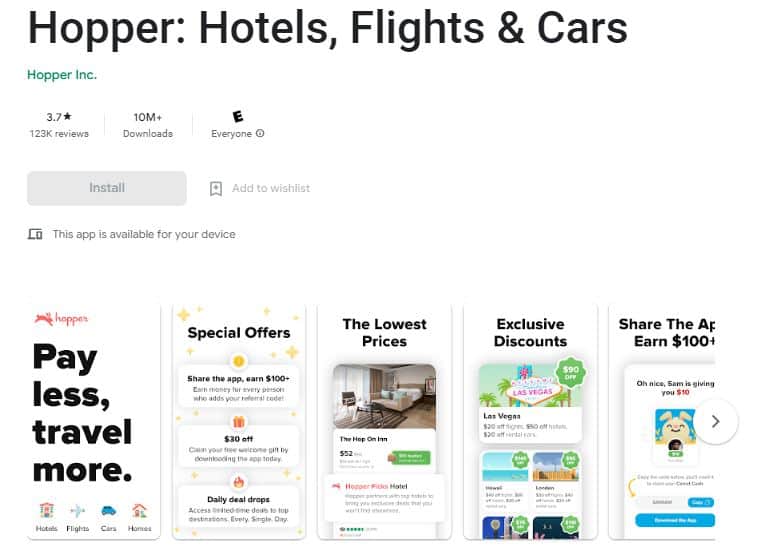 With an average rating of 3.7 stars on Google Play and 4.8 stars on the App Store and, it's clear that Hopper is in high demand for travelers far and wide. So, if you're on the lookout for a hassle-free way to book your Hopper flights, hotels, and car rentals on the fly, this app is your ultimate travel companion.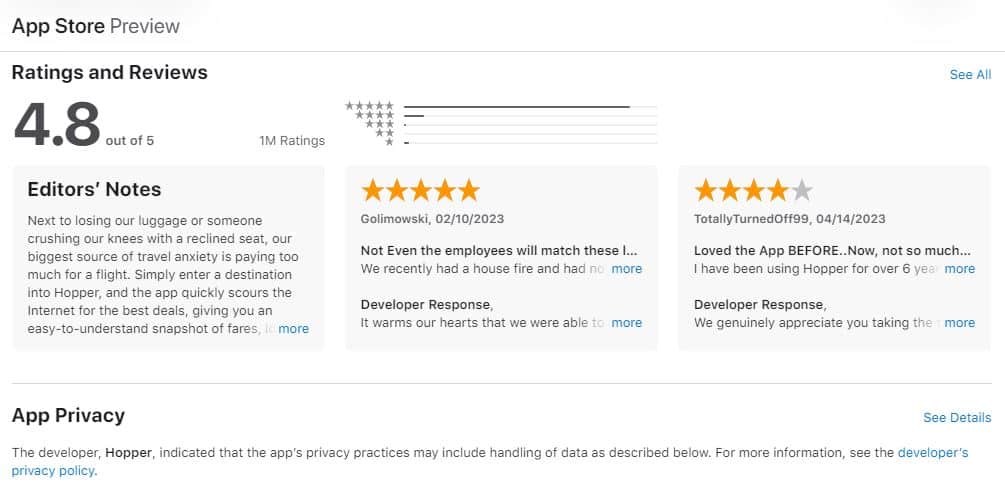 Hopper App Pros
Getting started with Hopper is a breeze. Simply get the app from Google Play or the App Store, create your Hopper account, and start searching for flights on your desired travel dates. Plus, if you want to stay in the loop on price drops, you can sign up for push notifications and receive timely alerts.
If you want more money-saving tips and tricks, Hopper's blog is an invaluable resource. Bursting with insider knowledge, it's your go-to hub for uncovering the best deals on flights, car rentals, and hotels.
Whether you're a seasoned traveler or embarking on your very first adventure, the Hopper app has got wallet-friendly flights and great hotel bargains.
Now, let's dive into some of the features that make the Hopper app stand out from the competition:
1. Price Prediction
Hopper's impressive accuracy rate of up to 95% allows you to make informed decisions about when to hit that "book" button. So, whether you're a master planner or prefer spontaneous adventures, Hopper's has all possible options.
2. Data Collection: The Power Of Numbers
Hopper takes flight tracking to a whole new level. Their dedicated team collects 30 billion airfare price quotes every day, amassing a large archive of several trillion prices over the past few years. With this treasure trove of data at their disposal, they deliver accurate and comprehensive insights to users like you.
3. User-Friendly Design
Hopper's app design is sleek, simple, and user-friendly. With just a few taps, you'll be on your way to booking flights at unbeatable prices. No more missing out on time-sensitive deals or struggling to find the lowest fares. Hopper ensures that you're always one step ahead, effortlessly navigating the world of affordable travel.
4. Price Comparison
Forget spending hours comparing flight prices from countless websites. Hopper does the heavy lifting for you by constantly comparing prices for domestic and international flights.
But they don't stop there – they'll even send you push notifications with price predictions. That way, you'll know exactly when to pounce on that dream ticket, whether prices are set to rise or a future drop is in the cards.
Hopper App Cons: Addressing Hopper Complaints
Let's address some common complaints about Hopper and provide context to help you understand these concerns:
Hidden Fees
One of the main complaints about Hopper revolves around hidden fees. It's important to note that hidden fees can be encountered on any travel booking site, including when booking directly with airlines.
Additional fees can also be charged by credit card companies for foreign currency transactions. To avoid surprises, it's crucial to carefully read the terms and conditions and understand the fees associated with your booking.
Price Freeze
Some users have reported that Hopper's "price freeze" deals disappear when they try to book, causing frustration. The price freeze policy is intended to hold a flight price for a certain period, giving users time to book at the original price.
However, there have been instances where the deals from the initial session vanish within the given timeframe. It's unclear whether the company is actively working to improve this issue or notify customers about the limited availability of these deals.
Carrot Cash Refunds
Hopper has faced criticism for issuing refunds in the form of "Carrot Cash." Carrot Cash is part of Hopper's reward system, but it can only be used to book future travel with Hopper.
Some users have expressed dissatisfaction with this approach, particularly if they had a poor experience and are unlikely to use Hopper again. In such cases, users would prefer to have the refund credited to their original payment method. Offering more flexibility in refund options could enhance customer satisfaction.
VIP Customer Service
Another common complaint is the requirement to pay for access to Hopper's VIP level of customer service.
While companies aim to provide great service while managing costs, some have implemented creative solutions. Hopper offers a VIP option that allows users to prioritize their inquiries and receive expedited support.
However, it's important to note that this VIP service is optional, and standard customer service is still available for non-VIP users, although it may come with delays.
Additional fees for customer service can create a negative experience, especially if the standard level of support is deemed inadequate. Improvement in this area could lead to greater customer satisfaction.
While many people have expressed satisfaction with the Hopper app, there are areas where the company could make improvements. It's essential to carefully read the terms and conditions and understand the associated fees before making a booking with Hopper. By doing so, you can have a clear understanding of the total costs involved and make an informed decision.
Hopper Reviews – What Do Real Users Say About The Platform?
According to Trustpilot, Hopper receives an average rating of 2.4 based on around 5000 reviews. Some users have voiced concerns about hidden charges, fees for customer service inquiries, and the frustration of "price freeze" deals disappearing when trying to book flights.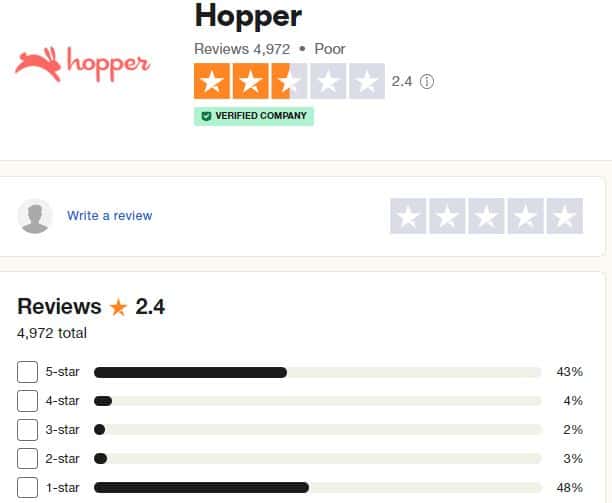 However, it's important to note that Hopper takes customer feedback seriously. They actively respond to negative reviews, with a representative reaching out to each reviewer and encouraging them to connect via Twitter or other social media channels. This level of engagement indicates that Hopper is dedicated to resolving issues and providing top-notch customer support.
Some complaints stem from users who incurred fees after mistakenly booking the wrong dates – an unfortunate situation but not the fault of the company. On the flip side, many individuals express genuine satisfaction with the flight fares offered by Hopper.
All in all, Hopper delivers a valuable service, as long as users are aware of any associated fees. While there's always room for improvement, the app remains a convenient and practical option for those seeking stress-free travel planning.
Exploring Hopper Alternatives
While Hopper is a legitimate app for finding cheap flights, it's always good to explore alternative options to ensure you're making the best choice for your travel needs. Here are a few alternatives to consider:
1. Trip.com
For a one-stop solution to book flights, hotels, and rental cars, Trip.com is worth considering. They frequently offer competitive deals on both flights and accommodations. However, it's worth noting that their customer service may not always meet expectations. Check out the article: Is Trip.com legit?
2. Agoda
If you're looking for a platform that offers flights, hotel bookings, and car rentals, Agoda is a great option. They have a vast selection of hotels worldwide and consistently offer attractive deals. You can read reviews from fellow travelers to ensure you're getting a good deal (find out if Agoda is legit).
3. Snaptravel (SuperTravel)
If you're seeking an all-in-one travel booking website, Snaptravel is definitely worth exploring. They provide attractive deals on hotels, flights, and competitive car rental options. Snaptravel can save you time and money when planning your travel arrangements (read the in-depth article: Is Snaptravel legit?
FAQs – Is Hopper Legitimate?
1. Why is Hopper cheaper than airline?
Hopper can sometimes offer cheaper prices than airlines due to its advanced algorithms and predictive technology, which analyze historical data to identify the best time to book flights at lower prices.
2. How does Hopper work for hotels?
Hopper works for hotels by aggregating data from various sources to provide users with hotel options and competitive prices. Users can search for hotels, compare rates, and book directly through the Hopper app or website.
3. Is Hopper legit for cars?
Hopper is a legitimate platform for car rentals. It partners with reputable car rental companies to provide users with a wide range of options. Users can compare prices, book cars, and manage their reservations through the Hopper app.
4. Does Hopper charge a booking fee?
Hopper does not charge a booking fee for flight or hotel reservations. However, it may include a small service fee for certain features or add-ons. It's important to review the pricing details before completing a booking.
5. Does Hopper let you cancel?
Yes, Hopper allows users to cancel their bookings. The cancellation policies may vary depending on the specific airline, hotel, or car rental company involved. Users can access their bookings on the Hopper app or website and follow the cancellation process provided.
Conclusion: Is Hopper Legit?
Hopper is a legitimate company and a viable option for finding affordable flights. Their user-friendly app and focus on securing great deals make them a reliable choice. However, it's important to be aware of potential hidden fees, so carefully review all charges before finalizing your booking.
Exploring alternative options like Agoda, Trip.com, and Snaptravel (check out if Traveluro is legit) can also help you find the best deals and services for your travel needs.