Are you trying to plan a trip and searching for the most affordable stay? If so, you might have come across Agoda, a website that advertises inexpensive hotel rooms all around the world. Is Agoda legit? Yes, they are legitimate, but there are a lot of things to think about before using them.
We'll examine Agoda in more detail in this article to help you choose whether it's the best booking site for you.
What Is Agoda?
Booking accommodation, flights, airport transfers, and other travel-related services on the Agoda website are possible in many different locations worldwide. The business was established in 2005, has its global headquarters in Singapore, and employs more than 5,000 people.
Agoda offers a selection of accommodation choices, including hotels, villas, apartments, and hostels, and gives visitors comprehensive information on each property. In some locations, Agoda also provides activities, car rentals, and flights in addition to stays.
With the Agoda website or mobile app, travelers can make all their reservations and benefit from Agoda's Best Price Guarantee. Agoda is your one-stop shop for all your travel requirements, whether you're looking for a place to stay in Barcelona or looking for activities in Paris.
Agoda Booking Protection – Is Agoda Reliable?
It goes without saying that vacation planning can be difficult. You need to be careful in reading reviews and comparing prices in addition to worrying about booking the ideal flights and stays. It might be challenging to decide which booking website to trust with so many options available.
Being one of the top travel websites in the world, Agoda gives customers an easy method to compare rates and get the greatest offers on hotels, airlines, and other travel-related items.
There is a "Best Price Guarantee" provided by Agoda. They will repay you the difference if you find the same room for less on another website. Travelers can book with even greater confidence thanks to this guarantee when using Agoda.
Agoda also makes planning your next holiday less stressful with their round-the-clock customer service and simple booking process.
Agoda has a distinct brand identity in the online travel industry thanks to the company's fun and appealing branding. It's simple to obtain the information you require and make a reservation with just a few clicks as a result of their significant investment in the layout and usability of their website.
Is Agoda Legit?
Nowadays, there are plenty of options available when renting a hotel room. Finding the greatest discounts and comparing prices has never been simpler thanks to websites like Agoda. But it can be difficult to determine which choice to trust with so many available.
So, is Agoda trustworthy? Yes, to answer briefly. Agoda is a safe and easy-to-use booking service that provides fantastic discounts on hotels all over the world. Additionally, using Agoda's "Secret Deals" option frequently results in users finding even lower pricing. Agoda may be worth checking out if you're looking for a fantastic discount on your next hotel room.
Agoda Booking Process – Is Booking With Agoda Safe?
It's crucial to know how the Agoda website functions if you want to make the most of it. Here are some pointers:
Register: Registering is quick and simple, and if you'd like, you may use your Facebook login information. Make sure to complete your profile after creating your account so that Agoda can offer you tailored recommendations.
Find hotels: Just type your travel destination and dates into the search field to find a hotel. Also, you can use the filters to limit your results based on factors like cost, location, amenities, and more. If you find a hotel you like, make sure to check the reviews to learn what other visitors thought of their accommodation.
Reserve a room: To make a reservation, just click the "Book Now" button and provide your payment details. And before you confirm your reservation, double-check the times and the number of guests allowed.
Best Price Guarantee: Agoda will repay you the difference if you find the same room for less on another website. Do your research before making a reservation.
Coupons: Agoda frequently provides coupons and promo codes that might help you save even more money when booking a hotel. Prior to booking, make sure to look for coupon discounts.
Download the Agoda app: Do not forget to download the Agoda app to make the booking even simpler. The app, which is compatible with both Android and iOS devices, offers all the same fantastic features as the website but allows you to keep all your booking confirmations in one location. This you time when you need to quickly find your reservation number or booking details by skimming through your email.
You can begin organizing your upcoming holiday now that you are more familiar with Agoda's features.
Agoda Customer Reviews
If Trustpilot reviews are any indication, Agoda might be experiencing a dull moment. Their score is only 1.6, which is considered "bad."
Even though more than 75% of the reviews are four and five stars, Trustpilot also considers the quantity and age of reviews when determining the score, thus it appears that something has gone wrong recently for Agoda, and as a result, their rating has plummeted.
They might not have been able to meet demand, or there might have been a problem with reservations. In any case, things don't seem to be going well for Agoda right now. It will be compelling to follow how they bounce back from this minor setback.
Perhaps they can resolve the issue quickly and resume their position as one of the leading travel websites.
Agoda Reviews Complaints – Do You Need To Be Concerned?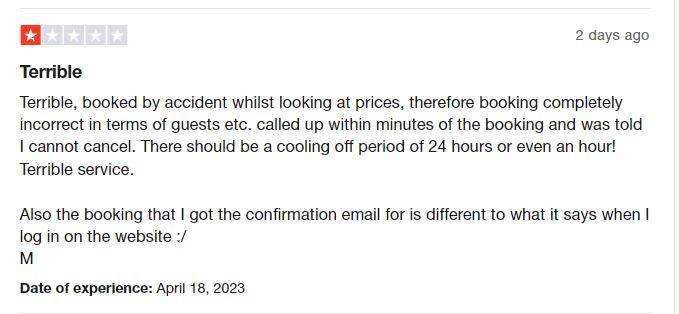 You undoubtedly spend a lot of time planning your trips if you're like most travelers. To choose the ideal hotel, you read reviews, evaluate costs, and browse through images. So, what if you're booking your accommodation through the incorrect website?
Even though Agoda is one of the biggest online travel portals, some people have complained about it. Travelers have complained about a variety of issues with Agoda, from misinformation to hidden surcharges. Should you be concerned about making a reservation through them?
In short, the answer is both yes and no. Although Agoda has received a number of complaints, you shouldn't necessarily be concerned about making a reservation through them. Agoda is still a trusted website, even though it's always advisable to do your homework before making any kind of reservation.
There will also always be some dissatisfied customers, just like with any business. The secret is to balance the benefits and drawbacks before making a choice.
How Good Is Agoda Booking?
Spend some time reading the reviews to see if any trends can be identified. If the same problem is the subject of numerous complaints, it is probably important to pay attention to it. It's possible that the complaints won't affect your personal experience, though, if they appear to be isolated events.
Unresponsive customer support, hidden costs, and misleading information have all been complaints from several passengers. Reviews frequently cite Agoda canceling reservations just before the scheduled arrival date, leaving guests rushing to find other accommodations.
Travelers have occasionally been given rooms that differ from what they had reserved when they arrived at their hotel, or they have been told there is no booking and no availability. This indicates a problem with communication between Agoda and the property owners, but the visitor ultimately bears the burden of added worry and stress.
In addition to everything else, Agoda doesn't reply to reviews on Trustpilot, making it impossible to know what the company is doing to enhance the customer experience.
Hence, if you're thinking about making a reservation through Agoda, be sure to weigh all your options and search for patterns in their most recent reviews before deciding.
Agoda Reviews And Ratings – Is Agoda A Scam?

There is always the chance of fraudulent reviews, as with the majority of websites for online travel agencies. This is why it's so crucial to consider the source of anything you read.
Look for any red flags showing that they might be false if you're worried that the reviews on Agoda aren't authentic. Reviews with a highly favorable or negative bias as well as those lacking in precise information are more likely to be fraudulent.
Moreover, be suspicious of reviews that are posted quickly because this can indicate that they are a result of their marketing endeavors. On the other hand, significant gaps in the dates between reviews may also indicate that something is off.
On a forum, a frequent user of Agoda who had written numerous reviews noted that some of their negative reviews had taken longer to appear than their more favorable reviews. Who knows why this is the case, but it's worth mentioning.
To determine whether a review is genuine or not, compare it to reviews on other review websites like TripAdvisor.com, Google, or Facebook. Don't simply rely on Agoda website reviews; read feedback from many sources as well.
How Is Their Customer Support?
Agoda's website provides an extensive support section with contact information, a live chat feature, and frequently asked questions. Also, they offer a committed customer support team that is working around the clock to assist with any bookings or questions you may have.
There are differing viewpoints regarding reviews of customer service in practice.
Some users have reported having good interactions and finding the support to be accommodating and responsive. However, the opposite has been experienced by others. Long wait periods, incompetent support staff, and a failure to answer questions are some of the customer service issues that people complain about.
It's critical to keep in mind that Agoda is merely a middleman if you should experience any issues with your reservation. They might not be able to handle your problem because they are not in charge of the properties that are featured on their website. In some circumstances, it's preferable to get in touch with the property directly to see if they can assist.
Sites Like Agoda
Agoda has long been a top choice for travelers looking for the best offers on hotels and stays, despite the fact that there is no shortage of online booking services these days. There are a number of additional websites that provide comparable services and might be worthwhile to check out for your upcoming vacation.
Airbnb
An increasingly popular option for conventional hotels is Airbnb. Anyone can post their homes or rooms for rent on this peer-to-peer website as a side job or as a rental business. In practically every city, you may discover unconventional and unique places to stay, from apartments and homes to castles and treehouses.
It's important to remember that Airbnb is not always less expensive than a hotel. It might even cost more in some situations. When making a reservation, it's also a good idea to carefully read the reviews and make sure you know what to expect.
Booking.com
One of the most well-known travel websites is Booking.com. It is simple to use and provides a large selection of hotels, flats, and hostels. Also, you might find some interesting offers on activities and car rentals.
One thing to keep in mind is that Booking.com and Agoda both belong to the same parent company. This indicates that they use the same business tactics, so if you make a reservation with them, you can run into similar issues.
Another well-known travel website that provides a choice of hotels and other places to stay is Trip.com. Along with tours and activities, they also offer a good selection of tickets for flights and trains.
Trip.com, in contrast to Agoda, is actually owned by the Chinese travel agency Ctrip. Although they have a respectable Trustpilot rating, there are still some concerns regarding hidden costs, difficulties with cancellations, and sluggish customer support.
For more information on this travel website, take a look at the article: Is Trip.com Legit For Hotels?
How Come Agoda Has Low Prices?
Booking rooms on Agoda is frequently the first choice for vacationers on a tight budget. But why are their prices so much lower than those on other websites for booking travel? Their company strategy makes this clear.
Both Booking.com and Agoda (a subsidiary of Booking.com), provide discounted rates. Strong partnerships have been forged between the group and hotels. They send a lot of business to hotels, therefore they have leverage in negotiating prices. They are able to provide some of the lowest rates because of this.
Agoda is also able to offer affordable listings since some of the commission from bookings can be transferred to customers in the form of lower rates.
Agoda is an online travel agency, thus it doesn't have the same high overhead costs as traditional retail travel agencies.
Conclusion – So Is Agoda Legit?
Agoda is a well-known travel website with a huge selection of hotels and other places to stay. Is Agoda a reputable site? Yes, they are trustworthy. However, there have been some issues with bookings, inattentive customer support, and hidden fees.
Make sure you weigh all your options before choosing Agoda if you're thinking about making a reservation.