Are you worried that your writing might be riddled with grammatical errors, leaving a less-than-professional impression on your audience? Fear not! Grammarly is the ultimate grammar tool that can save the day. As someone who produces content, I've been using Grammarly for years, and let me tell you, it's been a game-changer. In this in-depth Grammarly review, I'll walk you through the incredible features of Grammarly's free online grammar checker and show you why it's a must-have for writers.
Grammarly Review: A Lifesaver For Writers
Grammarly has become my writing companion, ensuring that my grammar and spelling are always on point. Whether it's blog posts, articles, book chapters, or email series, this online tool has got you covered. It meticulously scans your writing for common errors and even checks for plagiarism, comparing your content to billions of pages on the internet. Within minutes, you'll receive a detailed report highlighting all the mistakes and errors in your article.
Is Grammarly Really Worth It?
The value of Grammarly depends on your specific goals and requirements. Grammarly Premium offers substantial benefits, teaching valuable lessons on tone, and sentence structure, and improving overall writing skills.
The plagiarism checker is particularly valuable for students and teachers. If you outsource content or operate a niche business, Grammarly Premium can safeguard you from potential penalties and ensure originality in your writing.
Consider your unique needs and the importance of grammar in your writing endeavors (also check out Ginger vs Grammarly).
The Power Of Grammarly: What Can It Do?
Let's delve into the impressive capabilities of Grammarly:
Plagiarism Detection: Worried about unintentional plagiarism? By scanning vast online resources, Grammarly can identify instances where your writing closely resembles existing content, providing you with peace of mind.
Spell Check: Grammarly boasts an exceptional spell-checking tool that helps you catch those pesky spelling errors.
Refining Your Writing Style: Grammarly isn't just a robotic grammar checker; it's also your personal writing coach. It offers valuable insights on readability scores, sentence length, and more, allowing you to tailor your writing style to suit your specific audience. It's like having a seasoned editor by your side.
Grammar and Punctuation: From basic grammar mistakes to advanced punctuation conundrums, Grammarly excels at detecting and rectifying errors. It goes beyond mere detection and offers insightful guidelines and suggestions to help you enhance your writing skills.
Is Grammarly Safe And Legit?
Grammarly acknowledges in its privacy policy that when you use its service, your writing is transmitted to its servers over the web, which means it cannot guarantee 100% security.
However, from a practical standpoint, using Grammarly is similar to sending a private email in terms of security.
Unless you're dealing with legally sensitive or commercial documents and your company has strict data management procedures, you can use Grammarly without any concerns. Many users, including myself, have been using Grammarly for years without encountering any security issues.
Who Uses Grammarly?
Grammarly's versatility makes it a valuable tool for various individuals, including:
Bloggers: Consistency and accuracy are key to being successful in the blogging world. Grammarly guarantees that your posts are error-free and reader-friendly.
Authors: Whether you're working on a novel or a short story, Grammarly ensures your prose is flawless and captivating.
Content Marketers and Copywriters: Crafting persuasive copy is an art. Grammarly helps you polish your marketing content, making it more compelling and engaging.
Students: Grammarly is an invaluable aid for students looking to elevate their writing skills. From essays to research papers, it ensures your work is polished and well-structured (check out the paper titles generator).
Email Marketers: Sending out professional and error-free emails is crucial. Grammarly helps you maintain a polished image with every message you send.
Social Media Influencers: Even in the fast-paced world of social media, correct grammar and clear communication matter. Grammarly ensures your social media posts are error-free and impactful.
Remember, Grammarly is not just for non-native English speakers. Even native English writers can benefit from its helpful suggestions and comprehensive grammar checks.
Getting Started With Grammarly
Using Grammarly is a breeze. Just follow these simple steps:
Create a Free Account: Sign up for a free Grammarly account and unlock a world of writing assistance.
Take a Tour: Explore the user-friendly editor, which has recently received an update. You can also enjoy the convenience of Grammarly's free Chrome extension.
Customize Your Writing Goals: One of the remarkable features of Grammarly is its ability to adapt to your preferred writing style. Set your goals by clicking the "Set Goals" tab in the upper right corner of the Grammarly editor. You can align your writing with your intended audience, purpose, emotion, style, and domain, ensuring personalized and impactful writing.
Enjoy the Insights: Grammarly provides insightful feedback based on your selected goals, helping you improve your writing and achieve better results.
Is Grammarly Mobile-Friendly?
Yes, Grammarly can be installed on both iPhone and Android devices. Whether you're writing on your computer or on the go, Grammarly provides a seamless experience across platforms.
Grammarly Plagiarism Checker Review
When it comes to reviewing your writing, Grammarly offers a multitude of options. Let's explore the most common ways you can utilize this powerful software to enhance your writing skills.
1. Grammarly Browser Extension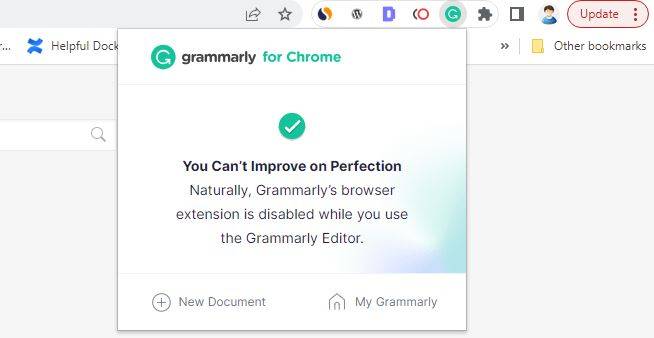 Grammarly's browser extension is a game-changer, available for popular browsers like Firefox Safari, and Google Chrome. Downloading the extension enables you to effortlessly correct grammar and punctuation errors while on the go. No need to constantly check the dashboard—Grammarly's handy icon accompanies you wherever you write, suggesting improvements in real-time.
Here's how to make the most of the Grammarly browser extension:
Download the Extension: Visit the Grammarly website, and it will automatically detect your browser, providing you with the option to download the required add-on.
Locate the Extension: Look for the Grammarly icon in your browser's toolbar section (typically situated to the right of the address bar). Once you spot the "green C button," you're all set!
Seamless Integration: From now on, Grammarly will diligently check your writing for grammatical errors as you type in your browser. But wait, there's more! You can also enable or disable the extension's checking feature for specific websites, tailoring it to your needs.
2. Grammarly App Review
Besides its browser-checking capabilities, Grammarly's browser extension grants you access to the web app. If you prefer a dedicated space for in-depth writing reviews, the web app is your go-to. Just ensure you're signed into your Grammarly account before using the extension.

Follow these steps to maximize the Grammarly web app:
Create a Free Account: Begin by creating a free Grammarly account (the free version is perfectly suitable).
Browser Extension Menu: Click on the Grammarly browser extension, and a menu will appear, offering two key options:
New Document: Instantly navigate to the Grammarly editor for a seamless writing experience.
My Grammarly: Access the dashboard, where you can customize your settings and choose between British and American English.
Inserting Text: Grammarly's web app provides three text insertion methods. You can type directly into the editor, paste text from any source, or upload a document.
Reviewing Your Writing: I opted for the paste option. It diligently highlighted various errors and offered suggestions for improvement.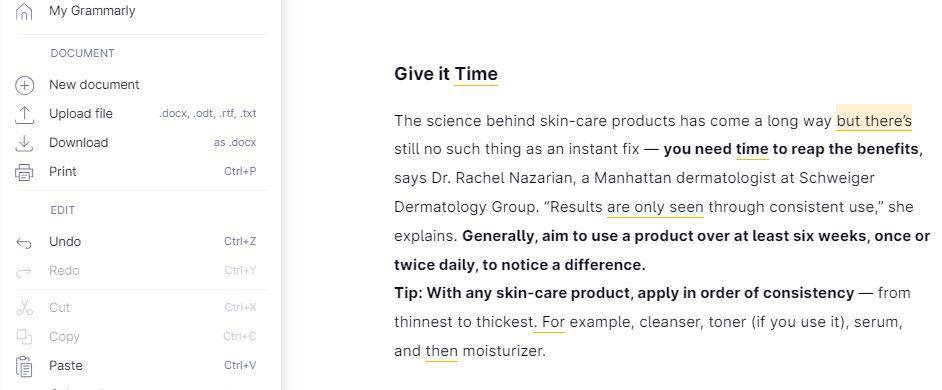 Once you've finished reviewing your work with Grammarly, you can effortlessly download the edited file in the exact format you need, conveniently saving it in your download folder.
3. Maximizing The Grammarly MS Word Add-on
If you're an avid Microsoft Word user, Grammarly seamlessly integrates with Microsoft Office through its Word add-on. You can enhance your writing directly in Microsoft Word, leveraging Grammarly's powerful features. Please note that the Grammarly MS Word add-on is a premium feature.
Here's how to use the Grammarly MS Word Add-on:
Install the Add-on: Simply download the Grammarly MS Word add-on, and it will synchronize with your Microsoft Word. Get ready to take your writing to the next level!
Checking Your Writing: When you're ready to review your work, click on the Grammarly tab located in the upper-left corner of MS Word. Grammarly will diligently analyze your writing, ensuring it's error-free and polished.
In summary, Grammarly offers three versatile apps — Grammarly for Windows, Microsoft Office, and Chrome. Each of these applications aims to improve your writing experience, making it effortless and error-free.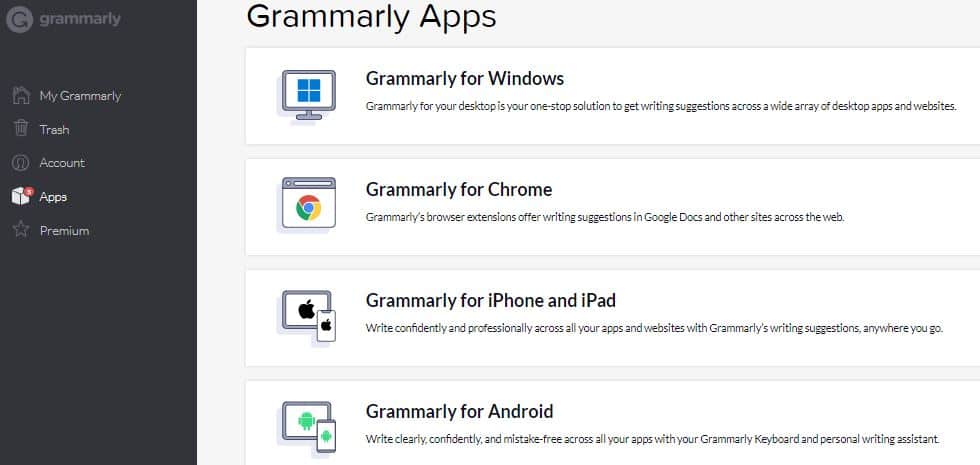 Take advantage of Grammarly's exceptional features and elevate your writing prowess. Whether you're using the browser extension, the web app, or the MS Word add-on, Grammarly is your trusted companion in the quest for impeccable writing.
Does Grammarly Really Improve Writing?
Discover how Grammarly can revolutionize your writing by addressing common writing pitfalls and ensuring accuracy and originality. Explore the features that make Grammarly an indispensable tool for writers, bloggers, and professionals worldwide.
1. Contextual Spelling Error Correction
While traditional word processors offer basic spelling correction, Grammarly goes beyond by considering the context of your writing. It identifies and rectifies contextual spelling mistakes that are commonly overlooked.
Tricky word pairs like "cord" and "chord," "adverse" and "averse," or "hanged" and "hung" are no longer a challenge. Grammarly's advanced spelling checker has successfully addressed thousands of such errors.
2. Eliminate Repetitive Word Usage
Writers often unintentionally overuse certain words, resulting in a loss of impact and engagement. Grammarly detects and highlights repetitive words, bringing attention to this issue. By utilizing Grammarly's suggestions, you can create more varied and captivating content.
3. Plagiarism Checker Tool
Grammarly's plagiarism checker is a standout feature, widely regarded as the best online tool for detecting duplicate content.
Plagiarism can have serious consequences for bloggers, writers, and students. Grammarly's reliable plagiarism checker ensures your work is authentic and original, safeguarding you from potential complications. It even displays the percentage of plagiarized content, empowering you to make informed decisions.
Whether you're a digital marketer outsourcing content or a student submitting assignments, Grammarly's plagiarism checker keeps you on the safe side.
4. Advanced Grammar Checking
Even in informal writing spaces like social media, proper grammar plays a crucial role. Grammarly helps you master grammatical rules such as subject-verb agreement and more. Achieving grammatical correctness enhances your academic performance, business proposals, job prospects, and even personal interactions.
Grammarly meticulously highlights grammatical errors with green and red underlines. Hovering over the underlined text provides explanations and suggests appropriate alternatives, making it akin to having your own personal English trainer.
5. Additional Grammarly Features:
Grammarly's popularity stems from its extensive array of features, including:
Performance Stats Report: Enjoy occasional performance reports delivered straight to your inbox, tracking your writing improvements.
Synonym and Definition Lookup: Simply double-click on a word to access synonyms and definitions, enriching your vocabulary.
Personal Dictionary: Customize Grammarly by adding preferred words to your personal dictionary, preventing them from being flagged in future writing sessions.
Accessibility and Convenience: Access your documents anytime, anywhere, and on any device, ensuring seamless writing on the go.
How Accurate Is Grammarly, And Can It Truly Help Writers?
Grammarly provides accurate grammar suggestions to improve your writing. When you click on a grammatical mistake, Grammarly offers explanations and possible fixes. It identifies various errors, including passive voice overuse, confused prepositions, repetitive words, common grammar mistakes, wordy and lengthy sentences, and spelling errors.
Grammarly's insights have helped many writers identify and rectify their writing habits, leading to continuous improvement.
Grammarly's comprehensive grammar-checking capabilities surpass those of inbuilt grammar checkers in programs like Microsoft Word and Scrivener, providing valuable insights and aiding in the enhancement of writing skills.
Grammarly Free vs. Premium vs. Business
Discover the differences between Grammarly's free version, premium subscription, and business offering. Explore the features, benefits, and determine which option best suits your needs as a writer, student, or business professional.
1. Grammarly Free Version: Powerful Features On A Lean Budget
Grammarly's free version offers a robust set of features, making it ideal for bloggers and writers with budget constraints.
While it lacks the plagiarism checker, advanced grammar checker, and certain vocabulary enhancement suggestions available in the premium version, it still provides comprehensive grammar and spelling checks.
2. Grammarly Premium: Enhanced Insights And Advanced Error Correction
Grammarly Premium offers a range of benefits beyond the free version. In addition to providing detailed information about each grammar mistake, it offers extra writing insights and the ability to set writing goals.
With Grammarly Premium, you'll benefit from even more comprehensive error detection and correction compared to the free version. Whether you choose an annual, quarterly, or monthly subscription, Grammarly Premium empowers you to improve your writing effectively.
3. Grammarly Business: Tailored Solutions for Teams
Grammarly Business is designed to meet the needs of teams and organizations.
Building upon the features offered in the premium edition, Grammarly Business includes additional functionalities such as user management and admin controls for enhanced privacy and security, priority 24/7 email support, centralized billing, and tracking tools to monitor engagement trends.
Priced at $15/month per member, Grammarly Business is an excellent choice for teams requiring comprehensive spell-checking and grammar tools.
Will Grammarly Work On A Mac?
Yes, Grammarly is compatible with Mac devices. You can install the Grammarly Chrome extension or the Safari extension to use Grammarly on your Mac. Additionally, Grammarly can be used on iPhone devices as well.
Grammarly Pricing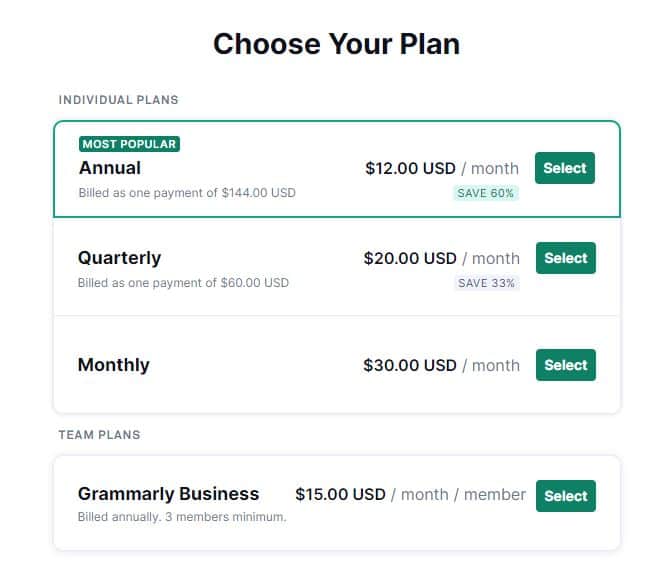 Grammarly offers flexible pricing plans:
Monthly subscription: $30 per month.
Quarterly subscription: $20 per month (for a single payment of $60).
Annual subscription: $12 per month (for a single payment of $144).
You can also explore Grammarly for free to test its capabilities before committing to a purchase. Join millions of satisfied users who have made Grammarly their trusted writing companion.
What Is The Grammarly Cancellation Refund Policy?
If you purchase Grammarly Premium and decide it's not the right fit for you, Grammarly offers a refund within a 10-day period. Simply contact their support department, and they will process your refund promptly.
FAQs – Grammarly Review
Let's address some common queries about Grammarly:
1. Is Grammarly free?
Grammarly offers a free version. However, they also have a premium and business plan with added features.
2. What is the disadvantage of using Grammarly?
One disadvantage of using Grammarly is that it may not catch all nuanced errors and may sometimes provide suggestions that are not applicable or may alter the intended meaning.
3. Is Grammarly premium worth it for writers?
Grammarly Premium is worth it for writers who require advanced features such as full-sentence rewrites and enhanced vocabulary suggestions.
4. Is Grammarly Premium worth it for students?
Grammarly Premium is worth it for students as it provides additional writing assistance, helps improve grammar and clarity, and offers plagiarism detection.
5. Is Grammarly good for academic writing?
Yes, Grammarly is good for academic writing as it helps with grammar, spelling, punctuation, and clarity, which are important aspects of academic writing. For more tools, check out the list of the best tools for writing.
Final Thoughts – Grammarly Review
In conclusion, I cannot imagine working without Grammarly as it has made the writing process enjoyable and effortless for me.
Over the years, Grammarly has not only corrected countless spelling and grammar mistakes but has also helped me improve my writing through its insightful suggestions and explanations. The proofreader feature and contextual grammar and punctuation checker provided by Grammarly are unparalleled.
I highly recommend Grammarly to bloggers, writers, and students who strive to improve their business or academic writing. It is also an excellent tool for anyone who wants to enhance their English language skills on the go. Grammarly delivers on its promises and provides an exceptional writing experience.
If you have experience using Grammarly or know of any other similar websites (for a Grammarly alternative, check out ProWritingAid Review), I invite you to share your thoughts. Try Grammarly for free and transform your writing today!