In the never-ending quest for clear and well-written communication, grammar checker tools have become a writer's best friend. Among the myriad options available, two prominent contenders stand out: Grammarly vs Ginger.
But who reigns supreme in this clash of the Titans? Let's dive in and find out why Grammarly emerges as the ultimate grammar checker champion.
Grammarly vs Ginger: A Detailed Comparison
Before a tool is declared a victor, let's explore the strengths and specialties of each software. In this Ginger vs Grammarly showdown, we'll examine various categories to help you make an informed choice:
1. Company Overview
What Is Ginger?

Ginger, a direct competitor to Grammarly, boasts a decade-long presence in the grammar-checking tool market. Having secured patents for several technological advancements, Ginger has garnered significant investment, including a substantial sum from renowned tech investors such as Horizon Ventures, Vazyra, and Tamar Ventures.
Although Ginger has over 1 million weekly active users, a fraction of that of Grammarly, its unique selling point lies in catering to users who may not be fluent in English or prefer writing in other languages.
What Is Grammarly?
Grammarly, launched in 2009, has firmly established itself as a leading writing enhancement tool. With its headquarters in California and a team of over 900 professionals, Grammarly caters to its user base.
The content strategy of Grammarly attracts over 30 million daily active users. While it enjoys popularity for its robust free plan, it faces stiff competition from Grammarly alternatives like Ginger, ProWritingAid, and WordTune.
To get a comprehensive understanding of Grammarly, feel free to explore our in-depth Grammarly review.
2. Ginger vs Grammarly Features Overview
Grammarly's arsenal of features includes a plagiarism checker, browser extensions compatible with popular options like Google Chrome, Firefox, and Safari, a comprehensive grammar checker, and reliable spelling corrections.
Notably, Grammarly seamlessly integrates with Google Docs, offering enhanced convenience for its users. And let's not forget their generous free version, which provides substantial writing clarity even for those on a budget.
Ginger, on the other hand, presents itself as a formidable alternative. With its desktop app and browser extension, Ginger caters to users across major browsers, including the ubiquitous Google Chrome.
What sets Ginger apart is its versatility in multiple languages, making it an excellent choice for both fluent speakers and those seeking additional support in language fluency. Not limited to English, Ginger's error-spotting capabilities extend to various languages, catering to a broader user base.
3. Sign-up Process: Seamless Entry Into The Grammar World
Signing up for Grammarly or Ginger is a breeze. Both platforms offer user-friendly onboarding experiences, ensuring that you can swiftly dive into the realm of grammar assistance without unnecessary hassle.
Simply follow the intuitive steps provided, and you'll be well on your way to writing with confidence.
4. Browser Extensions And Desktop Apps: Accessibility At Your Fingertips
For quick and convenient grammar checks, both Grammarly and Ginger provide browser extensions, ensuring you have their powerful assistance readily available while using popular browsers like Google Chrome.
Ginger also offers a desktop app, providing a robust grammar-checking experience right at your fingertips.
5. Ease Of Use: User-Friendly Grammar Assistance
Whether you're a seasoned writer or a novice seeking writing refinement, both Grammarly and Ginger offer intuitive interfaces designed to simplify the grammar-checking process.
With clear instructions and user-friendly features, you'll find yourself seamlessly incorporating these tools into your writing routine.
Ginger's Impressive Features
Ginger, a robust writing enhancement tool, offers features that can take your writing to the next level. Here's what sets Ginger apart:
Translation Tool: With Ginger, language barriers become a thing of the past. Their translation tool supports over 40 languages, allowing you to write confidently in multiple languages.
Affordable Pricing and Discounts: Ginger's paid plans come at a more budget-friendly price point, and they even offer special discounts for students and teachers, making it an attractive option for educational users.
Sentence Rephraser: Clarity is paramount in writing, and Ginger's Sentence Rephraser comes to the rescue. This feature aids in enhancing the clarity of your writing, making it an excellent addition to your writing toolkit.
Personal English Trainer: A standout feature of Ginger is its Personal English trainer. This invaluable tool helps improve your writing skills over time, making it particularly beneficial for non-native English speakers seeking fluency tips.
Additional noteworthy features of Ginger include availability in multiple languages, real-time checks while you write, a style checker, and word choice suggestions.
However, it's important to note that Ginger lacks integrations with popular word processing software like Google Docs and does not offer a built-in plagiarism checker like Grammarly.
Grammarly's Grammar Powerhouse
Grammarly, renowned for its grammar-checking prowess, packs a punch with its features:
Real-Time Grammar Checking: Grammarly excels at identifying grammatical errors in real time. Whether you copy and paste your text or write directly within the app, Grammarly's grammar checker diligently spots mistakes.
Learning Opportunities: While Grammarly doesn't include a writing coach within the platform, it provides explanations for each error, allowing you to learn from your mistakes. This valuable feedback empowers you to become a better writer and avoid repeating the same errors.
Plagiarism Checker: In the premium version of Grammarly, you gain access to a plagiarism checker that scans millions of websites for potentially duplicated content. This feature is especially useful for researchers concerned about unintentional plagiarism.
User-Friendly Experience: Grammarly offers a personal dictionary, and simple-to-use browser extensions, and is currently beta-testing its integration with Google Docs. Additionally, Grammarly provides a tone detector and conciseness suggestions to further refine your writing.
While Grammarly shines in its ability to enhance English writing skills, catering to regional differences within the language (U.S., Canada, Britain, Australia), it doesn't offer the same extensive multi-language support as Ginger.
Signing Up Process: Ginger Software vs Grammarly
Ginger Sign-Up Process
If you're looking for a convenient and efficient way to enhance your writing, Ginger software's grammar checkers are worth checking out.
One aspect that really caught my attention is the user-friendly approach that doesn't require you to create an account right from the start.
Simply head over to their homepage, and you're ready to go. Paste in up to 300 characters, and let the software do its work, correcting grammar, spelling, and punctuation errors in a flash.
Enhance Your Social Media Posts With Ease
We all know that crafting compelling and error-free social media posts is crucial. That's where Ginger software shines, making it ideal for refining your social media content quickly. With just a few clicks, you can ensure that your tweets, Facebook updates, or Instagram captions are polished and free from embarrassing mistakes.
Seamless Account Creation Process
While the no-account-needed option is fantastic, creating an account with Ginger software is just as effortless.
If you decide to sign up for an account, you'll be delighted to know that the process is straightforward. Simply provide your email address and create a password, and you're good to go.
Once you've completed these simple steps, you'll be redirected to the same user-friendly interface. The difference? Now you have the convenience of entering up to 600 characters at a time, doubling your editing capacity.
Grammarly Sign-Up Process
To get started with Grammarly, signing up is a breeze. Follow these simple steps:
Visit the Grammarly website and enter your email address. You'll receive a 6-digit verification code via email to confirm your account.
Provide key details about your writing goals, such as work, school, or other projects.
Select your occupation and specify your business size if applicable.
Indicate your primary goals when using Grammarly, whether it's creating a writing style guide, improving speed, sounding fluent, enhancing correctness or clarity, achieving writing consistency across a team, or sending emails and messages efficiently.
Note that during the sign-up process, Grammarly prompts you to install their browser extensions, which can be slightly inconvenient if you prefer to skip this step.
The clear victor in the signing-up process is Ginger.
Browser Extensions: Grammarly vs. Ginger
Grammarly's Comprehensive Browser Extensions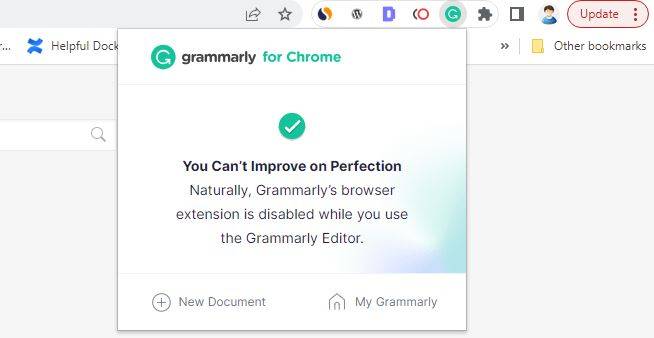 Grammarly offers robust browser extensions that integrate seamlessly with various platforms and devices.
The Grammarly browser extension allows you to write directly in Google Docs, instantly detecting mistakes and providing recommendations. It supports popular browsers such as Google Chrome, Safari, Firefox, and Edge, and also has extensions available for iPhone and iPad users. Additionally, Grammarly offers a desktop app that expands its usability beyond web-based applications.
Ginger's Browser Extensions and Microsoft Word Add-On
Ginger provides browser extensions for Chrome, Microsoft Edge, and Safari, even in their free version.
An exceptional feature Ginger offers is an add-on for Microsoft Word, which detects five times more mistakes than Word alone.
While Ginger's compatibility with programs and devices is not as extensive as Grammarly's, it does support usage on both Android and iOS devices.
With the Ginger extension, errors are highlighted, and you have the option to correct them up to a weekly limit. Beyond the limit, manual changes are required.
Grammarly emerges as the ultimate winner in the browser extensions category, with its advanced capabilities.
Ease of Use: Ginger Writer vs Grammarly
Ginger's Automated Text Changes
Ginger's grammar checker automatically applies changes to your text. Simply enter your text and click "Check Text," and Ginger will underline the parts it modifies, making it easy to identify your mistakes. You also have the option to revert back to your original text if desired.
However, it's important to note that Ginger requires you to copy and paste your text into their interface, as it does not support direct uploads from popular word processing software like Google Docs or Microsoft Word.
Grammarly's User-Friendly Experience
Grammarly provides a well-organized platform that is beginner-friendly. Their suggestions for changes are neatly listed on the right-hand side of the screen, complete with explanations of the grammatical errors and improvement suggestions. With just one click, you can implement their recommendations.
However, note that certain advanced features are available only in the premium version, which they showcase as a glimpse of what they offer once you resolve all recommended changes.
Additionally, adding words to your personal dictionary is as simple as clicking "Add to Dictionary" for identified spelling mistakes.
For ease of use, Grammarly takes the top spot with its user-friendly features and accuracy.
Ginger vs Grammarly Pricing: Choose the Right Grammar Checker
Comparing the pricing of Ginger and Grammarly is crucial when selecting the ideal grammar checker for your needs. Let's examine the pricing structures of both software options and determine which one offers better value.
Ginger Pricing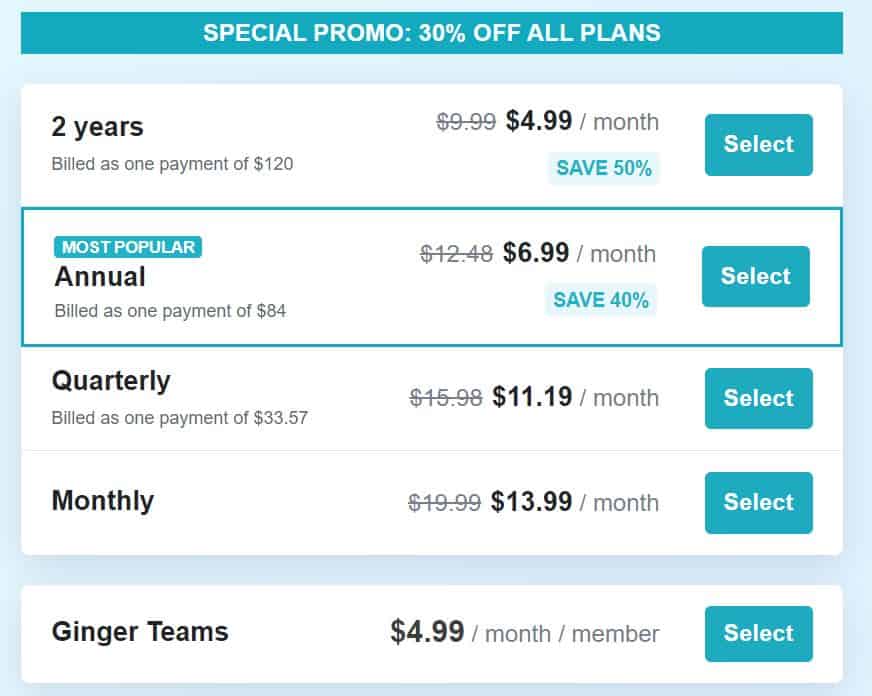 Ginger offers a cost-effective solution through its annual subscription to the premium version. Currently, an annual plan with an upfront payment costs $6.99 per month, while a monthly subscription is priced at $13.99 per month.
Notably, students and teachers can enjoy up to a 70 percent discount on the premium version by verifying their status with Ginger's sales department.
This pricing advantage makes Ginger an attractive option for budget-conscious students aiming to improve their papers (check out the paper titles generator).
Ginger also provides a 7-day money-back guarantee, allowing users to try out the software before committing to a long-term subscription.
Grammarly Pricing: How Much Does Grammarly Cost Per Month?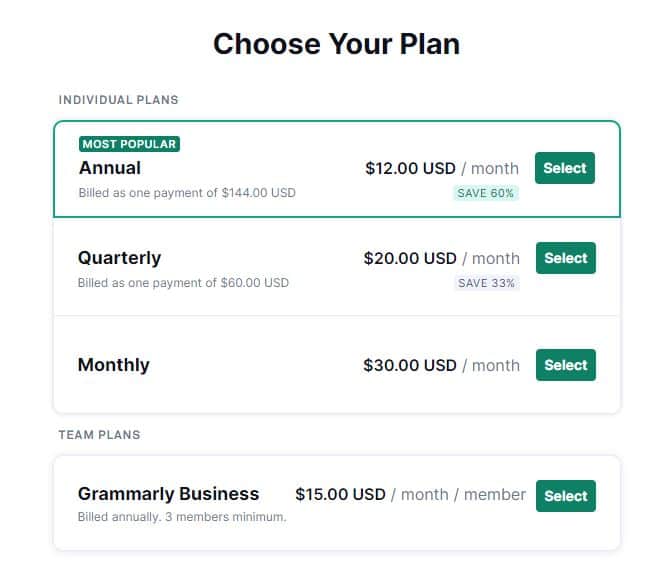 Grammarly offers a premium plan that unlocks advanced features in addition to basic spelling and grammatical error checks.
The premium plan includes benefits such as clarity-focused sentence rewrites, tone adjustments, a plagiarism checker, word choice and formality level checks, and fluency improvements. However, these features are only available in the paid version.
Here is a breakdown of Grammarly's pricing:
Monthly: $30 per month
Quarterly: $20 per month
Annual: $12 per month
Opting for the annual subscription can significantly reduce the cost, requiring a $144 investment upfront. This pricing structure should be considered based on your budget and usage requirements.
In terms of pricing, Ginger emerges as the winner due to its more affordable options, especially for students and teachers. Ginger's annual subscription offers better value for money, making it an excellent choice for budget-conscious users. The added discount for students and teachers further enhances its appeal.
Choosing The Best Grammar Checker Software
To decide between Grammarly vs Ginger, consider your specific requirements beyond basic grammar and spelling checks. Here's a quick summary of what each platform offers:
Grammarly Pros And Cons
Pros of Grammarly:
Browser extensions for comprehensive grammar checking across platforms
Plagiarism checker (in premium version)
Personal dictionary
Compatibility with Google Docs
Explanations for grammar mistakes
Tone and writing style checks
Cons of Grammarly:
Higher cost for the premium plan, without student or teacher discounts
No translation tool
Advertisements in the free plan
Ginger Pros And Cons
Pros of Ginger Software:
Cheaper pricing options
Quick identification of spelling errors and grammatical mistakes
Sentence Rephraser for concise language
Translation tool supporting over 40 languages
Cons of Ginger Software:
No document upload feature
No plagiarism checker
Limited character count in the free plan
FAQs – Ginger vs Grammarly
1. Is Grammarly and Ginger the same?
No, Grammarly and Ginger are not the same. They are both grammar checkers, but they have different features and algorithms.
2. Is Hemingway better than Grammarly?
It depends on your specific needs. Hemingway focuses more on improving writing style and readability, while Grammarly offers a broader range of grammar and spelling checks. Both tools have their strengths.
3. Is Ginger grammar checker accurate?
Ginger grammar checker is generally accurate, but like any automated tool, it may not catch every error or provide context-based suggestions in all cases.
4. How would you compare Ginger vs ProWritingAid?
Both Ginger and ProWritingAid are powerful grammar checkers, but they differ in terms of features and user experience. Ginger offers real-time corrections, translation options, and a user-friendly interface, while ProWritingAid provides extensive writing reports and analysis tools.
5. What is the difference between Grammarly vs Wordtune?
Grammarly is primarily a grammar and spelling checker that integrates with various writing platforms, while Wordtune focuses on offering AI-driven suggestions to improve sentence structure, clarity, and conciseness. Grammarly provides a more comprehensive set of writing tools, while Wordtune specializes in generating alternative phrasing options.
Conclusion: Grammarly vs Ginger
So which is better Ginger or Grammarly?
If budget is not a constraint, Grammarly tends to be the preferred tool for spotting common grammar errors and preventing their repetition in the future. The platform's detailed explanations help users avoid contextual mistakes in their writing.
However, if you are on a strict budget, Ginger is a viable option despite its limitations. While not as user-friendly as Grammarly, Ginger's cheaper pricing and essential features make it a practical choice.
Grammarly Premium stands out as the gold standard for a grammar-checking tool if you can afford the investment.
Consider your budget, desired features, and usability preferences to make an informed decision between Ginger and Grammarly.