Are you in search of the best writing assistant software to take your writing skills to new heights? Look no further!
A writing assistant can work wonders by enhancing your grammar and spelling, boosting your writing speed, expanding your vocabulary, and offering numerous other benefits. However, with countless options available online, choosing the best one can be a daunting task.
I've done the legwork for you and compiled a list of the top writing assistant software programs, catering to writers, business owners, sales professionals, and those seeking an all-around solution.
So, let's dive right in!
Top Writing Assistants For Business
1. ShortlyAI: AI Writer For Writer's Block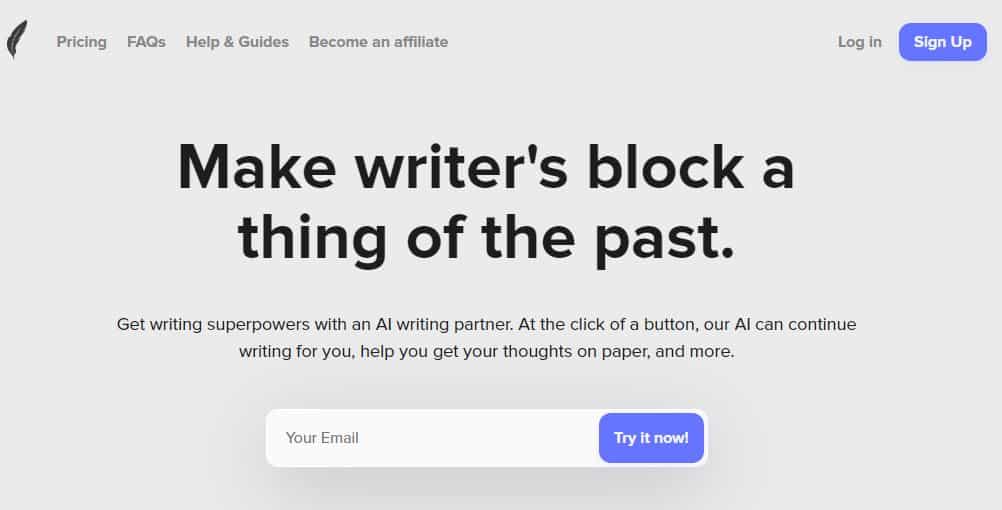 ShortlyAI presents itself as your AI writing partner, dedicated to helping you overcome writer's block and create engaging content across various platforms.
Whether you require attention-grabbing headlines, informative blog posts, articles, or engaging social media content, ShortlyAI can be of help.
Notably, it stands out as one of the few unlimited AI writers available, allowing you to write as much as you want without worrying about credits. However, a daily limit is in place, ensuring optimal usage.
With ShortlyAI, you receive original content that successfully passes plagiarism checkers. Discover the power of the tool for your business needs by checkout out the ShortlyAI review.
2. Content At Scale: Writing Assistance For Content Strategy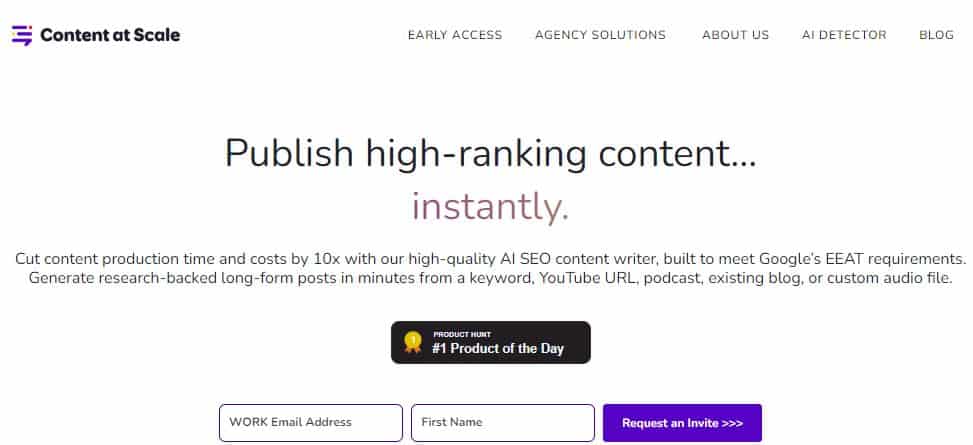 Content At Scale is an SEO-focused AI writer that does a good job of creating long-form content. With this powerful tool, you can effortlessly generate SEO-optimized, original content that surpasses AI detectors.
Content At Scale has a keyword-to-blog feature, allowing you to create fully optimized blog posts of 2,600+ words with ease. Furthermore, you can convert existing URLs, podcast URLs, or YouTube URLs into articles that can be embedded on your website or repurposed in various ways.
Discover the various possibilities with Content At Scale by visiting their website.
3. Rytr: AI Writing Generator For Business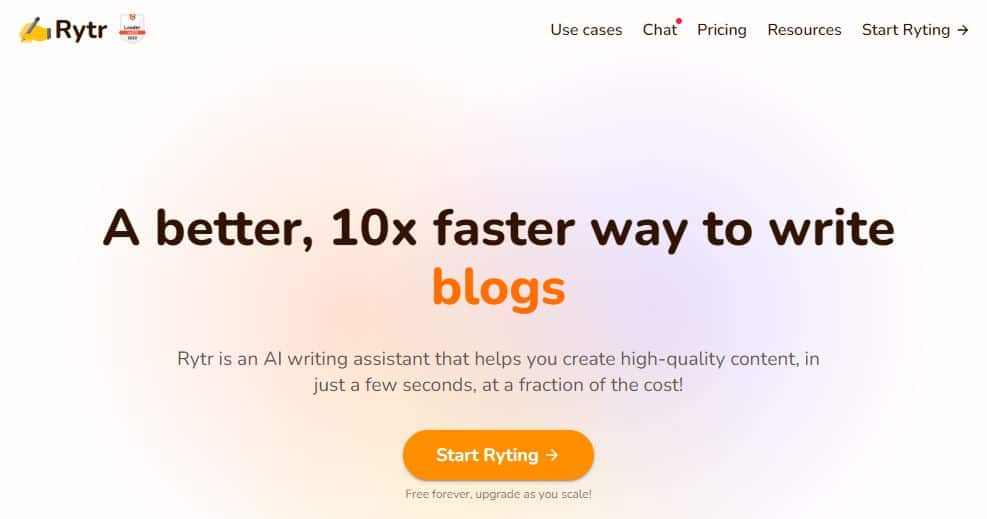 Rytr serves as an AI writing assistant and content generator specifically designed for business-related content. Whether you need assistance with email writing, product descriptions, taglines, headlines, or other business content, Rytr is a good option.
Rytr can be used in various aspects of your business, including interview questions, YouTube descriptions, social media bios, blog posts, and Facebook ads.
Trusted by millions of users, Rytr proves to be a versatile AI writing tool perfectly suited for entrepreneurs. From outlining blog posts and pitching business ideas to crafting compelling calls to action in your sales copy, Rytr can elevate your content strategy.
Explore Rytr's offerings on its website or delve deeper into its capabilities by reading the comprehensive Rytr review.
4. Writesonic: Best Writing Assistant AI For SEO
Writesonic serves as an exceptional AI writer suitable for a wide range of purposes, from crafting SEO-optimized blog posts to creating compelling ads, persuasive emails, and more.
Whether you're a writer, marketer, or eCommerce store owner, Writesonic has the tools to meet your needs.
Writesonic can be used across various domains, such as blog posts, essays, Quora answers, Google ads, and Facebook ads.
Notably, Writesonic sets itself apart by offering AI-driven editing tools, including a paraphraser, expander, and shortener, ensuring that you produce impeccable copy tailored to your business requirements.
Experience Writesonic by exploring their free trial, which provides a generous limit of 10,000 words for you to test-drive the tool.
For a comprehensive understanding of Writesonic's capabilities, be sure to check out the detailed Writesonic review.
3 Best Writing Software For Writers
1. Jasper AI: Writing Software For Productivity
When it comes to empowering writers with comprehensive tools to enhance productivity and amplify output, one software stands above the rest: Jasper AI. With over 70,000 satisfied users, Jasper AI is not just an AI writer; it's your writing companion of choice.
Whether you're a blogger, an e-commerce brand, or a service-based business, Jasper AI caters to a wide range of needs. However, its true strength lies in serving the writer community.
Jasper AI is a cut above the competition, capable of swiftly generating SEO-optimized blog posts and crafting engaging long-form content.
From captivating headlines and meta descriptions to captivating blog posts, FAQs, social media captions, video scripts, ad copy, and email content, Jasper AI covers it all.
With Jasper AI, you can overcome creative blocks, effortlessly churn out content, and boost your overall productivity.
To learn more about the workings of this exceptional AI writer and why it's the ultimate tool for your writing needs, be sure to check out the detailed Jasper AI review.
Or, better yet, skip straight to the action and grab your 7-day free trial, complete with a whopping 10,000 words. Discover firsthand how Jasper AI revolutionizes your writing experience.
2. Copy AI: Writing Assistant Tool For Social Media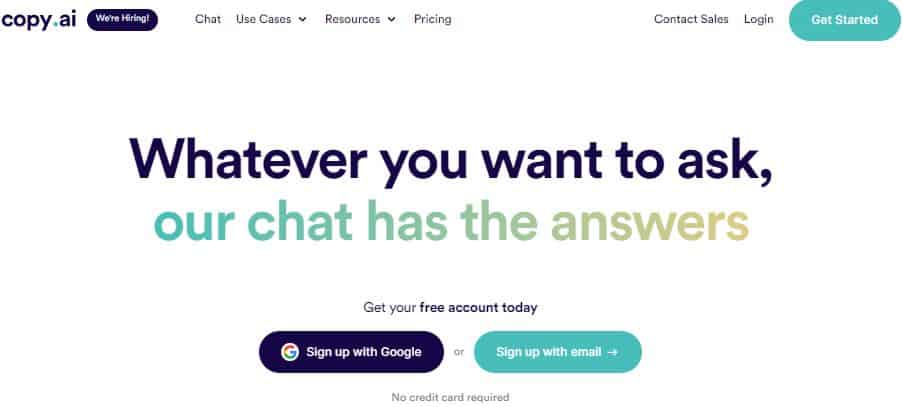 Meet Copy AI, the AI-powered writing assistant that simplifies the content creation process.
With Copy AI, you gain access to a streamlined platform that facilitates the creation of compelling social media copy, engaging blog posts, irresistible product descriptions, and captivating emails.
Writers and marketers alike can leverage Copy AI to streamline their content creation endeavors, transforming their writing into a captivating force that converts effortlessly.
By harnessing the power of this AI writer, you can enhance engagement, boost conversions, and optimize your content creation efficiency.
Begin your journey with a free trial, enabling you to experience Copy AI with the first 2,000 words. For a comprehensive understanding of Copy AI's capabilities, don't miss the full Copy AI review.
3. Anyword: AI Writer And Text Generator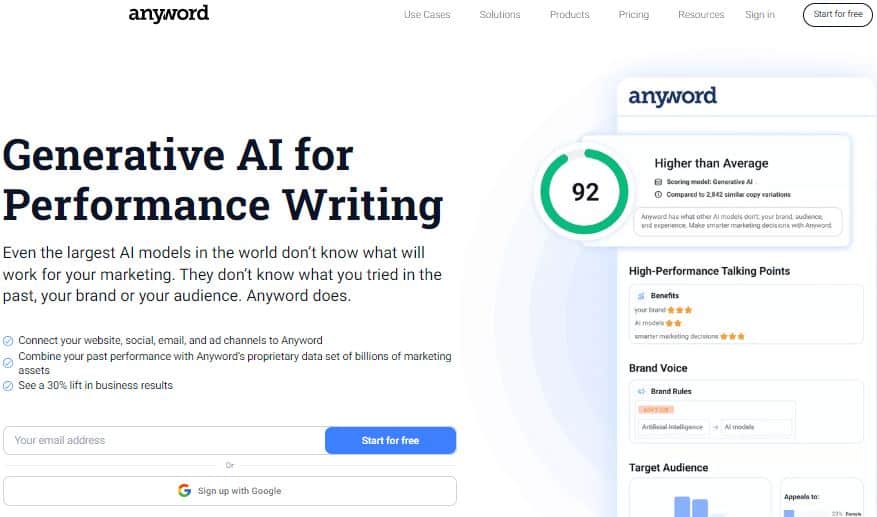 For writers seeking a powerful AI writer and text generator, Anyword AI is a game-changer. It specializes in helping writers create content that converts.
Tailored for the marketing community, including copywriters adept at crafting sales-driven content, Anyword utilizes generative AI technology to create, enhance, and score content.
If you're looking to ace performance marketing content, content marketing strategies, copy intelligence, or need assistance with your blog post wizardry, Anyword has got options.
You don't have to do any guesswork and instead use a score-driven model that enables you to produce the best version of your copy, effortlessly maximizing its impact.
Curious about the software? Start for free and experience firsthand how this tool can elevate your writing prowess.
For a comprehensive breakdown of Anyword's features and capabilities, check out the in-depth Anyword review.
Best Writing Assistant Software For Sales
When it comes to sales-driven content, utilizing AI writing software tailored to the needs of sales professionals can work wonders for your business. Here's my top recommendation:
Funnel Scripts: Best Writing Assistant App For Sales Copy
Funnel Scripts is an exceptional software designed to assist businesses in creating captivating copy for sales funnels, marketing campaigns, and websites.
Whether you require persuasive sales letters, attention-grabbing ads, compelling emails, webinar slides (check out the Webinar Titles Generator), or scripts, Funnel Scripts can be quite useful.
The software leverages your input to generate content and provides a wide array of templates and scripts to fulfill all your business needs.
Funnel Scripts was created by Russell Brunson, a renowned figure in digital marketing who also developed Clickfunnels, a prominent funnel-building software. Partnered with Jim Edwards, a respected name in the digital marketing scene and a renowned copywriter, Funnel Scripts ensures your sales copy reaches new heights.
Delve deeper into the capabilities of Funnel Scripts software by reading our detailed insights.
Best Free AI Writing Tools
1. Article Forge: Free A.I. Writing Software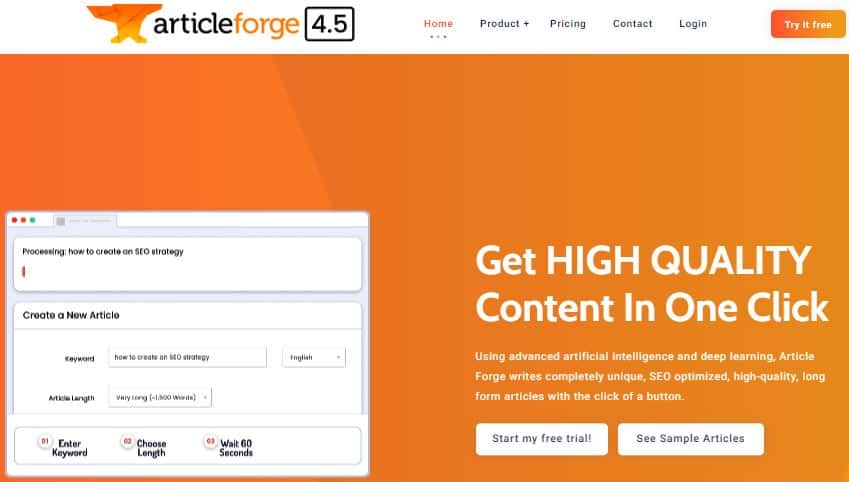 Article Forge stands out as an AI content writer that excels in generating unique, SEO-optimized long-form articles.
What makes it particularly user-friendly is its simplicity. By filling out a few fields and clicking a button, you can witness the AI writer craft content right before your eyes.
Article Forge supports writing in seven languages, offers SEO automation, and delivers rich, high-quality content.
Experience the power of Article Forge by taking advantage of their free 5-day trial and see how it revolutionizes your content creation process.

Read the Article Forge review for more details.
2. ChatGPT: Conversations With AI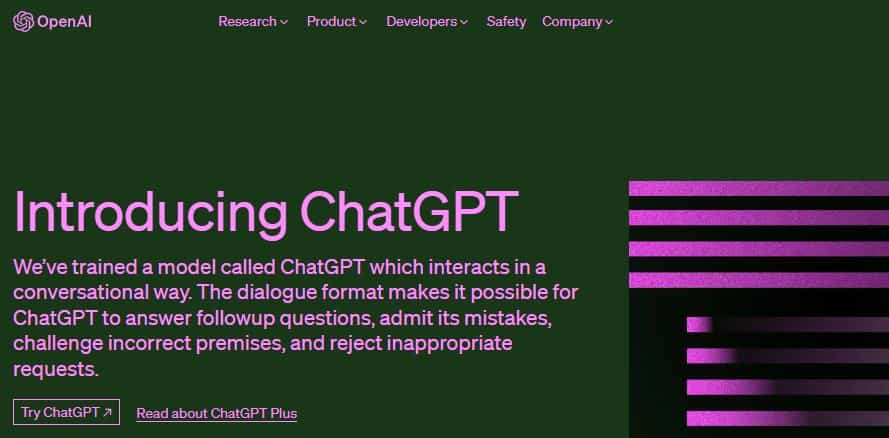 ChatGPT, powered by OpenAI, has taken the world by storm, rapidly gaining popularity and attracting millions of users. This AI chat tool utilizes the advanced GPT 3.5 architecture to generate responses that closely resemble human language.
With ChatGPT, you can engage in a wide range of interactions, such as asking it to act as an author and write a preface for a novel (check out the best AI novel writing software and the novel title generator), design a workout plan, define complex terms, or even create an SEO blog outline. You can even use ChatGPT for updating content.
While ChatGPT may not specialize in long-form content writing, you can utilize various prompts to gather enough content for assembling a comprehensive article or blog post.
Furthermore, ChatGPT offers a free membership with immediate access upon acceptance. They also provide an upgraded plan that grants access during high-demand periods, faster response times, and priority access to new features.
Who Should Use Writing Assistant Software?
Writing assistant software is beneficial for individuals across various domains who require assistance with their content creation endeavors. It serves as an indispensable tool for:
Marketers aiming to craft compelling sales-driven content for their marketing campaigns.
Content creators, bloggers, and journalists seeking to overcome creative writer's block.
Business owners rely on writing assistant software for a multitude of purposes, including copywriting, interview question preparation, business proposals, pitches, and more.
Students who can leverage AI to aid in research and ensure error-free writing.
FAQs – Best Writing Assistant Software
1. What is the best AI for paper writing?
The best AI would depend on individual preferences and requirements.
However, there are several AI tools that are popular for paper writing, such as Grammarly, Copyscape, and Turnitin, which can assist with grammar checking, plagiarism detection, and overall writing improvement (check out the paper titles generator).
2. What is the best free AI writing software?
When it comes to free AI writing software, options are limited. However, tools like OpenAI's GPT-3 models have free access tiers that can be used for basic writing tasks.
It's worth exploring the specific features and limitations of each tool to determine which one suits your needs best.
You may also be interested in checking out the Essay Titles Generator.
3. Which AI tool is best for content writing?
There are various AI tools available for content writing, and the best one depends on the specific needs of the content creator.
Some popular options include Copy AI, Frase, and Jasper AI. Each tool offers different features and capabilities, so it's essential to assess them based on your requirements.
4. Does Google penalize AI content?
Google does not penalize content solely because it is generated by AI. However, it's important to ensure that AI-generated content meets the quality and relevance standards set by Google's algorithms. Content that lacks originality, is excessively repetitive or violates other search engine guidelines may still be penalized.
5. What are the cons of AI writer?
Cons of AI writers can include:
Lack of creativity and originality compared to human-written content.
Difficulty in maintaining a consistent tone or voice throughout the writing.
Potential limitations in understanding complex topics or nuances.
Over-reliance on AI-generated content without proper review can result in lower quality or inaccuracies.
The need for human oversight to ensure that AI-generated content aligns with brand guidelines and avoids legal or ethical issues.
Conclusion: Best Writing Assistant Software
Determining the best writing assistant software is subjective and depends on individual needs. The ideal software is one that offers all the necessary features for your specific requirements, whether it's templated email copy, AI-assisted product descriptions, or a readability enhancer, among other capabilities.
For an overall top choice in AI writing software, I recommend Jasper AI. Highly rated and trusted, Jasper AI offers a free trial that allows you to experience its power firsthand, providing 10,000 free words through our exclusive link. Writers will find Jasper AI particularly beneficial.
Additionally, business owners can rely on Rytr as a versatile and reliable AI writing tool.
For sales copy and sales-driven content, Funnel Scripts proves to be an excellent choice, backed by its association with prominent figures in the digital marketing industry.
Most AI writing software platforms offer free trials, allowing you to test-drive the software before making a decision. Take advantage of these opportunities to gain hands-on experience and determine the software that best suits your needs.
Embrace the potential of AI writing software and unlock new levels of efficiency and creativity in your content creation journey.