Are you on the hunt for the best AI writing tool? Today, we're diving deep into Article Forge to see if it lives up to the hype. In this comprehensive Article Forge review, we'll explore its unique features, pros and cons, and most importantly, whether it's worth your hard-earned money.
So, let's get started!
What Is Article Forge?
When it comes to generating SEO-optimized, plagiarism-free articles in a flash, Article Forge claims to be the go-to solution. Recently updated to handle articles up to 1,500 words, it even goes the extra mile by incorporating relevant subheadings into your content.
Now, like any other best article generator software, Article Forge brings its own set of standout features and advantages. That's why it's crucial to do your due diligence and ensure that it aligns with your specific requirements.
What Is Article Forge Used For?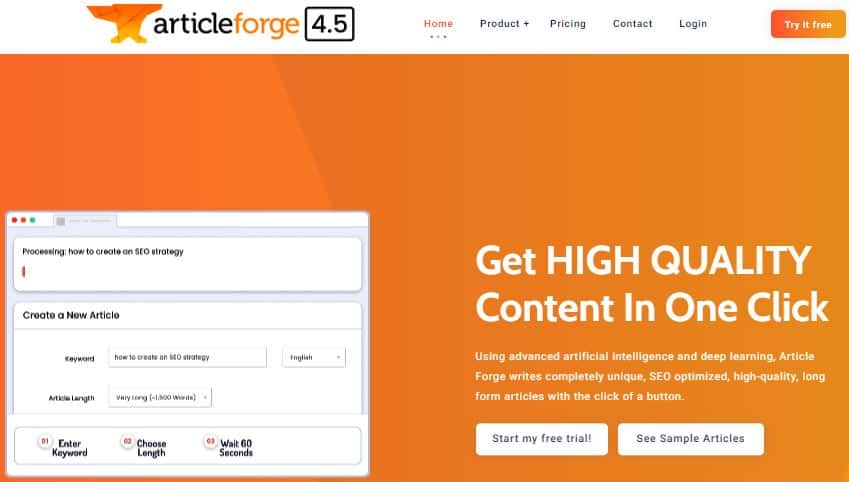 The biggest allure of Article Forge lies in its fast article creation process. In less than 60 seconds, this tool can churn out high-quality articles that would take even the fastest typists hours to complete. Imagine the time saved for content creators who can now focus on other important tasks!
Over the years, AI has grown by leaps and bounds. Tools like Article Forge have evolved to become highly responsive, integrating advanced algorithms that deliver top-tier content.
However, the real challenge lies in making that content sound genuinely human and not robotic.
Previous AI writing tools often fell short in this aspect. Simply swapping words in a sentence could alter its meaning or result in grammatical errors, which no writer wants to deal with.
Human-like Content Generation
Here's where Article Forge stands tall and makes a bold claim. They assert that their automatically generated content is not only unique and high-quality but also sounds like it's been crafted by a human writer.
Sounds too good to be true, right? Let's dig deeper and see if Article Forge lives up to its promise.
Harnessing AI Algorithms For Effortless Content Creation
Article Forge utilizes cutting-edge AI algorithms to generate fully completed web pages and copywriting projects. These algorithms, based on evolving rules and machine learning, enable the software to adapt and improve over time.
Here's a breakdown of how Article Forge works:
1. Register And Get Started
Begin your Article Forge journey by creating an account and taking advantage of the free trial period. This allows you to explore the tool's capabilities without commitment.
2. Input Target Keywords
Once you're logged in, input your target keyword along with any secondary keywords. You are also able to specify your desired word count and other requirements at this stage. This information helps Article Forge understand the direction you want your article to take.
3. Click 'Generate' And Await Results
With a click of a button, Article Forge springs into action. It takes approximately 60 seconds for the software to craft a unique article tailored to your specifications.
4. Review And Polish
Once Article Forge generates the article, it's ready for your review. Take the time to fact-check, make final edits, and ensure the content aligns with your vision. This step guarantees that the output meets your quality standards.
5. Publish And Shine
After making any necessary tweaks, it's time to publish your article and share it with the world. This straightforward process allows you to leverage AI technology for content creation, saving you the effort of writing everything from scratch.
By inputting your subheadings and main keyword, Article Forge steers the article in the right direction, ensuring the content it generates precisely matches your needs.
In most cases, the software can produce an article in less than 60 seconds. However, for longer articles up to 1,500 words, the generation process might take a bit longer.
If the initial version doesn't quite hit the mark, you can always tweak subheadings and key phrases to guide it in the desired direction (also explore the Longshot AI review, which focuses on fact-checking).
Article Forge Review: Key Features
Article Forge comes packed with a variety of features that can help you create relevant and unique content effortlessly. Let's explore its main highlights:
Seamless Media Integration Enhance your AI-created articles with captivating visuals. Article Forge allows the automatic inclusion of images and videos at optimized locations, giving your content an SEO boost.
Automatic Title Compilation Forget the hassle of brainstorming titles! Article Forge automates the process by generating accurate and compelling titles for your articles, saving you time and effort.
Multilingual Content Generation Expand your reach globally. Article Forge supports content creation in 7 languages, giving you access to less competitive keyword sectors. Seizing international keyword opportunities can open doors to new business prospects.
LSI Keywords for Topic Relevance Keep your readers engaged with on-topic and captivating content. Article Forge utilizes LSI keywords to ensure that your articles are not only optimized but also interesting to read.
Internal and External Link Insertion Boost your SEO game with ease. Article Forge lets you effortlessly insert both external and internal links, aiding in the overall optimization of your content.
Automated SEO and WordPress Integration Streamline your SEO efforts effortlessly. Article Forge offers automated SEO capabilities, enabling scheduled posts on your WordPress sites. Moreover, its excellent API seamlessly integrates with major SEO tools, providing a "set and forget" service for your optimization needs.
Ease of Use
Article Forge excels in user-friendliness, allowing even beginners to navigate the platform effortlessly. The dashboard is intuitive and well-organized, providing clear labels to guide you through the article creation process. Here's a step-by-step overview:
Log in to your Article Forge account and enter the desired phrase or keyword you want to write about.
Within approximately a minute, Article Forge will generate a high-quality, completed article for use.
The recent update of Article Forge introduces the ability to create long-form articles with a length of 1,500 words or more. When creating an article, you have 2 main options:
Just input your keyword and click to generate content, allowing the software to provide suggestions based on the input.
Add your own subheadings to provide the software with additional direction and ensure specific content inclusion.
Putting Article Forge To The Test: A Sample Article
To give you a glimpse into the content generated by Article Forge, I conducted a test article during this review. For this test, I selected the topic "Amazon Automation Scam" as the main keyword and set the length of the article to 500 words.
Following is the output: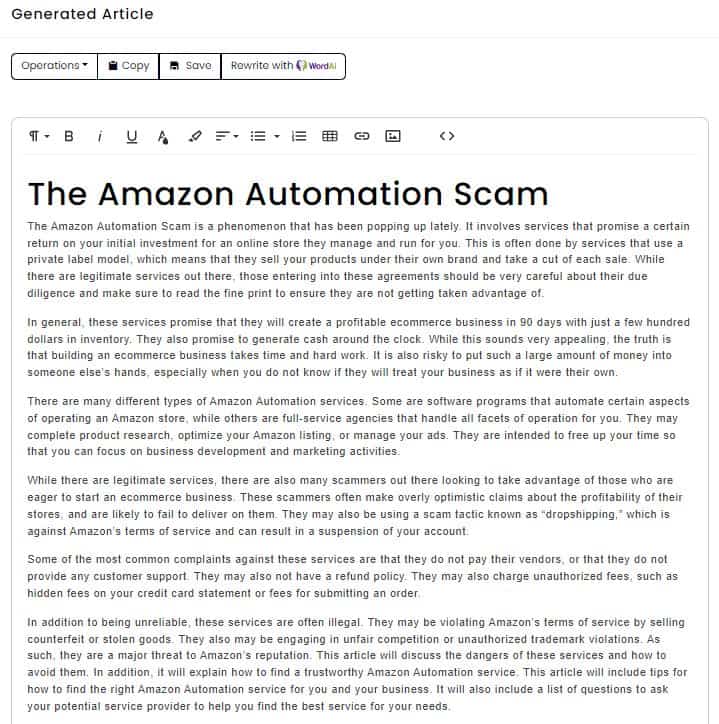 As can be seen, the generated content is basic and would benefit from fact-checking and polishing. Nonetheless, it's impressive to witness Article Forge produce such a substantial amount of content within a minute.
To ensure the article's originality, I ran it through Grammarly's plagiarism checker, which returned a score of 5%. Although slightly higher than the 2% stated on the web page, it still demonstrates Article Forge's commitment to delivering unique content.
Seamless Integrations To Enhance Functionality
While every AI software has its limitations, Article Forge overcomes potential obstacles by offering valuable integrations. Two notable integrations broaden the tool's capabilities:
Post Scheduler For WordPress
Article Forge integrates smoothly with self-hosted WordPress blogs through a convenient post scheduler.
Once your Article Forge posts are completed, you can effortlessly schedule them for automatic posting using the web application's WordPress tab.
The scheduler lets you specify groups of sites or individual URLs associated with your username.
Additionally, you can select a default WordPress blog as your primary content destination, saving you the time and effort of manually exporting the Article Forge content to your WordPress site.
If needed, you still have the flexibility to use native WordPress for complex individual articles or posts.
Integration With WordAi
Article Forge, designed primarily for creating fresh content, partners with WordAi, a solution dedicated to article rewriting (also read Article Forge vs WordAi).
The direct integration between the two products allows you to seamlessly rewrite or rework existing articles and information pages. To utilize this feature, you'll need a WordAi account and a unique API key, which follows a similar subscription structure as Article Forge.
This relationship between the two tools empowers you to craft fresh content and transform existing articles effortlessly.
You may also be interested in checking out WordAi review.
Additional Integrations
In addition to the previously mentioned integrations, Article Forge offers a range of other useful connections that can further elevate your content creation and SEO optimization.
These integrations include Cyber SEO, SEO AutoPilot, SEnuke TNG, GSA Search Engine Ranker, and RankerX.
By easily connecting to any of these platforms using your Article Forge API key, you can ensure that your articles and money sites are fully optimized for search engines.
Providing Reliable Customer Support
While Article Forge aims to streamline the content creation process with its AI writing software, they understand that occasionally you may need assistance. Their customer support is available through a contact form on their website's "Contact" page.
Although they don't provide a live chat or helpdesk number, the blog section accessible via the footer menu offers an extensive knowledge base covering various topics and common issues.
For additional guidance, Article Forge provides training materials in the form of documentation and videos. They maintain an active presence on Facebook and Twitter, where you can reach out to them via direct messages. However, keep in mind that response times may vary.
Maximizing Article Forge: Tips And Recommendations
When working with Article Forge, it's important to follow certain tips to ensure optimal results. Article Forge itself provides guidance on their website to help you make the most of the tool. Here are some tips to consider:
Provide Sufficient Information
The more information you provide at the start of the article creation process, the better the final output is likely to be. Giving Article Forge a clear idea of what you want to write about helps in generating more accurate and relevant content.
Clear Keywords
Use keywords that are directly related to your main topic. This helps the software understand the type of content you want to generate.
For instance, instead of using a vague keyword like "gym equipment," provide more specific examples like "How to use gym equipment to build muscles" or "How to buy the right equipment for a workout."
By providing clear instructions, you increase the chances of getting the desired content.
Adding Subheadings
Including subheadings in your article provides further direction to the software and helps maintain a coherent flow.
While Article Forge can generate subheadings for you, keep in mind that the software may stop writing if it runs out of relevant information. If you're aiming to create a long-form article, it's advisable to add your own subheadings.
Article Forge Pros And Cons
Like any software, Article Forge has its pros and cons. It's essential to evaluate the features of the software to ensure it aligns with your specific requirements. Here are some advantages and disadvantages to consider:
Pros of Article Forge
Time-saving compared to manual writing
Quick generation of detailed articles with a simple button press
Capable of generating SEO-friendly content aligned with Google algorithms
Allows for automatic posting to any WordPress website
Enables the creation of more content than manual writing alone
Subheadings can be added to maintain article structure
Content is easy to read and user-friendly
Cons of Article Forge
While Article Forge offers many advantages, it's important to consider the following drawbacks:
Editing and Fact-Checking Required: The articles generated by Article Forge are not ready for immediate publishing. They will require thorough fact-checking and heavy editing to ensure accuracy and coherence. While Article Forge provides a foundation, human intervention is necessary to refine the content.
Cost for Infrequent Use: The monthly cost of Article Forge may seem expensive if you don't use it frequently. If you only require occasional content generation, the price may be less justified compared to more regular users.
Repetition of Content: Article Forge has been known to produce repetitive content in some cases. However, this issue can be mitigated by taking the time to input relevant subheadings and conducting separate keyword research to ensure the content remains varied and relevant.
It's worth noting that perspectives on these cons can be subjective. For instance, the repetitive content issue can be addressed through proactive steps on the user's part.
Additionally, AI content writing tools like Article Forge are constantly evolving and improving. The release of Article Forge 3.0 demonstrates that the development team is responsive to feedback and consistently working on enhancements.
Article Forge Pricing And Plans – Is Article Forge Free?
Article Forge offers several pricing plans, allowing you to choose the one that suits your content writing needs. They also provide a 5-day free trial for you to test the software and ensure it aligns with your requirements. Here are the pricing options: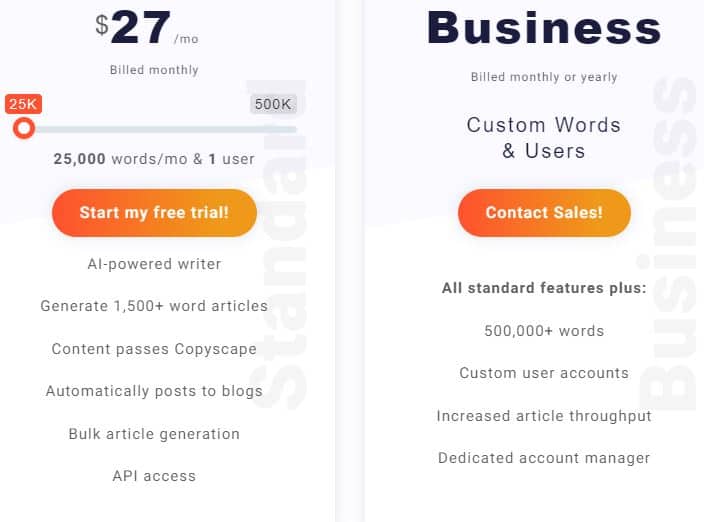 Up to 25,000 words/month: $27 per month (annual payment of $13 per month)
Up to 100,000 words/ month: $57 per month (annual payment of $27 per month)
Up to 250,000 words/month: $127 per month (annual payment of $57 per month). This option is ideal for users who require a high volume of articles.
While Article Forge may not be the most affordable AI writing tool available, the company emphasizes the transformative impact it can have on your article writing and content creation. The level of AI development implemented in the software sets it apart.
Article Forge is confident in the value it provides, offering a 30-day money-back guarantee in addition to the 5-day trial. If you use the software for less than 10 articles and are unsatisfied, you can request a refund.
Is Article Forge Worth It?
In general, it can be said that Article Forge is worth the money, although it's important to note that it won't provide top-quality, ready-to-publish content.
It should be understood that Article Forge cannot replace the expertise of an experienced editor and writer. However, it can significantly accelerate the writing process, saving both time and money.
It's still necessary to conduct your own fact-checking when using Article Forge. If you're already outsourcing content to non-native English writers, you may already be accustomed to doing extensive fact-checking and editing.
For writers, Article Forge can help overcome writer's block and produce content more quickly, even though heavy editing is often required.
As with any tool, reviews and opinions may vary, especially when it comes to AI writing software. Article Forge has undergone significant changes in recent releases, offering better value for money than before. Whether Article Forge is worth the money ultimately depends on the individual user's needs and expectations.
The good news is that Article Forge provides a 5-day trial option, allowing you to test it out and determine its value for your specific requirements.
Many users of Article Forge and similar AI writing tools find that although some editing is necessary to tailor the article to their needs, it is still faster than creating an article from scratch.
Article Forge vs Human Writers
Comparing a human writer with Article Forge is a nuanced task, as the quality of human writers can vary greatly. Instead, it's more appropriate to assess whether Article Forge produces good, readable, and relevant articles.
In simple terms, the answer is yes, at least to some extent. The content generated by Article Forge is similar in quality to that of an inexperienced non-native English speaker. While the basics are covered, the content will require thorough reviewing and substantial editing before it's ready for publication.
One area where Article Forge excels is speed. If you need a significant amount of fresh content for your WordPress website or blog, Article Forge can quickly generate articles on demand.
The cost of these articles is significantly lower compared to hiring a human writer, particularly with Article Forge's package for producing 500,000 words per month.
However, if you value content quality on your blog or website, you'll still need to hire an editor or dedicate substantial time to editing the generated content yourself. While search engines may be satisfied with the content, human readers may have a different opinion if unedited AI-generated content is published.
For in-depth researched articles, Article Forge can assist with providing a document structure. At the end of the day, the quality of research invested in an article can have a greater impact on its success than the choice between a human writer and Article Forge.
A productive approach is to use Article Forge to generate individual paragraphs and then blend the strengths of both AI and human writing capabilities through human intervention to create an article with the best of both worlds.
FAQs – Article Forge Review
1. Is Article Forge good for SEO?
Yes, Article Forge is beneficial for SEO as it generates content based on specified keywords, helping to increase website visibility and rankings.
2. What is the difference between Article Forge and Article Builder?
Article Forge and Article Builder are both content generation tools, but they have different features and capabilities.
Article Forge focuses on generating AI-written articles based on input keywords, while Article Builder provides access to a database of pre-written articles that can be customized.
3. Is there an Article Forge lifetime deal?
Article Forge does not currently offer a lifetime deal. It is recommended to check their official website or contact their customer support for the most up-to-date information on pricing and deals.
4. What is the difference between Article Forge vs Jasper?
Article Forge and Jasper are both AI-powered content generation tools, but they have different features and functionalities.
Article Forge focuses on generating articles based on provided keywords, while Jasper offers more versatility in generating various types of content, including long-form content and specific instructions.
Here is a detailed Jasper review for further information.
5. How much can I get paid for writing an article?
The payment for writing an article varies greatly depending on factors such as the topic, word count, complexity, and the publication or client you are writing for. Rates can range from a few dollars to hundreds or even thousands of dollars per article.
Conclusion: Article Forge Review
I hope this Article Forge review has given you more information about the tool. With the free 5-day trial offered on their website, there's nothing to lose by giving it a try if you're considering using an AI writing tool.
The pricing of Article Forge may initially appear higher compared to other options, but the developers claim that this is due to its more sophisticated technology.
If you're considering investing in Article Forge to expedite your content creation, be sure to read all the provided information, conduct thorough research, and take advantage of the trial period. This will give you a good idea of whether Article Forge is suitable for your needs.
If you are looking for Article Forge alternatives, there are other useful AI content generators such as Writesonic available with a variety of features.
Please note that the information and opinions provided in this review are subjective and based on the available information. It's advisable to conduct your own research and consider your specific requirements before making a purchasing decision.