Different budget applications and financial tools that serve as personal expense tracker apps are available thanks to today's revolutionary technology. In this article, we will look at the best apps for budgeting and personal finance.
Everyone needs to set aside some cash for a rainy day. People are looking for options to manage and keep track of expenses for this purpose.
Surprisingly, 45% of people in the United States have not saved up for retirement, and there's a good chance they will be out of funds during retirement. 26% of residents in Canada are having financial difficulties.
The majority of these applications assist the user in comprehending and learning a particular method for budgeting, transactions that affect their banking account, and so on. The best thing is that the majority of these applications are available for free on the internet, iOS, and Android devices.
Best Apps For Budgeting In 2023
1. Mint – Best Free Expense Tracker App
2. You Need A Budget (YNAB) – Best App For Budgeting
3. PocketGuard – Best App To Prevent Overspending
4. Wally – Free Money Management App
5. Spendee – Best App For Tracking Personal Expenses
6. Expensify – User-Friendly Expense Tracking App
7. Goodbudget – Best Money Management App For Beginners
8. Household Account Book – Best Home Budgeting App
Money Management App Comparison
1. Mint Review – Best Free Expense Tracker App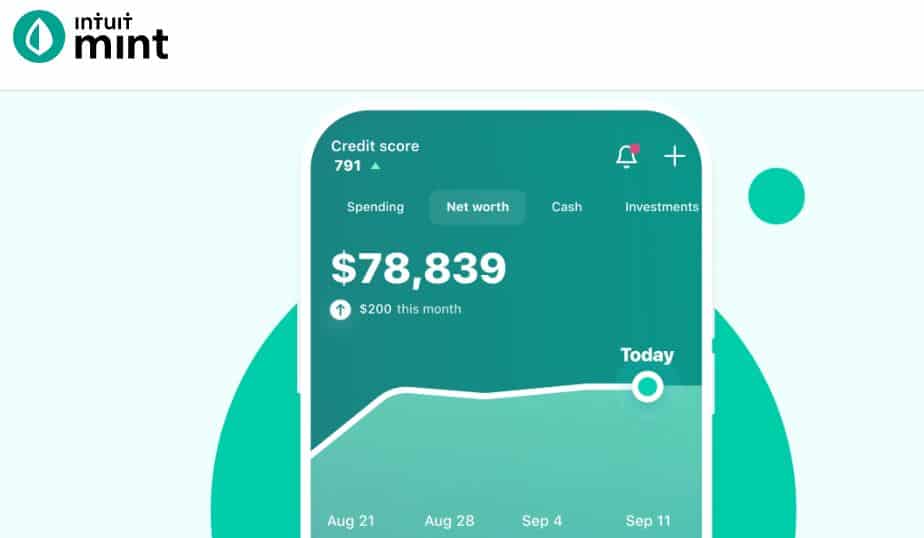 Mint is on my list of the best free expense tracker apps and the best apps for personal budgeting. The user's bank accounts, credit cards, and savings accounts are all synced in one location.
Intuit is the creator of this software (known for TurboTax and QuickBooks). They take great care to protect users' financial information. To keep user data secure, Intuit has ensured that Mint uses encryption and bank-level protection, especially when processing transaction data.
They operate Mint in such a way that the more the Mint Account is used, the easier it is to link all kinds of accounts (credit cards, banks, and utility companies).
Features & Benefits
Consumers can connect with their utility service providers in addition to bank accounts and credit cards.
All the user account transactions can be updated and sorted into the categories of the user's choice.
The Overview Screen can be used by users to check account balances, get a quick overview of their budget, and receive updates or special deals.
Fund budgeting can be tailored to meet the needs of the consumer. A free and simple savings goal feature is available, as well as email updates and reminders.
It will look for deals from banks, credit cards, and brokerage firms that match the user's requirements.
This app will virtually attach to all financial services online, including IRAs, checking accounts, real estate, savings accounts, brokerage accounts, 401(k), loans, and more.
Cost
Mint is a fully free service to use.
2. You Need A Budget (YNAB) Review – Best App For Budgeting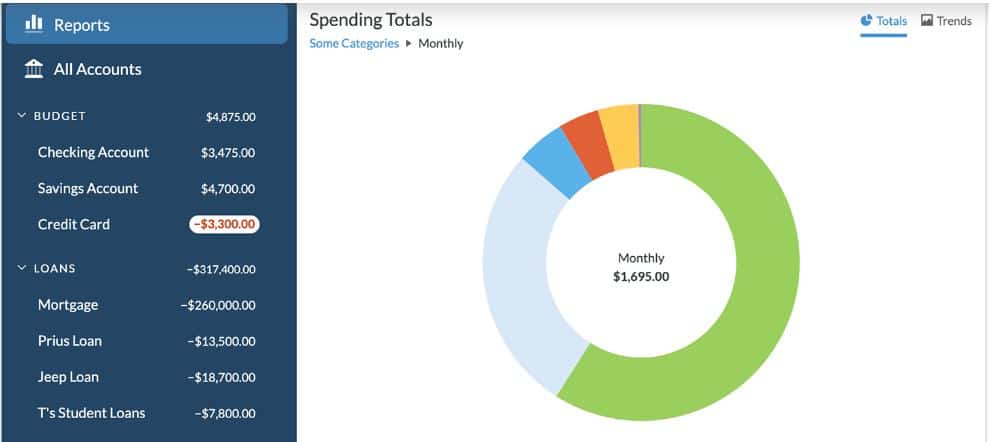 YNAB is further down on my list of the best apps for budgeting. It's the personal expense tracker software that would work for everyone.
The phone app allows users to access their accounts, add new transactions, classify budgets, and make adjustments to their accounts all from their phone.
YNAB is accessible online, on iOS, and Android, allowing users to maintain their data regarding the budget. This software connects to all the devices of the user. The online edition of the application has more functionalities, such as educational resources and tools to assist users in developing healthy budgeting principles and financial habits.
Features & Benefits
Across all platforms, the app provides budget alerts in real-time.
Banking accounts and other financial data can be conveniently synced, allowing users to connect and access information from a single location.
YNAB assists users in tracking and setting targets, so they can monitor that they are being met.
Teaching aids and personal assistance is available to all YNAB customers throughout the week.
Customized reports are created based on the user's set targets so that they can see whether they are on track to achieve their desired level of performance.
Users can choose from 15 types of workshops to help them meet higher-level goals, such as creating a debt repayment structure and saving expenses related to groceries.
Risk-free, complete money-back guarantee. There won't be any questions asked when it comes to refunds.
Cost
The cost of YNAB is $11.99/month or $84/year. It also comes with a risk-free 34-day trial period, so you test and find out whether it is a good fit for you.
3. PocketGuard Review – Best App To Prevent Overspending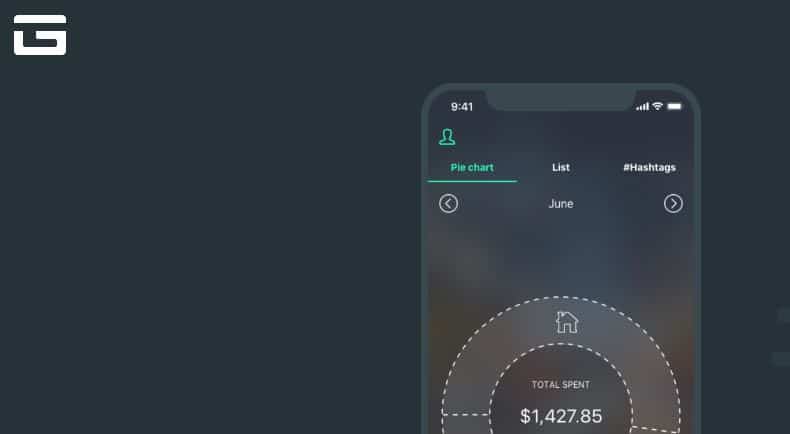 PocketGuard is a budgeting and spending tracker software that was created with managing personal finances in mind. Some of the best features include its ability to track potentially unwanted and illegal charges, billing errors, hidden fees, and frauds/scams.
The web app is currently being beta tested, despite the fact that PocketGuard is available only as a smartphone app for iOS and Android. The web edition, on the other hand, lacks some of the functionality and services found in the phone app.
Currently, PocketGuard is operating only in the United States and Canada.
Features & Benefits
Purchases are automatically updated and categorized as they occur, allowing the consumer to better follow their spending behavior and save money.
By connecting the savings and checking accounts, credit cards, loans, and investments to the app, users can keep track of their finances in one location.
In My Pocket feature helps to save the money that is left over when all the bills are paid.
This app creates a customized budget for its users based on their earnings and expenses, as well as targets set by the consumer.
At PocketGuard, account data protection and security are prioritized. They import and categorize the user's data from the bank using an encrypted token method.
PocketGuard can make calculations to determine ways for saving money related to healthcare expenses, reduce bills, open a savings account earning higher interest, and more.
Cost
$4.99/ month, $10.99/quarter, or $34.99/ year.
4. Wally Review – Free Money Management App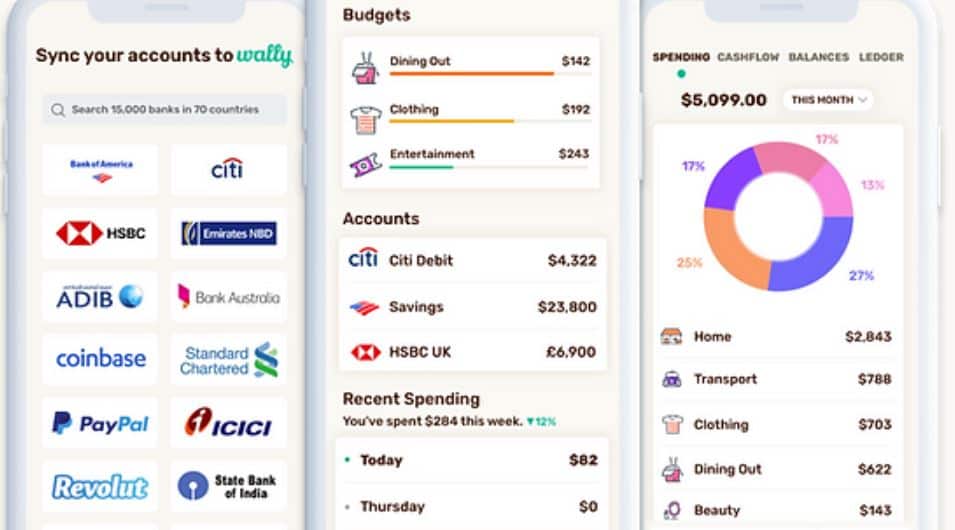 Wally is one of the best iPhone expense tracking app. This application is particularly useful for people who want to keep track of their financial situation. It allows them to compare their income against expenses and to develop an understanding of how to monitor their money and expense fluctuations.
Wally's goal is to be easy, and smooth, and to provide money management advice. Wally is known for being an app that helps users understand the psychology behind spending money and controlling their expenses.
It is on my list of the best free expense tracker apps available in the market, helping users meet their budgeting and expense monitoring goals.
Features & Benefits
The company has taken great care to protect its users' privacy, ensuring that their data is kept safe and protected.
An effective income and cost tracker assists users in setting and achieving their objectives.
This app supports all types of currencies, from the US dollar to the Swedish Krona.
Users can set passwords on the application to improve security, but they must remember them or their information will not be retrieved.
Users are able to attach photos of receipts to each expense. They just need to log in to the app and add a photo of the invoice for their records.
A truly advertisement-free experience – without distracting advertisements when keeping track of your expenditures for free.
It would be completely supported on the web and Android in the near future.
Cost
Wally is free for users. They have plans to introduce some optional paid features (between $0.49 to $4.99) in the future. Features like conversion of currency for passengers, family budget control tools, and so on will be included.
5. Spendee Review – Best App For Tracking Personal Expenses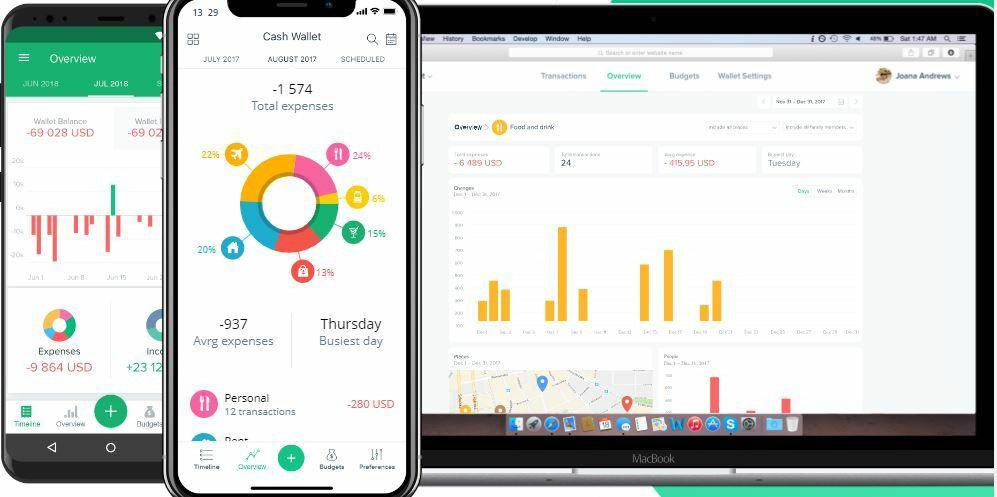 Spendee is among the best apps for personal budgeting available in the market, particularly for the ones who struggle to keep track of their personal finances. It is simple to set budgets with this personal expense tracker to help the user avoid overspending and maintain their everyday budget, letting the user monitor their financial actions.
Users may link their crypto wallet to their e-Wallet to get a summary of their monthly cash flow. Spendee gives users complete control of their cash spending, bank accounts, cryptocurrency wallets, and e-wallets.
They are able to get a quick rundown of their overall incomes and expenditures from a single location.
Features & Benefits
People who choose to pay with a card prefer Spendee because it allows them to link their banking accounts to the application.
Spendee is ideal for families, couples, roommates, and those who share wallets.
When it comes to managing money around the globe, Spendee supports various currencies, which is ideal for digital nomads and travelers.
Spendee allows users to have custom categories and attach a photo or a place to each expense.
Someone who uses Spendee can back up and sync their data across all of their devices and share it with others.
Users may set notification reminders and alerts to ensure that budgets don't get surpassed or that bills are paid, among other things.
Pricing Plans
Basic
It is free, instills good financial habits, and allows users to track their spending patterns. The plan has cash wallets, data sync and backup, and one budgeting option. It also has encrypted data and a comprehensive overview.
Plus – $1.99/ month or $14.99/year

This plan is ideal for saving money as a group with friends or family. Many of the features of the basic plan are included, as well as budgeting, unlimited cash wallets, and wallet sharing.
Premium – $2.99/ month or $22.99/ year
This plan is ideal for users who wish to set aside funds for a specific purpose. Many of the features of the Plus plan are included, as well as automatic categorization and bank account integration.
6. Expensify Review – User-Friendly Expense Tracking App
Expensify is one of the best money management apps. This application is designed for people who are busy and helps to keep track of spending and receipts.
The user just needs to snap a picture of the receipt, and the application will transcribe the information automatically, making expense tracking simple and painless.
Each receipt can be classified and coded by Expensify. It also automates the process of requesting business expenditures for reimbursement and approval.
It has valuable features including approval of multi-level workflows, reconciliation of corporate cards, and the ability to sync with most accounting software, which saves time.
Features & Benefits
The mobile application is good for data collection. The mobile user just needs to photograph the invoice at the point of sale, add it to a report, after which the app can handle the rest.
Since Expensify makes use of OCR SmartScan, users can add expenses through their mobile application.
The user has the option of splitting the expenses and just needs to input the expense and divide the cost using the ExpensePoint function.
The app has a user interface that is easy to follow. The fact that the app can decipher the text from a scanned invoice is incredible.
This is on my list of the best mileage and expense tracking apps available, enabling you to monitor mileage using a variety of methods, including odometer readings, typed-in distance, or GPS.
The user can access a dashboard online that provides basic reports on the classified expenses, using time references and tags.
Pricing Plans
Track – $4.99/month (25 free SmartScans/month)
The plan is ideal for tracking receipts and expenses for sole proprietors and individuals. It has features such as automated mileage monitoring and cost categorization.
Submit – $4.99/month (25 free SmartScans/month)
Small businesses and employees may use this plan for sending receipts to supervisors or accountants. Many of the features of the Track plan are included, as well as the ability to submit reports automatically for reimbursement and send receipts to others.
Collect –$5/month per user with the Expensify card
This plan is a fantastic way for companies and teams to simplify receipt processing and reimbursement. All the features of Submit plan are included, as well as automatic syncing to accounting software and a free Expensify card with automatic reconciliation.
Control –$5/month per user with the Expensify card
Companies that require expense monitoring, approvals, card management, and reimbursements should use this plan. Many of the features of the Collect plan are included, as well as multi-level systems for approval and the ability to handle any business card.
7. Goodbudget Review – Best Money Management App For Beginners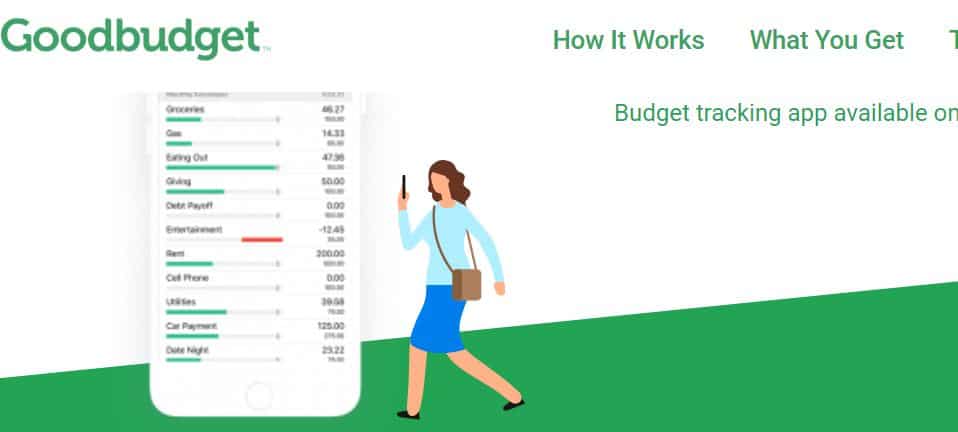 Another one on my list of the best apps for budgeting is Goodbudget. It combines the conventional envelope method (in which an individual places cash physically into categorized envelopes) with a low-risk, virtual version.
This app, which is available on both mobile and web versions, allows users to decide on ways to cut down expenses. This can be considered as a more sophisticated approach to budgeting and one of the best apps for personal budgeting.
The Free Forever plan is ideal for those who are just starting out and want to know how to manage and keep track of their expenses. Those with higher budgets can choose to move to paid options.
Features & Benefits
More envelopes can be used for saving money related to certain expenses like holidays or for emergency funds. The application can be tailored to the needs of the user.
A standard envelope feature allows the user to deposit money for their regular daily expenses.
After the envelopes are allocated cash amounts, the user is able to begin entering transactions, and the effect on the budget is instantly visible.
Users are able to enter any sum of money they earn or spend in their Goodbudget account.
While Goodbudget is simple to use, maintenance is not easy. Credit cards and bank accounts do not sync with the account automatically, so you'll have to manually enter all of your details.
Since Goodbudget allows users to view customized reports, they can get a better understanding of their spending habits. This shows them how the budget has been divided into different categories of expenses.
Pricing Plans
Free
It has 10 standard envelopes, 10 additional envelopes, 2 devices, 1 account, debt monitoring, 1-year historical information, and community-based support.
Plus – $7/month or $60/year.
Features are comprised of: Unlimited standard envelopes, unlimited additional envelopes, 5 devices, unlimited accounts, debt monitoring, 7 years of historical information, and support via email.
8. Household Account Book Review – Best Home Budgeting App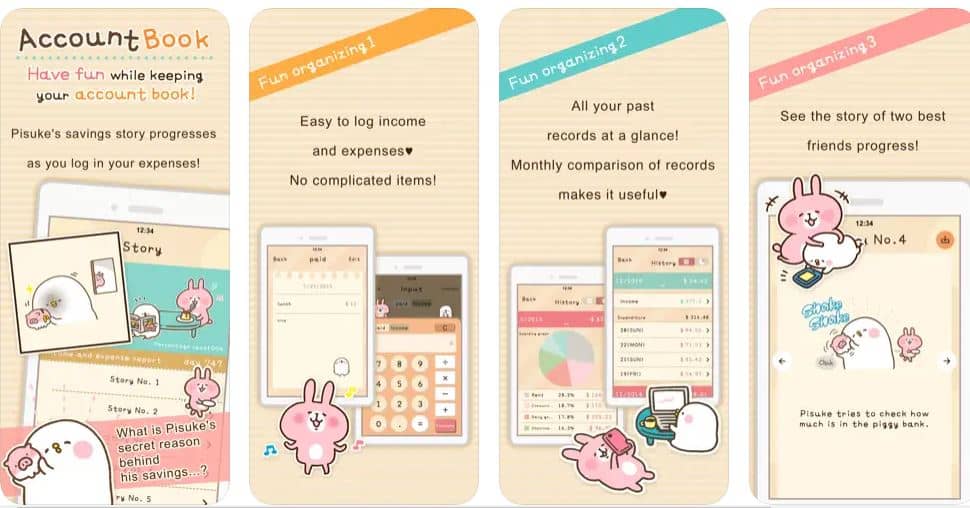 Household Account Book is without a doubt on my list of the best money management apps. This software makes budgeting and spending tracking less stressful and interesting by using creative illustrations.
Users will save and retain the amount they spend for the entire month. It comes with a comic book as an added bonus. The users are able to access the comic book for a longer period of time if they continue to use the app.
It's user-friendly and provides users with an incentive to use the app.
Features & Benefits
The app's main screen is simple and always displays the balance of expenses and income on a monthly basis that has been manually entered.
This application is easy to use and comes with a manual setting in which the user can enter small sums of cash used on random items that can be added up in terms of expenses.
The app generates a pie chart that tells the consumer the spending on various items and what percentage of that amount they use towards each item.
Users can edit, delete, and add new income and expense sections. They can make use of drawings, graphics, and photos.
It is quick and simple to use; the app makes no decisions, sends no messages, and offers no budgeting or money-saving advice.
Even though it's a free app, it contains advertisements that run while it is being used. However, removing these advertisements permanently costs just $0.99.
The Best App For Budgeting And Personal Finance
Mint, another Intuit app, is the most common personal expense monitoring application. It's free to use and allows for integration with a variety of lenders and banks. Budgeting, credit monitoring, cost tracking, and bill payment are all made easier with Mint. It's the perfect app for keeping track of personal expenses.
Then there is Wally, which has been dubbed "the application for today's millennials." It's an expense tracker that is integrated to give you insight into your spending patterns.
Wally places a strong emphasis on cost-cutting and provides advice on ways to do it. It is comprised of a social feature related to shared expenses.
You Need A Budget (YNAB) is the best app for budgeting purposes. The main use of this software is budgeting and cost monitoring.
YNAB requires the users to assign a task to any dollar they receive, if it is for savings, investments, or expenses and the app then uses this information to display their budgets.
The Most Effective Way To Keep Track Of Expenses
You can monitor your spending in a variety of ways. Some of these systems can be identical or entirely different from one another. In general, people prefer a method of monitoring expenses that fits their lifestyle and needs.
The following methods are used to keep track of expenses:
Paper Trail
After a transaction is completed, some people note it down on paper. This is one of the most simple and straightforward approaches for double-checking your statements from the credit card.
Credit/Debit Card Statements
People use their debit or credit card statements at the end of the month to monitor their expenses. Since it does not record payments by cash, this is not the best choice.
Online Methods
Today, this is the most common way to keep track of one's expenses. This may be attributed to the increased use of technology over time. People choose the best app for recording expenses and profits instead of writing them down on paper or credit/debit card statements. Mint is the most common and free choice these days.
How To Keep Track Of Daily Expenses
An expense monitoring software can be used by anyone to keep track of their everyday expenses. It is comprised of an expense tracking functionality, which will require the user to simply record the amount spent. After the expense has been assessed, they will obtain a comprehensive report.
This helps with the proper planning of your expenses, providing insight and a practical way to manage your monthly and regular expenses.
Final Thoughts
Most people aren't very good at managing their personal finances.
Handling your finances isn't something you start doing after you start working; it should start earlier. You can begin managing your finances as soon as you begin University, and to be fair, even sooner.

Here are the best apps for budgeting:
1. Mint – Best Free Expense Tracker App
2. You Need A Budget (YNAB) – Best App For Budgeting
3. PocketGuard – Best App To Prevent Overspending
4. Wally – Free Money Management App
5. Spendee – Best App For Tracking Personal Expenses
6. Expensify – User-Friendly Expense Tracking App
7. Goodbudget – Best Money Management App For Beginners
8. Household Account Book – Best Home Budgeting App

The sooner you begin to control your finances, the easier it will be to invest and manage later in life. You have a lower chance of falling into a never-ending cycle of debt, and you grow good financial habits.