In the world of content marketing, AI technology continues to push boundaries, and one tool that has caught my attention is Copysmith. Today, I'll delve into a comprehensive Copysmith AI review to see if it lives up to the hype.
What Is Copysmith?
When you visit Copysmith's homepage, you're greeted with a bold claim: an end to writer's block and the ability to explore creative territory at lightning speed.
With its advanced AI capabilities, Copysmith aims to generate converting ads, engaging emails, captivating product descriptions, and more, all within seconds.
While it may not create flawlessly accurate long-form posts, it outperforms most other AI tools when it comes to crafting blog content. Whether you need assistance with paragraph rewrites, blog outlines, content enhancements, or even writing a press release, Copysmith has got your back.
My goal with this Copysmith review is simple: to determine the quality of the generated content and whether it could seamlessly pass for human-written content.
Curious to try Copysmith.ai yourself? They offer a free trial without having to provide credit card information—making it even more enticing for content creators.
Who Is Copysmith AI Founder?
This AI content generator was founded by Jasmine Wang and promises to revolutionize the way we create compelling content.
According to Linkedin, the company was established in 2020 and currently boasts a team of 17 talented individuals, primarily based in San Francisco. Impressive for a company that's only been around for a little over a year, they've managed to gain traction in the industry.
Crunchbase reveals that Copysmith.ai secured a seed fund of $10 million, with investments from notable entities such as Harmony Venture Labs and PSG.
What Does Copysmith AI do?
Let's take a closer look at the core services provided by Copysmith:
Product Descriptions: Create exceptional product descriptions that do justice to your offerings with high-quality, attention-grabbing content.
Content Rewriter: With the content rewriter function, transforming and revitalizing your content has never been easier.
Blog Ideas: Generate fantastic article ideas in just a few clicks. Combine this with the Intro generator or Blog Outline and other writing templates to supercharge your content creation process.
Content Ideas: Need an infusion of creativity? Copysmith delivers great ideas for sponsorships, innovations, partnerships and more.
Copysmith excels in providing on-the-fly content and ideas for those crucial first drafts. It's an excellent tool for overcoming writer's block, a challenge we all face from time to time.
Additionally, Copysmith introduces exciting features like "Pitch Yourself," adding an element of fun to the writing experience.
Who Is Copysmith For?
Copysmith caters to a wide range of individuals and businesses looking to streamline their content creation process.
Freelancers, Marketing agencies, website owners juggling multiple sites, in-house teams, and eCommerce entrepreneurs in need of swift content generation will find Copysmith invaluable.
One of their key focuses lies in scaling content production efficiently. While other AI writing tools offer a variety of services, Copysmith stands out with its unique "Article Writing Assistant" that helps blog writers in breaking down and expanding upon their content.
Copysmith Review: Main Features Of Copysmith
Copysmith offers several benefits and features that are highly valuable, especially considering its price point:
Brainstorming Capabilities: Utilize Content Ideas, Ad Ideas, and other templates for brainstorming to generate endless content for your blog posts.
All-in-One Platform: Copysmith provides a single platform to handle all your content production and copywriting needs.
Chrome Extension: For added convenience, Copysmith offers an extension for Chrome available on the web Store.
FAQ Ideas Template: Stay one step ahead of your customers by addressing their queries with the FAQ Ideas template.
How To Make The Most Of Copysmith.ai
Getting started with Copysmith.ai is easy. The platform offers a seamless and robust experience for all your content creation needs. Not just that, but it's also affordable, with a monthly billing option of $19 or (discounts available on the Pro Annual option).
If you need guidance on how to use the platform effectively, their YouTube channel provides well-created tutorials that take you through each step of creating various types of copy.
Getting Started With Copysmith
Let's dive into some of the great features Copysmith has to offer. For example, let's say you want to create an engaging blog intro paragraph. Here's how it works:
Begin by clicking on "new file" within the portal, which will lead you to a screen to initiate your copywriting task.
Although it may seem a bit confusing initially, it's actually quite simple. Just enter the name of the file to keep things organized. You can also assign it to a project or folder if desired. Then, select the type of content you are looking to create and click "Generate."
Next, provide Copysmith with the necessary information to generate the content. In this example, I chose to create a blog intro for a piece on "Best diet for six pack abs," with a desired tone of "Professional."
Generating Impressive Results
Within seconds, Copysmith generates results for the blog post intro. It usually takes less than 5 seconds, although during peak usage times, it may take up to 30 seconds. Copysmith provides a selection of blog post intros to choose from.
The generated results are quite solid. Despite fitness being a heavily covered topic, the AI tool demonstrates its understanding of the various aspects. It also maintains the desired neutral tone effectively.
Creating Product Descriptions With Copysmith
To put Copysmith's capabilities to the test, I decided to create a product description. Once again, I began by creating the file and providing the necessary content.
To my surprise, Copysmith swiftly generated a 500-word blog post in less than 20 seconds—faster than most AI writers! However, when it comes to quality, I find myself on the fence.
Is it good? Well, not quite. While some portions make sense and could significantly expedite my writing process, the overall content lacks a natural flow. After all, it was composed by a robot.
Should you decide to utilize this content, significant formatting and editing would be necessary. Nevertheless, I must admit that Copysmith outperforms other tools when it comes to generating long-form content.
Checking Plagiarism With Copysmith.ai
Plagiarism is a concern when it comes to AI-generated copy, and Grammarly detected a 4% plagiarism rate in the content produced by Copysmith.ai. This falls within the expected range, especially if you're accustomed to checking lengthy blog posts for plagiarism. Usually, such posts come back with less than 2% plagiarism rate, often due to unrelated content.
Addressing Spelling And Grammar
Significant efforts have been made to enhance machine learning algorithms for producing more natural and high-quality content. Though it's not perfect, considerable progress has been made in recent years.
To gauge the quality of the AI-generated content from Copysmith.ai, I tested the paragraphs using Grammarly. Surprisingly, it performed quite well, earning an overall rating of 86%.
While there were a few errors related to punctuation and formatting, the most noticeable aspect was the readability score. Based on your target audience, this text might prove challenging to read.
Grammarly, while helpful in detecting grammatical mistakes, may not be the best judge of content quality. If you have used the tool before, you'll know that this generally indicates the need for some fine-tuning in terms of voice or preferred writing style.
Accuracy In AI-Generated Text
When relying on AI-generated text, truthfulness and accuracy become crucial factors. Imagine writing a blog post about golf clubs, but the content generated refers to baseball bats instead. This kind of inconsistency can leave readers perplexed and undermine the credibility of the information provided.
Take, for instance, the example in the screenshot above. I asked Copysmith.ai to create a blog intro for the topic "Is it safe to eat more than 5 eggs every day?"
The tool's responses were quite unique. I can't think of any reason why consuming too many eggs would be a good diet choice. While I personally enjoy eating eggs every day, the thought of consuming more than a couple of eggs in one sitting makes me feel queasy. Copysmith.ai presented different conclusions.
In one outline, the takeaway is that "eggs are a component of their everyday diet," while in another, the conclusion is that "eating more than 5 eggs every day is not a healthy habit. Eggs are high in cholestrol." The question arises: which is true? Which is accurate? To find out, one would need to conduct further research using primary sources.
Overall, Copysmith.ai provided ample examples and a good range of ideas with well-written copy. However, fact-checking is still necessary. The generated content seemed relevant, well-written, and broad for the most part.
Copysmith Pricing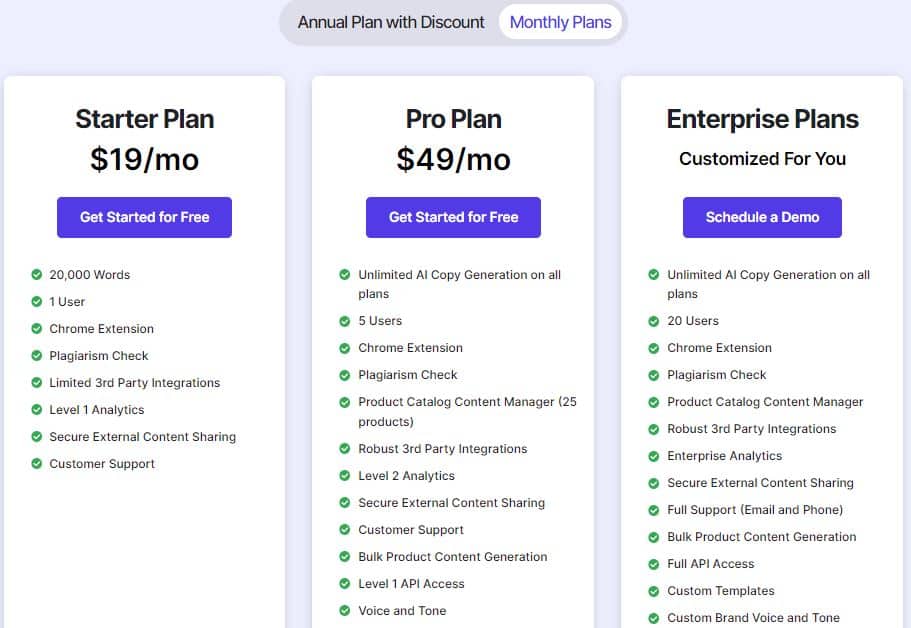 Don't rule it out without giving it a try—take advantage of the Copysmith free trial, which offers unlimited credits and doesn't require a credit card. This will provide ample opportunities for you to evaluate the tool.
The starter plan, priced under $20 per month, limits you to 20,000 words a month and 1 user.
Copysmith.ai Review
In conclusion, my initial experience and impressions with Copysmith.ai indicate that it can be a helpful and useful tool for the right user.
As mentioned earlier, the platform is robust, functional, and quick, enabling instant copywriting for various platforms such as Facebook, Google ads, Instagram, and LinkedIn.
Like any AI writing assistant, it's crucial to verify the accuracy and truthfulness of the generated content, particularly when it pertains to human and animal health. However, overall, Copysmith.ai performs reasonably well.
Similar to other AI copywriting software, Copysmith.ai produces impressive outputs considering the early stage of this technology. I anticipate significant advancements in the coming years.
When it comes to creating short-form content, Copysmith.ai is a solid option, especially given its price point. However, for longer-form content, while Copysmith.ai surpasses its competitors, it doesn't guarantee a perfectly generated blog post on the first attempt.
To maximize its potential, I recommend using Copysmith.ai in conjunction with content optimization tools like Grammarly.
What Is The Alternative To Copysmith?
If Copysmith.ai doesn't meet your requirements, there are other AI copywriting services available today. These alternatives offer similar features and functionalities, providing you with a range of options to choose from.
Some notable alternatives include:
These alternative tools are priced similarly and offer comparable features. Many of them also provide free trials, allowing you to test them out and determine which one aligns best with your requirements.
FAQs – Copysmith AI Review
1. What is the difference between Copysmith AI and copy AI?
The difference between Copysmith AI and Copy AI lies in the specific platforms or tools they refer to. For more details refer to Copy AI review.
2. Will AI replace copywriters?
While AI has made significant advancements in copywriting, it is unlikely to completely replace copywriters. AI can assist and enhance the writing process, but human creativity, critical thinking, and emotional understanding are still valued in copywriting.
3. Is Copysmith.ai legit?
Yes, Copysmith.ai is a legitimate AI copywriting platform. It utilizes natural language processing and machine learning to generate high-quality copy for various marketing purposes.
4. What is the difference between Copysmith vs Jarvis?
Copysmith and Jarvis (now known as Jasper) are both AI copywriting platforms, but they differ in terms of features, pricing, and algorithms used.
It is recommended to review the specific offerings of each platform to determine which one best suits your needs. Find out more information in this Jasper AI review.
Conclusion: Copysmith Review
As we are just scratching the surface of what these AI-powered content tools can accomplish, it's safe to say that their capabilities will continue to improve in the near future.
The evolving landscape of AI copywriting has the potential to shape online businesses and blogging practices significantly. However, it's unlikely that content agencies and writers will be rendered obsolete anytime soon.
In summary, if Copysmith.ai isn't the right fit for you, consider exploring these alternative AI copywriting services to find the one that best meets your specific needs.