In this comprehensive Longshot AI review, get ready to discover its exceptional features and learn how it empowers you to create captivating, original content that your visitors will enjoy.
Join me as I explore the advantages and drawbacks of Longshot, helping you make an informed decision about whether it's the ideal tool for your writing needs.
What Is Longshot AI?
Longshot AI is an innovative platform that harnesses the power of templates to facilitate the creation of SEO-friendly long-form content that resonates with your target market.
Longshot AI gives you the ability to simplify content creation. Whether you seek to rephrase existing material or craft fresh copy from scratch, this AI-powered tool has got you covered.
With an array of templates at your disposal, including a copywriting framework generator, and a product review generator, the possibilities are endless.
Longshot AI Review: How To Use Longshot AI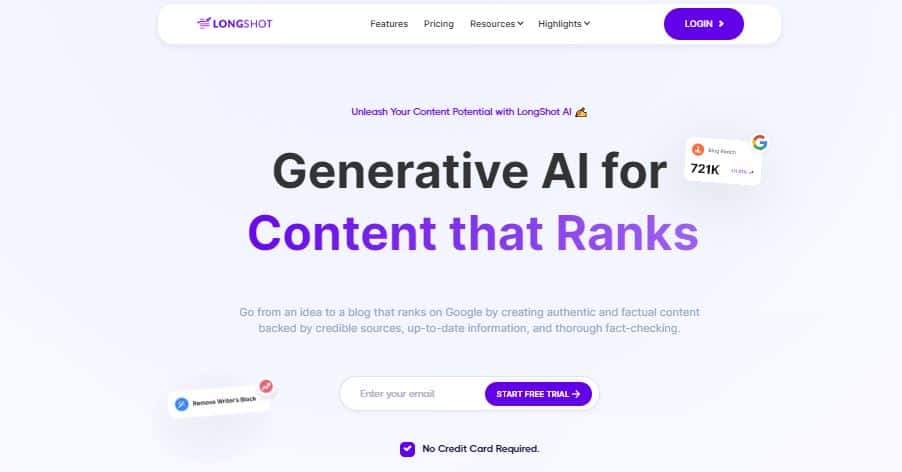 Longshot AI is known for its user-friendly interface, making it easy for both beginners and seasoned writers to dive right in. The intuitive design ensures a seamless experience, allowing you to create captivating content with ease.
The blog writer within Longshot AI acts as your trusty guide, leading you through the steps of crafting a comprehensive blog article. By following this structured approach, you'll emerge with a high-quality piece ready for publication.
And if you ever find yourself grappling with writer's block, Longshot AI has its ingenious blog ideas generator, providing a handy solution to spark your creativity.
For those new to AI-powered writing tools, Longshot AI offers a free plan and a 5-day trial option, enabling you to embark on this exciting journey without any financial commitment.
Take advantage of these opportunities to familiarize yourself with the platform and witness firsthand its capabilities. Like any software, the more you engage with it, the better you'll understand its workings and tailor it to your specific needs.
Integration With Popular Tools
Longshot AI seamlessly integrates with several popular tools, amplifying its versatility and convenience. Enjoy the benefits of integrating with:
1. Semrush: Keywords Analysis
Take your content to new heights with Semrush integration. Conduct keyword analysis and effortlessly incorporate your selected keywords into your content.
Longshot AI ensures your writing aligns with the latest SEO practices, enhancing your visibility in search engine rankings.
2. WordPress Plugin and Chrome Extension
Seize the opportunity to unleash the power of Longshot AI wherever inspiration strikes. With the WordPress plugin and Chrome extension, you can seamlessly access the tool's capabilities while writing on the go.
Effortlessly integrate Longshot AI into your writing workflow and experience a new level of productivity.
3. HubSpot, Medium, and Ghost: Expanding Your Reach
Longshot AI offers integrations with HubSpot, Ghost, and Medium, enabling you to maximize your writing potential across multiple platforms.
Whether you're managing a personal blog, contributing to a publication, or leveraging the power of marketing automation, Longshot AI has got enough options.
Who Can Benefit Most From Longshot AI?
Longshot AI proves invaluable to individuals who prioritize factual accuracy in their content creation.
Bloggers, content writers, marketers, and journalists seeking to produce up-to-date and factually correct articles will find Longshot AI to be an indispensable tool.
Avoid endless research hours and embrace the efficiency and accuracy that Longshot AI brings to the table.
Longshot AI Features: Is Longshot AI Any Good?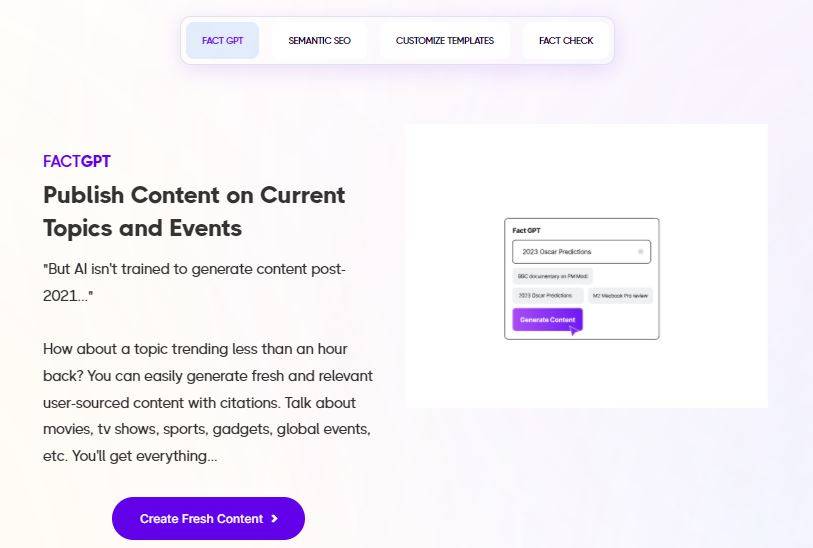 Let's take a closer look at the exceptional features that makes Longshot AI different from its counterparts:
1. Driving Traffic With Relevance
Imagine effortlessly driving more visitors to your site through semantic SEO. Longshot AI makes this a reality.
As you type, it provides you with a semantic SEO score, analyzing each heading independently. This invaluable tool allows you to tweak and optimize your content to achieve the highest possible score.
By utilizing related terms, synonyms, and natural language that align with search intent, you enhance the content's context and relevance, significantly boosting your chances of higher search rankings.
2. Verify The Facts
Researching for blog posts can be a time-consuming challenge. Enter FactGPT, Longshot AI's solution for sourcing information from user-uploaded content.
It ensures your reports and blogs are infused with accurate, verified content. Embrace the timeliness and authenticity that FactGPT offers, as you don't have to repackage existing content.
3. Accuracy
When sharing content with your audience, accuracy is paramount. Longshot AI understands this and has included a fact-checking feature. With just a few clicks, you can ensure your articles are free from inaccuracies and outdated information.
Simply input your text into the tool's Fact-Checking option, and it will analyze its factual accuracy. In addition, the tool provides links to authoritative sources, lending credibility to your claims.
4. Variety Of Templates
Finding the right AI template for your project can be a daunting task. Longshot AI eases this burden by offering a custom template generator.
No matter the length or form of content you require, this feature streamlines the creation process. This creates efficiency and precision, and reduces the wasted time.
Longshot AI Pricing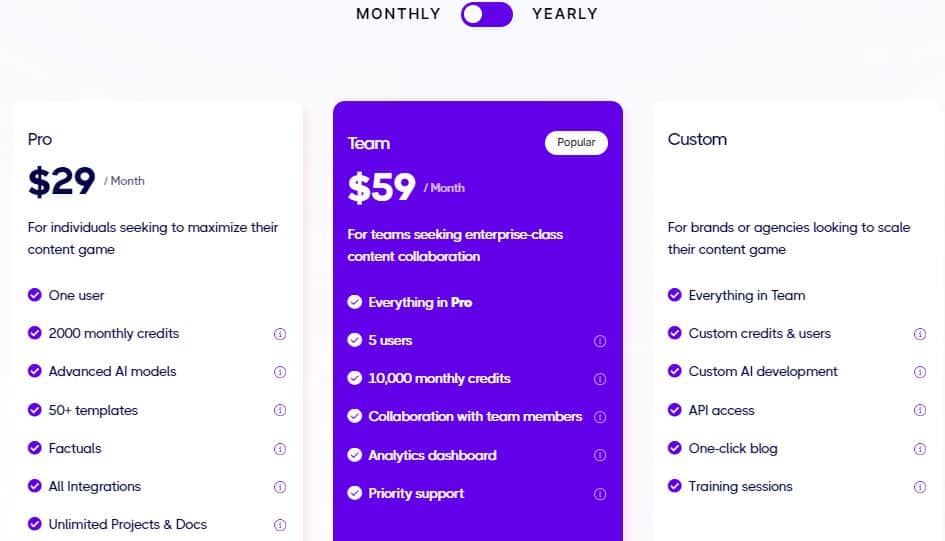 Longshot AI boasts a range of packages, ensuring there's an option suitable for everyone's needs:
Pro – $29 per month: Unlock the full potential of Longshot AI with 2,000 credits per month and a limit of 1 user.
Team – $59 per month ($49 per month on a yearly plan): Designed for collaborative efforts, the Team package offers 10,000 credits per month and an analytics dashboard. Collaborate with up to 5 users, harnessing the power of teamwork.
Custom: For those with expansive content needs, the custom package provides a custom monthly credit and users. Collaborate seamlessly with any number of users and enjoy the added benefit of training sessions. Reach out to the sales team today.
Long Shot AI Pros And Cons
As with any software tool, opinions may vary, and Longshot AI is no exception. Let's take a closer look at its pros and cons:
Pros Of Longshot AI
A time-saving tool, boosting efficiency
User-friendly interface, ideal for beginners
Streamlines keyword research for SEO purposes
Large template library for varied content creation
Strong emphasis on factual accuracy
Customizable content to cater to your audience's preferences
Useful for team collaboration
More affordable compared to other AI writing software
Cons Of Longshot AI
Occasional repetition of information
May experience some slowness in performance
FactGPT functionality consumes substantial credits
Longshot AI Alternatives
For those who are still unsure after this comprehensive Longshot AI review, there are a couple of noteworthy alternatives to consider:
1. Copy AI: For Short-Form Content
For those with basic content writing needs, Copy AI provides a free option — a great opportunity to experience its capabilities without any financial commitment.
With its user-friendly interface and robust customer support system, Copy AI is worth considering if you're in search of an AI content writing tool that meets your requirements.
Check out the Copy AI review for more information. Give it a try and see if it's the right fit for you.
2. Jasper: Speed And Convenience
Jasper holds a prominent position among AI writing software, renowned for its diverse range of features and exceptional speed.
With Jasper's "One Shot Blog Post" feature, you can create a full blog post in a matter of seconds.
Although it comes at a slightly higher price than Longshot AI, many users find the speed, convenience, and general user experience well worth the investment. Dive into the Jasper AI review for an in-depth exploration of this tool.
3. Rytr: Easy And Versatile
Rytr serves as an AI writing assistant with a diverse range of features, including assistance in writing emails, creating social media ads, and crafting blog posts.
One of Rytr's standout qualities is its user-friendly nature, making it an ideal choice for individuals new to AI writing tools.
If you're seeking a tool that simplifies content creation, Rytr might be the perfect match for you. You may also be interested in reading the detailed Rytr review.
FAQs – Longshot Review
1. Can AI write product reviews?
Yes, AI can write product reviews. Advanced natural language processing models can generate coherent and contextually relevant reviews based on given input and training data.
2. Can AI detect fake reviews?
Yes, AI can help detect fake reviews. Machine learning algorithms can analyze patterns and linguistic cues to identify suspicious or fraudulent reviews, improving the accuracy of detecting fake reviews.
3. Is there a Longshot AI free trial?
Yes, Longshot AI offers a free trial for its Pro and Team plans.It's recommended to visit the official Longshot AI website or contact their customer support for the most up-to-date information on trial availability.
4. Is there a Longshot AI lifetime deal?
No, Longshot AI currently does not offer a lifetime deal.
5. Does Google detect AI writing?
Yes, Google has the capability to detect AI-generated content, including AI writing. With its advanced algorithms and continuous improvements in natural language processing, Google can identify and differentiate between human-authored and AI-generated content. It's essential to ensure that AI-generated content adheres to quality guidelines to maintain a strong online presence.
Conclusion: Longshot AI Review
If you are a content creator seeking an AI writing tool to accelerate your content generation process, Longshot AI is a game-changer worth exploring.
Particularly suitable for tackling complex subjects where factual accuracy is paramount, Longshot AI offers an array of invaluable features that will revolutionize your writing experience.
Longshot AI impresses with its extensive range of helpful features, all available at a remarkably affordable price point. If you're uncertain whether this tool aligns with your needs, you can dip your toes into the waters by exploring the free plan.
It's worth noting that Longshot AI can be a tad slow at times. Crafting a content brief and having the tool generate the content can take around 20-30 minutes.
While this duration may not be ideal for creating vast amounts of content swiftly, especially on more basic subjects, there are other alternative that might better suit your needs.