In the vast realm of AI writers, a new tool is making waves—Scalenut. This Scalenut review delves into the capabilities of this cutting-edge tool, enabling you to effortlessly craft both short and long-form content.
But there's more to Scalenut AI; it boasts a formidable SEO (Search Engine Optimization) component that sets it apart from the competition. Let's dive into the details.
What Is Scalenut?
Let's try to understand the backbone of Google's search algorithm—semantic connections.
To be recognized as a valuable resource and surface for relevant keywords, a website needs to establish authority and relevance in its chosen domain. This is where Scalenut comes into play.
New and established applications alike strive to assist users in simplifying the content creation process. Scalenut stands out among its peers by leveraging the power of its "Topics Cluster" module, seamlessly integrated with its SEO Hub and AI copywriter.
Scalenut serves as a one-stop SaaS solution, catering to both amateur and professional content writers and bloggers. With its state-of-the-art technologies, it empowers you to produce captivating content with ease.
How Does Scalenut Work?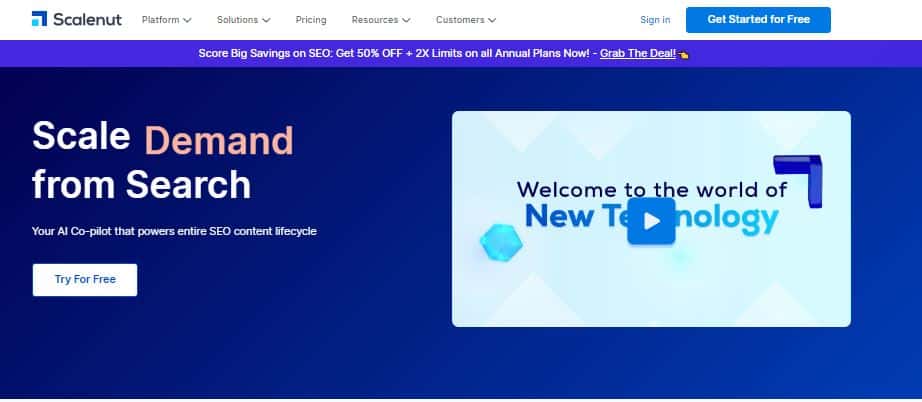 Simply enter a term or phrase that defines your target audience, and Scalenut gathers information from relevant blogs, articles, videos, and other sources.
It extracts the most pertinent material, deemed "Google's Favorite," from existing articles on the subject. All you need to do is provide an outline, and the AI copywriter takes care of the rest.
Scalenut goes beyond being a mere AI copywriting platform; it has advanced intelligence. With recent additions like multi-keyword content planning and the SEO Hub, Scalenut empowers you to efficiently convey your message to the right audience.
Scalenut Review: Scalenut Tools And Features
Scalenut's content production tools are divided into two main applications: the SEO Hub and the AI Copywriter. Let's delve into the specifics of each:
1. Scalenut's SEO Hub
When it comes to long-form content, the SEO Hub within Scalenut is where the magic happens. By simply entering the keyword(s) you aim to rank for, you can kickstart the process of generating a new document within the SEO Hub.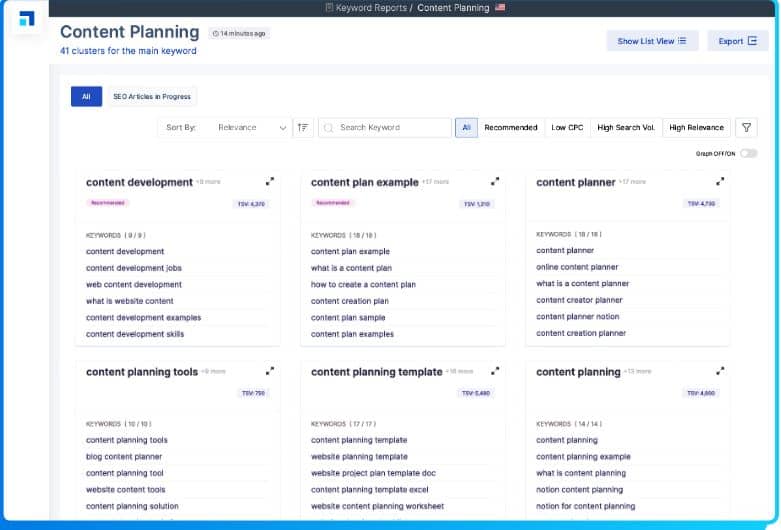 The heavy lifting involved in creating an SEO-friendly document is handled by the SEO Helper. Within a short period, the Content Brief is ready, packed with all the information gathered by Scalenut's AI-powered content research engine.
Exploring The Content Brief
The Content Brief presents all the scraped data in a concise, single-screen format. Different tabs offer a wealth of information, including word counts for each article, summaries of the top 30 sites, headings, and more.
At first glance, the abundance of information on one screen might seem overwhelming. While a deep dive into each tab is beyond the scope of this Scalenut review, it's safe to say that valuable insights on "What Google loves" can be derived from the data presented.
It's worth noting that Scalenut AI gathers key phrases from the top 30 URLs. However, it might be preferable to focus solely on the top 10 websites, as done in other similar applications. These top 10 exemplify the most significant content to emulate.
The Content Brief empowers us to select headings, queries, and citations, and it provides a comprehensive overview of the top 30 URL summaries. This remarkable feature saves valuable time, allowing us to proceed to the next step: generating content.
Creating Content: Two Paths
Scalenut offers two methods for content creation:
Option 1: Editor-Assisted Writing
Begin by copying the document's outline into the editor, where the AI writing tool takes center stage. At each step, templates, scraped data, and keyword usage monitoring come into play.
Option 2: Cruise Control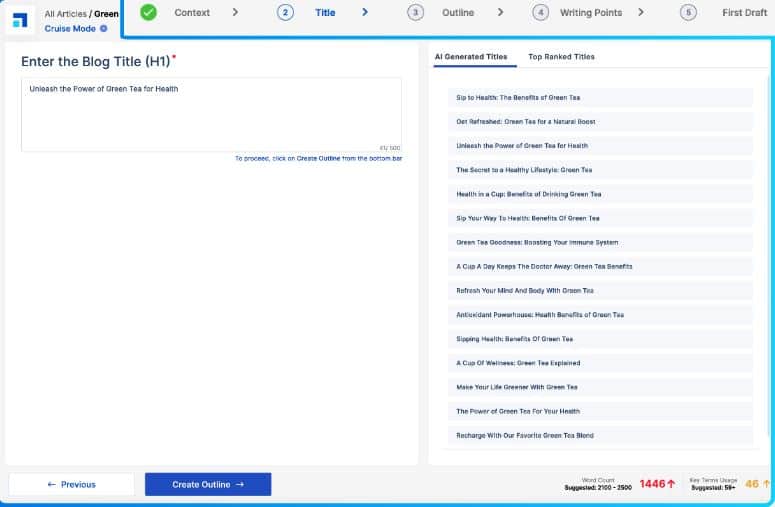 Switching to cruise control mode enables the automatic import of the outline, with writing points created upon request.
The AI writing tool then crafts the initial draft, utilizing the gathered writing points. However, it's crucial to be mindful of repetition and always verify the information for accuracy.
Each heading within the outline generates writing points, and each writing point, in turn, generates content.
Scalenut claims that its AI technology can complete a paper in just five minutes—a true testament to its efficiency! (check out the paper titles generator)
2. Copywriter AI Tool: Compelling Short-Form Content
The Copywriter AI tool offers a range of user-friendly templates. Here are some of the categories you can find within the Copywriter:
Articles
FAQs
Product descriptions
Copywriting frameworks
Social media posts
Video content
Website copy
Advertisement copies
Emails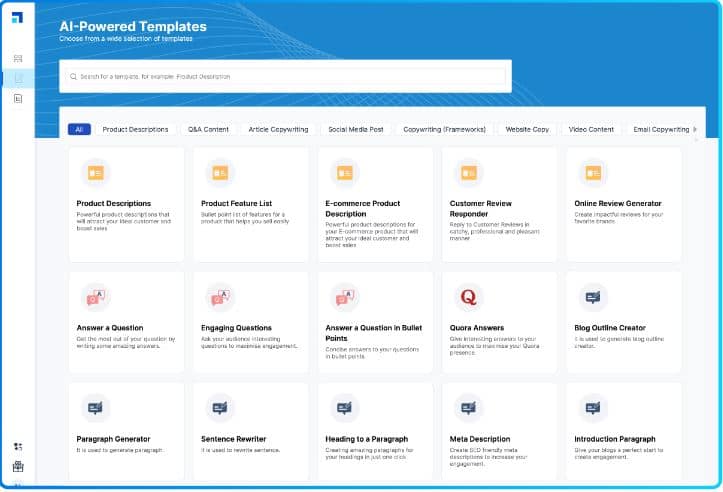 While some templates resemble those found in other applications, such as ShortlyAI and Jasper AI, Scalenut introduces fresh and valuable additions, including the unique "First Person to Third Person Converter," "Active to Passive Converter," "Passive to Active Converter," and "Passive to Active Converter." These templates can be found in the "Article Copywriting" section, setting Scalenut apart from its competitors.
Select a template, input the necessary information, and click the Create button in the bottom right corner.
Once Scalenut generates multiple outputs, you can choose the most relevant one, copy it, and paste it into the Editor. If you're not fully satisfied, feel free to ask Scalenut for additional content.
Fact-Checking Responsibility
It is crucial to verify and fact-check the content generated by Scalenut AI, just as you would with any AI-derived information. In case you come across inaccuracies in terms of facts, names, or dates, the onus is on you to uncover the correct information.
Keep in mind that GPT-3 was trained only up until 2019 and lacks knowledge beyond that point (though the promising features of GPT-4 hold potential).
Instead of just removing such inaccuracies, consider them as "instructions" from the AI, prompting you to conduct further research and gather the necessary facts. This process can provide valuable insights that you may cite and include in your content.
3. Boost Content Creation With Scalenut Chrome Extension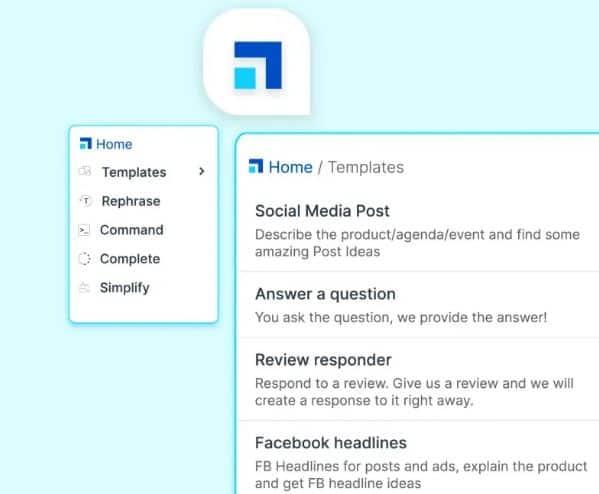 If you're looking to save time and effort while generating exceptional content, the Scalenut Chrome Extension is your secret weapon. Powered by advanced AI technology, this specialized tool enables you to create web content that surpasses anything you could have produced on your own.
With just a click of the mouse, the AI-powered copywriter comes to life through the Chrome extension. Not only does it simplify content submission to platforms like Twitter, Facebook, and LinkedIn, but it also crafts captivating content for blogs, social media, advertisements, and more. Take care of your content creation woes with this powerful extension at your fingertips.
4. The Power Of Topic Clusters
Scalenut introduces a groundbreaking feature known as "Topic Clusters," revolutionizing content creation. SEO experts widely acknowledge this approach as the most effective way to generate substantial content for blogs or websites.
With Topic Clusters, you choose a core hub that serves as your primary content pillar. From there, you publish articles covering various subjects related to your website, strategically incorporating relevant keywords to boost your search engine ranking and attract more visitors.
By implementing subject clusters, you foster user loyalty, enticing them to seek information within your area of expertise or competence. They will unknowingly return as regulars, drawn to your content. Building upon their familiarity with your work and continuously enhancing it will strengthen user loyalty.
Scalenut Pricing: Tailored Solutions For Small Enterprises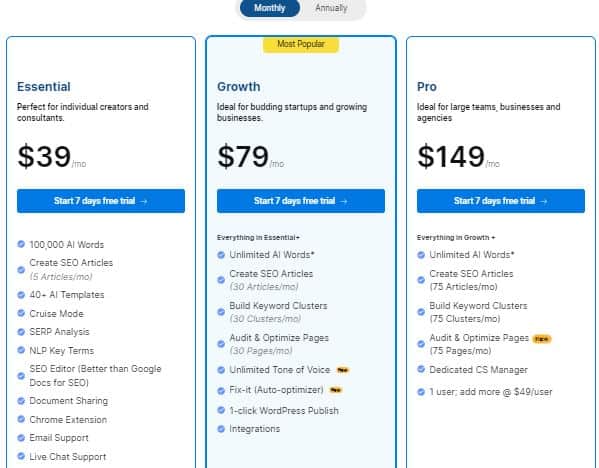 Scalenut stands as one of the key software providers for small businesses, offering a range of features and programs to enhance your company's success.
To determine the best fit for your organization, Scalenut invites you to register for a free trial, granting you access to all their tools.
Following the trial period, you have the option to upgrade to one of the following plans:
Essential Plan: $39 per month
Growth Plan: $79 per month
Pro Plan: $149 per month
Select a plan that aligns with your needs. You can unlock the full suite of features, including the coveted Cruising Mode and Topic Clusters, during the 7-day free trial.
Additionally, you'll enjoy 5,000 AI words and 2 SEO reports daily, providing you with a comprehensive understanding of the platform's capabilities.
Accessible Customer Service
Should you require assistance, Scalenut AI offers various channels for support:
YouTube videos
Internet content, including articles
The Scalenut Facebook group (Note: Message approval by administrators may cause slight delays for urgent matters)
Online chat
While there is room for improvement in the support experience, especially regarding response times outside regular business hours and complex queries, the available resources provide valuable guidance and assistance.
Salenut Pros And Cons
Pros Of Scalenut:
Clear presentation of "What Google Loves," facilitating content optimization
Great user experience thanks to a well-designed interface
Valuable addition of the cluster builder, streamlining the content organization
Affordable pricing options suitable for businesses of all sizes
Scalenut empowers you to create content that outperforms your competitors
Versatile choices for generating long-form and short-form content
Cons of Scalenut:
AI-generated content within Scalenut AI can occasionally become repetitive, as is the case with similar tools
Availability of tutorials is limited, hindering comprehensive onboarding
Key keywords generation considers the top 30 competitors, potentially limiting originality
Exploring Scalenut Alternatives
Let's now delve into some available alternatives, including SEO optimization tools and AI-powered content research tools. However, given Scalenut's affordability, finding a suitable replacement may prove challenging.
Jasper AI, powered by cutting-edge GPT-3 technology, is a writing tool that generates coherent sentences from any initial input.
From product descriptions to articles, press releases, and blog posts, Jasper can create a wide range of content quickly and accurately. Its unique feature, Boss Mode, allows users to direct the tool without adhering to a predefined template.
Jasper AI continually learns from new data and corrects errors, making it a powerful and versatile tool over time.
Pricing starts at $49 per month for the Basic plan, while Boss Mode is available for $99 per month. For more information, check out the Jasper AI review.
Rytr is an AI-powered writing tool known for its effectiveness in advertising, including Google ads, Facebook ads, and social media posts. It significantly reduces the time required for writing tasks.
Rytr can be used for a wide range of purposes, from creating articles and blog entries to planning stories and writing descriptions for YouTube videos. It has an active community and regular updates from developers.
With over 1.5M users, including marketers, copywriters, and business owners, Rytr is an affordable alternative, with pricing starting at $9 per month for the Savings plan and $29 per month for the Unlimited plan.
Check out the in-depth Rytr review.
Surfer SEO revolutionizes website optimization for search engines through the application of machine learning.
With a starting price of $59 per month ($49 per month for annual payments), Surfer SEO has established itself as the go-to solution for bloggers.
Its AI-driven platform simplifies the optimization process for both new and existing pages, making it an indispensable tool for SEO professionals.
Starting at $99 per month (with a decent free plan available), MarketMuse is an optimization platform that includes a content creation tool and an SEO assistant.
Content writers and marketing teams can leverage this software to plan, research, and create optimized content, improving their organic search rankings and reaching a wider audience.
By leveraging predictions, trend data, SEO strategies, and artificial intelligence (AI), users can optimize their content effectively.
SEMrush is a comprehensive software-as-a-service platform designed to manage web exposure. With over 55 products, tools, and add-ons, it offers a wide range of features for content management, social media, market research, and search optimization.
SEMrush provides resources for content writers, such as the "SEO Content Template" which offers guidance on keywords, article length, potential backlinks, semantic keywords, and more.
The "SEO Writing Helper" evaluates the written text's adherence to SEMrush's SEO guidelines. Pricing for SEMrush starts at $119.95 per month.
6. Frase
Frase is an SEO and content writing tool that offers features like an intelligent editor, a brief builder, and an AI writer tool to assist in creating high-quality content. It optimizes your content to ensure prioritization by search engines.
Pricing starts at $44.99 per month for the Basic plan, while the Team plan is available at $114.99 per month.
Outranking is a comprehensive solution for content creation and maintaining high search engine rankings.
With pricing tiers ranging from Solo ($129 per month) to Enterprise ($999 per month), Outranking simplifies and streamlines the SEO process while requiring minimal effort. The application is user-friendly and serves as a great resource for beginners.
Additionally, Outranking's content creation tool supports both long-form and short-form content. Read more about the tool and its features in the Outranking review.
ShortlyAI is a content creation tool that allows users to generate long-form articles with just a few clicks.
Developed with input from subject-matter experts, this machine-learning program offers an alternative approach to writing. It can produce both long and short-form content within seconds.
Users have extensive editing options, including adjusting the output length and utilizing commands like rewriting, summarizing, and expanding.
ShortlyAI was acquired by Jasper, and some of its powerful commands have been incorporated into Jasper. Pricing options include the $79 per month (monthly plan) and the $65 per month (billed annually).
Here's a comprehensive ShortlyAI review to learn more.
FAQs – Scalenut AI
1. What are the benefits of Scalenut?
The benefits of Scalenut include its ability to generate high-quality content, provide creative suggestions, save time in content creation, and offer a user-friendly interface for an enhanced writing experience.
2. What is the difference between ChatGPT and Scalenut?
ChatGPT and Scalenut are both AI-based writing tools, but they have different focuses. ChatGPT is a language model designed for conversation and generating text based on prompts, while Scalenut is specifically tailored for content writing, providing features like topic research, content optimization, and content brief generation.
3. How good is Writesonic?
Writesonic is known for its powerful AI capabilities in generating various types of written content, such as blog posts, social media copy, and product descriptions. Its AI models can assist in generating engaging and persuasive content quickly and efficiently.
Check out the Writesonic review to learn more about the tool.
4. Which is better Jasper or Writesonic?
The choice between Jasper and Writesonic depends on specific requirements and preferences. Jasper, powered by OpenAI's GPT-3, offers a wide range of content-writing capabilities and a vast number of templates.
Writesonic, on the other hand, excels in generating persuasive and conversion-focused copy. Consider your specific needs to determine which tool aligns better with your goals.
5. What is the best AI long-form writer?
Determining the best AI long-form writer depends on individual preferences and requirements. Various AI tools, including Jasper, Writesonic, and others, offer impressive long-form writing capabilities.
It's recommended to explore and compare their features, user reviews, and outputs to determine which tool aligns best with your specific writing needs and style.
Final Thoughts: Scalenut Review
Scalenut is a powerful tool that leverages advanced technologies such as AI, NLP, Topic Clusters, and streamlined content creation processes to help you produce high-quality, SEO-friendly content.
By utilizing Scalenut, you can enhance your website's visibility in Google searches and establish yourself as an authoritative source in your field.
One important factor for Google is the frequency at which you publish content, as it considers regular posting a sign of authority.
Scalenut addresses this by offering the "Managed Marketplace," a content development service that ensures you can keep up with consistent content creation. Scalenut can create any type of content you need, whether it's short-form or long-form, enabling you to maintain a strong content presence.
The Scalenut Chrome Extension offers a game-changing solution for content creators, enhancing their productivity and delivering remarkable results. With its intuitive interface, comprehensive support resources, customizable pricing plans, and powerful features, Scalenut sets the stage for content creation success.
By harnessing the capabilities of Scalenut, you can enhance your content strategy, improve your search rankings, and establish yourself as a trusted source of valuable information.
Overall, Scalenut offers an effective solution for businesses and individuals seeking to create high-quality content that resonates with both readers and search engines.
With its combination of advanced technologies and the option to access professional content creation services, Scalenut proves to be a valuable asset in your content marketing arsenal.