If you've ever found yourself stuck in a creative rut, desperately searching for that perfect combination of words to captivate your readers and boost your search engine rankings, then you're in luck. In this Outranking review, I'll go over an AI writing solution that can improve your content creation process.
You can enjoy a seamless writing experience and remove writer's block by combining the power of AI technology with content optimization strategies.
Outranking is not just an ordinary AI writing tool – it's a comprehensive platform designed to take your writing to new heights.
Let's dive in and explore its features, pros and cons, and pricing options, so you can determine if it's the ultimate tool you've been searching for.
What Is Outranking?
Outranking.io is an innovative SEO content writing software, equipped with advanced AI technology to help you craft compelling articles, social media posts, and press releases.
Trusted by over 12,000 writers, business owners, and SEO experts worldwide, it's a useful tool when it comes to enhancing your online presence.
The platform's primary objective is to elevate your content's search engine ranking by suggesting topics and titles based on your chosen keywords.
By analyzing related queries with substantial search volume on Google, Outranking guides you in the right direction for creating captivating and highly discoverable content.
Creating a captivating and SEO-optimized article requires more than just a brilliant idea. It involves meticulous planning, research, and structuring. This is where Outranking steps in with its powerful tools to make your writing journey as smooth as possible.
Outranking Review: Key Features
Let's delve into the key features that make Outranking stand out:
1. Outline Builder: Organize Thoughts With Ease
Creating a well-structured piece of writing is crucial for engaging your readers. Outranking's Outline Builder simplifies this process, helping you organize your thoughts and ideas effortlessly. It provides a solid foundation for your content, ensuring a logical flow that keeps your audience hooked from start to finish.
Once you've chosen a topic from the array of possibilities offered by the AI Wizard, it's time to craft a winning outline with the Outline Builder. After selecting keywords and reviewing suggested titles and descriptions, you can utilize the Outline Builder tool to shape your article's structure.
The AI Wizard generates section concepts based on the title, description, and target keyword you've entered. It constructs an outline tailored to your needs, incorporating headings and subheadings sourced from in-depth SERP data research. With this blueprint, you increase the chances of ranking high on Google's search results.
Outranking.io compiles all the research it has gathered, offering suggested titles, subheadings, and alternate keywords for your consideration.
Take the time to browse through the research and fine-tune the suggestions to suit your specific audience. Remember, customization is key to creating exceptional content.
2. SEO Content Editor: Optimize Content
With the power of SEO optimization with Outranking's Content Editor, you don't have to do any guesswork. This tool isn't limited to editing existing articles; it can be used for generating search-engine-optimized content from scratch or giving your website a much-needed revamp.
The SEO Content Editor suggests compelling titles and subheadings based on SERP data and user intent, guaranteeing your content aligns with what your target audience is searching for.
Moreover, it provides you with a comprehensive checklist to ensure your content is fully optimized as you write. From creating meta titles and descriptions to optimizing heading tags and incorporating related keywords, Outranking AI has you covered.
3. Workflows: Streamlining Your Writing Process
Writing exceptional, SEO-optimized content shouldn't be a time-consuming endeavor. Outranking's Workflows feature offers pre-built writing templates that streamline your writing process, allowing you to create an outstanding copy with minimal effort.
Whether you're crafting eCommerce articles, recipe posts, press releases, social media captions, or more, Outranking.io has got options.
The diverse range of templates caters to different content types, ensuring you have the necessary structure and guidelines to create top-notch SEO-optimized copy. Workflows provide valuable suggestions for tone of voice, categories, sections, and related keywords.
According to Outranking, their platform can help you write an SEO-optimized blog post in under an hour, a recipe post in just 15 minutes, or a press release in 20 minutes. Talk about maximizing efficiency and productivity!
Furthermore, Outranking AI offers a feature that allows you to transcribe YouTube videos into blog posts. With workflows available for eCommerce webpages, social media posts, and more, Outranking covers an extensive range of writing needs.
And if you require something specific, you have the flexibility to create custom workflows by combining methods to suit your unique requirements.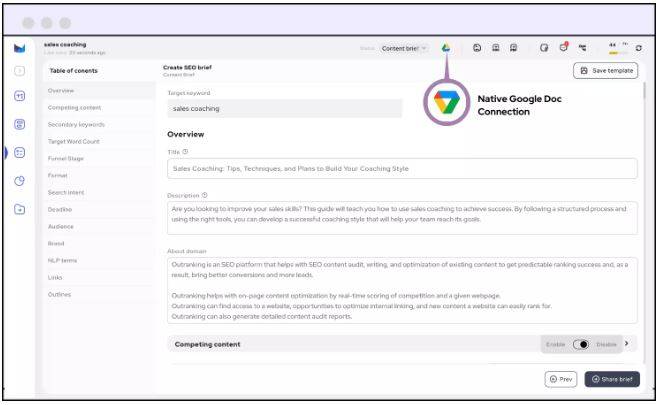 4. Concepts: The Power Of Research
One of Outranking's genius features is the Concepts tool, which serves as a research powerhouse. It acts as your trusty companion in exploring key concepts and gathering valuable facts about your chosen topic.
The Concepts tool takes a given keyword and automatically delves into extensive research, exploring not only the keyword itself but also related keywords to generate a plethora of content ideas.
By scanning the top 20 search results, the tool gathers a wealth of information, presenting you with a curated list of potential topic ideas and titles. These auto-generated titles provide invaluable inspiration, as they have a high-ranking potential.
However, it's important to note that the quality of the information you receive depends on the quality of the input you provide.
To ensure optimal results, avoid using keywords that are too broad or too specific. Searching for a broader keyword like "fitness" may yield suggestions that lack relevance due to the vast range of search results.
On the other hand, if your keyword is too specific, such as focusing on a grapefruit diet within the fitness theme, you may encounter low-quality concepts derived from limited search results.
Think of Concepts as your research assistant, providing a wealth of ideas to explore rather than replacing the research process entirely.
If you start with a strong target keyword, you'll be presented with high-quality concept suggestions and potential titles. You can incorporate these suggestions into your outline using the Outline Builder or develop them independently.
5. Quick Wins: Overview Of Keywords
Sometimes, you need a quick boost to get the ball rolling. Outranking's Quick Wins feature provides you with instant recommendations and insights to optimize your content further. It's like having a knowledgeable writing mentor by your side, guiding you toward immediate success.
Despite being a relatively small feature within the Outranking.io ecosystem, Quick Wins holds tremendous value. As its name suggests, Quick Wins provides a swift overview of your keyword rankings and offers actionable insights to enhance your search presence.
This tool helps you identify the keywords you already rank for and suggests new keywords that can be easily optimized to improve your website's traffic.
Quick Wins showcases the keywords you currently rank for, along with relevant information to help you assess their suitability. You'll see the keyword's search volume, cost per click, and the top-ranking competitors.
By utilizing Quick Wins, you can discover new keywords with lower competition, making it easier for your content to climb up the rankings. It also assists in determining which keywords are worth investing your time and effort into, allowing you to refocus on keywords that are more likely to yield success.
A notable aspect of this feature is its ability to indicate the level of effort required to optimize your website for each keyword. You can even sort the suggestions by effort level, allowing you to remain productive even on days when you may feel less motivated.
6. Methods: The Building Blocks Of Workflow
Methods serve as the fundamental building blocks of the Workflow feature in Outranking AI. If we think of Workflow as the entire article, Methods are the sections that comprise it.
When you select the type of copy you intend to write, Outranking provides suggestions for tone and sections to include, which collectively form a Workflow. Methods offer everything you need to create exceptional copy, regardless of your writing goals.
When starting a new article or editing an existing piece, you'll be prompted to choose a keyword and tone of voice. Outranking then generates example introductions that match your desired tone, ensuring they are completely plagiarism-free.
Over time, the AI can learn and adapt to your specific requirements, automatically creating Methods tailored to your needs.
Each pre-written section is unique, and the Methods extend beyond crafting the introduction. The AI software has the capability to generate the entire article for you. All that's left for you to do is fact-check and edit the content to align with your preferences.
7. Outranking Integrations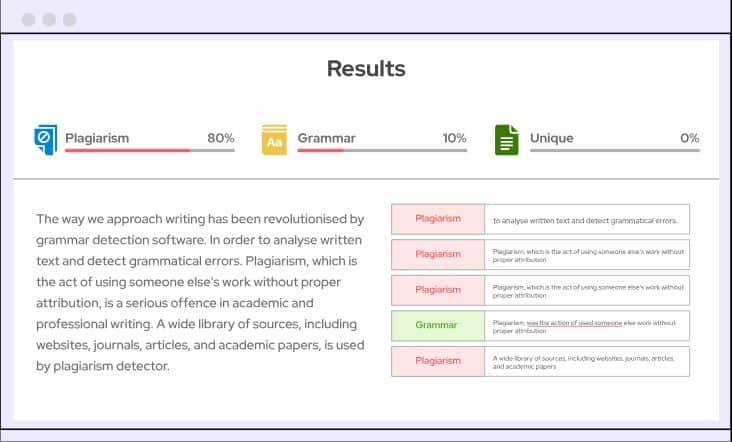 Outranking values seamless integration with popular platforms, allowing you to streamline your writing process effortlessly. There is WordPress integration, enabling smooth content import and export between the Outranking platform and your WordPress editor.
Additionally, it seamlessly integrates with Google Docs, empowering you to edit your content within the familiar Google Docs environment before effortlessly transferring it to WordPress.
Outranking may have a limited number of integrations, but the ones it offers are highly useful.
Integration with WordPress, Google Docs, and Grammarly allows for seamless importing and exporting of content. This means you can work on your copy within Outranking and then transfer it to WordPress or Google Docs effortlessly. The integration between these platforms is well-executed, streamlining a process that would typically require manual intervention.
Additionally, Outranking AI integrates with Grammarly, specifically the Grammarly toolbar. Enabling the Grammarly toolbar allows you to check your documents for spelling errors, grammar mistakes, tone of voice, and clarity. It ensures that your copy is not only well-written but also optimized for SEO.
While Outranking provides a basic article checker that includes clarity and tone of voice, Grammarly offers a more robust solution. Together, the combination of Outranking and Grammarly creates a powerful writing tool that greatly enhances the quality and effectiveness of your content.
8. Premium Draft: Almost Complete First Draft
For those seeking advanced optimization, Outranking offers a Premium Draft feature. This premium service takes your content to new heights, ensuring it is polished, refined, and ready to captivate your audience. With professional guidance and editing, your articles will be better than the original version.
Premium Draft is an innovative tool introduced by Outranking that delivers an almost-complete first-draft article directly to you. This tool aims to provide a first draft that is factually accurate, engaging to read, matches your desired tone of voice, and is SEO-optimized.
Building upon the Concepts tool, which suggests topics, titles, and descriptions based on your targeted keywords by analyzing the top 20 Google search results, Premium Drafts leverages SERP analysis to crawl thousands of related text pieces.
The Outranking algorithm examines commonly repeated phrases and identifies important content using undisclosed methods. This gathered information is then utilized to generate a first draft of your article.
Premium Drafts promises to handle approximately 85% of the writing work, marking a significant advancement for copywriters and website owners alike. It typically takes 15-20 minutes to generate the first draft, and you'll receive a notification when it's ready for your review. While it may not be 100% perfect, it offers a high level of quality.
It's important to note that while the premium draft tool provides you with an initial draft, it may not be publish-ready. Although it claims to be accurate, you are still responsible for fact-checking all areas of the article and making necessary edits to ensure its perfection.
Outranking.io Review: Ease Of Use
When it comes to SEO software, there is typically a learning curve involved when getting started. However, Outranking provides guidance throughout the entire process, making it user-friendly for all levels of experience.
The interface is designed to be clutter-free, focusing on the essential information you need to progress with your writing tasks.
The content creation tool follows a straightforward 11-point plan that walks you through each step necessary to create an SEO-optimized article. Each step is accompanied by a detailed description, ensuring even complete SEO newbies can easily follow along.
Collaboration is made simple with Outranking's collaboration tool, allowing easy teamwork with other team members and freelancers.
The integrations offered by Outranking further enhance the user experience, particularly when working between Google Docs, WordPress, and Outranking. Seamlessly importing and exporting content between these platforms is easy.
While there may be a learning curve to fully maximize the software's potential, Outranking provides ample support resources. You can find tutorials on YouTube and access videos and documentation on Outranking's resources page, providing valuable guidance to help you navigate the learning process.
Outranking Pricing
Outranking is a powerful tool that facilitates quicker and easier writing, but it does come at a cost. Unfortunately, there is no free trial available at the moment. However, Outranking provides a 30-day money-back guarantee, allowing you to test the software without risk.
The pricing starts at $69 per month ($7 for the first month), allowing you to create 10 articles per month and 200,000 words. For freelance writers, the cost can quickly add up.
The second tier is priced at $129 per month for 30 documents, while the highest plan is $249 per month, providing 70 documents per month and 1.5M words.
For custom plans, it is recommended to contact Customer Service to discuss specific needs.
Outranking Pros And Cons
As with any software, Outranking has its share of pros and cons. It's essential to carefully consider these factors before deciding whether this tool is the right fit for your needs.
Pros Of Outranking
Includes content optimization features: The software incorporates content optimization features, eliminating the need for a separate tool and potentially saving you money.
Helpful for overcoming writer's block: Outranking provides valuable assistance in overcoming writer's block by offering suggestions and generating content based on your chosen topic and keywords.
Powerful AI: Outranking boasts a powerful AI algorithm that is highly regarded and sets it apart from other platforms.
Saves research time: With its powerful AI, Outranking scans the top 20 articles and suggests titles, reducing the time spent on manual research.
Faster article writing: Outranking enables you to write articles more efficiently, thanks to its AI-powered assistance and pre-written sections.
30-day money-back guarantee: Outranking offers a 30-day money-back guarantee, allowing you to try the software with no risk.
Cons Of Outranking
Steep learning curve: There is a learning curve associated with using Outranking, particularly for users who are new to SEO and content optimization.
Word cap per month: Users are limited by a monthly word cap, which can be quickly exhausted, especially for those requiring extensive content generation.
No free plan: Currently, Outranking does not offer a free plan, and users need to subscribe to access its features.
Outranking Alternatives
If you are not sure if Outranking is the ideal tool for you, you can check out the following Outranking alternatives:
Other AI writer alternatives:
Conclusion: Outranking AI Review
So, is Outranking worth the money?
Considering all aspects discussed in this Outranking review, it is evident that Outranking is one of the most powerful AI content generators available for writers. Its advanced AI software analyzes top articles, suggests titles, and can even generate content over time, making it a game-changer for niche site owners seeking to create SEO content quickly.
While it may not produce publish-ready blog posts at the click of a button, it comes close to achieving that level of convenience.
The greatest advantage of Outranking is that it combines all the necessary tools for creating SEO-optimized blog posts in one place. Instead of using separate content optimization tools, you can optimize your content on the go using Outranking.
The only missing feature is a keyword research tool, but there are other reputable options available for that purpose.
Outranking is perfect for niche site owners aiming to swiftly produce their own SEO-optimized content while overcoming writer's block. It is also a great choice for freelance writers looking to streamline their writing process. Essentially, Outranking is a valuable tool for anyone regularly involved in content creation and optimization.
Although it comes at a cost, the time-saving benefits it offers can justify the investment. Outranking currently provides a no-questions-asked 30-day money-back guarantee, allowing you to try out all the features and create high-quality content with no risk involved.