Let's dive into the battle of Rytr vs Jasper AI and find out which tool is the ultimate writing companion.
Artificial intelligence has revolutionized the way we approach writing, and in this fast-paced world, having the right AI writing tool can make all the difference.
Enter Jasper AI and Rytr, two heavyweights in the market, each with its own unique set of features. But which one reigns supreme?
To make an informed decision, let's explore the key features offered by both Jasper AI and Rytr. We'll also dissect their pros and cons and shed light on the value they bring to the table, especially for those seeking content creation on a large scale.
Rytr vs Jasper AI
Benefits Of Jasper AI: The Multifaceted Tool
Jasper AI has earned its reputation as a favorite among bloggers, freelance writers, and niche site owners.
With its powerful 'One Shot Blog Posts', Jasper makes crafting long-form content, such as email newsletters and blog posts easy. Efficiency and speed are the name of the game here.
But Jasper doesn't stop at just writing. It has a feature known as Jasper Art, a groundbreaking addition that allows you to generate unique AI-generated images effortlessly. Seamlessly integrated into your content creation process, these visuals are sure to captivate your audience.
Rytr: The Versatile Contender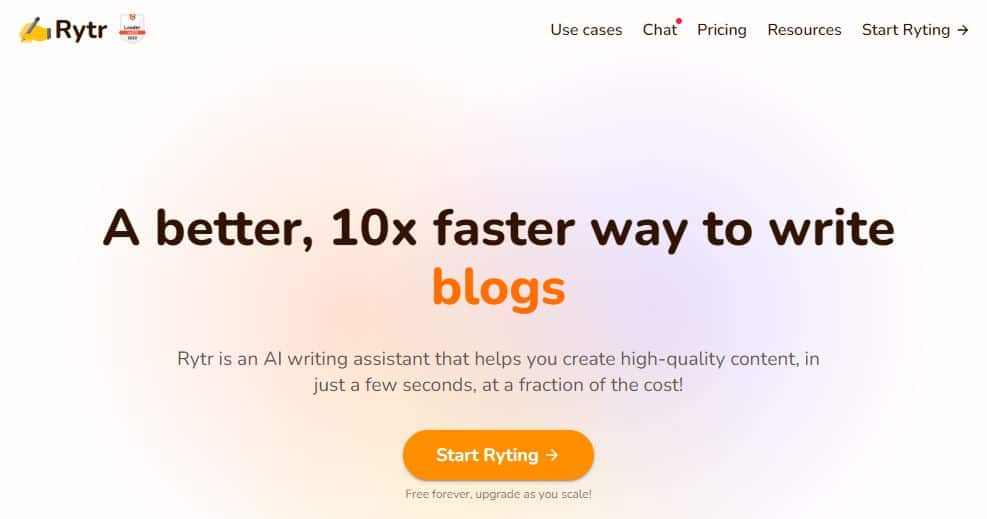 While Jasper steals the spotlight for long-form content, Rytr has its own set of tricks up its sleeve. It may not be the ideal choice for lengthy articles, but it excels in short-form content creation.
Social media influencers, eCommerce businesses, and virtual assistants will find Rytr to be useful when generating compelling product descriptions, captions, emails, and meta descriptions.
Rytr comes with handy features like a Chrome extension and API integration, seamlessly connecting with your favorite apps and tools to enhance your workflow.
Jasper AI vs Rytr: Decoding the Key Differences
Let's delve into the three primary distinctions that set Jasper (formerly known as Jarvis AI) and Rytr apart:
1. Content Creation: Jasper's SEO And Long-Form Dominance
Jasper AI flexes its muscles in the realm of content creation. With integrations with Grammarly and Surfer SEO, it ensures your content shines with optimal search engine optimization, grammar, and spelling.
What truly sets Jasper apart is its ability to generate long-form content, such as engaging blog posts—a capability that Rytr AI doesn't currently offer.
2. AI Images: Jasper Art
Jasper takes the lead with its advanced feature, Jasper Art. This cutting-edge AI image generator allows you to create an unlimited number of unique images to complement your content effortlessly.
Unfortunately, Rytr falls short in this aspect and doesn't offer a comparable feature.
3. Pricing: The Battle Of Budget-Friendliness
When it comes to pricing, Rytr holds the advantage. Offering an 'Unlimited' plan for as low as $29 per month, it caters to those on a budget. Additionally, Rytr boasts a completely free plan, providing an excellent entry point for users.
In contrast, Jasper doesn't provide a free plan, with their cheapest option starting at $39 per month (on an annual plan).
Rytr vs Jarvis: Streamlined User Experience
When it comes to creating content with AI, both Jasper and Rytr AI have prioritized ease of use, offering users a seamless and efficient experience. Let's explore how these tools simplify the content creation process.
Rytr: Simplified Organization
Rytr adopts a simple and organized approach to its user interface, making it easy to grasp and navigate.
Its user-friendly design, combined with a diverse range of templates catering to various use cases, enables swift and efficient content production. Customization is intuitive and seamless, ensuring great results with minimal effort.
Additionally, Rytr offers a valuable resource in the form of tutorials. Whether you're seeking guidance or aiming to maximize your usage of the tool, these tutorials provide insights and tips to enhance your experience.
To further enhance convenience, Rytr offers a browser extension that enables content creation on the go.
By downloading the Chrome extension, you can seamlessly utilize Rytr across popular tools and apps, expanding its accessibility.
Jasper AI: User-Friendly Interface
Jasper AI presents an intuitive user interface (UI) that allows even beginners to navigate with ease. You don't need any prior experience to dive into content creation. With a wide array of templates at your disposal, generating content becomes quick and effortless.
Jasper takes inspiration to the next level, offering comprehensive templates tailored for various purposes, such as blog posts, product descriptions, intros, emails, Google ads content, social media, video scripts, and more.
The abundance of options ensures that you're spoiled for choice when it comes to selecting the perfect layout. The flexibility of pre-formed layouts contributes to Jasper's overall user-friendly design.
Whether you're starting from scratch or utilizing pre-built templates, Jasper Commands guide you through the process. The Blog Post Workflow, for example, walks you through each step of creating a blog post, from crafting the ideal title to developing a compelling introduction and body.
No Clear Victor: Ease of Use
When it comes to ease of use, it's challenging to declare a definitive winner. Both Jasper AI and Rytr have been designed with user experience in mind, providing user-friendly dashboards and accessible help sections.
While they employ slightly different approaches, individuals may have their own preferences. However, in general, both tools fall into the category of user-friendly AI content generation platforms.
Jasper vs Rytr AI: Main Features
When it comes to choosing an AI writing tool, having a wide range of features at your disposal is crucial. Both Rytr AI and Jasper offer a plethora of features suitable for writers of all levels.
However, it's important to understand the differences between the two and select the one that aligns best with your needs.
Let's dive into the feature comparison.
Jasper AI's Features – Is Jasper AI Any Good?
Jasper boasts an impressive lineup of key features, including:
Integrations: To enhance user experience, Jasper integrates seamlessly with Surfer SEO, Copyscape, and Grammarly. These integrations ensure that your content shines with high quality, optimized for search engine rankings.
Templates: With over 50 specialized templates, Jasper caters to various writing tasks such as blog posts, landing pages, articles, sales copy, social media posts, and emails. It's a treasure trove of pre-designed frameworks to kickstart your writing process.
Jasper Art: A useful addition, Jasper Art allows you to effortlessly generate completely unique, highly detailed images within seconds. It adds an extra touch of visual appeal to your content creation process.
Languages: With Jasper, you're not confined to a single language. This AI tool can generate original content in more than 25+ languages, opening up new possibilities for global reach.
Community: Jasper AI excels in fostering a vibrant community where writers share knowledge and tips. You can easily tap into a wealth of advice from fellow users or contribute your own insights.
Rytr's Versatile Arsenal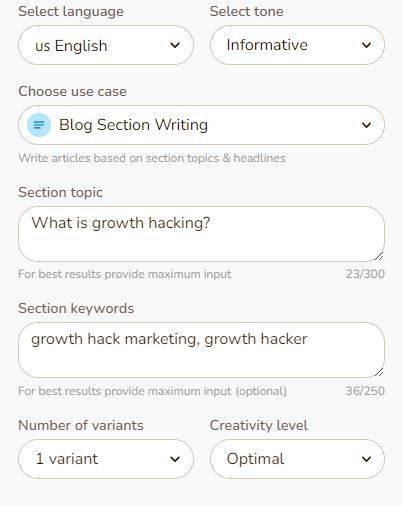 Rytr AI, too, offers an array of noteworthy features, including:
SEO: Rytr goes the extra mile by offering a range of SEO support tools. From a keyword research tool to integration with Semrush, it empowers you to optimize your writing for maximum impact.
Templates: While Rytr has slightly fewer templates compared to Jasper, it still provides a selection of 30 templates. Moreover, Rytr supports over 30 languages, making it an excellent choice for those seeking multi-language content creation.
API: Harness the power of Rytr across your favorite applications by utilizing its API integration. Seamlessly integrate Rytr's writing capabilities into your workflow for enhanced productivity.
Chrome Extension: Install the Rytr browser add-on to access its capabilities anywhere you go. Whether you're crafting emails, social media posts, or blog content, the extension keeps Rytr within reach.
The Tone Of Voice: Expressing your intended tone is crucial, and Rytr understands that. Currently offering 21 tones of voice, including casual, formal, passionate, and worried, Rytr ensures that your written content resonates exactly as you envision.
The Verdict: A Feature Showdown
In the ultimate clash of Jasper AI vs. Rytr, there is no clear victor. Both tools offer an impressive range of features that cater to diverse writing needs.
However, there are slight distinctions to consider. If you prioritize comprehensive checking and support for crafting long-form articles, Jasper AI emerges as the prime contender.
Additionally, the cutting-edge Jasper Art feature provides content creators with the ability to generate unique, eye-catching images in a matter of seconds.
On the other hand, Rytr offers valuable features like a Chrome extension and API access, which are quite beneficial for those seeking to generate content across multiple applications.
These capabilities make Rytr an excellent option for virtual assistants and social media managers who collaborate with diverse clients on various platforms.
Rytr vs Jasper: Pricing Options
When comparing the pricing of Rytr and Jasper AI, both platforms offer a range of packages to cater to different user needs and budgets.
Whether you require a lower-cost plan or a comprehensive solution, there are options available for you and your business.
Rytr: Pricing Based On Characters
Rytr determines its pricing based on the number of characters you generate per month instead of words. Here are the main packages offered by Rytr: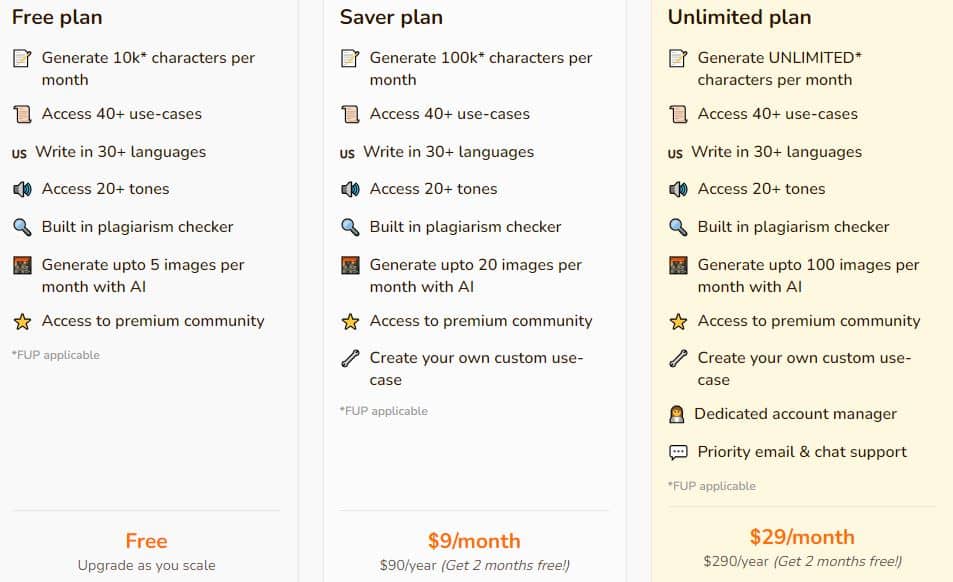 Free: Rytr provides a free plan that allows access to their templates and tones of voice options. Users can generate up to 10,000 characters/month at no cost.
Saver: The Saver plan enables users to generate up to 100,000 characters/month. It includes all the features available in the free plan, along with benefits such as creating your own custom use case and the premium community. The pricing for this plan is $9/month, with additional discounts for annual payments.
Unlimited: With the Unlimited plan, users can generate as many characters as needed each month. It encompasses all the features offered in the previous plans, and users also receive priority chat and email support as well as a dedicated account manager. The pricing for this plan is $29 per month, with more discounts for annual payments.
Jasper Pricing: How Much Is Jasper AI?
Jasper AI structures its pricing based on the number of words you anticipate generating each month. This flexibility allows you to choose a package that aligns with your specific content creation requirements. Here are the plans offered by Jasper AI: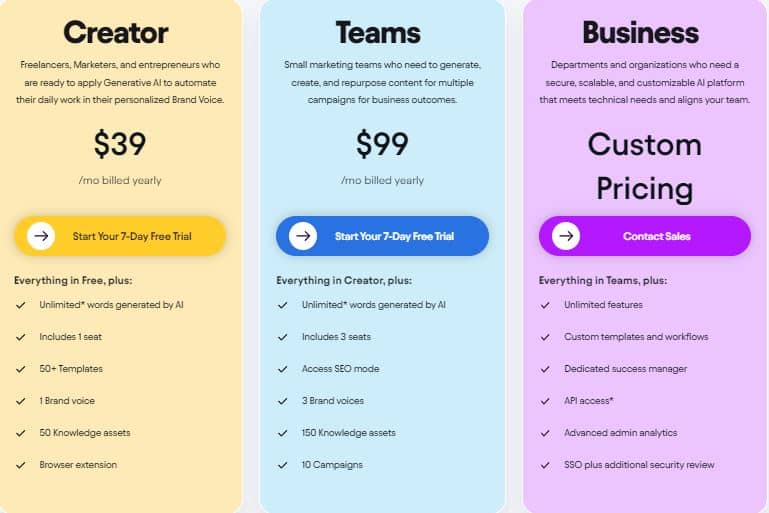 Creator: The Starter plan provides access to 50 knowledge assets and allows 1 user to access the account. The pricing for this plan begins at $39 per month (paid annually).
Teams: Designed for increased content needs, in addition to the features included in the Starter plan, Teams offers access to more assets, SEO mode, and up to 3 users. The pricing for this plan starts at $99 per month (on an annual payment).
Business: Jasper AI also offers a custom pricing option for businesses that require additional features and have a dedicated success manager.
No Clear Winner: Consider Your Needs
In terms of cost, Rytr's Unlimited plan at $29/month is an attractive option for budget-conscious users.
However, it's important to evaluate the features and value provided by each platform rather than focusing solely on the price.
For users who need more features, Jasper AI's Starter plan may offer the right balance between features and cost.
Jasper vs Rytr: Reliable Support
When using AI writing software, having prompt and reliable support is crucial to ensure a seamless content creation experience. Both Rytr and Jasper AI understand the importance of efficient customer support and offer assistance in their own unique ways.
Jasper AI: Assistance At Your Fingertips
Jasper AI goes the extra mile to provide comprehensive customer support alongside its AI writing software. Users can access a dedicated Help Center and have the option to reach out directly via email.
It's important to note that Jasper prioritizes responses to inquiries from customers with their top-tier packages.
Additionally, Jasper AI boasts an official Facebook community with over 75,000 members. This means you can easily connect with fellow users and find responses to the questions. With such a robust support network, getting the assistance you need shouldn't be a cumbersome task.
Rytr: A Wealth Of Resources
Rytr is equally committed to delivering quality support to its users. Their knowledge base offers FAQs and self-help guides, serving as valuable resources for troubleshooting and common inquiries.
Moreover, Rytr offers a live chat feature, allowing you to engage in real-time conversations with their support team.
For customers on the unlimited plan, priority email and chat support are provided. The support pages cover a wide range of topics, addressing questions related to the editing and writing processes, as well as billing inquiries.
With such comprehensive support resources, finding answers to your questions becomes a simple and straightforward process.
No Clear Victor: Equal Support
In the realm of customer support, both Jasper AI and Rytr excel in providing reliable assistance. They acknowledge the learning curve that comes with any tool and are dedicated to supporting users every step of the way.
Copywriters seeking to produce top-notch content in the shortest time possible can rely on the suitable support offered by both platforms.
FAQs – Jarvis AI vs Rytr
1. What is better than Rytr?
There are several AI writing tools like Scalenut and Writesonic available, each with its own strengths and weaknesses. It's recommended to explore and compare multiple options to find the one that suits you best.
2. Is Jasper the best AI writing tool?
Whether Jasper is the best AI writing tool depends on individual preferences. There are multiple AI writing tools in the market, and it's advisable to try out different tools and evaluate them based on your specific needs.
3. What is similar to Rytr?
Some AI writing tools similar to Rytr include Copy.ai, and ShortlyAI. These tools offer AI-powered writing assistance for content generation, copywriting, and creative writing. Exploring these Rytr alternatives can help you find a tool that aligns with your requirements.
4. Is Rytr worth it?
Rytr offers an AI-powered writing assistant that is helpful in generating the content, improving productivity, and assisting with various writing tasks. Evaluate the features, pricing, and user reviews to determine if Rytr provides value for your investment.
5. What is the difference between Jasper vs Copy AI?
The difference between Jasper vs Copy.ai varies based on their specific features, technology, user interface, and pricing. Review and compare these aspects to determine which tool suits your needs better.
Conclusion: Rytr vs Jasper
Choosing between Jasper AI and Rytr can be a tough decision as both platforms offer powerful AI writing tools. To help you make the right choice, consider the following factors:
If you're a copywriter, blogger, website owner, or content writer aiming to streamline your content production process, Jasper AI is an excellent choice. It excels at generating long-form content, such as blog posts, and can handle about 80% of the writing work for you. With Jasper AI, you can create 4-5 times more content by leveraging its AI capabilities. Try Jasper for free to see if it suits your needs.
If you're a VA, an e-commerce business, a social media manager, or an influencer, Rytr is well-suited for you. It specializes in short-form content like product descriptions, social media captions, ad copy, and meta descriptions. Rytr's free plan allows you to try out the tool risk-free, and its paid plans are affordable. Explore Rytr and see if it aligns with your requirements.
If you're still unsure which AI writing tool to choose, consider checking out the Article Forge review and Copy AI review. Both tools offer free trials, allowing you to test them and determine which one suits you best.
Ultimately, the decision between Jasper AI and Rytr depends on the type of content you primarily work with and the specific needs of your projects. Consider your writing requirements, desired output, and budget to make an informed choice.