In the quest for exceptional online content, two AI writing tools have emerged as formidable contenders: Jasper and Copy AI. In this article, we'll delve into a head-to-head comparison of Copy AI vs Jasper AI to determine which of these tools outshines the other.
Brace yourself for an exploration of their features, capabilities, and overall performance. So, let's dive in and uncover the ultimate AI writing companion for your needs.
AI Content Creation
Crafting captivating and informative content is undeniably the key to success in the digital realm. While human copywriters possess immense talent, AI copywriting software has pushed the boundaries even further.
Not only does AI software facilitate the creation of high-quality content up to ten times faster, but it also conquers writer's block and supports writing in various languages.
Thanks to advancements in AI technology and machine learning, bloggers, copywriters, and marketers are harnessing the potential of tools like Jasper and Copy AI to enhance their content creation process.
Copy AI vs Jasper AI: Which AI Is Better?
If you find yourself torn between these mighty AI copywriting tools, fret not!
This article aims to guide you through a comprehensive comparison of Jasper AI and Copy AI, enabling you to make an informed decision tailored to your requirements.
Now, let's dig deeper into these two powerhouse tools.
What Is Copy AI?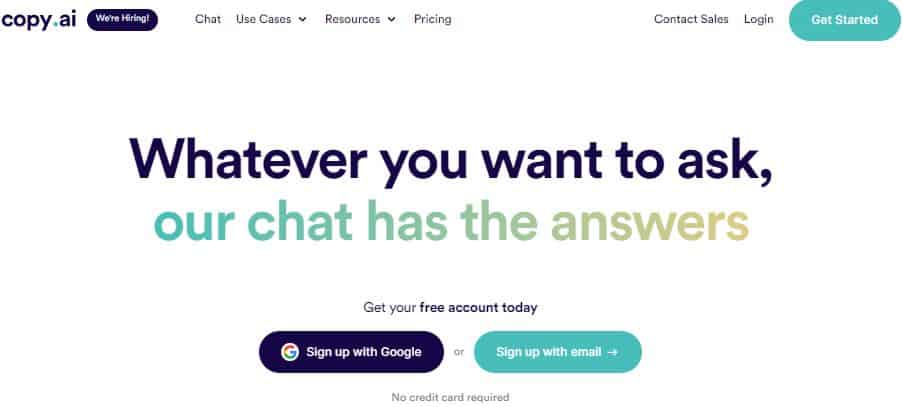 For those mindful of their budgets, Copy AI's free plan presents a viable option. Although the features on this plan are somewhat limited, it serves as a good opportunity to dip your toes into the world of AI writing without committing to a paid plan.
However, it's important to note that Copy AI's capabilities might not match the comprehensive range offered by Jasper.
To embark on your AI writing journey, take advantage of Copy AI's free plan and assess its suitability for your needs. Check out Copy AI review for more details.
What Is Jasper AI?
When it comes to feature-rich AI writing tools, Jasper AI takes center stage, offering exceptional value for money. With its user-friendly interface, Jasper empowers users to generate top-notch content effortlessly.
It goes the extra mile by providing AI image generation capabilities through its dedicated software (available for an additional $39/month). This allows you to create visually stunning images that perfectly complement your written pieces.
In addition, Jasper offers seamless integration with SurferSEO and Grammarly, granting you the complete arsenal necessary to craft clear, concise, and SEO-friendly content (check out the Surfer SEO review).
Don't just take my word for it; explore the in-depth Jasper AI review to unlock the full potential of this extraordinary tool.
Key Distinctions: Jasper AI vs Copy AI
Let's zoom in on the key differences that set Jasper AI and Copy AI apart, allowing you to make a well-informed choice:
Pricing: When it comes to pricing, Jasper AI edges ahead by offering superior value for money. Both tools offer free trials and annual payment discounts, and their lowest package starts at $49/month.
Content Creation: While both Jasper AI and Copy AI assist in the creation of blog posts, Jasper takes the lead by offering support for long-form content creation. Moreover, Jasper AI boasts a Google Docs style editor that seamlessly integrates with Surfer and Grammarly, providing a unified writing experience unmatched by Copy AI.
AI Images: Jasper AI sets itself apart by introducing an innovative feature known as Jasper Art—a robust AI image generator. On the other hand, Copy AI does not offer a comparable feature at this time.
Extras: Each tool brings its unique set of extras to the table. Jasper AI entices users with a selection of 50+ templates, catering to various content creation needs. Conversely, Copy AI boasts an extensive range of 90+ copywriting tools. Additionally, Jasper AI currently supports 30+ languages, whereas Copy AI covers 29+ languages.
Jasper vs Copy.ai: Ease Of Use
Both Jasper AI and Copy AI aim to simplify the writing process, making them user-friendly tools. While neither tool is overly complicated to use, they do have distinct features that may require some familiarity.
Let's explore the ease of use for each tool and determine which one stands out in this aspect.
Jasper AI: Streamlining Content Creation
Jasper AI receives praise for its user-friendly approach, particularly when it comes to getting started with content creation. Here are some features that contribute to its ease of use:
Prompts and Inputs: Once you select a template, Jasper AI prompts you with a series of questions to refine your content. You can choose the tone of voice, provide descriptions of company names or products, and input other relevant details. This ensures that the generated content aligns with your desired direction.
Templates: Jasper AI offers a variety of templates that cover different content types, such as social media, ads, ecommerce, video descriptions, blog posts, SEO (title tags and meta description), and tried-and-tested frameworks for effective marketing content. These templates provide guidance and suggestions, helping users get started in the right direction.
One-Shot Blog Post: Jasper AI's "One-Shot Blog Post" feature allows you to generate a complete blog post with just a few clicks. Simply enter your topic, select the intended audience and tone of voice, and hit "Generate AI Content." The tool instantly generates a short blog post, including an introduction and conclusion. Additional prompts and commands can be added to expand the content and create more comprehensive blog posts.
Copy AI: User-Friendly Interface
Copy AI also prioritizes ease of use, with a user-friendly interface and helpful tutorials. Here are some aspects that contribute to Copy AI's ease of use:
Blog Post Wizard: Similar to Jasper's "One-Shot Blog Post," Copy AI's blog wizard generates a complete blog post in under five minutes. Users enter the title, keywords, and preferred tone, and are guided in choosing talking points for their blog post. Although it takes slightly longer than Jasper's feature, the result is comparable.
Templates and Wizards: Copy AI provides a range of templates, wizards, and options to guide users in creating different types of projects. These include blog post wizards, blog outlines, blog intros, welcome emails, social media bios, email newsletters, rejection letters, video scripts, case studies, and more. With over 90 copywriting tools available, users have ample choices to support their writing process, including unconventional ones like song lyrics and wedding vows.
Tools and Assistance: Copy AI offers various tools listed on the right-hand side of the page, providing easy access and reference throughout the content creation process. These tools assist users in different stages of writing, ensuring they stay on track and produce desired results.
The Verdict: Jasper AI Takes the Lead
In terms of ease of use, Jasper AI emerges as the winner. It generates blog posts more quickly than Copy AI with fewer steps involved.
Jasper's user dashboard offers clear readability and easy navigation, thanks to larger fonts, bold buttons, images, and thoughtful use of color and contrast. These design elements contribute to a seamless user experience.
Copy.ai vs Jasper.ai: Key Features
When it comes to features, both Jasper and Copy AI boast impressive arsenals that cater to a wide range of writing projects. Although they appear similar on the surface, these tools offer distinct features that suit different needs.
To make an informed decision, it's essential to get into the specifics of each tool and determine which aligns best with your requirements.
Copy AI's Key Features
While Jasper shines in terms of features, Copy AI brings its own set of capabilities to the table. Let's explore Copy AI's key features:
Templates: Copy AI provides an impressive array of templates to set you on the right path. Seamlessly switching tone and layout across various content formats, including photo captions, social media posts, and promotional content, Copy AI simplifies the writing process. Additionally, you can select predefined tone options to ensure your posts resonate with the desired style.
Powerful Editor: Copy AI offers an extensive editor that allows you to refine your content and align it with your standards. Within the Copy AI dashboard, you'll find options for formatting content and ensuring the layout meets your needs.
Helpful Tutorials: Copy AI offers helpful tutorials that assist users in getting the most out of its features. While the software itself is user-friendly, these tutorials provide valuable insights on account setup, maximizing content results, and targeting specific audiences. They serve as a valuable resource for users seeking to enhance their Copy AI experience.
Jasper AI: Range Of Features
Jasper AI takes the lead with its extensive range of features that elevate your writing experience. Here are some noteworthy features that make Jasper stand out:
Long-Form Content: Jasper is a game-changer for generating long-form content swiftly. Whether you're crafting engaging blog posts, compelling emails, or more extensive written pieces, this powerful feature equips you with the tools to excel.
Templates: Jasper AI offers a diverse selection of templates to kickstart your writing process. Whether you're crafting a blog post, tackling long-form content, or creating product descriptions, Jasper's template database provides valuable guidance and inspiration.
Enhancing Your Writing: Jasper AI goes the extra mile by providing an array of content improvement tools. From generating blog post ideas to optimizing post layouts and even utilizing AI-powered content analysis, Jasper assists in enhancing the quality and effectiveness of your content.
Integrations: Create clear, search engine-friendly content effortlessly by leveraging the power of Jasper's integrations with Grammarly and Surfer. These integrations ensure that your text is easily readable while offering the added advantage of Grammarly's plagiarism checker to maintain the integrity of your content.
Image Generation: One of Jasper's standout features is Jasper Art—a remarkable AI image generator. Now, not only can you create captivating content, but you can also generate stunning, highly-detailed images in seconds. Simply provide a description and specify the style, medium, and mood, and Jasper Art will bring your vision to life.
Content Types: Unleash your creativity with Jasper's AI copywriting software, capable of crafting various content formats. Whether it's website copy, promotional content, digital ad copy, marketing copy, social media posts, email creation (including subject lines), or video scripts, Jasper has got you covered.
The Verdict: The Ultimate Contender
When it comes to features, Jasper emerges as the victor with its comprehensive feature set. Jasper has a significant advantage over Copy AI in enabling users to generate long-form content swiftly.
Additionally, Jasper's innovative Jasper Art feature revolutionizes content creation by empowering users to generate unique and captivating images within seconds.
Jasper AI vs Copy AI: Pricing Comparison
When considering the pricing of Jasper AI and Copy AI, it's essential to evaluate the available packages and choose the one that aligns with your specific needs and budget.
Let's examine the pricing plans offered by both platforms.
Jasper AI Pricing: How Much Is Jasper AI?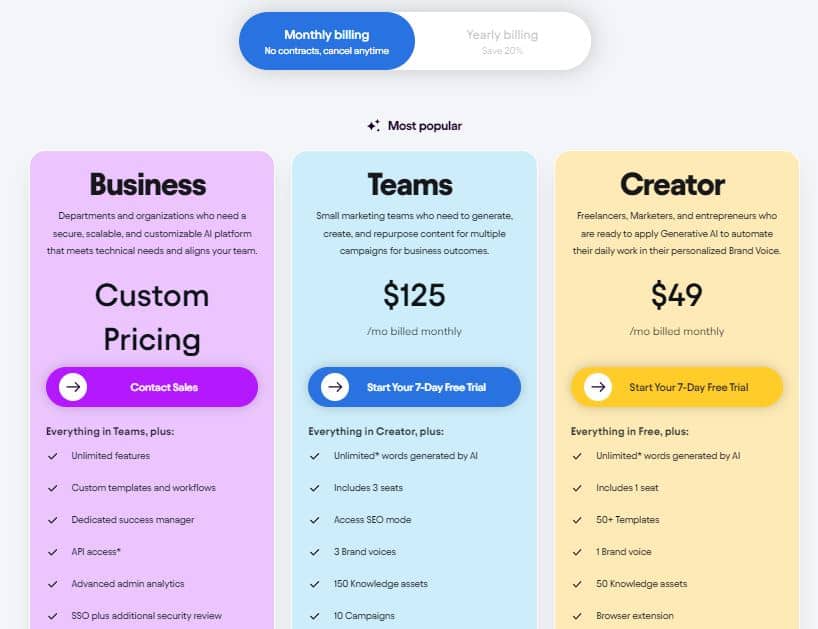 This AI software provides the following pricing options after the free trial period:
Creator Plan: Starting from $49 per month (with discounted rates for annual payments), this plan allows you to generate unlimited words per month. It allows 1 user account and includes access to all 50 AI templates and the editor software.
Teams Plan: Starting from $125 per month (discounted with annual payment), the Teams Plan offers everything from the Starter plan, along with additional features like access to the SEO mode, more assets and up to 3 users.
Business Plan (Custom Pricing): If you require additional features or more support, such as a dedicated success manager, Jasper AI offers custom pricing plans tailored to your specific needs. This option is suitable for digital marketing agencies and businesses with higher demands.
Jasper Art Pricing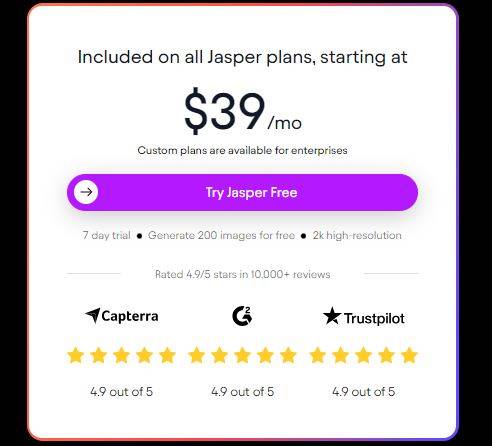 Jasper Art is priced separately at $39 per month, allowing unlimited image generation each month.
Copy AI Pricing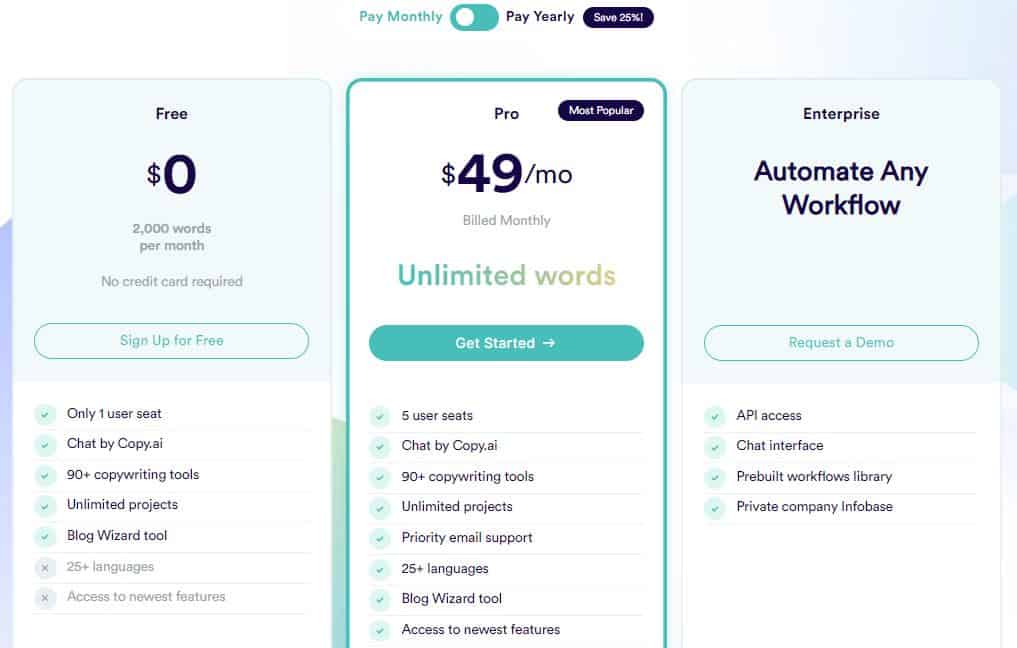 Copy AI provides the following pricing options:
Free Plan: Available at no cost, this plan provides limited access to the tools and allows you to generate up to 2,000 words per month on one user account. It serves as a good option for testing the AI-generated content waters.
Pro Plan: Starting at $49 per month, the Pro Plan allows up to 5 user accounts and provides full access to all tools, including the blog wizard tool.
Enterprise Plan: For users needing more features, Copy AI offers custom pricing plans. To determine the pricing for API access, prebuilt workflows library, etc, users need to contact Copy AI directly.
The Verdict: Jasper AI Offers More Value
In terms of pricing, Jasper AI offers more values and features for generating larger volumes of content.
However, Copy AI gains some points for offering a free plan, which allows users to generate up to 2,000 words per month. This is a valuable feature for those looking to explore AI-generated content without committing to a paid plan.
Copy AI vs Jasper AI: Customer Support
The quality of customer support can greatly impact the overall user experience when using AI copywriting tools.
Let's get into the support options offered by Jasper AI and Copy AI to determine how they stack up in this regard.
Copy AI: Convenient Support Channels
Copy AI also ensures that users have access to support when needed. Here are the support options available:
Social Media Engagement: Copy AI is particularly active on Twitter, and users often receive quick replies to their queries when reaching out through this social media platform. The CEO, Paul Yacoubian, has open DMs, allowing users to privately message him with any questions or concerns.
Chat Support: Similar to Jasper AI, Copy AI offers chat support directly from the user dashboard. By clicking the chat button on the bottom right, users can connect with support representatives. If the support team is temporarily unavailable, users are provided with an estimated time until support will be back online.
Help Section and FAQs: Copy AI features a comprehensive help section, providing detailed resources to assist users. Additionally, they have an FAQ section on their contact us page, addressing common inquiries and offering self-help solutions.
Jasper AI: Multiple Support Channels
Jasper AI provides several support options for users who encounter issues or need assistance. These include:
Community Support: Users can engage with the Jasper AI community to seek guidance, share experiences, and find answers to common questions. The community aspect fosters a collaborative environment where users can support one another.
Video Tutorials: Jasper AI offers a collection of videos and tutorials to help users navigate and make the most of the platform's features. These resources serve as valuable self-help guides.
Chat Support: Users can access chat support which allows them to connect with a support representative for prompt assistance. While responses are typically received immediately, during peak periods, the wait time may be higher..
Live Q&A: Jasper AI offers the opportunity to participate in live Q&A calls, providing a direct line of communication with experts who can address user inquiries and offer real-time assistance.
The Verdict: Equal Support Opportunities
In terms of support, it's a tie between Jasper AI and Copy AI. Both platforms offer multiple channels for users to seek assistance, including email and chat support. They also provide video tutorials and communities where users can find quick answers to common questions.
While Jasper AI emphasizes live Q&A calls, Copy AI engages with users through social media platforms like Twitter. Both platforms demonstrate a commitment to supporting their users and ensuring their questions are addressed.
FAQs – Copy.ai vs Jarvis
1. Is there a Jasper AI free plan?
No, Jasper AI does not currently offer a free plan. However, it offers a 7 day free-trial for different pricing tiers based on the user's needs and usage.
2. What is the difference between Copy AI vs Rytr?
Copy AI focuses more on generating persuasive marketing copy, while Rytr offers a broader range of writing styles and templates. Check out the detailed Rytr review for more information.
3. What is the difference between Jasper AI vs Writesonic?
Jasper AI is known for its advanced natural language processing capabilities, while Writesonic offers a user-friendly interface and a diverse range of writing templates. Find out more information in the Writesonic review.
4. Which is better when comparing Copy AI vs ChatGPT?
Copy AI is designed for generating marketing copy, while ChatGPT is a conversational AI model that excels in generating human-like responses in a chat-like format.
You may also be interested in learning how to use ChatGPT for blogging.
5. Which is better when comparing Jasper AI vs Chat GPT?
Jasper AI is primarily focused on providing natural language processing and generation capabilities for writing tasks, while ChatGPT is designed to facilitate interactive and dynamic conversations. The better option depends on the intended use case and requirements.
Also check out the article on using ChatGPT for updating content.
Conclusion: Jasper vs Copy AI
Ultimately, the choice between Jasper AI and Copy AI depends on your specific content generation needs.
Jasper AI offers more features, including the option to add Jasper Art for creating unlimited images, potentially saving costs compared to purchasing stock photos.
On the other hand, Copy AI may be a better fit for users focused on generating shorter-form content like product descriptions and social media posts.
Remember, it's always recommended to take advantage of free trials to test the platforms and determine which one suits your requirements best.
Make an informed decision by evaluating the features, ease of use, support options, and pricing structures of both platforms, ensuring they align with your specific content generation goals.