Considering the large number of agencies available today, you might be trying to find the best content-writing services for your business.
It can be challenging to choose the right agency and figure out the amount you should spend for content because the price varies greatly from one to another. Although you can spend more than $0.12 per word, is the quality of the article any better than if you only pay $0.03 or $0.05 per word?
My own experience has shown that it can be quite difficult to predict exactly what you will receive because a single firm may employ literally hundreds of authors. Outcomes may vary significantly based on the content writer who accepts your offer.
In this article, you'll find my list of the top content writing agencies that you can choose from.
I've used more content services than I've listed here, and sometimes choosing the "best" one just comes down to whatever company's workflow you prefer.
12 Best Content Writing Services
What should you be looking out for when hiring a service to write your content?
Quality: This includes factors such as originality, clarity, and accuracy of the text
Cost: Does the price reflect the value of the content?
Delivery: How fast is their response time?
Quality is typically the most important factor to consider. Getting inexpensive content quickly is of no use if it is poorly written.
I recently received a 10,000-word article from an agency. Despite the fact that the content writer was supposed to have utilized Surfer SEO, Grammarly, Copyscape, and Ahrefs for keyword research, the text was full of gibberish and numerous other mistakes. I contacted the agency to express my concerns about the content, and they graciously provided a refund.
I've been using TextBroker lately (from the content writing services list), and during the past few months, I've ordered roughly 30,000 words from them. Most of the work has been good, with the occasional article being below-average in quality. I've been satisfied with the outcome overall, but it really depends on the writer you get.
Below are the best article-writing services that I've successfully used in the past.
I always recommend ordering one article to test out the service or starting with a small batch rather than a large one. Before ordering a lot of content, be sure you're satisfied with the terms of the engagement, and the quality of work.
1. TextBroker
TextBroker is a great option if you are working on a large content project and require bulk orders.
They have several freelance writers. Their rates can be as low as 13 cents per word if you can find a writer that is a good fit for your content. There are 2 options: Managed-Service or Self-Service.
If you choose the Managed-Service, they take care of the entire project, which entails finding the writers, supervising them, and editing their work. Although this option is more expensive, it is totally worth it.
In the case of the Self-Service option, these writers are not managed, and their work is not edited by someone at TextBroker. As a result, you are responsible for editing and reviewing the writer's work as well as maintaining communication with them. You may not find this appealing, but you have total control over every aspect of the project.
Despite being one of the more expensive content services on the list, you get quality content for your needs. Textbroker would be a good place to work if you wanted to become a content writer.
TextBroker Pricing
You can spend as little as $2,500 to have TextBroker manage your project from beginning to end (Managed Service). If you go with the Self-Service option, the rates start at 13 cents per word, where you get to pick the level of quality, spending limit, and writer.
From the menu, choose one of the two options (Managed or Self Service). For the Self-Service option, you can register for free and get started. In the case of Managed Service, however, you need to provide all the information to receive an estimate based on your requirements.
Benefits – Is TextBroker Worth It?
Great customer service for resolving disputes with writers
One-stop shop for content services
Drawbacks
They are no editors or project managers
2. Word Agents
Most of the content that I've ordered from Word Agents is good. In fact, some of them are very high quality!
This agency only hires native English writers from the United States and Canada. They often seek out recent college graduates and other people with writing expertise to work as content writers.
Occasionally, I've received uninspired, unauthentic, or subpar articles. But most of the time, I feel that the article is ready to publish when I receive them. Word Agents work with several writers, and it's reasonable that some will be more talented than others. Of course, you can ask for changes as well (like other content services).
They provide a substantial discount of 30% to new customers, which makes it worthwhile to test them out. I can vouch for them after ordering 30,000 words from them over the past few months.
Word Agents Pricing
The standard price ranges from:
1,000 words for $120
5,000 words for $500
10,000 words for $800
20,000 words for $1200
But you can save 30% on the initial order, which significantly improves the value. There are further discounts available for orders of more than 20,000 words, as well as for monthly subscriptions.
Benefits
Great discount for new customers
Quality content
Detailed process/templates for placing order
Content will be delivered within 7 days of purchase
Drawbacks Of Word Agents
Not all writers are great
3. iWriter
iWriter has services for writing blog posts, articles, eBooks, press releases, and also Amazon reviews. In essence, they can do whatever type of content you require for your project. But how good is the quality of the content?
Even for a large project, iWriter has quick turnaround times because of the enormous number of writers they have.
On the other hand, quality control becomes challenging when you have more writers to oversee. This implies that the result could turn out to be average or of varying quality depending on the writer and the type of article you need.
iWriter Pricing
The top writers on iWriter will be less expensive than the ones at other content writing websites. If you choose the Elite Plus option that provides access to the top writers, you get 2000 words for $145.
It's really easy to start using iWriter. All you have to do is select the Order Content option in the menu. You would need to first create an account, which is an additional step. But since they have a reputation for having one of the quickest turnaround times in the industry, having to create an account may not be a big deal for you.
Benefits
The price is quite reasonable
Quick turnaround time
Drawbacks Of iWriter
Some users have received spun or plagiarized content
4. Content Refined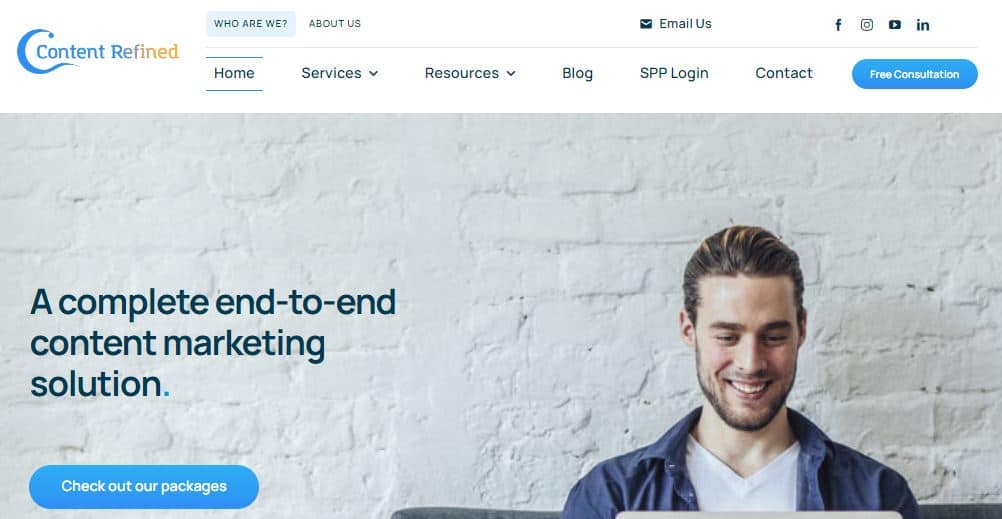 This agency offers more than just content writing services. They take a holistic approach to content writing, making them function like content management agency.
They are able to plan the content, conduct keyword research, create the content, and even promote it on social media. This is way more effective than just delivering what you asked them to write about.
Benefits
Can develop a content plan with keyword research
Works like a blog management service
Engaging and well-written content
Includes pictures, content uploading, and SEO-friendly content
Drawbacks
They only do orders on a monthly subscription
Expensive compared to other alternatives
Content Refined Pricing
There are 3 packages available from Content Refined:
4 posts (4000 words) – $429/month
8 posts (8000 words) – $769/month
12 posts (12000 words) – $1,117.50/month
Project management, title creation, keyword research, SEO optimization, and blog publishing are all included in these packages. If you do keyword analysis on your own, you may be able to get these packages for a further discount. However, as you may know, keyword research can be a bit of work if done correctly.
5. Brand Builders
For owners of niche websites, blogs, and other websites, Brand Builders can provide great content.
They create premium content with native English writers and handle the entire process, from keyword analysis to WordPress publishing.
Their work includes the entire editing process, complete on-page SEO, premium stock images, and Surfer SEO optimization. Brand Builders, like Niche Website Builders, can manage the complete content creation process.
Brand Builders Pricing
Here are the various options to test out Brand Builders:
2,000 words for $180
5,000 words for $450
8,000 words for $720
Bulk orders of more than 100,000 words are even more affordable, as are monthly subscriptions with repeat orders (10,000 words for $800).
Benefits
Reasonably priced for the services they provide
They can handle everything
They have positive customer reviews
Provide backlinking service
Drawbacks
Full service is more expensive, although it is fairly priced
6. Niche Website Builders
Another interesting content agency to check out is Niche Website Builders. Also, they offer a backlink service and a ready-made niche website-building service. They have case studies that show how they transform their clients' sites from having no visitors to generating substantial revenue in a few months. They are able to do this by getting expired domains and posting a significant amount of content. Their success just goes to show how well they can get websites to rank and gain traction!
Moreover, Niche Website Builders offer an FAQ service whereby they will supplement existing blog posts with FAQ content. It's a nice and easy method to target more keywords and increase traffic to already-published posts.
Niche Website Builders Pricing
The 10,000-word package costs $700 per month or 7 cents per word. This is not bad considering the fact that they handle everything,
Additionally, bulk orders are an option to consider instead of monthly subscriptions. The pricing for 50,000 words is $3500.
Benefits
Quality content
Includes posting and editing in WordPress
Includes keyword analysis and application
You will be able to follow a completely hands-off approach
They manage on-page search engine optimization
Drawbacks
The minimum order requirement is 10K words
There is no discount for larger orders
7. Content Pit
Their delivery times are decent, the content quality is reasonable (but not always great), and the prices are far lower than those of many other websites for content writing. The ordering process is straightforward, and their customer portal is simple to use.
They are definitely one of the best writing services online.
Content Pit Pricing
Content Pit offers competitive pricing. If you are purchasing large amounts of content, it gets even cheaper. It's nice that you can just buy the amount of content you need; they don't compel you to pay a subscription.
Their packages don't charge more than 5 cents per word. The lowest package starts at 3 cents per word. It's reasonable given the quality of content I've received from this agency.
Benefits
Good customer portal
Quick turnaround (often given in 10,000-word lots)
Decent quality
Effective communication
Affordable rates
Unlimited revisions
Drawbacks
You must upload yourself
Won't include pictures
You can sometimes detect that English is not the first language of the writers
Some content writers are not that good, but most of them are decent
8. SEO Butler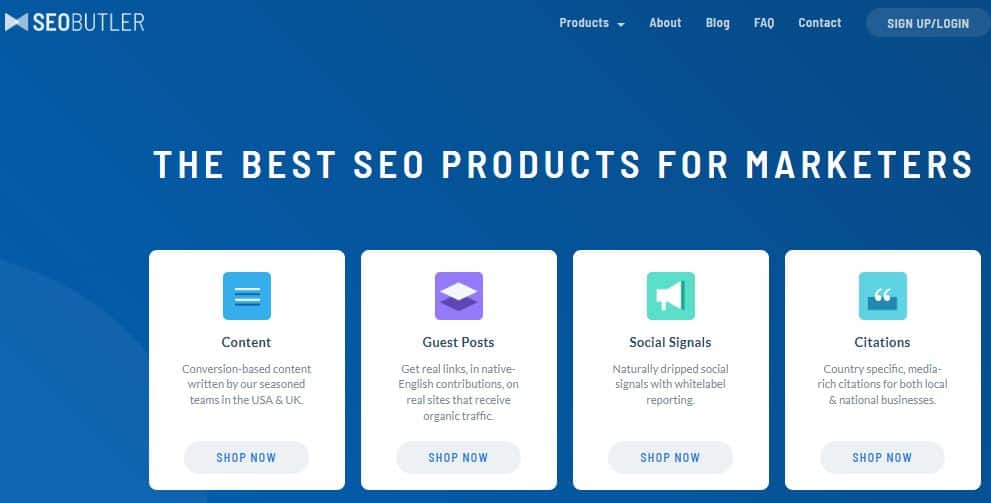 I recently ordered some content to examine SEO Butler's writing service.
I was happy with the result and chose their most expensive content option, which included Surfer SEO optimization (need to provide them with a Surfer account). The ordering process went without a hitch and the staff was friendly and easy to work with.
The ordered article is currently ranking high on the search engine.
SEO Butler Pricing
The rates for the content packages start at $0.07 per word and can go as high as $0.135 per word (including SEO-optimized content with Surfer). There is a 10% discount for an order that has over 5000 words.
Benefits
Fast turnaround times
An agency with experience and knowledge
Pictures are included in the content
Only native English writers work on the content
Drawbacks
Ordering based on content types is a little unclear
Expensive compared to other options
9. Constant Content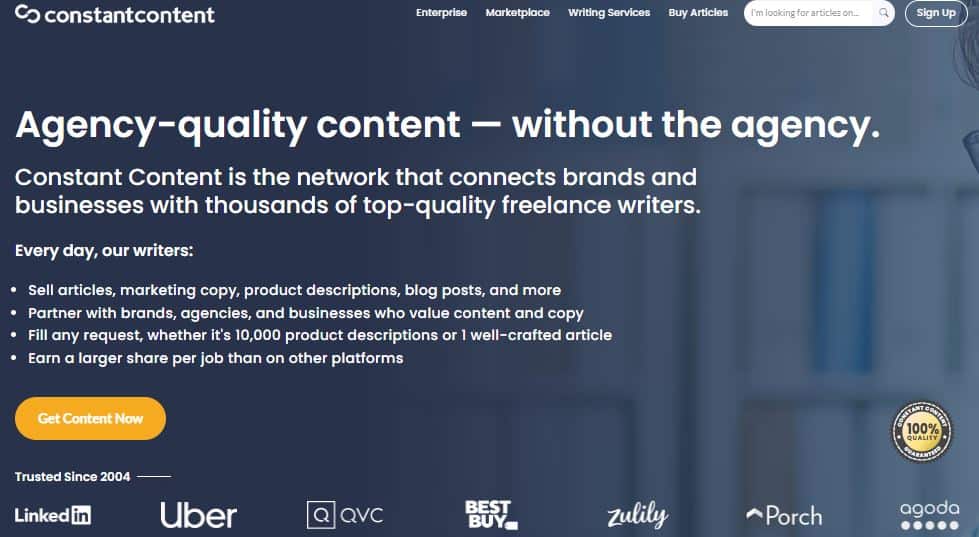 You can use Constant Content to order whatever type of content you are looking for. This includes custom essays, blog posts, and other types of writing (you may also be interested in checking out the Essay Titles Generator).
Once you submit a request, writers at Constant Content will either accept your project assignment or make a pitch to do the work. Also, you'll be assigned an account rep who can guide you through the process.
You can also access their pre-written articles and purchase content from them, even though this might not be ideal if you're operating a niche website or business.
Constant Content Pricing
The costs associated with the work can vary if you are using Constant Content.
This is because writers are allowed to determine their own rates and change them at any time. Hence, depending on the writer, you could pay $25, $50, or $100 for 1000 words.
You must first create an account if you're interested in going with Constant Content. Following this, you'll receive a more accurate quote depending on your requirements. This can be a tedious process given that their rates are not available publicly on their website.
Perhaps, they should consider providing an estimate without having to create an account, like some of the other websites. First impressions matter a lot and receiving a quote quickly can make all the difference.
Benefits
Stock photos can be included
You have the option to buy pre-written articles
Drawbacks
It may take some time to receive the completed project after submitting your request.
10. Writer Access
Writer Access was founded by Byron White, a well-known author, and expert in content marketing. He was involved in the creation of every aspect of the business.
Instead of merely throwing money at projects, they're all about developing them in an effective manner. As a result, they put a lot of effort into hiring the top writers and focusing on SEO rankings. They pay each writer they hire between 2 cents and $2 per word and rate them all on a level of 2 to 6.
Writer Access Pricing
There are a number of options available:
2 cents to 20 cents per word
Professional content strategist for $35 an hour
Monthly subscriptions for $39 to $99 a month
To begin using Writer Access, you would need to first create an account like some of the other websites for content writing. They offer a trial account for 30 days. There is a chatbot on every page to answer any questions that you might have.
Benefits
Superior content
Works well for people with big budgets
Drawbacks
Strict rules
May not be suitable for small firms with limited resources
11. CopyPress
This agency was established in 2009. They have a community of writers that help clients tell amazing stories through their content.
Their services fall under three types of categories:
Content
Infographics
Promotion (native ads, social media, and publisher connections)
You can specify your requirements while selecting one of these categories. Next, based on the task request, CopyPress provides a unique quote.
CopyPress Pricing
The pricing will depend on whether you require articles, infographics, or promotions.
You may spend as low as $10 for 100 words of written content (could be more expensive if it needs more research). In the case of an infographic, you might have to spend anywhere between a few hundred to a few thousand dollars.
CopyPress claims to charge around $2,000, which is in the ballpark of most agencies. This will obviously differ based on the type of infographic (source, size, complexity, etc.). Regarding promotion, they ask that you get in touch with them for an estimate because it may vary significantly.
Benefits
CopyPress writers only accept work they are interested in, so you'll get higher-quality content
Qualified CopyPress editors proofread every article, infographic, landing page, etc. before sending you the finished work
Drawbacks Of CopyPress
You are in charge of formatting and posting the content on your website
12. Zerys
Zerys not only provides quality content but also access to tools for content marketing. You'll be able to select the writers, set the spending limit, and accept and distribute the content.
You receive free tools for content strategy and planning your content. Also, Zerys' expert editors review the work of their writers.
That being said, some customers have complained about their experiences engaging with Zerys. This includes delays in delivering projects or sometimes not completing them. This is obviously not good. An agency that produces content must adhere to timelines.
On the other hand, this could just be an anomaly. The BBB has given them an A+ rating, meaning that there are customers that are satisfied with their work.
Zerys Pricing
With Zerys, you essentially have two options:
White Glove (full service) – $95/month
Content Success Platform (DIY) – From 1 to 50 cents per word
Benefits
Publishing schedule and reminders
Free tools for content planning and strategy
Drawbacks
Reports of delay or lack of completion of assignments
It may take some time to get the best writer
Zerys takes care of everything when you choose the White Glove service. They assist you in finding the best content writer, and they handle the planning, research, editing, title creation, publishing, and promotion. This plan costs $95 a month.
If you choose the Content Success Platform option, besides the writing, everything else will be your responsibility. You oversee, edit, and post the work. You can revise until you are completely satisfied with the finished product; this works out to be between 1 to 50 cents per word.
They list these two options right on the homepage. There is a button to create an account below each one of them.
You'll have to state whether you are a business or a marketing firm. Then provide them with a few basic details that most content agencies would require, such as name, phone number, email address, etc.
Selecting The Best Content Writing Service
You may actually boost your website's SEO if you collaborate with a reputable content writing agency.
The companies described in the list provide their writers with training on how to produce content that will do well online. These people are experts in their field.
Here are some ways that using websites for content writing can help you scale your business quickly.
Cost Effective
You only pay for the content work when you hire an agency – not on an hourly basis, but per article or based on word count.
Hence, you will be aware of the cost associated with each article, blog post, or email campaign. This means that you have control over the budget and can set your spending limits.
Increase Your Traffic
People may start coming to your site when it has well-written, captivating, and keyword-researched content.
Skilled writers will create content that ranks well on Google and other search engines because they know what search engines are looking for. Secondly, they are capable of drawing in visitors and keeping them there. If the content is good, it will be shared by readers generating enough backlinks.
Whether you generate revenue from affiliate marketing, ads, or some other sources, all of these increase visitors, which often results in better earnings.
Working With Experts
These agencies are experts in producing compelling content that can rank higher in search engines. They specialize in this activity by working with clients on a variety of projects.
The selected writer needs to be knowledgeable about the subject matter or adept at conducting online research.
This allows you to receive original content on a regular basis. There is little risk of burnout because they come with a large pool of writers on hand, including pros, students, and side hustlers.
Perhaps, you can consider creating original, quality content on your own. But the process takes time, which you may not necessarily have when you are running a business.
Instead, when you engage with a reputable content creation agency, the writers will put in the necessary time to research, plan, and write the content so that you don't have to.
They Are Not Your Direct Employees
The content writers are not employees of your company. They work under the agency and complete your project.
This implies that you don't need to be involved in the management and quality control process. They are not entitled to any benefits or additional payments from you. Also, you may easily switch to another content writing agency if you are not happy with the service.
Brings New Perspective
You can be so involved in your business that sometimes you need a fresh pair of eyes to look at things objectively.
So, when you work with external content writers, they can approach your project from an unbiased perspective. By outsourcing the content work, you get others to write about the topics related to your business from a different angle or perspective. In fact, you might even find out things about your business and tap into its unrealized potential.
There is definitely room for improvement, and you might unlock some great ideas when you work with a good content-writing service.
Best Content Mills For Writers Worth Mentioning
Some businesses listed in this article are noteworthy: TextBroker, iWriter, and Constant Content.
TextBroker is one of the best website content writing services that provide the highest quality at an affordable price.
You'd assume that since it's reasonably priced (affordable), it may be reflected in the output (bad quality). However, depending on the writer, you can get decent content for the money you spend.
iWriter also deserves special consideration. They are very quick in terms of delivery; however, the quality isn't the best.
But if you are working on a large project that requires the highest quality of work, iWriter may not be a great option. That being said, iWriter is a good choice if you're in a rush and need some articles right away. Perhaps, you can just review it to make sure the content is good before publishing it.
What are the best writing agencies available today?
When you are starting out, it's always a good idea to order a couple of articles to test the quality of your work.
You can then order more in bulk if you are satisfied with the process and the type of content you receive. But don't hesitate to get in touch with the company's support and inform them if quality gradually declines. And luckily, there are lots of other options available if issues continue to persist.
There are content optimization tools that are available if you are not purchasing content that has been optimized using software like MarketMuse or Surfer SEO. It might be a good idea to start using one right away if you aren't already doing it.
Conclusion – Best Content Writing Services
You may find that one of the following content services works out well for you if you own a niche-specific website, company, or side business:
Content Pit
Word Agents
Brand Builders
Niche Website Builders
SEO butler
Content Refined
They appear to be the most effective at providing content that is specific to a company, industry, or target audience.
The least expensive of these options is Content Pit, however, it is clear that they hire non-native English writers. They are a good choice, though, if you don't mind giving your articles a brief edit to make them sound more genuine.
A great reason to check out Word Agents is the 30% off discount on the first order of up to 10,000 words. You must complete the remaining steps when they deliver the content to you in a Google Doc.
If you want a comprehensive solution from keyword research to publishing, Brand Builders and Niche Website Builders are solid options. Everything depends on your needs, budget, and the amount of time you have to devote to your website.
And if you're ever wanted to check if a content service is simply providing AI-generated content, you can always use an AI detection tool like Originality.ai.