This guide will help you find the best point of sales software (POS) for your startup, whether you're looking to update your current POS system or purchase a brand new one.
Standard cash registers are outdated and a thing of the past. The current point of sales solutions are versatile and come with a plethora of useful features.
As a matter of fact, you need the transaction to service the customer while keeping it straightforward for your business.
The possibilities of today's point of sales systems seem to be endless. They can monitor everything from your top-selling items to your most efficient workers.
What Are Point Of Sale Systems?
Point of sales systems today do a lot more than just process payments. You can run your entire business with the help of these systems. You are able to:
Monitor and review key sales metrics
Keep track of inventory and staff
Use your mobile device to access information from anywhere
Connect your POS to customer loyalty services, accounting systems, email marketing software, payment processors, and eCommerce sites
A POS system also improves the entire customer experience by removing manual tasks, speeding up the in-store purchase process, and enhancing the quality of your reporting data.
10 Best Point Of Sales Software
Although there are numerous POS companies available, I recommend the following:
Shopify – Good POS system for eCommerce
Square – Point of sale for small business owners
PayCafe – Best for reporting and analytics
Helcim – All-in-one point of sale systems for small business
Quickbooks – Best point of sales system with accounting software
Lightspeed – Best POS retail software
TouchBistro – The best POS system for restaurants
Vend – Cloud based point of sale system for small business
ShopKeep – Mobile point of sale solutions
Revel – Hybird POS system
I'll go over these in detail, covering their pricing options, top features, and any possible downsides.
1. Shopify – Good POS System For eCommerce
Shopify is one of the most popular eCommerce platforms today.
If you already use Shopify for your online store, Shopify POS would be a natural choice. This will allow for smooth integration and the operation of your two systems as a single unit.
For Internet and in-person purchases, the inventory is managed and updated in real-time across various locations. Shopify also helps to forecast inventory and manage transfers among locations.
Shopify has tools to create customer loyalty programs.
You can also accept payments from any section of the store. That means there will be no long lines (or at least fewer of them).
Customers will be able to refund or swap an online order at a nearby retail location since the eCommerce and in-store solutions will be linked with the POS system.
The monthly fee of your plan includes Shopify POS for free. The transaction fees are the only additional costs.
Shopify Basic — $29/month
2 accounts for employees
2.7% for in-store purchases
Shopify – $79/month.
5 accounts for employees
2.5% for in-store purchases
1–5 retail locations
Unlimited POS PINs for employees
Shopify Advanced – $299/ month
15 accounts for employees
2.4% for in-store purchases
Maximum of 8 retail locations
Unlimited POS PINs for employees
You'll need something a little more sophisticated than Shopify to sell online when you have several retail store locations. Shopify, on the other hand, is ideal for quick setups and immediate sales, both online and in-store from a small number of physical locations.
If you currently use Shopify for selling online, it's a no-brainer to use their point of sale system for in-person purchases. Shopify is also ideal for those who looking for a new point of sale system and want to start an eCommerce store.
2. Square — Point Of Sale For Small Business Owners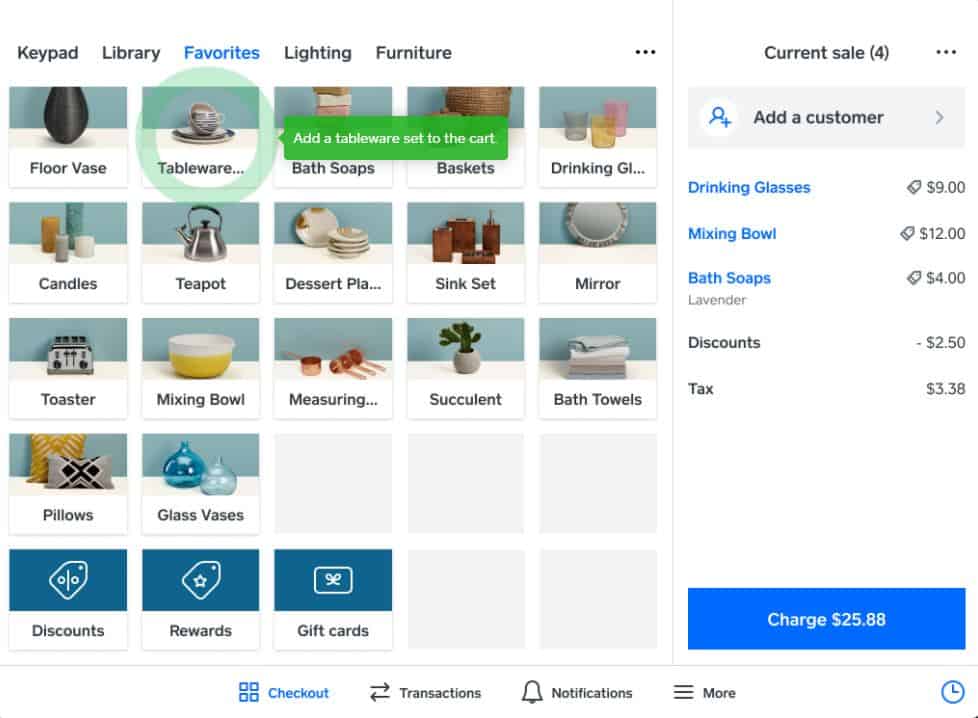 The Square POS system is used all over the country.
This is one of the most well-known POS systems available today. In fact, it is seen in most of the stores where I go to do my shopping.
The primary reason for this is flexibility. You are able to turn any device, such as a smartphone or tablet, into a point of sale system without purchasing any additional hardware.
If you looking to purchase hardware from Square, there are a variety of options to select from:
Square register
Square Reader or Square standup for chip and contactless payments
Magstripe Square Reader
Square terminal
It will all depend on the nature of your business. The standup terminal and register will be the perfect choices for coffee shops or specialty clothing stores. With the Square Reader for magstripe, your phone can be turned into a point of sale system for accepting payments on the go.
Square is a common option among small businesses because of its versatility. You won't need to incorporate a third-party provider to collect payments because Square acts as a credit card processor.
Square POS also stands out for its transparent and straightforward pricing. Downloading and using the app is completely free. There will be no hidden expenses or monthly payments. The transaction rate is your only expense, regardless of the number of sales.
Square charges 2.6 % + $0.10/transaction.
Square does deliver bulk discounts for large companies, so keep that in mind. You can contact their sales team for a custom solution if you transact over $250k a year having an average order of more than $15.
Square offers reporting and real-time analytics. This POS solution also makes it simple to view, edit, update, manage, and monitor your inventory. Square helps you serve your customers better by creating customer profiles.
The Square system has security measures in place to prevent fraudulent charges. Therefore, it can be difficult to scale very quickly. Some users have reported that their user accounts were put on hold due to high transaction volumes.
Overall, Square is a leading point of sale solution available today. Small businesses, entrepreneurs, and even mid-size to large businesses should consider using this service.
3. PayCafe – Best For Reporting And Analytics
PayCafe is a seamless payment processing service.
They offer solutions for handling and processing credit card transactions in person, as well as a fantastic online payment gateway. If you want to create an eCommerce store in addition to your retail location, it's a solid service.
With only a few clicks, their credit card processing solutions support one-time, invoice, or subscription payments. They also allow you to accept 135+ different currencies and support all major credit and debit cards.
PayCafe's reporting is also exceptional. They show you how your company performs over time by providing you with real-time data and metrics.
You can fully configure your reporting dashboard so that you get the metrics needed to boost your sales.
The pricing is not easy to find on their website. It does, however, start at 2.49% a transaction.
4. Helcim – All-In-One Point Of Sale Systems For Small Business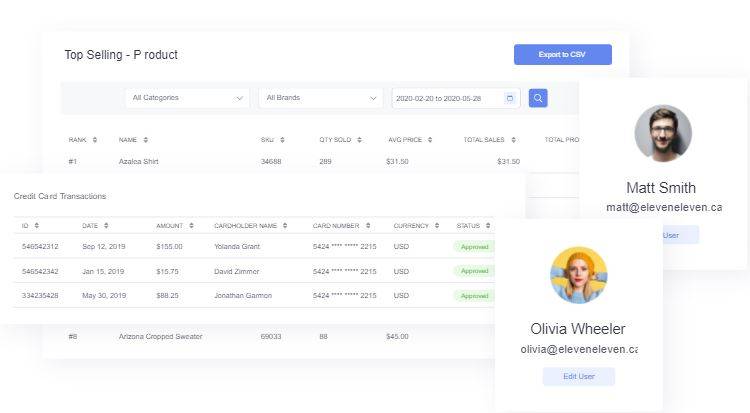 Helcim is yet another all-in-one POS system with a comprehensive range of eCommerce capabilities.
The Helcim Reader is a wireless card reader. It enables you to accept credit and debit cards from all major financial institutions. It also syncs with the laptop, tablet, and mobile devices, allowing you to accept payments in a variety of ways.
But it's their eCommerce capabilities that really set them apart. As a matter of fact, their website serves as a medium for you to build an online store.
It's quite simple to use. You don't have to be a web developer or even know how to code in order to use this service. You can also import your entire product catalog into the store in a matter of minutes.
The site, of course, includes the Helcim payment processor for a smooth experience.
There are several attractive themes available for your online store. So, picking one that suits your brand should be straightforward.
Monthly subscriptions start at $20. However, the first three months are free. The average transaction rate varies based on the volume of business every month.
5. QuickBooks – Best Point Of Sales System With Accounting Software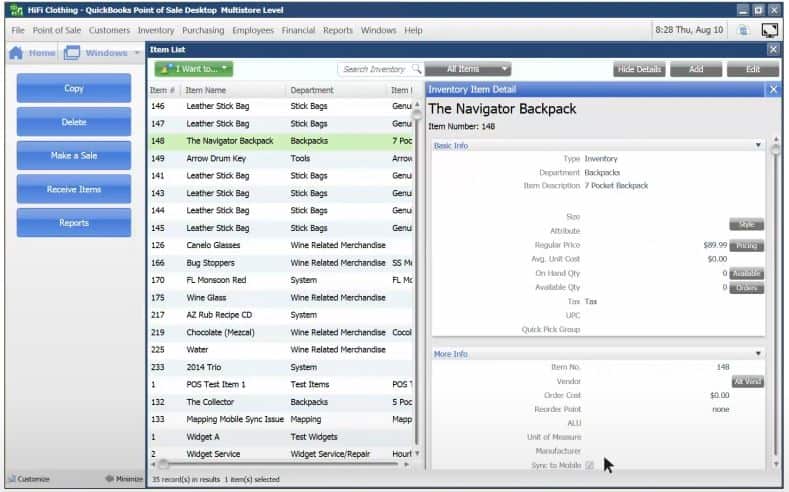 QuickBooks is a market leader in accounting software for small businesses. Their impressive point of sale system is much less known.
For connecting accounting software, some point of sale software supports third-party integrations. However, as you might imagine, using the POS system and the accounting software from QuickBooks would be more compatible.
If you already use Quickbooks for your accounting, you should think about using it for your point of sale system as well.
The advantage of working with the same provider for your point of sale and accounting services is that the analytics and reporting would be spot-on. QuickBooks POS will help you improve the bookkeeping and accounting process in the long run.
In comparison to various options on the list, QuickBooks POS has a slightly different pricing structure. It's a one-time purchase instead of a monthly recurring or annual fee.
Basic: $1,200
Pro: $1,700
Multi-store: $1900
Keep in mind that all point of sale hardware is separately sold.
This pricing system has both benefits and drawbacks. It has a high initial cost, but if you intend to work with it for some time, it will save you money in the long run. The drawback is that it isn't easy to upgrade. You'd have to purchase the new plan separately if you began with the Basic package and decided to upgrade to Multi-Store a year later.
In general, the QuickBooks point of sale software is a good stand-alone system. It includes all the essentials for processing transactions in physical locations. However, it is mainly recommended for those who want accounting integration with QuickBooks. The POS software alone has its set of limitations.
6. Lightspeed – Best POS Retail Software
In comparison to the other POS systems on our list, Lightspeed is not quite mainstream. However, it is one of the top inventory management systems available.
Restaurants and retailers can use Lightspeed's POS systems. However, for the purposes of this guide, I'll focus on the point of sale system for retail. TouchBistro has top POS systems for restaurants.
With purchasing catalogs that are built into the POS system, the inventory system helps you save time. You can also handle different product variants and bundle the items.
The system lets you monitor unit costs, receive low-stock warnings, and even manage out-of-stock goods.
Lightspeed POS system is a great choice if your retail store needs special requests such as custom products, layaways, purchase orders, and work orders. All these requests can be met directly using your POS.
As a result, it's a common option among small businesses in various sectors:
Jewellery shops
Bike stores
Pet products
Golfing gear
Clothing and apparel
Sports equipment
Home decor
Lightspeed works with your own hardware on any device, regardless of the operating system. Customer profiles can be set up for lifetime value and purchase history. You may also categorize the customers into various segments.
Based on the scale of your service, you can choose from five different pricing plans:
Basic: $79/month ($69/month on an annual contract)
Starter: $119/month ($99/month on an annual contract)
Standard: $139/month ($119/month on an annual contract)
Advanced: $189/month ($169/month on an annual contract)
Pro: $259/month ($119/month on an annual contract)
The support for eCommerce begins with the Starter plan. The feature to integrate your accounting software starts on the Standard plan.
You'll need to purchase the Advanced plan if you want to run customer loyalty services. Lightspeed Pro is the recommended plan to get analytics.
For $29/month, additional registers can be added. Lightspeed can also be used for processing payments. They charge a fee of 2.6% + $0.10 for each transaction.
Lightspeed's drawback is that it lacks the number of integrations for processing payments like the other POS systems on this list. This may be intentional to make you work with their processing system.
7. TouchBistro – The Best POS System For Restaurants
As the name suggests, TouchBistro is a POS solution catered to a specific industry. They have the best POS system for restaurants, clubs, bars, breweries, food trucks, and quick-serve food and beverage businesses.
The following are some of TouchBistro's top features:
Analytics and reporting
Ordering at the table
Table management
Employee management
Processing of payments
Inventory control
Controlling the menu
Customer Relationship Management
TouchBistro is a one-stop-shop for setting up self-service kiosks, customer-facing takeout displays, and a kitchen display system. If you work in the foodservice business, it's basically everything you'd want in a point of sale system.
You are also able to connect your POS to your online ordering system. TouchBistro will let you take reservations and initiate a customer retention program.
You can bring your own hardware and just pay for the software. You can also bundle your hardware and software with the plan. Let's go over each plan:
Solo: 1 License
Software only: $69/month
Hardware and software bundle: $105/month
Dual: 2 Licenses
Software only: $129/month.
Hardware and software bundle: $209/month
Team: 5 Licenses
Software only: $249/month
Hardware and software bundle: $359/month
Unlimited: Over 5 licenses
Software only: $399/month
Hardware and software bundle: $539/month
All options are on an annual contract.
TouchBistro provides 24/7 customer service through email and phone. They also have training packages for large businesses. Their team includes owners, servers, and managers who have worked in the foodservice industry. As a result, they are well-versed in dealing with your requirements and challenges.
Although TouchBistro is without a doubt the best POS system for restaurants, there are some things to note before you sign up.
Since the system isn't completely based on the cloud, you'll need to also run it on your local network. As a result, it's not the best option for those who have an unreliable or unstable Internet connection. TouchBistro's infrastructure is Apple-based. This is not ideal if you are looking for a Windows or an Android POS system.
8. Vend – Cloud Based Point Of Sale System For Small Business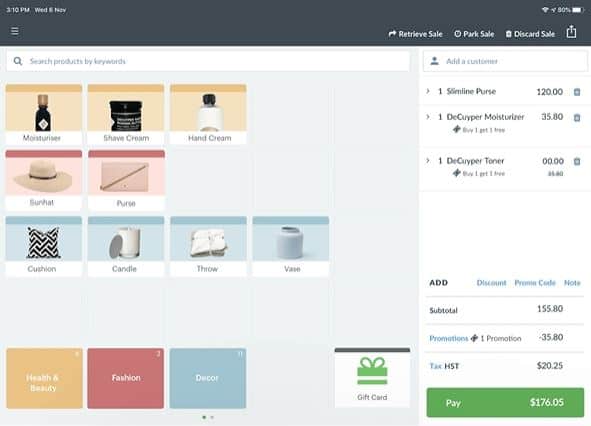 Unlike most POS software available today, Vend is a cloud-based point of sale system. They don't do any server deployments on site. This is fine for small businesses, but a little restrictive for larger companies.
The benefit in this case is the consistency across platforms. Regardless of the hardware you're using, the system looks similar on the front end.
As compared to the other point of sale systems on the list, Vend is a little different. They don't process payments or sell any hardware.
You'll have to rely on third-party integrations for processing payments and other requirements. However, the software's simplicity is a plus.
Vend is a platform for small retail businesses. It isn't intended for use in pubs, food trucks, or restaurants.
Here's a quick rundown of Vend's plans:
Lite: $119/month ($99/month on an annual contract)
Pro: $159/ month ($129/month on an annual contract)
The Lite package has a turnover limit of $20,000 per month. You'll be upgraded to the Pro plan if you go over this limit 3 times within a 1-year time span.
There is only one register in both the plans. Additional registers are $59/month (or $49/month on an annual contract).
Advanced reporting and analytics, gift cards, discounts, eCommerce channels, API access, and multi-outlet store management are all available with Vend Pro.
There is Vend Enterprise for larger organizations that need a custom solution. This package includes a dedicated account rep and personalized onboarding. However, if you grow beyond the features available with the Pro plan, look for a POS system elsewhere.
Vend is ideal for small retail stores that can work with a single register. You are not obligated to purchase any expensive hardware. The system is straightforward, and you can use it on a 14-day free trial to see if it is a good fit.
9. ShopKeep (Now ShopKeep by Lightspeed) – Mobile Point Of Sale Solutions
ShopKeep is a POS system that is ideal for small businesses. It's ideal for those in the quick-service or retail industries, but they also have options for restaurants.
ShopKeep is easy to use. You won't have any issues training new recruits to use this system if you employ part-time workers or have a high staff turnover rate.
The system provides a personalized onboarding experience, including custom POS setups.
ShopKeep is intended to speed up your checkout procedure, automate repetitive business activities, and set your business up for long-term growth.
You'll also be able to use their mobile app, which lets you access real-time inventory, sales data, and information from anywhere. This allows you to monitor your business even if you aren't physically at the location.
ShopKeep, like Square, also includes a payment processing system. But, like the point of sale plans, the pricing isn't really clear. The rates are determined by the volume of sales.
One distinguishing aspect of ShopKeep is that it offers capital to companies in need of funding. Businesses may get a loan in return for a percentage of the credit card revenues through their merchant cash advance scheme.
10. Revel – Hybrid POS System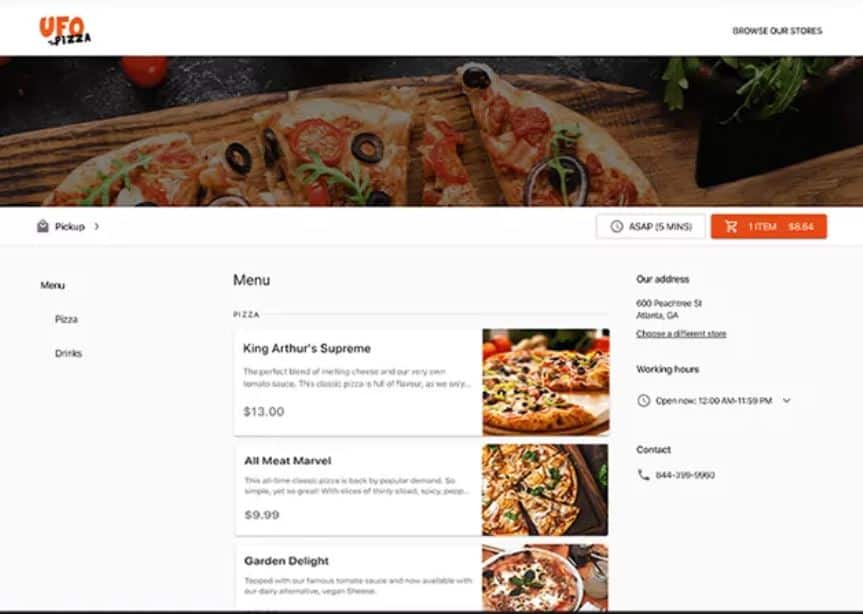 Retail, bars, restaurants, and quick-service businesses will all benefit from Revel's POS systems. Revel is a hybrid point of sales system that stores data using a mix of your local network and the cloud. Therefore, you don't have to be concerned if your connection goes down. Transactions can still be completed.
The management system is centralized if you're a small business having multiple locations.
Depending on the kind of business and in-store layout, Revel has a variety of hardware options:
Kiosks for self-service
iPads
iPad stands
Printers
Barcode readers
Networking
Cash register and till
Payment terminals
Although the other point of sales systems supports working with your own devices, Revel recommends that you purchase hardware from them to ensure that everything runs smoothly. As a result, this would be an additional expense.
The Revel point of sales software is affordable, starting at $99/month for each terminal. In comparison to the others on the list, it's a little expensive, especially for small businesses. The cost of setup and onboarding begins at $649. To get a quote for the processing fee, contact their sales team.
The POS system contracts are on an annual basis, with a minimum three-year commitment. As a result, you won't be able to cancel or change within a short period.
Their price is justified if you intend to use the CRM features. They provide tools for gathering customer data, segmenting customers, handling appointments, marketing campaigns, and more.
In addition, their system offers a great customer loyalty experience.
Revel provides enterprise-level POS systems for small businesses if you have the budget for the monthly payments, hardware costs, and installation fees. However, the cost can be prohibitive considering a three-year contract.
How To Choose The Best Point Of Sales System
What is the best point of sale system?
When you're weighing your options, there are a few things to keep in mind. Here is the approach I took while creating this guide. I'll go over each feature and explain why it's important.
Setup And Usability
The best point of sales systems are easy to set up. Some do not even necessitate the purchasing of any hardware. It's as easy as downloading and installing software to your device.
Other solutions need you to buy hardware from them directly. These configurations are usually more difficult, but manageable.
Once your point of sales system is operational, it's crucial that your employees find it simple to use. If you work in the retail or restaurant business, you probably have a lot of part-time employees and a high turnover. As a result, POS system training and everyday usage must be as easy as possible.
Processing Payments
Your point of sales system must first and foremost process payments. Most solutions have payment processors built-in, while others depend on third-party integration.
If you already using one and do not want to switch payment processors, pick a POS solution that can work with your existing software.
Hardware
When purchasing POS software, do you plan to work with your own hardware or get new equipment?
This decision is influenced by a number of factors. Cost is a consideration, but this isn't always a concern. Hardware has an effect on usability, as we've discussed earlier.
The hardware type you need will also be determined by the nature of your business. If you own a coffee shop, for example, you'll most likely be dealing with a customer-facing point of sales terminal at the counter. Other retail stores, on the other hand, might prefer a mobile point of sales system for employees to use for their departments.
Industry And Business Type
Some point-of-sale systems are specific to certain industries. For someone in the foodservice business, TouchBistro is the best choice. To facilitate custom orders, Lightspeed is the recommended option.
When it comes to selecting a point of sales system, the size of the company matters. Vend is a good option to consider if you only have a single retail store using one register. However, you'd be better off using a solution like Square if you have a larger operation with multiple locations and a number of registers.
Management Of Inventory
The majority of point of sale systems provide inventory control. Certain plans are better compared to the others. To get the most out of inventory monitoring, you might need to upgrade your plan.
This feature may not be essential if you only have a single location and don't sell online. Proper inventory control, on the other hand, is a must-have for those having a larger operation.
Capabilities For Ecommerce
If you sell online or intend to sell online, you should go for a point of sales system that can integrate with your online store. Otherwise, aspects such as inventory management can become an issue.
I'd suggest an all-in-one solution like Shopify to those who already have a physical store but want to expand into the eCommerce industry. With any Shopify eCommerce package, you get Shopify POS for free.
Final Thoughts
Selecting the right point of sale software is critical to your company's success. These solutions are capable of doing so much more than just payment processing.
What is the best point of sales system? It all depends on the features you are interested in.
Here are the top 10 POS systems:
Shopify – Good POS system for eCommerce
Square – Point of sale for small business owners
PayCafe – Best for reporting and analytics
Helcim – All-in-one point of sale systems for small business
Quickbooks – Best point of sales system with accounting software
Lightspeed – Best POS retail software
TouchBistro – The best POS system for restaurants
Vend – Cloud based point of sale system for small business
ShopKeep – Mobile point of sale solutions
Revel – Hybird POS system