Are you tired of scouring StubHub for tickets only to come up empty-handed? Or perhaps you're a seller frustrated by the slow response on StubHub? Well, fret not! This article has got you covered with a roundup of the best StubHub alternatives.
Whether you're a buyer or a seller, we'll help you find the perfect platform for your ticket needs. So, let's get started on this exciting journey together!
What Is StubHub?
StubHub is a well-known hub for buyers and sellers seeking to connect over unwanted tickets. It's a marketplace where sellers can offload their extra tickets, and buyers can score great deals.
Many people use StubHub as a side gig, while others rely on it to snag tickets to highly sought-after events or for last-minute sales. From theater and arts to concerts and sporting events like the NFL Super Bowl, NHL, and NBA, StubHub covers a wide range of ticket categories.
One of the reasons StubHub remains a crowd favorite is its FanProtect guarantee. This assurance means you can buy and sell tickets with peace of mind, knowing that your order will arrive in time for the event and grant you entry. Should the unfortunate happen and the event gets canceled without a reschedule, you'll receive a refund or credit.
However, it's important to note that StubHub charges fees for its services. The exact fee varies based on factors such as ticket price, proximity to the event date, and demand. Typically, buyers face a 10 percent fee, while sellers face a 15 percent fee. Now that you're acquainted with StubHub, let's explore some top alternatives!
StubHub Alternatives: Verified Ticket Resellers
When it comes to a wide range of tickets for various events, Ticketmaster has established itself as a go-to platform. Whether you're after tickets for Broadway shows or the latest NFL game, Ticketmaster has got you covered.
Straight From The Source
One significant advantage of Ticketmaster over other ticket resale sites is that they sell tickets directly from the venues themselves. This means you can have more confidence in the authenticity and availability of the tickets you purchase.
A Powerhouse In Live Entertainment
Ticketmaster merged with Live Nation in 2010, giving birth to a revamped and improved platform. This collaboration made Live Nation Entertainment the leading live entertainment company, with several prominent brands under its umbrella.
Variable Fees Based On Events And Agreements
Ticketmaster's fees are not fixed but rather vary depending on the specific event and the agreement they have with the venue. This dynamic pricing structure ensures that fees align with the market value of the tickets you're purchasing.
No Room For Ticket Reselling
While reselling concert tickets can be a profitable endeavor, Ticketmaster does not provide a platform for users to resell tickets they no longer want. Their focus is on providing buyers with direct access to tickets from official sources.
Are you tired of holding on to tickets you no longer want? Or maybe you're looking for a reliable platform to buy tickets for your favorite events.
Look no further than Vivid Seats! It's one of the top competitors to StubHub and offers a fantastic experience for both buyers and sellers (check out this article to find out if Vivid Seats is legit).
Timely Ticket Delivery
There's nothing worse than waiting anxiously for your event, only to find out your tickets haven't arrived. With Vivid Seats, that won't be a problem. They guarantee that your tickets will be delivered to you before the event, so you can relax and focus on enjoying the experience.
Safe, Secure, And Reliable
When it comes to buying tickets, security is a top concern. Vivid Seats provide a safe and secure transaction process, ensuring your personal information and payment details are protected.
A Trusted Reputation
Vivid Seats has been accredited by the BBB since 2003. While they have an A rating, it's essential to consider the overall experience reported by the different buyers and sellers.
Accurate Orders And Compensation For Canceled Events
Order accuracy is crucial when it comes to ticket purchases. Vivid Seats takes pride in making sure your orders are accurate, so you won't have any surprises when you arrive at the venue.
In the unfortunate event of a cancellation with no rescheduling, Vivid Seats will compensate buyers for any canceled events, ensuring you don't lose out on your hard-earned money.
Authentic Tickets Guaranteed
We all want to avoid fake or invalid tickets. Vivid Seats shares that concern and promises that all tickets sold on their platform are valid and authentic.
High Fees, But Worth It
It's important to note that Vivid Seats charges high fees, ranging from 20% to 40% of the ticket price, plus shipping. While this might seem steep, many users find the platform's benefits and guarantees outweigh the cost.
If you're looking for a ticket marketplace with a twist, SeatGeek might be just the ticket (pun intended!).
While StubHub focuses on individual ticket resale, SeatGeek takes a different approach. It acts as a search engine, allowing users to browse various online ticket vendors to find the best deals and seats (see the detailed guide: Is SeatGeek legit?).
You can catch everything from concerts and NFL games, including the Super Bowl, NBA games, MLB games, comedy gigs, and even Broadway shows.
Before diving into the SeatGeek experience, it's worth mentioning that the site has received some negative reviews online. In fact, they currently hold a 1.06-star rating with the Better Business Bureau. To ensure a smooth ticket-buying process, it's advisable to do your homework and research thoroughly before making a purchase.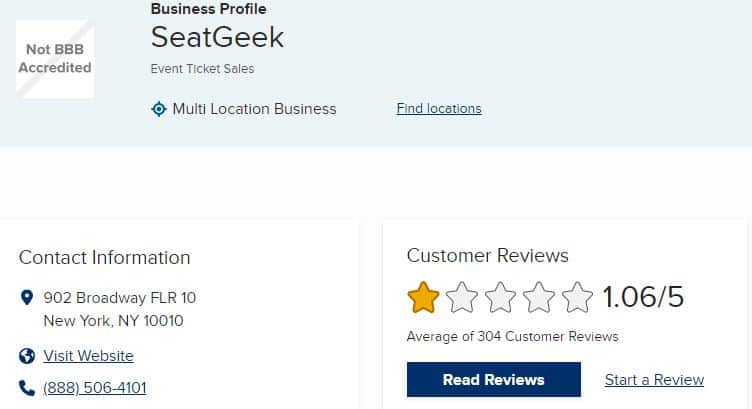 Keep in mind that some negative reviews pertain to difficulties in obtaining refunds for canceled events. So, if an event gets called off and there's no rescheduling, reaching customer service might be a bit of a challenge.
As for fees, SeatGeek imposes them on tickets bought and sold through its platform. The exact fee structure varies depending on the event and the type of ticket you're purchasing. It's always a good idea to double-check the fees before committing to a purchase.
Ticket Liquidator offers a unique approach by directly connecting buyers with numerous resale sites, providing access to a wide range of tickets at competitive prices. While their hands-off approach sets them apart, Ticket Liquidator still stands as one of the top alternatives to StubHub.
Money-Back Guarantee For Buyers
Ticket Liquidator takes buyer protection seriously. They offer a 100% money-back guarantee if your tickets fail to arrive on time or grant you entry into the event. This assurance should give you peace of mind when making your ticket purchases.
Validate Your Tickets
If you're looking to sell your tickets on Ticket Liquidator, they require you to validate them. This process involves creating a free account, searching for the event you have tickets for, and entering the ticket information to prove their legitimacy.
Variable Fees Depending On The Selling Website
Ticket Liquidator's fees vary depending on the specific ticketing website that sells your ticket. This means you may encounter different fee structures based on where your ticket is listed.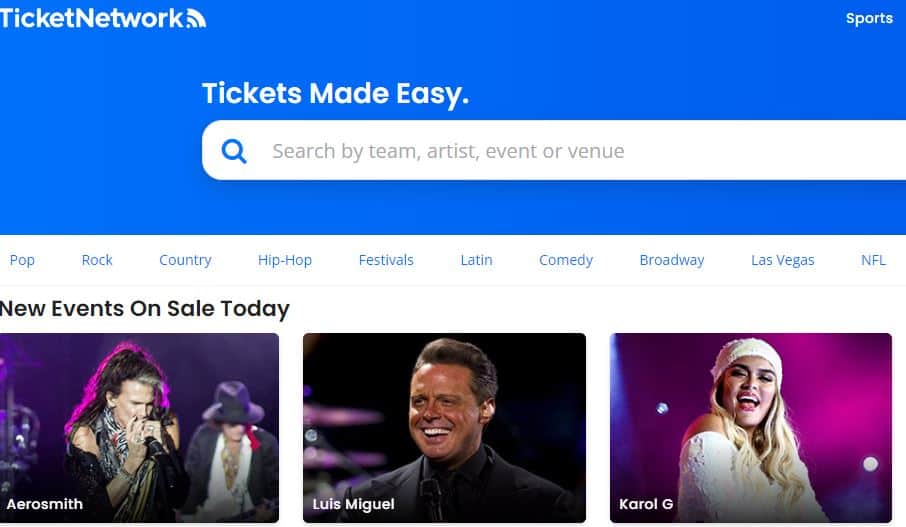 Ticket Network, which owns Ticket Liquidator, offers a similar level of service and stands as another strong alternative to StubHub. They boast an impressive lineup of tickets, including Broadway shows, concerts, and various sporting events.
Sellers Set The Prices
Ticket Network compares itself to Amazon in terms of its business model. Instead of facilitating ticket sales directly, they allow sellers to list their tickets at prices they believe are fair. This approach provides a wide range of options for buyers.
A Variety Of Sporting Events
Ticket Network covers a broad range of sporting events, representing major leagues such as the NFL, NHL, NBA, MLS, and MLB. No matter which sports you're passionate about, Ticket Network has you covered.
Variable Fees
Ticket Network follows a variable fee structure, which means fees can differ depending on the specific transaction. It's essential to consider the fees associated with each purchase to make an informed decision.
Ticket Guarantee And Customer Support
While Ticket Network doesn't physically possess the tickets, they have a guarantee in place to protect buyers. Just like StubHub's FanProtect, Ticket Network ensures you receive your tickets on time and gain entrance to the event you paid to attend. If any issues arise, their customer service team is ready to assist you.
When it comes to StubHub alternatives, TickPick stands out as one of the closest contenders. Like StubHub, TickPick allows you to sell unwanted tickets for scheduled events, ensuring they're still valid.
However, what sets TickPick apart is its commitment to protecting customers from fraudulent ticket purchases. They provide a guarantee that your tickets will arrive on time and grant you access to the event. This peace of mind is made possible through their Razorgator Guarantee, which safeguards consumers.
Having been around since 2011, TickPick has a solid track record of helping users find the best prices. In fact, they proudly claim that their customers typically save 10 to 15 percent compared to competitors. That's some serious savings!
As for fees, TickPick charges sellers a 10 percent commission on the total sales price. So, if you're on the lookout for a trustworthy StubHub alternative with a focus on customer protection and competitive pricing, TickPick is well worth considering.
FAQs – Sites Like StubHub
1. Is Ticketmaster or StubHub cheaper?
The ticket prices on Ticketmaster and StubHub can vary depending on the event and seller. It's recommended to compare prices on both platforms to find the best deal.
2. Who is better off by sites such as StubHub?
Sites like StubHub benefit both buyers and sellers. Buyers gain access to a wide range of event tickets, and sellers have a platform to sell their tickets to a broader audience.
3. Can you transfer tickets on StubHub?
Yes, StubHub allows ticket transfers in most cases. You can usually transfer your tickets to another person through the StubHub website or mobile app. However, specific transfer policies may vary for certain events or venues.
4. Is StubHub reliable?
Yes, StubHub is generally considered to be a reliable platform for buying and selling event tickets. They have a FanProtect Guarantee in place, which ensures that buyers are protected in case of any issues with their tickets, such as invalid or fake tickets. For more information, check out the article: Is StubHub Legit?
5. Which is better, StubHub or SeatGeek?
The choice between StubHub and SeatGeek depends on individual preferences. Both platforms offer similar services, but SeatGeek is known for its interactive seat maps and transparent pricing. It's recommended to compare prices and user reviews to determine which platform suits your needs better.
Conclusion: Best StubHub Alternatives
If you're a fan of StubHub but can't find the tickets you're looking for, don't worry! There are several reliable alternatives that can help you connect with sellers or buy directly from official sources. These ticket sites offer competitive services and guarantee a smooth and secure ticket-buying experience.
So, whether you're in search of sold-out concert tickets or want to attend a thrilling sports event, consider exploring these StubHub alternatives. They might just lead you in the right direction and help you secure those coveted tickets!