If you've ever been on the hunt for concert tickets, you know how frustrating and nerve-wracking it can be. The struggle to secure tickets through Ticketmaster or the fear of getting scammed by scalpers can quickly turn your excitement into a nightmare. That's where Vivid Seats comes into play. You might have heard of this ticket resale site, but might be having this question: Is Vivid Seats legit?
Well, the short answer is yes. However, as with any platform, it might not be the perfect fit for everyone. So, let's dive into the details and explore what Vivid Seats has to offer.
What Is Vivid Seats?
Vivid Seats is an online marketplace that serves as a hub for buying and selling tickets to live events. Founded in 2001 and based in the vibrant city of Chicago, this ticket resale site has been connecting fans with their favorite shows and concerts for over two decades.
What sets Vivid Seats apart from the competition is its commitment to user satisfaction. They boast a user-friendly website and offer a 100% Buyer Guarantee, ensuring the protection of your ticket purchase. No more worrying about getting scammed or receiving counterfeit tickets. Vivid Seats has got you covered.
And if you're constantly on the move, Vivid Seats provides a mobile app that allows you to conveniently buy and sell tickets on the go. So whether you're craving front-row seats to that highly anticipated concert or desperately seeking a last-minute ticket to catch the game of the year, Vivid Seats might just be the platform to make your dreams come true.
How Does Vivid Seats Work?
One of the biggest advantages of using Vivid Seats is the opportunity to snag tickets to sold-out events. Thanks to the vibrant secondary market, where tickets are constantly being bought and sold, you have a good chance of finding those coveted tickets you thought were out of reach.
However, there's a catch you should be aware of. Ticket prices on Vivid Seats can sometimes exceed the face value. This is because sellers have the freedom to set their own prices. So, while you might find those elusive tickets, be prepared to potentially pay a bit more for them.
But let's shift gears for a moment. Have you ever found yourself stuck with tickets to an event you couldn't attend? We've all been there, and it's undoubtedly a frustrating situation. Not only do you lose out on the event, but you've also wasted your hard-earned money.
Luckily, Vivid Seats offers a solution. If your plans change and you can no longer make it to an event, you can resell your tickets on their platform. It's a fantastic way to recoup your costs and, if you're lucky, even make a profit. Check out the article on reselling concert tickets to learn more about this strategy.
Vivid Seats: A Seamless Buying Experience
Vivid Seats isn't just for sellers. It's also a dream come true for buyers who are looking for a convenient and reliable way to purchase tickets. The process is incredibly simple – just search for the event you want to attend and browse through the available tickets. With Vivid Seats, securing your spot at that much-anticipated concert or sports game is just a few clicks away.
As an added bonus, Vivid Seats offers a fantastic loyalty scheme known as the Vivid Seats Rewards program. By participating in this program, buyers can earn points that can be redeemed for discounts on future ticket purchases. It's an excellent way to save some money while enjoying the events you love.
Vivid Seats Review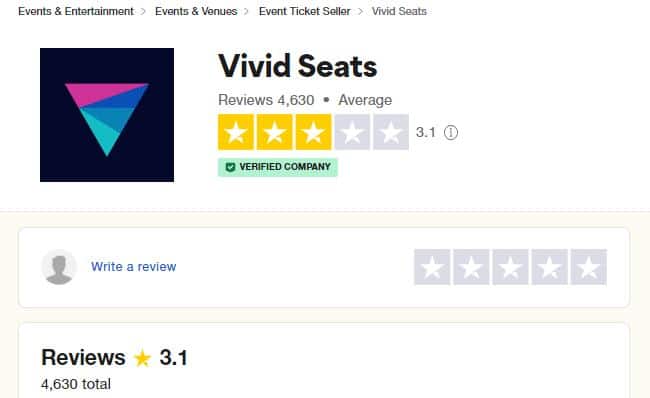 Among ticket reseller businesses on Trustpilot, Vivid Seats has an average consumer rating of 3.1. While this may seem mediocre at first, it's important to note that opinions about Vivid Seats tend to be polarized – customers either love it or hate it, with little middle ground.
One of the common complaints from buyers revolves around ticket prices on Vivid Seats. Many individuals claim to have paid well above the face value of the tickets. However, it's crucial to remember that Vivid Seats doesn't control these prices. Sellers are the ones responsible for setting them. Therefore, if you're considering purchasing tickets through the platform, it's essential to carefully review the price before making a decision.
Vivid Seats Reviews Complaints
Several buyers have expressed concerns about tickets not arriving on time and problems with customer service. Unfortunately, Vivid Seats doesn't respond to Trustpilot reviews, making it difficult to gauge how effectively they address these issues. The lack of response to customer feedback raises questions about the company's commitment to resolving problems promptly and satisfactorily.
Vivid Seats claims to offer a Buyer Guarantee, but some consumers have reported instances of counterfeit tickets or receiving e-tickets when physical tickets were required. The number of customers who have encountered these issues is concerning, and their reviews suggest that the customer service provided to address these problems is subpar.
Furthermore, the non-delivery of tickets is a recurring theme among the reviews. Numerous individuals have stated that they never received their tickets despite having already paid for them. It's evident that Vivid Seats is failing to live up to its Buyer Guarantee, leaving ticket buyers in a frustrating predicament. If you're contemplating using Vivid Seats, it's crucial to be aware of the risks involved. You could potentially end up with fake tickets or no tickets at all. Even if you do manage to reach out to customer service, the resolution you seek may not be forthcoming.
Vivid Seats Safety – Is Vivid Seats Legitimate?
Now, let's get back to the burning question: Is Vivid Seats safe? The answer is yes. Vivid Seats is a reputable and trustworthy company that provides a valuable service to passionate event-goers. With their extensive selection of tickets and commitment to buyer protection, you can feel confident when using their platform.
That being said, it's essential to consider a few risks before diving headfirst into the world of ticket resale.
Sell Your Tickets Hassle-Free with Vivid Seats
If you are in a situation where you cannot attend an exciting event despite having purchased the tickets, Vivid Seats has got your back. This user-friendly platform allows you to sell your tickets to other fans who can enjoy the event while you recoup your cash.
Selling your tickets on Vivid Seats is a breeze. You can effortlessly list your tickets on their website, and the best part is, you get to set your own price. You don't have to deal with scalpers, as Vivid Seats provides a safe and secure platform for all transactions. You'll receive a fair price for your tickets while ensuring they go to someone who will appreciate the event just as much as you would have.
Next time you find yourself with tickets to an event you can't attend, don't despair. Simply hop onto Vivid Seats and turn those unused tickets into cash. It's a win-win situation, as you'll not only make some money back but also make another fan's day by giving them the chance to experience the event they've been longing for.
Setting the Price: Your Call, with Guidance from Vivid Seats
On Vivid Seats, the power to set the ticket price lies in your hands as the seller. However, if you're unsure about the ideal price, Vivid Seats offers a helpful recommended price for each event ticket. This suggestion takes into account the face value of the ticket and the current market value, ensuring you have some guidance when deciding how much to sell your tickets for.
Does Vivid Seats Charge Fees?
Now, let's talk about the cost of selling on Vivid Seats. The platform follows industry standards, charging sellers a 10% commission on each transaction. So, if you sell tickets for $100, you'll receive $90 in your pocket. It's as straightforward as that!
Vivid Seats Alternatives
While Vivid Seats may be a popular option, it's always good to explore alternatives. In this article, we'll take a closer look at two alternatives worth considering: SeatGeek and StubHub. These ticket marketplaces offer a range of events and provide buyers and sellers with a platform to connect.
A solid alternative to Vivid Seats is StubHub, which is a legit ticket marketplace. It offers unique features that make it worth considering.
StubHub prides itself on providing tickets from reliable sources. With their FanProtect guarantee, you can rest assured that the tickets you purchase are legitimate.
They offer a community forum feature where you can interact with other StubHub users, ask questions, and gain insights from their experiences. It's like having a supportive ticket-loving community at your fingertips!
Here are some other Stubhub alternatives.
When it comes to ticket marketplaces, SeatGeek stands out as a legit alternative to Vivid Seats. Just like its competitor, SeatGeek connects buyers and sellers, giving you access to a wide array of events, from thrilling concerts to sports games.
SeatGeek not only allows you to purchase tickets but also provides a platform for selling them. So, if you find yourself with extra tickets or plans change, you can easily sell them on SeatGeek.
Every ticket you purchase on SeatGeek is backed by their Buyer Guarantee, offering you peace of mind. This guarantee ensures that your tickets are protected, so you can feel confident in your purchase.
FAQs
1. Can Vivid Seats be trusted?
Vivid Seats has established a level of trust among customers over the years. While there may be mixed reviews, many people have had positive experiences with the platform. It is recommended to research and consider individual experiences and reviews before making a purchasing decision.
2. Does Vivid Seats guarantee authenticity?
Yes, Vivid Seats offers a guarantee of ticket authenticity. They have measures in place to protect buyers from fraudulent tickets. In case of any issues, they provide comparable or better replacement tickets or a refund.
3. Vivid Seats vs Ticketmaster – Are Vivid Seats and Ticketmaster the same?
No, Vivid Seats and Ticketmaster are not the same. They are separate ticket marketplaces. Vivid Seats is a ticket reseller platform where individuals can buy and sell tickets, while Ticketmaster is a primary ticket seller for various events.
Vivid Seats charges service fees for their ticket transactions. These fees, along with any additional costs like shipping or delivery fees, are typically disclosed during the checkout process. It is advisable to review the final cost breakdown before completing a purchase.
5. Is Vivid Seats a reseller?
Yes, Vivid Seats operates as a ticket reseller platform. They provide a marketplace for individuals to buy and sell tickets for various events. As a reseller, Vivid Seats offers a wide selection of tickets, including those for sold-out events.
Final Thoughts: Is Vivid Seats Legit?
So, is Vivid Seats reliable for tickets? While Vivid Seats does provide a platform for buying and selling tickets, the experiences of customers have been mixed.
Vivid Seats promotes a "Buyer Guarantee" that aims to protect customers from scams and fraudulent tickets. However, many customers have expressed dissatisfaction with the guarantee's reliability. Reports of counterfeit tickets or receiving e-tickets when physical ones were expected have been common. Unfortunately, reaching out to Vivid Seats' customer service hasn't always yielded helpful responses.
It's important to note that while some customers have had positive experiences using Vivid Seats, the platform does come with its fair share of risks. You might find great deals, but there's also the potential to pay more than anticipated or not receive the desired tickets.
When it comes to purchasing tickets, it's crucial to be aware of the potential risks involved. Vivid Seats may offer tempting options, but it's essential to consider the experiences of others and make an informed decision.
So, the next time you're searching for tickets, take your time, weigh the risks, and choose the platform that aligns best with your needs and preferences. Happy ticket hunting!