Are you planning to attend that much-anticipated concert next month or catch a thrilling sporting event this weekend? You hop online and search for "tickets," and voila! SeatGeek pops up, claiming to offer discounted tickets. But the question remains: Is SeatGeek legit? Is it a trustworthy platform that you can confidently entrust with your hard-earned money?
The answer is a definite yes! SeatGeek is not only reputable but also a safe haven for purchasing tickets, ensuring a smooth experience for both buyers and sellers.
What Is SeatGeek?
SeatGeek, founded in 2009 by Jack Groetzinger, Eric Waller, and Russell D'Souza, is more than just your average ticket resale marketplace. It serves as an aggregator of tickets for a wide range of events, including concerts, sports extravaganzas, and theater shows. With its impressive track record, SeatGeek has solidified its position as the largest ticket resale platform in the United States, with its headquarters nestled in the vibrant city of New York.
The beauty of SeatGeek lies in its user-friendly interface, which empowers users to effortlessly input their desired event and location. Once you've provided the necessary details, the platform diligently compares prices from various ticket sellers, presenting you with a comprehensive list of available tickets.
Over the years, SeatGeek has established solid partnerships with numerous sports organizations, leading to its designation as the official ticketing partner for many teams since 2016. Through strategic acquisitions and collaborations, SeatGeek has swiftly emerged as one of the go-to options for purchasing tickets.
How Reliable Is SeatGeek?
SeatGeek prides itself on its unwavering commitment to simplifying and demystifying the ticket-buying experience. Unlike other ticketing platforms, SeatGeek goes the extra mile to ensure transparency and simplicity at every step. With a few clicks, you can effortlessly locate those elusive tickets, perfectly tailored to your preferences and budget.
But that's not all. SeatGeek's dedication to exceptional customer service further sets it apart from the competition. From the moment you embark on your ticket-buying journey until you bask in the unforgettable event experience, SeatGeek is by your side, offering top-notch support and assistance.
So whether you are looking for tickets to your favorite team's exhilarating home game or that long-awaited, sold-out concert you've been dreaming of attending, look no further than SeatGeek. This remarkable platform is your golden ticket to an exceptional event experience.
How SeatGeek Works
So you stumble upon an event that gets you really excited, and you want to secure those tickets before they are gone. Thanks to SeatGeek, the process is a breeze, allowing you to swiftly find and purchase tickets for the hottest events of the season. Simply search for the event that you are interested in and use SeatGeek's handy filters to narrow down your options.
Once you've discovered the tickets that you are looking for, it's time to proceed to checkout. Enter your contact and shipping information, and then let SeatGeek take care of the rest. You'll receive a confirmation email once your order is successfully placed, and another message will grace your inbox once your tickets are on their way to you.
SeatGeek's "Deal Score" feature ensures you never overpay for tickets to your most cherished events. This score ranks listings based on factors such as listing price, ticket availability, and demand. The higher the score, the better the deal, meaning you can make savvy choices while snagging the best value for your money.
SeatGeek As A Buyer: Your Hassle-Free Ticket Source
If you're in the market for buying tickets, SeatGeek is an excellent resource that ensures a smooth and straightforward process. You can conveniently make your payment using a credit or debit card, adding to the convenience. One of the standout features of SeatGeek is its extensive selection of tickets, catering to various budgets and preferences.
No matter what type of event you're interested in, whether it's a concert, sporting event, or theater production, SeatGeek's search engine simplifies the process of finding the perfect event. With SeatGeek's vast ticket inventory, you're bound to find tickets that fit your budget, allowing you to enjoy the experiences you love.
Is SeatGeek Legitimate? SeatGeek Review From Actual Buyers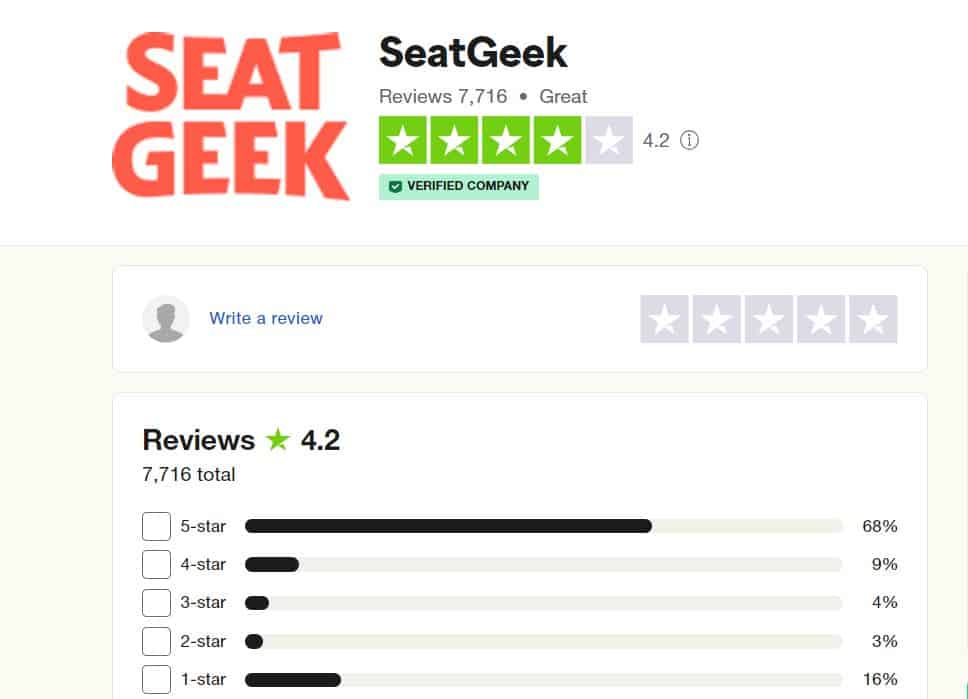 When it comes to determining the legitimacy of SeatGeek, it's helpful to consider the experiences and reviews of actual buyers. According to Trustpilot, SeatGeek has a commendable score of 4.2, with 68% of reviewers rating it as "Great." Many reviews highlight the quick and easy ticket-buying process, as well as the seamless transaction experience.
In other words, SeatGeek excels at making ticket purchases painless, which is a significant advantage. So, if you're seeking a hassle-free way to secure tickets for your desired events, SeatGeek is a reliable choice. And, of course, if you have a positive experience, don't forget to show your appreciation by leaving a good review on Trustpilot!
Addressing SeatGeek Problems – Is SeatGeek Reliable For Concert Tickets?
If you're considering using SeatGeek to purchase tickets for an upcoming event, you might be concerned about the presence of complaints. While it's true that some negative reviews exist, the majority of customers seem to be satisfied with the service provided by SeatGeek. So, what's the deal with the 16% of 1-star ratings?
When buying tickets online, it's not uncommon to encounter uncertainties. Will the tickets be delivered on time? Will they be the seats you desire? What if there's an issue with the order? These concerns are valid, and SeatGeek is no exception to the occasional challenges that arise.
One common complaint relates to ticket delivery issues, such as delays or tickets not arriving at all. It's important to note that SeatGeek functions as a ticket marketplace, connecting buyers with third-party sellers. In some cases, SeatGeek doesn't possess the tickets but facilitates the purchase. Therefore, any delays are more likely due to the sellers themselves, rather than SeatGeek.
While it may be frustrating, it's essential to maintain perspective, especially when dealing with sold-out shows and missing tickets.
SeatGeek Fake Tickets
On the subject of fake tickets, very few reviews mention this issue, likely due to SeatGeek's verification process. They have implemented stringent measures, and if reported, the seller's credit card will be charged for the amount spent on counterfeit tickets, offering a layer of protection to buyers.
SeatGeek's customer service is generally reliable and responsive. They provide comprehensive help sections on their website and offer instant live chat support to address any questions or concerns you may have. If you encounter any problems, don't hesitate to reach out to them for assistance.
Can SeatGeek Be Trusted?
So, you're itching to score tickets to that epic event you've been dreaming of attending, but you're not quite sure where to begin. The burning question on your mind: "Is SeatGeek legit?" Yes, SeatGeek is not only legitimate but a well-established ticket marketplace that has been serving users for over a decade.
With a multitude of partnerships with sports teams and venues, SeatGeek is a go-to destination for finding the tickets you desire. The website itself is easy to navigate, ensuring a seamless user experience. And it comes with the fantastic Deal Score feature, which guarantees that you snag a stellar deal on your ticket purchase. When it comes to buying tickets, SeatGeek truly shines as a reliable and trustworthy option.
SeatGeek: Your Ticket-Selling Ally
But what if you're in the opposite boat? You find yourself holding tickets to an event you can't attend, and you're eager to sell them to fellow enthusiasts. SeatGeek is not only a buyer's paradise, but also a seller's dream come true. With its extensive selection of tickets for various events, SeatGeek offers an easy-to-use platform that accommodates both buyers and sellers seamlessly.
Selling tickets on SeatGeek is quite straightforward. Simply create an account and provide details about the tickets you're looking to sell, including the event, date, time, location, and price. Once your listing is live, eager buyers can purchase your tickets directly through SeatGeek. Plus, with SeatGeek's reasonable fees, you'll retain a more significant portion of the sales revenue.
SeatGeek: Who Sets The Price?
When you get into buying or selling tickets on SeatGeek, you may wonder who has the power to set the ticket prices. The answer is quite simple: the ticket seller is the one who determines the price. However, SeatGeek lends a helping hand by offering guidance to sellers when they're getting started.
SeatGeek's pricing suggestions are derived by analyzing similar listings, providing sellers with a price range to consider. Ultimately, it's up to the seller to decide the value of their tickets. Nonetheless, SeatGeek's valuable insights and recommendations can serve as a helpful starting point in setting a fair price.
Occasionally, specific events may impose a minimum ticket price, and SeatGeek ensures compliance by alerting sellers if their listed price falls below the minimum threshold. Beyond that, it's in your hands. Set your desired price and get ready to make those ticket sales!
What's The Price Of Selling On SeatGeek?
Naturally, the question arises: How much does it cost to sell tickets on SeatGeek? The good news is that SeatGeek charges no listing fees, making it a fantastic avenue for parting ways with those unwanted tickets. When your tickets sell, SeatGeek will take a modest 10% commission based on the ticket price. It's a small price to pay for the convenience and peace of mind that SeatGeek provides.
By selling through SeatGeek, you can bid farewell to scalpers and last-minute cancellations, secure in the knowledge that your cherished tickets will find a loving home. It's a win-win situation for both sellers and buyers alike.
Getting Paid: SeatGeek's Hassle-Free Process
If you've taken the plunge into the world of ticket-selling on SeatGeek, you may be wondering how you'll receive your hard-earned cash. Payments for tickets sold on the platform are conveniently made through direct deposit to your bank account.
As long as you have a valid bank account, you can rest easy knowing that your earnings will be smoothly transferred to you. According to SeatGeek's website, your payout will be sent after the event concludes. Although it may take up to five business days for the funds to appear in your bank account, the wait will undoubtedly be worth it.
SeatGeek Alternatives: Exploring Your Options
While SeatGeek is widely recognized as a leading ticket marketplace, there are other platforms available that offer similar services.
StubHub is a legitimate ticket marketplace, which also offers a great ticket selection across different events and boasts a reliable FanProtect guarantee.
StubHub's community forum is a notable feature, enabling users to seek guidance and advice from experienced members. When searching for tickets to your favorite event, StubHub is consistently regarded as a solid option. Of course, there are additional ticket resale sites and ticket brokers worth exploring.
Vivid Seats is another popular choice with a diverse selection of tickets for various events, though its Trustpilot rating is not as high as SeatGeek's. Read the article, "Is Vivid Seats Legit?" to find out more.
FAQs
1. Why is SeatGeek so cheap?
SeatGeek offers competitive prices due to its advanced search algorithms that aggregate tickets from various sources, allowing users to find the best deals available on the market.
2. Are SeatGeek tickets guaranteed?
Yes, SeatGeek guarantees the authenticity and validity of the tickets they sell. They have a robust buyer guarantee policy in place to protect customers in case of any issues.
3. Is SeatGeek owned by Ticketmaster?
No, SeatGeek is not owned by Ticketmaster. It is an independent ticket marketplace that partners with various ticket sellers and vendors to provide a wide selection of tickets to events.
4. What is better SeatGeek or StubHub?
The choice between SeatGeek and StubHub depends on personal preferences and specific circumstances. Both platforms offer a range of benefits, such as ticket availability and buyer protection. It is recommended to compare prices and features for the specific event you're interested in to make an informed decision.
5. Is SeatGeek a reseller site?
Yes, SeatGeek is a reseller site. They aggregate tickets from various sellers and vendors, offering a convenient platform for users to find and purchase tickets to various events.
Conclusion: Is SeatGeek Legit?
When it comes to finding great deals on concert tickets, SeatGeek is undoubtedly a top choice. With its user-friendly interface and extensive selection of tickets, SeatGeek simplifies the process of discovering and securing tickets for your desired events. With a Trustpilot score of 4.2, you can have confidence that SeatGeek is a reliable source for your ticket purchases.
The best part is that the purchasing process is quick and effortless, allowing you to focus on enjoying the event rather than worrying about the transaction itself. The next time you're in search of tickets, keep SeatGeek in mind. Your perfect night out awaits with SeatGeek as your trusted ticket companion!