This article lists some of the best ticket resale sites, whether you have tickets for an event that you won't be able to attend or are thinking of starting a side business selling tickets.
Over time, ticket resales have become more popular and even a reliable form of income.
But there are questions regarding its legality and a large number of ticket resale sites. So, it might be difficult to pick a suitable platform to resell tickets.
Best Ticket Resale Sites | Ticket Reselling Platforms Review
You may look at using the following websites and how they operate if you have the skills for reselling concert tickets.
Perhaps one of the first ticket resale websites was Ticketmaster. It began in 1976 and focused on developing, distributing, and marketing hardware and software for ticketing platforms. It has developed into one of the biggest primary ticketing providers over the years.
Does Ticketmaster sell resale tickets?
Recently, they have gotten into the ticket reselling business and have allowed resellers on their website to sell tickets that they no longer need.
They take between 10% and 15% of the ticket's face value. Also, you can resell the tickets through other ticket reselling websites like StubHub if you think the charges are very high.
Ticketmaster Fees: Between 10% and 15% of the face value of the ticket
2. StubHub – Ticket Resale With Lowest Fees
This is a popular ticket resale platform. StubHub focuses on comedy shows, sports, live music events, and theater performances. You can purchase and sell tickets to more events thanks to the company's presence in 40 different countries, with tickets available for over 10 million events.
The StubHub website is also fairly user-friendly. Whether you want to buy or sell tickets, all you have to do is create an account. Click "Sell" after finding the event for which you are planning to sell tickets. Depending on what works best for you, the price for tickets can be set at a fixed or declining price.
Two factors influence people's decision to buy tickets on StubHub:
FanProtect Guarantee: The policy ensures that buyers are protected from scammers. They can receive a refund in the form of fan codes, cash, or tickets if they purchase fake tickets or if the event is canceled
Fan Codes: The buyers get points each time they purchase a ticket that they can subsequently use to purchase additional tickets
The fees are the only drawback of using StubHub. While it is free to create an account, you are charged 10% of the sale price, so keep that in mind when deciding on a ticket price. Also, customers will need to fork up 28% more money compared to what they would normally need to pay if they had purchased from the event organizers directly.
Check out the comprehensive article addressing the question: "Is StubHub legit?"
StubHub Fees: 10% of the total price of the ticket
3. Viagogo – Best Place To Sell Sports Tickets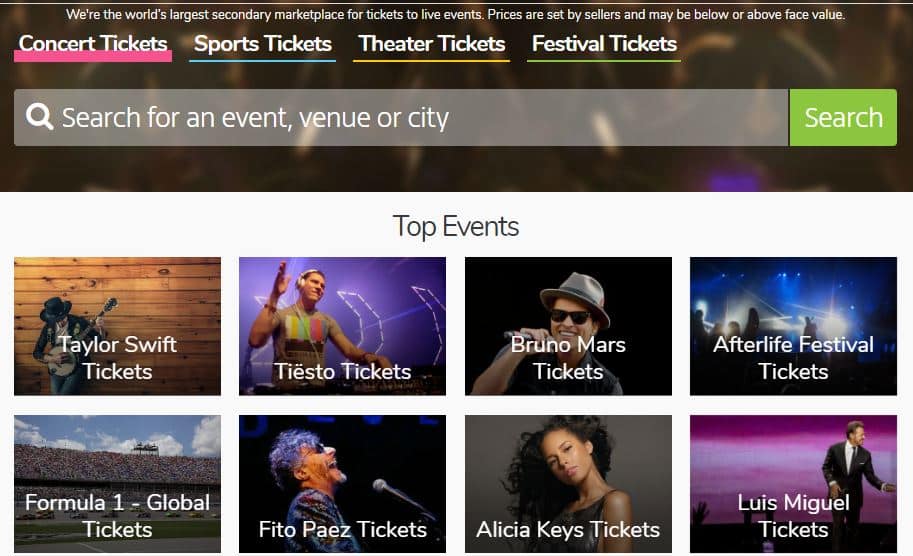 Viagogo operates internationally and supports 13 different languages and over 40 different currencies. They hold a significant share of the ticket resale market. Eric Baker is a co-founder of the company, who also co-founded StubHub.
The company quickly expanded, and they managed to buy StubHub in 2020 from eBay. Even though StubHub is now part of their company in the North American market, they still compete with each other in other regions.
When it comes to reselling season tickets or tickets to sporting events, Viagogo is the ideal option. Why? They have teamed up with Chelsea and Manchester United football clubs. Even though it is prohibited to resell tickets for Premier League events, these collaborations permit fans to resell sports tickets for these particular clubs.
You may also sell tickets for comedy shows, music events like concerts, and theater performances on the platform. Over the years, they have also served as the authorized ticketing partner for a number of music festivals.
Viagogo Fees: Depends on the type of events
4. Vivid Seats – Best Ticket Resale Site For Sellers
This is another great ticket resale website that offers a safe platform for people to buy and sell tickets. Both primary and secondary tickets are included in this marketplace.
Vivid Seats, which was founded in 2001, has expanded significantly over recent years. Its collaborations with well-known companies, including ESPN, the University of Tennessee, the Los Angeles Clippers, and Rolling Stone, have contributed to its success.
They stand out because of their superior customer service. They have been recognized by multiple outlets as one of the top businesses for customer support. With the negative press around ticket resales, providing great customer service can help to build trust.
Every month, the Vivid Seats incentive program helps them draw in more customers. This increases the number of potential buyers if you are a ticket seller (check out the in-depth article on why Vivid Seats is legit).
Vivid Seats Fees: 10% of the total price of the ticket
5. Skiddle – Best Ticket Resale App
This award-winning ticket resale service was started in the United Kingdom. With more than 2 million monthly visitors, Skiddle is a potential marketplace where you can sell tickets to an event that you can't attend or start a side hustle.
Skiddle also includes a tool that enables you to convert your Facebook page into a complete ticket reselling site. It makes it easy for you to take advantage of your social media following. This is made possible with features such as 3D fraud checks, RSVP integration, and custom branding. Website owners can also benefit from these features. Even better, you are able to sell tickets both physically and online.
Similar to StubHub, the platform is free to create an account. You just pay 10% of the ticket price plus a 25% fee to cover credit card processing charges and fraud checks. It is possible to negotiate a cheaper price if you want to sell more tickets.
Moreover, Skiddle offers the RapidScan Box Office app for events. With this, you may collect payments from customers and their personal information, which you are able to later utilize to grow your email list.
Skiddle Fees: 10% of the final ticket price + a 25% fee
6. Craigslist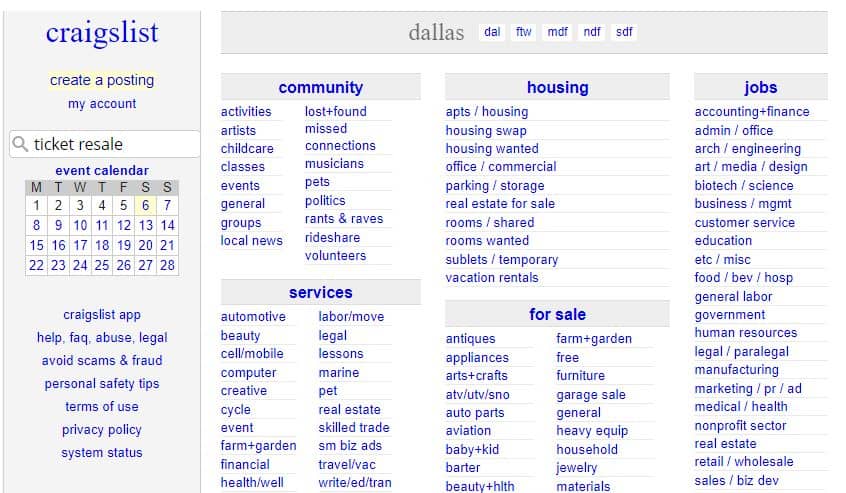 Another popular marketplace for a variety of physical and digital items, including tickets, is Craigslist. Your tickets will be gone in a flash, given that they receive more than 250 million visits per month. This is especially the case if they are for events with high demand.
The use of CraigsList is free, compared to some of the other ticket reselling websites I've covered so far. Both buying and selling don't incur a fee on the platform. This enables you to set ticket prices within the legal limits imposed by your state.
Yet there are a lot of reports of scams on CraigsList which may deter some buyers. As a result, try to establish your credibility as a seller by following the steps below.
Ticket Reselling Tips For Beginners On CraigsList
Giving as many details as you can regarding the tickets (like where you purchased them, seats, and invoices)
Putting real names instead of aliases
Setting a fair price
Providing delivery of the tickets personally or through a third-party delivery service
Building a strong reputation with current buyers to ensure future purchases
Getting licenses when necessary
CraigsList Fees: $0
7. eBay – Cheapest Ticket Resale Site
This is one of the biggest markets for different products, including physical and digital items. In 2007, they bought StubHub, which they later sold to Viagogo.
You can sell tickets on eBay if you want to avoid paying the high fees imposed by some of the biggest ticket resale websites.
Here are 3 ways to manage tickets on eBay:
Have an auction in which participants can bid, with the top bidder winning the ticket
Sell at a fixed price
Trading the tickets in exchange for something
eBay is a more affordable alternative because there are no fees for buyers. However, a seller must pay a fee that might range between 5% and 15%, as well as an additional $0.30 for each order.
eBay Fees: 5% to 15% of the ticket price + $0.30 a sale
8. Eventbrite – Best Ticket Resale Site For Buyers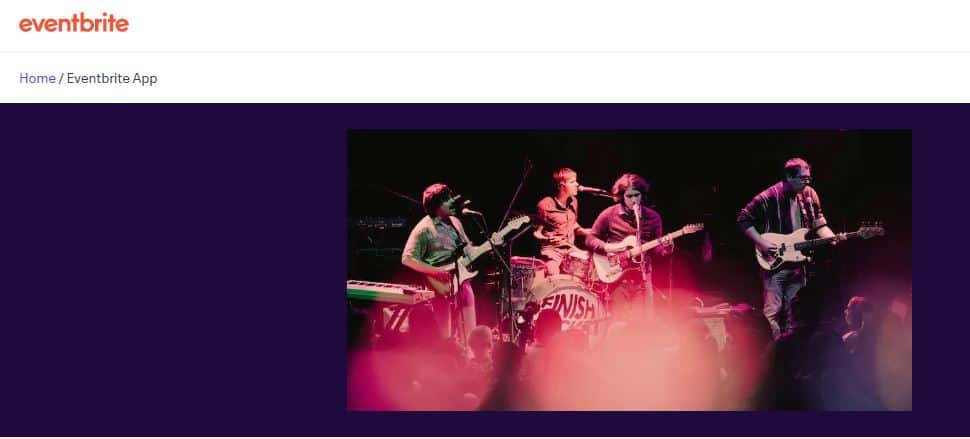 This is a popular website for selling event tickets among event promoters and organizers. What many people don't realize is that you are also able to resell your tickets on the website. They know the value of selling out an event, but they also recognize the cost of having empty seats.
That's because it reduces the sale of food, drinks, and other items that are being sold at the event if people buy tickets and do not show up. To provide fans the option of reselling their tickets if they are unable to attend the event, Eventbrite has teamed up with Lyte and Tixel.
Similar to other ticket sites, Eventbrite offers a verified and more secure platform for ticket resale, so that customers can make use of their tickets and resell them. You can always compare with other websites and see where you would be getting a better margin.
Eventbrite Fees: 10% of the price of the ticket
9. RazorGator (now TickPick) – One Of The Ticket Resale Sites With Buyer Protection
RazorGator (acquired by TickPick) is one of the biggest ticket websites and has been in operation since 2001. The company is quite well-known because of its extensive background checks to make sure that it is working with genuine resellers. Its legitimacy is further increased by the positive reviews on its website.
The platform has a buyer protection policy in case the event is postponed, or there is a problem with the purchased tickets. In addition to offering a safe platform for customers, they are also favorable for resellers because they only take a 10% commission on ticket sales.
More than 1 million customers have been served throughout their 20 years in the ticket reselling industry, and over 3.5 million tickets have been sold on their platform. The majority of the sales on this website are for theatrical productions, sporting events, and concerts.
TickPick Fees: 10% of the total price of the ticket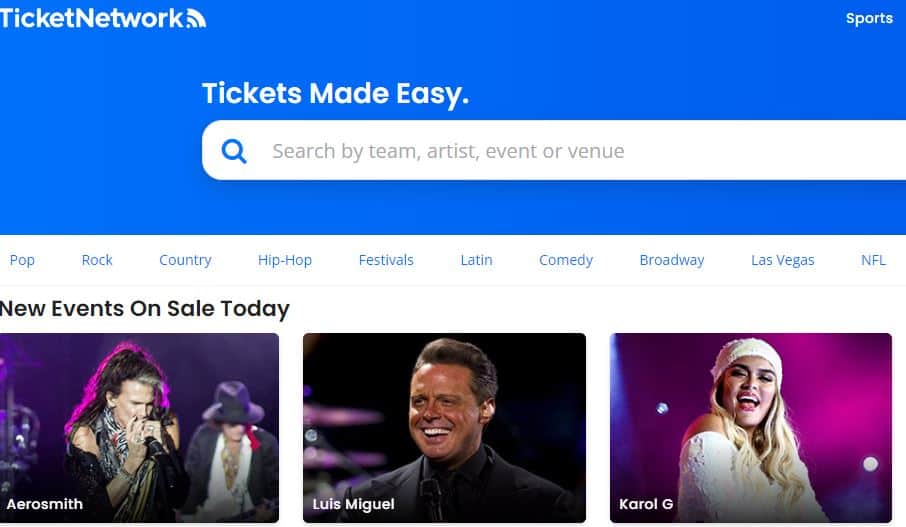 Similar to eBay, ticket sellers offer their tickets on TicketNetwork so that fans can buy them. Using the site, both ticket resellers and event promoters can sell their tickets.
On this platform, buyers are charged service, transactional, and delivery fees. In some cases, the fees could go up to 33%, bringing the price of the ticket higher than the other sites. That being said, the platform is still great for listing your tickets or buying them.
Moreover, TicketNetwork owns the following:
Better Ticketing Association blog, where news and information regarding buying and selling tickets is shared
Ticket Liquidator, another ticket resale website
TicketNetwork Fees: 33% of the price of the ticket or more
11. SeatGeek – Best Place To Sell Concert Tickets
SeatGeek began as a regular ticket resale website but has grown to be one of the most popular primary and secondary ticketing websites. This implies that in addition to reselling your tickets, you are also able to organize your own events and advertise them on SeatGeek (find out from this article if SeatGeek is legit).
The website currently sells tickets for a variety of athletic events, musical performances, comedies, Broadway shows, and concerts. Buyers are also able to pick events specific to the city.
In addition to serving as a search portal, SeatGeek also compares prices and seat options. They did this after purchasing FanSnap, the first search engine launched in 2007. The Deal Score algorithm enables the seating options.
SeatGeek compares prices from different ticket resales sites like StubHub, RazorGator, eBay, and TicketNetwork to determine the best deal. They also have a feature for 3D modeling that allows the customer to see where they would be seated and select their preferred option.
There's more good news. You can manage all your ticket-related tasks with their Rally app. Attendees can purchase food and drinks, as well as book a ride back home from the event using the app.
SeatGeek Fees: 20% of the total ticket price
12. TicketCity
Another website that has been around for over 20 years and sells used tickets is TicketCity. The company provides tickets and other services.
Besides tickets, the following items are sold on the website:
Hotel rooms
Parking passes
Directions for driving to the event
Group seats
Premium seats
Best seating options
In fact, they provide service to millions of buyers and sell tickets for over 100,000 events.
Compared to other ticket resale websites on this list, you can't resell the tickets to a fan directly on TicketCity. Instead, the company will offer to purchase your tickets so that it can resell them.
As they pay upfront for the ticket and take care of the selling, it saves you the hassle of selling it. However, they raise the price of the ticket by up to 24%. This results in the tickets being more expensive than on other websites and make them more difficult to sell. Besides, there is no assurance that they will accept your offer. Yet it's still worthwhile to give it a shot, especially if you have numerous tickets.
TicketCity Fees: $0
Is It Legal To Resell Concert Tickets?
In most places, reselling tickets, sometimes referred to as ticket scalping, is permitted, but it comes with certain restrictions. In many states, for instance, you can resell tickets, but only for the same or a little bit more than the initial cost. So, this may not be a great way to get discounted tickets!
There are standard regulations that prohibit reselling tickets at the location. This makes online ticket resale sites even more useful.
Law enforcement may not always enforce these rules because it's a non-violent offense in several states. That being said, before reselling the tickets, you should look into the local and state regulations.
Final Thoughts – Best Ticket Resale Sites
This concludes the review of the top ticket resale websites. Take advantage of these platforms to ensure that there aren't any empty seats if you won't be able to make it to the event. Give a chance to another fan to attend the event.
Expand your choices further with the list of StubHub alternatives and find the perfect platform for your ticket-buying needs.
Also, you'll have more opportunities to find buyers using the aforementioned websites if you're considering trying out ticket reselling as a side business. You can sign up for affiliate programs and send visitors to different tickets on these platforms in addition to selling tickets there.